Sheryl's Alaskan Malamutes - Sebastian - Agility



Sebastian - Agility - Next Level
All home agility equipment purchased from AffordableAgility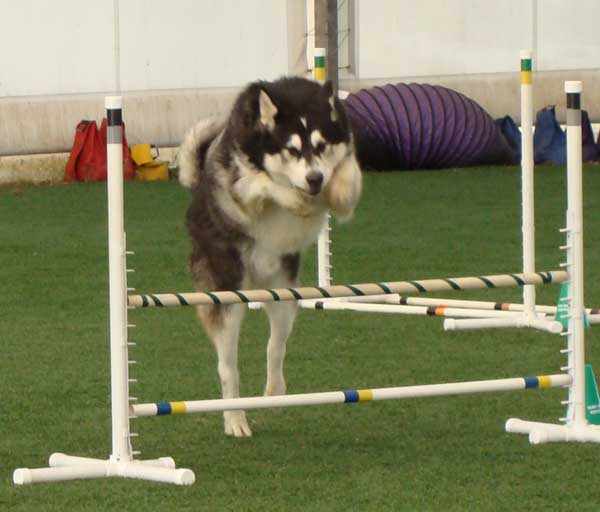 2009 - Agility Classes
March 9, 2009
We've been off for a while. We had a DOCNA trial in mid-December, a drop-in class in January, a DOCNA trial mid-January and then a break.

Before class, I had the pleasure of meeting a gentleman who asked about my mals. He'd had Sibes and was formerly involved in the PA Sled Dog club. He told me some tales, one of which involved them going to races in Saranac, NY. Big name mushers were there as well as recreational mushers and he had the pleasure of meeting Doc Lombard, who was giving tips during a training run to the recreational mushers. What a feather in his cap.

Sebastian is working with the intermediate group, which is the class Cinnabar was in.

Sebastian was joined by Rocky (Golden), Kyra (Poodle), and an Aussie I don't yet know.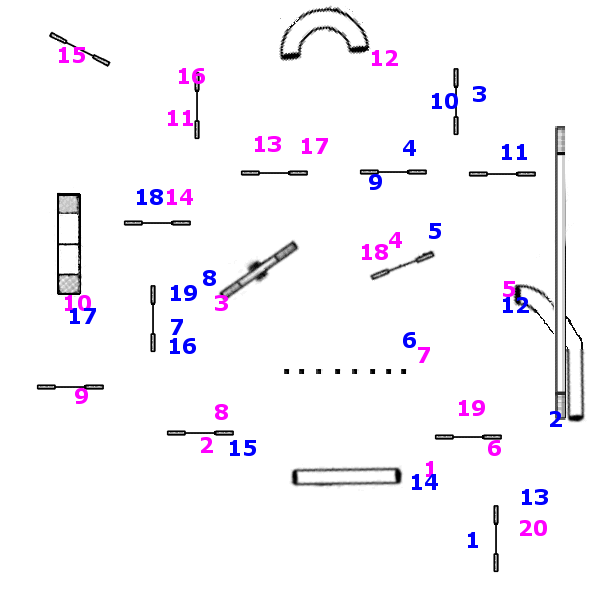 Our course was the pink numbers.
Goodness, he was raring to go. While the rustiness of our break was apparent, I was very pleased with him. On both of our runs, he put 4 feet on the teeter and walked part way up. I made a big deal of it. He did ok on weaves, missed a few but because I'm going to start the 2x2 training in the next couple weeks, I didn't focus on it. Our rustiness was in getting him to go out. Most especially on #8, after the weaves. We had to try that about 5 times. I asked Darryl what I was doing wrong and he said, it was Sebastian, just raring to run somewhere. He did settle down, and got it on the first time in our second run.
At the end of our run, I pulled him off #20. Darryl said it's a tough one for a big dog because of the angle, but we did get it on our second run.
Oh, on the A Frame, he did get 4 feet on it, but didn't go over.
Prior to our 2nd run, the other classes were leaving and Bev was on her 4 wheeler and it seemed she was circling the building outside. Well, those things sound like motorcycles, and Sebastian adores motorcycles. Let the howling and distractedness begin. Of course that also had Cinnabar howling. She finished her outside cleanup chores before his run. But, she started again before he entered the tunnel at 12. He started to run toward the sound, but with a sweet voice he recalled well. The noise went away and we finished the run. I was very pleased with that recall and with him for the evening.

March 16, 2009
Because our class starts 7:30 or later depending on how the other classes are running, I was hoping there'd be less dogs there than last week. When we pulled up, I could see it was jammed. Drat. Because of the weather, the only way in is one door and the obedience class likes to hang out in front of the door. Oh well, a good challenge to work on Sebastian's good behavior wading through bite size dogs to a dobe. He was good.
Sebastian was joined by Rocky and an Aussie. The beginner class stayed longer and moved to the obedience area to work on focus, so there will still a ton of dogs there.
The dog walk was down low at about 2 feet from the beginner class preceding that and we gave them all 3 chances to go over it. He got 4 feet on it, but bailed before he got to the level part - every time. Good news is four feet on it. Then we walked the course while Darryl raised the dog walk. He left the A Frame lower than standard because of the angle from #12, for the dogs' safety.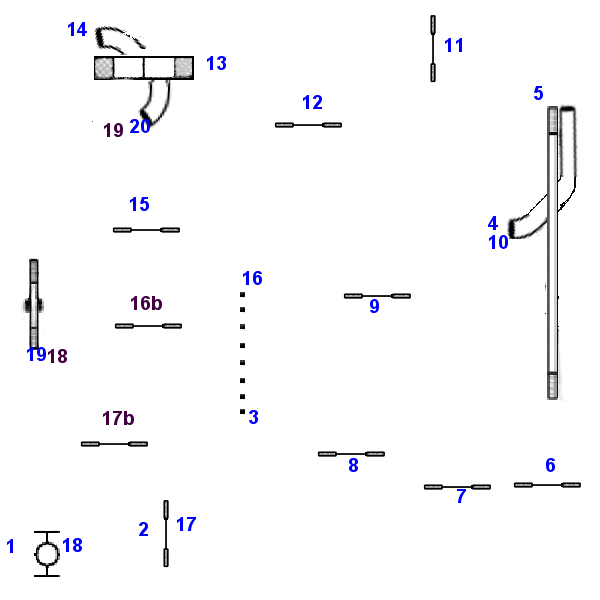 We did the all blue course. This was a horrible course in that there are situations you'd never encounter in a trial. 6/7/8 would be illegal in a trial because of 8. 11/12/13 weren't pretty either. No graceful way whether front crossing or backcrossing to get to the A Frame, but it is good practice :)
We're still not concentrating on weaves awaiting beginning our 2x2 training. Sebastian does offer weaves and enters them properly. During the run we got 3 feet on the dog walk and then ran to the other end and did our "fixit" so that he's coming off the walk to get to the next obstacle. Amazingly, we did 6/7/8, possibly because his gate was leisurely at that point. I front crossed after 11 and we did get to the A Frame. He gave us up to the top, but no more. He again offered weaves when we got there, no problems with the hurdles and tunnel. Again, amazingly, just like last week, he got all 4 feet on the teeter and went half way and got praised like crazy.
His 2nd run was also decent. He's staying with me and focused despite all the commotion in the place.
He was tired at the end of his second run and panting. We were hanging out near the heater during the others' runs because the other side of the building had all those other dogs, so I didn't give him a 3rd run, but brought Cinnabar out for that run instead.
Darryl came out at both the dogwalk and A Frame to work with us on it. He knows what's being asked of him, he's just not doing it. Fear isn't a factor now, it's just gamesmanship. The A Frame wasn't very steep tonight. The best I could do was get his head over the top as he was reaching for a piece of hot dog. We're both placing importance on the dogwalk and A Frame, nothing on the teeter and he's much improved on the teeter. Darryl wants me to bring his weight pull harness next week and we'll have him "pull" up the A Frame to see if we can change his frame of mind. We won't have weights, but Darryl will hold the back of the harness. It's worth a try.
I was very pleased with his focus and the fact that he was having fun. He also made friends with Disco (Darryl's dog who was crated next to where we were hanging out. Lots of nose touching through the crate and not an ounce of posturing.

March 23, 2009
Even more dogs there than last week - over 30 between the obedience course and agility courses ongoing when we got there! Sebastian was good running the gauntlet, although I did request that one bite-size dog be picked up while we were going through :)
Sebastian was joined in class by Rocky, Hunter (Aussie), Emma (Whippet), Kyra (Poodle) and another dog.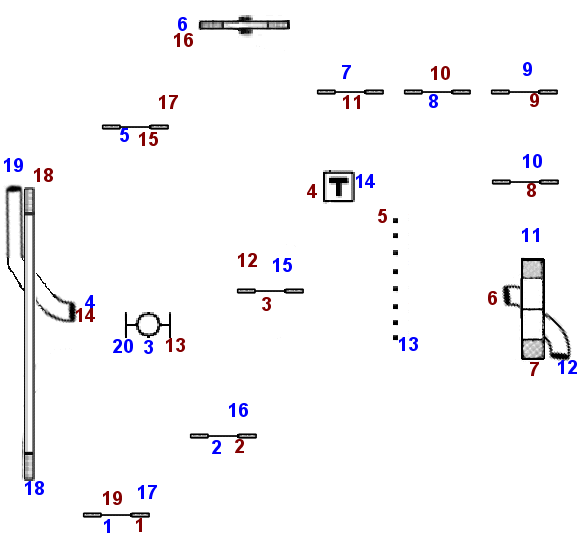 We ran the red course first
There was so much commotion in the building, as the obedience class ran long. It should be over as our class starts. Our class started late, but they ran even later and then a "Focus" course starts after them in their area with a modest 6 dogs.
Sebastian was hopping around in the ring with all the commotion, but a full hot dog in my hand did focus him.
He didn't do the table on this run, just put his front two feet on it and then around and tried the same thing from all directions. No treat. Then on to the next obstacles. He's playing games at the AFrame and Darryl said to forget what we've been doing, just send him up and move on like we're really running the course to shake him out of the way he's thinking.
He did great on the serpentine at 9/10/11.
The tire that's setup is a 17" tire, so it's a squeeze. First time through he looked at it funny and stopped, but then jumped through. Only a couple feet on the dog walk on our first run, but he's looking good on the jumps, game playing at the tunnel (oh, you really want me to go through kind of look with eyes gleaming and tongue haning out).
After our first run I worked in the corner area with him on a small A Frame type of contraction. He balked at first, but went right up the ramp and sat on top of the table that's in the middle of it. He went into robot mode and did that about 15 times for treats, then he did it another 10 times without treats.
Our second run was the blue course.
He got a couple feet on the teeter, did the serpentine at 7/8/9 ok, in spite of the fact that I ran it all wrong. On to the A Frame and I just kept going. He was ran up to the top of it and looked over it at me, then jumped down and came to me to do the tunnel. This run he jumped onto the table the first time without all the drama.
At the dogwalk, not only did he get 4 feet on, he went 3/4 of the way up and got heavily treated.
He did ok, and sure had a great time. I ran the course poorly. Not sure if my brain isn't working because the late classes are past my bedtime, or if I'm too concerned about all the dogs and commotion and only a 20" barrier separating the rings, or a combination of both. But, I need to be sharper.

April 6, 2009
The parking lot was as jammed as ever, but the obedience class was outside. Because the ground was rain soaked they were working on the gravel parking lot. After pottying Sebastian, had to time our cross of the lot to their position. Sebastian was really good, even when a border collie tried to break lose to go after him. Phyllis, the instructor, had a long talk with him letting him know he was no match for a malamute :)
I still opened the door the building slowly and let him up from his sit. Good move, the pesky noisy Dobe was right there! Why is she crowding the door with her dog when there was all kinds of space. The Dobe started posturing, but Sebastian was good about staying with me.
Got Cinnabar pottied and in and past the pesky Dobe. Still better than the gauntlet when the obedience class is inside :)
Unfortunately, the "focus" class is still inside after the obedience class is finished. It includes the pesky Dobe, Socks (Bull Terrier), and others. This Dobe doesn't shut up. Not a bark, but a scream that diminishes into a chattering sound.
Sebastian was joined by Kyra, Sprint and Hunter.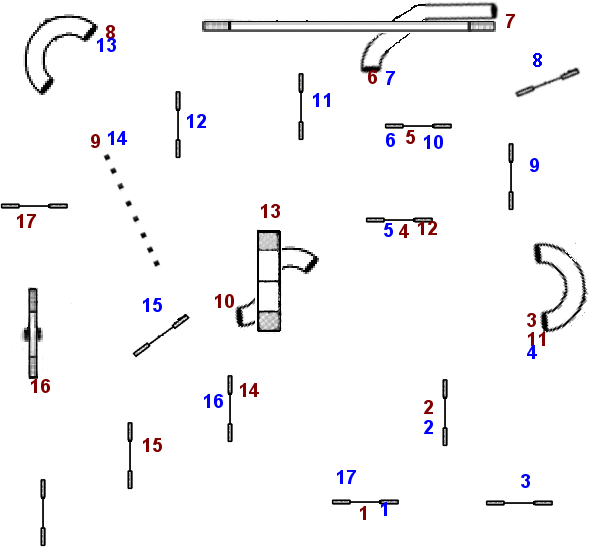 We started off with the red course. Sebastian was doing well until the tunnel at 6, when that Dobe let out a scream and other dogs in the "focus" class started making noise. He did a 180 and started heading over there. I used a sweet voice called his name and called him a goofy boy. He got a fun look on his face and started playing his games on the A Frame. I used a full hot dog to entice him back to the beginning of the course and leashed him up. I resolved not to run him off leash while the Dobe and his clueless owner were in the building.
While we were talking on course about what we'd each done and what we should do differently in our next run, the Dobe and Socks got into it. Bev and Phyllis broke it up pretty quickly, but just strengthened my resolve to leave Sebastian's leash on.
We did our next run on the leash and Darryl came out on the course with us, just in case things heated up over in the "focus" course, he'd be there to help distract. Sebastian did ok, but it's tough with a leash. So many tunnels in the course for a big dog - 5 altogether. He was hesitating at every tunnel, but did complete them.
In between runs, I worked with him on the wobble board and had a bird's eye view of the focus class. The Dobe started screaming again and Bev got in his face and screamed back at him. She sounded just like him and it shut him up. Finally, some quiet!
Our final run we did the blue course. Leash on, but I was letting it trail him, at Darryl's urging, to give him some freedom. He got to the tunnel at 7 and laid down at the exit end, like he wasn't going to come out. I laughed and asked him if he was through and said ok, we'll crate up then. Nope, he got up and off we went. It was alot of tunnels for him to scrunch through, but he was playing games, so I played back and got my way :) I did a front cross at 12, which was wrong, it needs to be a back cross. He still stayed with me and did the tunnel. He had a really nice finish on the final hurdles, although his leash knocked down some bars.
I'm hopeful that the focus class will be outside as it warms up and lightens up. It's still good for Sebastian to have the activity and have to behave, but we won't progress if he's always on leash, but I do have to protect him from bad situations so the leash stays on as long as that Dobe causes the ruckus he does.

April 13, 2009
The parking lot was full, but the obedience class was outside and on the lawn. The woman with the screaming Dobe managed to get him inside just as I finished pottying Sebastian, so that they were at their post just inside the door, ready to harrass all who entered :) Annoying, but my goodness, it is free entertainment. Sebastian thought about lunging, but then thought better and we made it past screaming boy and all others without issue.
A friend of Bev's fell for Cinnabar's pathetic routine in the car and was petting him the whole time I was taking Sebastian in. He loves Cinnabar and Cinnabar took full advantage. Just as I finished pottying him, the screaming Dobe took up a post just outside the door :) I guess it's better to laugh than to start things out ticked off
Sebastian was joined by Krya (poodle), Hunter (aussie), Sprint (Dobe) and Dancer (Belgian Shepherd). We haven't seen Dancer for a year when he was last in Sebastian's class.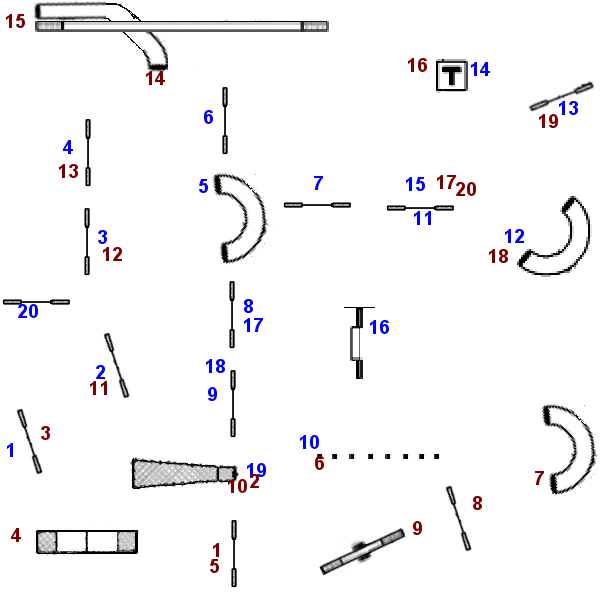 Our course was blue, 1 thru 10. On our first run, number 2 was a 22" tire instead of a hurdle, then it got switched.
The "focus" class was inside, but not much screaming. Bev was taking an iron hand with that stuff. So, I decided to give Sebastian a shot off leash.
On our way to setup, he decided the teeter looked nice and with all four feet on it went up to the middle of it. He was very happy with himself.
Our first attempt, we did 1 thru 4 and he was being a goofball, so I did it slowly with him and restarted. He gave me a nice sit and a little bit of a leadout, almost to 2. I front crossed from 2 to 3. I don't know what I was thinking but I threw in an extra cross at 4. After the tunnel at 5, I was waiting at the hurdle at 6, but I need to pick him up coming out of the tunnel to give him the room he needs to make the turn. I front crossed between 7 and 8, and he made his turns nicely. I was a little sloppy, but was mostly concerned that he stay with me, which he did the good boy!
We did 1 thru 10 again. In between turns we worked on the wobble board, the little a frame, and a teeter width ramp. We also did some sit/stays when Cinnabar's classmates starting showing up. Charlie's mom brought her new puppy, which was of keen interest to Sebastian, that's when the sit/stays went into effect.
Then we did 1 thru 20. After 11, I called tight to send him in the tunnel, which he did perfectly. At the table, he had to look at it first and then jump on it. I did a front cross at 16, sent him over 17, a here at 18 and a backcross to the chute at 19. It felt awkward so I knew it was wrong. The front cross after 16 was right, then send him over 17, go between the jumps and front cross, then I'm in position to send him to the chute. Made much more sense.
Darryl was on the course with us, the whole time, just keeping an eye on the focus course. He was pleased, as was I, with Sebastian's focus on me. Our toughest spot was our setup as they seemed to all do their recalls at that time and he was a bit distracted, but he stayed with me the whole time. I was very happy with him and he had fun. He had the big goofy grin going most of the night.

April 27, 2009
Parking lot was full, but both obedience and agility classes were outside, so we had the inside to ourselves. No gauntlet to run, just nice and easy.
Out of the freezer and into the oven - whew! Two weeks ago in class the heaters were on to take off the chill, this week we were baking as it was 92 outside.
Sebastian was joined by Rocky (Golden) and Sprint (Dobe). Rocky had two brags, he just finished his championship and he did a PetSmart commercial.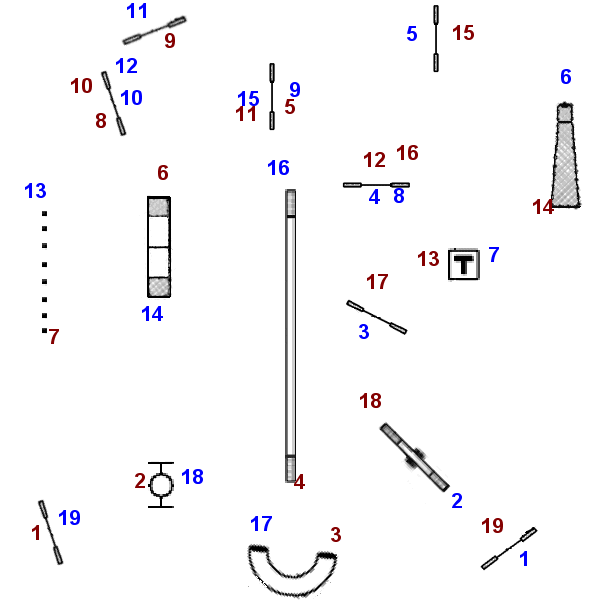 We did the blue course first. The tough spot is the backcross at 10, which Sebastian did well for me. I was very happy with that. He usually got 4 feet on the contact obstacles. He stayed with me, even with some slight distractions when some of the obedience dogs came inside.
We did blue twice and then we did red, which was just blue in reverse. Of course we switched the teeter and chute around. On red, the trick was the backcross at 9, which he did well for me, the good boy.
We did red twice. His butt was dragging in the heat, and I don't blame him. He was a good boy and had fun. By the end of Cinnabar's class, with the heat he was a little grumpy. Don't blame him, but supposedly spring will be here Wednesday when it drops into the 60s.

.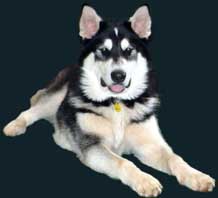 website design by Sheryl
bordered background by Sheryl
© 2005
all images © Sheryl Franklin unless elsewise attributed
all Alaskan Malamute sound files © Sheryl Franklin
website hosting by FranklinCommunications
domain name by DomainRegister.com