Sheryl's Alaskan Malamutes - Sebastian - Agility



Sebastian - Agility - Next Level
All home agility equipment purchased from AffordableAgility

Fall 2006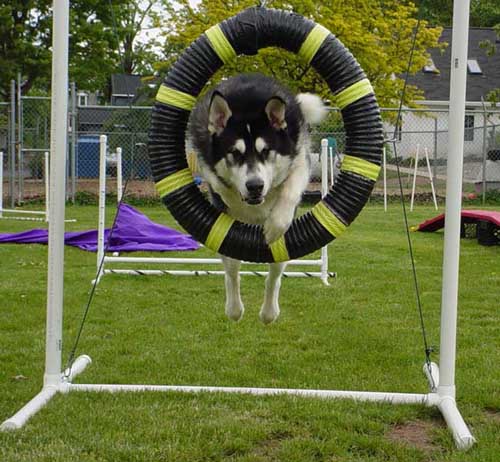 Sebastian thru the tire
September 13, 2006 - 1st agility refresher
Agility classes started last night for Sebastian, and Cinnabar's start on Saturday.
Small class with a returning favorite Deuce (Portugese Water Dog) and Jess (Border Collie) who is new to us. They all had a great time playing off leash before class started. I thought we were going to be ankle biter free, but a terrier named Grace showed up halfway through the class. Oh well, shouldn't be selfish.
Sebastian did well on jumps, tire, tunnel, chute and great on weave poles. Unfortunately he went retro on the dog walk. He did it before class after the 4th try, but would only go from one direction. He did it at the beginning of class, only in one direction, but then not again. I laid it flat and he was fine. I think where it is situated is not completely level, so he's not doing it. We'll get there again. Also got him to halfway on the teeter-totter. It'll take some time.
Jess' mom has her son with her and they work the course together with Jess. In warmups, the son (approximately 12 years old) was doing all the obstacles himself including the tunnel and chute. He had a surprise when Sebastian followed him through the chute Was also fun to see Jess chase Deuce through the tunnel, only to see Jess come out first. Didn't know there was a passing lane in there. Then all 3 boys went through - Deuce followed by Jess followed by Sebastian.
Once we got home, he was zonked for the night. A wonderful side benefit.
We'll be concentrating on traps this six weeks. That is the course will be set up so that when one obstacle is completed, there will be two obstacles that can be taken. We have to direct them to the correct one. No A frame, yet

September 20, 2006 - 2nd agility refresher
Sebastian's class last night was close to a cancel, but the rain held off for us. Didn't take the camera because of the threatened rain.
In warmups, he'd either go halfway up the dog walk and jump off, or jump on in the middle and go down. And I got him halfway up the teeter-totter in warmups.
One more terrier joined our group, Winston. We know Winston from Sebastian's last class.
We had a great free for all play with all 5 (2 terriers, 1 border collie, 1 Portugese water dog, 1 malamute) at the end of warmups. It took off Sebastian's extra energy and he was quite compliant for the rest of class.
We worked on traps. Coming out of the tunnel, 2 obstacles were setup a hurdle and the dog walk. We had to direct them to the obstacle of our choice. I chose the easy one the first time through, the hurdle. The next pass through I chose the dog walk and Sebastian very nicely surprised me by going up over and down it, if at a more rapid pace than desired, but he did it nonetheless!
The other thing we worked on was being ahead of them in the obstacles. We had the tire and then 2 hurdles. We needed to put them in a sit/stay at the tire and go to the 2nd hurdle and then call tire, jump, jump. Then do it from the opposite way. Sebastian does well on this, except when Deuce has the zoomies and then he's involved in "the chase"
During a break, the trainer was working with Grace (terrier) on the tunnel. This is her first class and refresher for the rest of us. She wasn't going through. Sebastian thought he'd lend a hand and went and gave her mom kisses. Suddenly little Gracie steamed through the tunnel. Jealousy as a motivator, worked just great! Deuce helped out later in the same fashion.
Then we did our course runs. Dog walk, chute, hurdle, pause box, teeter-totter, tunnel, hurdle, hurdle, tire jump, weave poles. On our runs we pass the teeter-totter since he's only going halfway up at this point. He did the dog walk every single time, still at a rapid pace. And he's doing great on the weave poles, the nemesis of the others. He's the most consistent performer at this point, but this is his 4th class and the 2nd class for Deuce and Jess. The third class for Winston
Thought he was zonked for the night when we got home, but Cinnabar was wired and there was quite a jaw wrestling session. The nice thing was that during the session, Sebastian's new breakaway collar came flying off. Those things work just great! No more choking worries.

September 27, 2006 - 3rd agility refresher
Well, we had a group flip-off night, last night.
The object was for us to work on not being right next to them as we go through the course, but more for us directing them.
The obstacles were setup in an oval to make it easy for them. HA!
Our first run was rough and the next couple rougher. Sebastian wouldn't enter the tunnel until I was right there pointing at it, and he loves the tunnel. He stopped at the tire until I got on the other side and showed him the hot dog, and then he did the least effort to get through it. On the dog walk, he stopped 3/4 of the way down to turn back to look at me, like "where's my treat or I ain't finishing this" which cracked everyone up. On one hurdle, he intentionally went to the inside of me where it was tougher for him to do it, but I stood my ground and pointed to it and said jump and with very little space he did it. He didn't have a problem doing it, just wanted to do it his way
With the exception of little Gracie (all of her 3rd class), all the dogs were flipping us off to one extent or the other. I don't know if they had a little meeting during playtime or what
The good news is that Sebastian did the teeter-totter 3/4 of the way once - and then ran when it banged the ground. After that, I worked with him on it alot, getting his front paws on, getting to the middle when he jumps off, I then walked him to the end and banged the thing to the ground. By the end of that session he wasn't shying away from it when it banged. Progress!
No pictures, Winston was there early so I wasn't able to have the yard to myself and have him do obstacles for the camera
Oh, little Gracie has a thing for Sebastian and he doesn't mind in the least

October 3, 2006 - 4th agility refresher
"Malamutes have a way of coming up with new ways to "entertain" you just when you think you have them figured out "
Welcome to Sebastian's world
I knew I was in trouble right off the bat, he was full of energy and totally unfocused, zoomies galore AND it was just he and I before anyone else got there. He heard motorcycles in the distance and was chasing them. I was able to get one whole sit/stay out of him and a jump before the others got there.
He had a great play time, which I hoped would tire him and focus him.
During warmups he did fine on everything except the teeter-totter. Jen put it almost flat and after a few tries he went over it all the way, still hesitating at the middle where he knew that loud noise was coming. We did that quite a number of times, but then he started crying like he was being killed. I don't know if the front end came down on one of his back feet, or if he thought it did. (He is a drama king). I only got him to the halfway point after that and decided to give it a rest until the next week.
He did ok during his first run, but no oomph. Just not into it. On his second run he started off with oomph, but went to the dog walk full steam and tipped the whole thing over while he was in the middle of it. He wouldn't do it again on any runs. Next week we start back with it flat. He also pulled down the tire jump on his way thru on the second run, but did do that on subsequent runs with a little sweet talk and a dangling hot dog.
He flipped me off on the pause box on the final two runs, taking forever to get into a down.
On the other side of the fence, though, he was providing great entertainment for the crowd with his inventive ways to very slowly comply at the obstacles. Run to the hurdle, stop, look at it, look at me and then finally jump over it from only two inches away. Jen, the instructor, had her hand over her mouth much of the time to not laugh at his antics. She knows him very well
The stars of the night were Deuce and Winston. Especially Deuce who waited to finish his run before taking some major victory pinball zoomies

October 10, 2006 - 4th agility refresher
During warmups I laid the dog walk flat and got him over it about 5 times, making a huge deal of the whole thing. Then set it back up and worked on it. First step just getting front paws on it, made a big deal of that.
Then with his front paws on it, used my body to make him get his back paws on it if he really wanted the hot dog I was dangling out of reach of his mouth. In other words he was leaning into me being supported by my hip as we inched along the darn thing. Everyone told me they really had to hold in the laughter. But he got over it, and suddenly it was no big deal again.
We were up first and I didn't know what to expect, but he very nicely surprised me with a very crisp run through the course. We had a sharp 180 right turn to make coming out of the chute to the tire jump which was very challenging for me to be in the right place to direct him. I got it right by the 3rd run. He was always looking for me to be on his left coming out of it, but I was on his right, so I had to call his name sharply and be positioned far enough out for him to swing and go into the tire with a little speed. They also had a trap setup coming out of the tunnel so that we had to direct them to either the hurdle or the dogwalk. I directed him to the hurdle each time as I wanted to build on the success of the night.
We had a total of 4 runs each. His speed on the course was great, his sharpness on the jumps was great. The last two runs, he went into a down agonizingly slow at the pause box and had too much speed at the weaves bypassing several, so we had to repeat those to get him slowed and weaving through all. On one run when I called him back to repeat the weaves, they told me that he finished the remaining weaves on his own before coming back. That's pretty cool.
After a couple of flip-off weeks from him, this was a very satisfying night on the course. He was very talky on the sidelines, so I put him in a sit/stay waiting for a treat while each of the others had their runs so he didn't distract them. So, while he was being very Sebastian, he was still a very good boy.

Sebastian - tire jump
May 20, 2006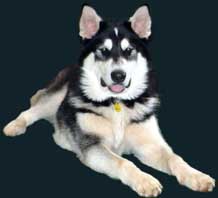 website design by Sheryl
bordered background by Sheryl
© 2005
all images © Sheryl Franklin unless elsewise attributed
all Alaskan Malamute sound files © Sheryl Franklin
website hosting by FranklinCommunications
domain name by DomainRegister.com