Sheryl's Alaskan Malamutes - Cinnabar - Agility - Next Level



Cinnabar - Agility - Next Level
All home agility equipment purchased from AffordableAgility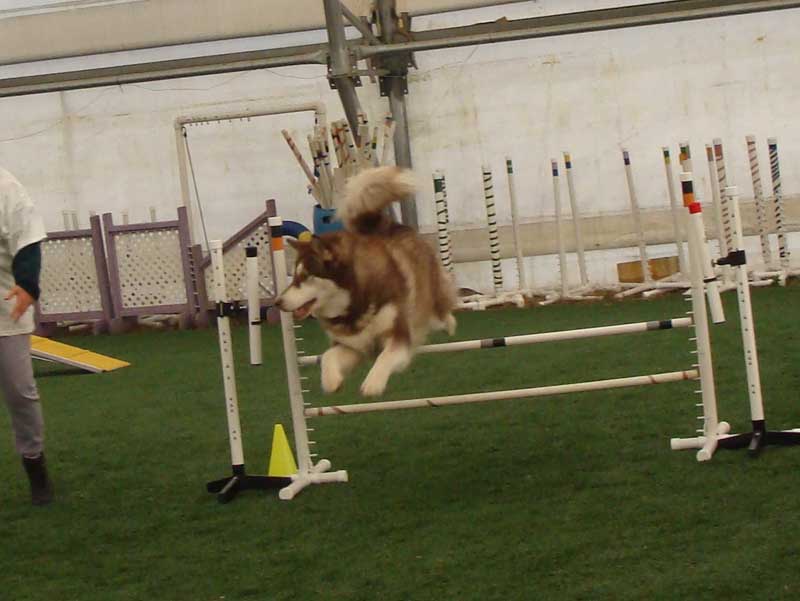 2009 - Agility Classes
March 9, 2009
We've been off for a while. We had a DOCNA trial in mid-December, a drop-in class in January, a DOCNA trial mid-January and then a break.

Cinnabar was joined by Charlie (border collie), Belle (border collie), and 4 other dogs I don't yet know.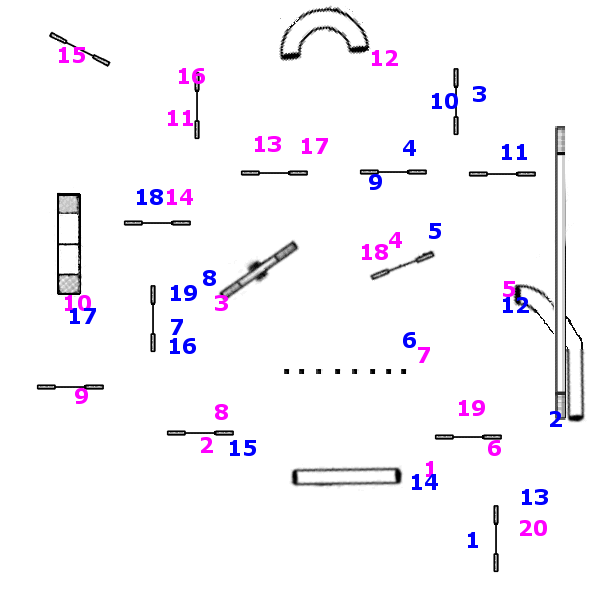 Cinnabar was full of energy and excited to be back in class. Our course was the blue numbers.
We were rusty, weaves terrible, but I'm not worrying about the weaves because we're going to start 2x2 training in a couple weeks.
All in all not too bad, but he's watching my hands like a hawk. I had trouble getting him into the tunnel at 12. Didn't I call it soon enough? Yes, but he was watching my hands as I was running. I've got to cut off my hands :)
I was very pleased with his "tight" after 7 to get to the teeter at 8. I was also pleased that with both runs he did 19 because it's at such an odd angle after 18. On both runs he knocked down #4. Had to be my fault and I was too close to him.
He had so much fun, and that's a joy to watch.

March 16, 2009
Cinnabar was joined by Belle, Charlie, Charlie, a Dobe, and some large hounds
I had Cinnabar run Sebastian's final run, so we sat while the others walked the course, as we already knew it.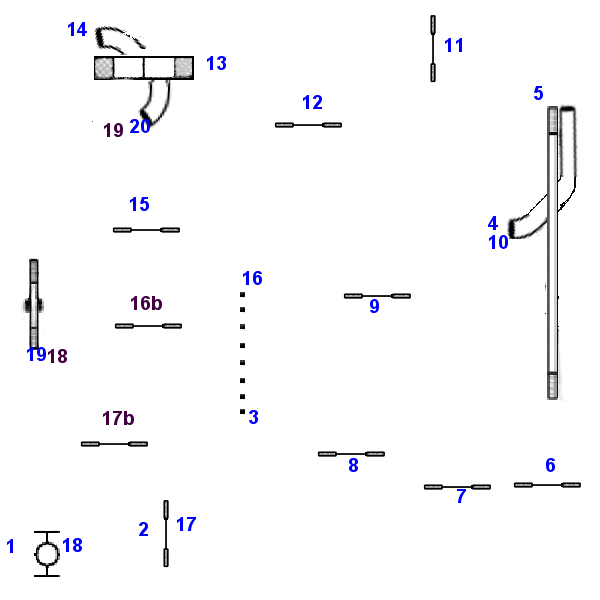 We did the blue course for our first 2 runs, our final run we changed to the purple at the end of the run.
While I had been able to get Sebastian through 6/7/8 I had no such luck with Cinnabar. I kept trying to send him out to 6, but he wouldn't do it unless I ran with him. In fact on our last run, he ran right into the jump. I had Darryl help me figure out what was wrong. He had me have him do that jump from the other side and he was fine, but couldn't see it from the original side. The taping on the bar was very faded, barely visible, so the white bar blends into the white meshing behind it enclosing the ring. He just couldn't see it. Hmm, that's never happened before, but it made sense as he had no problem seeing it from the other way when there was a contrast behind it.
Weaves terrible, but that's ok for now until we get through our 2x2 training, which we'll start if it ever warms up. I'm just having him do whatever he offers for now and blowing on to the next obstacle.
There were a couple things we had to redo - the start of the dogwalk for one. I'm either too close when he's wrapping or too far away, once he starts it it's fine, but the start was sloppy. The tire at 18 was an issue on our first run. When I'd run the course with Sebastian I was able to break toward the teeter as soon as I sent him out to the tire. With Cinnabar's first run, I ran it the same way, but the sweetie came with me to the teeter and bypassed the tire. On the redo, I had to stay with him longer when I sent him out before breaking away to the teeter. The same with the hurdle at 11.
We didn't look as rusty as last week, which was good :) Cinnabar has good focus, but still intense focus on my hands, so I've got to be very aware of that. He also made friends with Disco on the sidelines and Disco seems to like the big guys :) He also sucked up to everyone who would spend any time with him and showed off his excellent sit in hopes of treats :)

March 23, 2009
Oh, the poor boy elicits such compassion from everyone. I bring Sebastian into the building first after pottying and all the while the mournful talking from the car of this boy is going on. Pathetic. Then once inside the two have a little chorus that amuses, then they settle down. During Sebastian's class, he's heard from on occasion and it's so mournful. A sharp "no vocals" usually shuts him up, but what a baby :) He's really raring for some fun when it's his turn.
Cinnabar was joined by only one of the Charlie's (border collie), the two hounds, Sprint (Dobe) and a little dog whose name I should know. He got to spend some time with his girl friend Emma (Whippet) before his first turn. Seeing the two of them together is a hoot.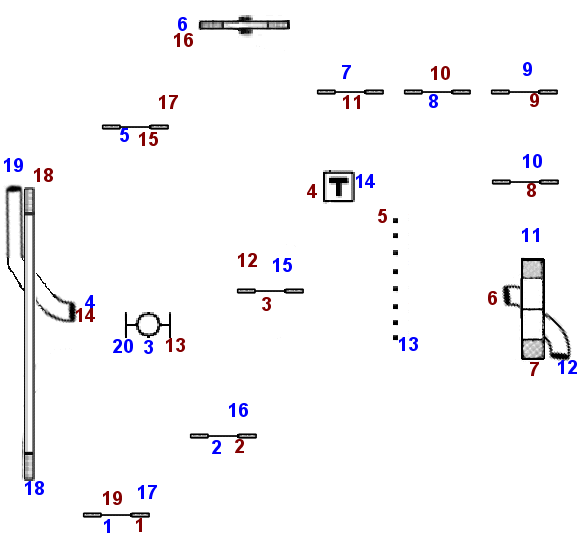 Our first course was blue.
I had to restart, as he blew by the tire. Got it on the second start.
On the serpentine, I front crossed after the teeter so I would be on his left to head into the serpentine. We entered fine, but he went past the second jump. I was out of position. We tried again. On the 3rd try, we got it and did a back cross with me throwing a treat for that third jump. He went for the treat so the back cross worked, except that he took the jump down. Been a while since we've done a back cross. The rest of the course was ok, if sloppy, all my fault.
Our second run, was the same course. We had more trouble at the serpentine this time. Darryl suggests that I treat him after the teeter. At the A Frame, instead of the tunnel, he ran back up the A Frame. It wasn't as secure as it could be and he had the thing rocking, but it doesn't bother him in the least. Then he ran over to Darryl and sat looking for a treat. He was trying not to notice him or laugh, but Cinnabar did recall sweetly as if "oh, yeah, mom, I forgot I'm supposed to be working". Again, the run was sloppy and it was me being out of position.
Our third run was the red course. I front crossed after 9 and couldn't get him over 10. That corner is so dark in the building. I put him in a sit in the corner and he didn't like being there, kept butt scooting more into the light. I took each serpentine jump one at a time and we got them. The rest of the course was ok. I was out of position at the tire, but he made me look good on it. At the dog walk, it was 3 tries for him to get on it, not sure what that was about, but then he was a champ on it.
These were weird courses, and I've got to get my thinking cap on and run them better.
It was freezing and everyone was complaining about the bitter cold and jockeying for position near the heaters. Spring is sure taking it's sweet time sneaking up on us.

April 6, 2009
Cinnabar was joined by the 2 hounds, only one Charlie, Maggie (Wheaton Terrier), Skylar (spaniel).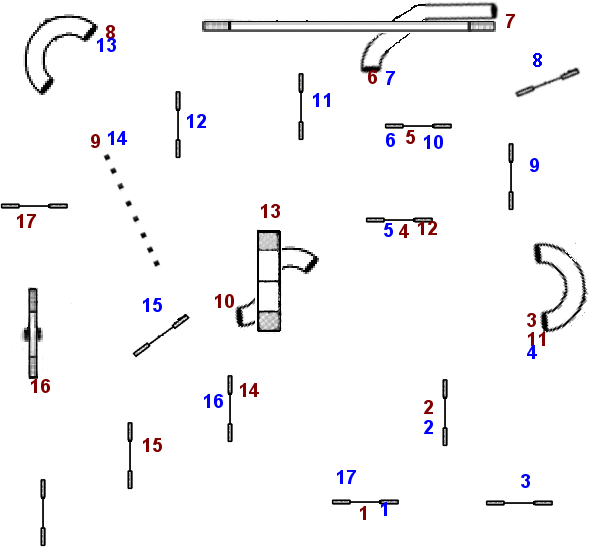 We did the blue course first. We started off doing the 24" hurdles, he left some of them up. He's waiting to the last minute to jump, Darryl said. We did the 20" hurdles subsequently.
He made a really nice turn at 3 when I called tight. I was leading off too much at 8 and he bypassed the hurdle. Had to stay closer with him. When I went to redo it, he was hanging out with Darryl who was trying to ignore him. Cinnabar was doing a really pretty sit looking for some of his tuna treats. He finally recalled and we restarted at 7. I front crossed between 9 and 10 and backcrossed at 12. He did a little spin after the jump at 12 to see where I was. On our subsequent run he left out the spin. Cool, getting the hang of the backcross. He left up the final 3 hurdles, but still waiting too long to start his jumps.
We did the blue course twice. Then we did the red course. Had to get him away from Darryl to even get started. He was definitely Darryl's best bud that night. A sweet voice AND a dangled hot dog did the trick. He did ok. Gave me a very nice leadout without breaking his sit. Had to have him do the tunnel at 6 twice because the first time he didn't get on the dogwalk, just looked up at me. Did it perfectly the second time. On the A Frame, I front crossed at the end of it and sent him to the jump, but he went wide around it. Did it again and he did fine. Darryl said I've got to send him around to my left to do it because it was so close for a big dog. Something we wouldn't encounter in a trial. He finished up the run very nicely, making his turn to the teeter, ignoring that inviting jump straight ahead.
I didn't feel brain dead with this course. The time is still late for me, but these courses made more sense than the goofy courses we've had in past weeks, so I felt like I had a clue as to what was going on :)
April 13, 2009
Cinnabar was joined by the hounds, both Charlies (border collies), Belle (border collie), Skylar (spaniel), Maggie (Wheaton Terrier), and Bee Gee (yay, another malamute).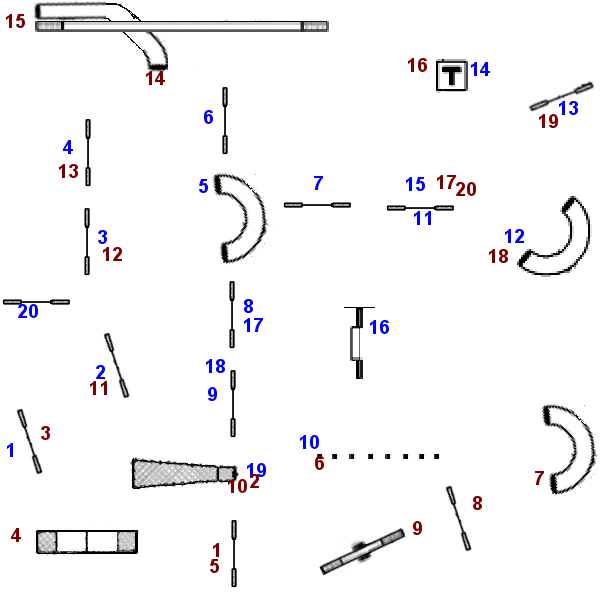 Our first course was blue. We had a great first run. I was able to lead out between 2 and 3 - wow! Darryl said his turns were very good and I was trusting him like I should. He knocked down 16, but Darryl said that was my fault. I was in proper position for my front cross but I turned too soon for the next hurdle, didn't give him time to complete the jump. I needed to be still for one second more. He looked really good and was enjoying himself.
I should've said we had a great first run after our first setup, because he did run straight to Darryl after I said ok. But, he hadn't said hello to him yet. He settled in after that :)
He and BeeGee got to play before BeeGee's run. Beeg is such a good boy, especially since he's intact. The two really like each other. We had to break up the play because with all their spinning they were starting to knock things down :)
Our next run was the red course.
Another nice setup, gosh I pleased about that. He bypassed 3, I didn't stay with him long enough, so we redid that. After the tunnel at 7, I was on his right, which was proper, but he was bypassing the hurdle and the teeter. I switched to his left and it wasn't an issue, except then I had to front cross at the end of the teeter. We did the serpentine at 11/12/13 and a backcross into the tunnel. Hey, the back cross worked!! Nice wrap onto the dog walk! For 17/18/19/20 I stayed in the same spot and just directed him. He knocked down 19. Darryl said with him I have to always be moving or he slows down because he's so focused on me. He suggested a front cross between 19 and 20 to really give him momentum. We did that and it worked. He said that with him, I'm going to have to run more of the course than with Sebastian because he's so focused on me. Then we got a great complement - we did the serpentine at 11/12/13 the best of anyone in class! I knew I had to call here when he came out of the chute because he wouldn't know where I was, then an out to 12 and a here at 13. Gosh, that felt good. I don't think what I did I could do with the uber fast border collies, but it sure works with a mal :)
Because the class was large, just the two runs, but we got lots of attention on each. Didn't get out of there until 11. Next week both Sebastian's & Cinnabar's classes will run together because Darryl is teaching Bev's classes while she's away. That will be a long night, too :)
I was very happy with my sweet boy

April 27, 2009
Cinnabar was joined by Zar and Zoe (the hounds), Belle, Charlie and Maggie.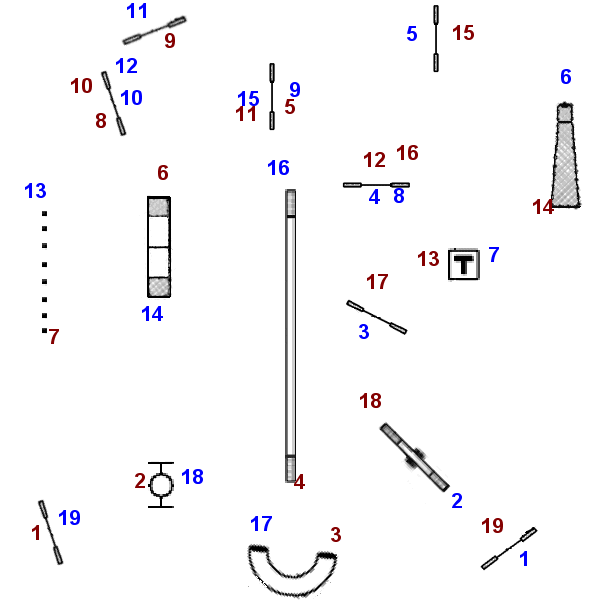 We did the blue course first. Our hangup was the backcross at 10. We did it about 3 times on our first run. Darryl suggested I keep my left arm up, run up between the two jumps, and just spin around with my arm up directing him on the next run.
We did that on our next run and it worked, and it looked alot better. He started dragging at the end of the run from the heat.
The we did the red course. We did ok with the backcross at 9. He was dragging by the time we hit the table at 13, having knocked down 11 and 12 to get there. Darryl said, it wasn't me, it was him, the heat was getting to him. We finished the course and he did leave the last jump up :) The rest of the class did red again, but that was it for Cinnabar. Too much of a transition from freezing temps on Friday morning to the 90s, and with that beautiful full coat, the boy was hot. Darryl said he was looking at me the last part of the run, like "I can't believe we're doing this, we done now?" :)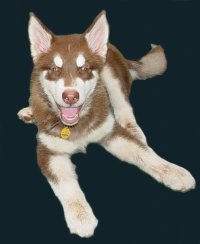 website design by Sheryl
bordered background by Sheryl
© 2005
all images © Sheryl Franklin unless elsewise attributed
all Alaskan Malamute sound files © Sheryl Franklin
website hosting by FranklinCommunications
domain name by DomainRegister.com