Sheryl's Alaskan Malamutes - Cinnabar - Agility - Next Level



Cinnabar - Agility - Next Level
All home agility equipment purchased from AffordableAgility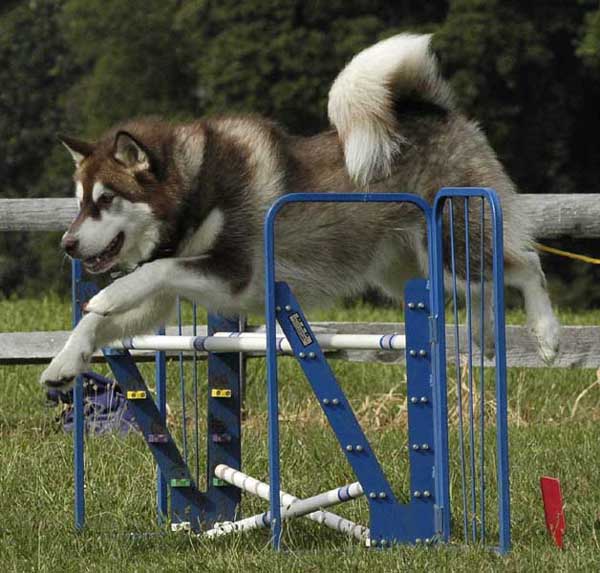 photo by Ray Baycar - MeadowQuest Flat-Coats



Fall 2007 - Agility Classes
September 3, 2007
We had class at 9am today because of the holiday. Bev combined the advanced class with our novice class and then made an event of the morning by serving venison burgers, hotdogs, chips and sodas at the end of our runs. There was a total of about 20 dogs.

Before class started I headed inside with Cinnabar (to the mournful wails of his brother) to practice on the indoor dogwalk, teeter and A Frame. He completely accepts the A Frame and ran over it without any undo urging!!

She set up an open course that was used by an event over the weekend.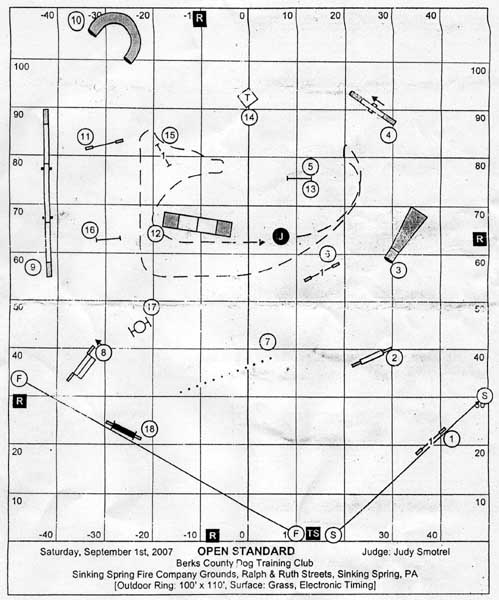 We went by jump heights, with advanced going first. Novice didn't do as many obstacles as advanced. We jumped with the 22" group for Cinnabar.
Our first run thru we did 1, 2, 3, 4, 5 and 14 (table). I had trouble with my position for 1 & 2 (a double jump) and had to fix my positioning for Cinnabar to get it. He also had no trouble with the outdoor metal teeter which was wonderful. (He prefers wooden contact obstacles) We each did two runs.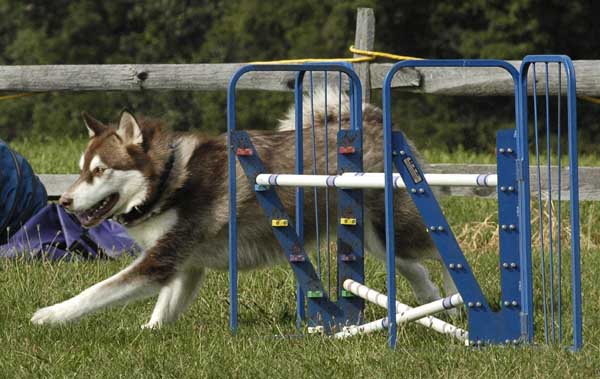 Cinnabar missing the double jump because I'm out of position
photo by Ray Baycar - MeadowQuest Flat-Coats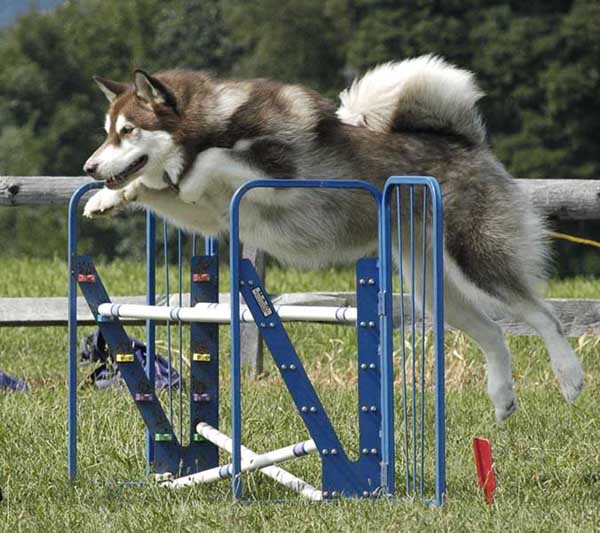 Cinnabar making the double jump when I'm setup correctly
photo by Ray Baycar - MeadowQuest Flat-Coats
Our second run was 14, 15, 16, 17 and 18. The trick was a front cross after 16 going into 17 (tire), so that I switched from being on his left to his right. Cinnabar did great. We each did two runs.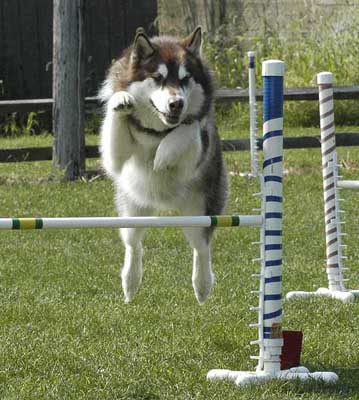 Cinnabar hurdle
photo by Ray Baycar - MeadowQuest Flat-Coats
Our third run combined all the obstacles of the first two runs. Cinnabar is sure and steady. I was also proud of him for charging right through the chute. He's been shy of it because in our classes last year it was not anchored and he got tangled in it several times. But he was a champ with it today.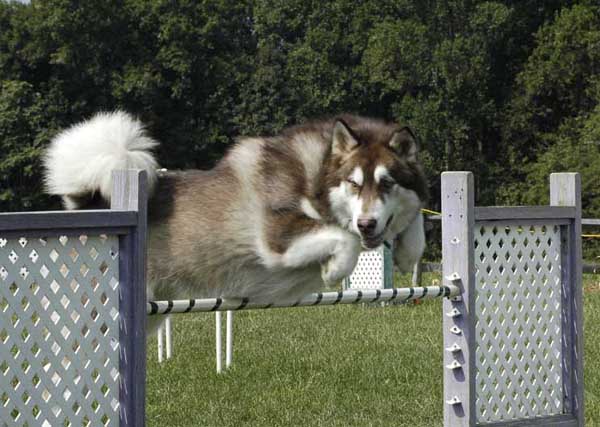 Cinnabar final hurdle
photo by Ray Baycar - MeadowQuest Flat-Coats
After everyone, advanced and novice, did their runs, I ran Sebastian through the course, bypassing all the contact obstacles. His jumps were set at 24" and he did great, very focused. He looked spectacular on the triple jump. I got my venison burger and then ran him through again.
Next class in two weeks for both of my guys.

September 17, 2007
We had Cinnabar, Trig, Xena, Maggie, Kayla and then two new dogs (one mom) joined us. Don't know their breeds, but there was something about them that had Cinnabar focusing on them, even after getting introduced.
We worked first on weaves. Cinnabar is doing well, he actually does best if my hand smells like hot dog but is empty and I save the treat for the end. He's doing the weaves at a decent pace, too, almost looking like an agility dog
Then we had a small course: tire / tunnel / 4ft dog walk / tunnel 180 to the right of the dog walk abutting the dog walk / hurdle.
Each of us had different things to work on with this course, for us it was getting over that nasty metal 4ft tall dog walk. Took us a while, with Bev on one side, me on the other, holding his collar and putting hot dog treats at different heights. Once he realized the treats were higher than he could reach standing on the ground he started climbing - and up and over he went. On his second run, we worked with him again but he got over there very quickly. Major victory!!
It's also interesting with his brother crated on the sidelines, and how any noise Sebastian makes distracts him making him want to run over to see him. Just one more thing to work on!
Just a side note, when we first got there, he lifted his leg to pee for the first time ever. He's 2 1/2 already, and finally decided to lift :)

September 24, 2007
Class included Trig, Maggie, Kala, Xena and Sally.
We worked with either a toy or target tray with a treat, holding them in place and then saying "get it". I tried a toy with Cinnabar, but it's not that interesting to him. I was supposed to bring his favorite toy, but it got shredded the night before as happens with all their favorite toys :). So, we worked with the target tray. We then setup two poles in the shape of a teepee. We held our dog positioned in line with the target tray on the other side of the poles, and then said "get it". The point of this exercise is to get them used to going low and quickly after the target, which we will then transfer to the bottom of contact obstacles.
Cinnabar started and ended well with this exercise, but lost focus during the middle of it. Sally showed up during this and he was extraordinarily interested in her. Had them say hello, he got back on track. Then Kayla showed up, and the same thing again. Back on track. Then Sebastian started wooing his head off in his crate, not something he normally does. This started Cinnabar wooing like crazy. Finally figured out one of those blasted hot-air balloons was in the distance and heading toward us. Took about 10 minutes for the @#&*(% thing to get clear of us, the wooing stopped and focus was resumed. Gosh I hate those things, they always set Sebastian off which gets Cinnabar riled up.
Then we worked on weaves (12 lined up). Cinnabar did ok for the first 10 and then skipped off. Others seemed to do the same. We reduced it to 6 poles and everyone did fine. I have to work on keeping parallel to him and not facing my body toward the weaves as he's going through.
Then we did this little course, with the trick being a front cross at 4 to get them to 5.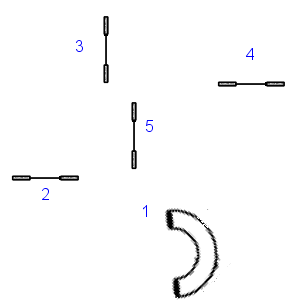 While waiting for Sebastian's class to start, I watched a private lesson being given. The dogs were obviously quite advanced and the lesson was on very specific things (body positioning for the handler and evaluation of the dogs' strengths and weaknesses). The trainer was very good. During Cinnabar's lesson Bev spoke to the trainer and called her Mary Ellen. I asked if that was the famous Mary Ellen, and it was indeed Mary Ellen Barry of KineticDog. She encouraged us to continue our foundation work with our dogs as you can't get to advanced without the foundation work.

October 1, 2007
Trig, Maggie, Kayla and Sally in class last night.
We started in the main outdoor ring, and Cinnabar needed to work on weaves. He was a bit unfocused, and took off on me when Sally got there. He didn't listen when I called him back and ran out of the ring to her. He got crated for that, and I worked with Sebastian on the weaves. When Bev said he could have a second chance, we tried it again, and he started out fine and then ran to the other dogs wanting to play. Bev grabbed him and took him out to his crate and had me work with Sebastian again. About 5 minutes later, he got another chance and was quite focused and we did the weaves fine. He's been unfocused since his brother has been attending class and has to learn he's there to work. First time he's been "the bad boy" :)
Then onto target practice in the 2nd outdoor ring - getting them excited to "get it" at the target tray. The target tray has a treat on it, I hold his collar from about 2 feet away from the target and get him excited, say "target" and let him go running with him. Then moving back several feet each time. Then we put up something for them to run under and through at the target, so that they stay low. This is practice for running targets on contact obstacles. Cinnabar did great and ran under the the teepee poles to the target tray from 12 feet back, with the target tray about 5 feet in front of the poles.
Then we got introduced to the broad jump back in the main ring, setup with just two boards and not four as an intro. We use "over" as opposed to "jump" because they're not going high, just far. We worked on that with them on our left and on our right. Then we incorporated it into a little course, hurdle / tunnel / broadjump. On our final run, Cinnabar broke his sit/stay prior to running the course and ran to look at the other dogs gathering for the next class. Fortunately for him, he came right back when I called him or Bev would've grabbed him up for his crate. All the dogs did great with the broadjump.
We've got to bring a mousepad for a target tray next week, should be interesting.

October 8, 2007
Only Maggie and Sally in class last night. The others were attending a viewing for a trainer from Allentown that committed suicide on Friday night. Two of my classmates (Trig's mom and Xena's mom) were at the trainer's facility when they heard the gunshot). Given the circumstances we didn't want to get ahead of them with the specific exercises planned, so we ran different courses and worked on our running targets for those, as well as a few front crosses thrown in. In the different courses the A Frame and the regulation 4' dogwalk came into play. I'm very happy to report that Cinnabar needed no encouragement for either and grabbed up his treat at the end of them for his "running target". He's also improving on his weaves (6 in a row, not the 12). The triple jump was also thrown in and that was also done with ease.
At the end of class, Cinnabar got fitted for a costume collar (American Indian style) as we're going with a group from Bev's to be in a Halloween parade next week. I'll also be taking his weight pull harness as he'll be pulling a cart in the parade.

October 15, 2007
Trig, Sally, Maggie and Kayla in class. Sally is ever fascinating for Cinnabar and he needed to sniff her over to get settled. Kayla came late with a diaper on as she's in heat. He was quite distracted as even though he's neutered, I guess she still smells good to him.
We worked on our running target exercises again. We brought a mouse pad, target tray and toys/treats. We setup the mousepad a hop from the target tray. Cinnabar had to run under the teepee'd poles cross the mousepad and get the treat on his target (started out with a toy, but hey, he's a malamute - WHERE'S THE FOOD). We used clickers and clicked when their feet hit the mousepad. The intention is to keep their head's down while going under the poles, headed to the target tray. We use the clicker to mark the behavior. They were all doing well with this.
Then we went to the main ring to learn our body positioning for serpentine obstacles. Our course was hurdle / tunnel / hurdle / tunnel / hurdle - this is just an introduction for serpentine obstacles, we'll be doing more intricate courses in the future.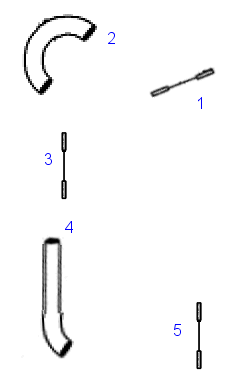 The trick is at #3, we must use our left arm for signaling when they come from the tunnel. As they're jumping, we pivot to our left and use our right arm for signaling them to the next tunnel. If we try to use our right arm for signaling at #3, they all blow by the hurdle.
Cinnabar was being an itch while others had their turn, he wouldn't sit still. He had his turn and did it perfectly - just flew through the whole thing very sharply, and then capped it off with a dump. I do wish he'd whine, it'd be easier to pick up those signals :) Then he escaped the ring running through the dogs waiting for the next class and laid down by his crated brother. I cleaned up, and thank goodness it was at the end of class.
We're to work with the mousepad, target tray & clicker for homework.

October 22, 2007
We did a small course to concentrate on weaves, hurdle / tunnel / weaves (just six of them). We worked on our body position so that we weren't too far ahead of them coming out of the tunnel - in between the tunnel and weaves to get them started (we were on their right). Cinnabar missed a pole the first time through and we did it again and he got them. I have to remember to keep my back straight. When I bend down at all I mess him up.
Then we did another course from the opposite direction, tunnel / hurdle / weaves with us on the dog's left. The dog must still enter the weaves the same way (from the right side of the weaves). Well, we've got alot of work to do! With one exception, we've all got issues with the weaves when we're on the dog's left side. Bev took Cinnabar through 3 times and then I got him through twice. She talked about going back to basics for all of us. Take two poles and practice getting them through the proper entrance from whereever we stand. We can work on that at home.
We ended with a course for fun, with the trick being not getting too far into the pocket between 2 & 3 or they'd blow past the teeter.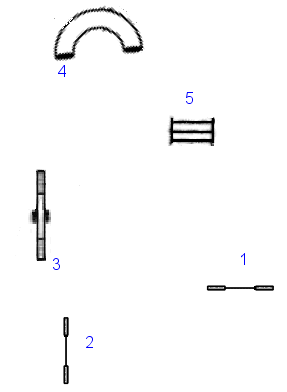 We also worked on throwing the treat or toy past the final obstacle, in this case the triple jump
What was interesting is that while we waited for our turn on our various little courses, Cinnabar made a bee line for the tall table and jumped up on it, sat there looking at me expectantly. Of course, I'm slow. I finally realized that he'd been watching his brother's class and wanted to show me that he does the table great, so of course I gave the sweetie a treat. He was very proud of himself.

October 29, 2007
We moved inside for this class, it was chilly.
We warmed up on weaves (12 of them) and the teeter. Then we did the table and had them go into a down for a 5 second count.
Then we started the course, only doing 1 through 6.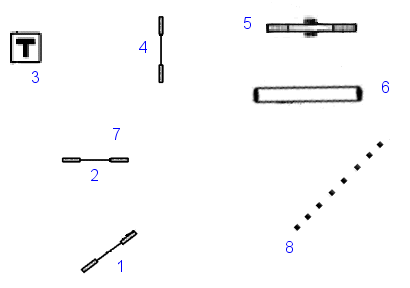 The trick at the table was to have them positioned in a down ready to head toward the hurdle. We each had our issues last night, but Cinnabar's was tunnel mania. He flew off the table, behind me and straight into the tunnel. Got him back on the table and then he did the hurdle and flew straight into the tunnel. Bev blocked the tunnel on our next attempt and he ran to the other end and went through that way. She had me start him again at the table and look him right in the face from jumping off the table, hurdling and on to the teeter. We each did this part of the course twice and he still had some tunnel mania the second time around.
Then she did a demo of the full course setup (obstacles not shown in our little course) with one of her Border Collies. She did it right the first time, then the second time, she was slightly out of position or late signaling on several obstacles to show us how important our positioning and signaling is. Sure enough, Treasure missed those obstacles. I must say that Treasure's weaves took my breath away. Everyone commented on that, to which she replied, she's 8 years old and has been doing this since she was a puppy. Aha, another lesson, this stuff takes time, settle down and patiently work with the dogs.
Then we went back to our little course adding the rest of the obstacles. The trick at the weaves was in deciding whether we wanted our dogs on our left or right. If on our left we had to front cross from the hurdle to get ourselves into position.
Since Cinnabar had taken up so much time previously, I decided to go last. Well, the stinker had gotten over his tunnel mania and did the course very well. I used the front cross to the weaves as having him on my right for this obstacle is more of a challenge and I wanted to end on a positive for him. I had to call him back just once from the weaves because he entered at the second pole instead of the first, but then he ended doing them perfectly.
We're off next week.

November 12, 2007
When I first got there before Sebastian's class, Bev called me over to introduce me to Mary Ellen Barry (we'd previously met briefly). Mary Ellen has a 4 week class for jumps and tunnels starting tonight and had two open spots. Bev recommended Cinnabar and I. She evaluated us with 3 jumps out, turnaround at jump 3 and come back on the other two jumps. I've got to work on his sit/stay as he's anticipating and I've got to be able to lead out (go to the next jump and he only breaks his sit/stay when I say). She told me my action has to be parallel to his and not to ever treat him in agility facing him, only with him at my side. She showed me how to correct the break - walk around him etc and then treat, only from the side. She demonstrated her lead out with her dog. Well, it's an opportunity, even though not in the budget. Bev considers Mary Ellen the best agility trainer on the east coast. She's very pleased with Cinnabar's progress which is why she recommended him. So tonight, Cinnabar and I start our 4 week adventure with Mary Ellen.
For our regular class I was able to work with Cinnabar on the sit/stay.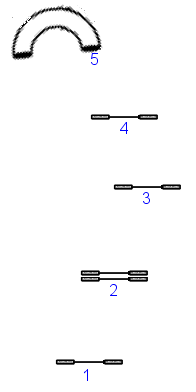 We ran this course twice, once on the dog's right and then on the dog's left. We had to be at the second jump before we gave them the ok. The course doesn't look difficult, but it was the length of the indoor ring so there was lots of room between the jumps. The dogs are typically faster than their handlers (definitely in my case) so we've got to be giving them instruction on their next obstacle as they're completing the current one.
On our first pass of this, I got very firm with Cinnabar about the sit/stay. He's only been anticipating the last few classes, before that he was a rock. Most likely my fault. On our 2nd run he really got it that I was not cutting any slack and kept his butt down until I said ok.

On the hurdle / hurdle / teeter we practiced our sit/stay once again and he was perfect about it.
We ended with the weaves / table with a down. He did well on the weaves, one call back for missing one. He did an almost down on the table, stubborn boy.

November 13, 2007 - 1st of 4 classes with Mary Ellen Barry
This course is on Cues
1) Motion (direction and speed)
2) position
3) shoulders
4) arms/hands
5) legs/feet
6) verbal
7) eye contact

The first 3 we don't have to train them for as they instinctively move based our motion, position, shoulders.
Mary Ellen demonstrated with her dog at a jump. When she stepped toward the jump, her dog jumped it. Her position was parallel to the dog and her shoulders were squared to the jump. Then she used just her arm to signal to the jump and he jumped it. Just using her legs/feet moving toward the jump he jumped it (this is more important with little dogs because that's what they see, the feet). Then she told him to jump and he jumped it. We'll cover eye contact in a later session.
She then demonstrated why these cues are important because we shouldn't have the dog trained to always be at our side. She showed a jump, a 180 turn to another jump. She showed how her motion if forward and with the dog had the dog going toward the next jump in a straight line. If she didn't go with the dog, after the jump he looked back toward her and she signalled the jump that was a 180 from the first.
Our first exercise was to position our dog at a jump, be parallel to the dog, shoulders square to the jump keep our outer leg stationary, take one step with our inner leg and motion our inner arm toward the jump and have them jump it, throwing the toy/treat to the side of the jump so that they turn back to us.
Cinnabar did fine on this with me on his left and was 50/50 with me on his right.
We should never be in front of the dog to position them at the start line, always parallel to them.
Our next exercise dealt with where we treat the dog in agility. Always on the side (never in front of us as in obedience), with them parallel to us. She demonstrated with hand touches, and showed how to work with the dogs to get them to come to our side for the treat instead of in front of us. I asked what if they come to the side but are facing the wrong way, not parallel. She said that was a good start, but then showed some exercises to get them parallel.
On our exercise, she had me get parallel to Cinnabar to get him used to it, as no matter how I baited him he came to my side with his face but his butt end was still in front of me instead of behind or to the side of me. She took his treats and worked with him and just got parallel to him each time. He got it with her, so then it was my turn. I had him sit, was parallel to him on his right & treated him, walked around in front of him ending on his left parallel to him and treated him, and repeated this over and over. She was very pleased and asked if I'd worked with him since the night before because he was so improved. Yes, indeed I did. I have to work with him on hand touches to get him with his nose coming to my hand while he's positioning himself on my side. I even did it this morning with his pettab.
This is good detailed stuff!
We have to get a treat bag/ treat tube to throw instead of a toy. As long as he can smell it and believes he can eat it, it will work.

November 20, 2007 - 2nd of 4 classes with Mary Ellen Barry She demonstrated how we never want the dog ahead of us except with permission. Our homework is a two part exercise to work on that. Take a toy (or treat) have it behind to the right of you, the dog sitting on your left. They can't have it until you say ok (or whatever your break word is) and turn with you to get it. By having it behind you, you can step on it to keep them from it while training. The second one was having the bait a ways from you and them not able to go for it until given the ok.
We were working on front crosses last night.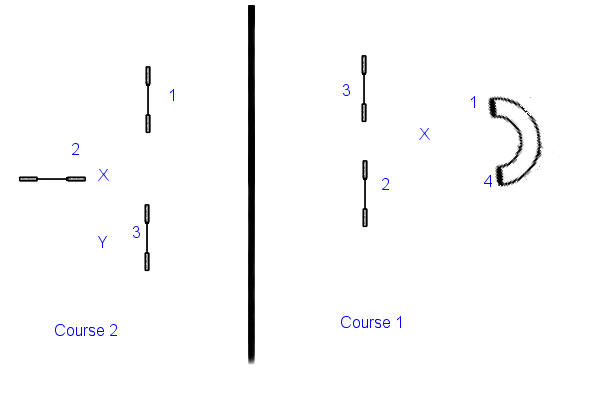 In course 1, we were to be at the X, them lined up parallel to us on our left, send them with hand/leg motion & verbal over the first hurdle, turn slightly to our right and motion to them with our left arm to make the 180 turn to second hurdle, then we turn to our right so that they end up on our right side to in preparation to send them to the tunnel. For the large dogs, we had to reward them for getting to our side (little dogs got rewarded when they got there and kept going - they need more motion, larger dogs need more control). We were to add the tunnel at the beginning and end of the run after we were fluid with the 180 hurdles.
Cinnabar decided for whatever reason to be in full malamute mode, he was slightly unfocused. He wouldn't jump the first hurdle when I sent him with one step/arm motion/verbal jump. He'd get to it and look back at me. He'd do it if I went further with him. She thought maybe he strained something because he was refusing the jump. She wanted to know how often I practiced with him (twice) and said we can't progress if he won't go on send. Oh, and he peed on the course, and since we're indoors it's a $5 fine - thanks buddy.
I went off to a practice hurdle in the corner, sending him over a hurdle, which he did perfectly again and again. I did it with him on both sides. While I was doing this, Mary Ellen demonstrated something with Zena, which appeared to be an agility sit/stay by the time I realized what was going on and got over there. Then she showed us the 2nd course where we started ourselves at the x, front crossed to the y as we sent them over the second hurdle. The 3 more advanced did that, while the other 3 of us worked on the sit/stay. Cinnabar was perfect in his sit/stay while I moved all around him, got parallel with him treated him for staying and moved around again and got parallel on the other side and treated him. She was surprised because he was focused and not like he was when I tried to send him over the hurdle in our first exercise, so she sent me to a hurdle to work with him and asked if he had stage fright because he was doing perfectly what he wouldn't do when we were center stage.
I'm glad he ended up well, because he made it look like we hadn't done any homework at all. How malamute of him. We'll do even more this week. Our goal is to be able to send them without the motion of us running with them. On the sidelines Lori told me that she's often seen working dogs have trouble with this and to be patient and keep working with him. We'll do both front cross exercises, and our other exercise. The treat tube I got is useless unless I've got the hotdog sticking out from the end of it :) I'm working on getting a custom bait bag that is tube shaped, with a velcro closure at one end where he can definitely smell the hot dogs.

November 26, 2007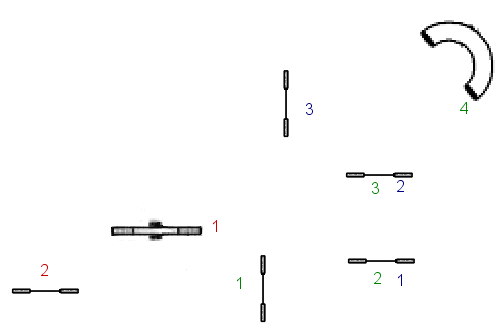 Our first course was teeter/hurdle. We had the dog on our left and we were working on our body position and left arm motion toward the hurdle. Once I got through my head what we were doing, Cinnabar did fine.
Our second course was hurdle/hurdle/hurdle/tunnel. We had the dog on our right. We had to work on not getting our bodies too close to the second hurdle so that we were in position to send them to the third one. Cinnabar kept flying by the third hurdle. I had to bring my arm in to my body after sending him to the second hurdle and voila he made the third hurdle without issue, then send my arm out once again for the tunnel.
Our third course was 3 hurdles, with the dog on our right. We had to front cross them in front of the second hurdle to have them on our left to send them to the third hurdle. I was so concerned about the front cross, I had him missing the second hurdle. I finally put all the pieces together and of course he got it right. :)
We also didn't start a run until I gave him the ok to break his sit/stay, which means we went back a few times, but I'm pleased overall with him on that.

November 27, 2007 - 3rd of 4 classes with Mary Ellen Barry
We started with questions. Lori had a question about sit/stay at the jump. She works with Kayla and she's perfect at home, but releases most of the time at class. Mary Ellen asked about the 3 D's (distraction, distance, duration) of her sit/stays. She recommended crate games, which can be found at cleanrun.com. Working with a crate in front of the jump gives them an already defined space in which to stay. She also had sample Clean Run magazines for us.
Our goal was working on acceleration and deceleration based solely on our movement. When we are accelerating toward a jump, they will jump it in extended fashion - on towards the next obstacle. Any movement by us is acceleration in the dog's mind, so where we stop our movement is key in getting them to decelerate in preparation for a change of direction. They will then jump and turn towards us looking for their next command.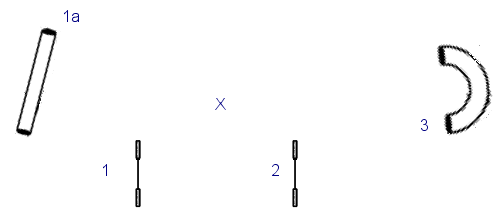 We did two exercises, with the human as the 'X' position. The first exercise was acceleration. We took them from a sit/stay to hurdle / hurdle / tunnel with us moving towards the tunnel. The next exercise was deceleration where we did not move past the 2nd hurdle, but stayed several feet behind it to get them to decelerate and turn toward us. We could take two steps towards the second hurdle, but our motion needed to stop as they finished the first hurdle. We needed to motion with the hand and leg nearest them. As always for me, it's getting my head around what I need to do. Mary Ellen took the treat tube so I didn't have to coordinate that, but concentrated on where my best ending position should be with Cinnabar to get the desired results. She threw the treat tube (which must be a reward and not a lure, so the timing is important). She had me start him at the '1a' tunnel so that he had good acceleration going into the first hurdle. We got it right on about our 5th try.
She gave me kudos on his sit/stay, but wanted me to reward him more for it. I said he breaks it if I reward so she had me do it so she could correct me in how I'm doing it. We're to walk away from them, go back and treat, which is what I did, but he'd pop up. She had me go back to him and stand parallel next to him, then treat. He didn't pop up. She was pleased with both of our progress on our homework. A very nice change from last week.
While each of us did that, Mary Ellen had brought Shirley to work with us on our sends. Shirley worked with us one-on-one, while someone else was in the ring with Mary Ellen. The dog is behind the jump in sit/stay, we motion with our inner arm, inner leg (one step) and voice to send them over the jump. We worked hard on this during the week, and while he was 80% at home, he was 100% there. Shirley told me I need to be more consistent in my release word and my movement that I'm sending mixed signals. She had me make a big deal about the treat tube that we throw as a reward, have more treats in my hand and give them to him as if they were coming out of the treat tube (I have the end of a hot dog sticking out of the thing which he chomps quickly). She gave me tips on getting him to line up in his sit/stay on either side. While we've worked hard on this, we're very far from where we need to be. All his life his sit/stays have been right in front of me with either hand or voice command. Now, he's got to do it sitting next to me on the side of my choosing. we're making progress, but more needs to be made.
Cinnabar did decide to show his breed pride in the ring. He popped up from his sit/stay and when I said no, continued to walk to the jump and swatted the bar off and went back to his position. Mary Ellen said, what's that about, he did that on purpose? Can you spell m-a-l-a-m-u-t-e? The brat :)
Overall, I'm very happy with the progress we both made.

December 3, 2007
We warmed up on the dog walk ramps laid flat, stopping at the end for target. We did well going from one end to the other, but not the other way - no stopping. We also warmed up with weaves, tunnel, chute & jumps.
Then we worked on exercises for getting them to stop for the target. Refreshing on touch, moving it to a target, have their back end on a step and touching the target with their nose. Treat them for every touch, make the treat come from different sides so they don't know from where the treat will come so they're not looking for it.
Then we did a small course, hurdle / chute / hurdle / snake to hurdle / tire
Cinnabar's sit/stays were good. He broke a couple times, but when I said no, he went right back to position and kept his butt firmly on the floor until he heard ok.
Last regular class for 6 weeks.

December 4, 2007 - 4th of 4 classes with Mary Ellen Barry
We learned and worked on lateral sends. A lateral send is when you send the dog and then move laterally to their forward motion. Your lateral motion is the signal to them to move with you. There are 3 kinds of laterals - pull (bring the dog toward you) and push (send the dog away from you) and back cross. We worked on pull and push in preparation for a serpentine course.

At the first hurdle, we send the dog without a forward step, just arm and voice. As they move toward the jump we move laterally from their forward motion to the next. They naturally are then in position for the next hurdle. We send them away from us at the third hurdle with arm motion. Once we send them on the first hurdle, we must be facing the way of the arrow in the diagram. When we don't (as I can attest to) then we have to work hard to make the serpentine instead of using their natural response to our motion signals.
She also gave us flat work exercises. Have your dog walk next to you on your left, turn to your right and treat the dog for staying next to you. This is essentially the lateral pull. Then switch sides and do the same. The next is to have your dog on your left walking along and turn left into the dog having them stay with you. This is essentially the lateral push. Switch sides and do the same. The next exercise was walking them on your left do a 180 and have them end up on your right. We're treating everytime we make a turn and they stay with us. The final exercise was to put them in a sit on our left, hold out the left hand with the treat ahead of their nose (the only time we're allowed to lure) and cross right behind them. Give them the treat if they don't pop up or move their feet. Only their head should move.
We each worked individually with Mary Ellen in the ring on the lateral sends. We did the first hurdle with our lateral movement. When we had that down, then we included the second hurdle. When we had that down we included the third. At this point with Cinnabar, I need to still stand closer to the first hurdle than I will eventually, but with continued practice I'll be able to move back. We got praise as we've obviously been doing our homework on the send. Although with continued repetition on the first hurdle he deteriorated and gave us his belly a couple times. I spoke more excitedly to him and walked him around in a circle and he got back on track. I was pleased with his sit/stays at my side. It's getting much easier to line him up. The good news is that we weren't in the ring that long. I had to get it through my head to face the correct way, and once that happened, the whole thing just flowed.
When not in the ring, we each worked with Shirley on the flat work. Cinnabar was "hoovering" and she told me to be more excited about the treats so that I was more interesting than what was on the floor :) Worked like a charm. Thank you, Shirley!
At the beginning when Mary Ellen was diagramming and demonstrating the lateral sends with her dog she told us how lucky we were to learn this early on. She described how things were 12 years ago when agility was new. She said you raced around the course calling your dog to come to you, and that's essentially what everyone did until people figured out how to use the signals natural to the dog.
She's got an article in the January edition of Clean Run (cleanrun.com) on the exercises she showed us. Bev had told us to ask her to show her dogs target touching. She showed us with her 3 year old how she continually touches the target, regardless of treats being spread around all in front of her. She only took treats from Mary Ellen, not the ones thrown in front of her. Then she demonstrated with her 6 month old some of the training techniques she uses early to get them to the point of the 3 year old. She said she's going to have an article on this coming in the June edition of Clean Run.
Hopefully we'll have another chance to train with her. This was a great opportunity for us, alot learned and alot of exercises to do to incorporate it and make it natural. Thank you, Mary Ellen!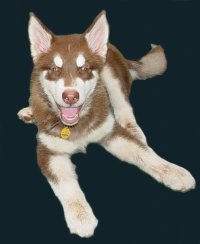 website design by Sheryl
bordered background by Sheryl
© 2005
all images © Sheryl Franklin unless elsewise attributed
all Alaskan Malamute sound files © Sheryl Franklin
website hosting by FranklinCommunications
domain name by DomainRegister.com