Sheryl's Alaskan Malamutes - Agility Trials - DOCNA - January 18, 2009



Agility Trials - DOCNA - December 13, 2008

The snowy drive to the trial in the dark was slow, but safe until we drove up the last hill. The paved road was icy and we just made it with alot of skidding. The long driveway to the facility is dirt/gravel, winding and down and uphill, but it was by far better than the paved road. They had extra propane heaters in the building. My boys were raring to go with the snow, they didn't know what everyone else was grumbling about, they loved it.

We were joined by Barb and Bee Gee and setup the Alaskan Malamute section of the trial. Barb was going to bring Princess and run her as a Grand Veteran, but because of the cold floor she didn't want to put her 12 year old through that.

The first course for Cinnabar and Bee Gee was Standard Beginners 3.

Our judge was Judy Boone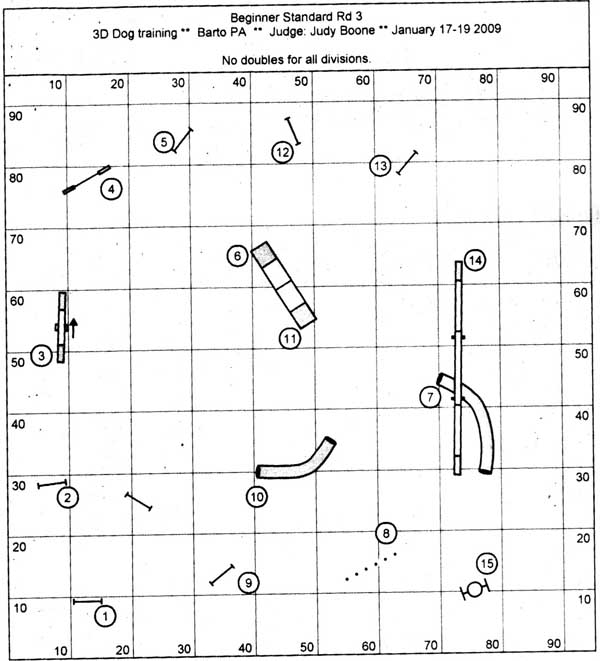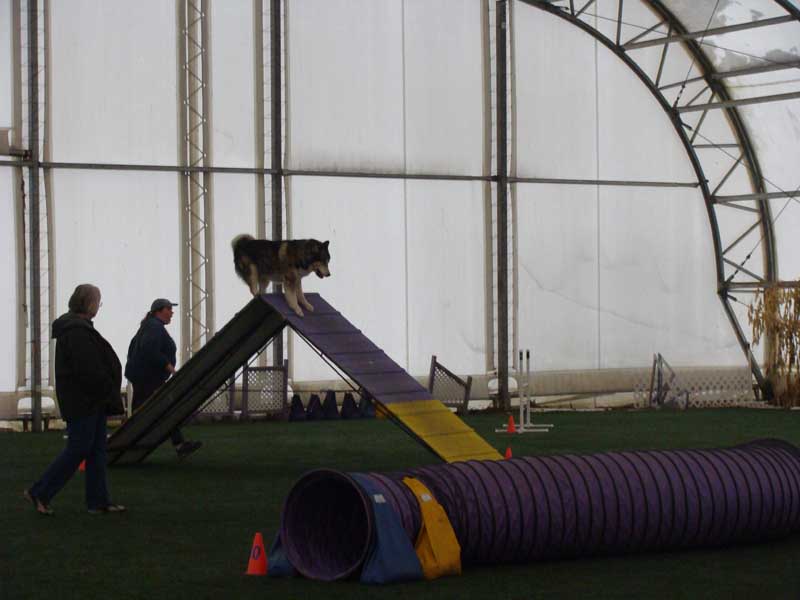 This day they ran dogs, tall to small. Bee Gee was up first. We'd been warned by those there the day before and those that ran in specialist that first jump was too close to the end of the ring for big dogs. They were right, not enough setup room and Beeg knocked down the first bar, but ran the rest of the course just fine.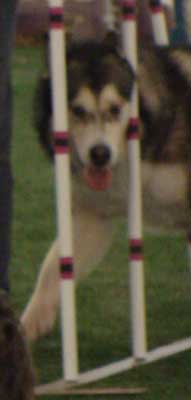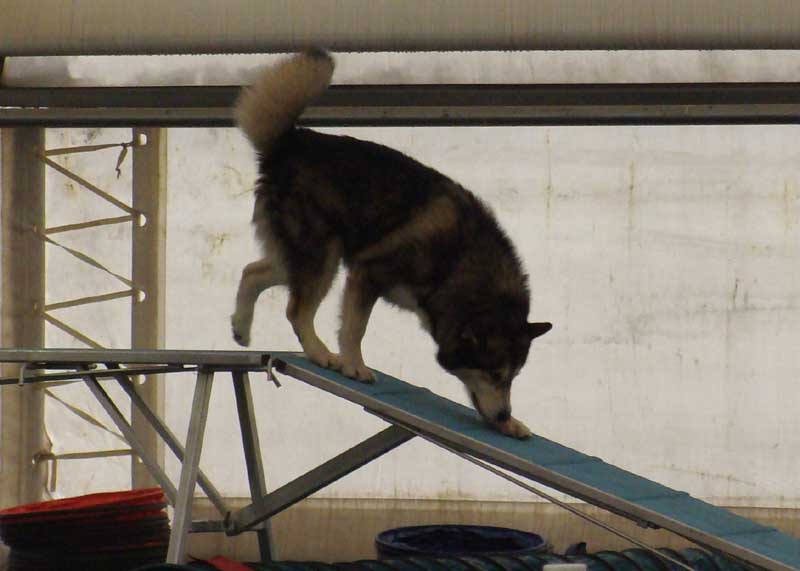 I set Cinnabar up at an angle, right up against the ring on that first jump to give him more room, and that worked, he left that bar up. He was having a blast, and not focused as I really discovered at the weaves. He did a meet and greet with the scorekeepers and really had trouble completing the weaves. Good news, he entered them correctly. Bad news, he still kept missing a pole even on our third try (maximum). He also knocked a couple bars down and was over on time, but he was having fun, as everyone commented. He still ended up with a blue ribbon for his class.
The 2nd course for Cinnabar and Bee Gee was Standard Beginners 4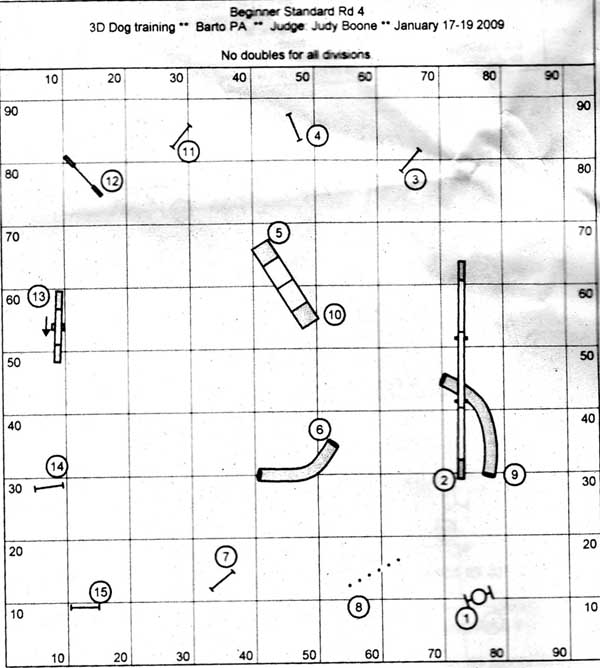 Bee Gee had a good run, but I believe had faults. Like Cinnabar, he was just having way too much fun. Amazing what the cold does to these guys.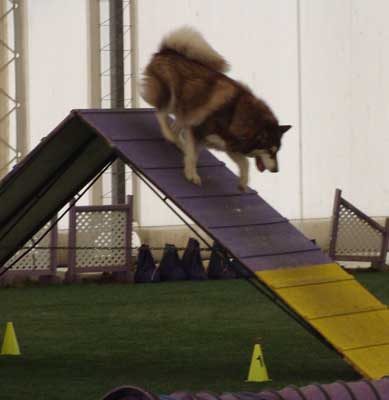 You know he was having fun when you hear the judge giggling as he's running up the A Frame :) Another meet and greet with the scorekeepers at the weaves, but we did complete them, although I took a step back by using my hands to guide him through. He knocked down a couple bars that were my fault. No time faults, another blue ribbon, and a very happy boy.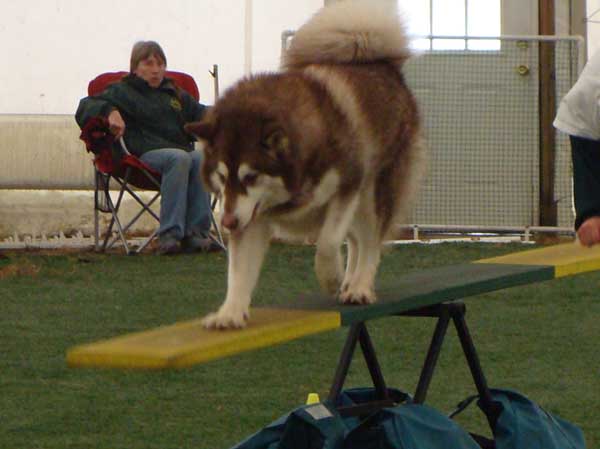 I snapped some shots of classmates that ran the North American Challenge at the specialist level.
These shots are of Tonka. Cinnabar usually has class with his housemate Kiki, but occasionally Tonka has shown up. He's fun to watch not just because he's good, but he barks his whole way through :)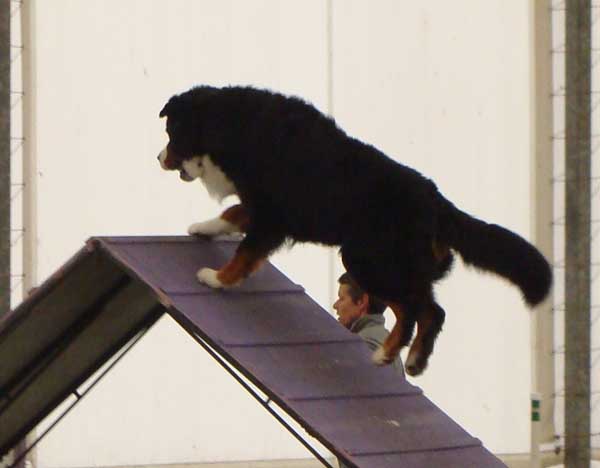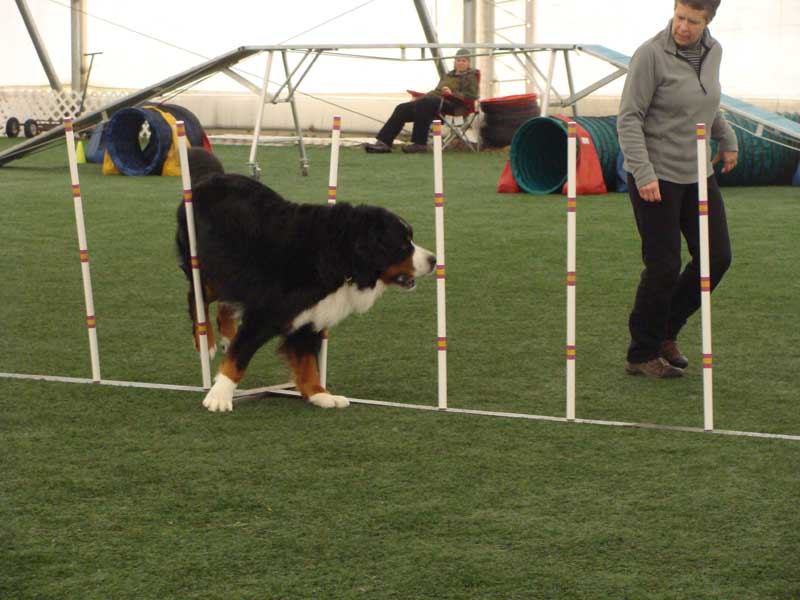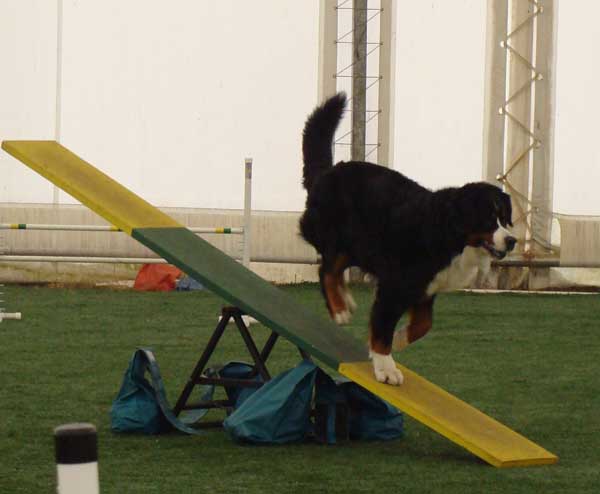 This shot is of Skylar. Most of my shots of him didn't quite turn out because the little guy is so quick.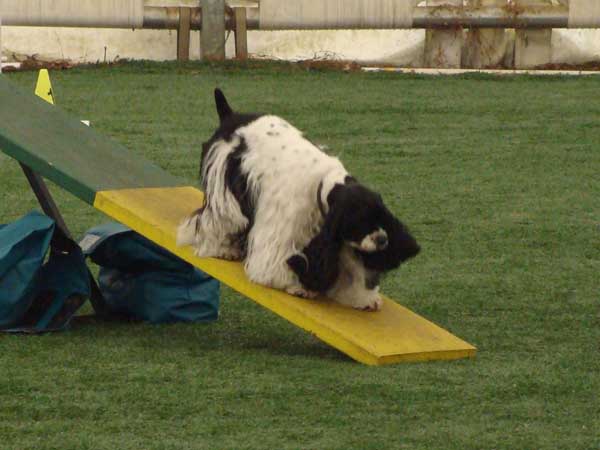 The next run for both Bee Gee and Cinnabar was the North American Challenge. There is no beginners level, so we ran at intern level.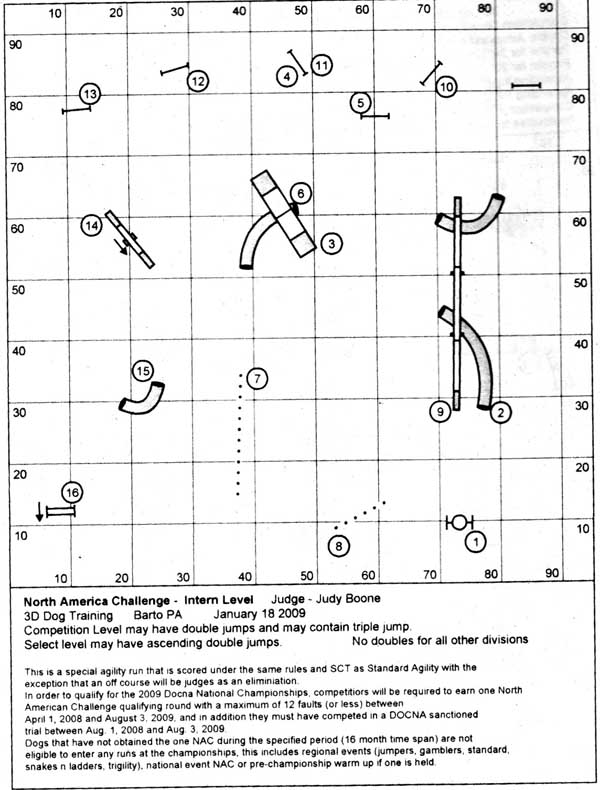 Bee Gee was again having too much fun, so no qualify, but when he was on he was looking good.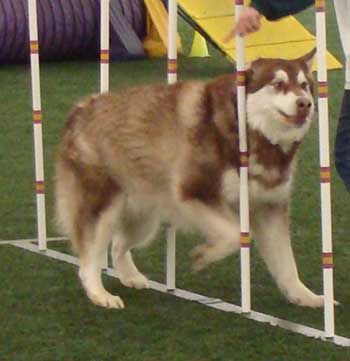 I had no expectations for this run, but was looking at it as experience. My concern for Cinnabar were the back-to-back weaves. Imagine my surprise when he went off course from 5 and didn't do the tunnel at 6 as my motion and body position indicated, but ran over to do the tunnel under the dog walk. I got him right back on course and he did the weaves just fine, but again, I was using my hands. He knocked down 14 and 15. Tonka's mom said I pulled my hand back just a tad too soon which is why he knocked them down. You have to have 12 faults or less to qualify on this. We might have squeaked by on that, BUT, an off course is an elimation so we got the big E. Which you can look at as Entertainment, because he had fun and was evidently delightful to watch :)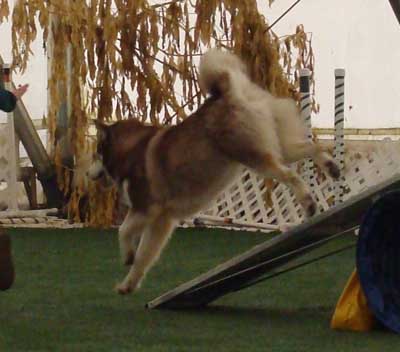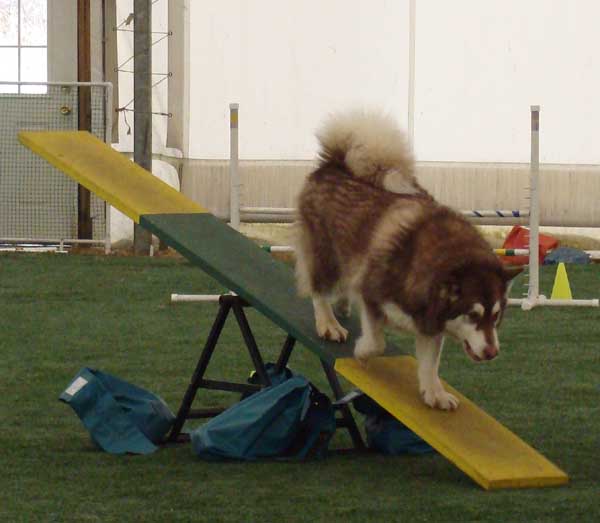 The next run was Traditional Gamblers Beginners for BeeGee, Cinnabar and Sebastian.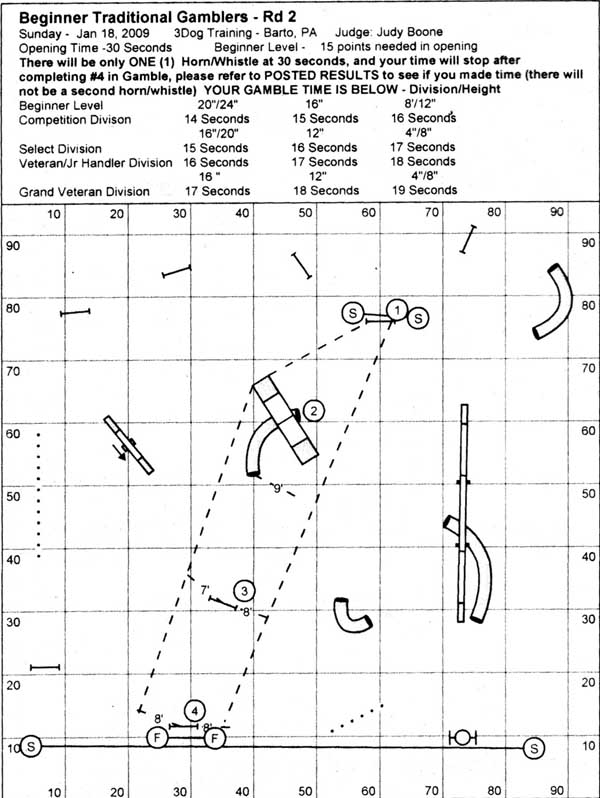 Each obstacle has a point value, jumps are 1, tire & tunnels are 3, dogwalk & frame & teeter are 5 as are the short weaves. The longer weaves are 7 points. You make up your own course trying to get 15 points before the 30 second buzzer sounds telling you to complete the gamble. The gamble was the last jump/tunnel/jump/jump and the handler must not cross the blue line while getting the dogs to do the jumps.
Barb was running Cinnabar for me. Her strategy for both Bee Gee and Cinnabar was to stay on the right side of the course using the tunnels, tire and dog walk to get the 15 points and then run the gamble. I was going to do the same with Sebastian, except bypassing the dogwalk.
Bee Gee ran well and completed the gamble, but I believe was over on time. My memory is hazy on this.
I did sit/stays with Sebastian to get some focus with him before running. We started off with the tire and then ran the two closest tunnels twice. When I headed down to the other end with him to get in position for the gamble he decided to put some feet on the dog walk looking for a treat, then he followed me and did a meet and greet with the bar setter :) The buzzer had already gone off so we were eating up time. Then he decided to put some feet on the other end of the dog walk. He was very happy with himself. I got him over the first gamble jump and he was headed for the tunnel, but decide the A Frame looked nice and ran half way up that with tail wagging like crazy. I got him down and finished the gamble. He was over on time, didn't complete the gamble, but did get a blue ribbon for his class because he did get his 15 points :)
Barb had some great stinky salmon treats that she used with Cinnabar to get him focused on her. Unfortunately, he had seen his brother run and had seen me leave the ring with him. I saw him looking at me, then he looked at Barb. She unsnapped his leash and he ran right to the judge on the other side of the A Frame for a meet and greet, then right out of the ring to me and his crate. Best laid plans. He's run for other people before, but not at a trial. So, he got the big E again. Entertainment and Elimination :) The big baby.
Next came Trigility. They switched us around. Bee Gee ran with Tonka and another dog. Cinnabar ran with two dogs new to us.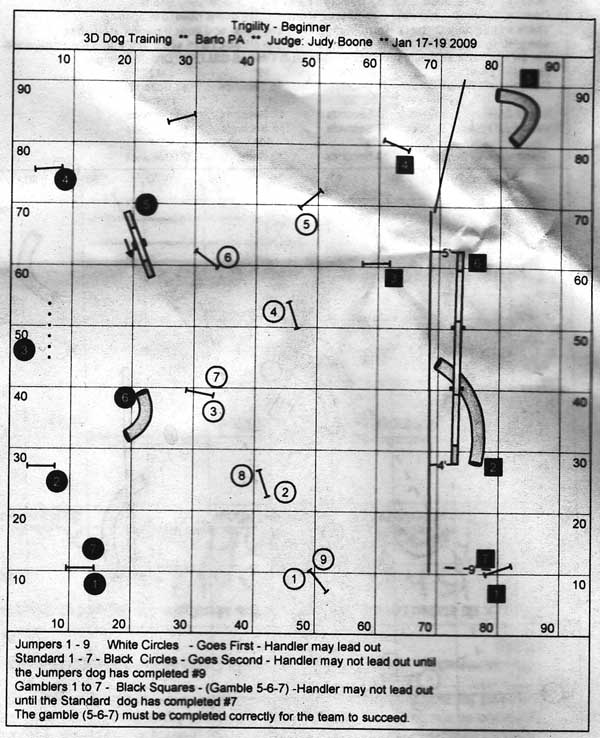 For Bee Gee's team, the dog running jumpers completed the course just fine. Tonka crashed a hurdle in his standard run. Bee Gee was doing great and running the gamble and forward motion would've dictated that he finish with the jump. But no, the tunnel got him. He made a left turn into the tunnel off the dogwalk, but Barb did get him to finish the gamble. She felt better knowing that they wouldn't have qualified anyway because Tonka crashed the jump. Tonka's mom thinks that maybe trigility is too exciting for him :)
For Cinnabar's team, the dog running jumpers did great. Cinnabar had trouble on the weaves, took us 3 times to complete and then he finished the course just fine. The poodle running the gamble did great. We got the qualify and 2nd place in the beginners class. Cinnabar already has his title in trigility, and with this qualify moves him to the Bronze Merit level.
Next for Bee Gee, Cinnabar and Sebastian was the jumpers run.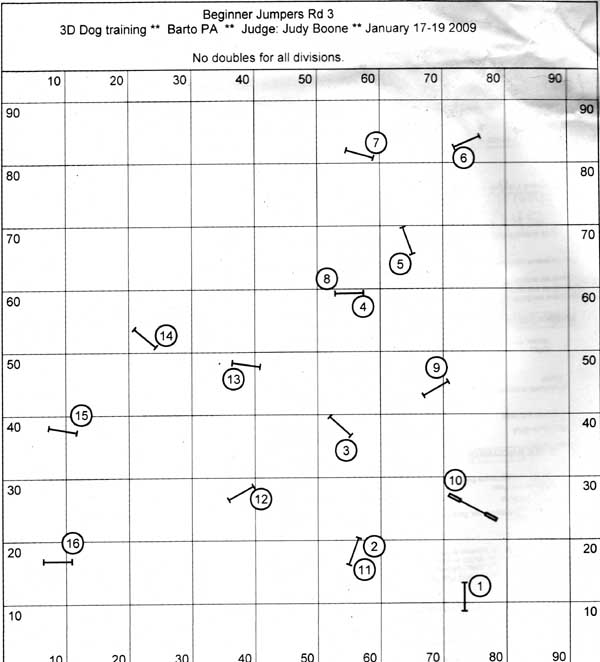 I didn't see alot of Bee Gee's run because I was doing sit/stays with Sebastian to get him focused. I believe he went off course and didn't get a Q :(
Sebastian ran a nice focused run for me. He stayed with me the whole time. He back crossed for me (whew) at 6 and I front crossed at 9 and 13. He did knock down 2 bars, so 10 course faults, but no time faults. He got a blue ribbon for his class. I was very happy with that.
Sebastian's photo is dark because it was getting dark outside and we had the lights on in the ring.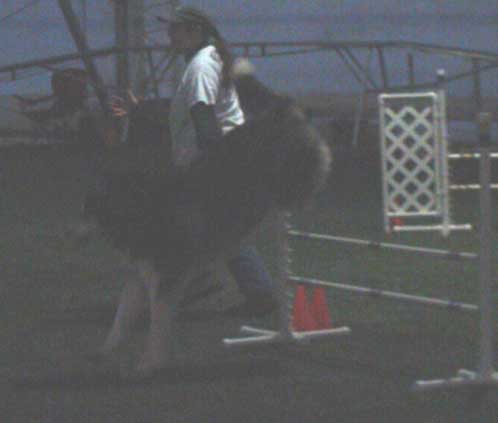 We had planned for Barb to run Cinnabar, but with his big E in Gamblers, we went with me:) I was fortunate in that they let me move Sebastian up in the order so there were at least 4 dogs between them. He was still being a goof. Took me a bit to get him positioned correctly at the start. Then we were off. He very nicely back crossed for me at 6 (woo hoo!!), but that was after he'd gone for a meet and greet with the judge who was sitting for jumpers. She said later that she was hoping he wasn't going to try to get in her lap. She's got a real soft spot for him, but he's just too big for that :) I messed him up at 9 by not front crossing and he crashed the jump. That was his only course fault and it was my fault. But, he was over on time because of his meet and greet. He did get a red ribbon for his efforts, the happy boy.
Barb and Bee Gee were headed back the next day for the final day of the trial. She thinks he'll be more focused because he'll be tired. She'd pulled 48 hours at work before that so he was pent up with wanting to spend time with mom and not his usual focused self.
Just before Jumpers began it started snowing, fortunately it was a light snow, so the drive home wasn't bad. They were a little tired, but not too tired to enjoy the snow outside :) Unfortunately, I slipped on some ice at home and twisted my knee. They sure enjoy this weather more than I!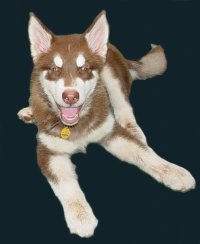 website design by Sheryl
bordered background by Sheryl
© 2005
all images © Sheryl Franklin unless elsewise attributed
all Alaskan Malamute sound files © Sheryl Franklin
website hosting by FranklinCommunications
domain name by DomainRegister.com