Sheryl's Alaskan Malamutes - Agility Trials - DOCNA - December 13, 2008



Agility Trials - DOCNA - December 13, 2008

We were accompanied on our way to our third agility trial by the full moon. It's the closest it's been to earth in 15 years, and they say looks 14% larger to us. Just gorgeous. Along with the slowly setting full moon, came the extreme crispness in temperatures. Gloves were needed indoors until the sun came up and assisted the propane heating.

I had no expectations for either of my boys, I just wanted them to do their best and have fun. We were joined by Barb and Bee Gee and setup the Alaskan Malamute section of the trial :)

The first course for Cinnabar and Bee Gee was Standard Beginners 1.

Our judge was Bud Houton, whose seminar Barb has attended in the past. A very nice gentleman and a great sense of humor.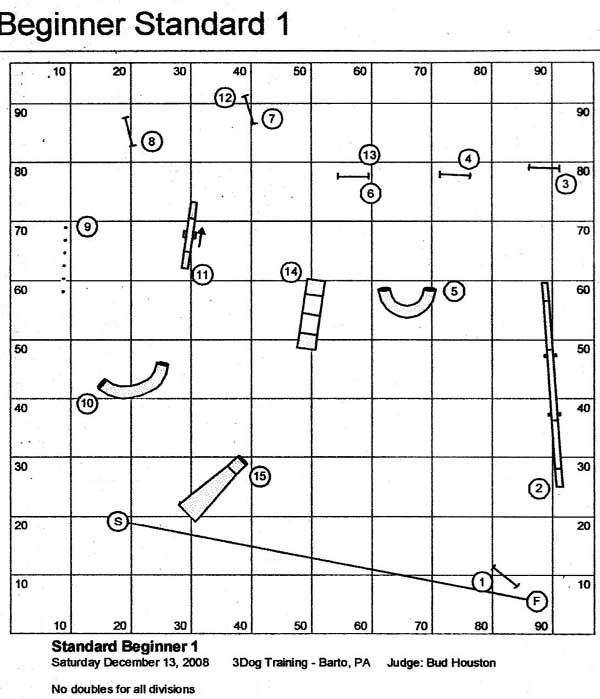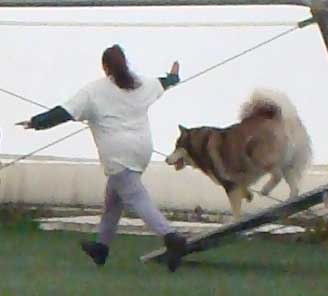 Our run started off rocky and great at the same time. Cinnabar didn't want to get into position, but once running, he hit the dogwalk with confidence. Yeah! Then he threw me for a loop when I sent him out over 3 and he went to meet the person sitting on the sidelines (whose job it is to put bars back up). He recalled, I sent him out again and again he was into meet and greet. He came back and we finished the course without further incident, including entering the weaves properly and finishing them without restart.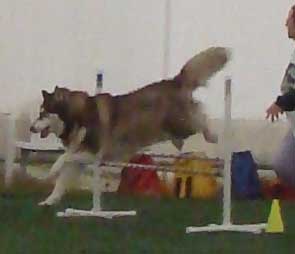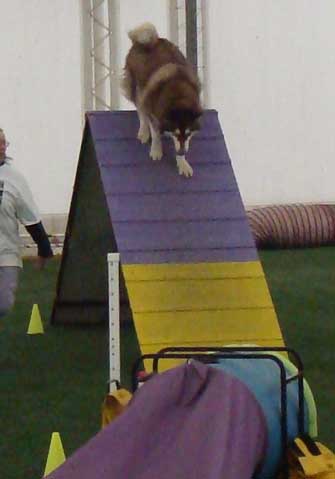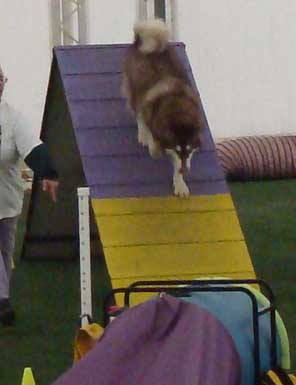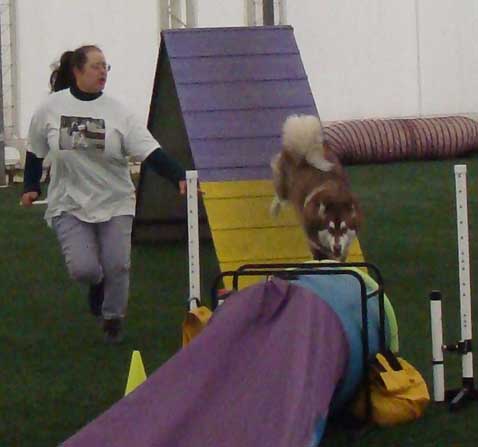 We got a qualify, and blue ribbon for first in his class - woo hoo!! I was concerned about time with his meet and greet, but he made it by several seconds.
Bee Gee also had a good run and got a qualify with 1 or 2 seconds to spare!!!!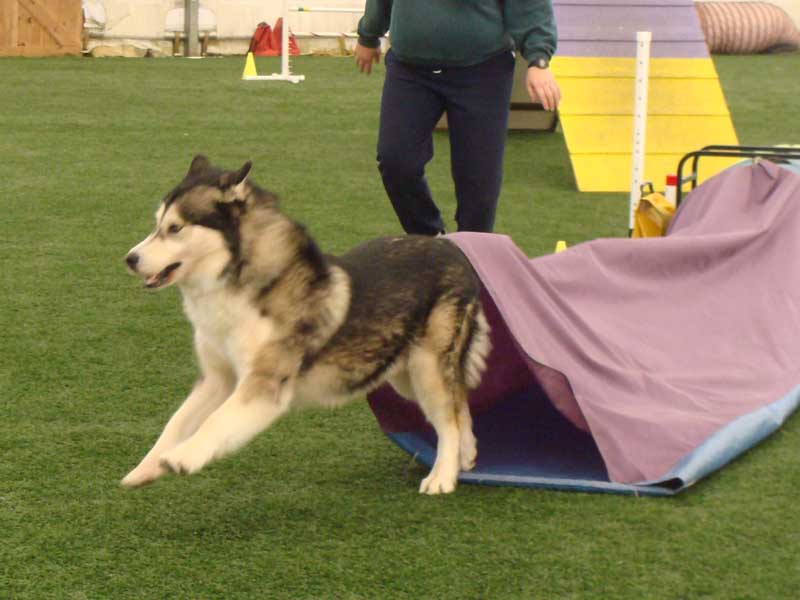 The 2nd course for Cinnabar and Bee Gee was Standard Beginners 2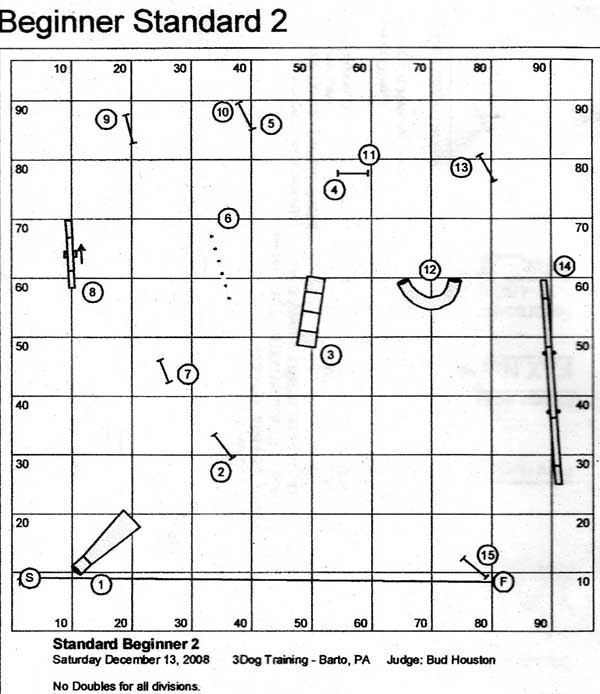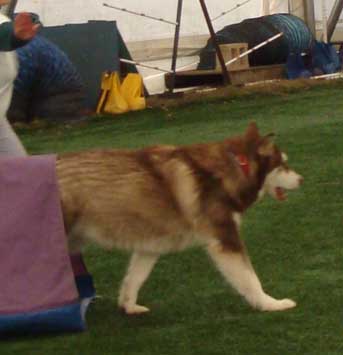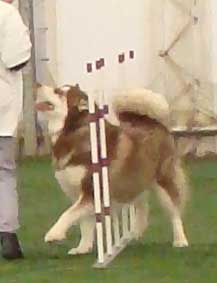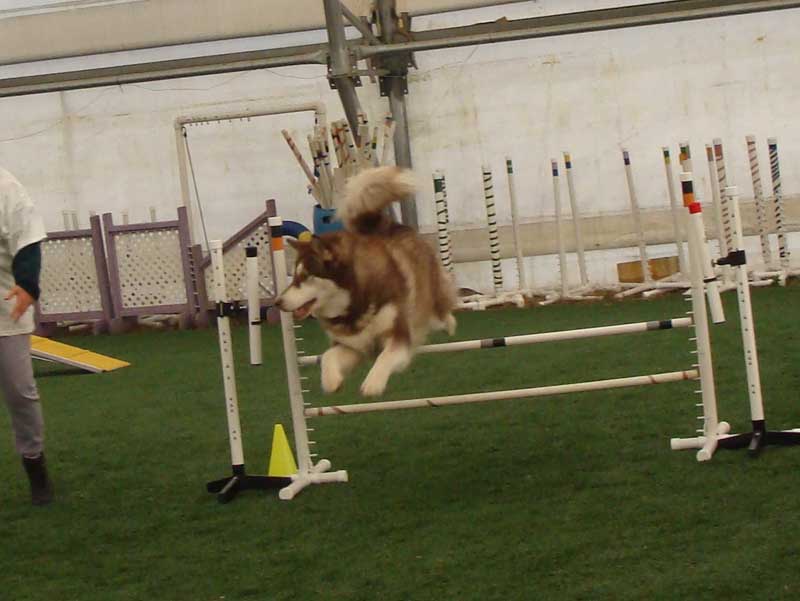 My only worry on this run was the dogwalk, but he was a champ. Also, no meet and greet. We did restart the weaves, but he completed them We had a clean run and again got a qualify and blue ribbon! Wowee, that felt good!!
Bee Gee had a great 2nd run and again got a qualify!!!!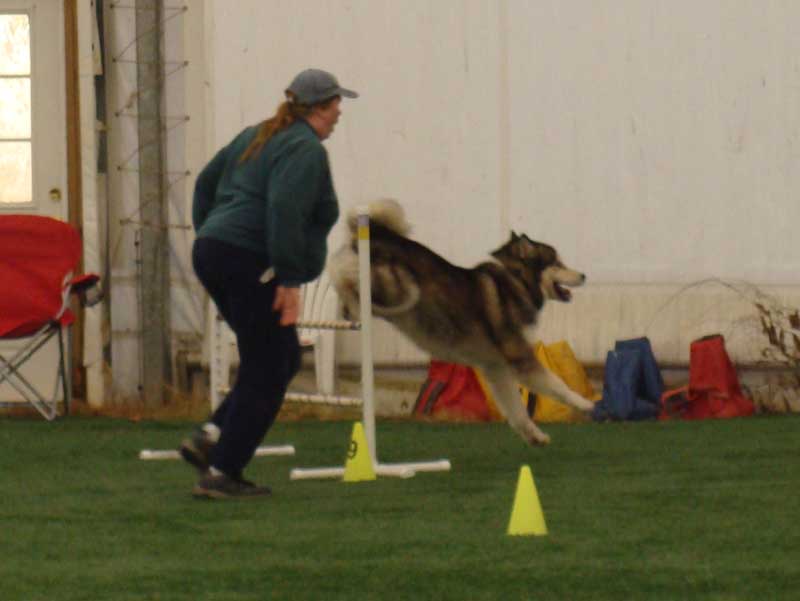 Bee Gee's next run was the North American Challenge. He ran a beautiful clean run, and got a qualify! Beeg was looking good!
The next run was Traditional Gamblers Beginners for BeeGee, Cinnabar and Sebastian.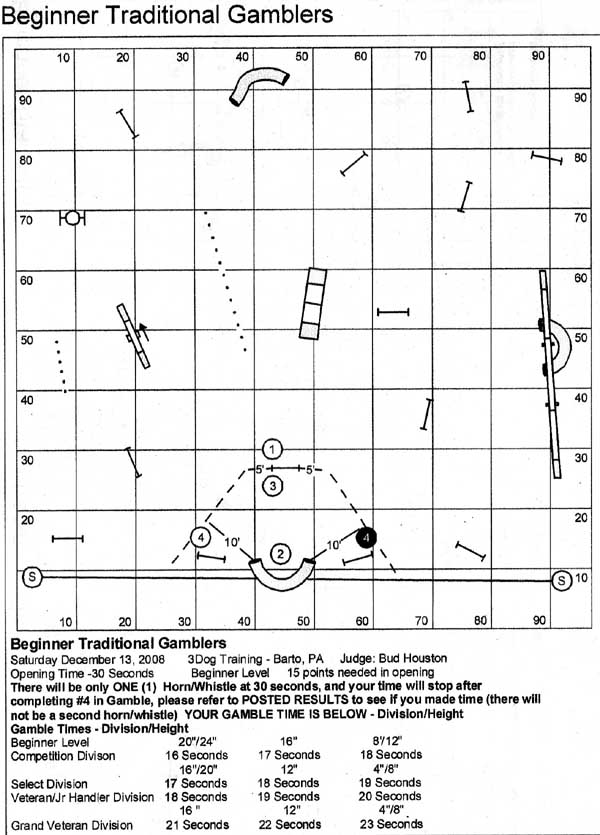 Each obstacle has a point value, jumps are 1, tire & tunnels are 3, dogwalk & frame & teeter are 5 as are the short weaves. The longer weaves are 7 points. You make up your own course trying to get 15 points before the 30 second buzzer sounds telling you to complete the gamble. The gamble was the last 4 jumps and the handler must not cross the blue line while getting the dogs to do the jumps.
While walking the course I had to look at it in two different ways because Sebastian doesn't do contacts. I had to get him into tunnels as many times as I could while only doing each tunnel twice. For Cinnabar I could run him up the A Frame a couple times as well as using tunnels for points. I didn't spend enough time thinking about the gamble for Cinnabar. For Sebastian I was very concerned that the gamble faced the crowd and there were too many leashed dogs uncrated that could attract his attention.
Cinnabar ran great until the gamble. It had to be me, because this was an easy gamble. He was very needy and wouldn't do the tunnel without me right there. Not like him. Had to be my attitude. I think I shortchanged Cinnabar by being too concerned about Sebastian's run which was separated by only one dog.
Sebastian ran a very focused run for me. When the buzzer went off, he ran over to the A Frame and halfway up tail wagging. I didn't attempt the gamble with him, to the dismay of the judge. In hindsight I should've attempted it with him because he was very focused. However, I was very pleased with his focus and the fact that he was having fun.
Bee Gee ran the course nicely and completed the gamble and got a qualify!
Next came Trigility in which Kizzie (GSD) did the jumpers run, Cinnabar & I did the standard run and Barb/BeeGee did the gamblers run.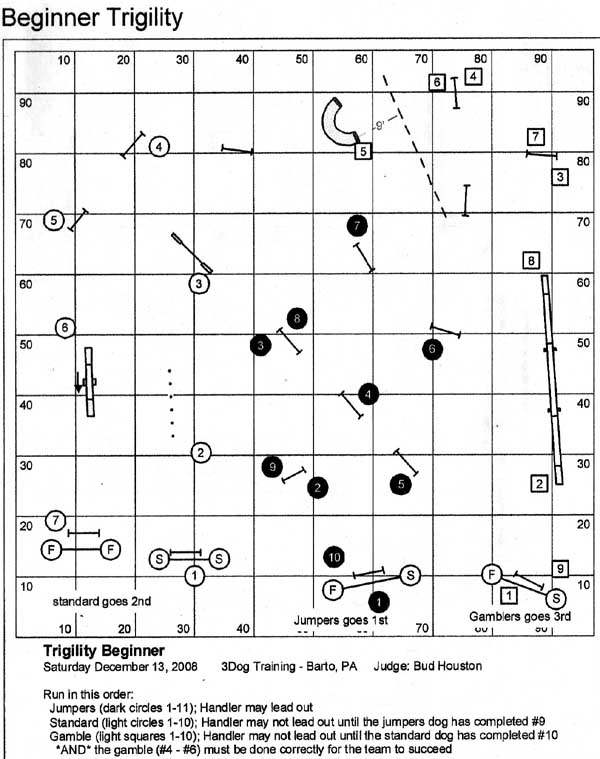 Kizzie ran well in the jumpers portion. Cinnabar started off excited and started to go see Kizzie before we got to the weaves, but recalled nicely and completed the run cleanly. As soon as Barb heard me say go while I held Cinnabar, she and Bee Gee were off. The gamble was tricky in that Bee Gee had to enter a specific side of the tunnel. He was so excited by the tunnel that he blew off his last hurdle. Barb called him back, he jumped it and then completed the gamble and the rest of the course. Completing the gamble is key to getting a qualify.
We got the qualify and 3rd place in a large beginners class!
Next for Cinnabar and Sebastian was jumpers. There were alot of runs and Barb had to be at work. She waited until the last moment to see if she could squeeze in the jumpers run, but she couldn't do it :(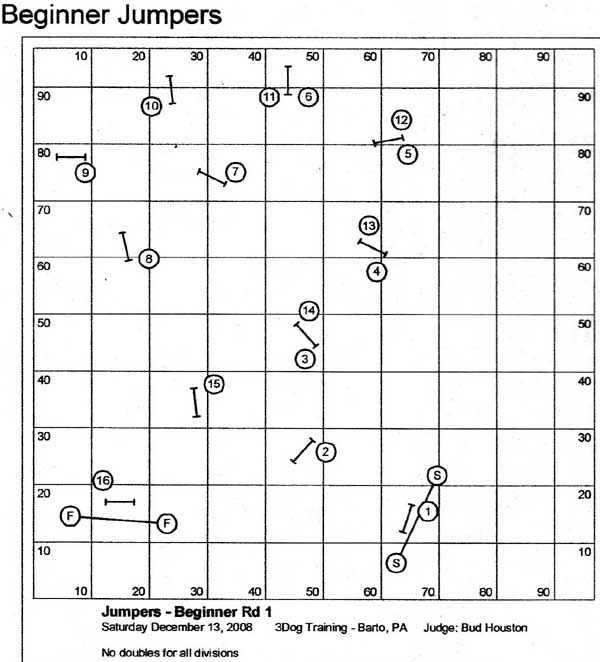 I should've gone for a leadout with Cinnabar, but didn't. He knocked down the 3rd bar and I got off track and ran the course badly. He was very focused on me, but again I was thinking too much about Sebastian's run, which was one dog after Cinnabar.
Sebastian was raring to go. He was so excited, he was trying to jump on me. I got harsh with him and he sat his butt down. While trying to throw the leash to the side he kept acting like he was going to break. "Eh, eh" kept his butt on the ground, and I was able to toss the leash. I took a slight lead out with him and we were off. The beginning of the course was the toughest part. If I'd been able to lead out beyond 2 it would've been easy. Because I didn't I had to back cross him at 5. Wasn't pretty, but we did it. He had so much energy. I front crossed between 6 and 7, he saw the crowd and stopped to look at them. I sweetly recalled him to me to break that focus and he came back and we completed 7 and then 8. He stayed with me the rest of the course and ran well, leaving every bar up! He missed a qualify by just seconds! I can't tell you how pleased I was with that, well, ecstatic might describe it :) I've resolved for the future that I will not run Cinnabar in Traditional Gamblers or Jumpers because I'm not experienced enough to split my focus between the two and those are the only two events in which I can run Sebastian, so my focus is very high for him.
Cinnabar needs one more qualify in Beginners Standard for his title in that!! I also think I will try him in the North American Challenge run, even though it's at intern level and above.
By the time we left, that gorgeous large full golden moon was rising. A very fitting end to a long and good day.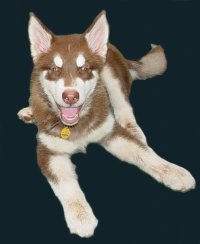 website design by Sheryl
bordered background by Sheryl
© 2005
all images © Sheryl Franklin unless elsewise attributed
all Alaskan Malamute sound files © Sheryl Franklin
website hosting by FranklinCommunications
domain name by DomainRegister.com