Sheryl's Alaskan Malamutes - Agility Trials - DOCNA - August 16, 2008



Agility Trials - DOCNA - August 16, 2008

This was our second agility trial, and the first for Sebastian. Going in my thoughts were that it was a toss of the coin whether he'd flip me off from the get-go or work with me. As usual for him, he surprised me. Going in I knew that Cinnabar would work with me.

Missy brought Dyna and this was her first trial. Barb and Jenny were there with BeeGee and Princess.

The first course for all 3 of us was Standard Beginners 1. For me, only Cinnabar was entered as Sebastian doesn't yet do contact obstacles.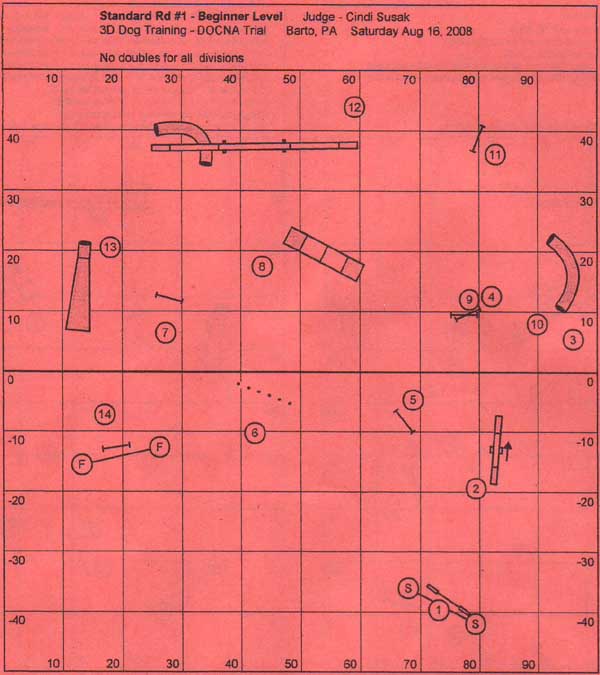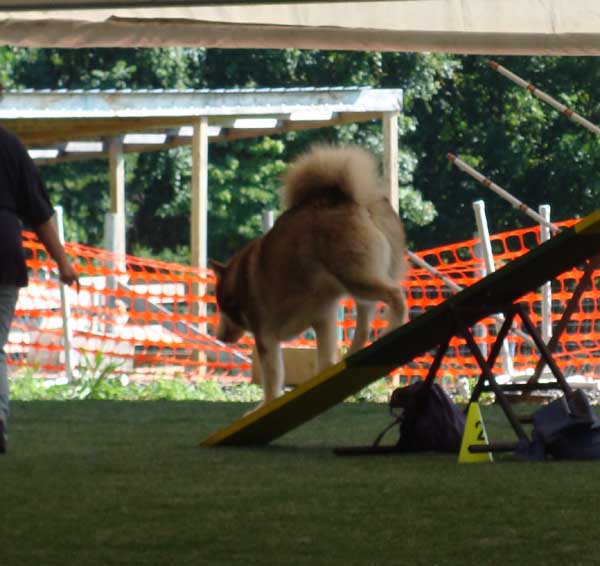 I was very pleased with our first run. We had to restart the weaves once, but he completed them. The run felt great and Cinnabar had a good time. I didn't think he knocked down any bars, but he must have because he had 5 faults, just knocking us out of a qualify for this run. No time faults. WOW! Major improvement and a red ribbon for him for 2nd place in his class.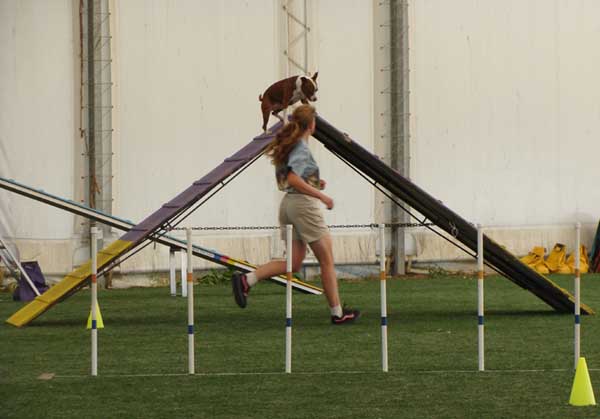 Missy's first run in an agility trial. She was nervous and needed the first run to shake them. Dyna did great for her, but had lots of spinning around the first run, she was excited to be out there with her mom. She intentionally didn't do the weaves, but what a terrific first run.
BeeGee had a good run with the exception of being too excited and bursting off the dog walk missing the contact because he's so excited to run.
The 2nd course for all 3 of us was Standard Beginners 2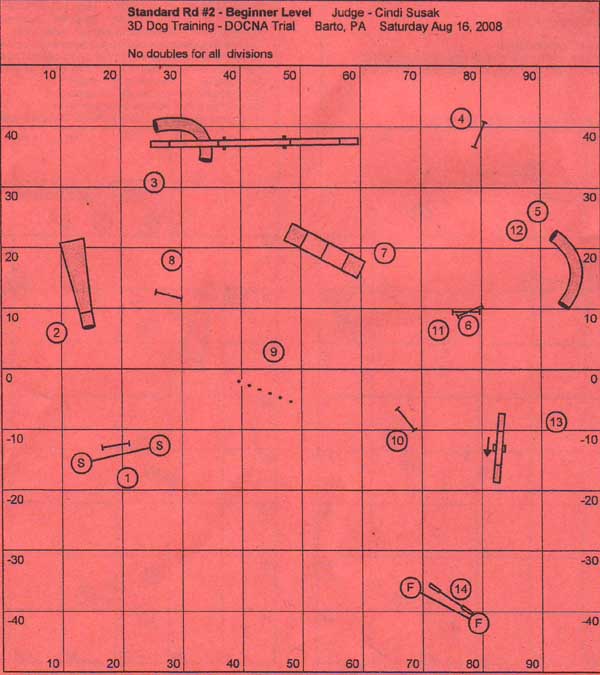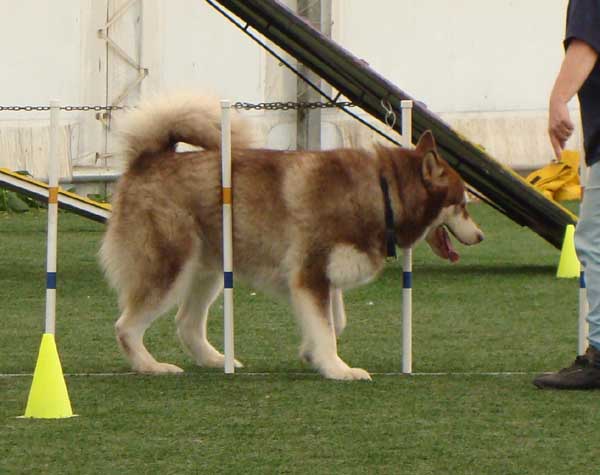 I blew this run by being too worried about the tunnel next to the dog walk. After the chute I called tight, but then got myself confused as to the next obstacle and by the time I figured it out had him confused and he ran into the tunnel from midway up the dog walk. Certainly not my finest moment as a handler :) Talk about over thinking things! He did the weaves great again, though and ended up with a 2nd place red ribbon for his class. He had 20 course faults (all mine for bad handling) and was slightly over on time. What a good boy to pick up the pieces for me.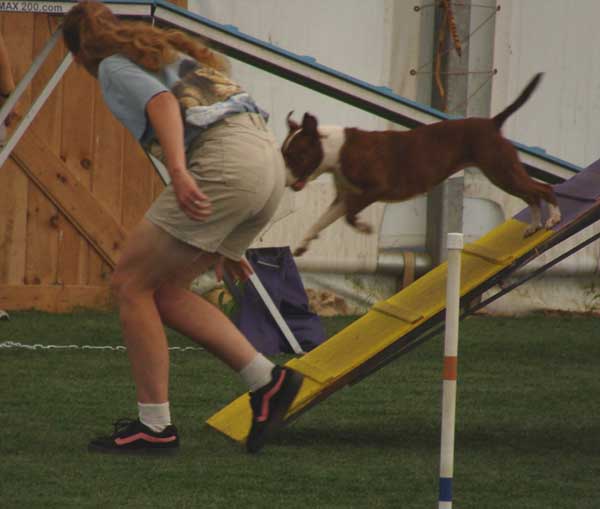 Missy and Dyna had a great run! With Missy's nerves gone, very little spinning from Dyna. Their confidence was really showing.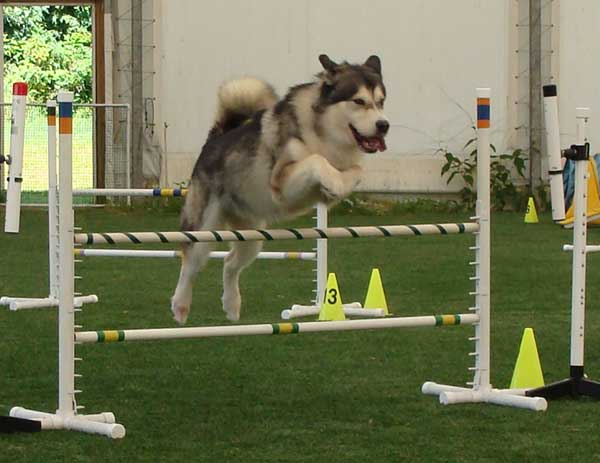 BeeGee and Barb had another good run, with him still too excited at the end of the dogwalk, but getting at least a foot on the contact. Good boy!!!
The next run was Traditional Gamblers Beginners for BeeGee, Cinnabar and Sebastian.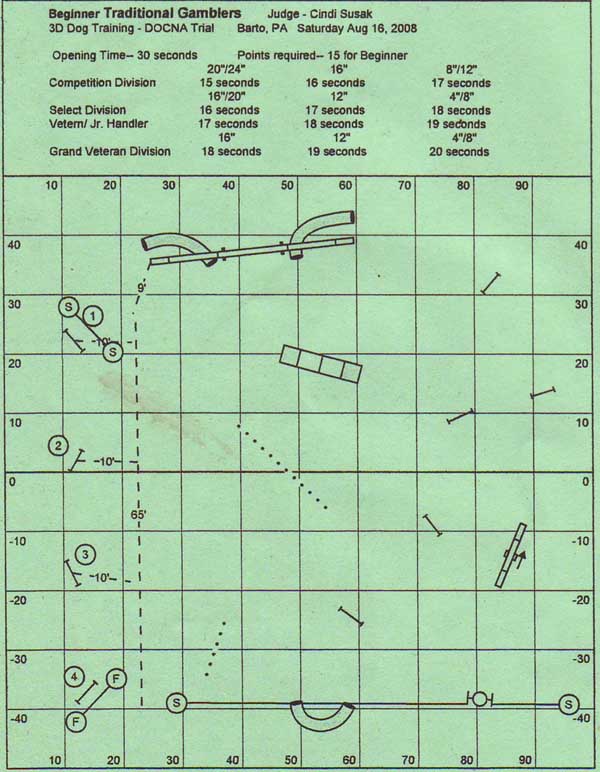 Each obstacle has a point value, jumps are 1, tire & tunnels are 3, dogwalk & frame & teeter are 5 as are the short weaves. I don't know how many points the longer weaves were. You make up your own course trying to get 15 points before the 30 second buzzer sounds telling you to complete the gamble. The gamble was the last 4 jumps and the handler must not cross the blue line while getting the dogs to do the jumps.
While walking the course I had to look at it in two different ways because Sebastian doesn't do contacts. I had to get him into tunnels as many times as I could while only doing each tunnel twice. For Cinnabar I could run him up the A Frame a couple times as well as using tunnels for points.
Sebastian's run started out well. He was focused and did the tire for 3 points. He did the nearby tunnel twice to get 6 points. He did two jumps heading to the back tunnels to get another 2 points. He did the first tunnel in the back for another the buzzer sounded just as he went in. He wasn't running for me, though, he was loping. The good news is that he was having fun. I sent him into the far tunnel to get momentum for the gamble. He's always been good with out but came toward me and then looked at the crowd and headed toward them. He stopped for a minute and came back. According to Barb and Missy he had a look on his face that was total brat while deciding whether to go play to the crowd or come back. He came back to me, but then to show me what he could do, ran half way up the A Frame with his tail wagging to beat the band. I gave him a big hug and went with him to get his leash. Darryl gave him an atta boy and thumbs up to me.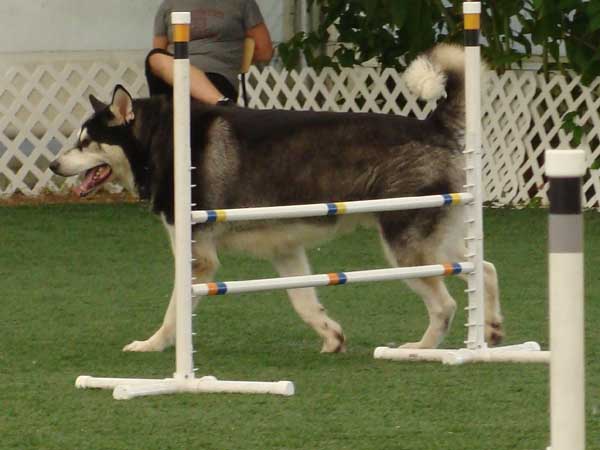 Sebastian "loping" to far end tunnel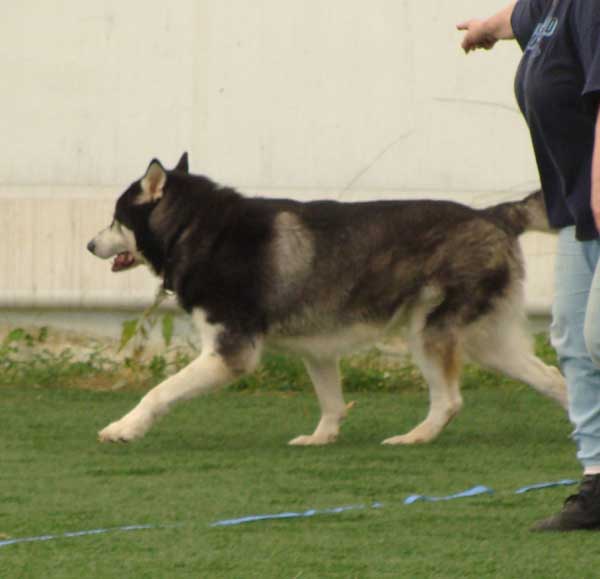 Sebastian being sent "out" to first gamble hurdle
Cinnabar's run was the tire for 3, Teeter for 5, perhaps a hurdle or two on the way to the tunnel, 3 for the tunnel, 10 for doing the A Frame twice and the buzzer sounded. Headed him into the far tunnel for momentum to the gamble, nope came straight to me. Tried it again, same results. Tried again and intentionally stepped over the blue line just to get him to do it. But no. Had to be me, I'll get the scoop from Darryl on Monday. I'm thinking I wasn't moving properly to send him. He did end up with a total of 26 points for the open part of the run and a first place blue ribbon for his class.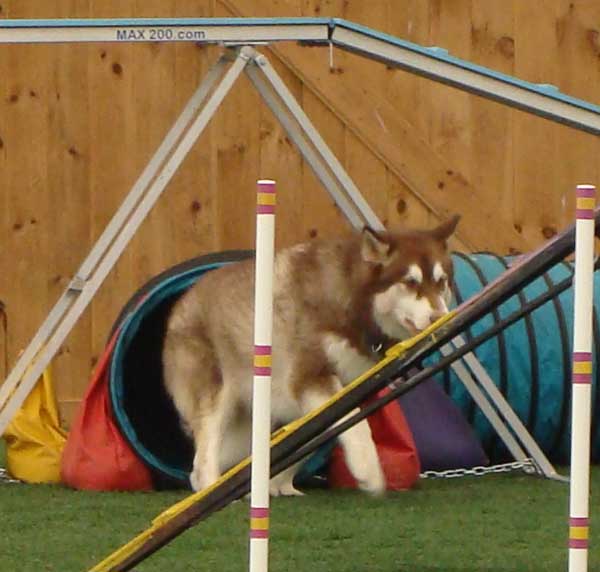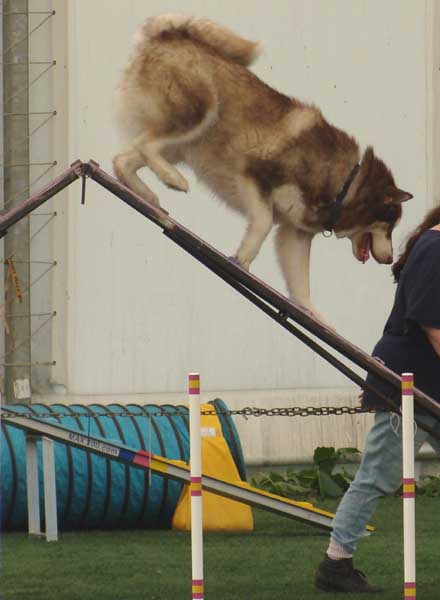 Next came Trigility in which Missy/Dyna did the jumpers run, Cinnabar & I did the standard run and Barb/BeeGee did the gamblers run.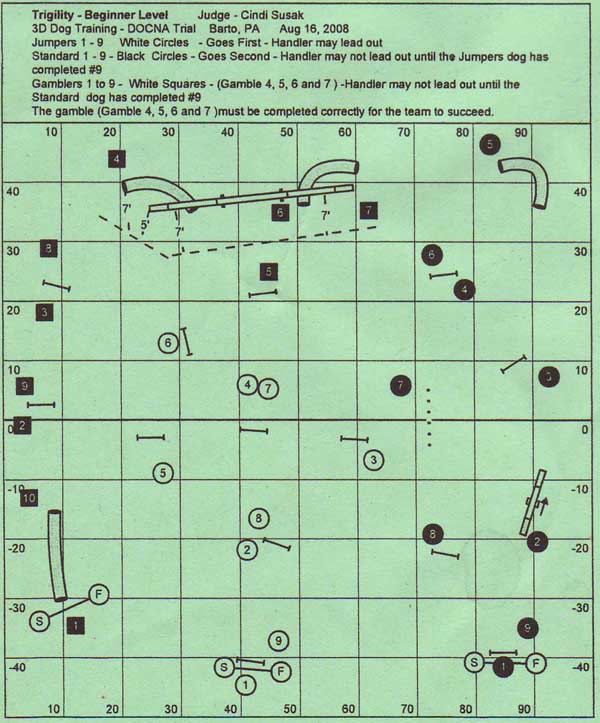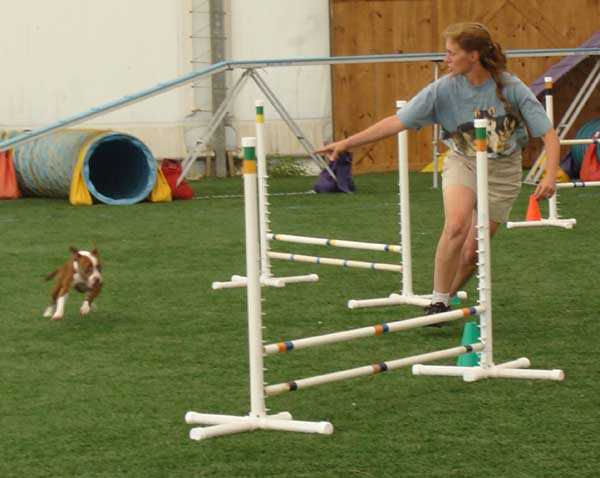 Missy & Dyna started us off with the jumpers and did great!! She back crossed where she needed to and finished with a clean run!!!!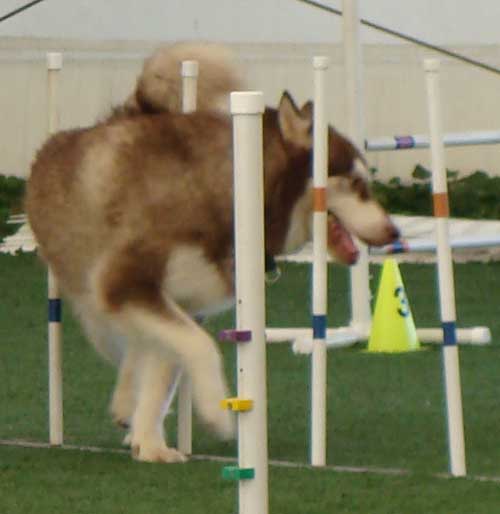 As soon as Dyna was under Missy's control after her last jump, Cinnabar and I started the Standard run. We had to restart the weaves (allowed) and finished with a clean run!!!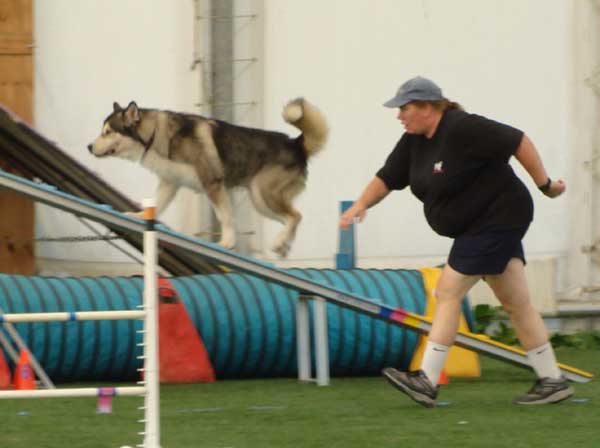 As soon as Barb heard me say go while I held Cinnabar, she and Bee Gee were off. She wasn't concerned about the gamble portion of the run where she had to stay behind the blue line, only Bee Gee making contact at the end of the dog walk. Bee Gee was perfect! Another clean run!!!
In fact, we got the blue ribbon for the beginner's class! Out of about 8 teams!! Not only that, we got a qualify. According to Barb, that's all you need in Trigility (different from the other categories where you need 3) to get a certificate and move up to the next level at Interns!! Woo hoo!
Barb & I talked Missy into entering Dyna in our final run - Jumpers Beginners.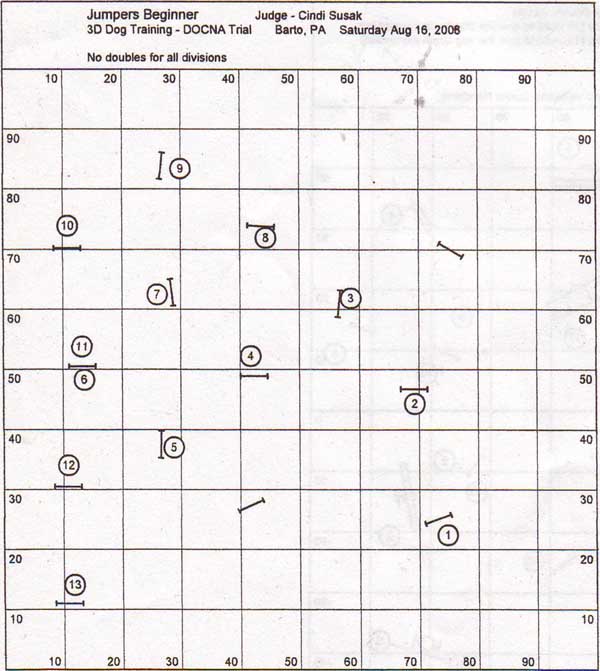 Dyna & Missy ended up with a blue-ribbon for their class and a qualify for their run in Jumpers Beginners!!!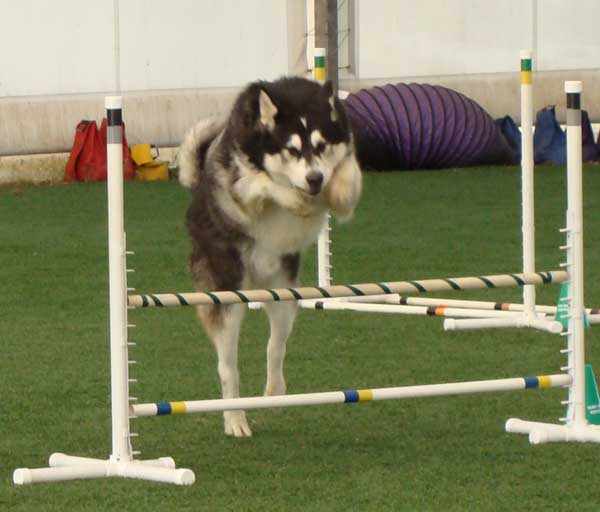 Sebastian had been sleeping very soundly in his crate, so I woke him up during the Jumpers Intern level. Worked with him on sit/stays & down/stays to get him focused and excited for the run. My path to the start line took him through too many dogs. I should have entered from our end of the ring. His focus was a little off and I talked to him about looking at me during his sit/stay at the start line.
He started out well doing 1 and 2. Blew by 3 and I took him around again, he did it but knocked all of it over. My fault, too close. He did 4, 5 and 6. I was front crossing between 6 and 7 and he decided to turn around to look at the crowd and the dogs who had peaked his interest. Like before he stood there with that goofy brat face deciding whether or not to listen to me. According to Barb & Missy, he was looking real happy with himself when he opted to blow me off. Ran and got his leash while he was sniffing the next dog in line. That was it for him, but he had to surprise me. He lulled me in by doing the first part of the run before blowing me off. Always a challenge! He did get an atta boy from Darryl, and not bad considering his personality and his first trial. All progress with him is glacially paced.
Barb had her thinking cap on and had us have our photos taken with the judge for our Trigility triumph :)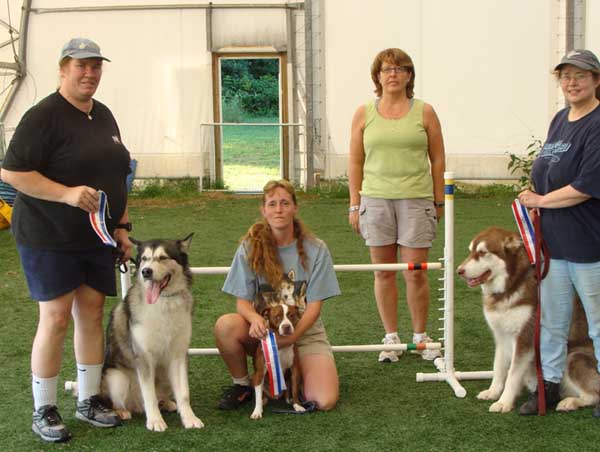 Major thank you to Jenny for helming my camera (as well as her mom's) to get photos!! We all had a great day and are looking forward to the December DOCNA trial, especially competing in Trigility Interns level now that we are "titled" in Trigility Beginners.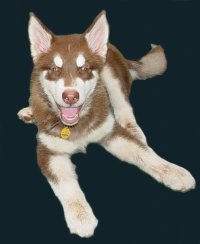 website design by Sheryl
bordered background by Sheryl
© 2005
all images © Sheryl Franklin unless elsewise attributed
all Alaskan Malamute sound files © Sheryl Franklin
website hosting by FranklinCommunications
domain name by DomainRegister.com