Sheryl's Alaskan Malamutes - Agility Trials - DOCNA - July 12, 2008



Agility Trials - DOCNA - July 12, 2008

Our first agility trial! There are several organizations that put on agility trials, AKC, UKC, NADAC, TDAA, USDAA. From what I know at this point, with the exception of UKC, the environments are serious competition. This organization DOCNA (Dogs on Course in North America)n has a similar philosophy to UKC. It's fun for both the humans and canines, and the atmosphere while competitive is friendly. A very good place to dip our toes into the water of agility trials.

Even so, it was still confusing to even sign up. What runs do we pick? What the heck are gamblers and this other weird sounding stuff? Well, I picked what seemed obvious for us with Cinnabar only at this point - a couple of standard runs at beginners level in a division that allowed his jump heights to be 20" instead of 24". Figured I'd watch and learn about the rest of the stuff, and figure out what contact obstacle adverse Sebastian can participate in the next time :) On the day of the trial I signed up for one more, a team run with fellow mal, BeeGee and a third partner to be assigned.

We got there at 6:30am to setup our crates and get both boys pottied and snuggled in. On the way there (at 6 freakin' am in the morning) we encountered motorcycles which always drive Sebastian wild. He loves them, wants to bond with them. The more the motors rev, the more in love he is. Finally they got away from us and then several hot air ballons in the sky. The saving grace was that he couldn't hear the burners over the car noise. Thank goodness for small favors or he'd have really been wound tightly.

There were over 350 individual runs (we were 3 of those).

The trials started with runs in which we weren't involved, so there was time to settle in nicely, find people we know, meet new people and learn by observation of the runs going on.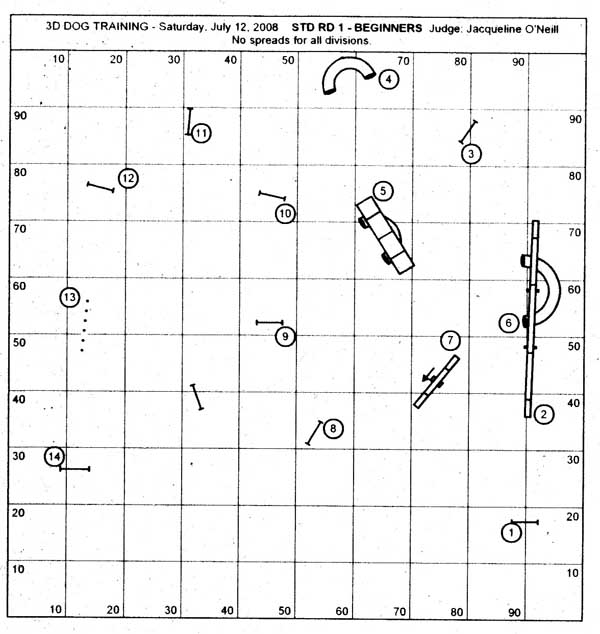 Our first run was Standard Beginners, the course above. DOCNA allows training on the runs. You can redo weaves up to three times to get them, and you can redo other stuff up to a total of 3 times. We needed the redo on the weaves, but I was expecting that. I was also not nervous about it because of the runs I'd already watched and seen many people take advantage of that. I was also expecting that he'd knock down bars and he did. According to Barb and Missy it wasn't all of them, which is what it felt like during the run :) He listened and was focused and on course. He finished his run by running straight off the course into the crowd area and straight into his crate, which earned him applause from the folks around us. They like "self-parkers" :)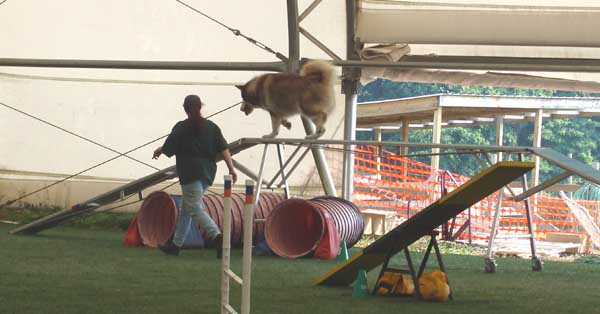 Cinnabar on the dogwalk on our first run


Cinnabar out of the tunnel headed to AFrame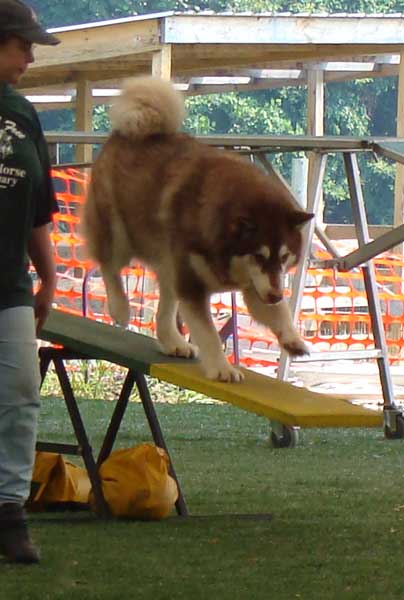 Cinnabar on the teeter after the AFrame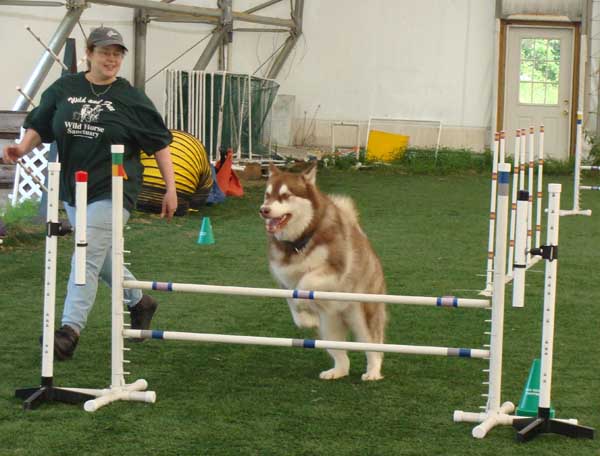 Cinnabar final hurdle on first run
He didn't qualify on the run, but, he got a second place ribbon for his class. There were only 3 in his class, but it felt good anyway!
Did I mention that there were lots of beginners? There were, about 30 or so. Way cool!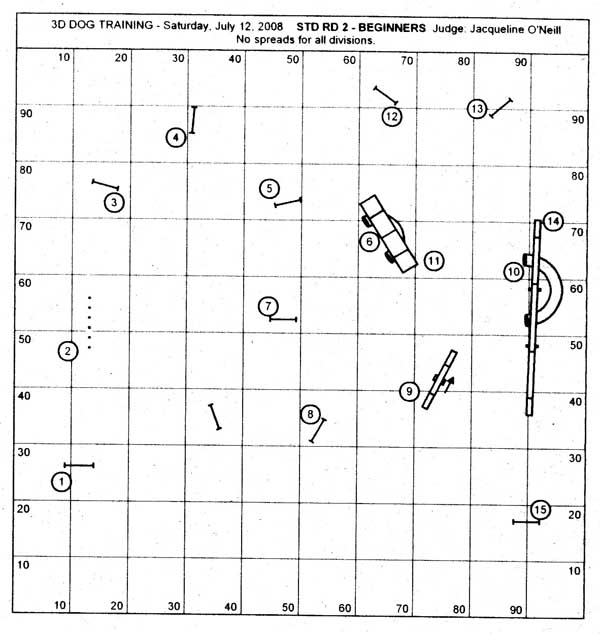 Our second run we had similar results, redoing the weaves and knocked down bars, but the way we ran it was great. We'll work on the jumps, but we've got time. I want to be doing this stuff with them when they're 9, so we've got time. I'm thrilled with the way we're running the course. Another 2nd place ribbon as well!
A quick aside, they've got everything computerized. They feed the results into their software after each run. After a specific group is finished, they print out the results on labels, you go check the labels for your results and if you've qualified or placed you take your label & put it on a sticker. Very efficient!
After that run, while they were setting up the next course the judge told me that she really likes Cinnabar. He did get lots of compliments during the day.
Darryl had two dogs in the trial. One is Drifter, who's evidently already qualified in the North America Challenge. Well, he was having an off day. The photo below is after Darryl with Drifter after he left the course almost immediately after his run began. He just wasn't on that day. I like Darryl's attitude, he isn't screaming at the dog or taking out any of his frustration with him. In fact, there wasn't anyone screaming at their dogs. Disappointment, frustration? Yes, I saw that, but what I saw most was love and praise between handlers and their dogs.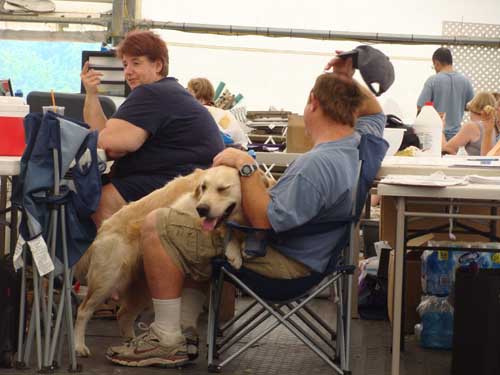 Darryl with Drifter after disappointing run
Our next run was near the end of the day, Trigility Beginners. You run with 2 other dogs. Each dog is assigned a portion of the course. The middle portion is jumpers and that dog goes first. When they've completed their run and are in control, the dog assigned to the standard portion of the course goes next. When that dog completes their run and is under control the third dog begins the gamblers course.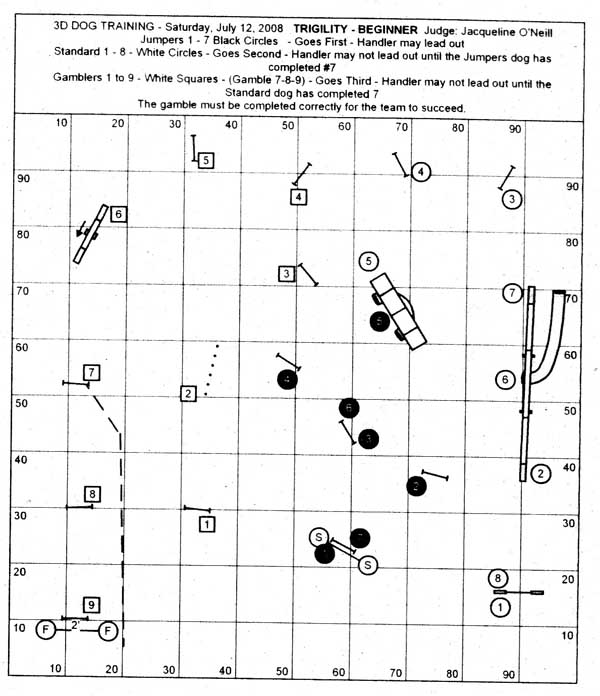 Since we've never done Gamblers, that was not a good choice for us and with him knocking down bars, jumpers wasn't a good choice for us so Cinnabar did the standard portion of the run.
Our partner for the jumpers portion was Kelly, a King Charles Cavalier. He did really well!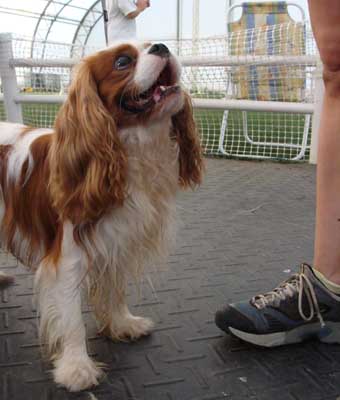 Kelly, our Trigility Partner, Jumpers Portion
BeeGee did the gamblers course. In this gamblers course there were specific numbered obstacles to be completed with the final 3 obstacles blocked off by a blue line that the handler cannot cross, but must still direct the dog to complete the obstacles. That's the gamble.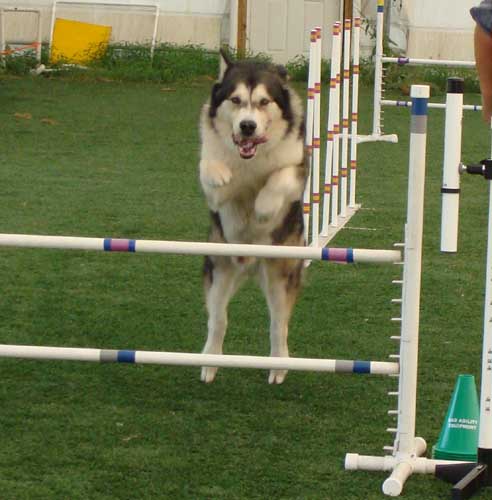 BeeGee, our Trigility Partner, Gamblers Portion
We each did well as beginners. Cinnabar knocked down 2 bars, but did the rest of his course fine and was very fast. BeeGee did great until that final hurdle, but Barb got him over it without crossing the blue line! She's great with him. We just missed qualifying on this one. But, we got a 4th place ribbon. This ribbon means something because there were 13 beginner teams in Trigility, and we came in 4th. Very satisfying and lots of fun!
Another part of the day that was fun was our crate neighbor, Belle, a chestnut Border Collie with an excellent temperament. Also a beginner, Belle did well on her runs and got some qualifies I believe. It was most fun to watch her on the side lines watch the other dogs run. Her head was weaving when the other dogs were weaving, she moved about to see them in action and if something blocked her view she sat up so she could see. She is a sweetie.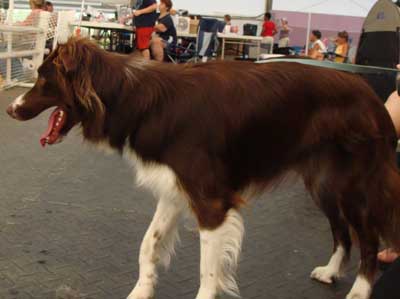 Belle Watching Others Compete
I think for next month's trials we will see Missy dip her toes into competition with Dyna. She gained confidence by seeing all of us compete and make our mistakes, but still getting out there. I think she's going to get her new Mal boy into it as well at some point.
I gained confidence and now know there are a couple runs in which I can enter Sebstian (jumpers and timed gamblers), as well as running Cinnabar in Standard and Trigility and perhaps timed gamblers. At the end of the long day, BeeGee expressed how we were all feeling - good but tired.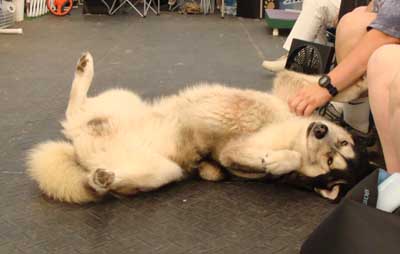 BeeGee all worn out
We all had a great day!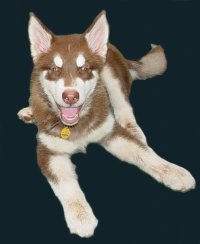 website design by Sheryl
bordered background by Sheryl
© 2005
all images © Sheryl Franklin unless elsewise attributed
all Alaskan Malamute sound files © Sheryl Franklin
website hosting by FranklinCommunications
domain name by DomainRegister.com