Sheryl's Alaskan Malamutes - Activities - Weight Pulling - IWPA - Maggie Valley - February 28, 2015



Weight Pulling

Maggie Valley - February 28, 2015
We found out about this opportunity in January, and scrambled quickly to organize the pull. Missy was going to haul my cart on her trailer behind her truck. The organizers for WinterFest Smoky Style, got the weight needed. We did our best to advertise it and seemed to have folks interested. Missy wasn't able to haul the cart because the truck went down. I rented a truck and got it in the truck bed. I took only Cinnabar in the backseat of the truck. I knew Sebastian would never get in that. Cinnabar barely did, the truck was so tall. Took 45 minutes of coaxing to get him to try to jump using the step I built for Sebastian. 3 hour trip there, and thankfully nice weather. We really want to get this pull established, as Maggie Valley is a ski resort town and they can get snow for a chute. Hopefully we'll have snow pulls in the south starting next year.

For this year, we had two other dogs in addition to Cinnabar for the pro pull. Cinnabar did ok, the other two dogs did great@

After the pro pull we had 6 novices pull, including my friend's dogs. Dianne & JD came with their mals & sibes. We had other mals, along with a fox terrier, and more sibes. I think we will see some of these folks in the future.

JD helped me get Cinnabar in the truck after Dianne & I ran out of luck with that :) Then we stopped at a local pub for a nice lunch. They were making a day of it with some hikes for later. After lunch, Cinnabar & I headed back to Tennessee. Much easier driving in the Smokies with nice weather, it was beautiful.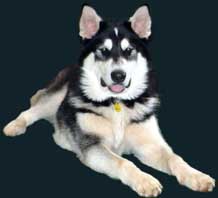 website design by Sheryl
bordered background by Sheryl
© 2005
all images © Sheryl Franklin unless elsewise attributed
all Alaskan Malamute sound files © Sheryl Franklin
website hosting by FranklinCommunications
domain name by DomainRegister.com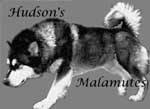 My Mals
Now
Sebastian
Cinnabar
Then
Wolf
Taylor

What's New
Purebred Dog Breeds into the 21st Century