Sheryl's Alaskan Malamutes - Activities - Weight Pulling - IWPA Championships - Cicero, NY - May 09/10/11, 2014



Weight Pulling

IWPA Championships - Cicero, NY - May 09/10/11, 2014
May 8
My directions were easy, Rt 40 east to Rt 81 north all the way to 2 miles from the pull site. On the road around 10:30am. Tried getting out sooner, but customers wouldn't leave me alone. Beautiful sunny day, perfect for a drive. 9 hours later we pulled in to the Motel 6 in Winchester, VA. I enjoyed driving through the mountains of TN and VA.

May 9
On the road around 5am. Hadn't been on Rt 81 north of Harrisburg in many years, and it looked like it hadn't been maintained since my last time traveling on it. From the rt 78 exit to Hazelton it was tough road combined with fog. I know fog doesn't read, but it was funny to see fog hanging out at the fog signs. Didn't get much of a chance to enjoy the mountains because I couldn't see them. Bad as I thought that stretch of road was, the greater Scranton still gets the nod for zone of terror on Rt 81. It's been under construction for decades and it's pretty bad. The good news was that I was doing fine on time and decided to stop in and see my niece in Clarks Summit. I got a bonus when my brother was in town, too. It was in the high 60s there and I was hoping it would be the same at the pull site. Back on the road headed north. It was in the low 70s in Binghamton, and stayed that way until Syracuse until it was suddenly mid 80s. What the heck was going on?

Got to the pull site, Twin Rinks arena in Cicero, NY around 2pm and pulled in next to Shirley Webber, Stephanie Pitz and Diane Krupski from Region 6. It was HOT in that parking lot. Eileen saw me pull in and came over to say hi. She also offered to help me put up the easy up, after I got the boys crated. Mine was in storage and not accessible, so I bought a new one. I plunged ahead trying to figure it out. Eileen waved the directions at me and said, "we're not men, Sheryl, we can read". Best quote of the weekend! We got it up & I was able to stake one end into the ground, the other side was on pavement. Headed inside the building to get signed in. There are two ice rinks on the left side of the building, a lobby in the middle and other sports facilities on the right side of the building. Signs on the doors welcomed IWPA Weightpull to the facility. Once in the building there were long tables setup for sign-in, Championship tshirts, and the charity (NEADS) auction. Many nice items up for auction, each were numbered which corresponded to numbered brown bags where one dropped their auction tickets. To the left of these tables was the weigh in area with a walk on scale.

I got signed in, picked up my pre-paid Championship hoodie & T & welcome bag filled with goodies. Back out I went to get the boys for weigh in. I brought them in together. Someone held Sebastian while Wendy weighed in Cinnabar & vice versa. Wendy was handling the weigh in. So good to see her and Steve. The scale seemed to weigh light to me. The walk on scales are easy, but the hung scales seem more accurate.

Got the boys settled back in their crates and had to fix the easy up. The wind had taken the front end up, and it was upended into the trees. I lowered the height of it and strapped my overnight bag to the front of it so that was staked now, too. Got my Judges' shirt and cap, embroidered with the logo and '2014 Championships Judge', my name & region. Hung out and talked with folks until the members meeting.

The meeting was held in a room across from the second rink. Pizza & wings were ordered, the cost was divvied up at $3 each. Michele Izzo brought Italian desserts for everyone. After the members meeting Steve held the judges meeting for the snow pull the next day. As there was only one unlimited dog, we decided that dog would pull with the 150lb class. We also discussed tire pressure. After much discussion there was a vote and we went with 90psi tire pressure for the wheels pull on Sunday.

Finally off to the Motel 6 in East Syracuse. Eileen gave me easy directions to get there. Even though it involved getting on the Thruway, couldn't crab about the toll as it was only $.15. I've stayed at this motel before when we attended pulls in Oneida. Thankfully we had a first floor room. The boys got their fill from the big water bowl while I brought in my stuff. I'd fed them at the pull site, but saved pizza crusts for them for treats.

May 10
Up early to be back at the pull site by 7am. Pottied the boys, got them in the van and was ready to pull out. Sebastian had been pulling a drama queen bit jumping in the van. I got a step pillow for him to use, but he didn't like it. I knew he was able to make the jump. It was confirmed just as I was pulling out of the parking spot, he jumped over the center console onto the passenger captain's chair filled with my stuff. He'd pooped and wanted to get away from it. At least it was in the parking lot and not on the road. Got him out, walked him around and he had more to do. Picked up the poop from in the van and he hopped right in, easy peasy. Always a Sebastian story!

At the pull site got their crates into the rink and setup and them settled into the wonderfully cool rink. After the meeting Steve and others from Region 5 setup the chutes. Both were setup at the same end of the rink, in a V with the ends away from the other chute. The chute on the left was for the 20 thru 80lb classes, the chute on the right for the 100 & up classes. The 20lb class would pull solo. After they were done, the top 5 dogs would go outside for drug testing and then get their podium photos. Then the 40lb class would pull on the left chute, while the 150/Unlimited would pull on the right chute. Once those were done, drug tested, podium photos, then the 60lb on the left, 125 lb on the right and finally the 80lb on the left with the 100lb on the right.

Debbie Lee helped me harness Sebastian in preparation for the pull. He can be a baby, but was very compliant with her. Once on the ice, he was very uncertain. He got low and spread his claws trying to get a grip. I was hopeful when we walked to the chute for the first time. He didn't care for it, but that ice was grippy and he was fine. After his first pull and we exited the chute to the right he ran into slick ice. He headed straight to the side of the chute where there was some snow to make his way. When we got to the blocks of weight he wouldn't go further. Val came over to try to coax him, but no go. She borrowed Dan Plosila's mat and put it down next to the blocks as a bridge for him to the grippier ice. Whew, it worked! He gained confidence each pull. I was able to pass him more than once. The chute was slick for me and I had to make sure I didn't slip when running across the finish line. In between pulls I took him into the hockey team seats instead of the ice, much easier to keep him calm about his footing on the ice. When Sue's Stormie went out, I withdrew my pass of that round and pulled Sebastian. He pulled it easily. That next round or the one after that he was doing fine, but suddenly stopped to sniff the side of the chute. He kept trying but could only get it going again with a push. I was very pleased with his effort. Bronze medal, with Mickey getting gold and Mufassa Silver.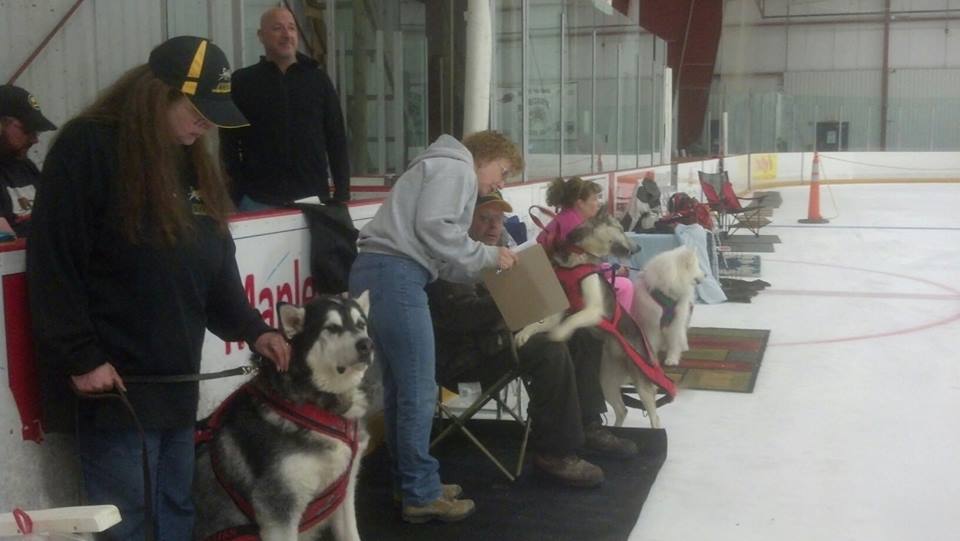 Sebastian not happy to be on the ice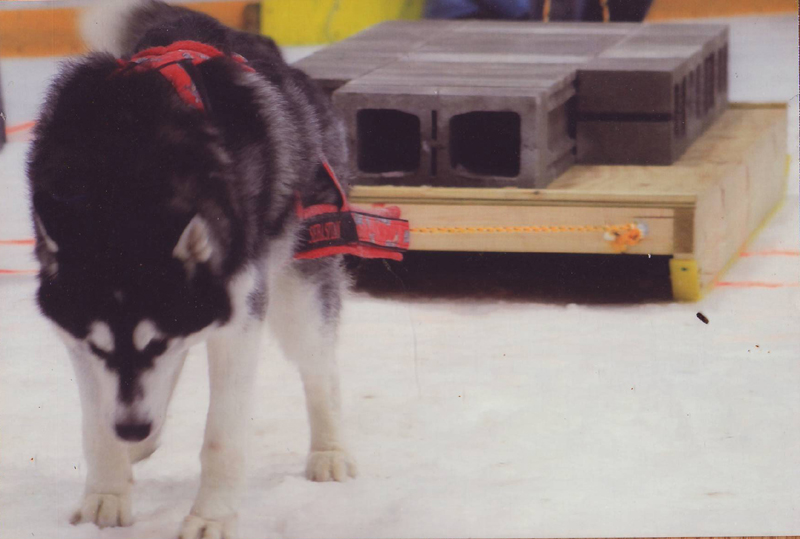 Sebastian pulling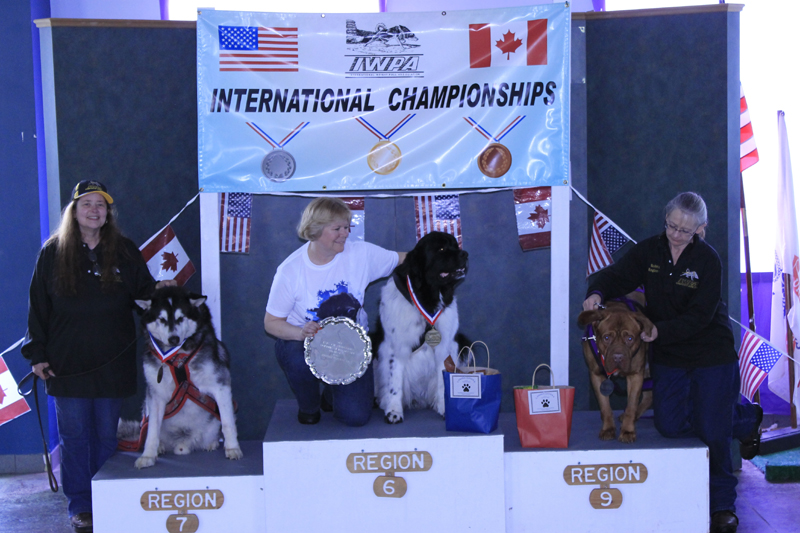 Sebastian on the podium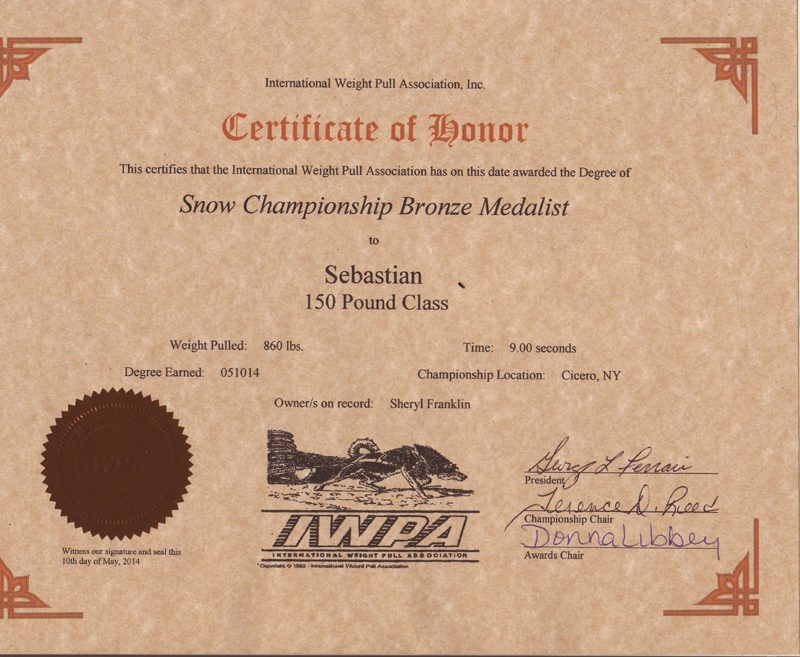 Sebastian certificate
While Mickey and Legand were still pulling, Wendy accompanied us out to get him drug tested. At the last Championships we attended, the tech had to follow him from bush to bush trying to get a sample. I didn't potty him before his class and the issue was getting him to hold it until I did the brief paperwork. We headed right over to very conveniently placed fire hydrant and he filled up the bottle. Then we went into the lobby to wait for the others to finish their drug testing to get photos. Sebastian was called to the podium first. Each step of the podium had a goodie bag for that winner. Sebastian decided to go shopping in Mickey's bag, then his own, scattering stuff all over. Got each bag in order, moved Mickey's bag to the opposite side of Sebastian and Sebastian's bag out of site. You won't see his bag in the podium photo. Always a Sebastian story!
Got him back to his crate and unharnessed. Time to harness up Cinnabar. I'd just freshened his water and he drank deeply so I did potty him before his class. Being on the ice was not an issue for him, he was fearless as always. I was concerned with him pulling me down, but he didn't. I did pass a bit with him. I noticed after one pull he needed to poop and called for a judge to accompany us outside. He went right away and back inside we went. He did a good job for me. He started talking and dancing on his last pull and I called for a push and he finished. Bronze medal for him, with Legand getting gold and Valiant Silver.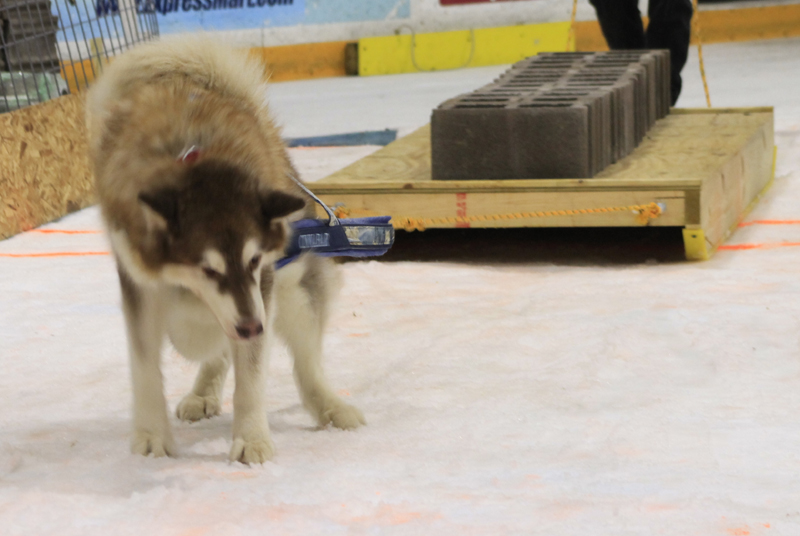 Cinnabar pulling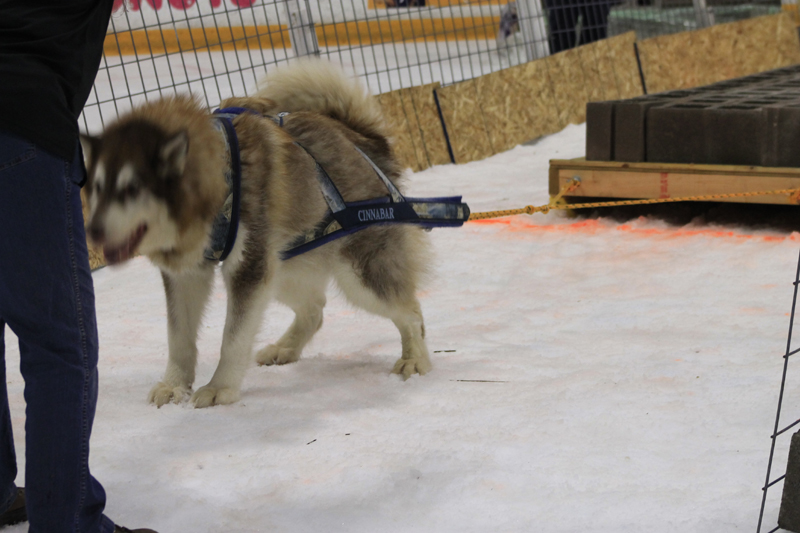 Cinnabar pulling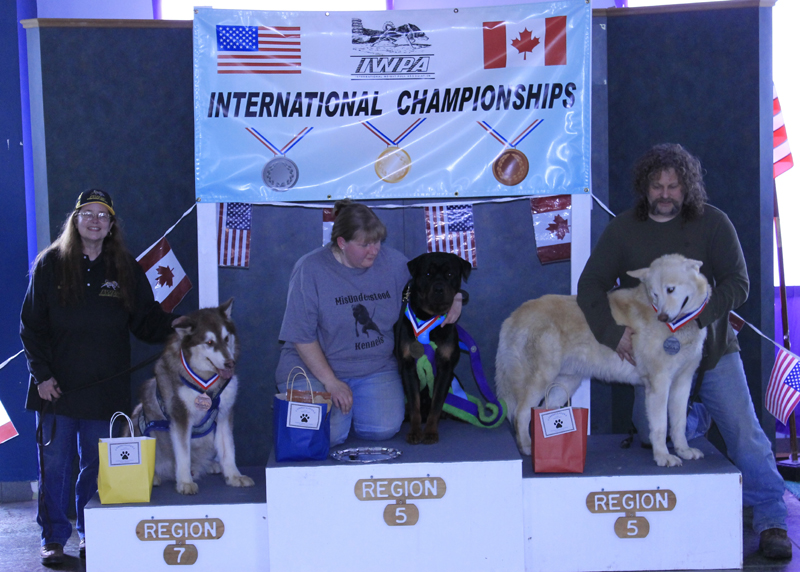 Cinnabar podium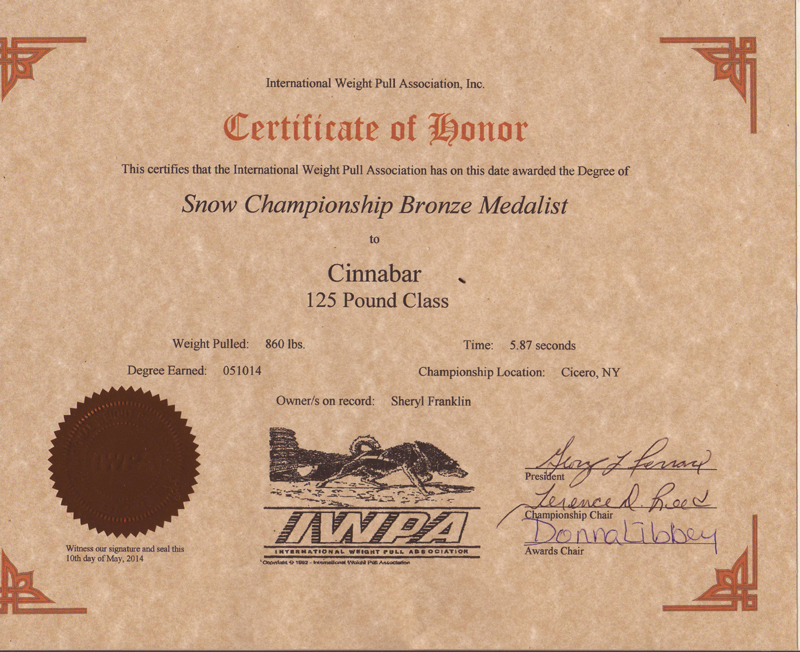 Cinnabar pulling
We did podium photos first, and he was very easy to deal with. No shopping in other dogs' bags. He was also good about giving his drug sample, easy peasy.
Got him unharnessed and settled in his crate. Then it was time to judge the 100lb class with Sue Ferrari. She took the start line and I took the finish line. This was a good class. Had to remind one participant to fully line out, one tangle was called by Sue. Other than that it was a clean class, with Beowulf getting gold, Boe Silver and Dakota Bronze.
The 80lb class was still pulling, so I accompanied the 100lb class out to the drug testing area. Once they were done, the 80lb class finished and we met them in the lobby for podium photos. A good day of pulling!
I headed out to the local Wegman's to pick up a cake I ordered to celebrate Sebastian's 10th birthday. They did a great job with it. Back to the pull site and helped Wendy with getting the room in order for the banquet. Wendy had a video she put together and was going to use Brenda's laptop to show it, but Brenda forgot her laptop. I had mine in the car and told her I'd bring it in when she was ready. My boys were still crated in the rink. I left them in there until they had cleaned up all the pull stuff from the ice. By that time it was cooler outside. Got them and their stuff in the van and pulled it to the shade in the back of the building. Having the van is wonderful. Cinnabar takes the 3rd row bench seat and Sebastian spreads out on the floor (2nd row captain's chairs are stowed in the floor). So spacious and comfortable for them. Also handy parking as the back door was close to the banquet room.
Plugged in Wendy's drive to my laptop, and Robbie plugged her laptop into mine to project the video on the wall. Wendy had photos from every dog in every region she could get her hands on. She had music with it as well. It was 35 minutes and just beautiful. I found myself crying at photos of other people's dogs and feeling a bit silly until I looked around and saw I wasn't alone. Next on the agenda, Robbie read the bios of dogs for the regional hall of fame while projecting their photos on the wall. She choked up on several of them. When she did Starbuck's bio, both Steve and Wendy were crying. Just beautiful and all about the dogs.
Then Brenda and George read out the regional medals and handed them out to those in attendance. During this, Wendy had tickets pulled for door prizes (we each had a ticket at our place). My door prize was really nice and very practical - 400 poop bags. Late night and back to the motel.
May 11
Up early again, checked out and back to the pull site for 7am. Got the eazy up setup and used the bungies Stephanie had picked up for me at Walmart to stake it to the back of the van. My overnight bad weighted down the front end again. Plenty of shade for the boys crated under it. Dave and Missy pulled in, so good to see them! Di and Ryan were setup on once side of us with Steve and Wendy on the other side. More folks pulled in, it was going to be a larger number of dogs pulling for wheels. We had our judges meeting determing weight increments to offer the handlers to vote upon. Wendy handed out judging assignments. I was judging the 20lb class with Steve, and again judging the 100lb class with Sue. Then the handlers' meeting where we voted by class on increments. As with the snow chutes, the wheels chutes were setup in a V with the 20 thru 80lb classes on the left and the 100 & up classes on the right. Some good dogs in the 20lb class, it was a pleasure to judge and watch.
Then time to get Sebastian harnessed up. I was pulling his crate to the holding area when Dave picked it up and took it there for me. I had a sheet over his crate but it was hot. The temps weren't awful, high 70s, but with the asphalt and unrelenting blue skies, it was hot for the dogs. Even some of the bully people commented on it. I knew we were in trouble with the first pull, he made it but had the energy and enthusiasm of a wet rag. The chute was uphill and the increments were big. I got maybe 3 pulls from him. On the second one, he spotted Breeze over in the other chute and was interested. He started it again and finished. He was a good boy and kept trying on the last one, but I quickly signalled for a push. He was drug tested the day before and didn't need to be again, so I got him out of the holding area as quickly as I could. It was cool in the van and he went into it gratefully.
Got Cinnabar into the holding chute when the 125lb class was called to be ready. He had more energy than Sebastian, but no more enthusiasm. He made his first pull. He started talking on his second pull and that doesn't usually happen. He made it. On his third pull, more talking and then he started it and I thought we were going to get it. I had told him it was the last pull no matter what. He made sure as he slowed down near the finish line and left it 2 inches short. I played with him trying to get him to hit it and he did, but it wasn't budging and he wasn't hitting it hard. I called for a push on his last effort and he was done. As he'd been drug tested the day before it was ok to get him out of there. He was thrilled to get back under the easy up in his own crate.
They did so well in the cool rink and the heat change just wasn't for them. I'm thrilled that they did give me some effort. Not bad at all for seniors!
I got them both in the van and packed in the easy up. I parked on the side of the building in the shade. Nice and cool for them. What a differnce that sun made.
Back to judge the 100lb class. Sue took the start line and I took the finish line. Dave and Missy were cart help. Boy did they work, while most wanted the cart in the center, there were some right side/left side dogs, too. It was a very good class. Michele's Boe was wonderful and got bronze. She's done such a good job with him and he's really coming into his own. Beowulf got Silver and was outstanding. Suggs got Gold and was a pleasure to watch, my first time seeing him. When that class was done I went to order digital photos of my boys. Then went inside to find folks to say goodbye. Ran into Cheryl Martin and got the certificates for both days for my boys. Found out I won a raffle item and picked up a big jar of dog treats. Said goodbye to as many folks as I could find and hit the road.
I was beat but had to make progress. Made it as far as Clarks Summit and splurged getting a room at the Ramada. Carpeted floors for the boys. Cranked up the A/C and they were in heaven. Had the A/C on in the van for them, but this was evidently better. They were playing like pups, which was really good to see after their lack of energy earlier in the day. Their treat was ham & cheese hoagies We all slept well.
May 12
Woke up refreshed and hit the road around 5. Bypassed the zone of terror on 81 by taking a portion of the turnpike - $2.30 well spent for 25 miles! Stopped to fillup in Winchester, VA and broke down and got a couple of bottles of Diet Coke as I was already road weary. That worked! Stopped again 5 hours later in Bristol to top off the tank, potty the boys and one more Diet Coke. 3 hours more and we were home. 12 hours straight, thank you Diet Coke. I knew I'd pay for that the next day and I did, but it got me through.
Wonderful weekend with good dog people and dogs!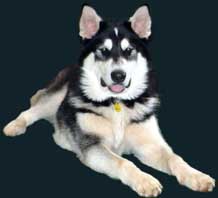 website design by Sheryl
bordered background by Sheryl
© 2005
all images © Sheryl Franklin unless elsewise attributed
all Alaskan Malamute sound files © Sheryl Franklin
website hosting by FranklinCommunications
domain name by DomainRegister.com