Sheryl's Alaskan Malamutes - Activities - Weight Pulling - AMAEP - Harrisburg - ApApril 11/12, 2014



Weight Pulling

April 11, 2014 - AMAEP - Harrisburg, PA
We left on Thursday the 10th from Tennesee and made it to Winchester, VA before calling it a night. We had lovely blue skies the entire way. Construction on Rt. 81 cost us an hour, but that was ok. We had just 2 hours left to Harrisburg and arrived 8ish. I rented a minivan for the long trip and it was perfect for the boys. The Caravan's 2nd row Captain's chairs fold into the floor. That left lots of space for Sebastian to occupy, while Cinnabar headed straight to the 3rd row bench seat. The crates easily fit in the cargo space behind that.

I'd asked Shawn to save us crate space, but we beat him there and space was not an issue. We were setup between Michele's dogs and Shawn's Takaani. While I was setting up got lots of hugs from folks I hadn't seen since last year. I love this event, the people and the dogs.

Brenda and Val were in charge of the weight pull. Shawn brought Jenna's cart. The chute was about 6 feet further from the entrance doors with tables on that side, so that distractions for the dog pulling were lessened. Concrete block instead of dog food bags for weight. No sling to hoist the dogs to weigh them this year. Instead, a walk on scale with a wire crate over it that the dogs could walk into. Of course big baby Sebastian didn't like it as the crate wobbled a bit, but it was a good boy about it. He weighed in at 139 and Cinnabar at 104.

We ended up with a smaller turnout for weight pull the first day, around 20 dogs entered including 2 novices.

Brenda & Val again had weight pull challenge trophies for this event:

You may recognize a few of the dogs on the banner - :)

I got caught up with folks I hadn't seen since last year, and watched some of the breed judging.

We got started in the weightpull a little about 3 pm, as we had to wait for the conformation ring next to us to be clear. After the malamutes were done in that ring, then there were Sibes and then Sammies. Brenda held the handlers' meeting. Our increments were 100 lbs and both boys started at 805 lbs.

As the weight pull chute was right next to the public entrance, we had lots of spectators. We would also have to contend with dogs coming and going on that side of the chute, but with the tables there it was less distracting than last year.

Brenda was the chief judge. I judged the early rounds while she was pulling Darla.

We had a nice turnout of Wildpaw people. April, Patty and Nichole (we missed Dianne). Other Wildpawers were participants, Laura Heft, Michele, Shawn and Lori Hicks. We missed the Gallaghers! Barb & Jenny were also missing in action. Eileen was also missing. Kari & Wendy also showed up to watch for the day. As usual, Wendy got put to work, she helped on the cart when the big dogs were pulling. Truffle's mom, Karen was also there to watch the Swissies in the ring. So good to see her, she stayed to see my boys pull a couple of rounds.

Jenna's cart rolls really well, and the tire pressure was set at 90, which is great.

I had no expectations of either of mine other than doing their best and having fun. We haven't pulled since January and before that we pulled in November. I figured this would be a good tuneup for IWPA Championships next month. I made sure it was a party for Cinnabar, chattering excitedly with him all the way to the chute, and into the chute. Once in the chute, gave him hugs, and whispered sweet nothings in his ear and then off behind the finish line for me to turn around to see his happy face charging towards me. With Sebastian I had to make sure he was awake, because I always had to wake him up before his turn. We lumbered to the chute and I chattered to him about getting excited. Yeah, yeah. I didn't ever know what he's going to do, but he got his hugs and whispers in the chute and when I turned around he was always headed towards me.

I double passed them both the whole way. Brenda was teasing me at the beginning saying she missed my begging. I said, not to worry, that will happen. Cinnabar has always worked well for me. In the last couple of seasons, he quits sooner. That's ok, he's 9, and I want it to be fun. Well, the begging began as he needed to talk and back up and then work for me. I kneel at the finish line and sweep a hand toward him while I'm begging. He pulled 1994 and won his class over two younger dogs. One of those dogs is Pudding who's just 13 months old and is a good puller. He's from Virginia and he's going to be a very good puller and contender for years to come. Sebastian also had competition in his class, Reuben James from North Carolina. He's 3 and Debbie Lee has done a good job with him. His style is gorgeous and he's going to be a force. Quite a change for him pulling indoors and being exposed to all the sensory input from the people and dogs walking by his crate. Sebastian was steady for me. Every single time I released him and ran across the line he was headed for me. At the higher weights, he was digging in and trying. MWP came down to him and Beowulf. We were both double passing, so we always pulled on the same increment. Sebastian easily pulled the 2588 increment, but couldn't quite get the 2885 increment, which Beowulf pulled. I was thrilled with the result. He will be 10 next month and went head-to-head with a 4 year old. Good job!

Off to the Red Roof Inn where Brenda & Val, Debbie Lee & Brian, April and Patty were staying. Was very much looking forward to hanging out with folks. Checked in and they gave me a 2nd floor room. I'd requested first floor when I booked and asked him to check again for a first floor room. No dice. Pottied the boys, and went to the staircase to get to the room. Sebastian refused the stairs. He's done stairs his entire life, but the staircase was narrow, steep and rubberized. Took him back out and ran into April pottying Jelly. She said there was a center staircase, so we tried that, no dice. Malamute & other dog folks appeared with treats and he went up 3 steps and jumped back down. I went in to the front desk and begged for a first floor room, told him my dog wouldn't do the stairs. He was a little snarky and just kept repeating "we can't guarantee anything, even though you asked for it, people were here on Wednesday and got those rooms". We tried the front and final staircase, someone gave me a hunk of chicken to try and not even that did it. Patty went in and tried to get them to give me a first floor room, nothing. I asked him if I was able to get a room somewhere else would they take it off my card? Yes. April called the Motel 6 in Carlisle on her smartphone, they had rooms, all first floor. She put it on speaker and I got directions. 81 south, Exit 52, turn left about 1 mile down the road. OK, we were off. Turned left off the exit and nothing. Turned around stopped at a gas station for directions. Turned out they meant my other left (a right turn). So we head back down there and I don't see it. Stopped at another gas station to make sure I was headed in the right direction. Yes, I was, he said I was close. Forgot to turn the lights on the van when I pulled out, realized it at a stop light and switched them on. As soon as I went through the lights a cop pulled me over. He scared the daylights out of me with the siren & lights. He noticed about the lights not being on and then switched on at the light and wanted to make sure I wasn't drinking and driving. Explained it was just an oversight and I was searching for the elusive Motel 6 after being at the dog show all day. Then he saw the dogs and they came to the window to greet him. We talked dogs for a bit and he let me go. Back to the hunt, further on down I stopped at another gas station. I'd missed it, so went back and finally found it. The Best Western sign was on, but the Motel 6 sign at the road wasn't lit, that's how I missed it. Nirvana, a first floor room. Saw Michele & John in the parking lot. We met for breakfast the next day and then headed to the show. Got to see their new dog mobile, a short bus, just perfect for them.

April 12, 2013 - AMAEP - Harrisburg, PA
After breakfast with Michele & John headed back to the show.

Was getting the boys into their crates, when Laura found me. She was there with Breana, Nanook and Winter. Nanook is still recovering from an injury so he wasn't pulling. Bre would be pulling Winter. Lori Hicks would also be pulling her 3. There were also some other pullers added. Conformation entries on Friday were 1000, but were set for 1700 on Saturday, so lots more dogs and people milling around along with the throngs of Saturday spectators.

More Wildpaw people! Maria was there! Always good to see her!

Bre did a great job with Winter. Winter is a really good puller and Bre is a good handler. Love to see junior handlers!

We started somewhere between 3 and 4 I think. We had to wait for Sibes, Swissies and Rotties in the conformation ring.

I had spectators asking about Sebastian, "wasn't he the dog that won it all last year?" Yes, but he's almost 10 and has young competition this year, I responded. Sweet of them to remember.

We started out at 904lbs with 99lb increments.

I double passed Cinnabar the whole way. On one pull, he talked until we only had 15 seconds left and then pulled it easily. I double passed him and the next pull took lots less time with less talking. Laura asked me about it, saying she couldn't believe I double passed him after he gave me grief. I told her I could just as easily beg at higher weights - LOL! I knew he was capable of pulling it, so why not. He ended up pulling 2093, so he pulled the exact same number of times as the day before. The difference was that we started at a higher weight. He counts the increments, the dickens! He again won his class.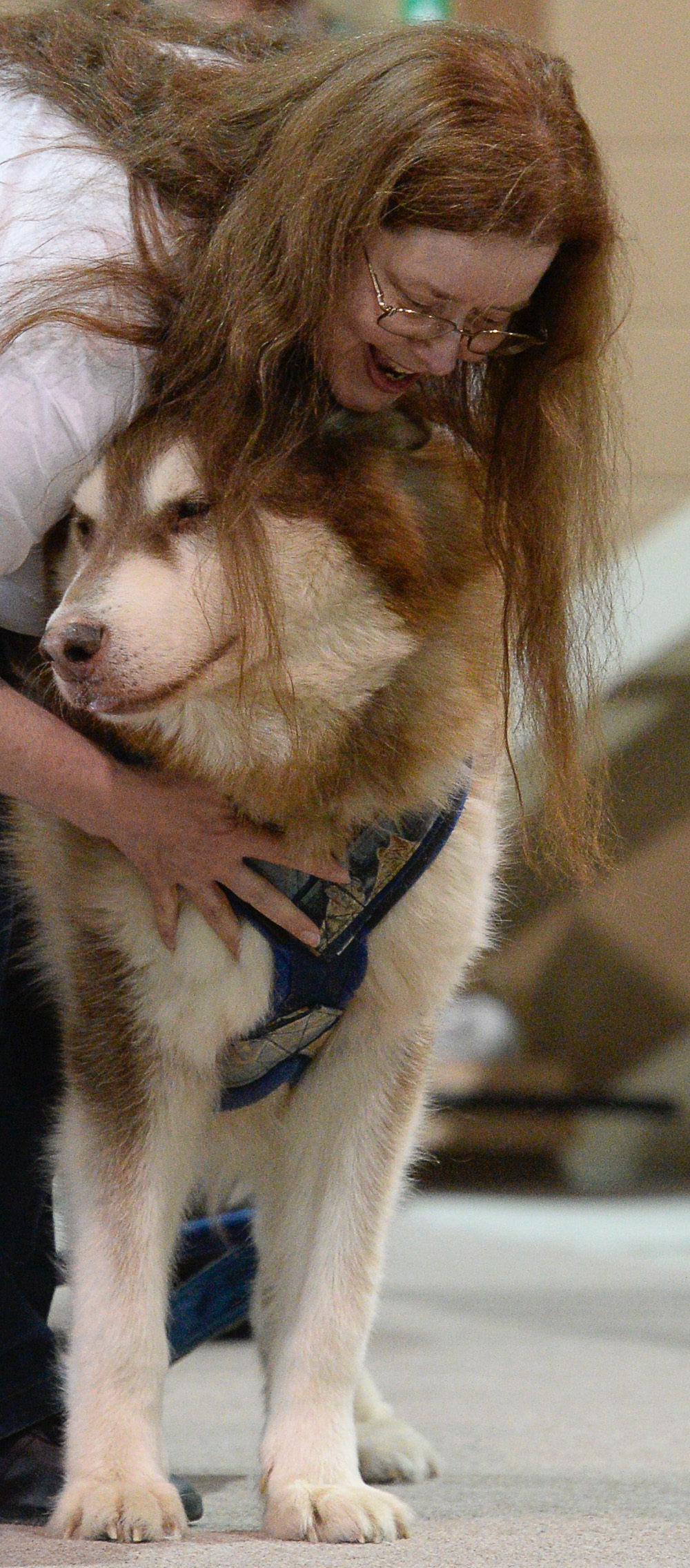 photo by Key4Prints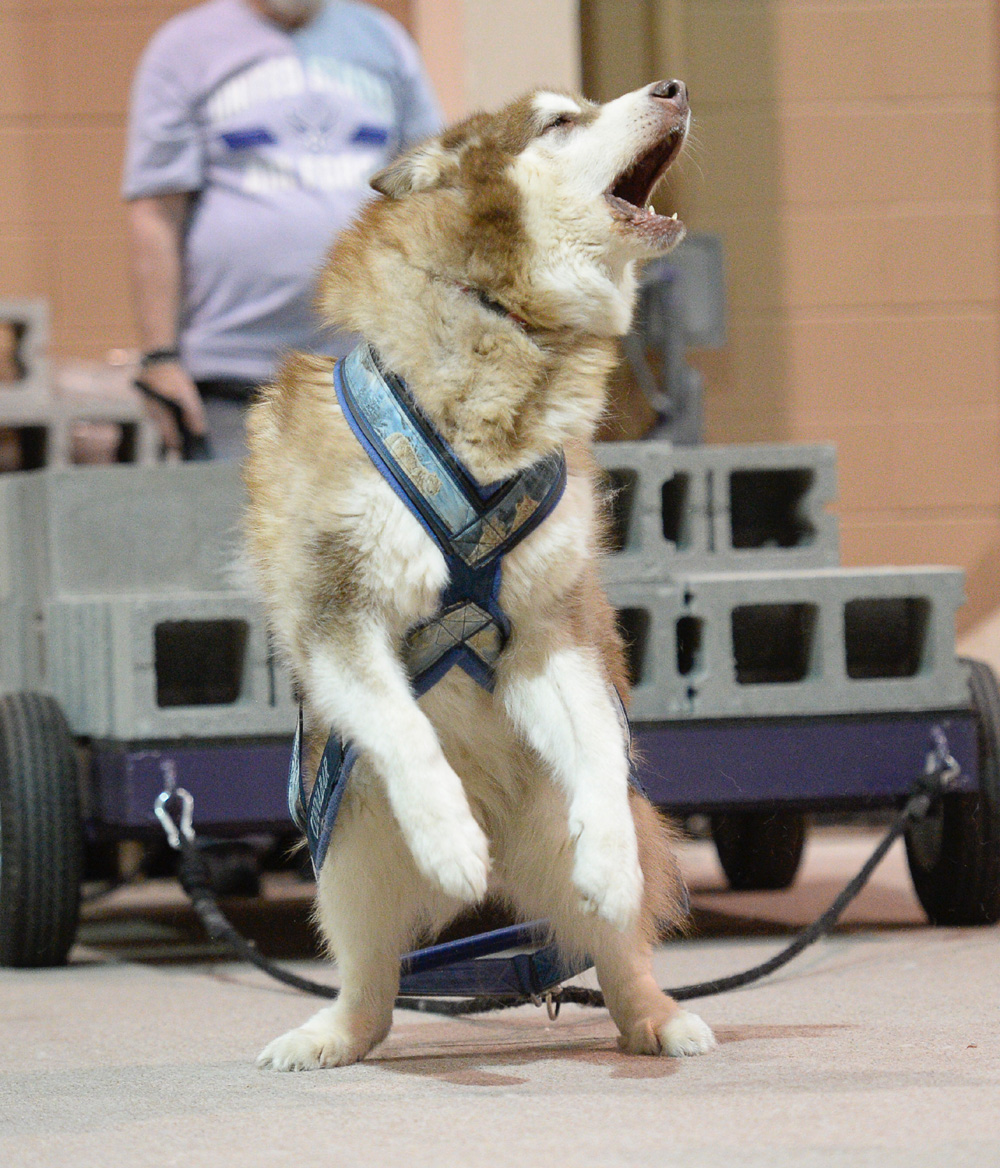 photo by Key4Prints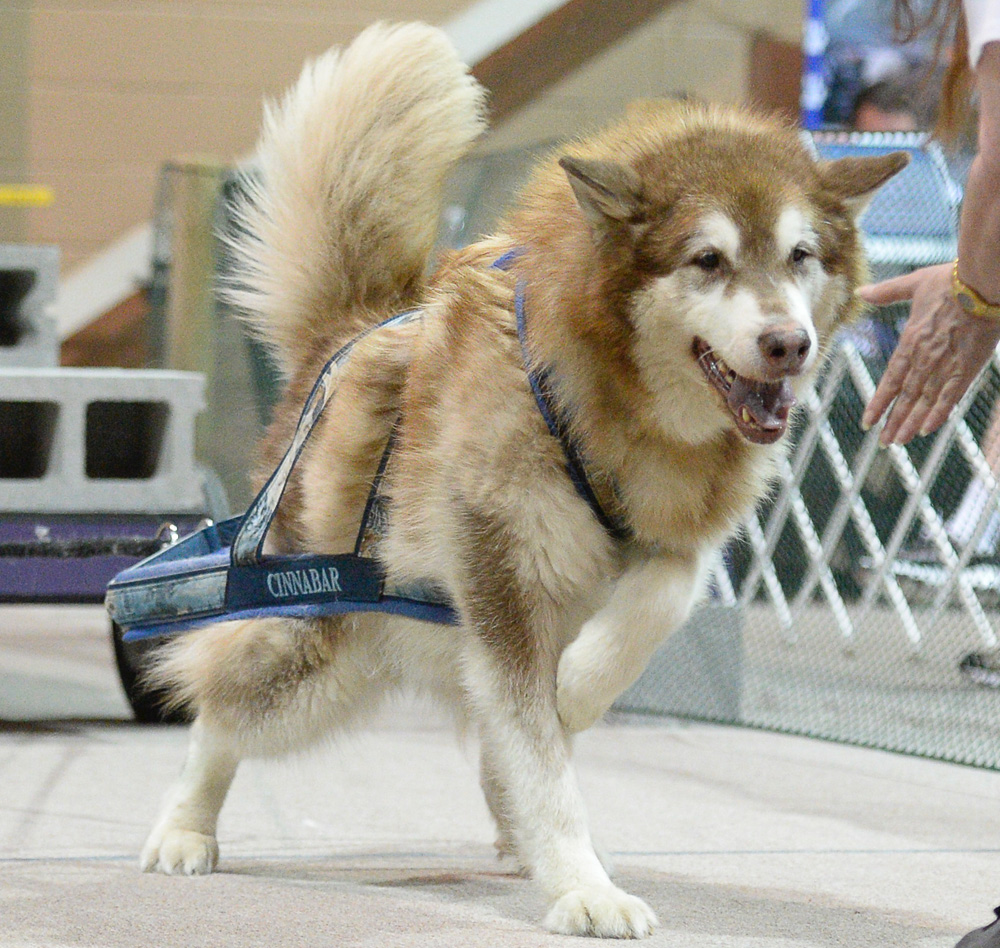 photo by Key4Prints
Michele's Boe is doing great. She's done such a great job with him. He was one of the last 3 dogs standing along with Beowulf and Sebastian.
I double passed Sebastian through 2687 lbs. Beowulf had a lot of trouble on that round and just made it in the time limit. George single passed him, and I did the same with Sebastian to keep them on the same round. Beowulf made the 2885 pull. Sebastian started it and was coming down the chute losing steam. He tried very hard, but couldn't get it started so I hand signaled for a push and praised the heck out of him. Congratulated George and George told me it was Beowulf's best challenge of the season. Very high praise!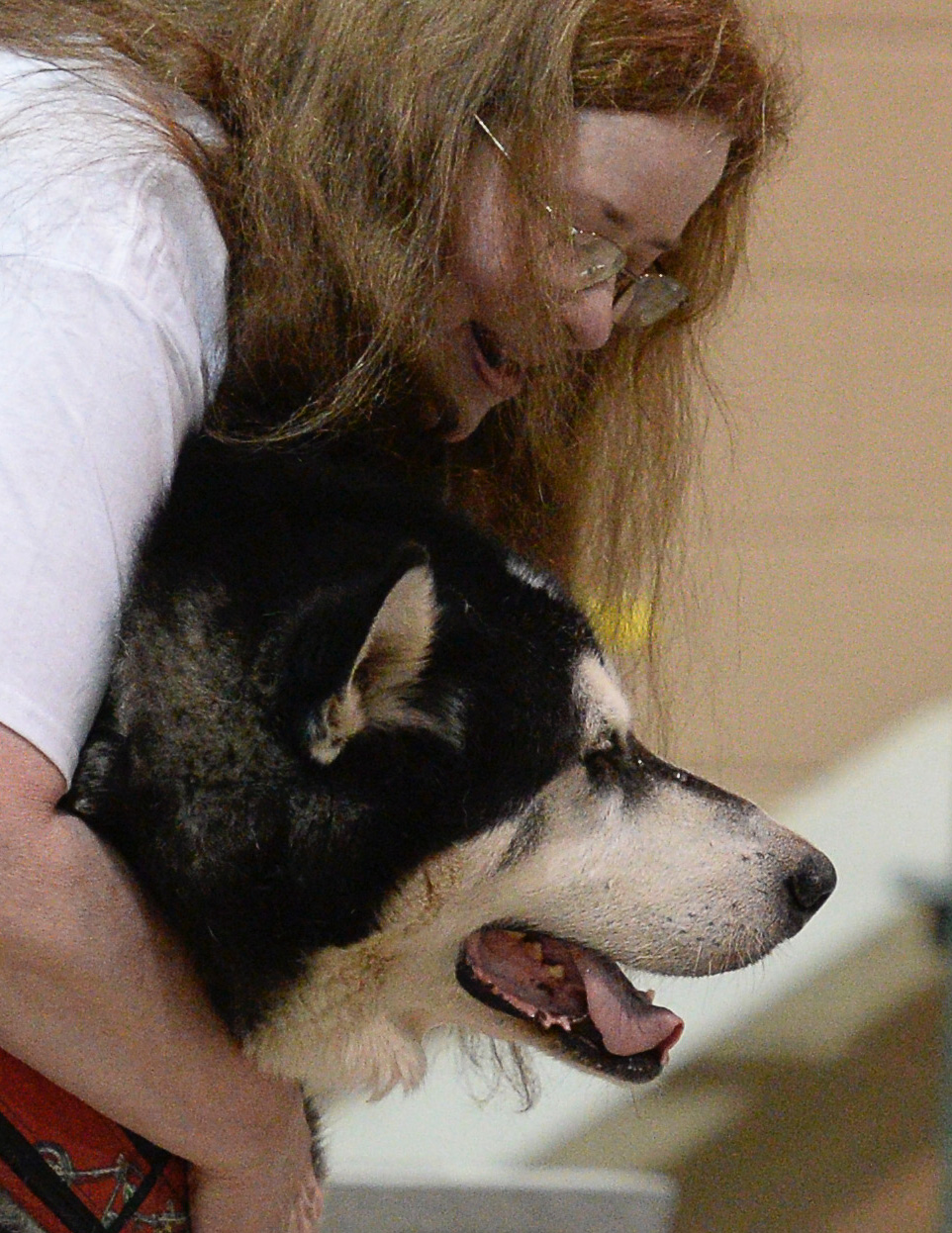 photo by Key4Prints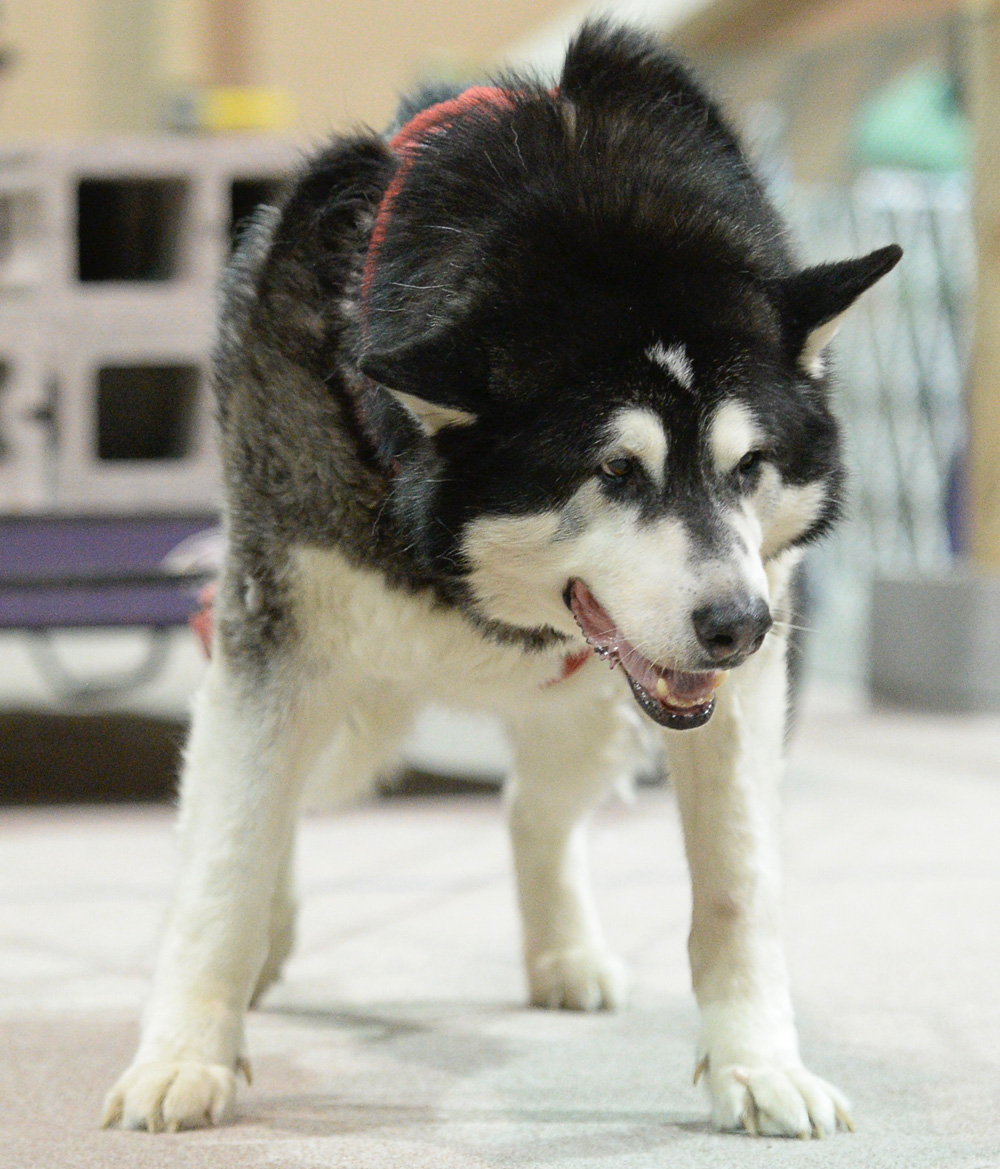 photo by Key4Prints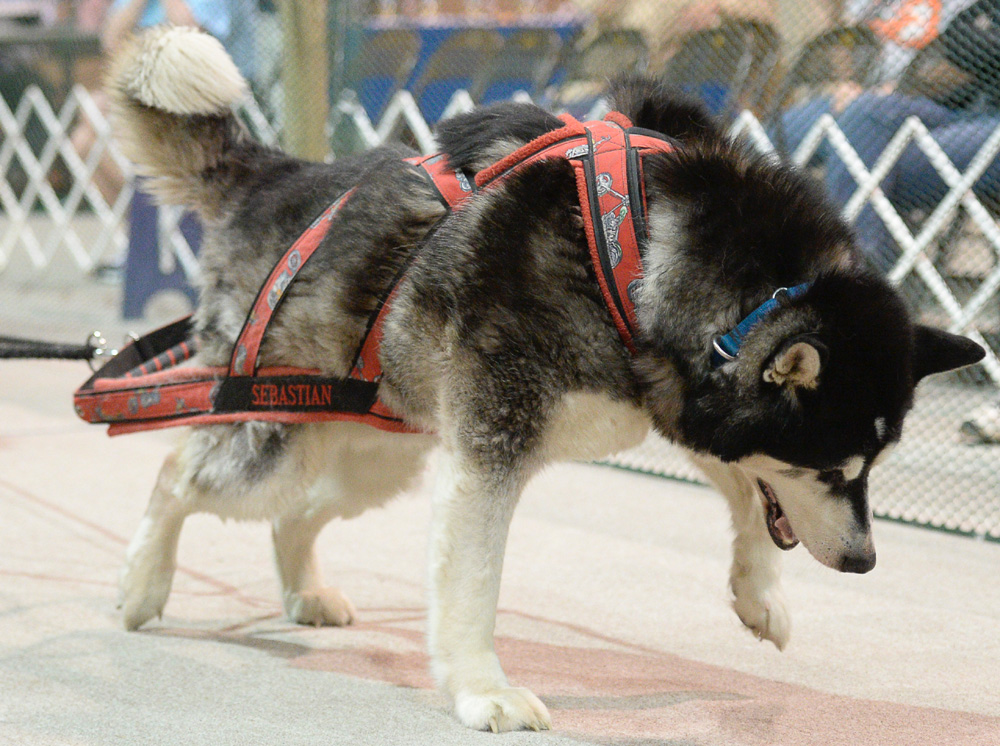 photo by Key4Prints
The bonus that I wasn't expecting, was that this pull is enough for his final X leg. He pulled 19.33% and 19% is needed with competition, which he had.
We had a professional photographer for this day and she showed me some of the shots. We are going to have some gorgeous photos from the pull!
I am so thrilled with how well they both did, especially Sebastian. At almost 10, he's growing up. Working is more fun that flipping me off. Talk about a late bloomer. I can't imagine what heights he would've reached in his prime with this attitude, but that wasn't to be. Keeping it fun for him was the way to go, even though it took him a while to get there.
We stayed in Carlisle for the night. Got on the road by 9am and stopped in Bristol, VA around 4pm. I was tired and starting to lose focus. We got a very nice Motel 6 there. Back home the next morning. As always a great weekend in Harrisburg in mid-April.
More photos of Sebastian & Cinnabar by Key4Prints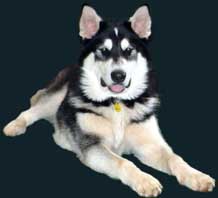 website design by Sheryl
bordered background by Sheryl
© 2005
all images © Sheryl Franklin unless elsewise attributed
all Alaskan Malamute sound files © Sheryl Franklin
website hosting by FranklinCommunications
domain name by DomainRegister.com