Sheryl's Alaskan Malamutes - Activities - Weight Pulling - IWPA - Clarendon - January 18/19, 2014



Weight Pulling

January 18/19, 2014 - IWPA - Wheels Weight Pull - Clarendon, PA
We headed to WinterFest - Jim Lobdell Memorial Races & Weightpull

Because we're now in Tennessee, we left on Friday at 10 am, planning on 8 hours driving into Ohio. The snow had other plans for us and it took 9 hours to get to our planned stop, a Motel 6 in Mansfield, OH. Of course the wiper fluid ran out about 45 minutes from there and that slowed us down more. One of the reasons we do Motel 6 is because they don't charge for dogs, and even have a program in place with AKC. Well, this Motel 6 decided that only 1 dog is free and the other is $25.00. I talked alot about corporate Motel 6 and their agreement with AKC. An hour later they called to tell me they were taking it off the bill. The boys had been so good in the car and at rest stops. They were thrilled to be in a motel room again, bounced around a bit, ate their dinner and crashed.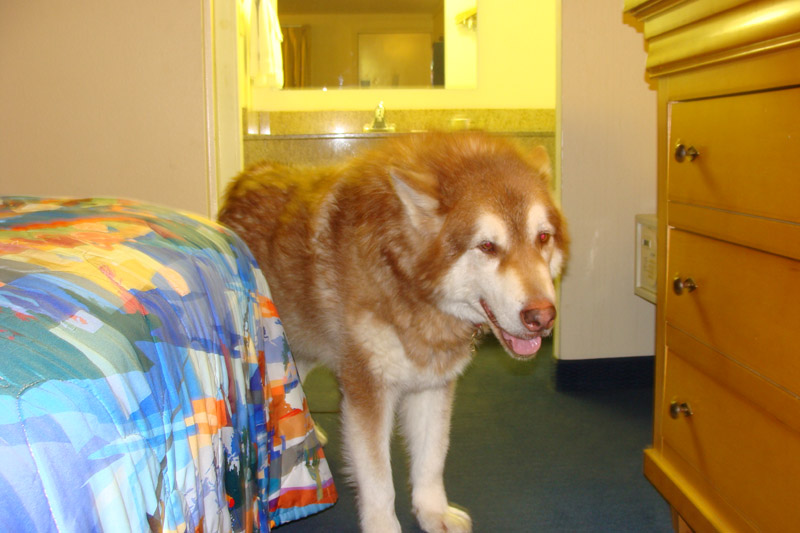 In the morning at check out the owner gave me a lecture on only 1 dog free next time. I just kept talking about corporate Motel 6, AKC and the only reason we stay at Motel 6 is because of their free dogs policy. He continued with his lecture. If it hadn't come off my bill I'd pursue it. What a jerk!
Filled up on wiper fluid and we were on the road between 6:30 and 7, expecting a 4 hour drive to the pull site. Pretty moon & stars in Ohio gave way to a pretty sunrise. We were doing just fine time wise until we got off the highway in PA. Still had about 50 miles to go on 2 lane roads. The problem with some of them was they weren't plowed deeply and they certainly hadn't seen salt. These roads were winding and steep, and treacherous with ice under the snow. I seemed to tick folks off with my speed until every time we saw someone in a ditch and then they backed off. I was content with 30 mph and our safety. We pulled into Chapman State Park and the pull site around noon. Still plenty of time to weigh in and get setup before the pull started at 1pm.
Sebastian weighed in at 140 and Cinnabar at 105.
The boys were in their glory with the snow, and the company of the other weight pull dogs. They decided a howl-a-long was in order.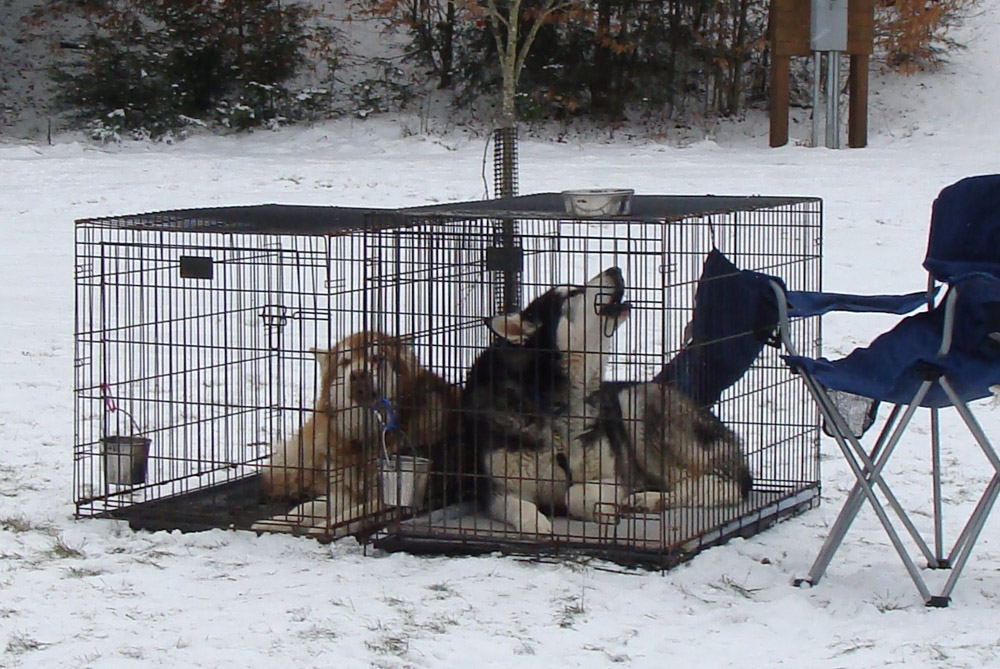 So good to see Steve, Wendy, Diane, Kari, George, Jen, Dave, Sue, Laura and others. As well as their dogs. Plenty of snow for us this year for weight pull, sadly not enough for the races. We did have quite a few spectators this year on Saturday.
Diane judged the 40 lb class, pulling in 45 lb increments.. I judged the 60 lb class, pulling in 90 lb increments.. Diane judged the 80 lb class pulling in 90 lb increments, and Steve judged the 100/125/150/Unlimited classes together pulling in 135 lb increments.
Because they just had a long drive and hadn't pulled since November, I started them empty and pulled every increment and just let them have fun. They were solo in their classes so were automatically winners as long as they pulled something. Cinnabar pulled 640 lbs and Sebastian pulled 775 lbs.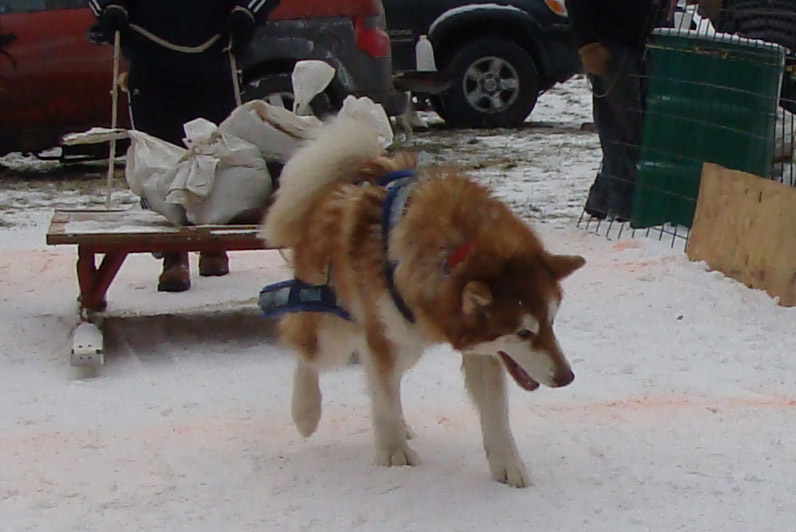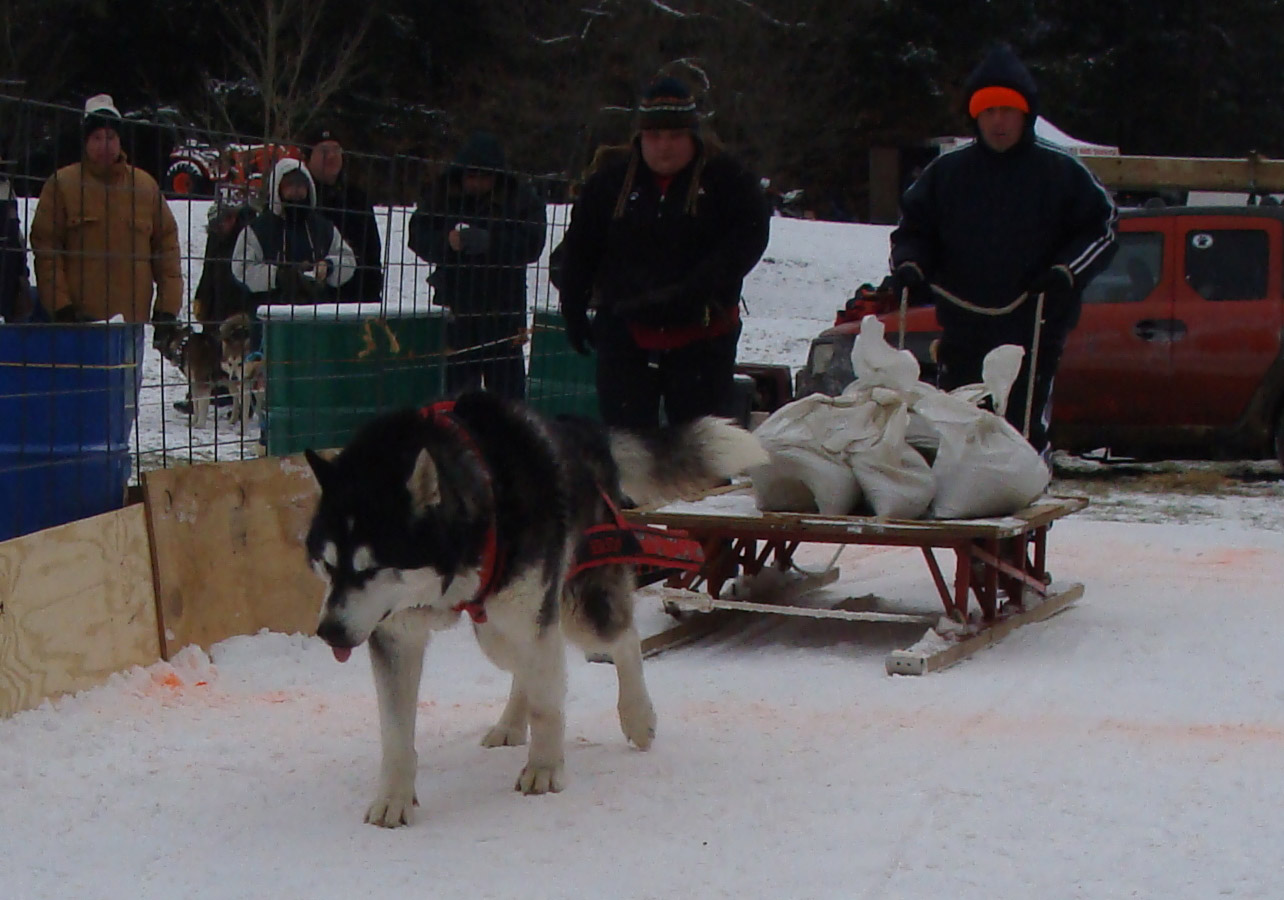 After the sanctioned pull was over we had the novice class. Seemed like there were quite a number of folks eager to try with their dogs. While that was going on I got the boys pottied and their stuff packed up and into the car, so that we could head over to the mushers dinner.
The mushers' dinner was fun as always, because it's a chance to relax with the weight pull folks. Something that doesn't always happen at regular pulls. The food was good and it's free, always a plus! Also got to spend some time with Paige from Tails on the Tundra. They're setup in the pavilion just down from the pull chute, and they were doing sledding and canicross demos. I think this was their 10th year attending Winterfest. Outside of the TOTT folks and weight pull folks, there are only a few others that attend. Without the mushers this is a very small affair.
Off to the Super 8, and got the boys in the room. Then I followed with our "stuff". They were both great, bounced around a bit, ate and crashed.
All three of us had a good night's sleep. Out in the morning for a long, luxurious potty break with them both. Had the car packed up around 7:00 am and the boys bundled into it and went back in to meet the others for breakfast. After breakfast I headed to gas up. Then off to the pull site.
Got them setup and headed over to the TOTT pavilion and got the hat I've had my eye on. Black cap, says Alaska and sled dogs pulling a sled in wonder color.
Slightly warmer than the day before, but still pretty cold, about 20 degrees.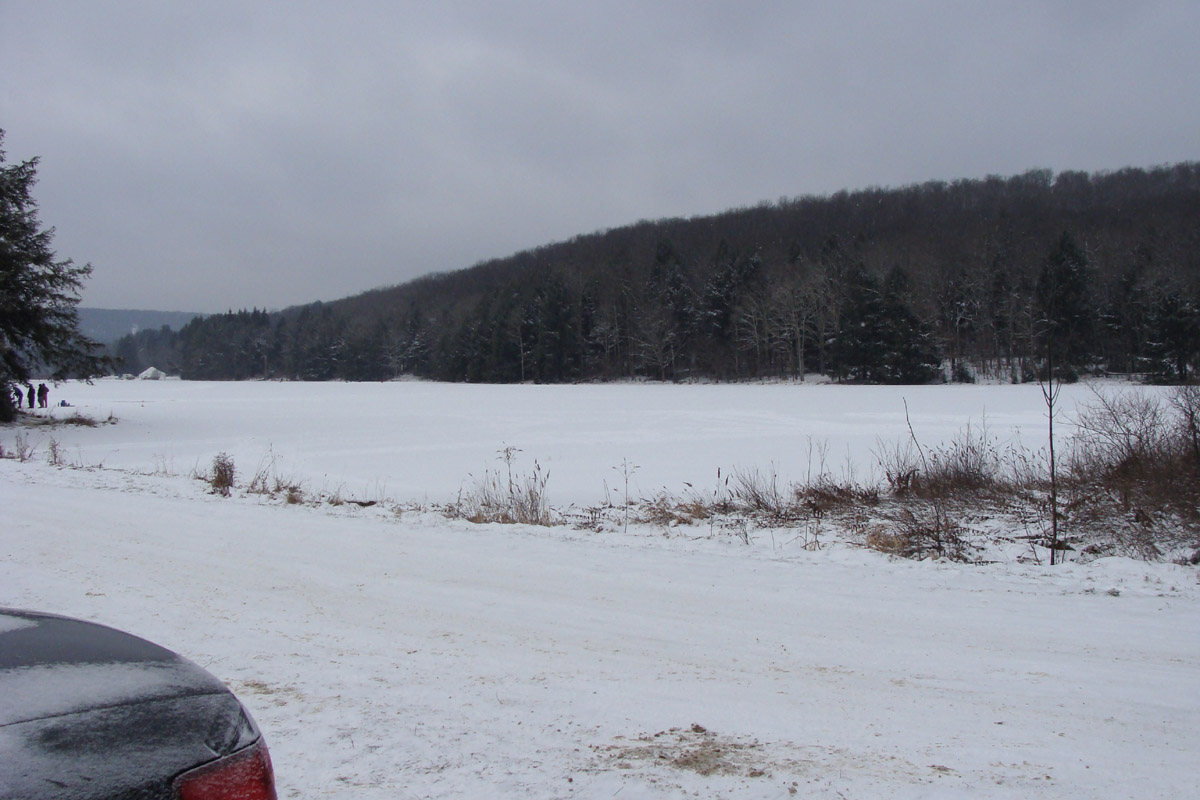 We picked up a couple of Sibes in the 60 lb class. Other than that, it was the same as the day prior with dogs and with judges. What was different though was that the runners were sticking hard to the snow and no one was pulling higher than the day before.
I again started them on empty. With the runners sticking I did my best to hurry Cinnabar into position for hookup, not easy with him. Sebastian goes in fine, but decided to give me a hug on one and the runners stuck. He surprised me by breaking it free. His style is more suited to wheels and not breaking the sled free, but he got it. Cinnabar's style is much more suited to snow, with his backing up and hitting it. That is, if he's really hitting it or it's a "pretend try". They both pulled 505 lbs. Fine with me, with 2 snow pulls under their belts, they now qualify for snow championships from Region 7.

video courtesy Paige Blume from TOTT!
We had awards in the Mushers Hall just behind the pull site. They've always got a warm fire roaring in there and food for sale. Great place to warm up and have awards and hugs and goodbyes. We were on the road around noon and I hoped to make it to Cincinnati. The roads that were treacherous the morning before were not as bad, but still not great so again it took us a while longer than planned in PA. Once in Ohio the wind died down somewhat and the roads were much better.
Started to get drowsy so looked for either a Motel 6, Red Roof Inn or Super 8. The first one I found was a Red Roof Inn in Columbus, OH. Their price was a pleasant surprise and despite their sign saying they charge after the first pet, they didn't. The room was gorgeous and comfortable. Finally with a king size bed I've still got room with Sebastian on it!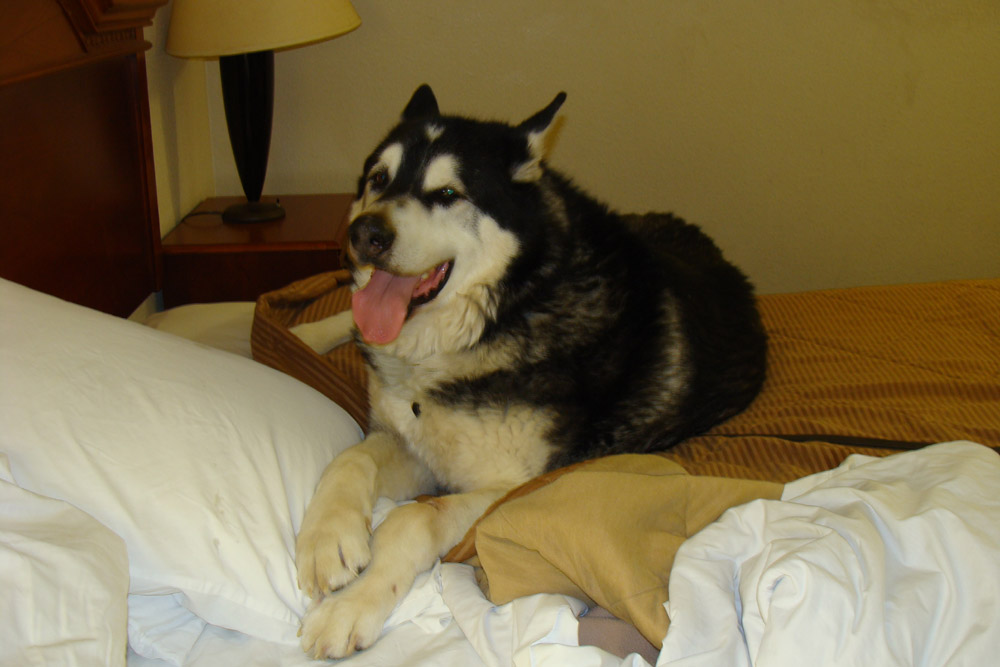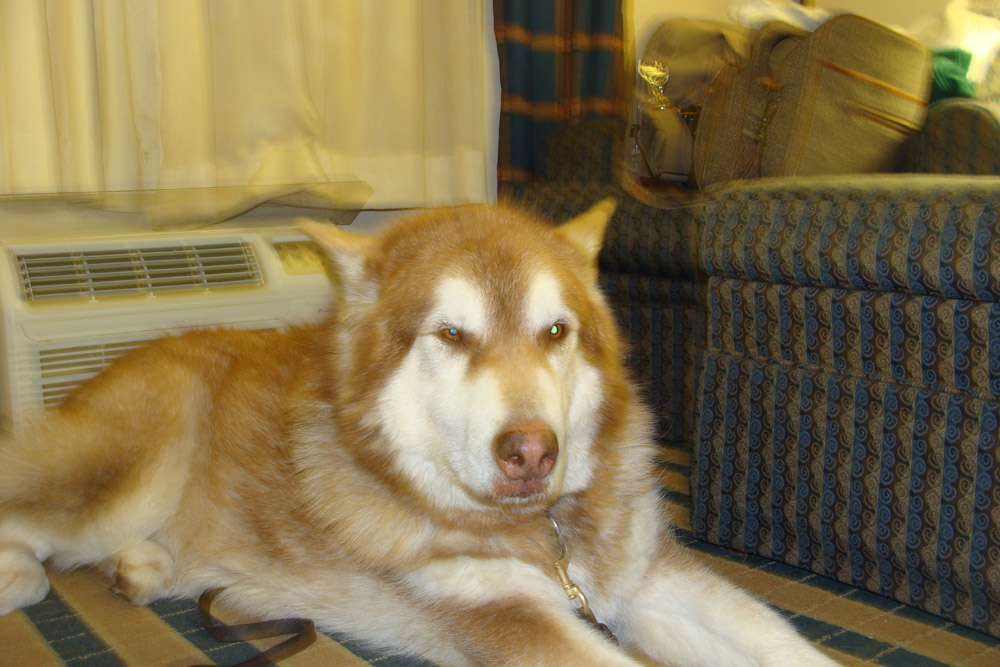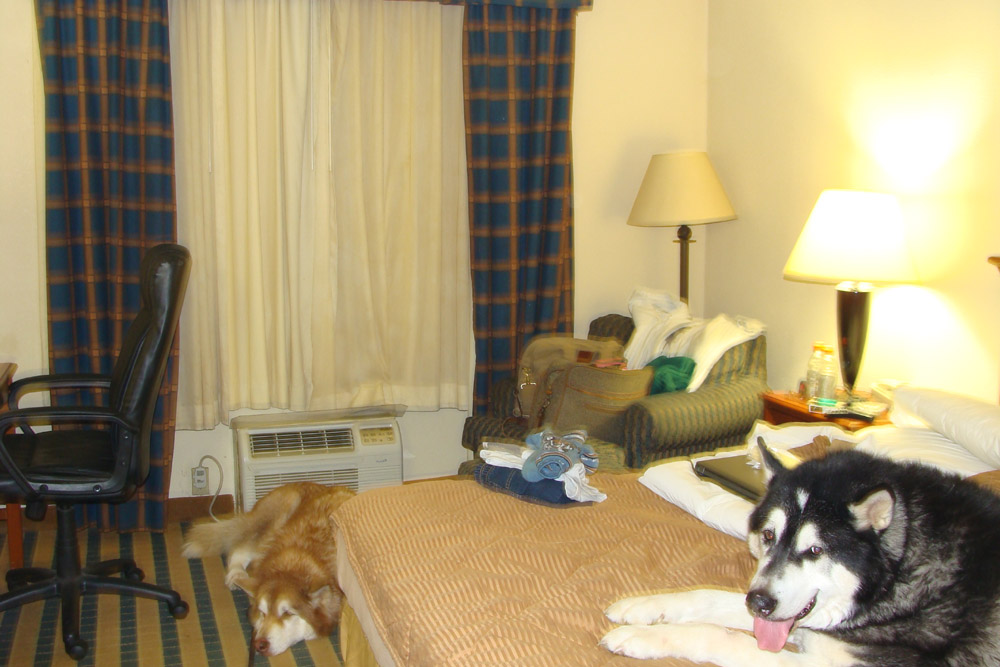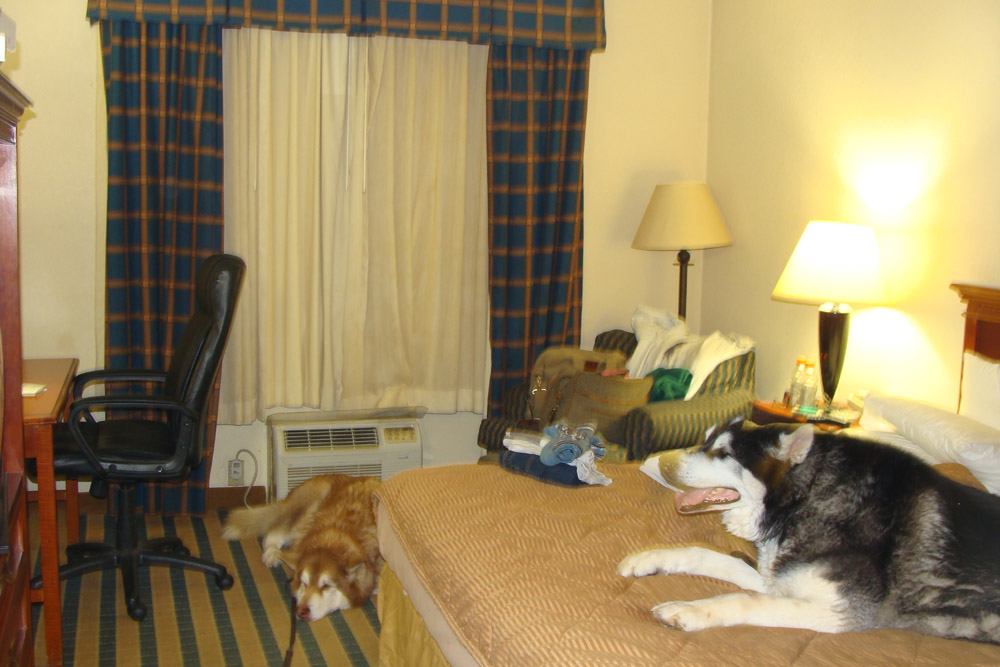 We left around 9ish and got back incident free at 2:30pm. Long, long drive but worth it. We always love this pull.
I'm really proud that my boys still enjoy pulling. Cinnabar will be 9 in a little over a month. Sebastian will be 10 in a little over 3 months. Good job, boys!
Here's an article in the Times Observer that also talks about the weight pull, and a great shot of Junior pulling. I'm hoping they also got some photos of the boys and will post them here if they do.
More of Sebastian and Cinnabar and all the dogs pulling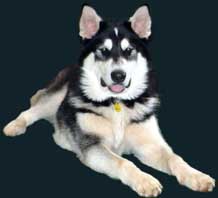 website design by Sheryl
bordered background by Sheryl
© 2005
all images © Sheryl Franklin unless elsewise attributed
all Alaskan Malamute sound files © Sheryl Franklin
website hosting by FranklinCommunications
domain name by DomainRegister.com