Sheryl's Alaskan Malamutes - Activities - Weight Pulling - IWPA - Eureka - November 9, 2013



Weight Pulling

November 9, 2013 - IWPA - Wheels Weight Pull - Eureka, MO
On the road a little after 2:30 am for what was supposed to be a 6.5 hour drive according to MapQuest. My first time going to Missouri, and Tennessee is still new to me. From Tennessee head to Kentucky, the Illinois, then Missouri. LONG drive. Had a "Sebastian" incident early on in Tennessee and almost turned around. Pulled in right at 10:00, the time the pull was to start. They let us weigh in and pull - yay!

So good to see Michelle and John Podolak again. Met them at the 2009 Nationals in Gettsyburg.

Got the boys pottied and setup, then weighed in. No sling, a step on scale, so no wailing from the big duffus. Sebastian weighed in at 133 and Cinnabar at 92. Sebastian was down 5 pounds and we'll chalk that up to the stress of the move and getting used to the kennel. Cinnabar was down 10 pounds. That's the stress of the move, getting used to the kennel AND going nuts around girls in heat.

All classes pulled together. 60lbs and up pulled in 112 increments. I started Cinnabar around 700 lbs and Sebastian around 800 lbs. Long drive and didn't know the cart or chute.

I double passed them both on everything, if I remember correctly.

Cinnabar did ok, but quit a little early. A little bit of talking on his 1776 pull. Tons of talking and backing up on his 2224 pull, which he did not make. He got 4th in his class behind some really good dogs.

Sebastian was solo in his class, so of course he got first. He worked on every pull, well his style of working. Ambling down the chute taking the blocks for a walk. He pulled 3120 which was good for MWP. He beat Sugar (American Bulldog) for that.

Went out to Ruby Tuesday's with Michelle & John, Eileen and others from the club. Had a great time, and then on to the Super 8 where the boys got their favorite water bowl, a nice dinner and then they crashed.

Back to the pull at 9:30 the next morning. Cinnabar was by far friskier and very interested in girl pee on the grounds. He's neutered, but it doesn't matter. He was much more into pulling on Sunday. Did some talking and backing up on his 2224 pull, I promised him it would be his last one and he dug in and pulled it. I withdrew him after that and was very pleased with him. That was good for 24.17% and MWPP by a Veteran for the day. Good job!

Sebastian was pretty much the same on Sunday, except there was a photographer there. On an early pull he went right to the camera (not at the end of the chute, but on the side of the chute) for his closeup. Fortunately the cart was light enough that it rolled over the line. The photographer stood at the end of the chute for him the rest of the way :) Both Navi and Sugar were both on and went right to the end. Sebastian pulled 3008, Navi I think one increment more than that and Sugar one more than that. Another good day of pulling.

Got packed up and on the road about 2:00 pm. Almost got lost on my way out of St. Louis, but when I stopped to ask for directions they told me I was on target, just the signs are confusing. OK. Was 3 hours into the trip with a headache and very tired, so we got a Motel 6 and spent the night. I was out of dog food, so I got them 2 happy meals each. They were happy with that. On the road by 5am the next morning and back to Tennessee by 9:15. Each of them almost pulled me off my feet to get back to the kennel, but then howled for me when I went to the house.

Hope to have photos of them pulling when the club posts them on their website.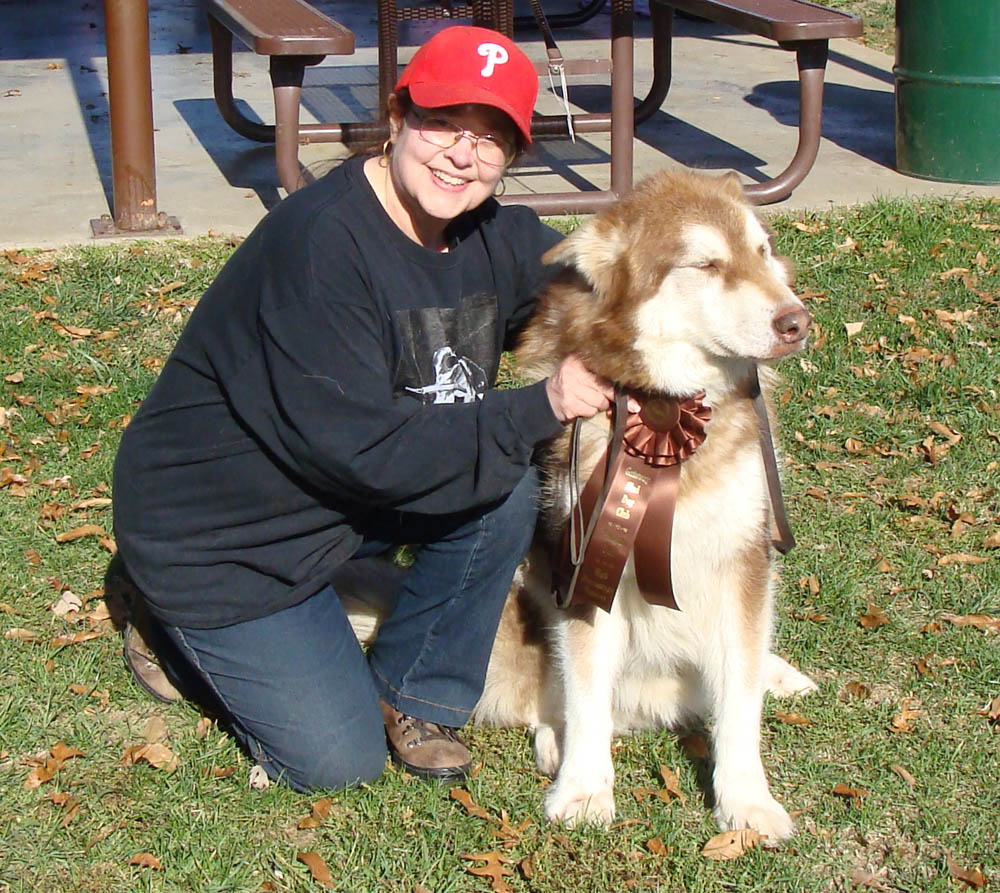 Cinnabar with his Veteran MWPP Rosette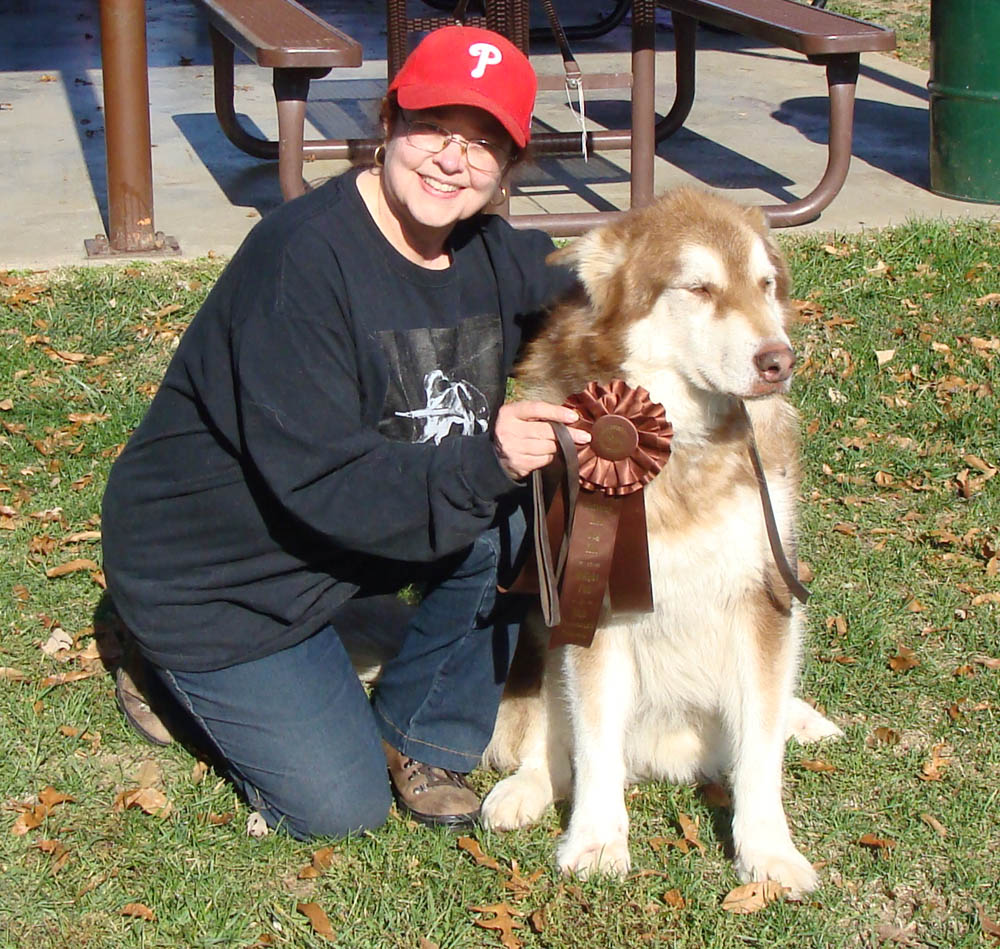 Cinnabar with his Veteran MWPP Rosette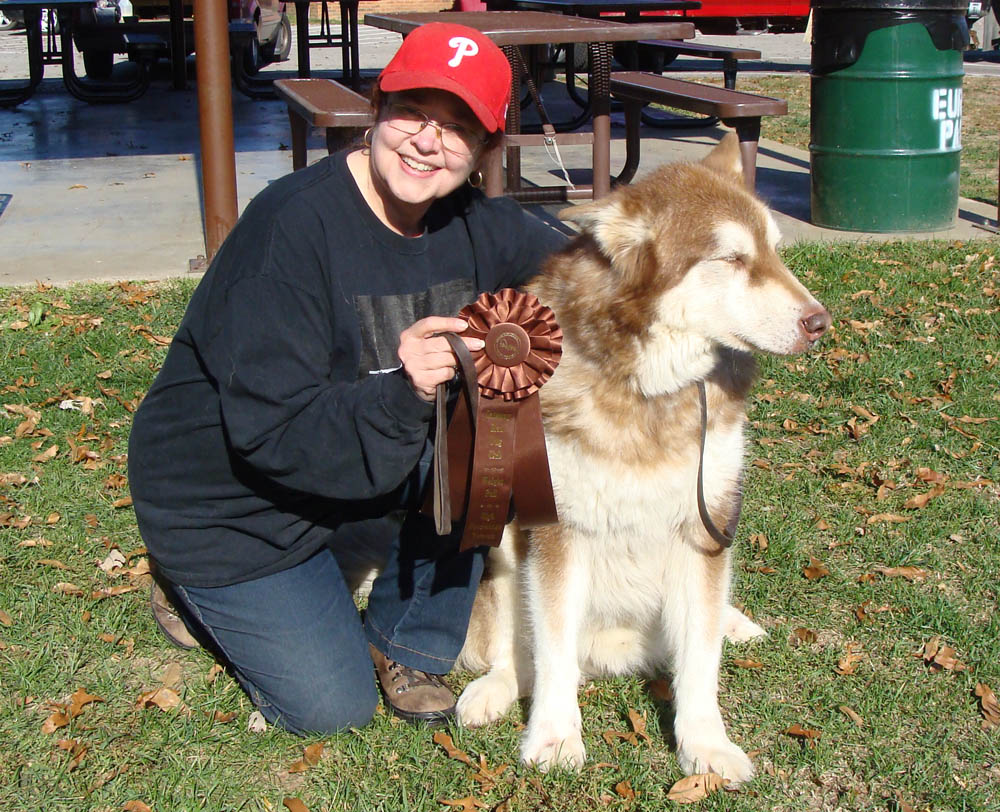 Cinnabar with his Veteran MWPP Rosette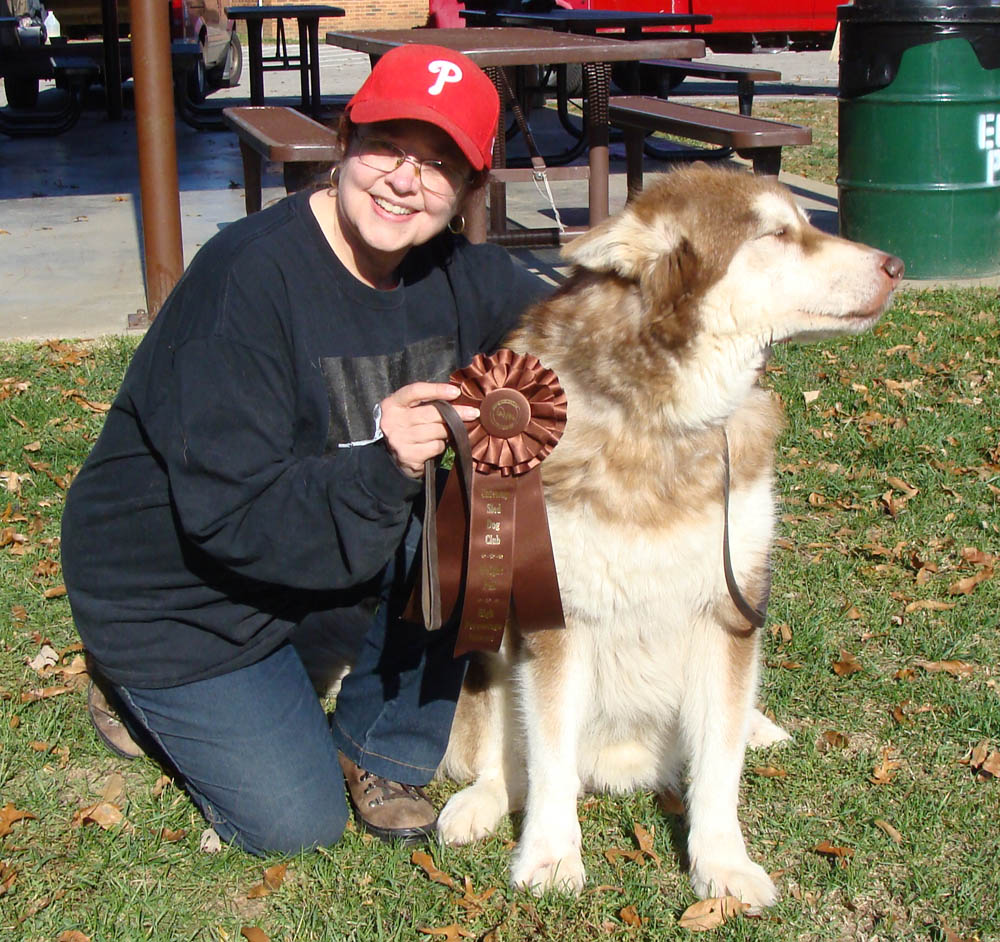 Cinnabar with his Veteran MWPP Rosette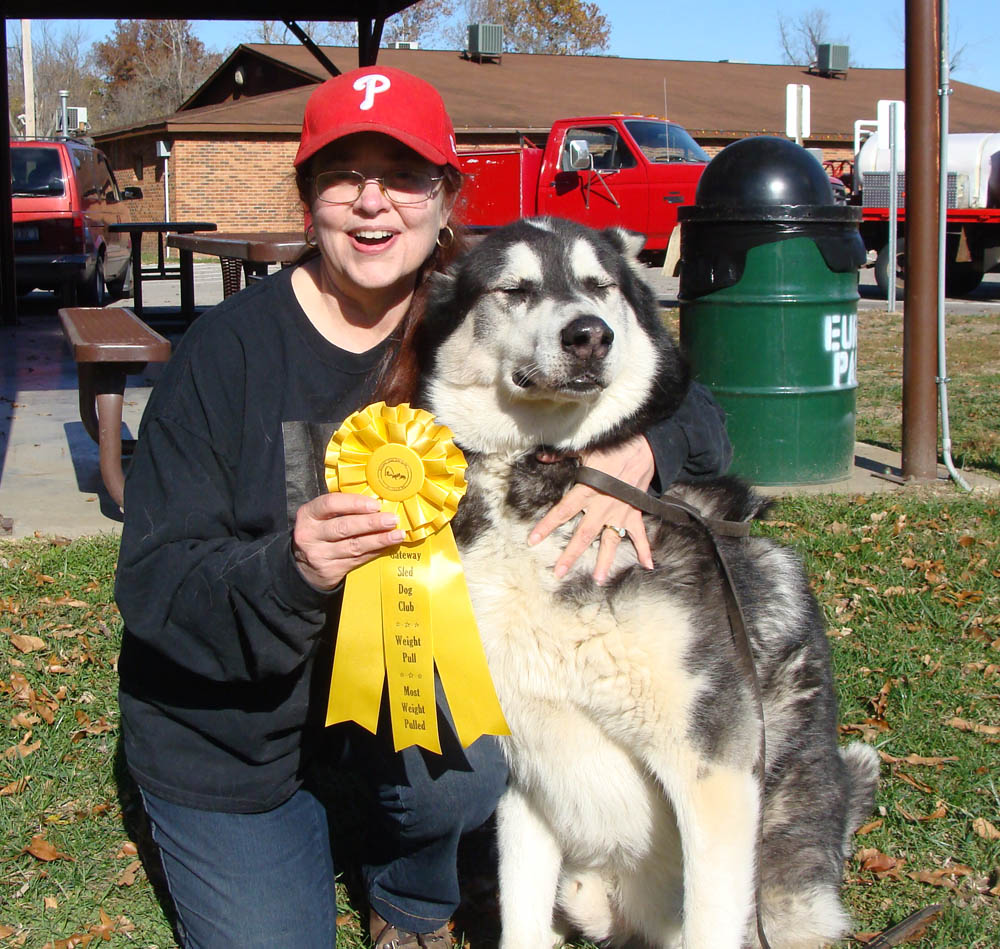 Sebastian with his MWP Rosette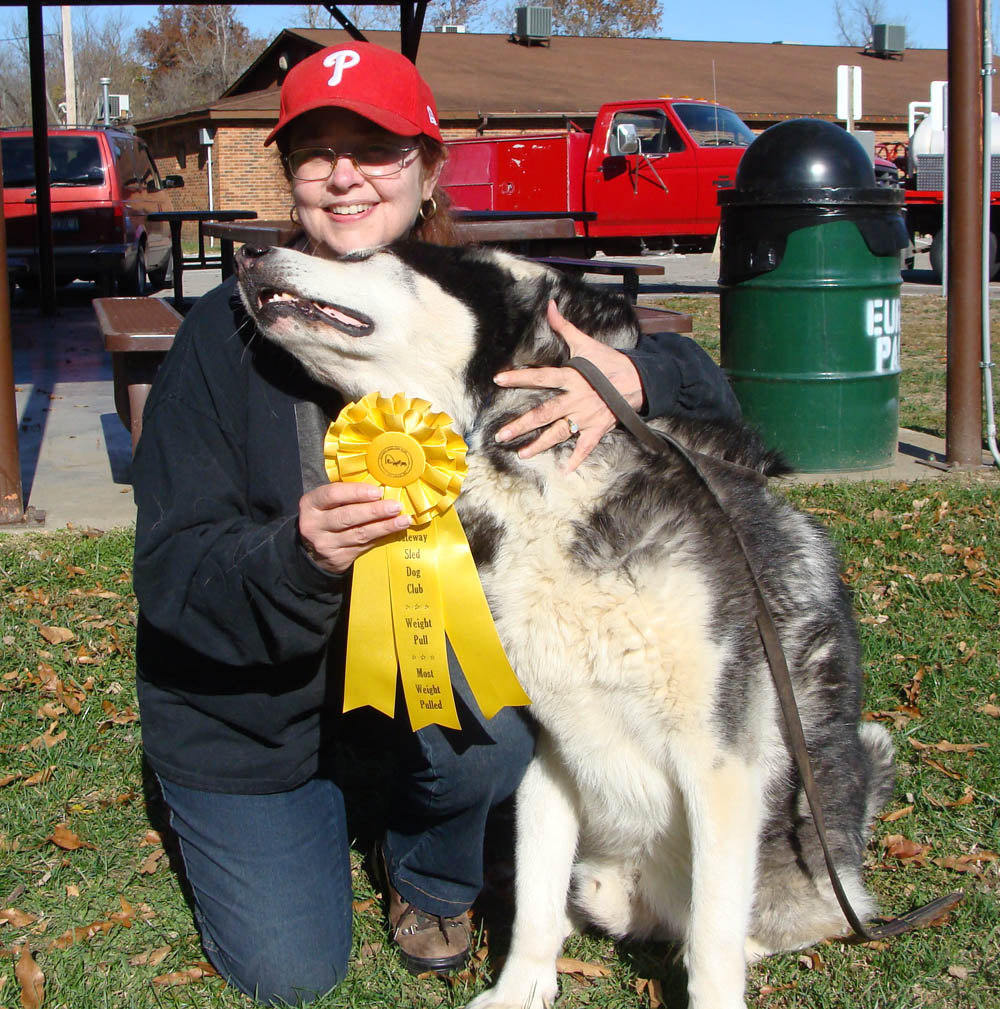 Sebastian with his MWP Rosette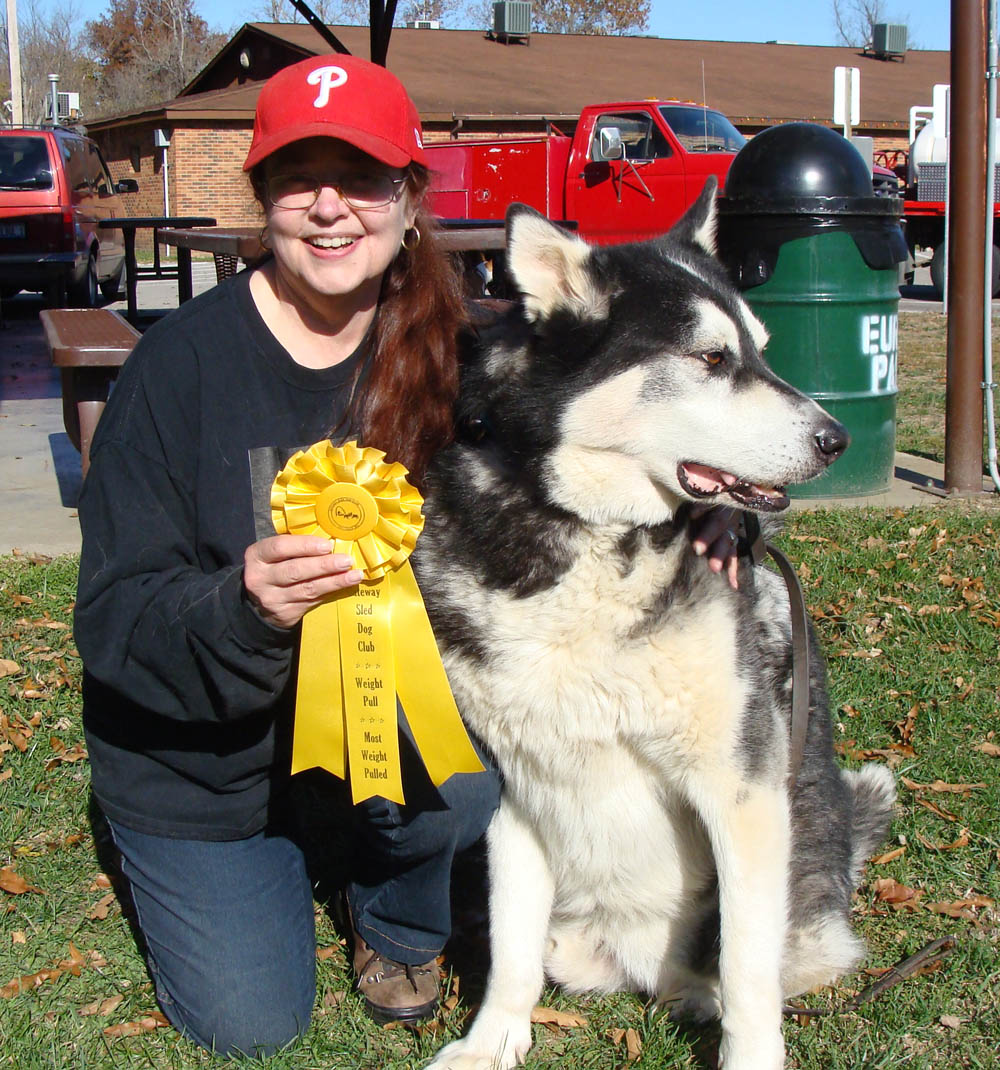 Sebastian with his MWP Rosette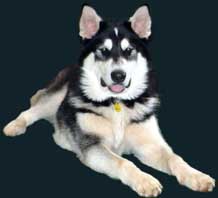 website design by Sheryl
bordered background by Sheryl
© 2005
all images © Sheryl Franklin unless elsewise attributed
all Alaskan Malamute sound files © Sheryl Franklin
website hosting by FranklinCommunications
domain name by DomainRegister.com