Sheryl's Alaskan Malamutes - Activities - Weight Pulling - IWPA - Port Clinton - September 15, 2013



Weight Pulling

September 15, 2013 - IWPA - Wheels Weight Pull - Port Clinton, PA
On the road a little after 5:30 with starry skies. Halfway there a pretty sunrise was in the rear view mirror. That turned to fog as we entered Port Clinton to greet Tana already getting things set up.

Got the boys pottied and setup, then started getting folks weighed in. Sebastian weighed in at 136 and Cinnabar at 102. Weigh in was very hectic as we had lots of novices wanting to practice getting their dogs weighed. Both Shawn and George assisted Dave H and I at various times. I had a wonderful surprise when Steve and Wendy showed up, and then Kari! It was great.

Brenda and Val came, and I asked Brenda who needed weighing in. She was in tears when she said no one. Darla had gotten a piece of rawhide stuck in her throat on the way there and had a seizure, and then wasn't breathing. Brenda couldn't dislodge it, so Val tried and knocked it loose. They brought her back from the brink, and will take her to the vet on Monday. Whew what a scare! I got to see the little diva and she was her charming self, thankfully!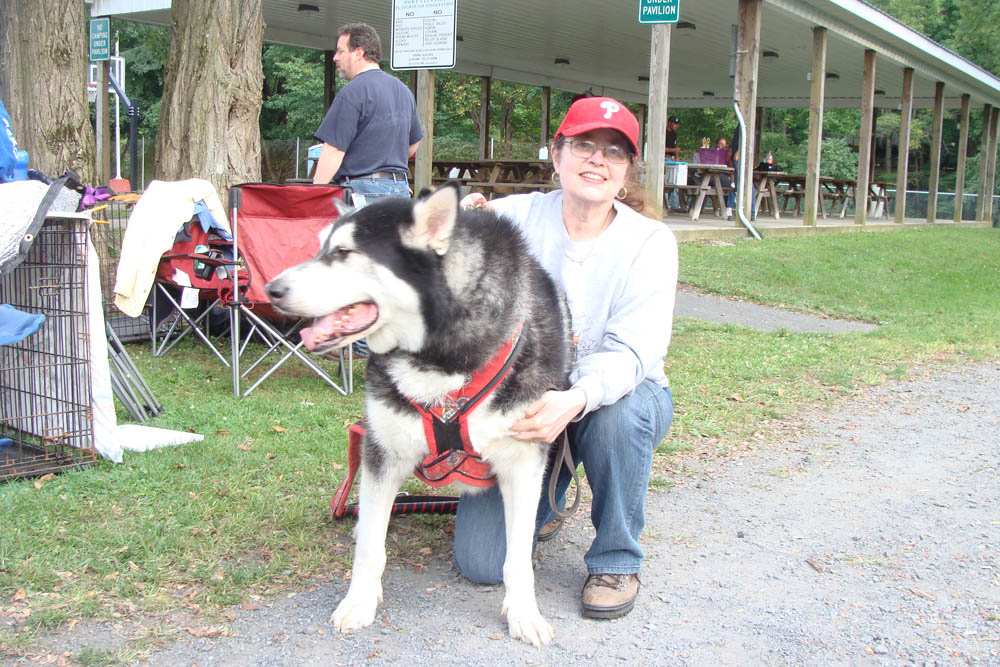 Sebastian & me before the big dogs got started
The novice class was huge, 16. They started promptly at 8:15, with Missy judging that class. We had our pro handlers meeting promptly at 9:45 and we got started at 10:00.
We had one in the 20 lb class, a little sheltie. And about 9 in the 40 lb class, pulling in 90 lb increments. A very good class with some veterans and newbies with Mole/Moxie kids Birch and Mist pulling and doing well.
The 60 lb class of 13 pulled in 180 lb increments. Again a mix of veterans and newbies. Two more Mole/Moxie kids, Colt and Mug pulled. They didn't do as well as their 40lb class counterparts, but they'll get there. Mole took the class, with Cassi coming in 2nd. Mole pulled 71 times his body weight (taking Most Weight Pulled Per Pound) and Cassi pulled 68 times her body weight. Wow! Jon, our junior handler in this class pulled Bindi, a dog he just started training and Panhead who did well.
The 80 lb class of 11 pulled in 135 lb increments, in deference to Breana our junior handler in this class. She pulled Winter and did well. This was also a very good class. Both Macha and Jack did great in this class, as did Cuda.
I judged the above classes, and Wendy judged the big dogs.
We pulled the 100/125/150/Unlimited together, with 225lb increments. There were about 8 in the 100 lb class, 1 in 125, and 2 in 150.
Beowulf took the 100 lb class, Ranger was right in there to the end, but his last pull didn't put weight on his right hind leg and Dave withdrew him. The big news is Takaani, wow, talk about improvement. He was incredible! Shawn has done a great job with him.
I started both of my boys at 925 lbs. I double passed Cinnabar the entire time. On his 3000 pull I looked back to see if his tail was wagging, it wasn't, so I took my hand and started wagging it for him and chattered at him. Then it wagged on it's own and he pulled it. I double passed him again. On his 3675 attempt, he pulled a Sebastian on me and left it a few inches short. Still channeling Sebastian he pretend tried to finish it. Silly boy, so he ended up pulling 3000 lbs. Not bad for not having pulled since April.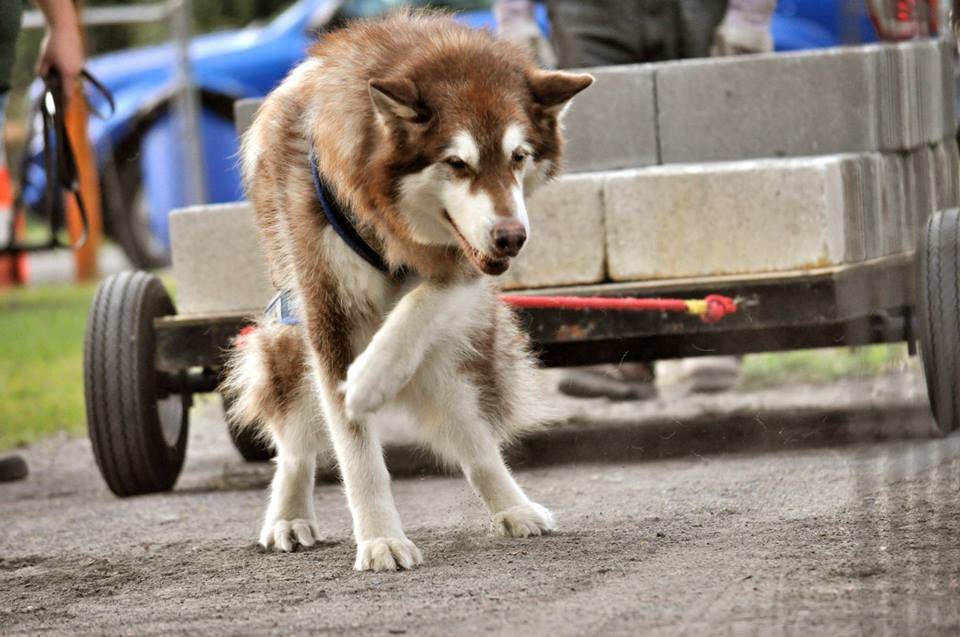 Cinnabar digging in to start the cart
Photo by Tiffany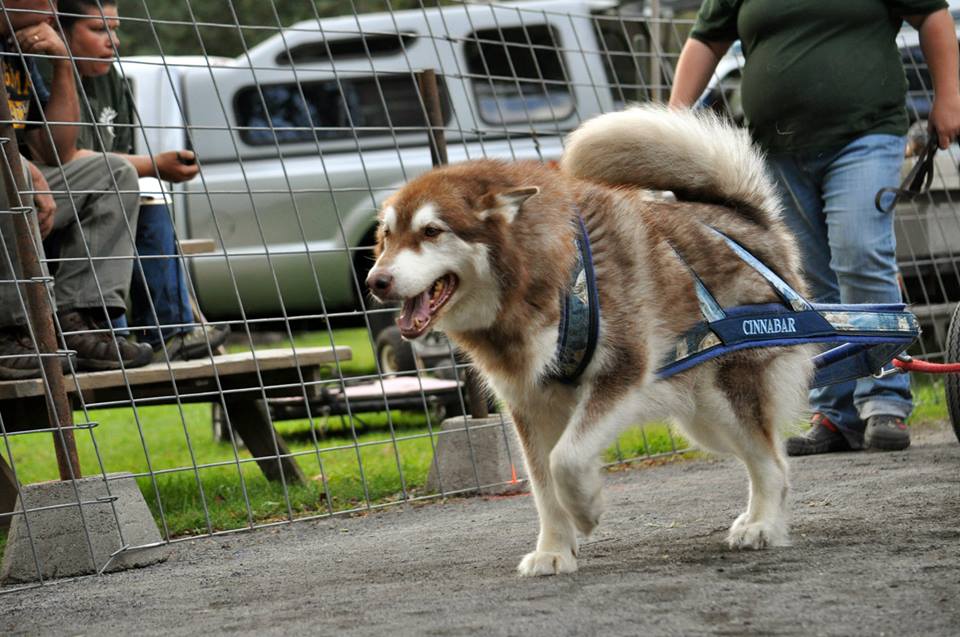 Cinnabar pulling
Photo by Tiffany
I double passed Sebastian the entire time. He easily made his 3000 pull. On his 3675 attempt, I made a mistake. I should've requested the cart be more in the middle as it was close the the left side. Sebastian usually pulls fairly straight but on this one tried to pull to his right. Lots more effort than pulling straight. He got close with his but wasn't getting enough leverage where he was. So he also ended with 3000. I was very happy with him, he didn't blow me off once, but kept trying!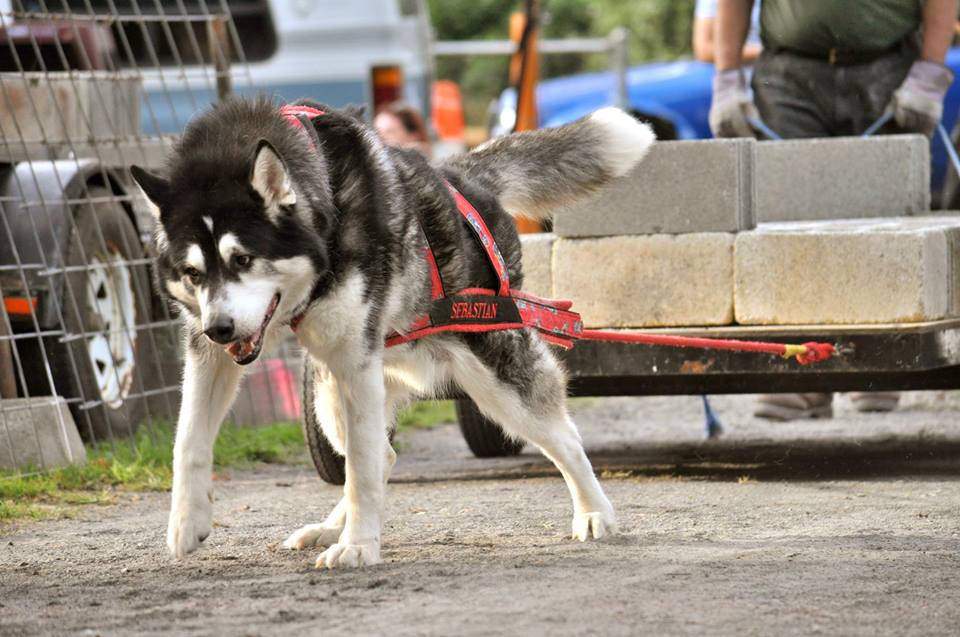 Sebastian's familiar pulling stance
Photo by Tiffany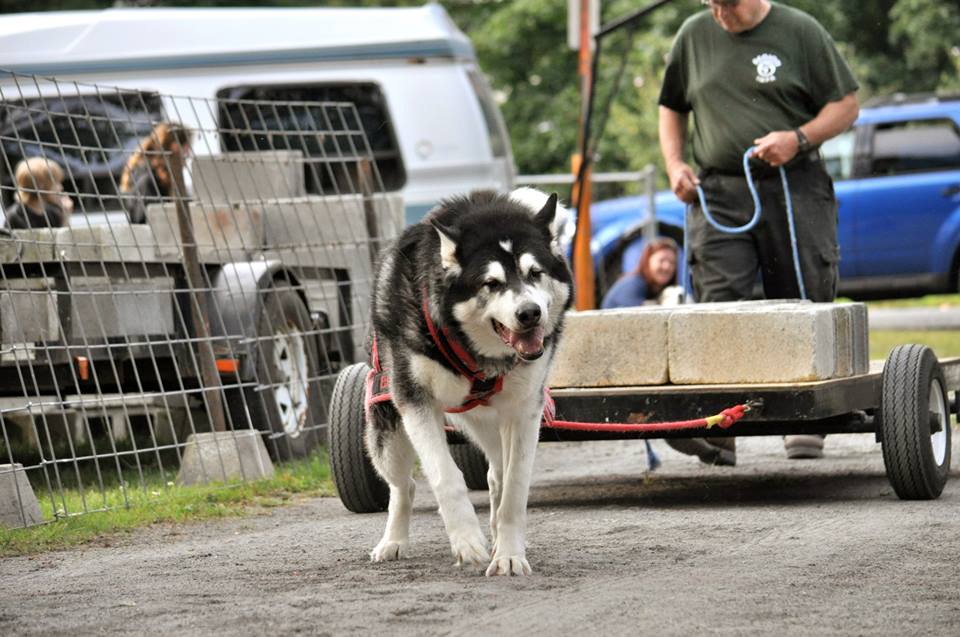 Sebastian hamming for the camera
Photo by Tiffany
Truffle the big young Swissy took that class (150) pulling 4800lbs looking like a beast doing it. He edged Beowulf on time for Most Weight Pulled. He's just awesome!
We called for help unloading the cart and Tana got started on the ribbons for the big dogs. Then we did the 50/50 Championship raffle. Karen won and put it back in the pot, which I handed to Wendy. Thank you, Karen! Thank you to Tiffany for taking photos, can't wait to see them. Then we had the awards. Along with rosettes, there was a bag of treats for the dogs. I also signed forms for Truffle who earned another leg for his Swissie title.
Wonderful way to begin the season, 16 in novice and about 45 in pro. Amazingly, we were missing a few regulars. Thankfully we moved things right a along or we would've been using headlights for the chute. Great dogs, and great people with continuing growing participation. Thank you Tana for your wonderful organizing, to Missy and Dave for the equipment and setup.
We had an easy drive home of an hour and both of the boys conked out after dinner. That's a good day!
All Cinnabar & Sebastian photos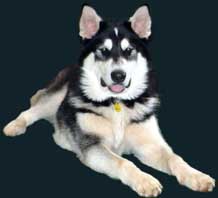 website design by Sheryl
bordered background by Sheryl
© 2005
all images © Sheryl Franklin unless elsewise attributed
all Alaskan Malamute sound files © Sheryl Franklin
website hosting by FranklinCommunications
domain name by DomainRegister.com