Sheryl's Alaskan Malamutes - Activities - Weight Pulling - IWPA - Port Clinton - March 24, 2013



Weight Pulling

March 24, 2013 - IWPA - Wheels Weight Pull - Port Clinton, PA
Our blink of a 45 minute drive was a chilly one, with just a hint of dawn as we pulled in at 6:30. Right behind me another car pulled in, with a weight puller from Baltimore. Wow, he got there early. Right after that Ian showed on his scooter, letting me know he beat his dad there who was following in the truck - LOL! Then Tana got there and we all got busy getting everything ready for the pull.

Cinnabar weighed in at 108, Sebastian at 138. Lots of wailing from Sebastian and when it was over, he cuddled with Dave. What a baby :)

Needed my jacket over my layered cloths, the wind coming off the river was cold. It warmed up nicely once the sun peaked over the hills and I was able to ditch the jacket. There was still snow on the hills, even though there wasn't any in the valley.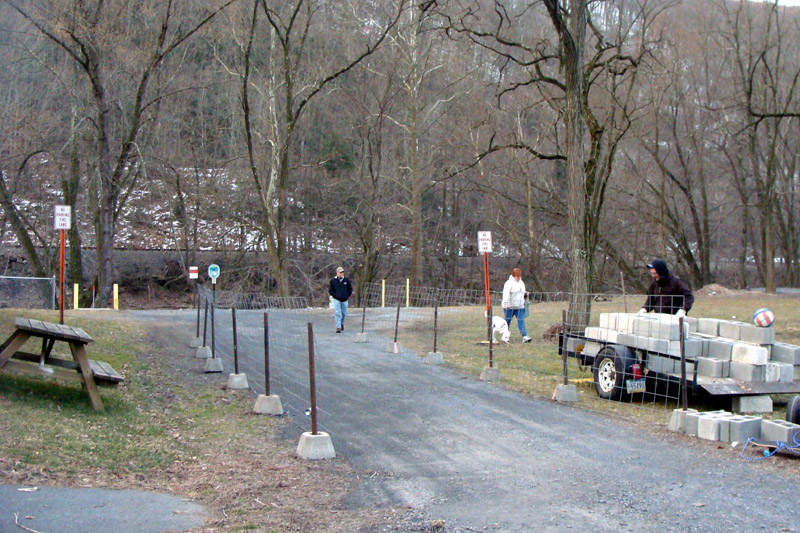 Snow on the hills, with our chute in the foreground.
Looked to be at least 8 in the novice class, which started promptly at 8:15. Both Tana & Missy worked that class. Laura agreed to convince Tana to let her handle registrations to take that off her plate. Thank you Laura! They ended at 9:30. We had our pro handlers meeting promptly at 9:45 and we got started at 10:00.
Kevin, the puller from Baltimore had a patterdale, Snowman who weighed in at 14 lbs and he was our 20lb class. He works him in hunting and has been training & working him for weight pull. This was his first competitive pull and wow he's good. Pulled 31 times his body weight! He pulled with the 40 lb class.
The 40 lb class of 7 or 8 pulled in 45 lb increments. What a terrific class this was. Odin (Beagle) was on fire and did his best ever coming in 5th. Nightster came in 4th. Missy's Bobber (Staffie Bull) had quite a day shocking the heck out of her coming in 3rd. She still had Eagle to pull and kept saying, I need to bask in how well Bobber did. Eagle did great coming in 2nd. Jennifer showed up with Ava and Romeo (Sammies), what a wonderful surprise that was. Ava took the class looking wonderful. Ava has come so far!
The 60 lb class of 5 pulled in 90 lb increments. Jon's Panhead took first and I'm blanking on the other dogs in the class. I believe Rowan took 5th and Jennifer's Romeo (the wild man) took 3rd.
Our 80 lb class of 8, pulled in 180 lb increments. This is always a good class and as usual it came down to the 2 American Bulldogs, Tana's Jack, Dave's Fat Boy and Sean's Sibe Duke, with the final order being Jack, Duke & Fat Boy. Personal best for Jack and he was just awesome. I believe it was a personal best for Duke and he was just awesome. Sean also pulled Koda in pro in this class and it was a good move. Koda did well. Also doing well were Brenda's Darla, Alicia's Indy and Val's Carmen. I had title legs to sign for each of them. Love when that happens.
I judged the above classes, and Brenda judged the big dogs.
We pulled the 100/125/150/Unlimited together, with 225lb increments. There were about 6 in the 100 lb class, 4 in 125, and 3 in 150.
In the 100 lb class (we had at least 6 in the class), Nanook did well and when he started being a malamute, Laura used harsh voice and he listened. I yelled out "good harsh voice" and Missy said, "ah, that's what's different" LOL! Missy's Homer did well in that class as did VRod for Dave. Sean's Takaani did great pulling a personal best and taking second place. The work he's put in with him has paid off. George's Grendel also did well, but the star of the class was his Beowulf pulling 5025 for 55 times body weight, getting the big ribbon for MWPP. Wow!
I started both of my boys at 925 lbs. I double passed Cinnabar until over 3000 lbs. Then I single passed him, and then no passes. I've been working with him a little differently by emphasizing making it a party for him. Lots of hugging and chatter on deck, lots of chatter on the way into the chute, then hugs, praise and a quick massage during setup. I think I've done that a little too quickly in the past and not really concentrated on making sure he's feeling the party. It's working. He pulled 4125, for 38.19 times his body weight. Wow, was I proud of him. His next pull after that was 4350, and during setup his tail wasn't wagging. When I asked him to pull, he talked then a token attempt and I quickly asked them to push it. No tail wag means he's done. Even if he'd pulled it I would've withdrawn him because it's got to be fun.
To let you know how good the 125 lb class was, Cinnabar came in 3rd out of 4 with that awesome pull! He beat Jenna's Swissy Wyatt who came in 4th. Val's Raider came in second pulling at least one increment more than Cinnabar. Jenna's Izzy came in first pulling 5025 beating out Beowulf for MWP on time. Wow what a great class!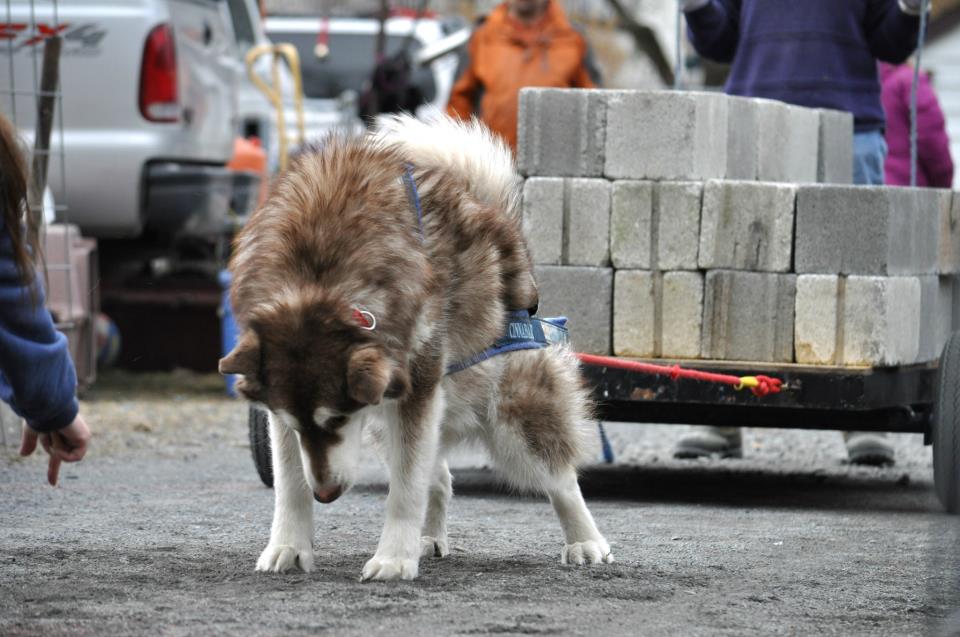 Cinnabar digging in
Photo by Tiffany
I double passed Sebastian until after his 4000 lbs. He was having fun and working. I think I singled passed him once after that. He gave me effort on every single pull, it's taken 6 seasons to see this. He's having more fun working than flipping me off. He and Truffle went head to head. They ended Truffle on a good note, he's a young dog with many seasons ahead of him and they want to keep it fun. That left Sebastian in a head-to-head for MWP. He successfully pulled 4800 lbs. On his 5025 attempt he tried, but it was in a rut and I quickly gestured to them to push it. I didn't want to leave him hanging with that wonderful effort he gave me all day.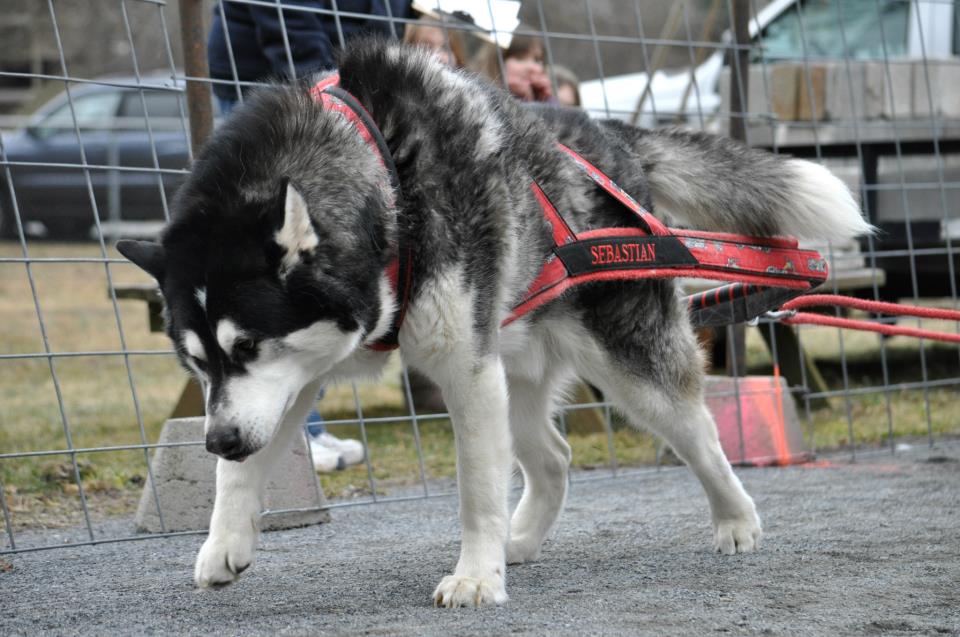 Sebastian pulling
Photo by Tiffany
We called for help unloading the cart and I did the percentages for the big dogs, and with Laura and Bre's help got the ribbons together. Then we did the 50/50 Championship raffle. We had a pot of $108. I aked Bre to draw the ticket and George won. This was the second time he's won and he did the same thing as the first time "put it back in the pot for Championships". Thank you, George! Tana thanked everyone for cleaning up after the dogs and for the general good sportsmanship of everyone. She thanked everyone for the cart help, thanks to Rich and Karen for bringing a hot water pot along with coffee, tea and hot chocolate and goodies for everyone; and I thanked Sean for helping with weigh ins. Thank you to Tiffany for taking photos, can't wait to see them. Then we had the awards. Along with rosettes, there was a bag of treats for the dogs and a big bucket of candy for the handler's to take what they wanted. I also signed forms for Truffle who earned another leg for his Swissie title.
What a way to end the IWPA season. Great dogs, and great people with continuing growing participation. Thank you Tana for your wonderful organizing, to Missy and Dave for the equipment and setup.
We had an easy drive home of an hour and both of the boys conked out after dinner. That's a good day!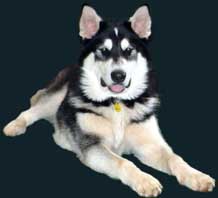 website design by Sheryl
bordered background by Sheryl
© 2005
all images © Sheryl Franklin unless elsewise attributed
all Alaskan Malamute sound files © Sheryl Franklin
website hosting by FranklinCommunications
domain name by DomainRegister.com