Sheryl's Alaskan Malamutes - Activities - Weight Pulling - IWPA - Colmar - February 24, 2013



Weight Pulling

February 24, 2013 - IWPA - Wheels Weight Pull - K9Jym, Colmar, PA
Easy 50 minute drive to the site, arriving at 6:30am with Tana close on my heels. Feels like a blink after long distance traveling to the last two pulls.

Got the boys set up in the crate room, and more folks started showing up. The sun even popped out which took the chill off the mid 40 temperatures.

Shawn again setup the weigh in on the back of his SUV. Thank you Shawn. He also assisted with weigh ins until it was time for his Koda to go into the novice class.

We were sharing the facility and therefore the parking lot with an obedience trial taking place on the other end of the building. I had Sebastian out to get weighed in first to make sure the hoist was high enough for all the dogs. We had a car blow into the row in which we were working. After that, we took three cones and blocked off that row. As the morning went on, I moved the cones to just block half of it, ensuring the cars went slowly coming into the row. Evidently some of the obedience folks talked to the owner about it, he asked Tana, and she explained what happened. His response was we could've used a car to block the row, dog safety is all important.

Cinnabar weighed in at 108, Sebastian at 139. Sebastian wailed getting the sling on. He hasn't been that loud in quite some time.

Looked to be at least 8 in the novice class.

I was expecting Mike and Alicia with Indy, as well as Carlene with JoJo, but Brenda & Val showed up with Raider, Darla and Carmen. It's so obvious that Carmen and Raider are related as they look so much alike. We need to provide proof of rabies and they didn't have it for Carmen (who is Barb L's dog). I suggested they call Barb and have her take a photo of it and email it to someone's phone so they would have proof. That worked! Laura and Bree showed up with Nanook and Winter. So obvious those two are related. Laura's folks also came to watch their granddaughter pull Winter in novice. Laura teased them that they've never come to see her pull - LOL! Was hoping to see Romnie with Lucy and Dixie, but she must've decided it was too cold. Also missed Di and Ryan with Macha.

The 40 lb class of 5 pulled in 70 lb increments. Both the 60 lb class (3) pulled in 105 lb increments. The 80 lb class (8) pulled in 140 lb increments. I judged those classes. The 100 lb class (5), 125 lb class (1) and the 150lb class (2) pulled in 140 lb increments. Dave had a dog in the 100lb class and we asked Brenda if she could judge the big dogs. I was so happy she said yes. Dave and Missy's cart was used. Carpet, sitting over the same type of padding as inside, on top of concrete is the setup for the chute. That increases the resistance, so no high weights.

Our junior handler, Jon, pulled Panhead and took first in the 40lb class.

The 80 lb class came down to two American bull dogs (Jack & FatBoy) and Shawn's Duke. Duke is a pulling machine and did an awesome job for Shawn taking 2nd. FatBoy took third and Jack took first, also taking Best Body Percentage for the entire competition pulling more than 24 times his body weight. JoJo pulled pro for his first time in this class. His littermates, Indy and Darla were also in the class. Haven't seen Darla in ages, she's still a little fuzzy Diva. Carmen also pulled in this class. This is new to her, and she had some resistance getting setup in the chute, but pulled well. Similar style to Raider, so I'm expecting to see great things from her.

Val didn't pull Raider but he and Cinnabar got a chance to renew their friendship. Raider just lights up when he sees him, it's the sweetest thing.

Nanook started out well for Laura again in the 100lb class, but around his third pull he got fixated on something at the back of the drivethough garage and wouldn't let off of it. We couldn't figure out what it was. Val said that maybe he caught a scent of something. I've never seen him do that. Diane's Brie is coming on like gangbusters and took the 100 lb class.

I started both of my boys at 720 lbs. I single passed Cinnabar once. The carpet had started rolling up at the higher weights for the other classes, which it hadn't done last time, so I didn't pass again. He did a very good job for me. For the most part he kept the talking to a minimum and ended up pulling 1700 lbs for me. Once increment better than the last pull at this venue.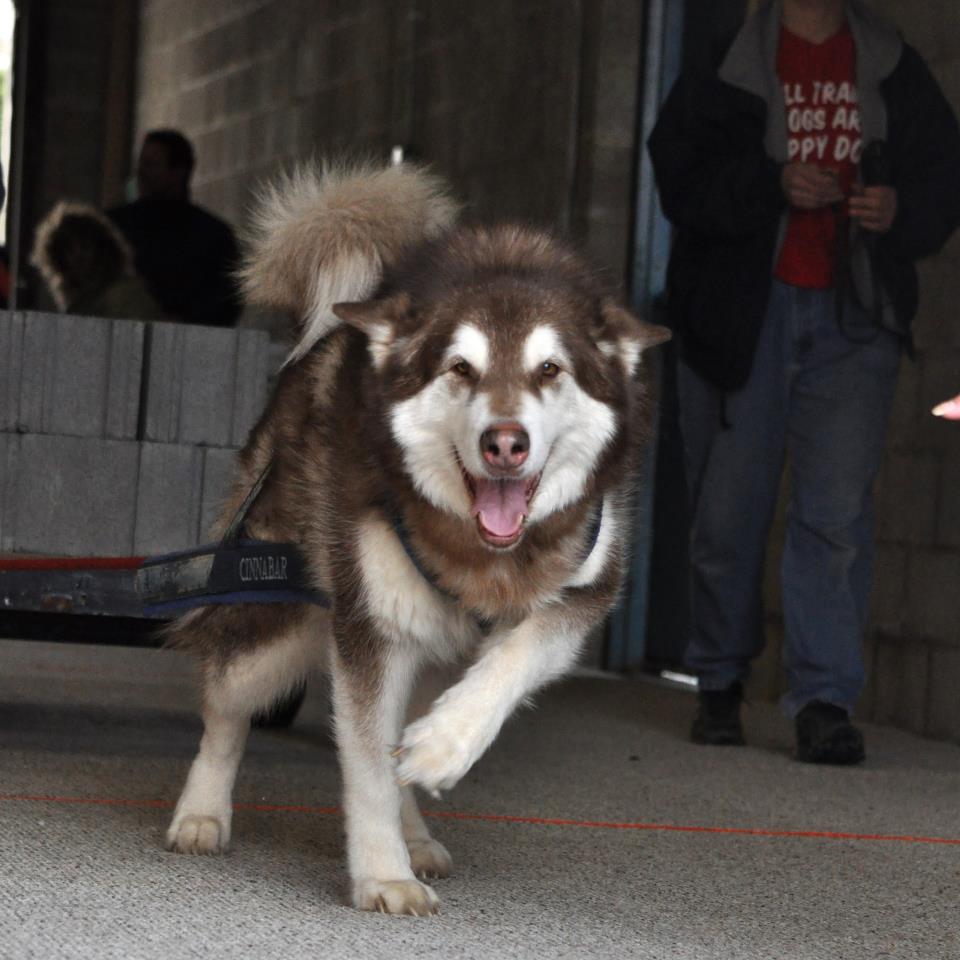 Photo by Tiffany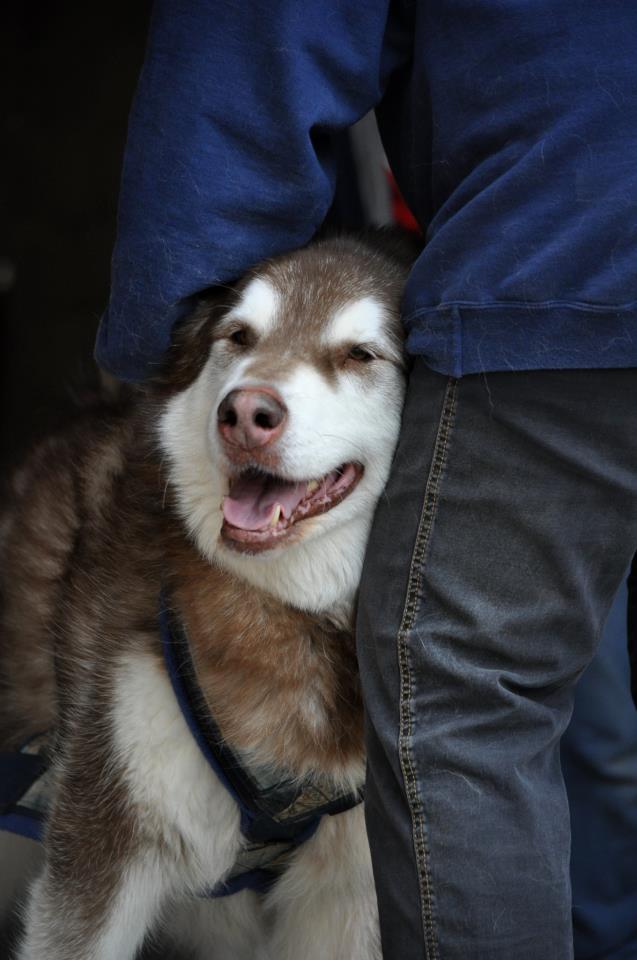 Photo by Tiffany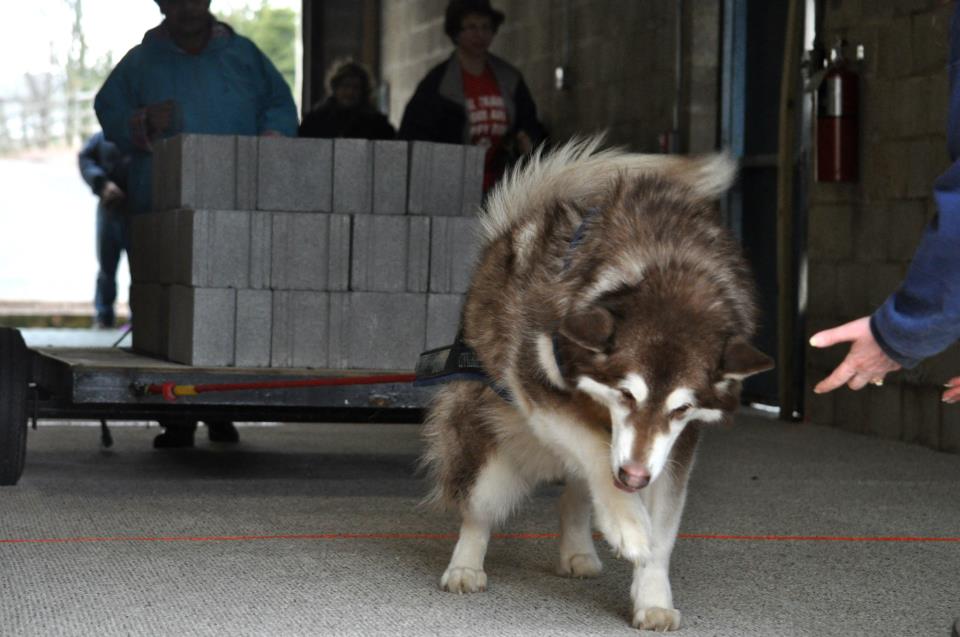 Photo by Tiffany

I also single passed Sebastian after his first round of 720 and didn't pass again because of the carpet issue. He was a riot his first pull because he'd just woken up. Yawn and ambled down the chute. I kept him out for mom time and he was much more animated on his subsequent pulls. Truffle was doing great in that class. Perhaps I should've passed Sebastian more to win the class, but I didn't. I was very pleased with him as he gave me effort every pull. He left his 1980 pull about a foot short and when he tried again I had them push it to finish it off. Truffle pulled at least two more increment, increasing what had been his median time of 5 seconds to about 7 seconds. That dog is just awesome, and I'm so happy for them. He also got MWP.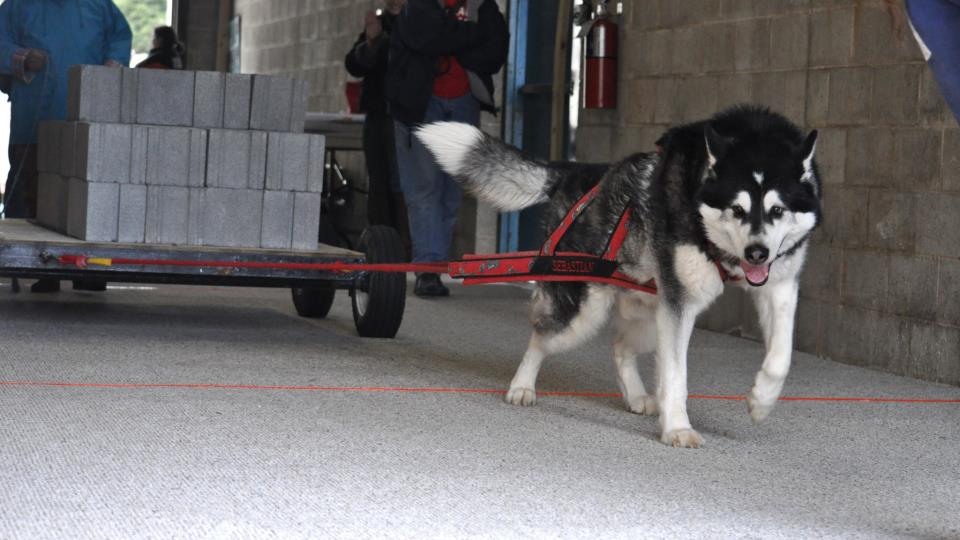 Photo by Tiffany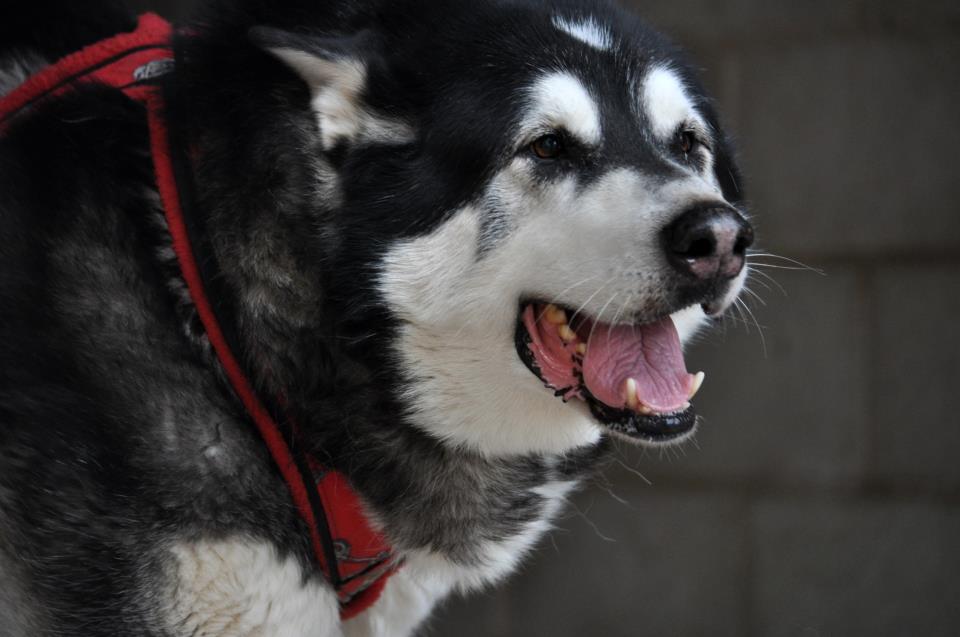 Photo by Tiffany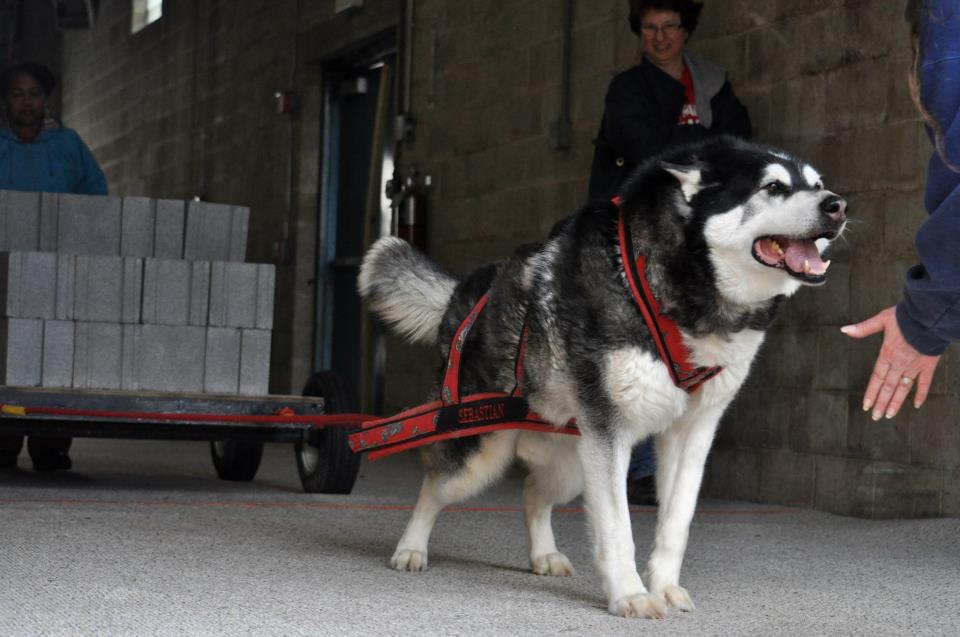 Photo by Tiffany

We didn't collect alot with our 50/50 (just $13 after the winner's take), but it goes into the pot for next season's Championships. Great cart help all day and great help breaking down the chute and getting everything put into it's place. Had a little time for chatting after it was over, which is really nice. I get to see folks, but with judging don't get a chance to speak with anyone, so that was very welcome.

We missed our Maryland friends, Dee and Jenna which left us short 6 dogs between them. We missed George with Beowulf & Grendel. Hope to see them and more at our March 24th pull at Port Clinton.

Thank you, TIffany for taking photos of all the dogs.

I was out of there by 3:30. Both of the boys conked out after dinner. Another good pull!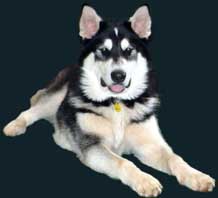 website design by Sheryl
bordered background by Sheryl
© 2005
all images © Sheryl Franklin unless elsewise attributed
all Alaskan Malamute sound files © Sheryl Franklin
website hosting by FranklinCommunications
domain name by DomainRegister.com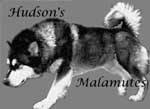 My Mals
Now
Sebastian
Cinnabar
Then
Wolf
Taylor

What's New
Purebred Dog Breeds into the 21st Century