Sheryl's Alaskan Malamutes - Activities - Weight Pulling - IWPA - Tug Hill - February 09/10, 2013



Weight Pulling

February 09/10, 2013 - IWPA - Snow Weight Pull - Lorraine, NY
On the road a little after 3am. The big Nor'easter that clobbered New England just brushed us with maybe 2 inches of snow. All the forecasts I had browsed the day before said I wouldn't encounter any real snow along my path north. The roads in my development hadn't seen a plow and with a base of ice were a little dicey. The next road was the same, but then the roads got better. I was concerned about Rt 100 and was pleased to see they did a good job. There were a couple of nasty hills that concerned me and those were not as well done as the rest, so I took it slowly. That got me concerned about the downhill switch backs into McKungie, and while it wasn't nice at least it wasn't ice. Took the whole thing in second gear. Whew, getting close to the turnpike and I knew that would be ok. And it was at Allentown, through the tunnel to Jim Thorpe. The 10 miles from Jim Thorpe to the reststop, just one lane was barely ok. Saw several plow trains headed south on the other side, nothing on mine. Wait, there was a single plow but he wasn't making a dent in the stuff, mostly because his plow was up. What the heck is that about? Followed him into the rest stop where he headed to the cars only parking lot and came to a dead stop almost blocking me from getting in. Ah, our tolls at work. Back out there and it was still bad until Mount Pocono. From Mount Pocono on it was much better and I was able to see some speed and gain back a little of the time I'd lost. Onto Rt 81 in Clarks Summit and that was good for about 30 miles and then just one lane was decent. Either both lanes were close to dry or only one lane was ok until Syracuse. Given the hills where this occurred it was not due to snow drift, so I don't know what was going on. The 40 miles from Syracuse to Mannsville were great and I was able to do the speed limit. I knew the county road off of Rt 81 would be interesting and it was. Plowed and sanded, but far from being able to see any pavement, so I just took those last 6 miles into Winona Forest nice and slow. Got in at 10am. Last to show up, but still in time.

Our chute was in the same spot as last year. Frank had worked on the chute in the days prior to the pull to get it as packed as possible. Folks I had expected at the pull weren't there. No Kari and I'd kept an eye out for her on the road as she was supposed to leave about the same time as me. Wendy said she'd decided to skip this one and go to Lake Placid later this month instead. No Michele and John because of the snow in Utica so he had to plow. No Susan and Dave as they were concerned about getting over the mountain from Vermont, but were supposed to come the next day. Jen wasn't there but would be the next day. No Bev, as she was at Westminster. New for snow pulling this year were Brandy & Heather with Pixie, Danica and Icon. Lisa was there with Quincy, Dan with Valco, Regina with PJ, Steve & Wendy with their crew and Eileen with Kodi.

Cinnabar weighed in at 108, and Sebastian at 140. He whined getting into the sling, but was fine being hoisted up.

My fingers froze quickly and put on my second pair of gloves to alleviate that.

Little Pixie (Rat Terrier) and Danica (Brussel Griffon) were our 20 lb class. Pixie kept heading for the snow bank at the side of the chute and didn't complete the pull. Danica did much better and pulled a few rounds winning the class. They pulled with the little sled.

We didn't have a 40lb class this day, so right on to the 60lb class which I judged. The snow was not kind as the weights got to about 300 lbs (sled weighs 100 lbs). They were pulling in 40 lb increments. The chute was on a slight incline, but the snow about 2 feet from the finish line was not as packed creating a down hill then uphill. So, if the dogs slowed down in that area they were rutting into snow and getting stuck. No high weights pulled. Dan's Valco is so impressive. I saw him pull him novice as a pup last year. The little guy has got drive and just doesn't quit. At 85 Dan can't get over the line quickly, so Valco is held by cart help until Dan is over the line and then released. He's so quick, though, but fortunately doesn't head straight for Dan, just for the finish line. This little guy is a delight to watch. The other fun one was Whiteface. He's really coming on. Steve and Wendy discovered if they get him to grumble before his turn he's wound up and pulls better. He wouldn't grumble for Steve this day so Wendy pulled him and he did really well. Usually it's Mole and Junior neck and neck, but Whiteface outpulled Junior. Mole was all business as usual and won the class.

We pulled the 80/100/125/150 classes together in 80lb increments. Frank ran over the chute with his equipment to groom it. Given what I saw in the 60lb class, I just passed the empty cart for them both.

Cinnabar pulled that first round easily, so I told Diane who was judging this class, that I would bring Sebstian in at the next round. I kept Cinnabar out giving him mom time and he did the next round easily as well. Sebastian got in the chute and started picking his paws up. The bulk of the chute was in the shade and that snow was colder. What a wuss for a snow dog, huh? Then he laid down! What, on his first round. First I said, "oh poor baby, the snow is too cold" I thought he was going to roll over for a belly rub, so I switched to harsh voice and he got up and pulled it. Doofus. I kept him out instead of crating him so that he got mom time. No passing for either of them as that was the 260 pull and I knew the sled started rutting around 300 lbs.

Cinnabar pulled the 500 lb increment easily, but did nothing but talk and make a token effort on his 580 attempt so I had them kick the sled on one of those token efforts. Icon in the 100 lb class also went out on the 580 round.

On his 580 round, Sebastian stopped short of the finish line, but restarted it several times to complete the pull. I was very pleased that he didn't quit and ended on that note. He ended up with MWP. Didn't think that would happen after he laid down on his first round!

Then Frank groomed the track again and we had a novice class of 9 dogs. Regina had her 4 pups in there, Diane had Trinka and Souvee, Steve had Birch and Dew, and a friend of Regina's had Frankie in there. Dew is a great little pulled who rolls over for a belly rub when she completes her pull. Her sister Birch is good, but Dew is awesome. Regina's Big Red is very good and so is her Duff. Frankie was totally awesome. I think he's an Alaskan Husky, but for never having done this before (either he or his handler), he just outshone novice and got first place. Big Red second, Duff third and Dew fourth.

In addition to a pretty ribbon for MWP, Sebastian won a pretty glass mug with "Tug Hill 2013" engraved on it. She had the same for BBP, which Dan's Valco won. Diane also had biscuits for all the dogs who participated. Very nice and thank you, Diane!

Eileen, Diane, Dan, Steve & Wendy and I then headed the 2 miles over to Regina & Frank's house for a potluck meal and conversation. We had a great time and great food. Regina made a very healthy chicken soup, Diane had spare ribs, Eileen had ziti, I had potato salad and there was also a sloppy joe type dish with sausage, and chocolate chip cookies. They told me that at the potluck at Michele's afer the Utica pull the week before that Michele did imitations of everyone pulling and that she does a good one of me in my 1-900-Sheryl voice, so they were surprised to hear harsh voice with Sebastian this day. I told them I also do drill sargeant, so they were teasing me about that. We stayed for several hours of great conversation. Thank you Regina and Frank for opening your home to us.

Then on to the motel, but first a gas station as the low fuel light came on about 8 miles before the exit to the motel. I don't much care for PA gas prices, but it was 20 cents more per gallon in NY. I knew I used more gas because I'd had to travel so slowly most of the 300 miles up there. Yikes! Got checked in and got into the room which was an oven. Turned off the heat, left the boys in there and went out to get the rest of my stuff. Thought I'd taken care of all the chewables prior to doing that, but Sebastian found a couple of coffee packs and chewed them up. Got them fed and turned on the TV for me. Remote didn't work, but that was ok. Caught the movie Dream House on HBO which wasn't bad, then switched it to TCM and promptly joined the boys in their slumber.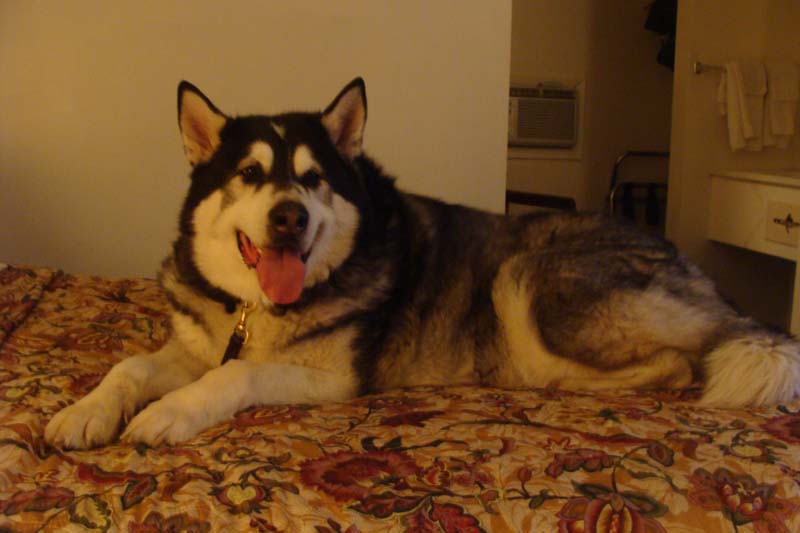 Sebastian occupying the bed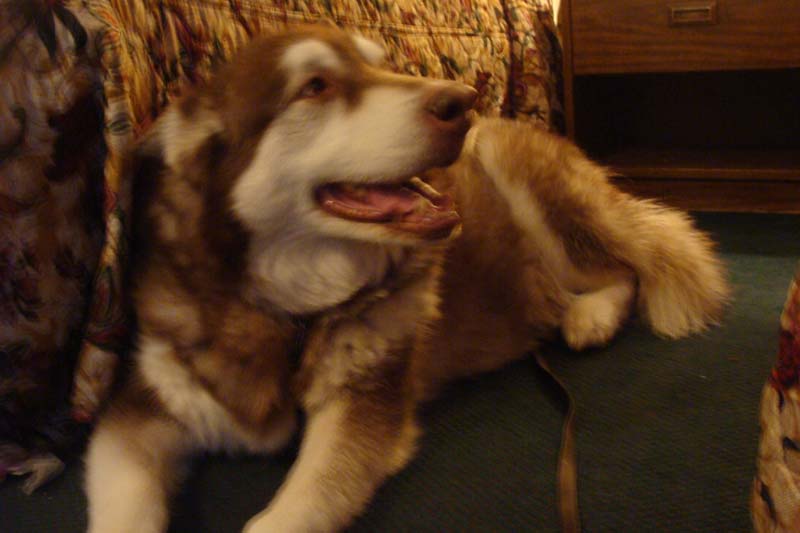 Cinnabar occupying the floor
Started getting the car ready at 8, since we needed to be back there by 9. Diane was doing the same with her car. It felt cold out and she said it was just 11 degrees, thank goodness it was sunny. While getting the car ready I realized I'd left their water in the car and it was frozen solid. Dummy. So, after getting the boys in the now warmed up car and checking to make sure the room was in good shape and that I'd left nothing behind we headed over to Tops. I got 4 apples for them and some bottled water for them.
What a difference a day makes. Rt 81 was bone dry and the country roads were in much better shape with pavement showing in some areas. John and Michele were already there when we arrived. No Dave & Susan, Wendy said they weren't coming. Darn it. We had our handlers meeting in the building and Steve told us that Jennifer was on her way and if she was late we'd pull the big dogs before the 40/60 lb classes. That sounded good to me because we'd get a shot at the chute before it deteriorated. Frank had gone over it a couple of times the night before and with the extra cold it was good. Just as he said that Jennifer pulled in with Ava and Romeo, so our order would stay as usual.
This day in the 20lb class, Pixie was the one to shine and Danica had some issues. They were fun to watch!
I judged for the 40/60 lb classes, who again pulled in 40lb increments. Michele's Breeze is fun to watch in the 40lb class and she did well for Michele. Jen's Ava was the star of that class and just kept pulling. Her Romeo in the 60lb class did well, too. He's really improving and pulling towards her instead of being a wild man like he was at Jim Lobdell Memorial. Dan's Valco was again awesome. He rutted the sled about a foot from the line and just kept hitting it until he got it over the finish line at 56 seconds. Quincy also did great. Junior did well, but rutted before the finish line but kept hitting it he was over the line at 57 seconds. Wendy withdrew him after that. Again Whiteface was on, looking great and went head to head with Mole. He couldn't keep up with him though. Mole pulled 780 and pulled it quickly and straight.
They groomed the chute, but I was still concerned because underneath it was churned up pretty good. I started them both at 260. Brandy agreed to take photos of this class for me, thank you so much, Brandy!
They both pulled that round easily and no laying down in the chute for Sebastian. He was however into a head gaming mood this day. I believe I passed them both once.
Cinnabar had competition this day with Michele's Frosty, who is a great puller. She's really slimmed down, but Michele said she's plateauing at 106, still looking so much better than the 130 when Michele got her.
After a couple of rounds in I told Wendy I thought that Mole was going to get MWP because the sled was rutting early for the big dogs.
Sebastian did ok in the chute, but was a head gamer out of it. He wouldn't go in his crate when I needed to get Cinnabar out so I put him in the car. His next pull was the 660 pull and he was doing fine, going straight down the middle of the chute like I wanted. His pace was far too leisurely though and that down dip before the finish line rutted the sled. He did keep trying, which I appreciated but I had them kick it and he finished with that boost.
Cinnabar completed the 660 very easily, straight down the middle with good pace. However, he was measuring and stopped the sled right across the finish line. His next pull was 740 and he started off fine, straight down the middle. Unfortunately he slowed at the down dip and it rutted. He did try again but it didn't break easily and he started talking. I asked them to kick it when he tried again, but the stinker kept talking for a while before he tried again and dug in so hard when he felt it move, so he was very proud of himself. He was the only big dog left at that point, so Mole did end up getting MWP and I think Whiteface got BBP.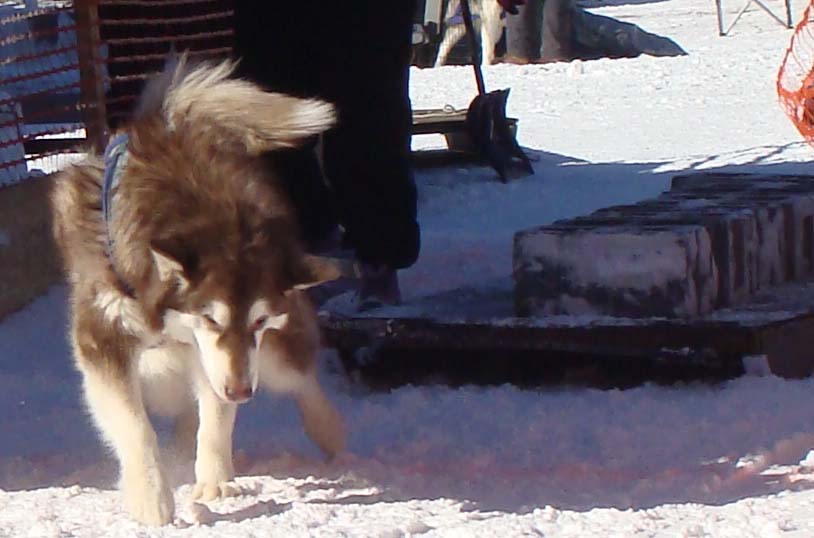 Cinnabar pulling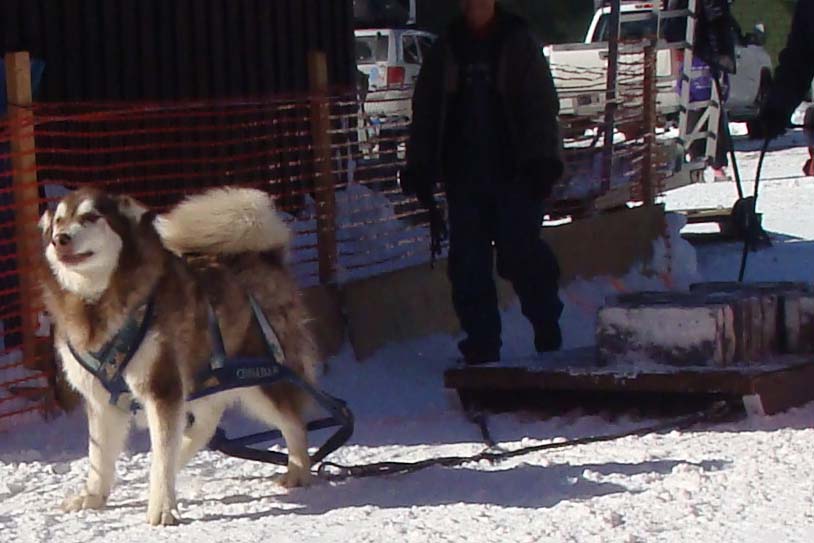 Cinnabar measuring and stopping right at 16 feet to complete the pull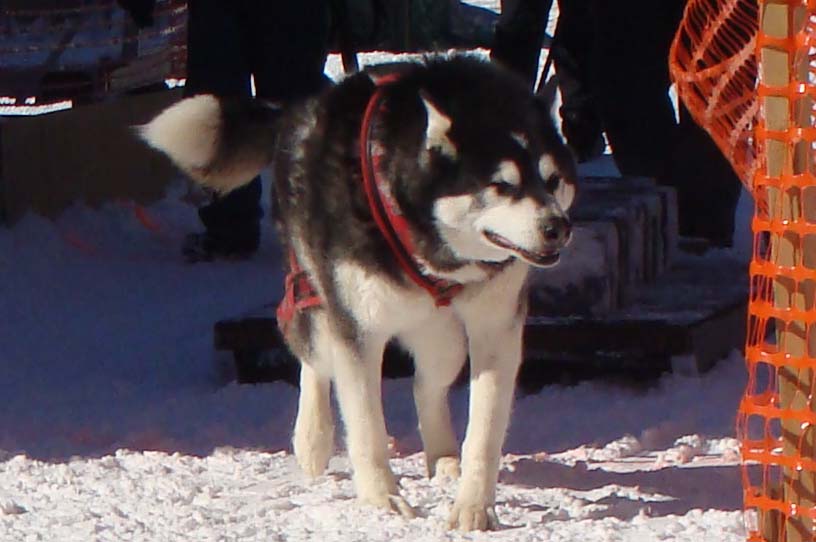 Sebastian pulling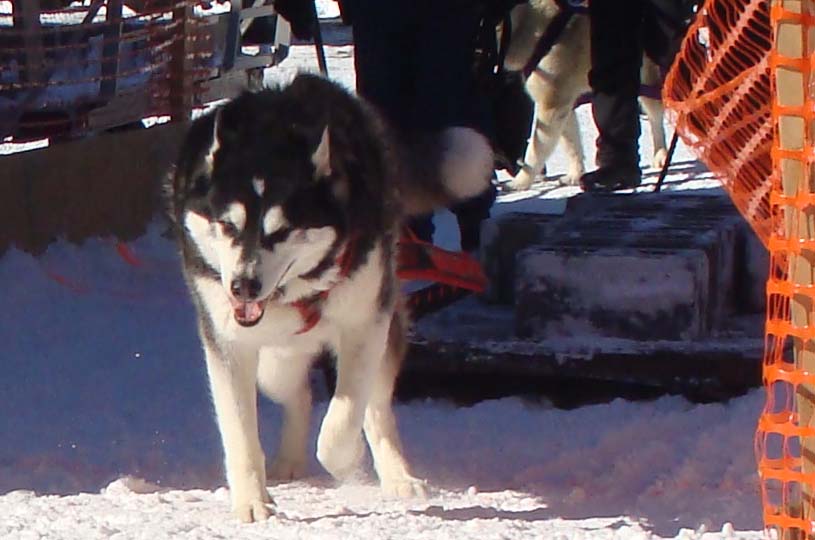 Sebastian pulling
Went to get the apples out of the bag on the dashboard for their after pull treats and they weren't in the bag. Then I realized I'd put Sebastian in the car in between that one round. I couldn't even find the bag the apples were in! Finally found in under the seat. He tried to get them but didn't. Nothing is safe with the big doofus in there - LOL!
After awards and goodbye hugs we were out of there by 1 and the sun was still shining. I miss getting to see northern region 5 folks, so it was a bittersweet goodbye. Roads were perfect the entire way, and the sun just kept shining. What took us close to 7 hours the day before took just a tad over 5 hours this day. Boys were happy to be home, have a meal and crash. Can't say as I blame them as I felt the same way.
More photos of Sebastian and Cinnabar, as well as all more dogs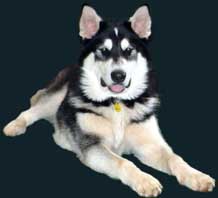 website design by Sheryl
bordered background by Sheryl
© 2005
all images © Sheryl Franklin unless elsewise attributed
all Alaskan Malamute sound files © Sheryl Franklin
website hosting by FranklinCommunications
domain name by DomainRegister.com