Sheryl's Alaskan Malamutes - Activities - Weight Pulling - IWPA - Clarendon - January 19/20, 2013



Weight Pulling

January 19/20, 2013 - IWPA - Wheels Weight Pull - Clarendon, PA
We were headed to WinterFest - Jim Lobdell Memorial Races & Weightpull

On the road with starry skies by 5:15 after gassing up. Thankfully this year we did not have to drive in snowy conditions. The trip was uneventful, with the exception of a guy at a reststop telling me not to bother locking the car as no one would touch it with the boys in there - LOL!. I was heartened the last 20 miles of this 300 mile trip to see snow on the landscape. However, I was disheartened the last 4 miles as I saw more and more grass. As I drove up to the pull site in the park, the only real snow I saw was in the chute and just a dusting in other places. Wendy was waiting for me and ushered me into a prime parking spot behind the chute. I've never seen this park except as a winter wonderland, so it was surreal to see all the grass. The lake is usually frozen solid, and while there was some ice, there was also flowing water.

Not a peep from Sebastian getting weighed in, he loves the Sebastian sling (big sling that Steve had Missy make to accomodate him). He weighed in at 140 and Cinnabar at 110.

We didn't have the hordes of spectators from two years ago when the races were on, but we still had a very nice crowd, many more than last year..

Our chute: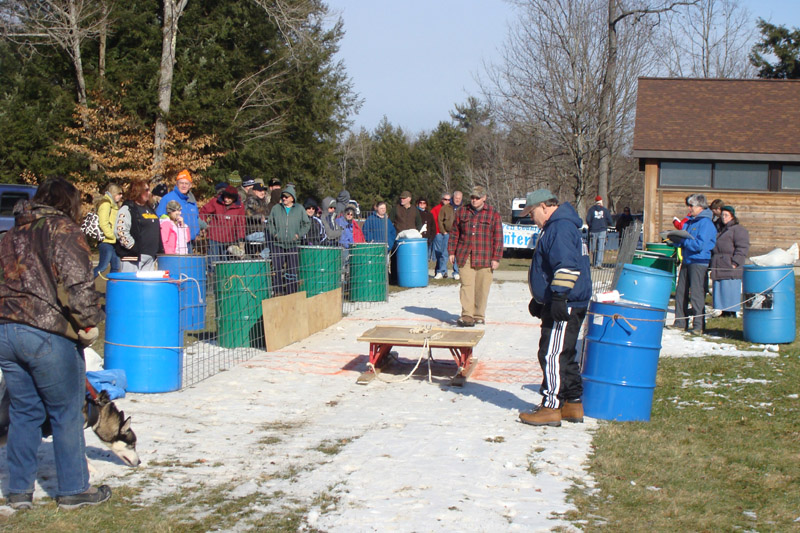 I never even put on my jacket, let alone my gloves. Steger Mukluks is having a photo contest, and I had envisioned having a photo taken from behind me with my mukluks in the foreground and Sebastian pulling towards me. The photo was beautiful in my mind, but the lack of snow, which quickly turned to dirty slush as the pull went on put that thought right out of my head. Oh well.
We pulled all classes together with 60 lb increments. Because I didn't know what to expect from this chute I just passed the empty cart, and maybe another pass after that for both of them. Although they'd used a dump truck to put snow on the chute and felt they had a six inch base the day before it didn't stay that deep and grass started popping through. Cinnabar pulled 450 lbs, and did nothing but talk on his last one and I had them push the cart when he gave a token effort. Sebastian was the surprise with continual effort. Certainly not intense effort, but effort. He pulled 630 lbs, and didn't quit on his last pull but couldn't break the sled, so I had them push it. The crowd always laughed when he was pulling, and I'm assuming it was his lackadaisical walk down the chute. Both boys liked the photographer at the end of the chute and made sure to get kisses at the end of each pull.
Shawn's Duke was awesome, he also pulled 630 lbs. Takaani did a good job too, pulling one icrement less than that. Kendell was there with Evoc for his first snow pull and he did a good job. Amanda was also there with Kiona for her first snow pull and she also did a good job. Jen was there with her Sammies, Ava and Romeo, Susan and Rich were also there with their Sammies. Laura was there with Noble, the beast. He pulls like an ox and got MWP at I believe 1400.
After the sanctioned pull was over we had the novice class. 10 dogs were in novice. Steve & Wendy's pups from Kari, Dew and Birch pulled just 2 rounds for the experience and it's very obvious that Starbuck is the granddaddy. They were awesome. Diane pulled Trinka and Sauvee. Susan pulled Mak, as well as her Kiona for the additional experience (she'd pulled pro earlier). Jen put Romeo in for more experience, and there were some from the crowd who gave it a try. One with a Sibe and one with a pittie. Both handlers enjoyed it and listened to instruction well, and are looking for things to do with their dogs. I judged novice. Diane had judged sanctioned. After novice was done, Steve shoveled as much snow as he could find onto the chute and packed it best he could. The sun was low enough so that it wasn't shining on the chute and he was hoping it would stay for the next day.
After that we headed to the other side of the lake to see what they had going on over there, and then to the hotel to check in, then off to the mushers dinner. Once again the local musicians with violins, & cellos played for us. I felt for them because without the mushers it was a really small dinner. Paige and others from Tails of the Tundra were there, along with us weight pullers and just a smattering of other folks. We had goolash and chicken soup. The goolash hit the spot. I really enjoy the opportunity to sit and talk with the other weight pullers, doesn't happen often as you're going through a busy pull. Wendy's passion for planning next year's championships is contagious. She's chock full of great ideas!
Off to the hotel, and Wendy got to see the boys vying for some "hotel water" after Sebastian bounced on the bed. She thought that Sebastian was going to flip the lid up himself and he was waiting for me to get to it already - LOL! She also laughed as I scurried around the room putting all the chewables away.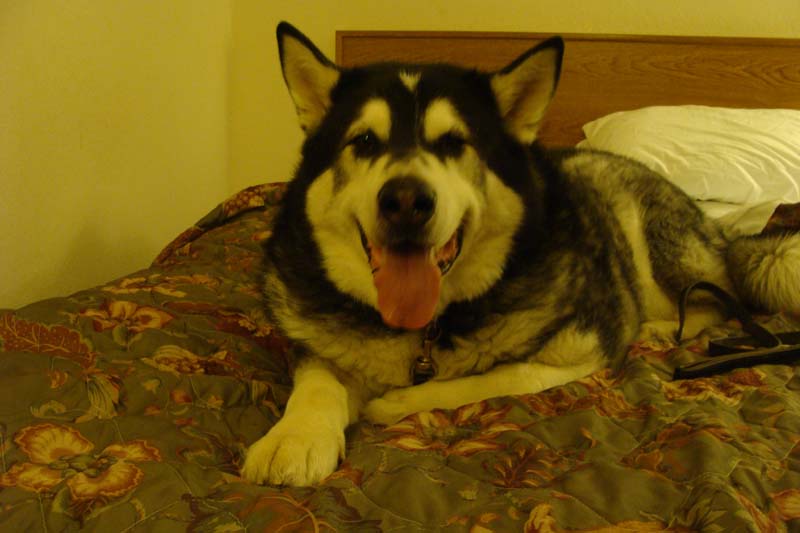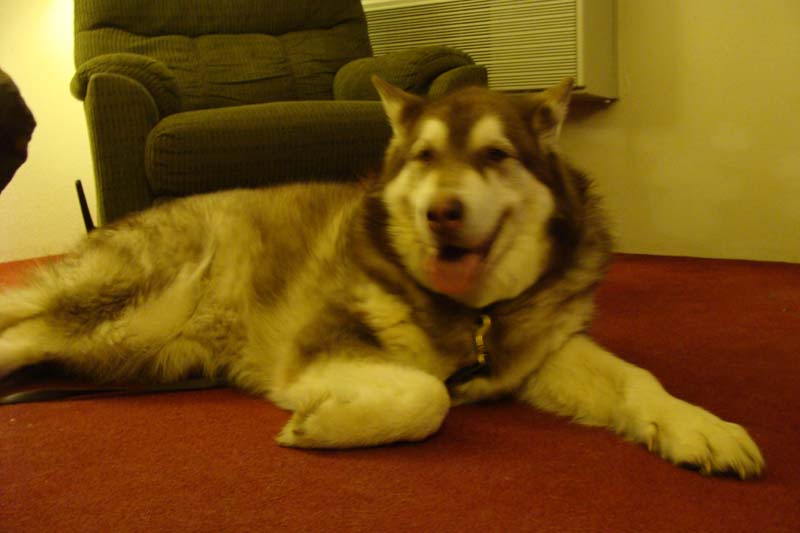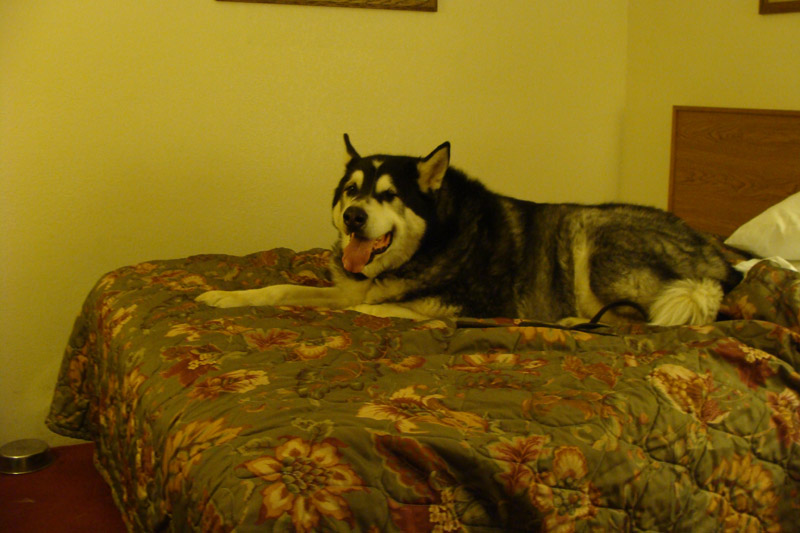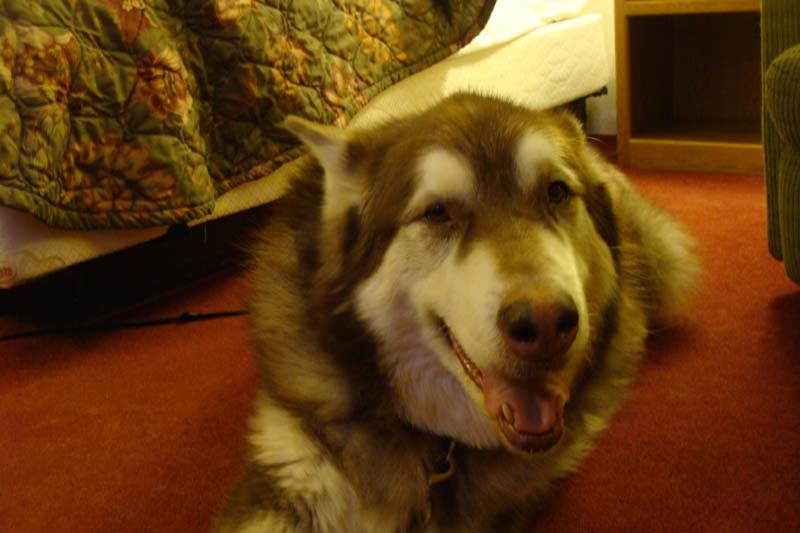 All three of us had a good night's sleep. Cinnabar got me up around 4 for a potty break and as I looked at my watch while he was still peeing and peeing and peeing, I wondered why he waited so long to get me up. Silly boy.
Had the car packed up around 7:00 am and the boys bundled into it and went back in to meet the others for breakfast. Whew, was it colder and extremely windy. Figured our slush chute was going to be ice. After breakfast I headed to gas up. The winds really picked up while I was there and the owner came out to talk about the wind. He also asked about the boys and I told him about the weight pull. He said he had something for them and ran back into the store and came out with treats for me to give them if they did well. Small towns are fun!
On the way to the pull site I noticed some downed trees, as well as trees leaning on the wires from the wind. We were the first to the site and wow the poor chute looked pathetic. The barrels and fence were blown over from the wind. It was icy, though.
We lost Shawn, Kendell and Amanda from the day prior, but we picked up another handler with two Sibes. We started right away at 9:00 as it began to snow. I was bundled up with jacket and gloves this day, the wind was biting. I took a look at the chute once it was setup and decided to pull empty. I didn't like the look of that bumpy ice. Wasn't worried about the cart sticking, but the traction.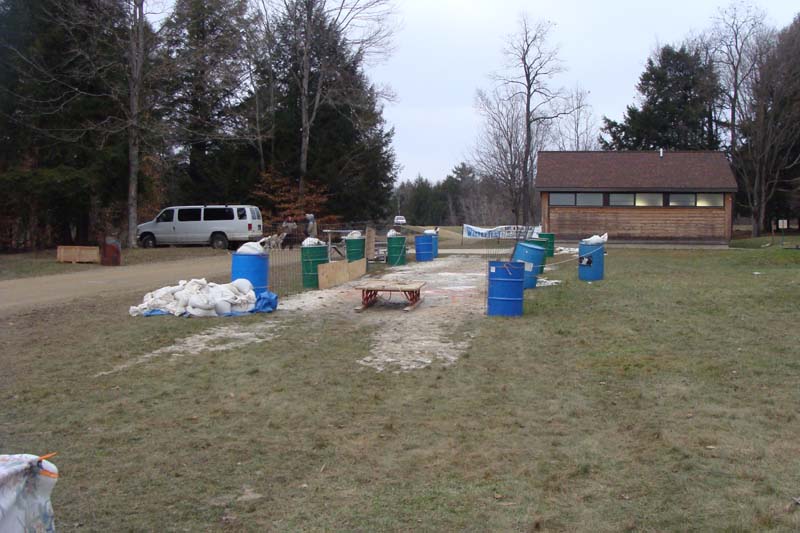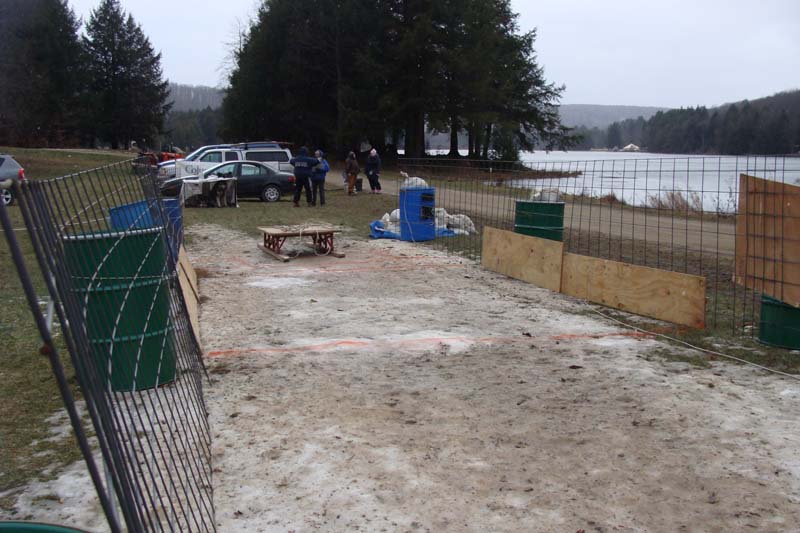 They both pulled empty and I double passed them. Wendy pulled her boys a couple times and withdrew them, she didn't like the chute. On Cinnabar's second pull of 330 he started talking right away and I said, "really, already". Then he decided to pull it with just barely time to spare. Sebastian pulled it but did a little slipping and I told Diane I was withdrawing them both. I was with Wendy, didn't like the conditions. That left Noble to gallop down the chute. He was slipping, too and they withdrew him. He pulled over 1000 lbs for MWP and he also got best percentage at 5.2%, I believe.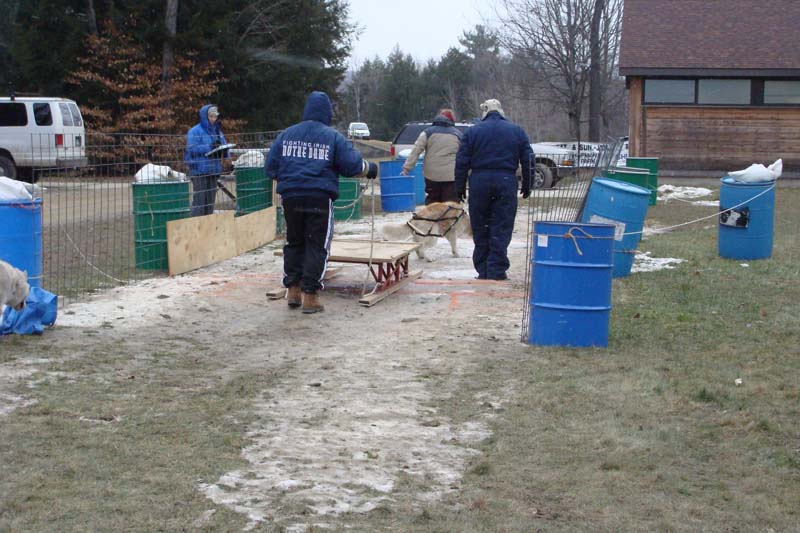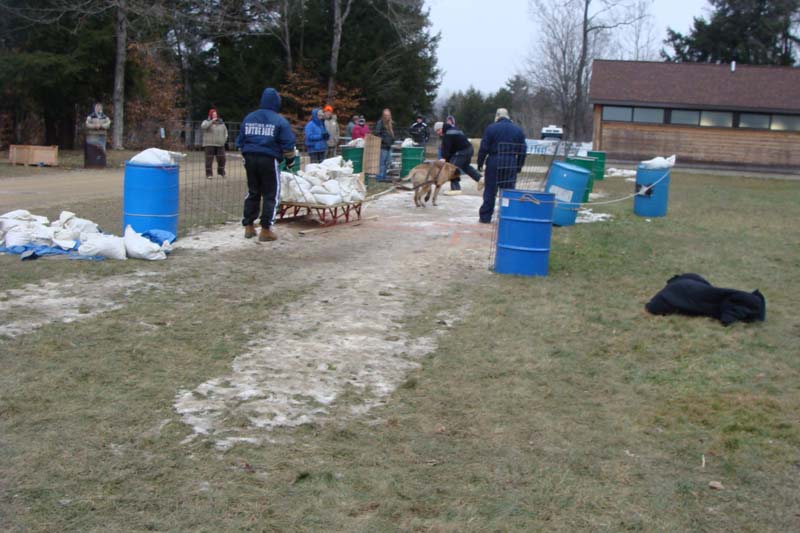 For the second time in as many days, my car was packed up before Steve's and I told him that. He said without Nicholas to help that's going to happen. I missed seeing Nick there, and they missed him obviously for many reasons.
After hugs and goodbyes, we were out of there by 10:45 driving through the windy snow. About 10 miles west the snow stopped and we had sunshine the rest of the trip. Didn't care for the high wind on Rt. 80 through the Allegheny mountains, but the trip was essentially without incident. Got home at 4:30 and the boys enjoyed their own outside, dinner, some play and then deep sleep.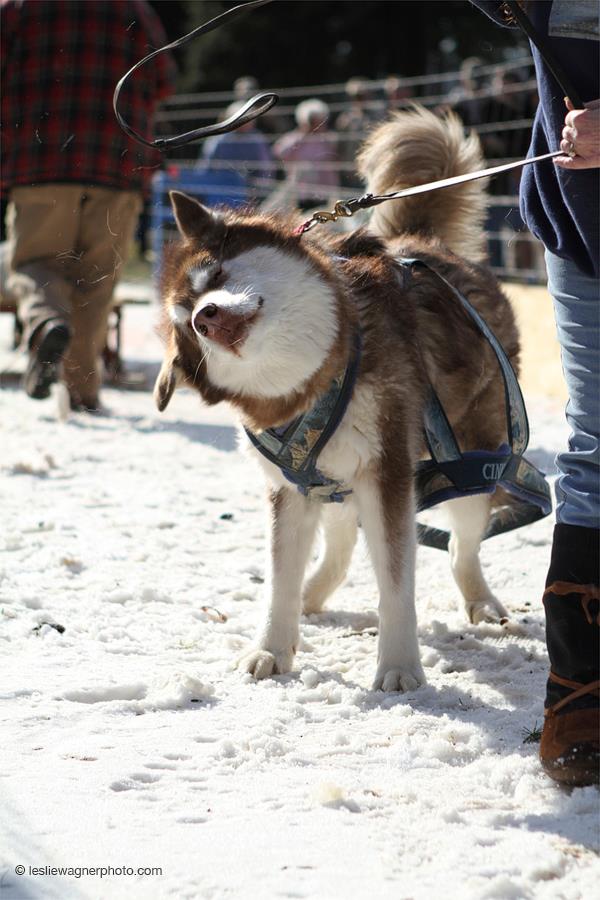 Cinnabar by Leslie Wagner Photos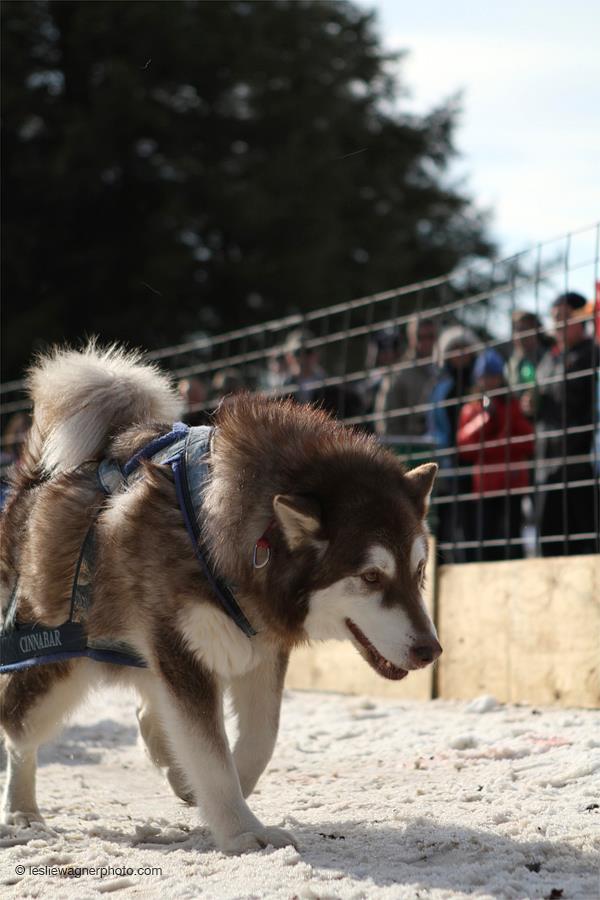 Cinnabar by Leslie Wagner Photos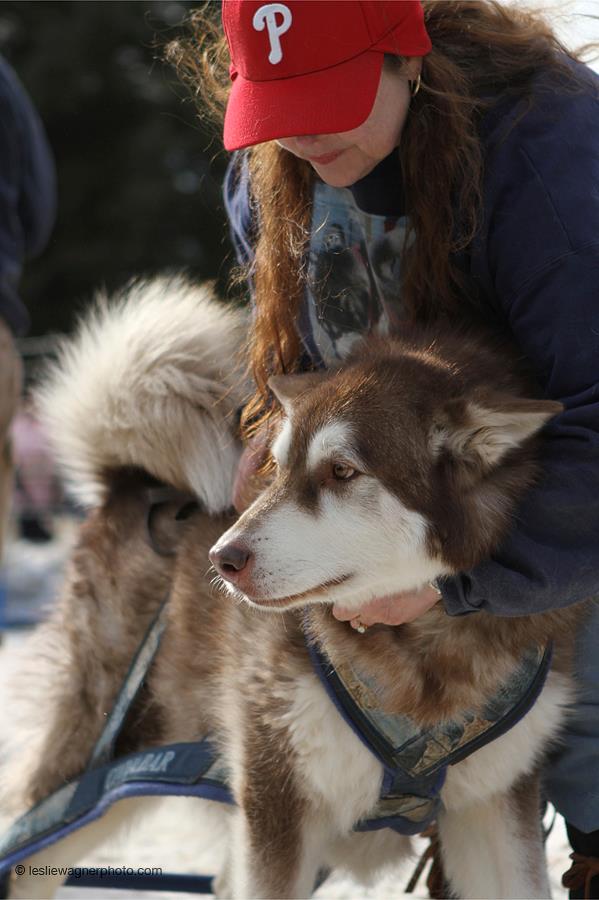 Cinnabar by Leslie Wagner Photos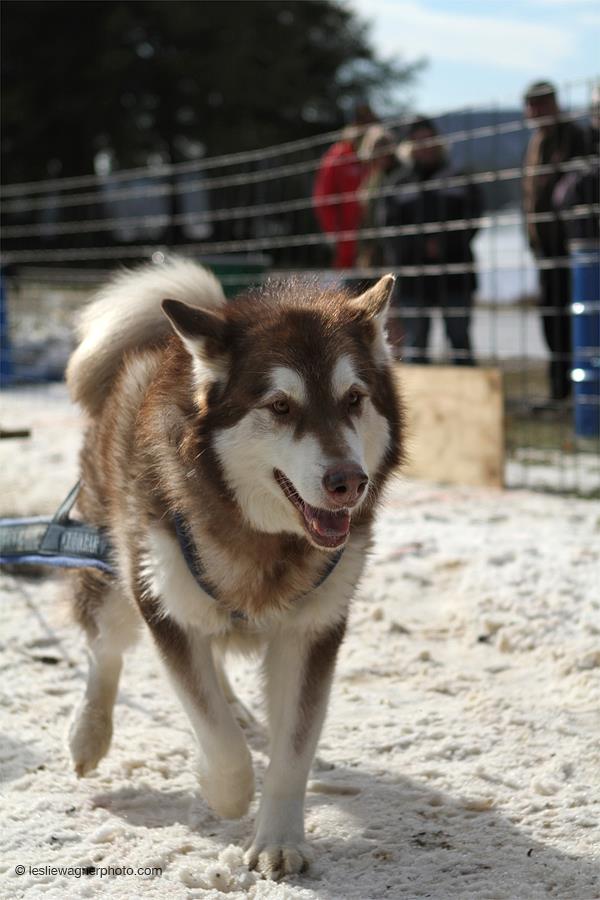 Cinnabar by Leslie Wagner Photos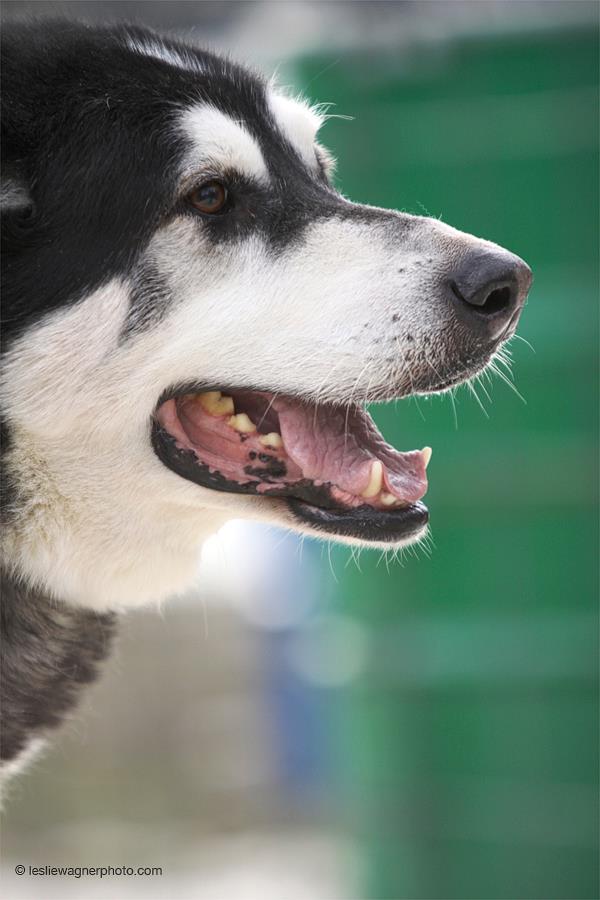 Sebastian by Leslie Wagner Photos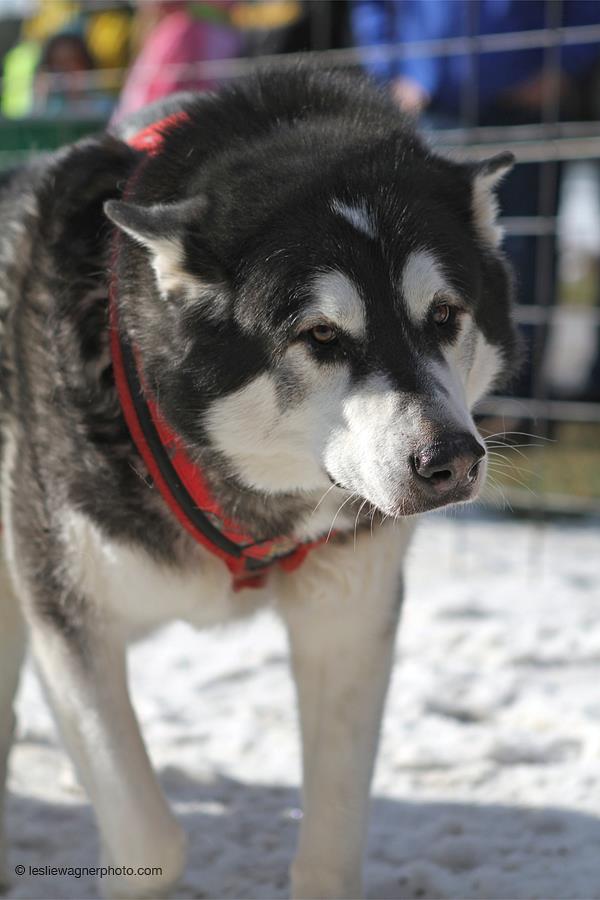 Sebastian by Leslie Wagner Photos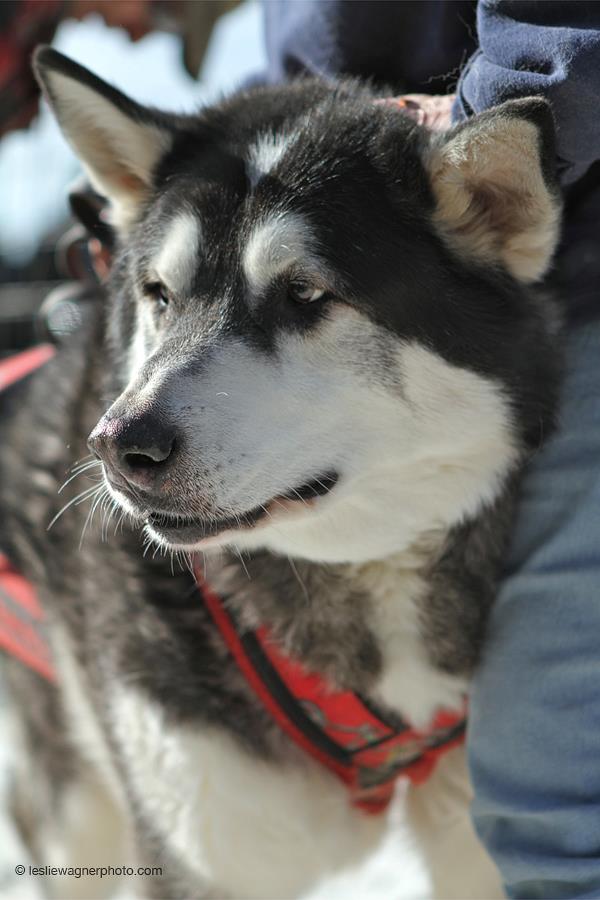 Sebastian by Leslie Wagner Photos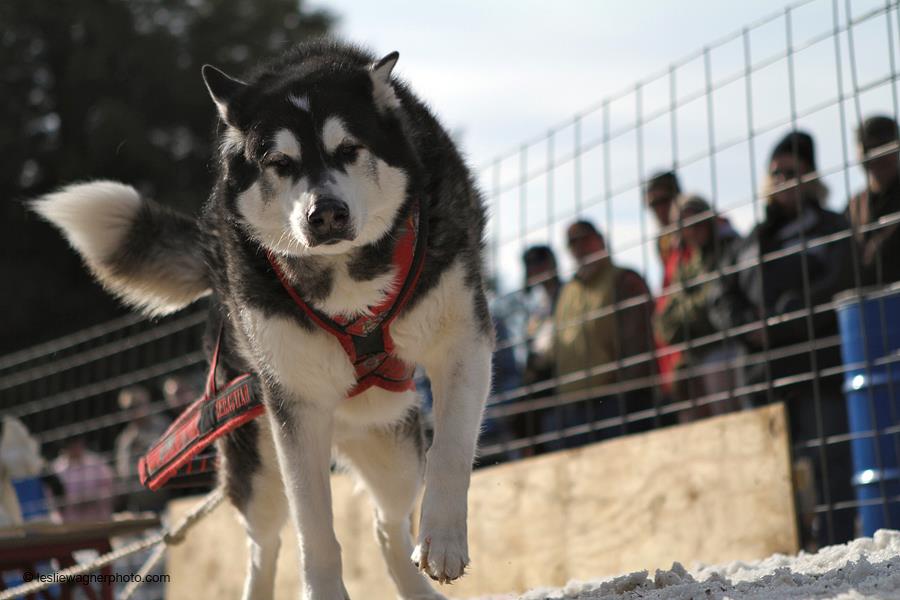 Sebastian by Leslie Wagner Photos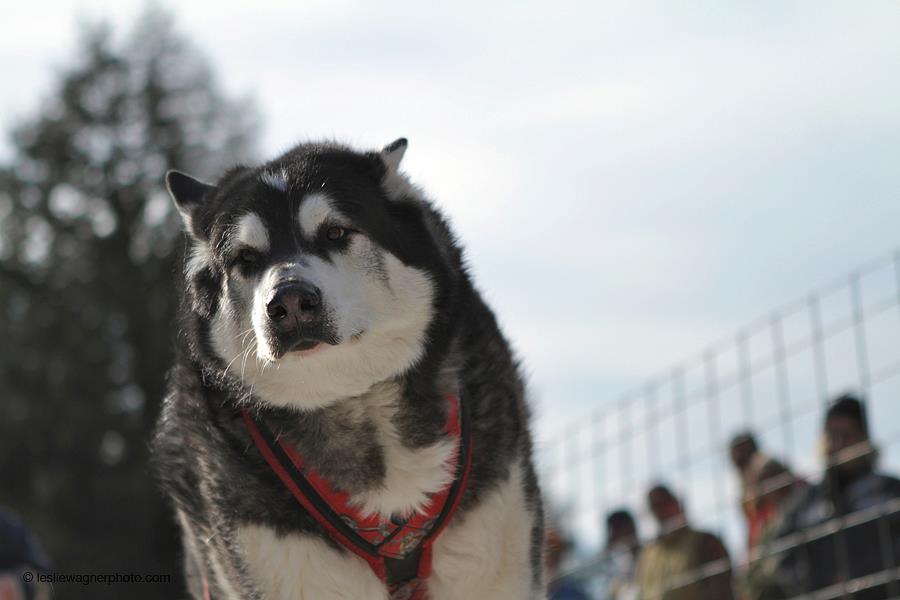 Sebastian by Leslie Wagner Photos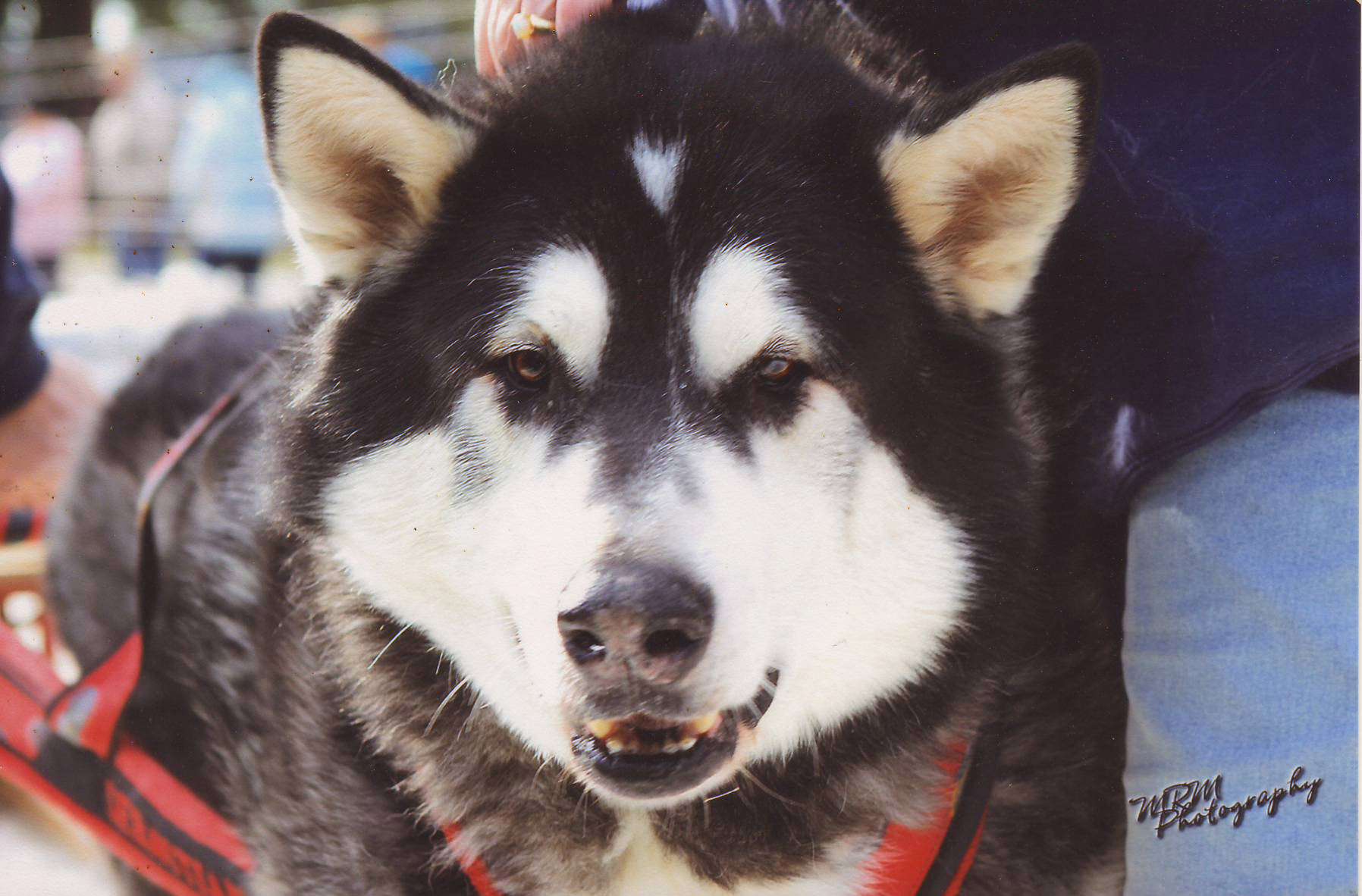 Sebastian by MRM Photography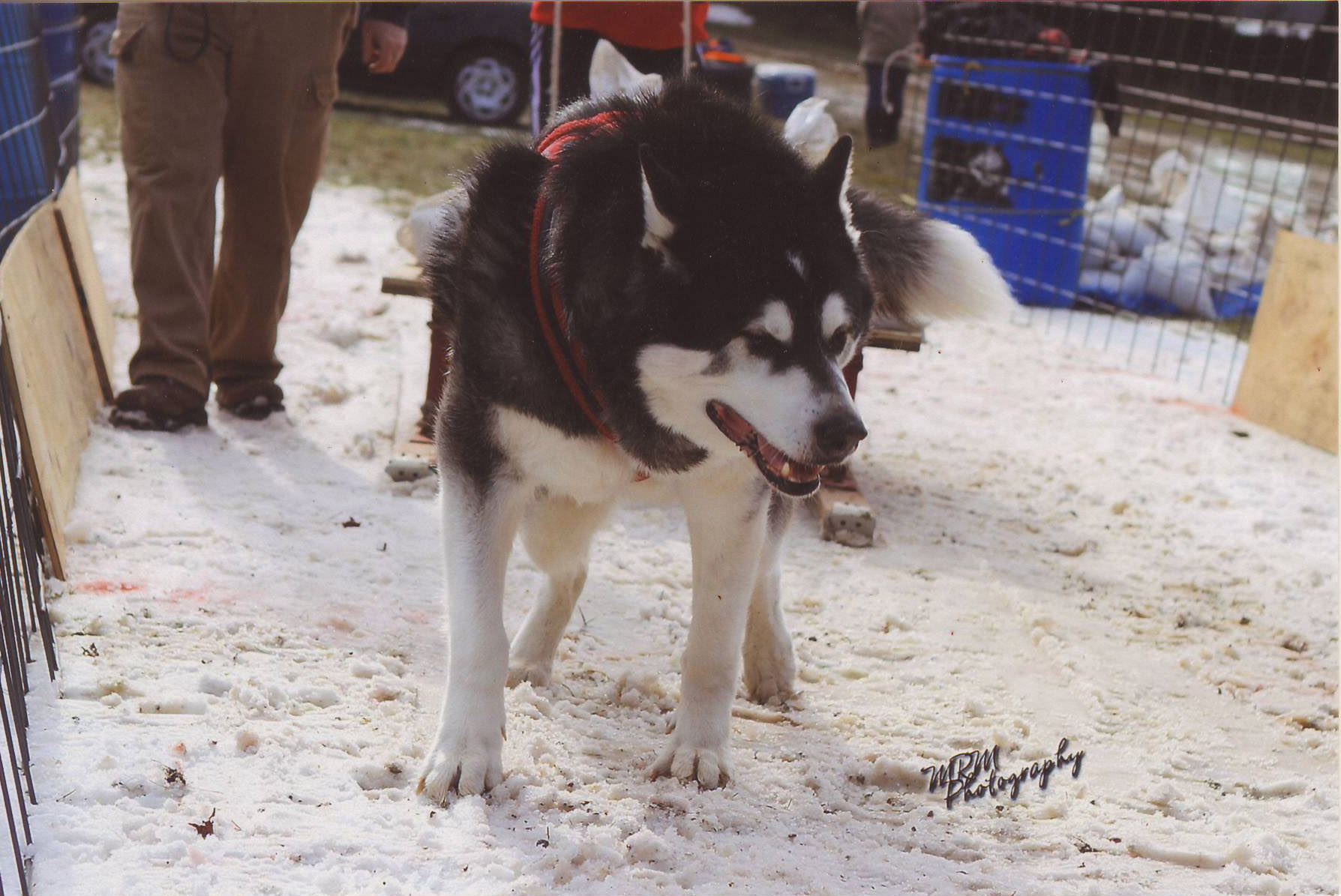 Sebastian by MRM Photography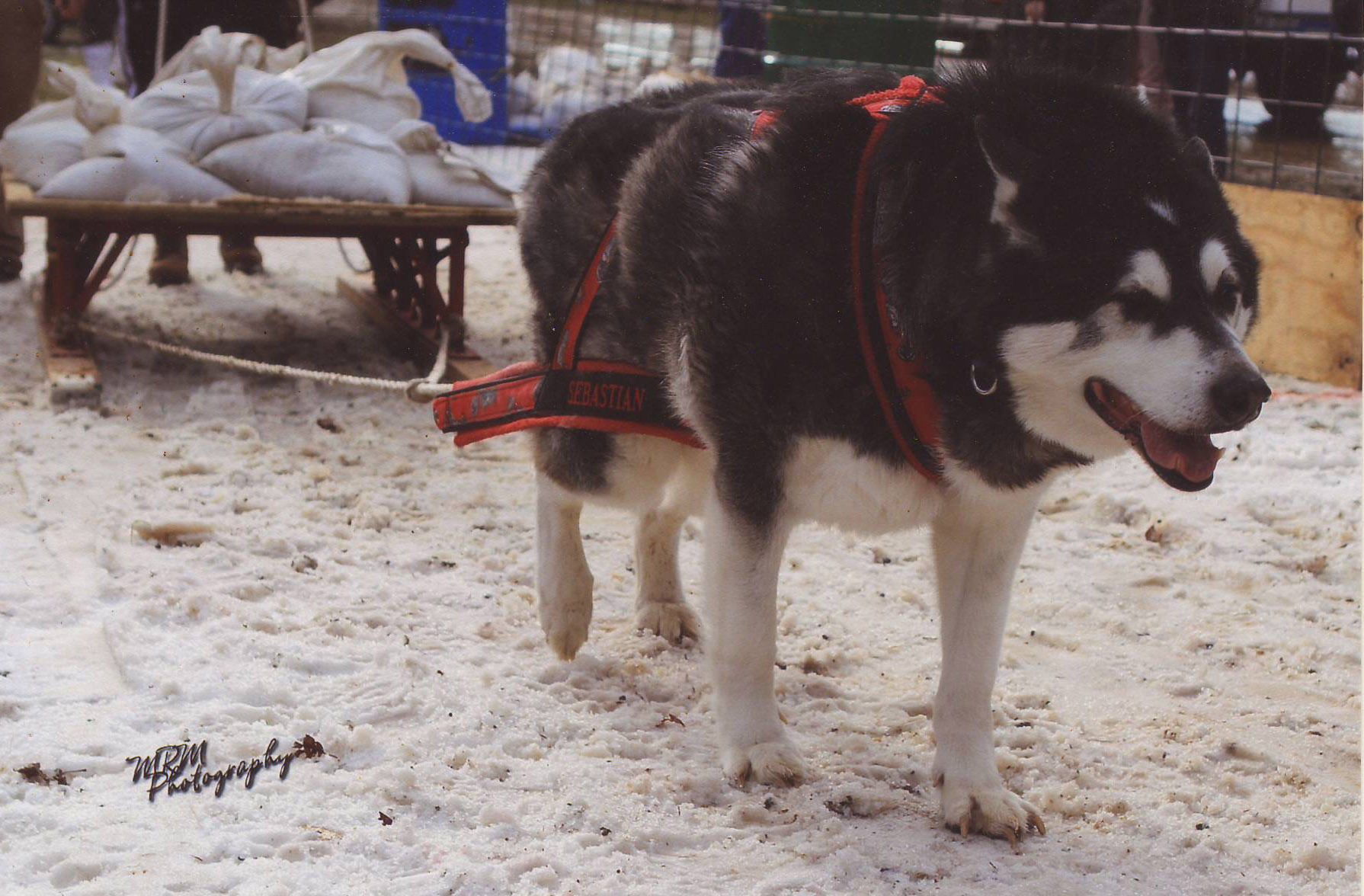 Sebastian by MRM Photography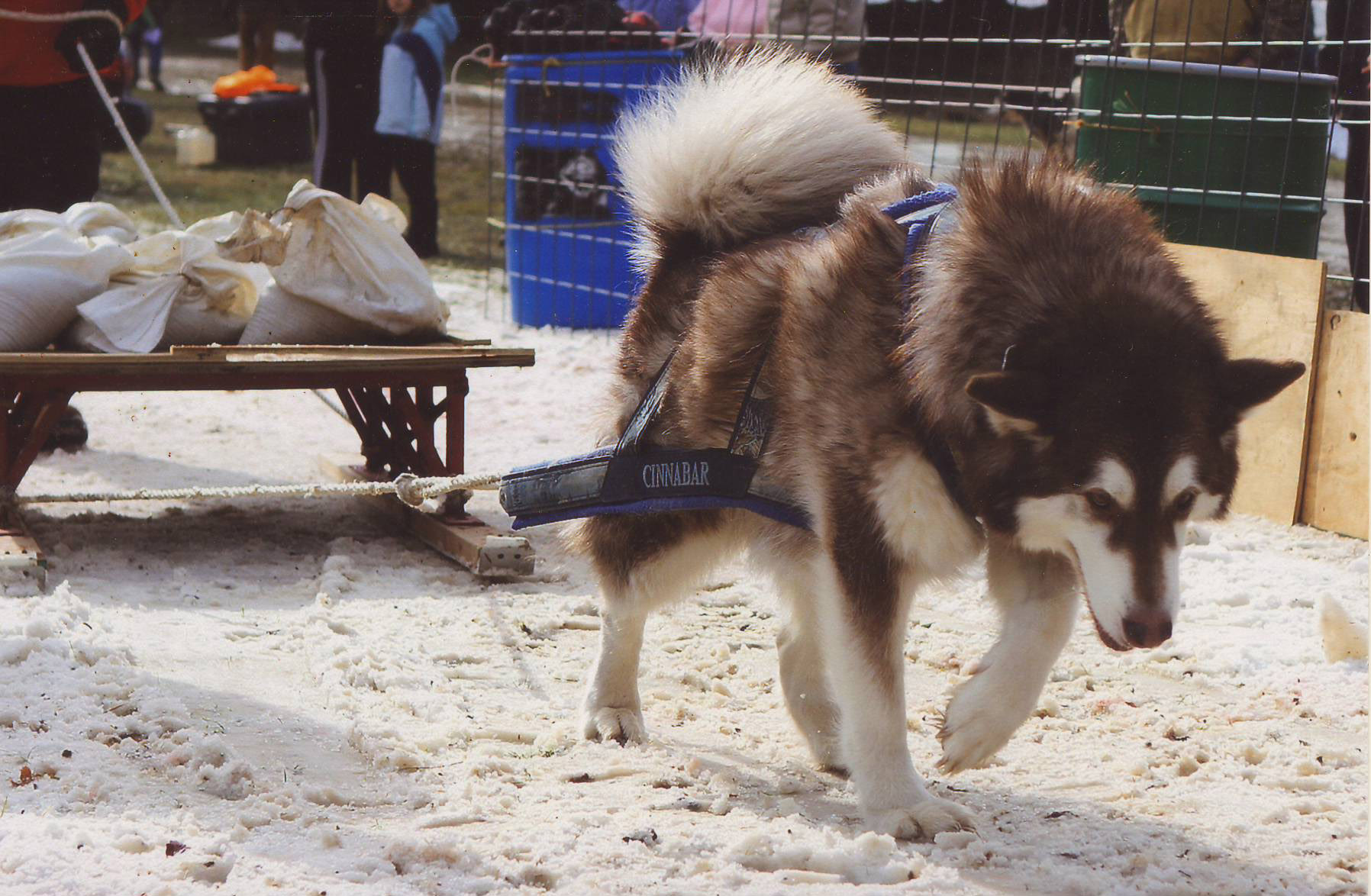 Cinnabar by MRM Photography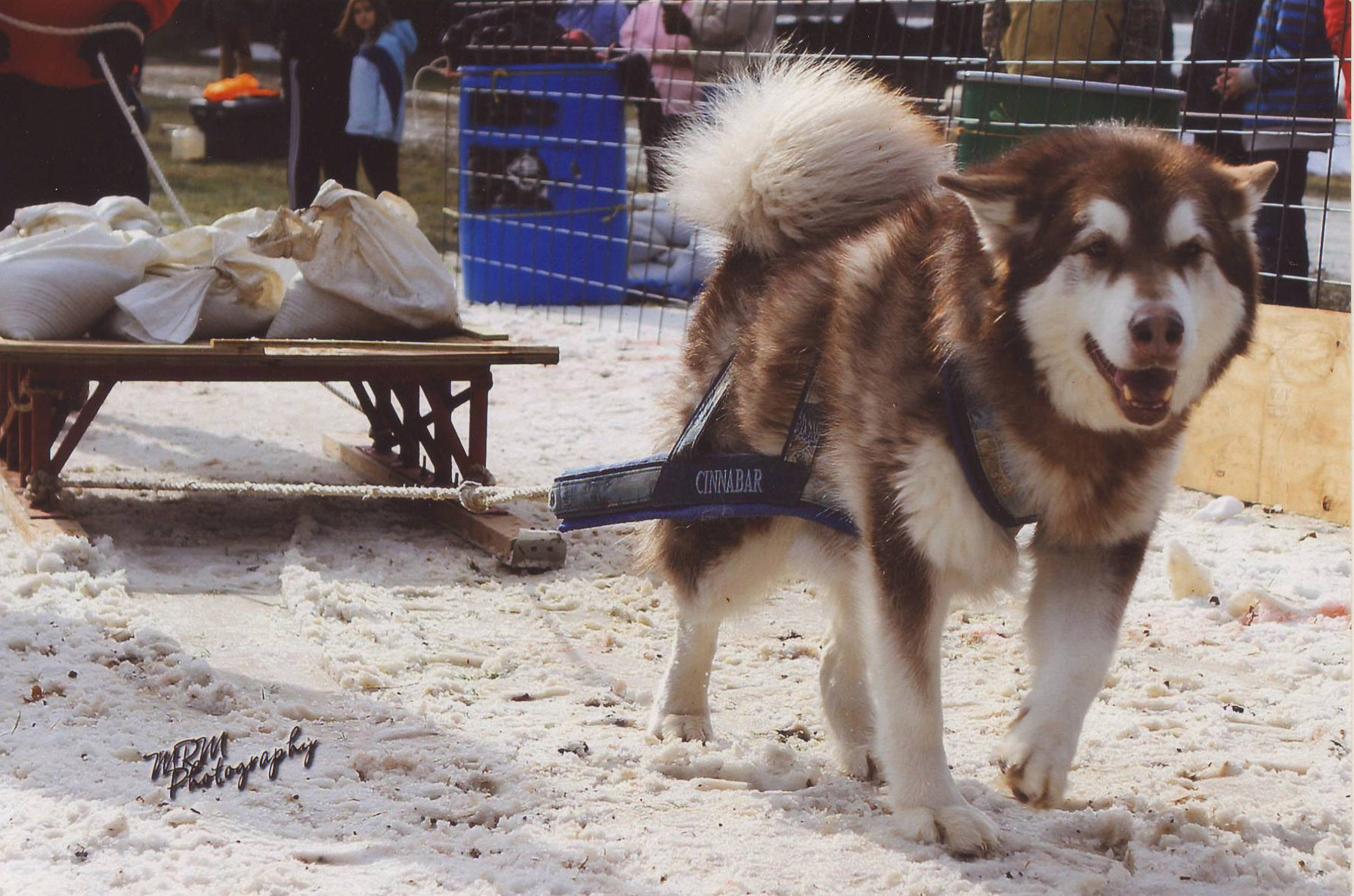 Cinnabar by MRM Photography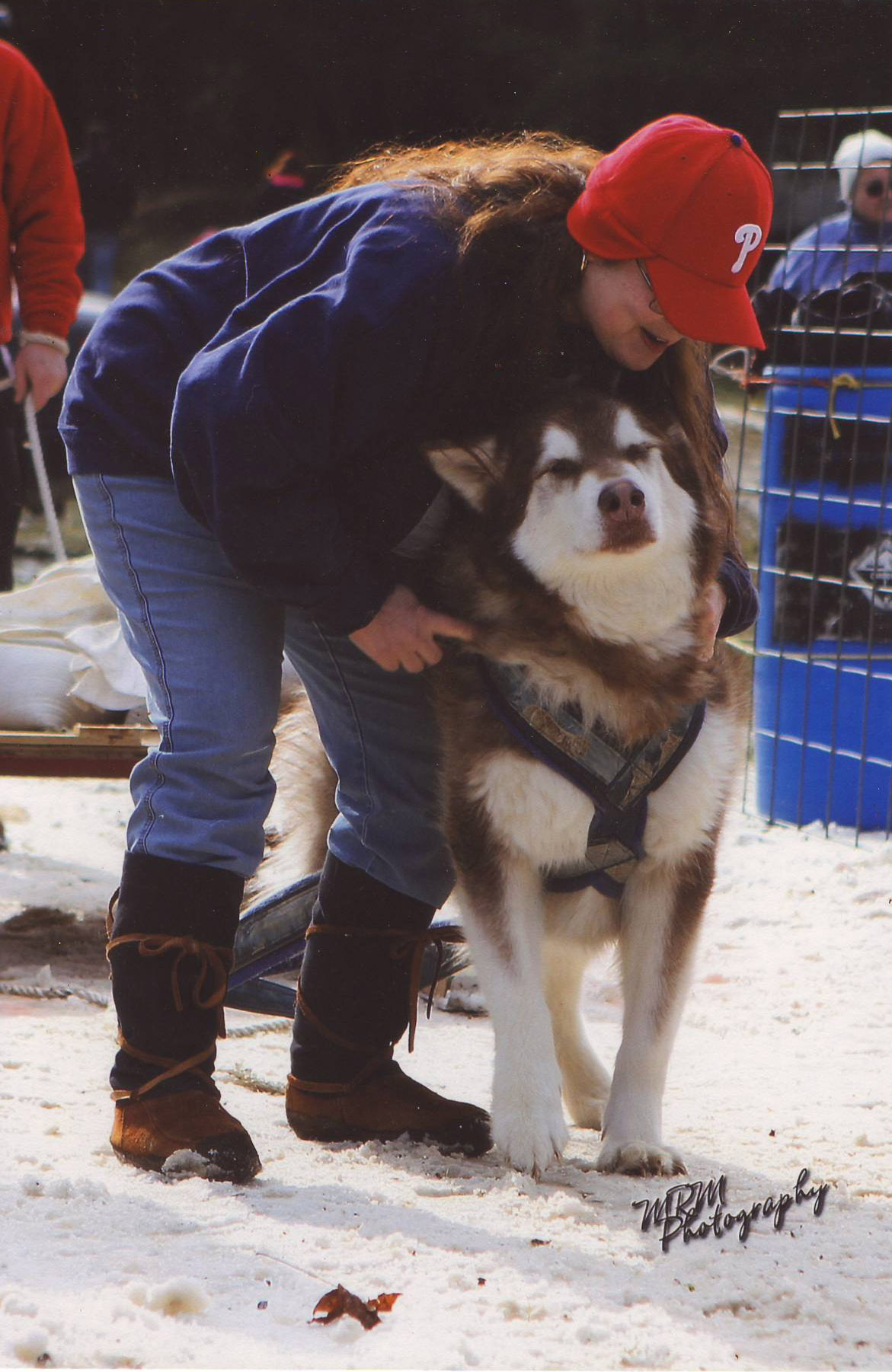 Cinnabar by MRM Photography
Here's an article in the Times Observer that also talks about the weight pull, with a great photo of Jennifer and Romeo. I'm hoping they also got some photos of the boys and will post them here if they do.
SledDogCentral results with a photo of Sebastian pulling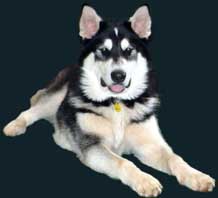 website design by Sheryl
bordered background by Sheryl
© 2005
all images © Sheryl Franklin unless elsewise attributed
all Alaskan Malamute sound files © Sheryl Franklin
website hosting by FranklinCommunications
domain name by DomainRegister.com