Sheryl's Alaskan Malamutes - Activities - Weight Pulling - IWPA - Port Clinton - December 9, 2012



Weight Pulling

December 9, 2012 - IWPA - Wheels Weight Pull - Port Clinton, PA
Mist and fog were our companions on our trip to the Port. At least it was in the 50s. I was half way there when I realized I'd left my coat. Although I'd dressed in layers, I meant to bring the coat. I didn't want to put the raffle tickets in the car until the last minute, because Sebastian likes using them to decorate the inside of the car. Also forgotten, drat it all.

Upon arrival I was greeted by Dave, Tana, Di & Ryan, as well as Shawn. Got setup quickly, registered and started weighing in dogs. The chute already had a few little puddles, so we weren't looking for high weights this day.

Cinnabar weighed in at 112, Sebastian at 142.

Looked to be at least 7 in the novice class, which started promptly at 8:15. Both Tana & Missy worked that class. Tana wants her students to hear more than her advice & Missy agreed to work with them.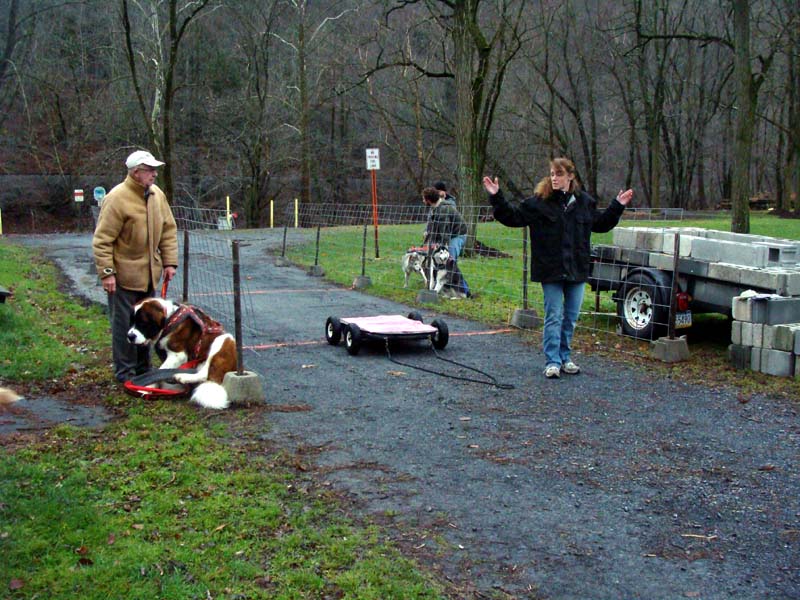 Missy running Novice handlers meeting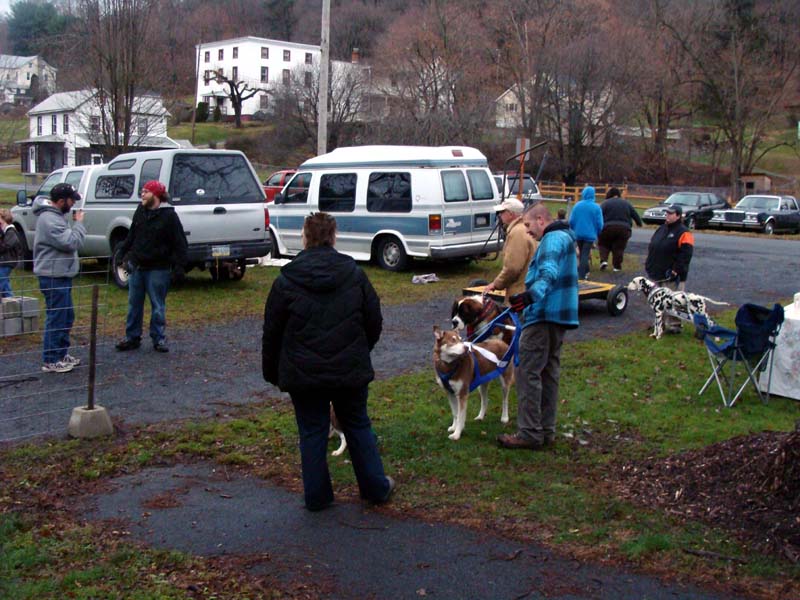 Some of the novice dogs
We re-weighed the cement blocks because of the overnight rain. They were soaked. Instead of 45 lbs, they were 50 lbs.
The 40 lb class (about 8) pulled in 50 lb increments. Dee's Rosie took first pulling over 1900 lbs and over 50% body percentage. We groomed the track after that class, as it was getting torn up a bit. The rain came down the heaviest for the 40 & 60 lb classes, and started to chill me quite a bit. At least we were judging under the pavilion and not out in the rain.
The 60 lb class (about 5) pulled in 100 lb increments. Dave's pittie took first, with Electra coming in second. Electra was pulled by Breanna (Laura's daughter). Electra is an experienced puller, but at 9, hasn't been doing much recently. Bre did a great job working with her and showed alot of confidence, took 2nd place and got the award for MWP & BBP for Junior Handlers. (Jon pulling Panhead in the same class was our other Junior Handler).
Dee lent me some gloves, and Dave lent me a jacket and I stopped shaking from the cold. Tana made a run to the WaWa and brought back some hot chocolate for me and coffee for others. Thank you, Tana! That really hit the spot.
Our 80 lb class (about 8), pulled in 200 lb increments. Shawn's Duke did a heck of a job in a good class. 3 American bulldogs took the top 3 places, and showed that despite the messy track we were still going to get high weights as all 3 pulled personal bests. Tana's Jack took first, and overall Best Body Percentage at over 56%. Dave's Fatboy took second, and Di's Macha took third.
We pulled the 100/125/150/Unlimited together, with 250lb increments. There were 9 or 10 in the 100 lb class, 4 in 125, and 1 in 150 Dave judged this group.
I started both of my boys at 1300 lbs. I double passed Cinnabar at least once, then single passes, then when the talking started no passes. He ended up pulling 3300 lbs. On his 3550 turn, he talked and pretend tried. I worked to get him to try. We ran out of time, but he finally tried & the cart help pushed so he thought he was successful. Lots of praise. He did pull 29.46 times his body weight.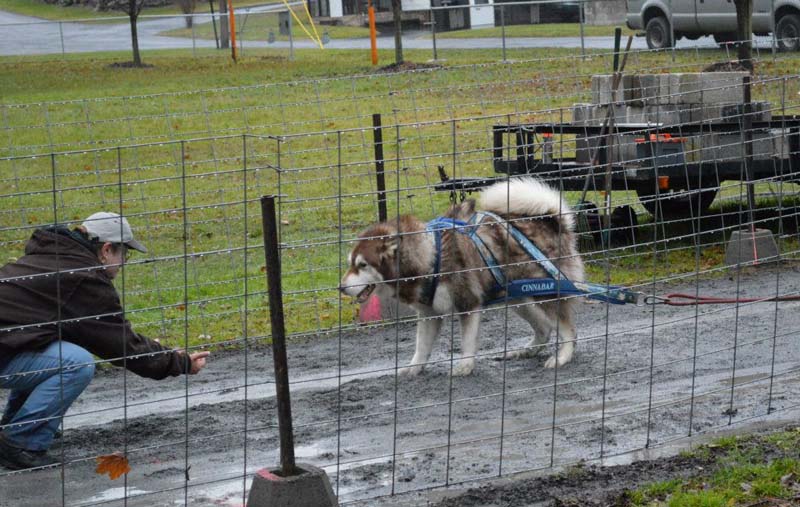 Cinnabar getting encouragement
photo by Dee
I double passed Sebastian until after his 4050 pull. He was really good in the chute, didn't flip me off at all, was working and having fun. However, he was flipping me off after each of his pulls. He wanted a treat and didn't want to go in his crate without one. I was putting my arm around his butt and helping move him in. He got wise to that, though and started sitting down. I'd get him up, circle him around and try again and he'd sit again. Laura helped me out with that to get him in. He's got such a busy mind, the brat. On his 4300 pull, he left it about a foot short to some groans in the crowd, then restarted it and completed it in 17.64 seconds. On his 4550 pull he was doing fine, ambling his way down the chute and then slowed down. Slowed some more and left it about 2 feet short. He did attempt to restart it, but wasn't able to. Dave said he stopped at the worst possible time, that he was in a rut. However, a fine effort for the brat pulling 30.28 times his body weight. Being solo in the 150 class, he of course took first place.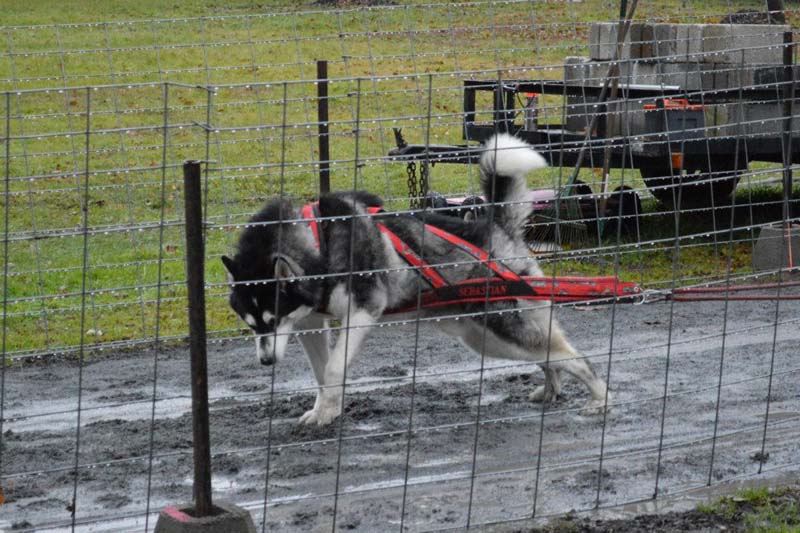 Sebastian working!
photo by Dee
The 100lb class included Laura and Nanook. Laura used harsh voice for the first time with 'Nook when he started playing games and it worked. He was "yes, ma'am" to her and he took 2nd place and I believe pulled over 27 times his body weight. Shawn's Takaani was in full malamute mode and just totally flipping him off. He pulled a few practice rounds and when he did pull, showed awesome form, but he's definitely in the terrible two's right now. George's Grendel also flipped him off playing games in the chute. Jenna's Swissies did well as did Missy's Homer. George's Beowulf took first pulling 4800 lbs and over 52 times his body weight. Beowulf took MWP and looked great in the chute.
In the 125, Cinnabar took second to Jenna's amazing Izzy who pulled 4550. Her two other Swissies rounded out this class.
We called out for help to unload and break down the chute and a crowd descended to help. I finished up on the score sheets for the final classes. After helping break down the chute, Tana joined me to get those final ribbons together. We had wonderful cart help all day long, I'm so appreciative, especially for the 40 & 60 lb classes where the rain was the heaviest..
We had a few less dogs than the last pull, but still, it really just moved right along. I was out of there by 5, a good two hours better than last time. A great pull, thanks to everyone who participated. Looking forward to seeing everyone at our next pull in January, which will be indoors on carpet.
Both of the boys conked out after dinner. That's a good day!
Not many of them, but all my photos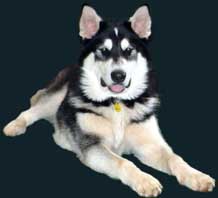 website design by Sheryl
bordered background by Sheryl
© 2005
all images © Sheryl Franklin unless elsewise attributed
all Alaskan Malamute sound files © Sheryl Franklin
website hosting by FranklinCommunications
domain name by DomainRegister.com