Sheryl's Alaskan Malamutes - Activities - Weight Pulling - IWPA - Port Clinton - November 11, 2012



Weight Pulling

November 11, 2012 - IWPA - Wheels Weight Pull - Port Clinton, PA
The gorgeous rising sliver moon & stars were our companion on our 45 minute trip to Port Clinton, seeing us pull in at 6:30am.

All pulls are special, but this one marks a couple of firsts. My first time as the Chief Judge, and Tana's first time as the organizer. We're spreading out the work load in our area so that Missy and Dave don't have to do everything. They provide the equipment and setup, Tana organizes and I chief judge. They get to enjoy a pull fairly stress free for a change.

Tana arrived a minute after I did. Dave was there very shortly after that. We got our dogs setup and she setup the registration table. Kari arrived a little later and we got her to work handling the registrations so that Tana could run the novice pull, while I oversaw the weighins.

We weighed Sebastian first to make sure the hitch was tall enough to handle big dogs. It was, and of course he didn't disappoint with his pathetic baby whining. He was happy when it was over and I told him to go hug Dave and he did - LOL!. Cinnabar was a breeze.

Cinnabar weighed in at 110, Sebastian at 142.

While I was weighing in dogs, Liz arrived, and shortly asked if she could get Sebastian out. I had just given the boys their morning apple treat. Sebastian stopped working on the apple to come out and snuggle with his BFF, Liz. He went back in for a bite and came out for more snuggling. To say that he adores her is an understatement.

Quite a number of Tana's students from K9Jym came for novice and that's great to see. At least 10 in that class, which started promptly at 8:15.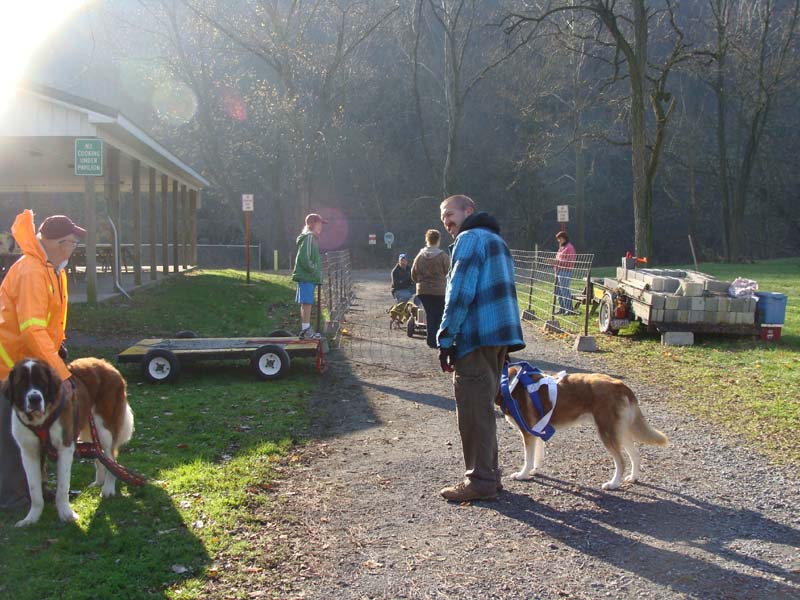 Shawn pulling Koda in novice, with the big Saint puppy Theodore waiting his turn
The big Saint pup, Theodore, in the photo was right in front of Sebastian's crate and he didn't mind at all. He did take issue with the big rottie, Zeus (also pulling novice). Other than that, no posturing at all.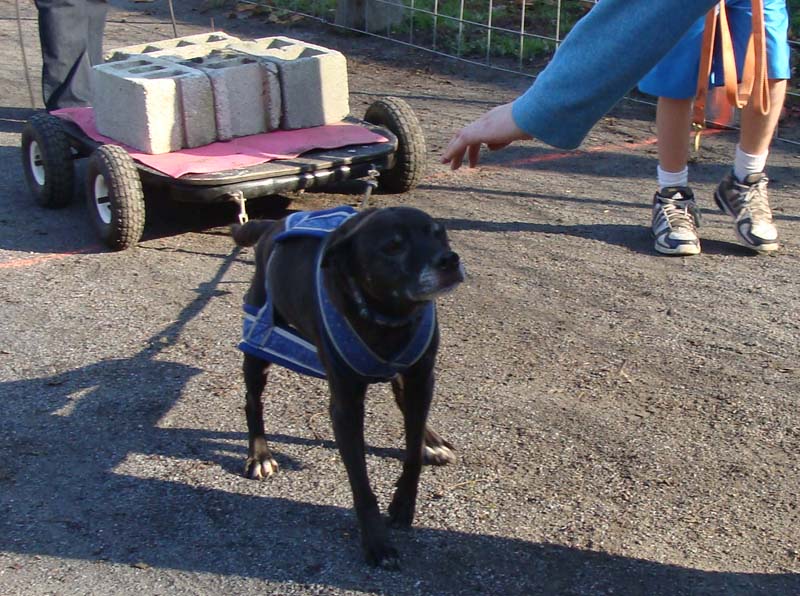 Old man, Scooby pulling novice
When Liz was getting harnesses out the other day, she said her old guy Scooby got so excited. His legs won't let him be competitive anymore, but she brought him to pull novice so he could join in the fun. She rescued him some time back from the shelter at which she worked.
I wish we'd had more extra hands, then I'd have more photos. I didn't really have anyone to grab to helm the camera for this pull. Others took some photos and maybe some of my boys will show up.
Jenna and her 4 Swissies came up from Maryland, and she let me know that Dee was on the way, a traffic snarl slowed her down. While I "know" them from Facebook, it's great to see them in person and have new folks coming to the Port to pull.
We had a big 40lb class, about 10, which I judged. Kari's Keisha took first, with Dee's Rosie in second. The 60lb class was small, just 6 dogs. Junior handler Jon's Panhead took first there. Our 80 lb class was 7, and Tana's Jack took first pulling a personal best, Shawn's sibe Duke was just awesome, and I believe took second. Wow, he's just on fire. This class pulled in 4 block (180 lb) increments.
We pulled the 100/125/150/Unlimited together. Originally the classes were going to pull a 4 block increment, but with the cart rolling so well we moved it up to 5 blocks (225 lbs) so we'd be done pulling before dark. There were 11 in the 100 lb class, 2 in 125, 1 in 150 and 1 unlimited. Dave judged this group.
I started both of my boys around 1200 lbs and double passed for a while. Cinnabar had stiff competiton with Jenna's Izzy, just an awesome puller. Once Cinnabar started a little bit of talking, I single passed him and then no passes after that. I decided with Cinnabar to just stay quiet after I crossed the line until he showed some focus and then we started working. He needs to talk and back up, maybe paw the chute fence and then get down to business. Once he does dig in, he's got it. Just has alot of stuff to say ahead of time. He ended up pulling 3450 lbs. Izzy pulled at least two increments beyond that.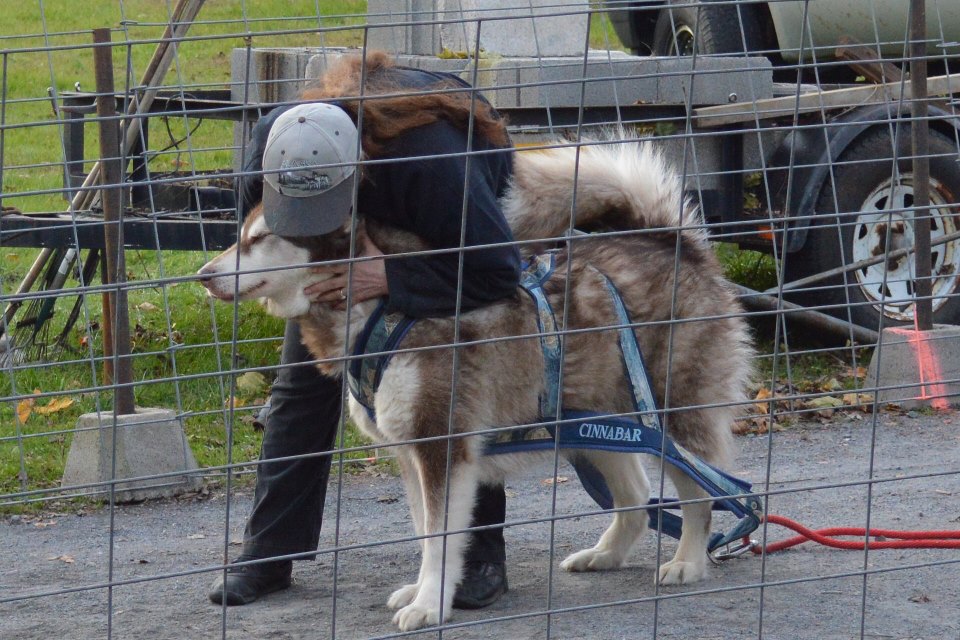 Cinnabar pep talk photo by Dee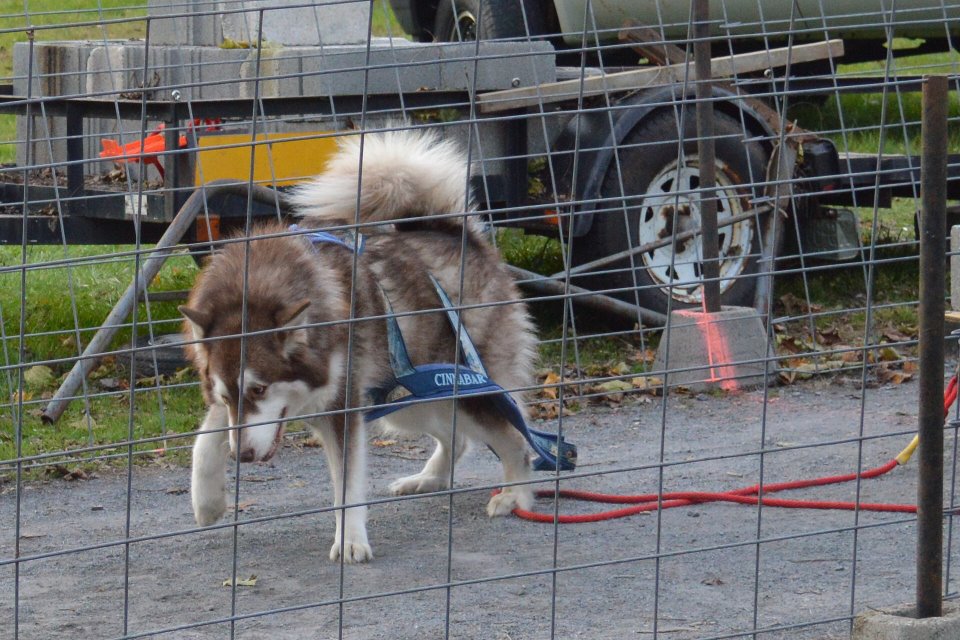 Cinnabar getting ready to pull photo by Dee
I double passed Sebastian and after pulling him the second time, asked Liz if she'd like to pull him. He was pulling easily and having fun. Since he was solo in his class.he already won it and I was curious to see how he'd do for her. With him it's not about talent (he's got plenty of that if only he applied himself), but motivation. His first time he wanted to snuggle with her in the chute, but got hooked up anyway and pulled happily for her. Double pass and she pulled him again, same results. He ended up pulling 4350 lbs. His 4575 pull, he wandered around and then went back to the middle of the chute and pretended to try, so the cart help pushed on one of those pretends and he pulled it easily. Both of them had fun, and really that's the point.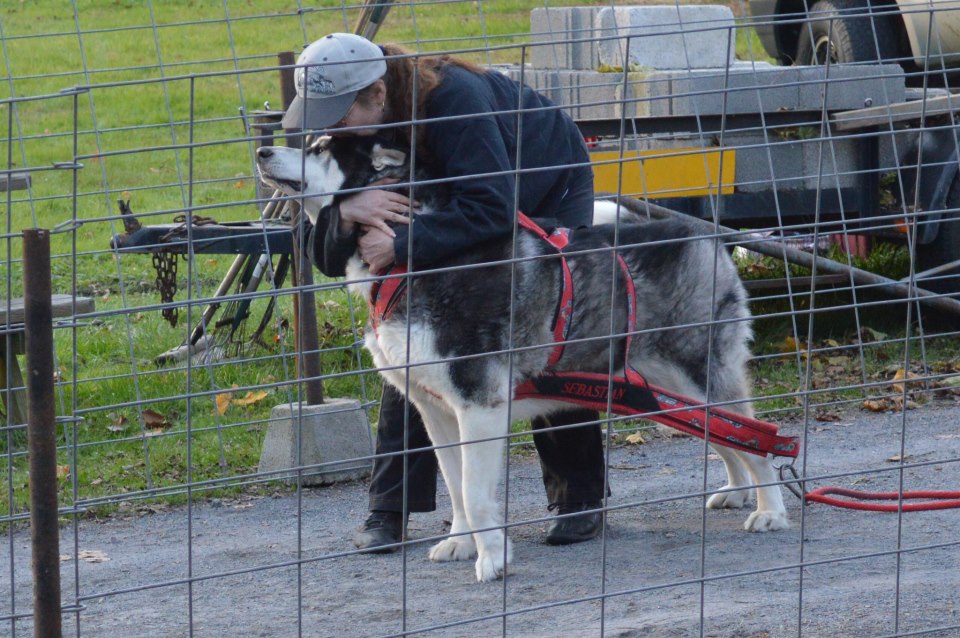 Sebastian pep talk photo by Dee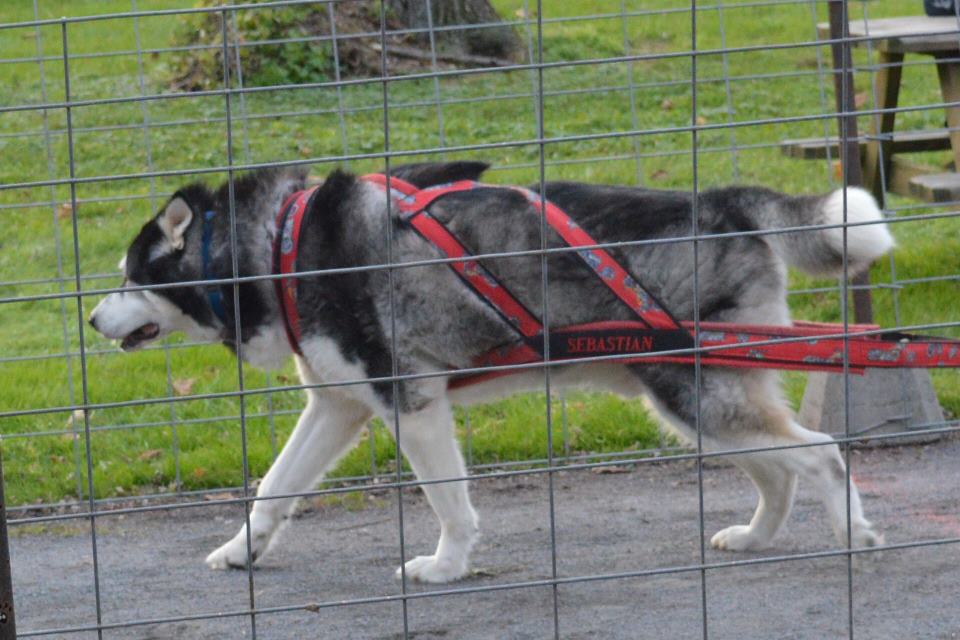 Sebastian pulling photo by Dee
The 100lb class included Laura and Nanook. See motivation statement above, it applies here - LOL! He did well, but wasn't really applying himself, and we're trying to work on Laura to get a harsh voice with him for some of his shenanigans. She's going to take some classes with Tana at K9Jym, I believe to work on focus. George's Beowulf took the 100lb class and Best Body Percentage, around or over 47%.
Unlimited was fun to watch. Noble the 196 lb mastiff was solo in the class. As the weights got higher there were 2 people on brake and then 3. Laura was hoping to get a superior leg for him (23%) and she got better than that. He pulled all the weight there was, around 5400 lbs. He's a big happy boy and was having a blast.
I asked for help to unload and break down the chute and a crowd descended to help. Tana and I worked on the score sheets and ribbons for awards. They were all down loading the weight and chute fences onto the trailer before we were done. Just wonderful help, I'm so appreciative. I'm also appreciative for all who pitched in as cart help all day long. No begging was needed. I'd also like to thank Shawn and George for helping with weigh ins.
We put out a last call for the 50/50 before handing out awards. We're raising money for our Championship bid for next season. There was $79 in the kitty, and George won. He wanted his winnings to go right back in the pot towards Championships. Thank you, George!
There's so many I haven't mentioned, but I must say the day is a blur when you're working it like that. From Tana's, Dave's and my perspective the day was a success, stayed on track, good sportsmanship, good dogs, good efforts. From the feedback I got, participants felt the same way.
We were out of there by 7pm. Not bad, at all. A great first organizing effort for Tana. Our next one at the port is in December.
Not many of them, but all my photos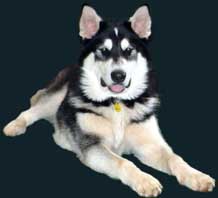 website design by Sheryl
bordered background by Sheryl
© 2005
all images © Sheryl Franklin unless elsewise attributed
all Alaskan Malamute sound files © Sheryl Franklin
website hosting by FranklinCommunications
domain name by DomainRegister.com