Sheryl's Alaskan Malamutes - Activities - Weight Pulling - IWPA - Oneida - October 20/21, 2012



Weight Pulling

October 20/21, 2012 - IWPA - Wheels Weight Pull - Oneida, NY
On the road by 4:30 am, with a glittery starry sky above and patchy ground fog below. The fog lifted on the turnpike at Allentown, but came back after Mt. Pocono in the usual fog spots on the turnpike. Once into the Endless Mountains Region on route 81, the crystal clear predawn sky showed the beauty of the Endless Mountains, until you drove into the vallies of fog. I adjusted my speed accordingly through the thick fog, but not everyone did. The state police didn't seem to be too impressed with those folks. When I was above the fog I was disappointed to see that the previous days' storms had left many of the trees barren of their beautiful colors. I don't get to see much in the way of pretty fall foliage in my area, as many leaves are still green and the rest just turn brown and drop off from boredom. My disappointment faded as we emerged from the fog into first sunlight in Binghamton with a burst of vibrant colors on the hills. The storm must've missed them. A little further north and patchy colors again for the rest of the trip, but also less fog.

We pulled into Lisa's at 9:30 to see many familiar faces already there. Some new ones, too. Got the crates setup in the barn right behind the weigh in area and after I walked each of the boys got them weighed in. Cinnabar was 110, and Sebastian was 142. While Sebastian was happy to see Wendy and Steve, he didn't let them down and was a baby getting into the sling and being hoisted up. They each got an apple on the way into their crates.

I haven't been to a pull here for 21 months, and Lisa's made some improvements. She's added a hot water heater in the bathroom, as well as a dog washing tub, along with a new tarp for the chute.

Got signed in and grabbed the camera to get some shots of Steve & Wendy's two new puppies from the Mole/Moxie breeding. I've been following the litter online as Kari has posted the photos and it was great to see the cuties in person. They were vocal with their greetings and proud papa Mole also posed: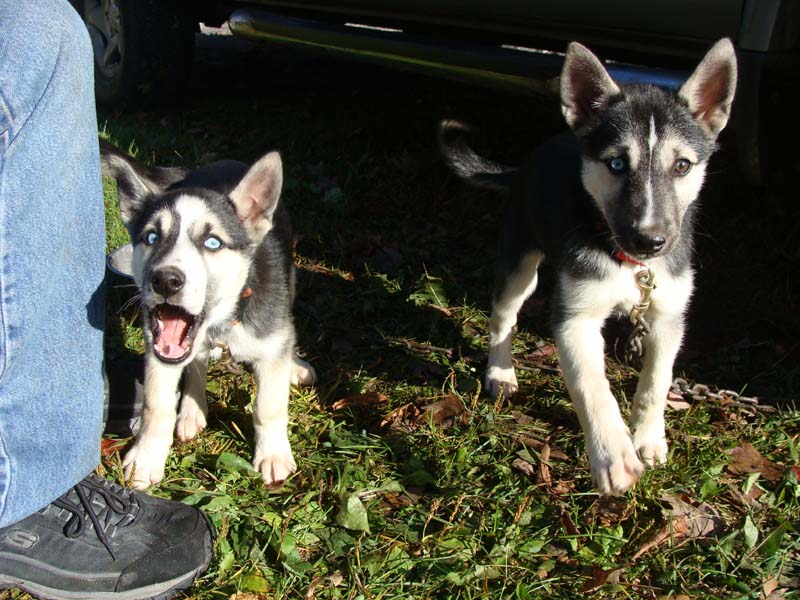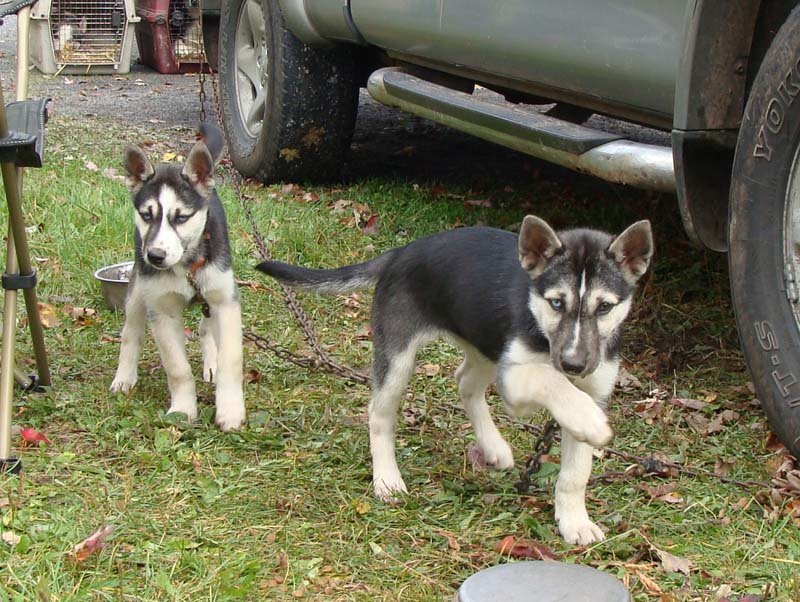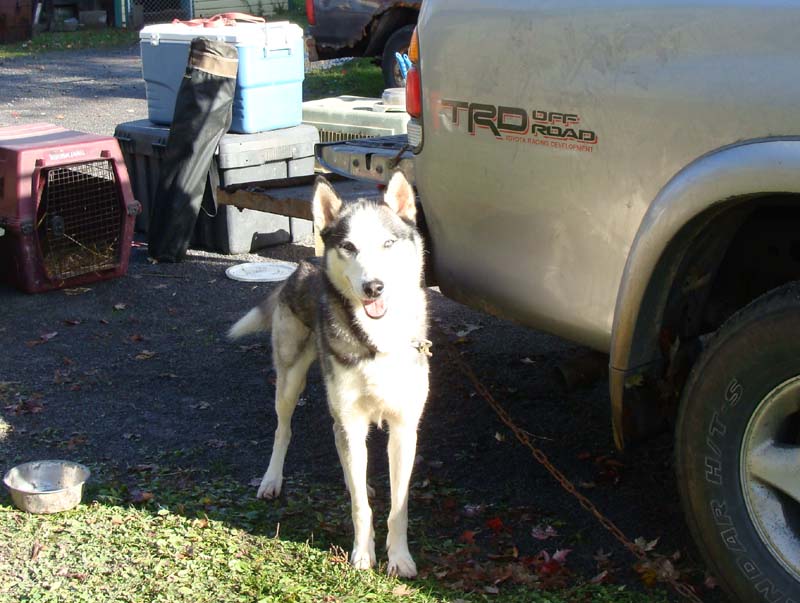 We had over 40 dogs pulling pro. 4 in the 20lb class, 5 I think in the 40lb class, 11 in the 60 lb class, about 13 in the 80 lb class, and about 12 in the 100 & up classes. There were another approximately 10 who pulled in novice for a total of over 50 dogs pulling this day. Wow, that's a lot of dogs!!
So many of these dogs were Malamutes. Eileen with Kodi, Michele pulling Frosty & Tundra (along with her Sibes Shiver & Juneau and her two fosters), Regina pulling PJ & Boe (she also had her 3 puppies with her for socialization). Steve & Wendy's Alaskans, Sammies, Di with her American Bulldog, Macha, Sara with her Kerri Blue Terrier Bean & rottie Caber, lots of pitties, rotties, mixes, and the tiny tots.
Steve Jackson was our chief judge & I judged the 60lb class. He & Wendy judged all the other classes.
20lb class pulled in 25 lb increments & their cart weighed 75 lbs, until they graduated to the big cart. 40lb class pulled in 50lb increments. 60 lb class pulled 100lb increments, 80/100/125/150 classes pulled 150lb increments & pulled together. The cart weighed 225 lbs.
During the handlers' meeting, Wendy, as the region 5 rep for IWPA, held a regional meeting. We're raising money in anticipation of the Championships being in our region next season and we talked about different methods of fund raising. That pushed our start time from 11:00am to 11:30am, but then we were off and running.
After the 40lb class finished, we had a fundraising lunch. John & Michele brought the food and John had a barbeque setup for hamburgers, hotdogs & his famous and wonderful fresh fries. They raised $274.00!
I took photos of the 20lb, 40lb, early rounds of the 80 & up classes. Di took photos of the 60lb class for me. The only dogs I don't have photos for are big dogs - Icon, Zorro and my two boys. It was too dark by the time those dogs pulled.
That 60 lb class was really good. It came down to Wendy's Junior and Mole, and Kendall's Gadda, with Gadda winning the class. There's an English sheepdog, Benson, in the class who just started pulling a few months earlier. She's got beautiful form and was a pleasure to watch.
I started Cinnabar and Sebastian at 825 lbs.
I double passed them until 1725 and then single passed. Cinnabar made the 2025 pull, Sebastian did not. He did not like pulling in the dark and left it short. Cinnabar also didn't care for pulling in the dark and left his next pull short.
Tundra pulled exceptionally well for Michele and I told Cinnabar she was going to kick his butt with the way she was starting each pull so strongly. But she left it short, so he got lucky.
Cinnabar won his class (which included Tundra and Caber), Sebastian was solo in his so he of course won.
After that, the novice class pulled and the chute lights were turned on for them. I sat with Wendy while she judged, and enjoyed watching the up and comers.
After novice, it was about 8:30. I had been going to go home after the pull, but several days earlier Michele invited us to stay with her and John. Thank goodness! They're about 40 minutes from the pull. Once there, John cooked a delicious dinner of beef & perogies. They are wonderful hosts. The boys were good and we all slept well. In the morning I had a chance to spend a little time with Nikko. He gave me the gift of being happy to see me. I wish life had been kinder to him and not given him bone cancer. He's adjusted to hoping on 3 legs as he keeps the sore leg off the ground. Thank goodness life was very kind to him when it blessed him with Michele and John.
We started the next morning at 9am.
We lost a couple dogs from the day before, but we gained others. Dave Gallagher was there with Cassi and Cuda. 13 pulled in the 60lb class. It was exciting again. Down to Mole, Cassi and Gadda with Mole taking it with Cassi in 2nd. I miss seeing old man Starbuck in this class, but great to see his sons doing so well. Cassi was awesome, just looked great.
I again started my boys at 825.
Cinnabar completed the 1725. He really started talking on his 2025 pull and backed out of his harness, then stepped back in. Then out and halfway in, but he pulled. Of course it didn't feel good for him with one leg out of harness and between all his shinanegans and that he timed out. He was 3 inches shy of the pull at that point, which he restarted and finished, but he was out. He won his class. He had a great day, not just in the chute but with all the loving he got from so many people.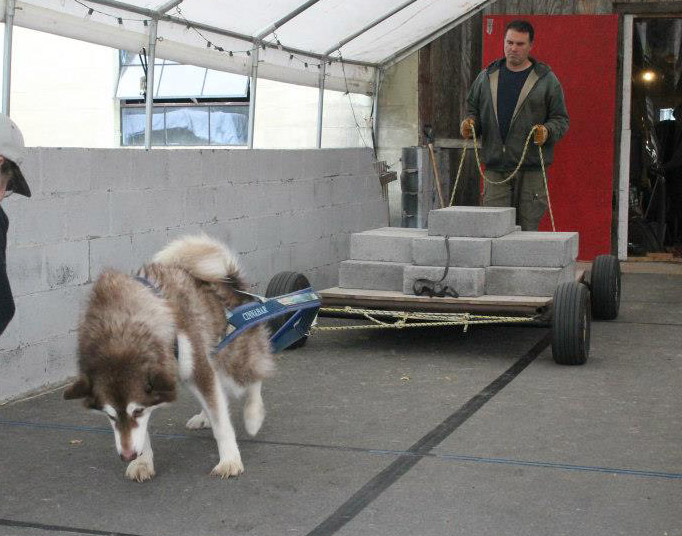 photo by Tim
Still left at that point was Macha, Icon and Sebastian. Macha was doing great, just taking those blocks for a walk. Di is so calm with her and has a great bond with her. Icon (rottie) is also doing well and has less vertical movement than the last time I saw him. They're still working to get even less vertical wasted energy with him.
Sebastian was funny. Because they spent so much time between rounds, he was sleeping and I had to wake him up to pull. I kept trying to make it exciting for him. Fortunately seeing the sheep and the horse helped, but seeing that horse poop just out of reach at the end of the chute was especially enticing. While waiting for our turn at one point, Regina's puppies had stuff to say to him and he talked back making everyone laugh. He still was hyped up in the chute but kept ambling down it to take most weight pulled at 2375. That's the most he's ever pulled in Oneida, the big goof ball.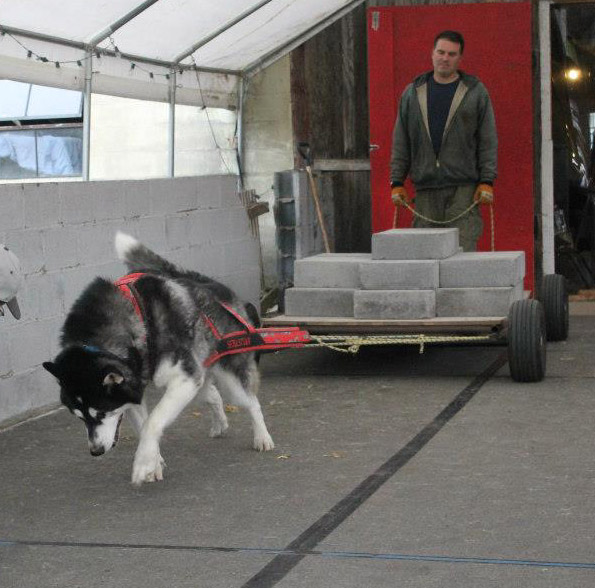 photo by Tim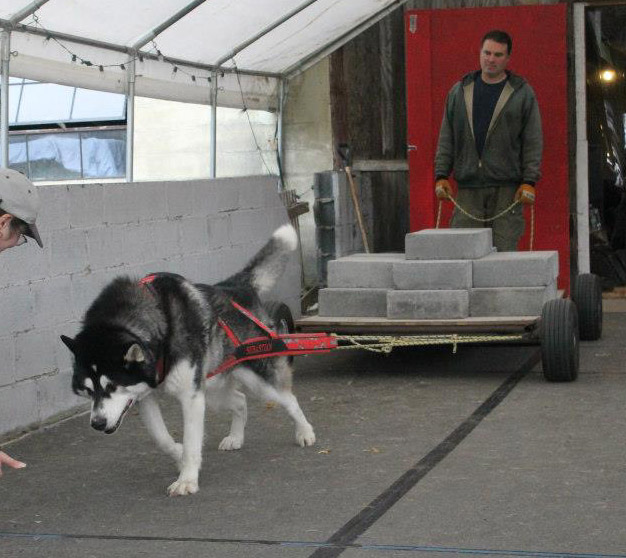 photo by Tim
The boys got their treats, and I pulled the car up to start packing up and realized the award ceremony already was going on and headed in there for that.
We had a great time and it was so good to see the northern people and dogs from our region, again. Many have improved, there's some new to me. It's a great group of people and dogs in a relaxed competitive setting.
I had the car packed up, gave goodbye hugs & was on the road about 4:15. The sun was out once on 81 south, and was starting to set at Binghamton in time to see the beautiful burst of leaf color again. No weather issues the entire trip and we pulled in around 9:15 with the half moon guiding us. Sebastian snapped out of his lethargy to bounce around his own back yard and play with his brother before getting a meal and some sleep.
Thanks to Lisa for putting on the pull, Steve & Wendy for running it so well and to all the folks who pitched in as cart help, keeping the white board with the pull order, and the current weight increments' board (other improvements that Lisa's made), those that always bring stuff to nosh on, and for the wonderful conversations and their sweet dogs.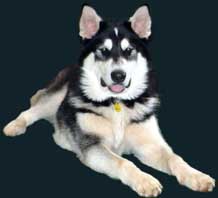 website design by Sheryl
bordered background by Sheryl
© 2005
all images © Sheryl Franklin unless elsewise attributed
all Alaskan Malamute sound files © Sheryl Franklin
website hosting by FranklinCommunications
domain name by DomainRegister.com