Sheryl's Alaskan Malamutes - Activities - Weight Pulling - AMAEP - Harrisburg - April 13/14, 2012



Weight Pulling

April 13, 2012 - AMAEP - Harrisburg, PA
A pretty half moon & stars started us out on the road to Harrisburg, followed by a very nice sunrise midway through the trip. Uneventful and short, a perfect trip!

Had an easy setup of crates in the West Hall, pottied the boys & crated them up and then went off to park the car in the real parking area. The effects of the economy on this event are obvious, as I was able to get relatively close by parking.

Once back at the West Hall, I checked in with Roseann and got the paper work necessary for me to take the weight pull registrations. I saw a couple checking out the cart and asked them if they had a dog to pull. No, they were here to pick up a pup. By their delicious accent it was obvious they were from Britain. They told me they have weight pull in the UK and I said, I know and who are you I bet we're Facebook friends. Turns out we are! What a small world the malamute world is, I love it!

67 malamutes were entered in conformation, 20 less than last year, but the biggest breed entry of the entire event. We ended up with a great turnout for weight pull, 47 dogs entered including about 5 novices.

Brenda & Val again had weight pull challenge trophies for this event:

You may recognize a few of the dogs on the banner - :)

Got Sebastian weighed in first, as he's such a big baby, so there wouldn't be many people to hear him wail. He was pretty good about it, just a little whining. He weighed in at 142 and Cinnabar at 115.

It was a busy time for me handling the registrations, and recording the weights. Also answering questions. Roseann had copies of the rules that people could take, lots of weight pull leg forms ready, as well as club membership forms. I was also happy to sign up several new members to the club.

We got started in the weightpull a little after 3:00, after Rich held the handlers' meeting. Blessedly Roseann suggested our increments be 150lbs (usually it's 100lbs at this event), not only did this mean I could start my boys at 600lbs (the empty cart at 300lbs, plus skipping two increments), but that it would take less time to get them up to the big weights. Also, with 47 dogs pulling we could get through it more quickly. "Quickly" being relative as it was still a long day :)

I always bring the boys' first harnesses as well as the harness I used for demos. The demo harness was put to good use for "Betsy" in novice, it was a perfect fit. Both she and her mom had fun and she's going to work with her more in pulling. Love when that happens.

Rich gave me a hard time that he was calling "pull" for my boys before I even turned around after I ran to the end of the chute. He was kidding, of course, and I told him not to worry, the begging from me would come soon enough!

We had a nice turnout of Wildpaw people. Dianne & JD were there, as well as April and Ashley. So good to see them and have spectators! Kari & Wendy also showed up to watch for a while. So good to see them and also wish them well at the Championships in Idaho later this month. Both of my boys have qualified for it, but that's too long a trip for us.

One very important person was missing, Moses Martin. We've been coming to this pull since 2007 and it's the first time Moses wasn't there. Moses usually helps Rich with weigh ins, provides his laptop for recording the scores and takes the most wonderful photos of each dog that pulls, every single round. His lap top was there, but not his wonderful presence. We did have wonderful help from multiple people with weigh ins and that took a lot of pressure off of Rich. David & Susan brought their weight pull cart, National Dog Food again provided the 50lb bags of dog food for weight. The fencing for the chute was setup by David with assistance from George & Shawn. Jenny was again our scorer with her wonderful booming voice, and she kept things moving right along.

With Cinnabar I knew I was going to work on his backing up & talking in the later rounds, so once we got to around the 2400 lb mark I stopped double passing. I was really pleased with his progress in listening. When he started his stuff, I said no. When he moved to the center of the chute, I said "yes" and then just got into the encouragement. The first time this happened, my encouragement was "that's my boy, Whooo" and I thought I must be channeling Dave Heffelfinger, because that's what he did to encourage Harley. Harley's been on my mind, because they lost that sweet Saint Bernard in the last week. I didn't consciously channel him, but glad it worked out that way. Earlier in the season, Harley at 11 years old was still a force. Cinnabar came close to beating him once, but lost by 3 hundreds of a second.

In his successive pulls, I used different methods of encouragement most of which encourage lots of friendly teasing. They call me 1-900-Sheryl because of the "yes, yes, sweet boy, yes" or any of a number of other things I say to him. For me, it's all stream of consciousness, whatever it takes to motivate. However, I'm very happy to provide the free entertainment! Cinnabar successfully pulled the 2850 round. On the 3000 lb round, lots of talking & backing up and his attempts to dig in, were half hearted so I motioned for a push. On his next half hearted attempt he realized the cart was moving he dug in and I just went to town with the encouragement. Good boy!


video by Michele

With Sebastian, I just made everything fun. He was working & having fun, but I verbally ignored the fact that he was working and concentrated on the fun for him because that was working. As the cart got heavy he had a couple things to say and from my knees, I held out my arms to him and waved him in to me while I said "lean, lean" trying to pull him towards me and it worked. I mean really, at his size he just has to lean into in and the cart starts, then he can dig in a little and walk it off while I'm clapping and happy talking him. On one pull, he pretended like he was trying and I told him I knew he was pretending and I wanted him to really try. He did, the big goof. He made the 3450 pull. On the 3600 pull, he started it and got it to within a couple feet of the finish line and stopped. He made pretend attempts to restart & I motioned for a push. He was surprised it was moving but dug in and finished. I'm pleased with his effort. He had a blast. The other thing I'm really happy about is that on his last pull he laid down twice. Each time I say no and he stood right back up and I said good boy. He's going to be 8 and we're still making progress!

As an aside, he very well remembers that he can be treated at his crate in Harrisburg and was letting me know to get that treat for him. In IWPA there's no treating while a dog is still in the competition. But with that elephant memory of his, he knows it's different at Harrisburg and lets me know!

Both Raider & Ranger made the 3600lb pull and went for the 3750 pull. Ranger got MWP with 3750. I believe that Raider made the pull as well, but Ranger got it on time. Little Cassi took Best Body Percentage with 40 some percent. Steve Anderson had a Brockway hood husky as an additional prize for MWP, so the Gallaghers added another Brockway to their collection.

Time to get the car and get the boys bundled into it, and get on the road after the awards. It was 10:00pm! Home at midnight, the boys slept great.

April 15, 2012 - AMAEP - Harrisburg, PA
Back on the road the next morning at 5:00 am to get there at 7:00. Pretty half moon again and uneventful trip. As I was paying for parking, the attendant said "the weight pull malamutes! I was watching it last night, what a lot of fun!". Got the registration desk all setup again, but it was slow for me while conformation was going on. Had lots of time to chat. The boys were conked out in their crates.

More Wildpaw people attended! Maria was there! Again, Dianne & JD, April & Ashley and later on Patty made it! Everytime I saw April it seemed like she had a brush on Jelly, her fluffy boy and I was teasing her about it both days. Then I saw her with Patty's Ziggy and she had her brush on him! LOL! He's also pretty fluffy, the cutie patootie!

One of our novices, Freightliner was back again. His dad was there from Connecticut and I hooked him up to talk to Dave Gallagher about the pulls up there so that he can continue to keep Freightliner involved. He also borrowed Cinnabar's old harness when the spreader bar detached on his Black Ice freight harness. Freightliner is a rambunctious boy who really improved the first day. Rich said that with Cinnabar's harness on he really got into it, that it seemed like magic. I love when the light bulb goes on for them!

Barb was there both days with Bee Gee and Trace. Trace looked awesome in his new harness and must've known it because each day his first time in the chute he just stood there modeling the darn thing for a while and then decided to work. Trace also did well in his Obedience Trials both days. Bee Gee did really well in the chute both days. He and Cinnabar got some play time together on Saturday, too. Those boys love each other :)

Eileen was there again with Kodi who had just been outstanding the day before. He's been heading to the side of the chute and she's trying to get him to pull straight and he's improving. Again this day he did very well. On his final pull he had trouble, but he never gave up, super improvement and I was so happy for her.

Michele & John were there again. She was pulling Tundra & Nikko. Nikko did great the day before, he's more focused on the higher weights than he has been. I'd really been rooting for him the day before and again this day. Again, he was more focused for her. Even moreso than Sebastian, all he has to do is lean into it and the lightbulb is starting to go off for him!

Laura was there with 'Nook and while she passed the empty the day before she didn't do any other passing. He did well, but she felt she tired him out. So she lived on the wild side and passed the empty cart, she also passed a couple of rounds. He did well again! He's also a different dog in the crate while waiting for his turn. Not so anxious if his mom is out of sight, he's a good boy. Laura also worked hard both days, with weigh ins, cart help, chute vacuuming before the pull. Appreciated!!!

George was there with Beowulf both days. Beowulf did very well both days, but his first time on carpet in a wheels pull. It's different traction for him and a good learning experience. He pulled 3450 the first day and at least 3000 the second day.

Shawn was there with Takanni both days, who also did very well both days. He's such a sweet boy and has come so far in his first year of pulling. Shawn also helped on the cart.

A fan favorite was there, Bruin! He joined Sebastian and Nikko in the unlimited class. He has to bark his way down the chute. He's fun to watch as he barks the cart moves, then he walks and it moves some more. If he pulled more often he would be a force. He did very well.

My niece Erica and her boyfriend Luis stopped by, and it was wonderful to have them be able to see what I'm always talking about with weight pull. Luis took a ton of photos of the boys during their mom time before a pull and got photos of their first 3 rounds. They looked wonderful in the preview window and I can't wait to see them all. Luis has a good eye, he says it's the camera, but no, he's got a good eye for photos.

We'd lost some dogs from the day before, but gained some as well. We had 39 dogs pulling, another wonderful entry. We started earlier this day 2:30.

We had even more spectators than the day before, as there were more conformation events and people out on a Saturday for a good time.

We again started out at 600lbs with 150lb increments.

Sebastian was having fun, but was leaning toward "yawn". I double passed him the whole way. On his 2700 pull, he got distracted with dogs walking in the distance. He was in what I call his ADD "oh, shiney" mode. I whistled and he snapped to and pulled it. On his 3000lb pull he had a couple things to say, and I again pulled him in with my arms waving toward me saying "lean, lean" he did lean and finished the pull to lots of praise. Roseann was laughing and said it was like a mind meld type of thing to watch - LOL! I checked his percentage on that pull, which was 21.13 percent, enough for an X leg and since he'd already won his class withdrew him. He wasn't having as much fun as the day before and I wanted it to end on a good note.

With Cinnabar, I also double passed him to 3000 lbs. I again worked with him to correct the backing up and talking business. A sharp no for the unwanted behavior and then a happy yes when he works. I heard laughter when I was encouraging him on his 3000lb pull, and knew it must've been another 1-900-Sheryl moment - LOL! Michele told me they were going to make a booklet of all my sayings! On his 3150 pull, there were several sharp no's for him and the seconds were ticking away, then he dug in and I encouraged him like crazy and he did it. I withdrew him on that positive note.

Ranger and Raider again went head-to-head for MWP, with Ranger getting it. Cassi again got Best Body Percentage and another Brockway Hood Husky donated by Steve and Peggy Anderson. This one was the award Steve had there for last year when we got flooded out. He had it reingraved for this year. I found out I wasn't the only one that hated hearing anything on the loud speaker because it reminded them of all the announcements last year during the flood. Thankfully all sunshine for the pull this year.

I went to get the car to park next to the building so I could load up easily. When I got back they were handing out awards, perfect timing. What a great group we've got and what a wonderful event this is. This year's awards were donated by the Martins. The Anderson's donated the Brockway Hood Huskies. Brenda & Val had their special challenge awards which were awarded to Ranger for MWP 2 days in a row (also had to be over 2400 lbs pulled) and to Cassi for BBP 2 days in a row. Over the two days I did have time to have chats with lots of people, watch the improvement of lots of dogs, watch the antics of novice dogs (one JoJo, who Brenda pulled for Carlene who at this point lays down, gets up pulls a little, lays down again and then after the pull was over just pancaked). There's so much I've left out, so many good people & dogs.

Michele, Eileen & I all brought our gloves to have some catch, but it never happened. So while I was breaking things down to pack the cart I tossed the ball to Michele & she threw it back, so that was our catch. Eileen said maybe we'd have a better shot at CampNPack.

Lots of hugs & goodbyes. Laura helped break down my crates, bless her heart. A couple little rain drops started as everyone was loading up, and we were able to joke about last year's flood when we all high tailed it out of there just ahead of rising water.

Was out of there by 8:00pm, with a very uneventful trip home. We all crashed for a wonderful night's sleep after two long, tiring fun filled days.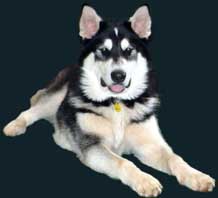 website design by Sheryl
bordered background by Sheryl
© 2005
all images © Sheryl Franklin unless elsewise attributed
all Alaskan Malamute sound files © Sheryl Franklin
website hosting by FranklinCommunications
domain name by DomainRegister.com