Sheryl's Alaskan Malamutes - Activities - Weight Pulling - IWPA - LaFayette, NY - March 24, 2012



Weight Pulling

March 24, 2012 - IWPA - Wheels Weight Pull - LaFayette, NY
A nice starry sky started us out at 5:45am on our trip to our last IWPA weight pull of the season. We ran into Di Ane, her mom and her bulldog Macha at the turnpike rest stop, headed for the same destination. We made another pitstop at the first rest stop on 81, just north of Scranton. I was getting the boys read to take their pee break when a bus pulled in and as the crowd got off the bus they surrounded us. I didn't have them out of the car yet, just the big heads out of the window and I left it like that until the crowd thinned a bit. They loved the attention and were both good boys. The rest of the trip was blessedly uneventful.

Organizers Steve & Joan Albro have put on pulls before, but this was their first pull at their new residence. Just two miles off the exit from 81, we pulled into an already crowded scene. Joanie directed me to where I could park and gave the ok for where I wanted to set up my boys. Shawn carried Sebastian's crate for me, which I appreciated. His is large and awkward to carry. After they were setup, Joan directed to me to the paperwork area in their converted garage. There was already a spread of food setup. This was Joan's birthday, hence they named the pull the Birthday Bash. They are renovating the older house which sits across from the barn on 7 acres. They've already got some kennels setup for their APBTs, and on the other side of the yard they've got a nice chicken coop. Steve constructed a permanent gravel chute for weight pull. Terrific setup.

First time this year I've gotten to see some of the regulars from Lisa's pulls, as other than snow pulls I've stayed in PA. Di Ane still wasn't there, and I was concerned as she'd passed me on the turnpike. Sara was also travelling from PA and she wasn't there yet, either. But, wow, what a crowd there already. The Malamute crowd included the Gallaghers, Todd, Michele, Eileen, Steve & Peggy Anderson, Shawn, & George Popp. Of couse Steve & Wendy were there with their Alaskans. Kari with her Sibes & Alaskans. Lots of Sammies with Bev, Jen & Diane G in attendance.

Sebastian was a little bit of a baby as he weighed in at 142, just had to talk about it! Cinnabar was his sweet self, weighing in at 112.

And the cars kept coming. One of them included Laura with her Mastiff, Noble who tips the scales over 200lbs. I was hoping she was coming. This is Noble's 3rd pull, so he's still learning. I had a nice chat with her, she's from my old stomping grounds and we went to the same elementary, junior & senior high schools.

Sara pulled in with Bean and Caber. Shortly thereafter, Di Ane pulled in. Her directions told her to go south on rt 11 instead of north. Glad she made it!

Steve Jackson was our chief judge. Lots of judges in attendance, Wendy, Steve Albro, Diane G, Eileen, Bev and myself. I was able to take photos and not judge, which was ok with me, because then I was also able to play social butterfly and catch up with everyone. I didn't get photos of Pixie in the 20lb class because I was chatting with Steve Anderson. Other than that, I've got photos of the 40 lb class (50lb increments), 60lb class (100lb increments), 80lb class (150lb increments), some of the bigger dogs, but the bulk of the photos of the 100/125/150/Unlimted classes (150lb increments) Di Ane took for me. (Cart weighs 250lbs).

I believe we had over 40 dogs pulling pro. The novice class had around 10.

Old man Starbuck took the 60lb class! This is his last season, as he's 12, and it looks like he will get an invite to championships. Coming in second was Jen's Ava the Sammie. Wow, has Ava come a long way. Digging in, working, she looks good. The only downside is that she discovered her Sammie heritage and did a lot of barking prior to getting down to business on her later rounds. LOL!

I kept a sharp eye on the 80 lb class to see how they did. As the chute is new, it's still soft. As it ages, it will setup nicely, but for right now the middle is soft. It also started raining during that class and I wanted to see how the chute handled it. Todd's Milo pulled 1650, with Macha coming in 2nd pulling 1500. Based on that I decided to bring my boys in at 850 lbs.

The light rain went away to everyone's relief.

Cinnabar did great on his first pull. Sebastian did fine, but stopped just as Wendy said "pull", and everyone laughed when I said "Thank you for measuring" to him. While they did alright, I was still concerned about that middle. New chute, new cart and I went conservative deciding not to pass them.

I alternated them in the order, so that after Sebastian's first pull I kept him out of his crate for mom time and pulled him in Cinnabar's place. After Cinnabar pulled that next round I kept him out of his crate so he got his mom time, and so on. Wendy was judging, which is great because Cinnabar loves to hear her call out "Cinnabar is up!" and he prances into the chute.

They both pulled the 1300 lb increment easily.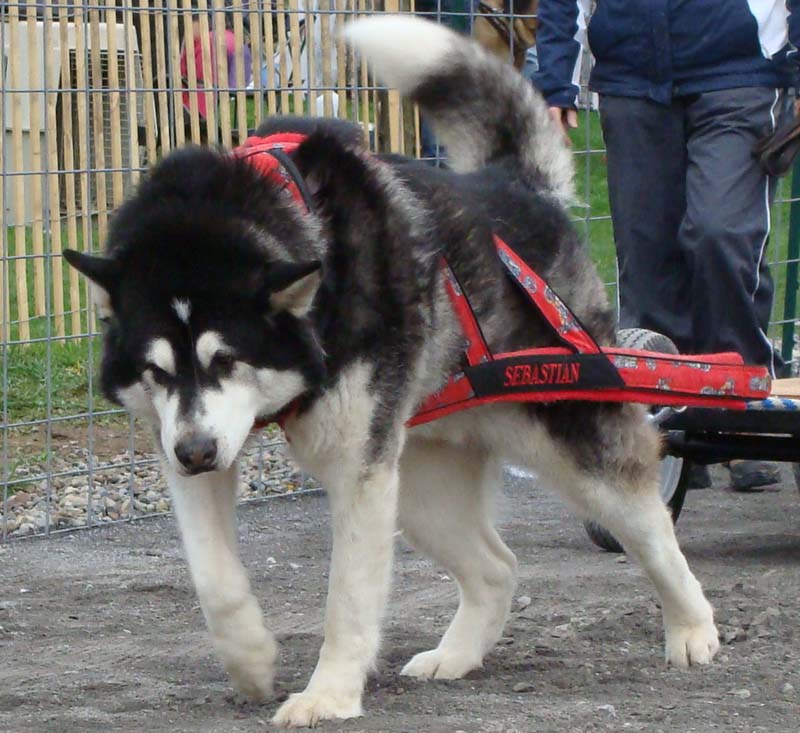 Sebastian pulling
On the 1450lb pull, I watched the dogs ahead of Cinnabar and that chute middle was a struggle. Cinnabar started it with no problem and then started to get bogged down. He talked and backed up and I told him no. He tried again with the same results. I motioned to Steve & Kari at the back of the cart to push it when he gave me another effort. Cinnabar looked so relieved that he pulled it. Wendy said when he was digging in for me, the gravel was being pushed to the side by his front paws and he just wasn't getting a grip with his back paws. The good news is that he won his class besting Tundra & Caber getting 7 points, just enough to get a medal for the season.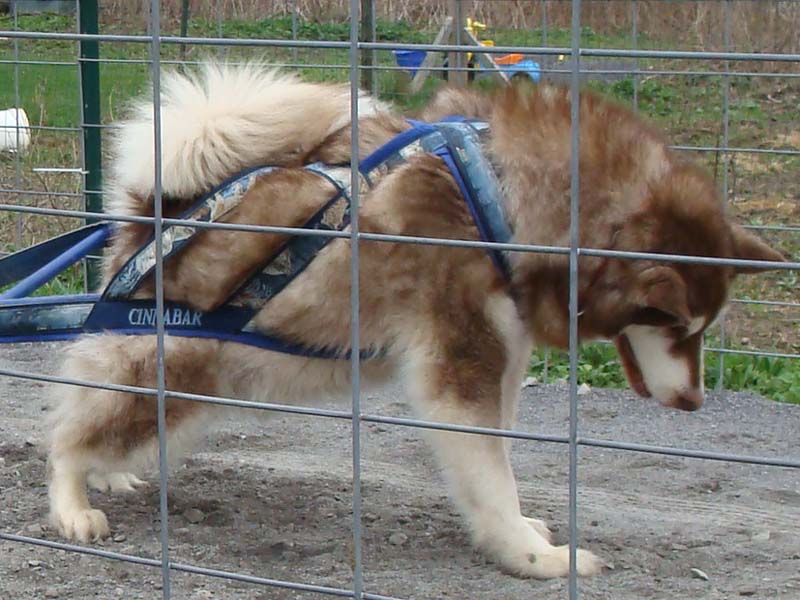 Cinnabar digging in
Sebastian also easily started his 1450lb pull. The soft middle also got to him. He did some talking and I wooed right back at him and he tried again. He was digging the dirt, and then decided to lay down.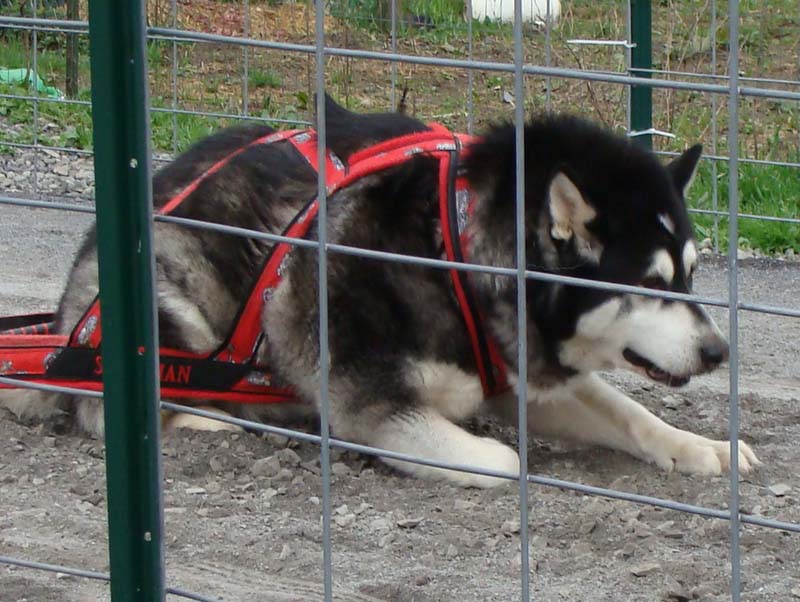 Sebastian letting me know he didn't like that soft stuff
He did get right up and while he did that I motioned to Steve & Kari. Right away the goofy boy gave me an effort and with their help starting it, he pulled it right through.
Sebastian was pulling against Luke in the 150lb class. Todd had skipped the 1300 round. Luke also got stuck in that soft middle and went out on the same round as Sebastian, so the goofy boy got first.
Michele's Nikko (unlimited class) was still in. He did a good job for her, he's coming along nicely. His competition was Noble the Mastiff. He ended up pulling 1900lbs taking Most Weight Pulled. The look of his mom's face when she was handed that trophy was priceless. I'm thinking she's hooked on the sport.
The other trophy, for Best Body Percentage went to Cassi! That little girl rocks!
Ranger took first in the 100lb class, with Beowulf coming in second.
After the awards were over they got into novice class right away. I was glad for that because I wanted to get a photo of each before heading out and I was able to do just that. Then I packed up and went on my farewell tour giving hugs and chats before taking off.
We encountered light rain at various points along the way, but had an uneventful trip home. Traveling back on a Saturday evening versus a Sunday evening is nice, at least 2/3 less traffic. This was a long day and the boys just crashed after expressing their usual delight in rediscovering their yard.
Thank you Steve & Joan for putting on the pull! I asked Joan if she was having a good birthday, and she said there wasn't anything else she'd rather be doing.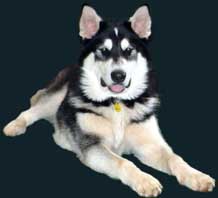 website design by Sheryl
bordered background by Sheryl
© 2005
all images © Sheryl Franklin unless elsewise attributed
all Alaskan Malamute sound files © Sheryl Franklin
website hosting by FranklinCommunications
domain name by DomainRegister.com