Sheryl's Alaskan Malamutes - Activities - Weight Pulling - IWPA - Tug Hill - February 11/12, 2012



Weight Pulling

February 11/12, 2011 - IWPA - Snow Weight Pull - Lorraine, NY
On the road by 4am. The forecasters said the falling snow was nothing to worry about and they were right. Light snow accompanied us for the first 2 1/2 hours, with the moon playing peek-a-boo through the clouds. The only worry was intermittant fog in some of the higher elevations. Had a nice chat with the toll taker at Scranton, who remembered my boys from last year. Got some sun around Binghamton and then it clouded up again. The boys enjoyed their rest stop breaks and the attention they got from fellow travelers. The roads were great until we got off at the exit for the pull. Those last six miles we went slowly on the snow covered roads, but I was grateful they at least dropped off some salt that had parts of the snow melted. We pulled into the CCC camp in Winona Forest around 9:45am.

We were among the last to arrive, but it wasn't crowded as the sled dog races had already been postponed until March. Our chute was in a different place this year. Regina and Frank had made sure to set the chute up with snow on Thursday, and worked with Steve when he arrived on Friday to get it ready. Mother Nature nicely cooperated by dumping a little more snow on Friday night.

Sebastian weighed in at 138 and Cinnabar at 112.

Steve & Wendy were there with their Alaskans, Michele & John with their gang, Eileen with Kodi, Regina with Corky, Indy & PJ, Kari with Ghost, Solo, Keisha, Moxie & Booth, Dan with Etah and Valko, Diane with Saavie and Trinka, Jennifer with Ava, Lisa with Quincy, Dave with Ally, Cuda, Takani, Cassie and Ranger.

We had 3 dogs in the 40lb class (40 lb increments), 11 in the 60 lb class (80lb increments), 10 in the 80lb class (80lb increments) and another 6 in the 100/125/150/unlimited classes (120lb increments) and then about 8 dogs pulling novice. Steve judged the 40s, Eileen the 60s, Diane the 80s and Wendy the big guys. I judged the novice class. I got pictures of the 40 thru 80 classes, and Eileen got shots of the big dogs and novice for me.

The chute was uphill and very tough in the soft middle. If a dog stopped or moved the sled side-to-side they were rutted in that soft snow. Some were able to pull it out but most not. We groomed the track in between each class, allowing the next class to create their own ruts.

I passed the empty sled for both boys starting them off at 220lbs. Sebastian was flying along on his 580 pull, when he stopped short of the line. He did try to start it, but that sled was stuck in that deep snow, so on his next effort Steve saw me say kick it and when the big boy dug in he was pretty pleased with himself thinking he made it. Cinnabar pulled the 580. On his 700lb effort he was talking and they kicked it for me when he dug in. Really tough chute. I think this was the toughest snow chute I've seen. Ranger got MWP and I think Booth got BBP.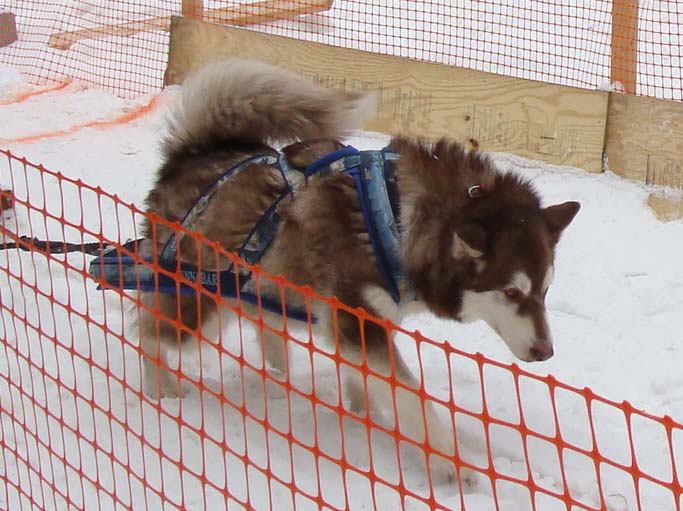 Cinnabar pulling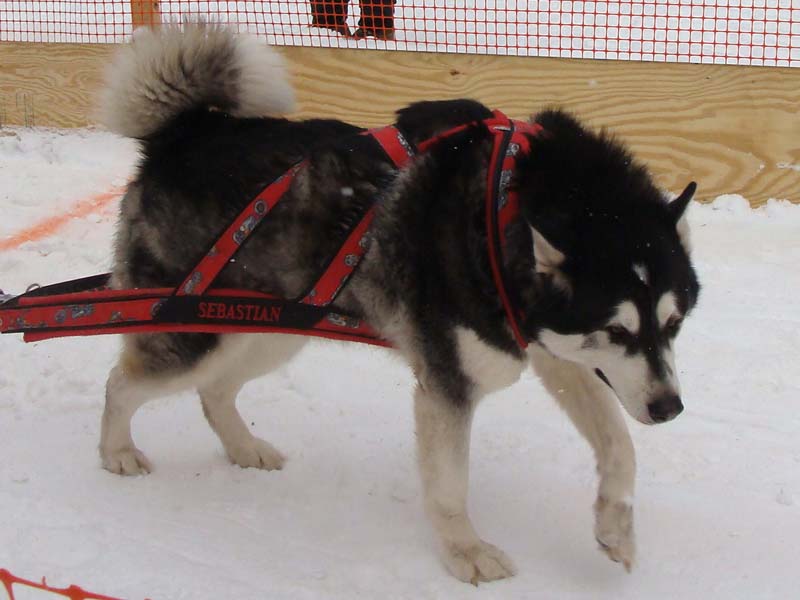 Sebastian pulling
Then the novice class pulled. Diane had her two Sammy youngsters, Regina had two, Steve had Milo (who did well and we teased that it was the harness - he got him out of that leopard harness and into a real harness and Milo responded), Dan had his Sammy pup Valko and I forget who else. Dan is 85 or so, and he's training and pulling a puppy. I love it. I also love that Valko is awesome. He was the hands down winner of novice, the little work-a-holic.
We held the awards in the building that serves as sort of an office for the camp. Diane also brought a big bag of milk bones, 1 for each dog that pulled.
Then we were off to the pot luck at Regina and Frank's house, just a couple miles away. Not wanting to poison anyone, I bought potato salad as my contribution. Those that can really cook, brought crock pots & hot dishes, and Regina and Frank had made beef stew. We had a good and relaxing time sitting around munching away and talking dogs & weight pull. Everyone contributed so well, there were lots of left overs for Regina and Frank.
Checked into the motel. I stayed at this place two years ago, but now it's called a Travel Lodge. The main website says nothing about a pet fee. He wanted to charge me $10/dog and I politely challenged him on that and when all was said and done he charged just one fee of $10. I booked the room a month ago, a queen. But it wasn't available and he gave me a two double bed room for the same price. I think he gave away my room prior to checkin. I was mildly annoyed, but not the end of the world. I didn't like that the room he gave me was not at the main place but across the street. Again, not the end of the world. I was tired, been up since 2am and just wanted to crash. Opened the door to the room, and it was obvious he'd made a mistake, the room was under renovations. So, back across the street and he got me another room across the street. That one was fine.
Did my best to get all the chewables put away, but Sebastian did eat one of the soap bars. Then as he checked through the room and realized their was nothing to get into, he took the tray off the dresser and was going to dig into that, but gave it up when asked. Frustrated, he took a piece of paper and jumped on a bed and tore that to shreds. I'm fine with that. They both crashed pretty quickly, and so did I watching TCM.
The next morning after I got the boys in the car, I put back all the chewables to their proper places and left the room spotless. Brushed the dusting of snow off the car and was heading out to gas up and saw Eileen drive over from across the street. She wanted to know if I was going to stop at Mickey D's and then she'd follow me over the 20+ miles to the pull site. Told her I had to gas up first then meet her there. Who knew gassing up was going to be an adventure. I finished gassing up the car after fuming about it being $.25 more than in PA and opened the car door to find Sebastian with my purse in the back seat and my check book in his mouth. He's never gone after my purse before. I grabbed the purse, but had to trade him a treat for the check book. Then I couldn't find the credit card I knew I had in my hand. Minutes of furious searching and I threw my keys on the car seat and there it was, stuck in with my keys. Whew! Sebastian, why do you have to create drama?
Eileen was ready to send out a search party by the time I got to Mickey D's - LOL! Grabbed an egg mcmuffin and we headed off. Light snow on the highway, and again once we got off the exit the roads were markedly worse. We had a nice slow drive to the CCC camp. We were the first to arrive and we setup after munching breakfast. Everyone came in pretty quickly then.
We lost Jennifer & Ava from the day before. There was evidently a lot of snow around Ithaca. Uh oh, I'm driving through there later.
The sun was out and it was much, much colder than the day before. The chute was now hard packed by comparison to the day before..
Steve judged the 40s, I judged the 60s, Diane the 80s and Wendy the big dogs.
Etah looked great for Dan early on. Then on one pull, he decided to bark for 59 seconds. Just as the word time was about to come out of my mouth, he busted out, and quickly made the pull. It would've only taken him 5 seconds if he'd forgone the barking - LOL! He pulled another round after that, only taking 45 seconds (guess he was a little hoarse and cut the barking short).
Starbuck looked great in the 60lb class. He really worked for Wendy. He was one of the last 4 dogs left when they withdrew him. The pull that kept him with the last four (Cassie, Mole, Junior, Starbuck), he pulled his heart out after leaving it a couple inches short. Every time he hit it, the sled moved another inch toward the finish. Wendy was so engaged with him she didn't hear me yell pull. I told her you got it, you got it. She was so happy with him. Junior went out in the next round, leaving Cassie and Mole. Cassie looked great, but on her last pull she left it a few inches short, which was obviously the toughest part of the chute. She tried moving it but just couldn't get it. Mole busted right down the chute and took the class. They were in the 900lb range, if I remember correctly.
It was similar for all the classes, if the dogs kept moving they finished it. If they stopped at all they had trouble restarting. If they moved the sled to much side to side they had trouble because they created their own ruts and made it tougher.
As with the day prior, we groomed the chute in between each class.
Given the weights being pulled, I thought my boys would enjoy the pull. Last year at this pull, Sebastian did really well working for me. I passed the first two increments for him, so he started at 380lbs, which he easily pulled. I passed a round for him. But, he lifted up his left front paw as if it hurt and gave a half hearted try. Then other paws. The chute was still in the shade and sometimes when it's bitter cold he does this for a few minutes until his paws get used to the cold. Well, he milked it for all it was worth and I had them kick it when he gave a minimal effort. We trotted back to his crate and I was asking if anyone saw any limping. Regina did, thought it was slight but his right elbow. Well, that wasn't the paw he made the big deal about in the chute. I took his harness off and crated him.
With Cinnabar I passed the empty cart and single passed him until 760lbs. He was really busting it down the chute once he stopped playing "shy butt". Swinging his butt into position for Kari to hook in a timely manner was a challenge, but we got there. Wendy loves judging this class because every time she calls "Cinnabar is up", he perks up, waggles his head and prances.
Cinnabar's competition was Tundra who was really looking good again this day. She's 8 years old and her ears are starting to come up finally. She's such a pretty girl with her floppy ears, but then when she puts them up she's a total stunner. She worked so hard for Michele. I was happy for them both.
On his 940lb pull, Cinnabar again busted down the chute in 6.66 seconds. Only he and Ranger were left pulling. If he continued busting down the chute he would give Ranger a run for his money on MWP. But, on his next round of 1060, I turned around after crossing the line to see him just standing there. I kneeled down and looked at him, as soon as he made movement I encouraged him, but it was time for him to talk. I shushed him and asked Steve to kick it the instant he tried. Which he did and Cinnabar busted down the chute again. I think the only way to get him out of that talking and backing up business is for them to kick it on his first try and get him used to that happening so that he thinks he pulling it. He did a good job for me and I was proud of him. He's so proud of himself when he's pulling toward me in the snow, he just beams.
In between Cinnabar's pulls he was getting lots of love from everyone. People were commenting on how forlorn Sebastian looked watching Cinnabar get that attention. Well, that was good for him. See what happens when you work?
After Cinnabar was done, out of harness, treated and crated I took Sebastian out and trotted him around. I couldn't see any limping and he took the opportunity to jump up and put his paws on my shoulders and look me in the eye. The big goof.
Got everything packed up and got the boys in the car. The chute was down in no time, and then we had awards. Hugs and good byes and we were on our way about 1:45pm.
I was concerned about those snow reports further south. We made good time to Syracuse and then I saw a few flakes. It really starting coming down around Lafayette and then it was a white out. Obviously a snow band, because that passed after a few miles. But, then there were more snow band white outs and the wind was really whipping buffeting us quite a bit. In the miles between the snow bands, the nasty wind caused snow drifts across the highway. A slow drive to Binghamton and the sun came out from there to Scranton with some flurries but nothing threatening. After Wilkes Barre, more driving snow, but not the vicious winds of further north. It was coming down heavily around Mt. Pocono and totally let up by Jim Thorpe. Once through the tunnel, as always a different weather pattern, and it was clear sailing the rest of the way. Got home to starry skies by 7:45, fed the boys after they bounced around their own back yard and just crashed.
Our last snow pull for the season. Our next pull is close to home and I won't miss traveling.
More photos of Sebastian and Cinnabar, as well as all the dogs
Pull results on PA Sled Dog Club site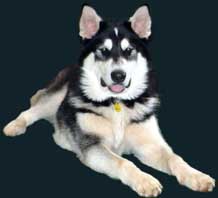 website design by Sheryl
bordered background by Sheryl
© 2005
all images © Sheryl Franklin unless elsewise attributed
all Alaskan Malamute sound files © Sheryl Franklin
website hosting by FranklinCommunications
domain name by DomainRegister.com