Sheryl's Alaskan Malamutes - Activities - Weight Pulling - IWPA - Port Clinton - January 29, 2012



Weight Pulling

January 29, 2012 - IWPA - Wheels Weight Pull - Port Clinton, PA
A nice starry sky, along with a pretty pre-dawn sky to the east was our companion on our blessedly brief trip to Port Clinton. Chilly morning, but not cold.

Pulled into the playground area and got the boys setup, while Dave was getting their furkids setup. Missy had a 9-12 shift, so she blew in just briefly before heading off to work.

I handled registrations and helped with the weigh ins. We had a light turnout for the Port for two reasons. One, there was a pull in Lake Placid, NY and two, many people with non-fuzzy dogs didn't want to brave the chilly day :)

Cinnabar weighed in at 109, Sebastian at 139.

We had a decent sized novice class of 10 dogs. Dave handled the novice class. Shawn's two in novice did very well, it was obvious their training paid off nicely.

I got photos of each of the novice dogs, and each of the pro dogs got photographed. 2 in the 40lb class, 2 in the 60lb class, 5 in the 80 lb class, 7 or 8 in the 100lb class, 2 in the 125lb class and 1 in the 150lb class. Thanks to Amy for taking photos of the big dogs.

Barb & Jenny were there with Bee Gee and Trace. Bee Gee was so glad to see Cinnabar, and the reverse was also true. Except when Cinnabar was crated and Bee Gee nudged under the sheet covering the crate, Cinnabar gave him a warning growl. Guess he likes his crate space, but other than that he adores Bee Gee. Barb pondered how well Bee Gee would pull if Cinnabar was standing at the end of the chute, he gets that excited when he sees him.

Dave Heffelfinger was our chief judge. I judged the 40lb class & 60lb class (90 lb increments), pulling together, as well as the 80 lb class (135lb increments). Dave judged the 100/125/150 classes ( 180 lb increments). Jenny was our score keeper, and her booming voice called out the order.

The combination of snow melt from the week prior, along with subsequent rain left the chute a little messy. The 40 & 60 lb classes ended quickly because of dogs not being able to get the cart out of a rut. The 80lb class saw Barb's Trace leave after a few pulls. He was so prissy about his paws getting muddy, it was pretty funny. That left 3 bulldogs and a pressa. The higher the weights, the slower the trips got to the end of the chute. Dave's Buell went out first. Dave's Fatboy kept turning around and looking at the line - "have I gone far enough yet?". Di Ane's Macha just kept pulling slow and steady. Tana's Jack was stubborn about getting into the chute, but was a pulling fool once in there. She ended up carrying him into the chute, and not happy that it was caught on camera - LOL! Macha won the class, pulling over 39% body percentage.

During the final rounds of the 80lb class some folks showed up with at least 4 bull dogs. They were just inside the park, near crated dogs. I asked Dave if he knew who they were and he said no. So, I went to talk to them. I told them their dogs were beautiful, but they either needed to be crated or out of the park, as we didn't want to distract competing dogs. They were very nice about it, and took the dogs out of the park. After the 80lb class was done, Dave, Missy and Tana went and talked to them. They had evidently come from NJ, gotten lost and were there late. They'd wanted to give weight pull a try. Maybe we'll see them at a future pull, since they know the way there now.

The 100lb class included Shawn and Tikanni, who beat his previous high. Laura's Nanook was being very malamute this day. He was very lackadaisical in the chute. Barb's Bee Gee did well for not having pulled in some time. Diane and her Brie (Rotty), also did well for their 2nd pro pull. Missy's Homer did well, but he was also just strolling down the chute. Missy's Evo did great (and he still gives the best face washes). George's Beowulf was awesome! He got MWP and BBP again. Coming in 2nd in MWP was Evo.

I started my boys at just over 1000lbs and always double passed Sebastian. I single passed Cinnabar, then no pass before his final pull.

Sebastian pulled everything pretty easily. On his 2nd to last pull, he was rolling along and then decided to go sniff the fence. I got hot immediately, that just wasn't called for. I yelled out, "get your ass over here" which he did instantly and then with my Sarge voice was calling out "move, move, move" rhythmically at least a foot past the line. To my surprise, everyone was talking about it. I evidently got everyone's attention because the "get your ass over here" was said very authoritatively. Missy said they were all ready to come down there and salute me - LOL! She said Evo almost pulled her down there when he heard my command. Tana had never heard that voice before, saying she was just used to my positive reinforcement in the chute. I do like to be positive, but what he did was just bratty and uncalled for. They were all still talking about it and teasing me after the pull. On his next round, Sebastian again started the cart easily but left it a foot short in soft mud gravel. I didn't leave him there long, but had them kick the cart on his second attempt. He ended with 2100lbs. About 1000 less than the last Port Clinton pull. That's how degraded the chute was.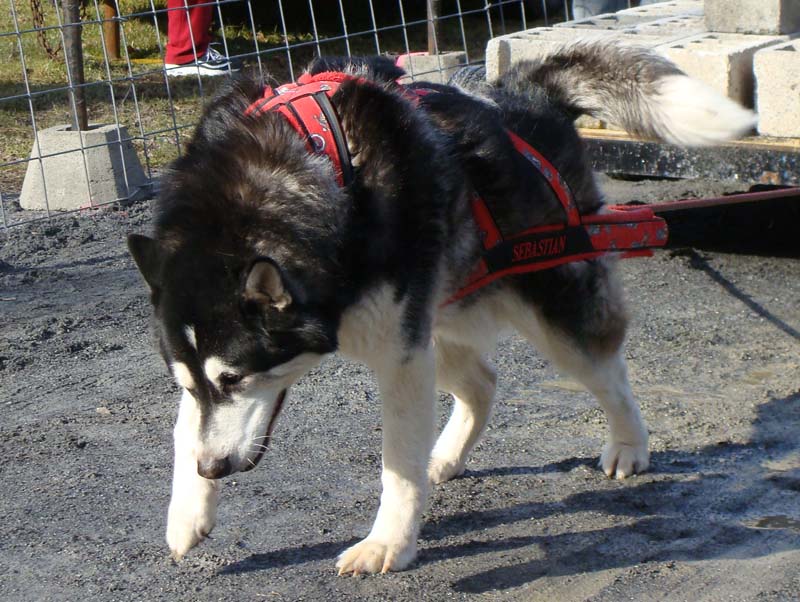 Sebastian pulling early rounds
On their early rounds I give them their pep talk in the chute and then run way past the line, expecting them to essentially be right behind me. On Cinnabar's first pull, he was just standing there looking at me. He came as soon as I called him, and I realized I gave him too short a pep talk. I rectified that on his next pull and as usual he was already headed toward me before I turned around. Sara's rottie Caber was his competition in the 125 lb class. He's been doing very well since his light bulb moment earlier in the season. I kept an eye on his progress, while gauging Cinnabar. On his second to last pull, he talked a little, but dug in when I asked him. I decided his next pull would be his final one regardless of whether or not it was successful. He'd already won his class. During his pep talk, his tail was wagging and I told him this would be his last pull. On that final pull, I got down on one knee over the line and said nothing to him. He looked at me, backed up and talked, then I called him. He talked a little bit more and I told him to dig. Bless his sweet heart he did, and I withdrew him. So he ended with 2640, 1000 less than the last pull at the Port.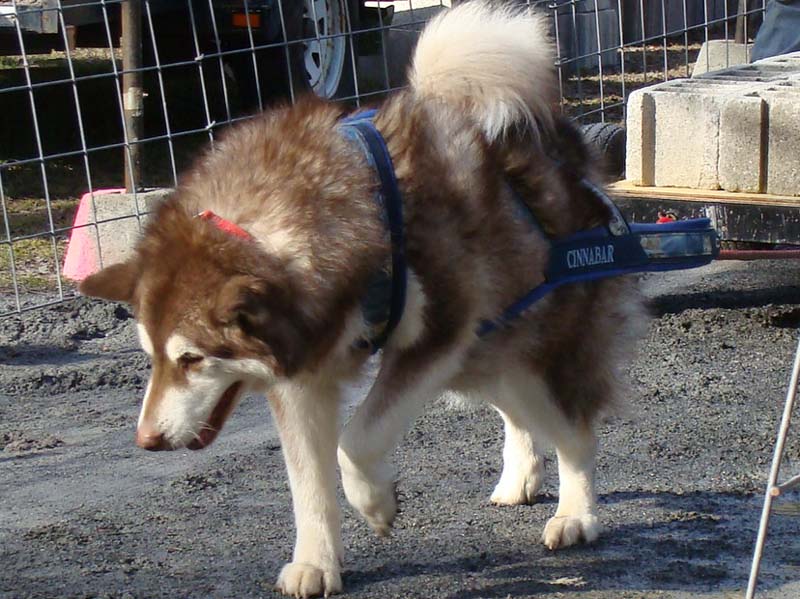 Cinnabar pulling early rounds
Di Ane brought a friend who wanted to see the event, and may get into it. Bless him, he was wonderful cart help. With the early classes, he watched the cart help but loaded the cart. Then at some point for the 80lb class he was braking. For the big dogs, he hooked. He was also right in there when it was time to unload the cart after Beowulf pulled a couple more rounds, ending around 3500 lbs (about 500 lbs less than the last Port pull). We had a nice group getting that cart unloaded and tearing down the chute, making short work of it. Then we had the awards, people packing up and some of us just hung out for conversation and teasing me and saluting me for the "get your ass over here" command - LOL!
Tana has worked getting the K9Jym to let her give weight pull classes. We talked about the possibility of having some summer pulls there. It would be inside and on carpet. She's looking at the logistics of that happening. But, for now, there's lots of folks happy about a place to go to work their dogs. It's exciting!
Next pull at the Port is the last Sunday of March.
Thank you Missy and Dave for putting on the pull!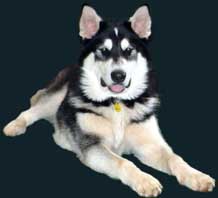 website design by Sheryl
bordered background by Sheryl
© 2005
all images © Sheryl Franklin unless elsewise attributed
all Alaskan Malamute sound files © Sheryl Franklin
website hosting by FranklinCommunications
domain name by DomainRegister.com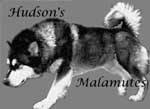 My Mals
Now
Sebastian
Cinnabar
Then
Wolf
Taylor

What's New
Purebred Dog Breeds into the 21st Century