Sheryl's Alaskan Malamutes - Activities - Weight Pulling - IWPA - Port Clinton - November 27, 2011



Weight Pulling

November 27, 2011 - IWPA - Wheels Weight Pull - Port Clinton, PA
Starry sky, followed by a beautiful pre-dawn sky accompanied us on our 45 minute trip to Port Clinton.

Pulled into the playground area and got the boys setup, while Dave & Missy were getting their furkids setup. Shortly thereafter Susan & David G pulled in, and many others followed.

I handled registrations and helped with the weigh ins. It was so busy I didn't have a chance to weigh my boys in until Missy was running the Novice event (19 dogs, including Sean & Tikanni).

Cinnabar weighed in at 108, Sebastian at 135.

Althougn it started out chilly, the weather was a gift as it got into the high 60s with mostly blue sky.

The Albros came in from upstate NY, as did Kendall and her amazing Gadda (Malinois). Todd came in from Connecticut and we had some others from NY and the rest were "local".

I took very few photos because I was judging quite a bit, but Liz took photos of the Novice, and big dogs (80lb & up), and Laura took the rest. Thank you!

Sebastian went into a swoon from his crate when he saw his adored Liz, the woos just didn't stop. I did get some photos of their lovefest.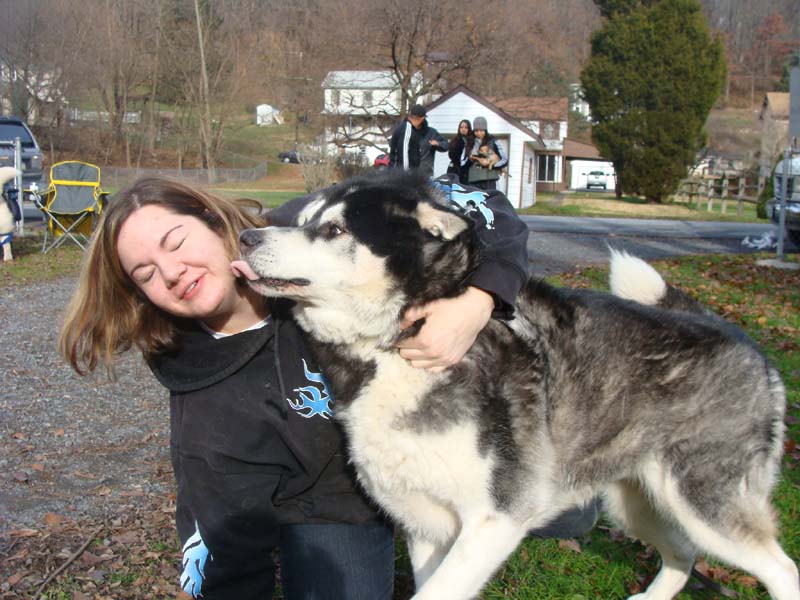 Dave Heffelfinger was our chief judge. I judged the 40lb class (6 dogs - 90 lb increments), 60lb class (around 14 dogs - 135 lb increments), 80lb class ( at least 10 dogs - 180lb increments). Dave judged the 100/125/150 classes (13 dogs pulling 225 lb increments).
The 100lb class included Sean and Tikanni, who'd done well in Novice. He did well pulling pro finishing with 750lbs, a wonderful first effort!
The chute was very good, hard packed fine gravel. It wasn't as generous as the last pull, as it got much tougher when the weights got higher..
While the 60lb class was running, it was obvious it was hunting season with all the slightly remote rifle cracks echoing around us. Poor Dixie (dalmatian) was shaking like a leaf and hanging tight with her mom, but she did manage to pull a personal best. Gadda won that class, also pulling a personal best over 3000 and getting Best Body Percentage for the day at 60something percent. Cassi pulled in that class (her first time pulling since her spay) and did a terrific job.
It was probably about 4:30 that the 100/125/150 classes started pulling. Laura lived on the wild side and went with the 225 lb increments and also bypassed the empty cart. I started both boys at 975.
Cinnabar was having a great time, getting lots of loving in between pulls from everyone. He was on his back for belly rubs for Todd and the Albro kids and Sean. I double passed him quite a bit. The dusk to dawn lights came on when we got to around 2000 lbs on the cart. Thank goodness or we'd have been pulling in the dark or car headlights. He successfully pulled 3225 (29.86%), but in 23.69 seconds because he started talking. On his next pull of 3450 he was talking and backing up and given only a token effort to try. I want him to try, and guess what he dug in and pulled it! The bad news is that he started doing that the instant that Missy said "time". He was edged out of 3rd place on time by Harley. Either Luke or Valiant took first, with the other one taking second.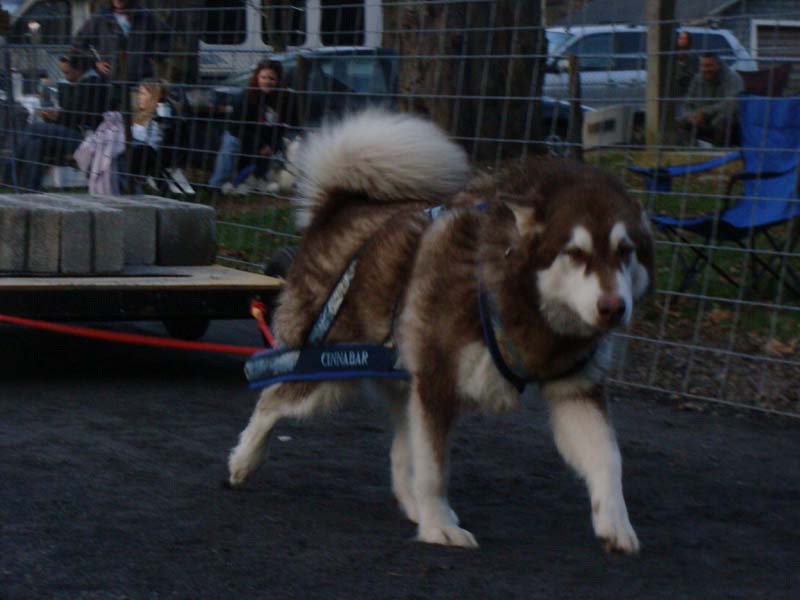 Cinnabar pulling his first round
Sebastian was having fun, and on his first round pull was wooing at Liz who was still able to take photos. How I wish she's been able to take photos for the entire class. He pulled, but was just hum-de-dumming his way down the chute the rest of the class. I double passed him until he completed his 3900 pull (11.56 seconds & 28.88%), then I single passed him. On his 4350 pull, he gave just token effort to start. He dug in and looked good doing it, but wasn't really putting effort in and I motioned to Steve to push. Sebastian's face showed surprise that his digging in worked and then he got into it. I was glad that Steve had enough light to see my motion because I don't want Sebastian to hear me say "push" because he knows what that means. Being solo in his class, he of course got first place.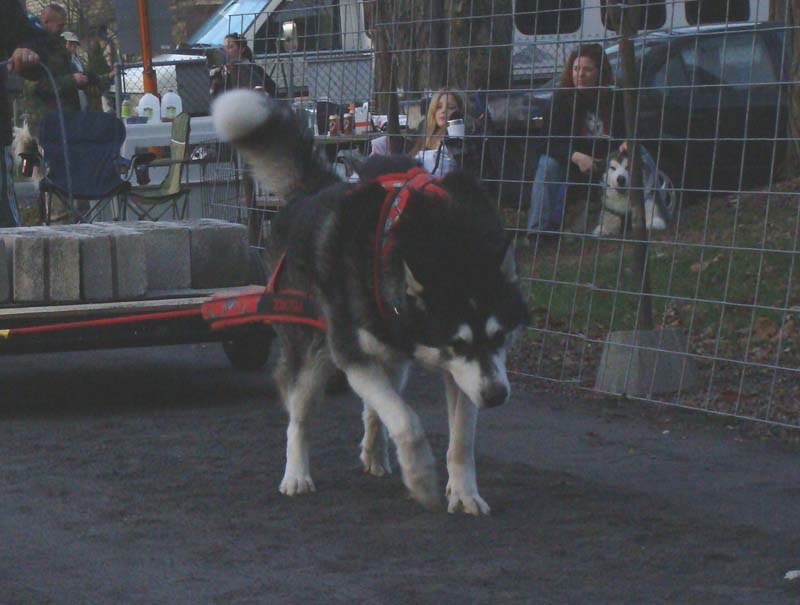 Sebastian pulling his first round
There were still 4 dogs in after he went out - Beowulf, Ranger, Luke and Valiant. Beowulf (a terrific malamute) went out first, coming in 2nd to Ranger in the 100lb class. So, either Luke or Valiant got MWP - not sure which.
After packing up and awards we were able to get out of there around 6:45 and home by 7:45. Good dog people, good dogs, a gift of weather - an all around great day! Thank you Missy and Dave for putting on the pull!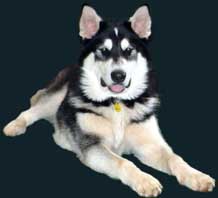 website design by Sheryl
bordered background by Sheryl
© 2005
all images © Sheryl Franklin unless elsewise attributed
all Alaskan Malamute sound files © Sheryl Franklin
website hosting by FranklinCommunications
domain name by DomainRegister.com