Sheryl's Alaskan Malamutes - Activities - Weight Pulling - IWPA - Port Clinton - October 16, 2011



Weight Pulling

October 16, 2011 - IWPA - Wheels Weight Pull - Port Clinton, PA
The gorgeous moon was out when we started on the road at 5:45. The very slight traffic made the trip only 45 minutes, what a delight to type that much less experience it :)

Because of a train event being handled on the ball field, we were setup further down in the park on the gravel fire lane next to the pavilion.

Got the boys pottied & setup in their crates, and then I went to work. My job was to do registration and help with the weigh ins. We had a separate novice pull running first, so while they were getting ready to go the pro dogs and their people were showing up. We also had a 50-50 raffle going.

What a gorgeous day, blue skies and in the 60s, just perfect!

Missy ran the novice pull. Liz took photos of the novice class for me (thank you, Liz!). While that was going on we had ample time to get everyone weighed in, registered and the score sheets setup and ready to go for the pro classes so we could start right after they were done.

Cinnabar weighed in at 108, Sebastian at 135.

The Albros came in from upstate NY, and I got to meet their gorgeous new puppies. The Gallaghers were in from Vermont. We had some come in from Pittsburgh, and the rest were "local".

I got photos of the 40 lb class, Tana took photos of the 60 lb class for me, I took photos of the 80lb class, and Joan took photos of the 100 & up classes for me. Thank you Tana & Joan!!

Dave Heffelfinger was our chief judge. I judged the 60lb class, Brenda judged the 80lb class.

The chute was terrific, hard packed gravel. They evidently regravelled it recently and it was to die for. The cart rolled even better than the ball field. Many personal bests were achieved this day.

The 60lb class was exciting for me to judge. When we got to the higher weights, Tana & Laura who were working the cart, worked hard for me to position it just right as there was a rut behind and one before the line where the cart was lined up. I didn't want anyone starting out in a rut. Electra won the class pulling over 3000 lbs. Angeline came in second, just shy of 3000 lbs & took Best Body Percentage, with 8 year old Cooper coming in third.

When that class ended, I was sitting at the registration table entering the increments for the 100lb class (180 lbs) on the score sheet and noticed that my friend Diana had come to watch. How exciting! Cinnabar was of course sweet to her, but Sebastian was a brat and barked at her.

The 100lb & up classes also did 180lb increments. Laura had initially wanted 135 lbs, but when she saw how well the cart rolled she relented to 180lb increments (4 45 pound blocks). Of course I kept teasing her that we were going to increase that to 5, maybe 7 blocks.

I started both boys out at 840 lbs.

Cinnabar was having a great time, getting lots of loving in between pulls from Diana. I double passed him quite a bit, single passed at one point so that he and Sebastian were on different rounds. When we got up somewhere over 3000 lbs and he had to dig to start it, I stopped passing him. He is such a good boy and just kept digging in. It was at that point that I also started clapping and saying "yes, yes" as he was pulling. Brenda always teases me about this, and this day was no different - LOL!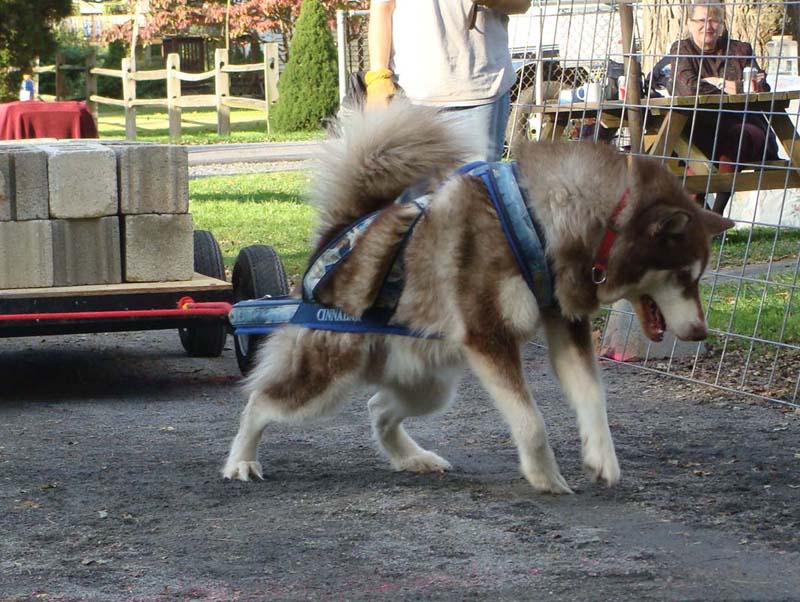 Cinnabar pulling one of the middle rounds
Cinnabar was in competition with Raider and Jaco (Dogge de Bordeaux) in his class. Jaco had pulled novice in September and novice earlier in the day and did well enough that his dad entered him in pro. He did really well, and once he realizes what he needs to do, he's going to be just awesome. Raider was of course, his awesome self. Cinnabar completed the 3900 pull. On his 4080 pull, he started his hi-ho-Silver routine. At one point he had both back feet out of the harness, but got one back in and then tried to pull. It wasn't to be, and they pushed the cart on his final attempt and that sweet boy dug in worked hard and was so proud of himself.
So he finished at 3900 lbs, 36.11 time his body weight.
Here's what 3900 lbs looks like from the side (taken by Megan):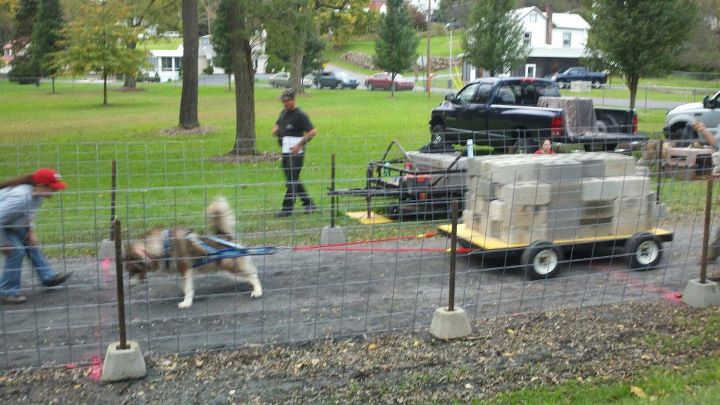 Cinnabar pulling what I believe to be 3900lbs
Sebastian was having fun, but was also in a semi-working mood. I was concerned about if he was going to pull his stopping short of the finish line routine because the chute was a little dug up around there. But, as the pull went on I was less and less concerned as he wasn't mentally counting 16' and quitting. I double passed him right up to his 4080 pull, because as Missy said he began "measuring" the distance. He was working to start the cart and I was proud of him for that. He completed his 4260 pull (with just Ranger and Raider still in the competion) and was still having fun and working. On his 4440 pull, he dug in, started the cart and was just rolling along with the brat came out and he left it short. He knows what he's doing, his eyes sparkle, his tongue is out and he's just being a brat. He did dig in and try, but when he left it short, he left it in a rut. Even when I motioned to Missy (who was behind the cart at that point) to push it, she had a hard time pushing it with him attempting to start it.
So he finished the day at 4260 (31.79 times his body weight), one increment shy of the MWP increment of 4440 which went to Ranger on time edging out Raider.

Sebastian pulling on one of the middle rounds
Laura's Nanook finished with a personal best of 2100 lbs! Little Lucy the beagle in the 40 lb class had a personal best coming in 2nd in that class to Bean the Kerry, who also had a personal best. Steve's Reign had a personal best in the 60lb class and his Leo had a personal best in the 80lb class. It was a great day for the dogs who had optimum conditions to do their best and have fun. There were over 10 in the Novice pull, 3 of whom ended up pulling in the pro event. We had around 35 or so pulling pro.
Good dog people, good dogs, great weather, optimum conditions - an all around great day! Thank you Missy and Dave for putting on the pull! The boys & I thank "Aunt" Diana for coming out to cheer them on.
Got home by 7:30, and found when I unpacked the car that despite being buried under many things, Sebastian had gotten to their leather gear bag, opened it (had to unzip it) and eaten the treats in there. That method had been safe for several months, but now I've got to figure out another way to stay ahead of him - LOL!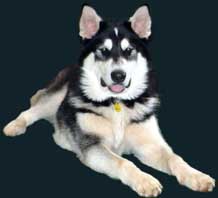 website design by Sheryl
bordered background by Sheryl
© 2005
all images © Sheryl Franklin unless elsewise attributed
all Alaskan Malamute sound files © Sheryl Franklin
website hosting by FranklinCommunications
domain name by DomainRegister.com