Sheryl's Alaskan Malamutes - Activities - Weight Pulling - IWPA - Syracuse - September 5, 2011



Weight Pulling

September 5, 2011 - IWPA - Wheels Weight Pull - Syracuse, NY
Up at 2am and on the road by 3am headed to the NYS Fair in Syracuse, NY. We had drizzly rain all through Pennsylvania (3 1/2 hours) with the dreaded fog from the Lehigh Tunnel all the way to Wilkes-Barre. Once we got into NY the rain got a little harder, and continued all the way to the Fair.

Lisa Mawson organized this pull, and her directions on everything were perfect. Thank goodness, because the help at the Fair was another matter. We were pulling in an enclosed building with spectator stands on both sides. We were allowed to unload at the building. The dogs were crated in the stables next to the building in whatever empty stable we could find. My boys ended up with a horse on either side of their enclosed stable. I was concerned about it, but needlessly, as it turned out. After unloading we had to take our cars out of there and park outside that area, getting our hand stamped on the way out so we could get back in without paying again. There were very few parking lot attendants and none of them were helpful, but I did eventually get parked - LOL! Turns out several of us fumed about that. I'm so concerned about being on time and not holding anyone up, I know I add to my own frustration with those types of situations.

Steve and Wendy had gone straight from the Port Clinton pull the day before up to Syracuse, as did Dave G and Todd. Michele & John were there with their pack of mals and Juneau the Sibe, Eileen with Kodi, Pam with Koda. so lots of mals in attendance. Joan & Steve were there with their pack of pitties.

We had terriers in the 20lb class, Artemis the Sammie in 40lb class along with at least one other dog. We had close to 50 dogs pulling.

Cinnabar weighed in at 106, Sebastian at 134. What a difference a day and a different scale makes :)

No photos at the pull. If it had been sunny, I would've tried, but with it dark and rainy no extra light was getting into the building and my flash photos would've been blurry.

Steve Jackson was our chief judge. Wendy judged the 20/40lb classes. I judged the 60lb class (22 dogs). Steve judged the 80lb class and Wendy judged the 100/125/150/Unlimited classes.

They called the floor of the building gravel, but it was mostly dirt. The Fair brought in a huge vehicle with a roller (about 9 feet high) to pack down the dirt while weigh in was going on. The chute was pretty good, but it did develop some slight ruts as the day went on. Not awful, but it did affect the dogs at the higher weights if they let up and the wheels were behind a bump they had a tough time getting it going.

They had an announcer for the audience, and I met with him after the 20/40lb class to let him know I've got a loud voice, so he could hear who I was calling. Lisa had a list of all the dogs made up for him with their breed and any anticdotes about some of them (Starbuck pulling at 11 years old, etc). He told me he was calling all the dogs for the audience and that he had his list, I told him I still had to call the dogs, and that with passing the order wouldn't always be the same as his list. He understood, but as the class went on I think it got frustrating for him at the higher weights because I would switch dogs with the same handler to put a dog in between them.

The 60lb class was terrific. 22 dogs, that's a lot of dogs. Some of the pullers were newbies and not known to me. I had to coach them to look at me before they start because they had their dogs setup not in between the wheels, or the tug line too taut. But they were very coachable. The crowd was large for this class, and they got a great look at some gorgeous pitties working, and being sweet. It was a really good ambassadorial moment for pit bulls. They also got to see some hard hitting Alaskans and an incredible Malinois, along with the other dogs pulling. The crowd was very into it, cheering on dogs, the big sigh when a dog left it short, the laughs when they poked their face through the chute fence and applause at the end for every dog. There were probably 100 or so spectators for this class.

It got down to 4 dogs standing Mole & Junior (with their dad, Starbuck going out the round before), Desi (pit bull) and Gadda (Malinois) and they made me go to a 2nd page on the score sheet. Desi did great and was handler withdrawn on the 1625lb round. For the previous rounds, Junior had been taking the most time of the three left. Mole and Gadda were neck & neck on time with Mole besting Gadda by around 5 seconds each round. On the final round of 1625, Mole started out fine with his hard hitting quick approach, but then turned around to the side. He was close enough to Wendy and the finish line at that point that she tried to correct him from that, but he made her work and she had them push it. Gadda was amazing. She pulls low to the ground and while it was tough for her, just kept pulling. Junior did better than Mole on that round but also got a push. It was quite a show for the crowd.

In the 80lb class, Todd's Milo was totally on fire and just awesome. After he won the class, Todd had him pull a few more rounds and he worked his heart out pulling over 2000lbs, which was terrific for the surface and for the cart (Lisa's cart has a tendancy to shut down on the higher weights). The spectators cheered and cheered. Milo has great form and a wonderful work ethic.

I'd been checking on my boys all through out the day and taking them for potty breaks. On one of those Sebastian got an appetizer, he scooped some horse poop before I could react. One of the handlers had an interesting observation. Do you get in trouble for not scooping your dog's poop if it's next to horse poop? There wasn't that much horse poop as I saw people scurrying around with wheel barrows and straw, but there still was horse poop and I took care to keep Sebastian away from it.

John brought my crates from the stable to the arena while I brought the dogs over there. Thank you, John! He was also great cart help during the day and had his dump truck there not only for weigh ins, but he transported the weight and cart and chute fence. He also pulled Yukon who pulls better for him than for Michele. Definitely a daddy's boy :)

I started Cinnabar out at 800 something & Sebastian at 900 something, which they pulled easily and I double passed them both. Our increments were 150 lbs.

Cinnabar was working, but wasn't as into it as the day before. He started talking and did his hi-ho-silver and then got down and worked to a wonderful crowd cheer, but no more passing for him. He went out at around 1300 or 1400 lbs I believe.

Sebastian was lackadaisical in the chute.

It got down to Valiant, Ranger and Sebastian.

The cart was pulling to the right and Sebastian was trying to go the other way. That was working against him. After Valiant and Ranger pulled I asked them to center the cart so that it pulled straight. Both Dave G & Todd advised against because then it wouldn't be as packed down for the wheels. But it worked out, that next pull was easier for him. And then they were happy that Sebastian packed that wheel track down for them the next pull.

On the next one after that, Valiant went out. Ranger made it but took some time to do it and Dave withdrew him.

Sebastian started out fine, but then got lackadaisical and left it a couple feet short. He restarted to applause and stopped a half an inch short. He gave me token attempts to restart it but ran out of time. So, the pull ended on big drama for the crowd who was really pulling for him to make it.

Sebastian was solo in his class, so of course he finished first. Cinnabar was first in his class with Tundra second.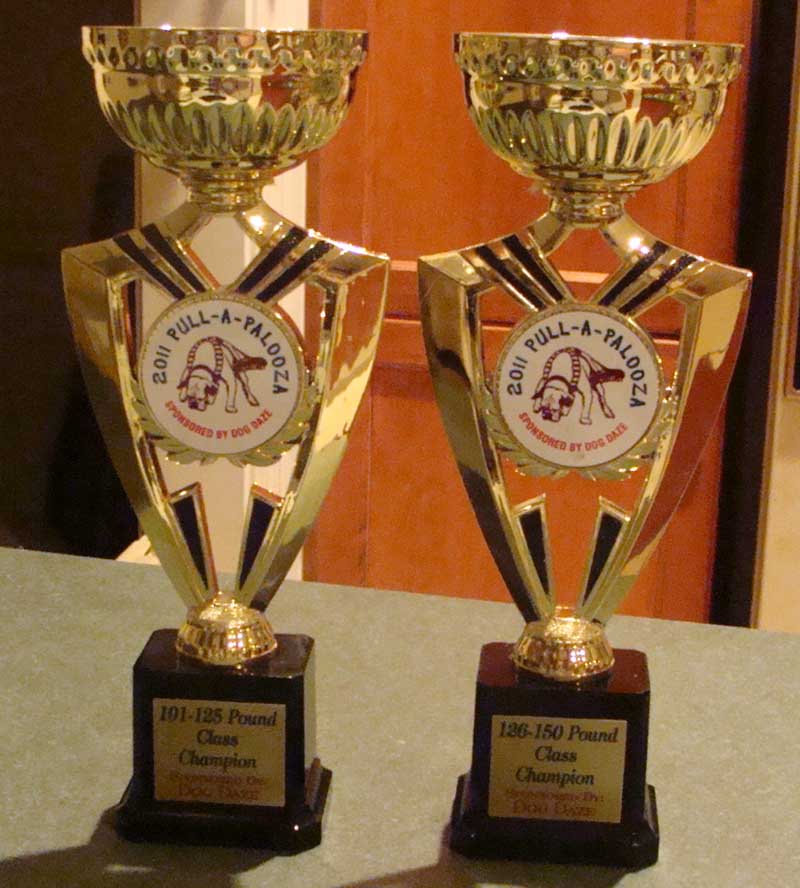 Their beautiful trophies
Milo got MWP and highest body percentage, congratulations, Todd!
Lisa did a great job organizing this pull, and believes the Fair will want us again next year. They wanted an event to draw people to that side of the Fair, and given that it was the lowest attendance day of the event (given the day long rain), I'd say the pull did what it needed to do. We always had spectators.
Was out of there by 4:30 and home by 9:00. It was pouring when I left, eased up when I got into PA, until I got through the tunnel and then a deluge. Fog in Wilkes-Barre but only for 10 miles, thank goodness. Once off the Turnpike it was still a deluge for a while, then stopped, then again. I was glad to get home when I did, as I'm sure there was some flooding in the area.
We all slept great!
NY StateFair 2011 - Pull-A-Palooza results in the Utica Examiner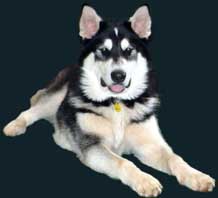 website design by Sheryl
bordered background by Sheryl
© 2005
all images © Sheryl Franklin unless elsewise attributed
all Alaskan Malamute sound files © Sheryl Franklin
website hosting by FranklinCommunications
domain name by DomainRegister.com