Sheryl's Alaskan Malamutes - Activities - Weight Pulling - IWPA - Port Clinton - September 4, 2011



Weight Pulling

September 4, 2011 - IWPA - Wheels Weight Pull - Port Clinton, PA
Super excitement, a pull within an hour of us! We got there at 6:45 am, but were not the first there. Dave G & Todd had come down from New England and were already hanging out. By the time I got my boys setup in their crates, Dave H was there, shortly followed by Missy. I helped Dave H with the weighins.

My agility buddy was there with Lucy (beagle) and Dixie (dalmatian). She was really excited about a pull so close. Another excited about a pull so close was a UKC buddy with Bean (Kerry Blue terrier) and Caber (rottie). The folks rolled in and were good with the sign ups and weigh ins. We had 8 in novice and around 35 or so pulling pro.

Brenda & Val were there with Raider and Darla. Darla, or Darling Darla as I call her, is a mini-me of Hemi, who is a mini-me of Brenda's famous Bogie. OMG, the face. She pulled novice as she's just under 1. She is adorable and she knows it. Barb & Jenny were there with Bee Gee and Trace. Malamutes were in abundance with my 2 boys, Missy (Homer), Dave G (Hemi, Harra, Ranger), Todd (Milo, Valiant), George (Beowolf - pulling novice 11 months), Indy (Darla's brother pulling novice). More fuzzies, too, as Steve, Wendy & Nicholas showed up with their Alaskans.

We also had pitties, American bull dogs, a pug (pulling novice), Dogge de Bordeaux (2) pulling novice.

Thank goodness it was overcast, as it was sticky humid and high 80s.

Cinnabar weighed in at 108, Sebastian at 138.

I got photos of the novice, 40 lb class, most of the 60 lb class and some of the 100lb & up classes. Sara got a couple shots of my boys pulling before she had to leave. Thank you, Sara!

Dave Heffelfinger was our chief judge. I helped with the 60lb class when he pulled his dogs, and I judged the 80lb class, which turned out to be larger than the 60lb class. Doesn't usually happen that way.

The chute was terrific, hard packed dirt on the ball field going from home plate to third. The cart rolled great for each and every class.

When the big dogs were pulling, Bee Gee was giving Cinnabar google eyes as they are buds and they wanted to play but we couldn't let them. Of course, since Raider was there, Bee Gee had competition as he always gives Cinnabar the google eyes, too. It was really cute to see.

I started both boys out around 800lbs.

Cinnabar was working for me and did really well, but had great competition in his 125lb class with Harley (St. Bernard), still looking great at 10, Raider, and Evo (my favorite pressa, who gave me a face wash). Cinnabar pulled 3540lbs for 3rd place behind Harley & Raider. I double passed him alot to get to the high weights (our increments were 180 lbs) and then single passed and then didn't pass once we got over 3000 lbs.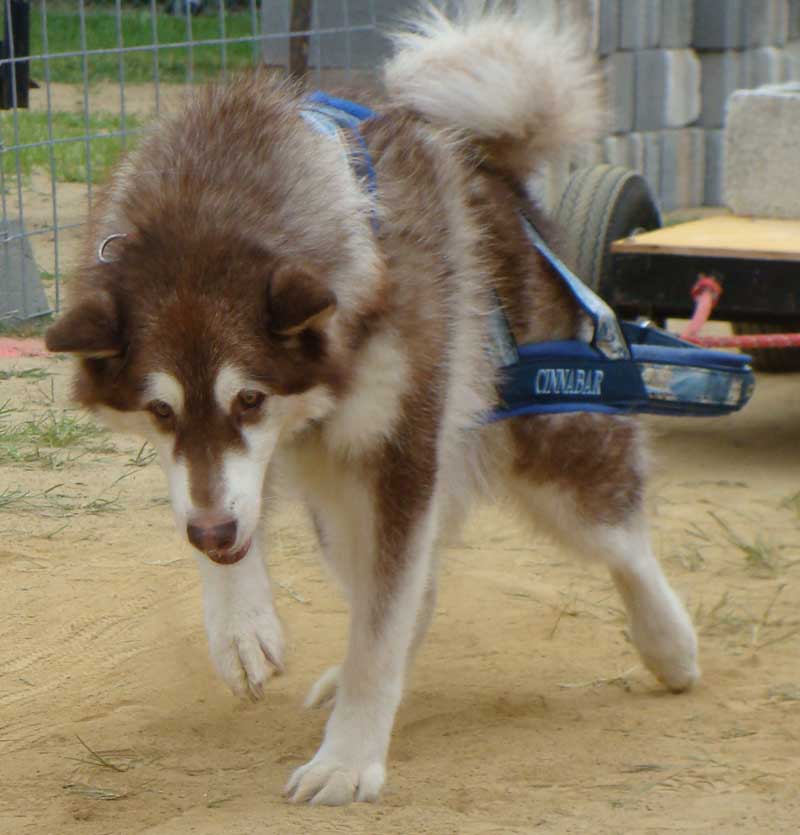 Cinnabar pulling his first round
Sebastian was having fun, but was also in a semi-working mood. I double passed him a lot. Because he was the only one in his class I continued to give him a single pass after we got over 3000lbs. I knew he could do it physically, but this gave me a chance to work with him on whatever antics he had up his sleeve. He didn't have to work hard on his 3720lb pull and I single passed. He just wasn't in the mood on his 4080lb pull. It was humid (another reason for all the double passes for both boys), and he gave it a try. Then he laid down. He did sit up for me and try again. I had them push it so he thought he completed it.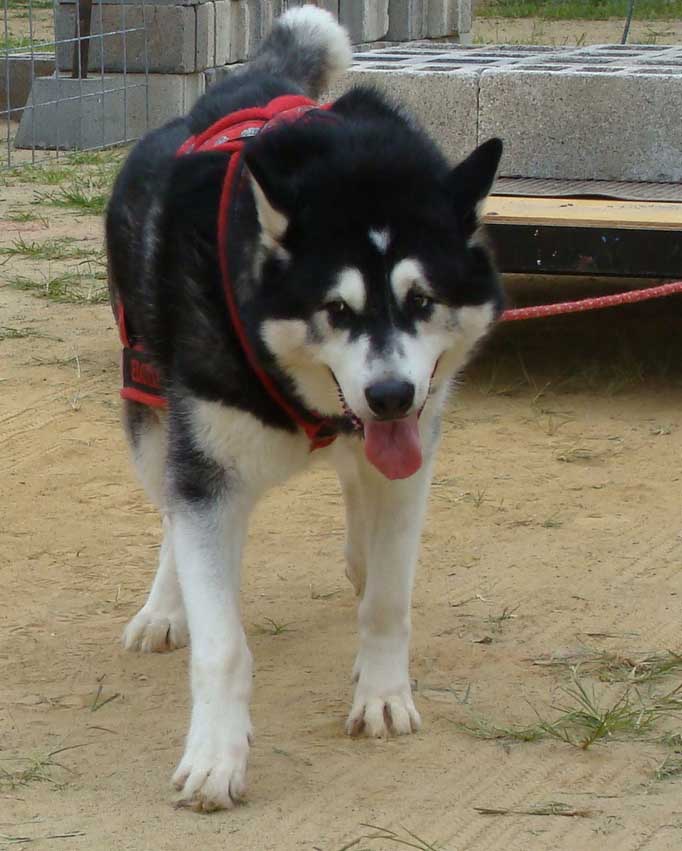 Sebastian pulling his first round
Ranger got MWP (I think on time over Valiant), and also beat out Bean on percentage. Congrats Dave G!
All the dogs looked good for the first pull of the IWPA season. Thank you Missy and Dave for having pulls in Port Clinton again, it was terrific!
Got home by 7:30, to get some sleep so we could be on the road by 3am for the big Labor Day pull at the NYS Fair in Syracuse the next day.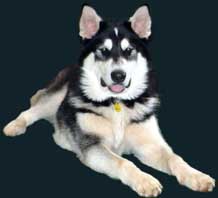 website design by Sheryl
bordered background by Sheryl
© 2005
all images © Sheryl Franklin unless elsewise attributed
all Alaskan Malamute sound files © Sheryl Franklin
website hosting by FranklinCommunications
domain name by DomainRegister.com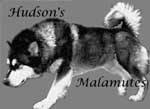 My Mals
Now
Sebastian
Cinnabar
Then
Wolf
Taylor

What's New
Purebred Dog Breeds into the 21st Century