Sheryl's Alaskan Malamutes - Activities - Weight Pulling - IWPA - Cortland - October 24, 2010



Weight Pulling

March 26, 2011 - IWPA - Wheels Weight Pull - Cortland, NY
We were on the road by 5:00am, with a pretty half moon & stars accompanying us. With the time change & spring, we saw the first crack of dawn earlier than our last road trip north.

I stopped at the final turnpike rest stop south of Mt. Pocono. Imagine my surprise to see a man cleaning sinks & windexing the mirrors in the women's rest room. I really had to go so I ran to the furthest stall. I heard him talking to another woman who emerged from a stall. When I got out, he remarked on the double take I did when I first walked in. I said it's very odd. Thinking it was all about him, he said he's done crazier things. I said, "no, it's very odd and uncomfortable for us to come in and find you here". Couldn't find a manager when I got out into the main area, so I left.

I take the Northeast Extension of the turnpike, which has a barrier toll on the road just prior to the Scranton exit. My favorite early morning toll taker wasn't on duty (he has Siberians & just loves to talk dogs) and the man replacing him had trouble counting out my change, which was 3 $5.00 bills. As he was counting them for the third time, I heard a woman's voice calling out "Hi, Sheryl". Sebastian was standing up in the back seat and blocking my view behind me. Then again, "Hi, Sheryl!". Was this the voice of God, and is God a woman? Then the voice said, "It's Kari!". Now it made sense, a fellow puller on the road :) I waved back to her said "Hi" back. This confused the toll taker who counted out the 3 fives again - LOL!. I took off expecting to see her zoom past me if she took the turnpike all the way to the end. I didn't see her so I assumed she got off and took 81 from there.

I got concerned because even south of that I saw snow on the hills and more snow as we went north. I did dress in layers, but I didn't wear my mukluks or bring gloves. The rest of the trip was uneventful, with the exception of Sebastian rummaging through the gym bag I use for all their "stuff". I'd forgotten to zip one of the compartments & when I'd stopped for a break, he pulled out the roll of blue poop bags and had the car decorated like Christmas tree trimming.

We got there at almost 9 on the nose and lots of people were already there. Lots of hello hugs & folks telling me they missed us at the last Oneida pull 2 weeks earlier. I love our group!! Got the boys pottied and setup and then went for the weigh ins. Steve J was so proud of the new sling he ordered from Missy. It's called the "Sebastian Sling". The sling he had was too small for Sebastian and he had this one created with Sebastian in mind. It did make a difference, I could tell he was much more comfortable getting hoisted up. Cinnabar, too, was more comfortable using that one, as was Nikko when Michelle got him weighed in. Good move, Steve!

Kari wasn't there when I got there, surprisingly. As the weigh-ins went on, I asked several people about her & Michele messaged her, she was on her way. Couldn't believe she didn't beat me there. I'm quite used to her blowing past me on the highway after we leave pulls. She finally got in about an hour after me, her GPS had taken her 40 miles out of the way. We both had a good time telling the story about the toll booth :)

Other mals attending were Tundra & Nikko (Michele), Kodi (Eileen), Idy (Peggy), Koda (Pam), Homer (Missy), Cassi, Hemi, Takani, Harra, Ranger (the Gallaghers), Seth & Valiant (Todd). The other northern dogs were Michele's Siberian Juno, Kari's Siberian Keisha & Alaskan Huskies, Bev's Sammies , and Steve & Wendy's Alaskan huskies. We had Sprite, the little chihuahua in the 20lb class, a bunch of pitties, Pressas, Saint Bernard, American Bulldogs, Labs, a Belgian Malinois and mixes. In all, if my math is correct, over 40 pulling pro and just under 10 pulling novice.

It was bitingly cold! I was so glad I'd thought to throw my winter jacket in the car "just in case". I turned in my fleece jeans jacket for that winter coat quickly. I put on my Alaska sled dog ball cap to keep my head somewhat warm. Peggy loaned me gloves, thank goodness, because the fingers were freezing quickly. I then remembered my jacket had a hood and put that on too. Brrr, it was cold.

Cinnabar weighed in at 109, Sebastian at 140.

I got photos of the 20 & 40 & 60 & 80 lb classes, as well as the first few rounds of the (100/125/150/Unlimited classes). Joan took photos of the big dogs for me once my boys started pulling. Thank you, Joan!!!

Steve Jackson was our chief judge. Dave Heffelfinger judged the 40 & 60lb class, & Wendy judged the big dogs, with Steve judging the 80lb class.

We were pulling on gravel, which was fairly frozen for the little dogs. As the day went on and we got some sun in between the intermittent flurries (sheesh, it's spring isn't it?) the gravel thawed a bit and we had mud and the cart rutted a bit. The last 10 inches of the chute were uphill. Many dogs got caught leaving the cart short and not being able to start it again.

The cart weighed 225 lbs. The 40 lb class pulled with the novices in 45lb increments. With all the novices, the class went on quite a while. One of Bev's Sammies took that class with Keisha coming in 2nd. The 60lb class pulled in 90lb increments. Mole won that with Junior in second and getting top body percentage for the day. The 80lb class pulled in 135lb increments. Seth won that class. The big dogs pulled in 180lb increments.

I started Cinnabar out at 585 & Sebastian at 765. They both pulled easily on their first rounds & I passed them each.

Cinnabar was of course in a working mood, and pretty pranced into the chute whenever Wendy called "Cinnabar is up!". On the 1125 pull, Cinnabar started talking a little and then pulled. I didn't pass him again. On his 1305 pull, he talked & backed up and then pulled. He did the same on his 1485 pull, but made it. On the 1665 pull, he backed up continually before even trying to pull, always to his right side, right out of the back of his harness, then would jump back into it, but lots of talking. Very hard to get him focused. He did try, but only a little and I had them push the cart on his final effort, giving him a ton of praise for finishing it.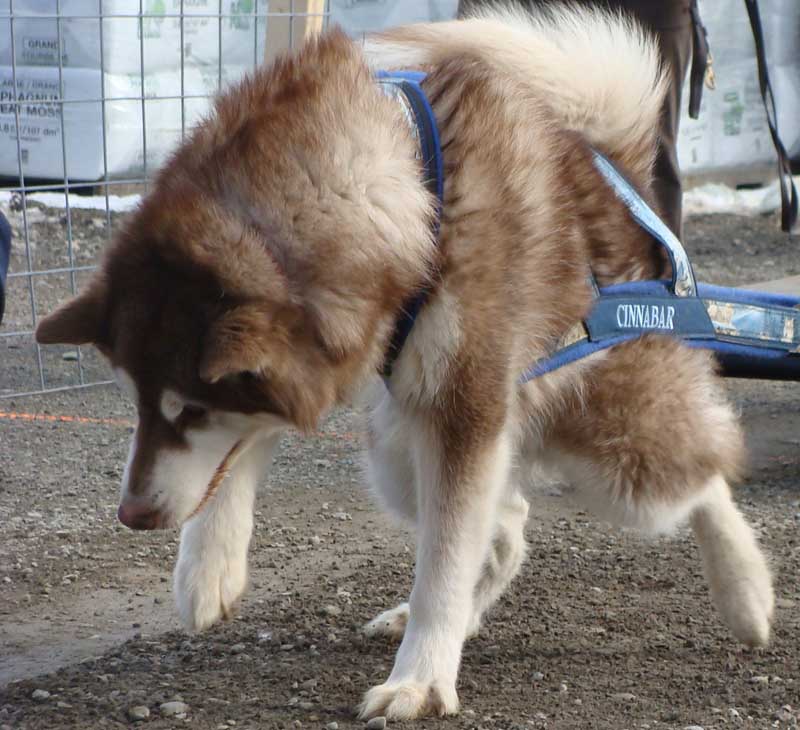 Cinnabar giving it his all
Sebastian was having fun, but was also in a working mood. I stopped passing Sebastian on the 1305 pull. He made the 1485 pull easily. On the 1665 pull he was going along great and easily. But, then he stopped 2 inches short of the line. He tried to start it, no go. I put him in a sit and got him to try it again. I could see the cart roll backwards every time he stopped. For me, the good news is that he tried every single time I asked him to. But, he was not able to restart the cart, and I had them push it on his last attempt and made a huge deal over it when he finished. I wish he hadn't played that game he's played so many times, because he was pulling great, but this time his game playing bit him in the butt :)

Sebastian working!!
The last 4 dogs standing were Ranger, Valiant, Evo and Harley. Evo made the 1665 pull, but went out on the 1845 pull, I believe. The other 3 made the 1845 pull. I'm not certain if they pulled another round (which would've been 2025). They all went out on the same round, though. Ranger got MWP on time over Harley and then Valiant. All three of them looked great!
Ranger took 1st in 100lb with Valiant 2nd.
Harley (the 10 year old Saint Bernard) took 1st in 125, Evo (Pressa) 2nd in 125, Cinnabar 3rd & Tundra 4th. I'm so glad that I got to see Harley pull in his prime over the years and to see him still loving the sport is just wonderful. Evo I've known since he was a puppy and remember his first year pulling when Dave H said, "he's going to be a force". It's so good to see him back pulling and he is "a force", and he still gives the best face washes!
Sebastian, solo in his class, took 1st in 150, with Nikko, also solo in his class, taking first in the Unlimited.
We had awards very quickly after the pull ended. I got my boys pottied, into the car & their crates packed up, and had a little time to chat. It was so good to see Missy & Dave at the pull, and I love having their dogs in the competition. Susan G and I had time for a nice chat after the pull, too, we don't always get that time. I had fun pulling out my printed directions & showing them to Kari, telling her, "cheaper than a GPS & it works", she gave me an appropriate response which I won't print - LOL! Wendy & Steve I won't see until next IWPA season, so big hugs there. Hugs to my other mal buddies Michele & Eileen that I will see in Harrisburg. Hugs & thanks to Steve & Joan for putting on the pull (which was going on for a 2nd day, but I couldn't stay). Thanks to Country Max for having us again, having a warm store, giving us a 10% discount on any weight puller purchases, and having warm bathrooms.
We were on the road by 6:30 after gassing up, and after an uneventful trip home got in at 10:30. As always, the joy of rediscovering their own back yard & their own water bowl was evident and then we all crashed. Another terrific IWPA Region 5 weight pull!
Photos of all the dogs & more of Sebastian & Cinnabar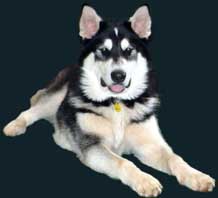 website design by Sheryl
bordered background by Sheryl
© 2005
all images © Sheryl Franklin unless elsewise attributed
all Alaskan Malamute sound files © Sheryl Franklin
website hosting by FranklinCommunications
domain name by DomainRegister.com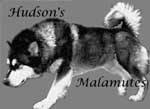 My Mals
Now
Sebastian
Cinnabar
Then
Wolf
Taylor

What's New
Purebred Dog Breeds into the 21st Century