Sheryl's Alaskan Malamutes - Activities - Weight Pulling - IWPA - Tug Hill - February 12/13, 2011



Weight Pulling

February 12/13, 2011 - IWPA - Snow Weight Pull - Lorraine, NY
Last week's ice storm frustrated our attempt to attend Michele's pull in Utica, which was a resounding success. Congratulations to Michele & John on their first time organizing an event!

This pull is 6 hours from us, so the three of us were on the road by 3:15 am. Starry sky, what a nice contrast from the week before. The sky was cloudy by the time we reached Binghamton and a glimmer of day light. Still cloudy by the time we got to Syracuse, with no precipitation, but we were headed into snow band country (lake effect snow from Lake Ontario). Almost on cue, it started snowing a couple miles from our exit. The closer we got into the state forest, the more snow we had. The little two lane roads were in decent shape, but I stuck to 25 mph as I couldn't tell where the road ended and the shoulder began. We pulled in at 9:15, right on time, and the snow got heavier.

Sebastian weighed in at 144 and Cinnabar at 110.

Steve & Wendy were there with their Alaskans, Michele & John with Tundra, Yukon & Nikko (and I got to see little Polar who's not as little as last time I saw him, little cutie), Eileen with Kodi, Peggy & Steve with Idy & Bragi, Regina with Indy & PJ, Kari with Ghost, Solo, Moxie & Booth, Bev with her Sammies and Dan with Etah. Pam was there with Koda and some of the other Syracuse pullers.

Shovels came out the get the accumulated snow off the chute. A few pullers from the Syracuse area decided not to stay because of the snow. Surprising to me! As everything was getting setup we saw lots of the skiers attending the Winterfest our pull accompanied. Last year our pull accompanied sled dog races, but their dates changed this year. We held our handlers' meeting in one of the equipment buildings. We had 3 dogs in the 40lb class, 10 in the 60 lb class, and another 13 in the 80/100/125/150/unlimited classes. I judged the first two classes which pulled together with 40lb increments. The big dogs pulled together with 80 lb increments.

Our chute was nicely hard packed and on an incline. We also had some spectators attending the Winterfest, some came specifically to see the dogs. All were respectful of the working dogs. Steve Anderson shoveled out a spot for me so that I could stand closer to the chute and finish line. Peggy Anderson was my scribe. It was really coming down. Visibility was at about 50 feet.

After about the 4th round of pulling we needed new paper as the pencil was going through the paper, even though Peggy was covering it up quickly after writing down times. There was a park sign with a little chalet roof over it about 10 feet behind us, that Peggy went to and that gave more cover, but it was still tough as the snow was accumulating very quickly. We had to change paper one more time.

The dogs loved it, though!!

I had put one sheet over the top of my boys' crates to keep them out of accumulation and it surprisingly worked :)

When the big dogs were up, it was still snowing, but had let up a little bit. They groomed the chute to get the accumulation off from in between classes. Yes, it was snowing that much. In between classes, I also cleaned the 5" of snow off my car, borrowing Michele's brush to get the stuff on the middle of the roof.

I passed the empty sled (100 lbs) with both of them. Passed them both after their first few pulls and stopped passing somewhere in around 500 lbs.

Tundra pulled well for Michele, and Yukon pulled for John. He's a daddy's boy, and although pulling isn't his thing, when John says calmly, "come on, Yukie" he pulls. Nikko was being a jerk (her words) for Michele. The stinker has the heft pull so easily, at 166 lbs, but he just wasn't in the mood. Regina's PJ, for being afraid of everything, did great. Kari's Booth was also doing great.

We still had some hardy spectators, many of them kids. I could hear some saying "Cinnabar is my favorite", "No, Sebastian is my favorite", kind of cool :)

Cinnabar had a "bad butt day", as Wendy put it. He didn't want to get his butt in position to get hooked up. I had to trot him up and around to get him swung into position. I realized after the pull, I hadn't made enough of a party of it for him.

His last two pulls, he backed up and out of his harness for a tangle, which I fixed, and then he pulled. Once he got it started he dug in with everything.

The last 3 dogs standing were PJ, Cinnabar & Sebastian. Then just down to my two. Cinnabar ended up pulling 740 lbs.

Sebastian was the surprise. He had Cinnabar on time with the 740 pull, but I went another round with him. Because of the spectators I took him back through the chute instead of the crowd so he wouldn't find a reason to be distracted, and he wasn't. On his last pull he worked. It stuck a little, he stopped, but didn't give up. He tried again, it broke free and he finished with 820 lbs & MWP. I left it there on that good note.

As I was unharnessing the boys, a man approached me telling me he took photos of my boys and he was with a Syracuse news paper. He took info on their names, what the event was and if it was ok if the info was in the paper. Well, yeah!

We held the awards ceremony in the heated building where they had a buffet for the skiers. We also did our registration paperwork there as we realized earlier it would be the only way that anything would be legible. On our way to the building, the snow stopped and the sun came out. Timing, huh? As I was filling out my paperwork, Steve told me to take off my hat, I was melting onto the paperwork - LOL! Booth got top Body Percent.

Many of us made plans to meet up later for dinner at the Ponderosa. The sheet over the crates worked, there was a buildup of 6" of snow on it, keeping them relatively dry. I borrowed Eileen's shovel to get the snow out from behind my tires. Even with that I was only able to get a few feet. Nicholas, Eileen and others pushed the little Saturn out of the spot and I just kept backing up to the turn around to get out onto the harder packed snow of the other drive way. John was directing me and when I'd got back almost far enough, Steve screamed like I hit him. "Just kidding!" Brat :) I was happy to be the first out of there so that if I went off the road, the others would find me. Those 6 or more twisty/turny miles back to the highway were challenging, as the plows had not been through even though other cars had been, but we made it fine. The highway was in good shape except for the drifting snow so I kept it at 55 and let those feeling the need to do 65 pass me.

Checked into the motel, blew dry my hair and watched a movie until it was time for dinner. Met up with the group at Ponderosa. We had a good time and with their buffet, no one ran out of food, not even Nicholas :)

Back to the motel and crashed. Cinnabar on the floor next to me and Sebastian on the bed on the other side of me. The next morning got them packed into the car, made sure the room was clean, took the coffee packs, plastic cups and other chewables out of the drawer where they'd been Sebastian safe and headed to the front desk.

After I checked out, I noticed the sign "no pets allowed". Huh? I booked the room online and swore it was pet friendly, but, I guess I won't be staying there again.

Stopped at Tops for bananas and apples, gassed up the car ($.14 more per gallon than PA) and headed to the pull site. The plows had been through and the roads were decent, if a little icy in spots. Eileen was there to greet me. The parking area was a little rough, and I was able to get a spot next to her that would be down hill to leave. It started snowing lightly. Everyone started coming in and checking where to park where they wouldn't get stuck.

The boys & I had bananas for breakfast, and I put the dry sheet on top of their crates.

We lost Idy & Bragi from the day before, but gained a Sammy in the 60lb class.

We also had a professional photographer taking shots of all the dogs. There was no way to get photos the day before, no one to take them while I was judging, and no one to take them while I was pulling. Regina had said we'd have the photographer, so I wasn't disappointed.

Even though it was snowing, it wasn't bad. I lost my scribe from the day before, but it was ok, the paper never got wet enough for the pencil to go through.

The 40lb class was Zephyr, Tucha (Bev's sammies) and Kari's Moxie. Kari got Moxie about a year ago, and I saw her pull in Tug Hill last year as novice. Scared of everything in the chute. Even in January at the last snow pull we attended, Kari pulled her novice with the leash. Kari said she'd had a light bulb moment at the intervening Lake Placid pull and it was true. On Saturday I couldn't believe it, and Sunday was no different. She didn't just have a light bulb moment, she had a search light moment. She was a little pulling machine, digging it through for all she was worth. On her final pull she started to turn around a little and Kari instantly called her and had them kick it, she pulled it through like a champ. She'd had Tucha on time in the round before, so Tucha had to make that pull and she did. She made Bev work for it, but she made it.

In the 60lb class, Indy did really well. She just started pulling in January on wheels. I'm not sure if this was her first snow pull, but just like on wheels she's a natural. She went side to side starting it and pulled it through. Whiteface took the class and was on fire. Had to add another column on the scoresheet for him.

The cold was zapping the photographer's battery and he went to the heated building to let it warm up. Fortunately, he had enough for the big dogs, too :)

John again pulled Yukon and he pulled for him again. He puts his head down and shoulders into it, if he'd give some effort he'd be something. Tundra pulled well for Michele, and Nikko did better than the day before. PJ again did well for Regina. Booth was on fire, taking names & kicking butt in the 80lb class. Eileen's Kodi was pulling for her, but he makes her work. He's a goof the way that Sebastian can be, but he did well for her.

I made more of a party for Cinnabar and pulled him on different increments from Sebastian. I still had to trot him up and around to get hooked up, but it was easier than the day before and he was a little more focused than the day before. I had passed him on the 740lb round, but unpassed him and was glad I did. He started talking and backing up. I was on my knees at the finish line and said nothing, until he realized nothing was coming from me and focused on me and started to work. Same thing on the next round of 820 lbs. And the same thing on the 900 lb round, he timed out, but he didn't know it, so he finished the day with 820 lbs.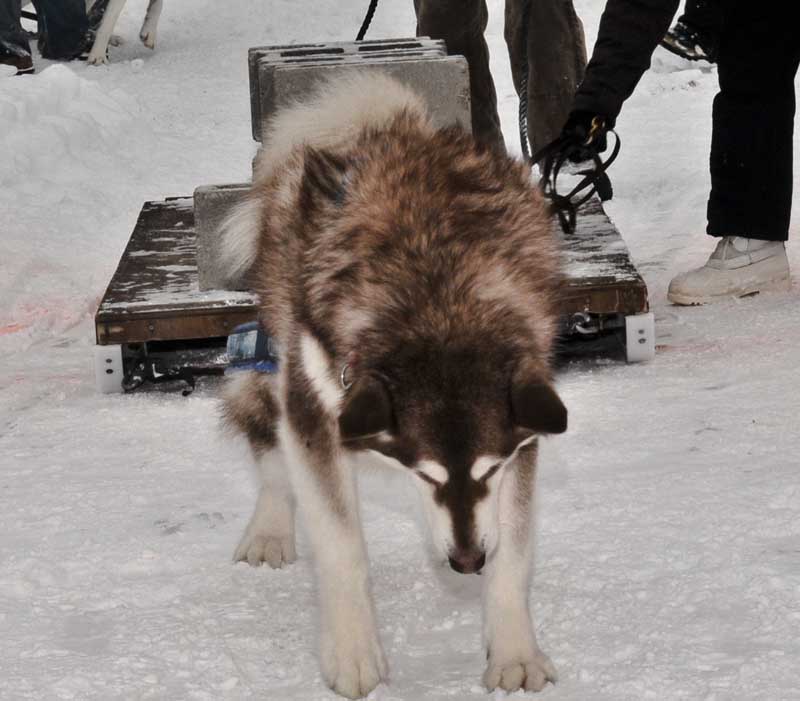 Cinnabar digging in
photo by Patrick Terry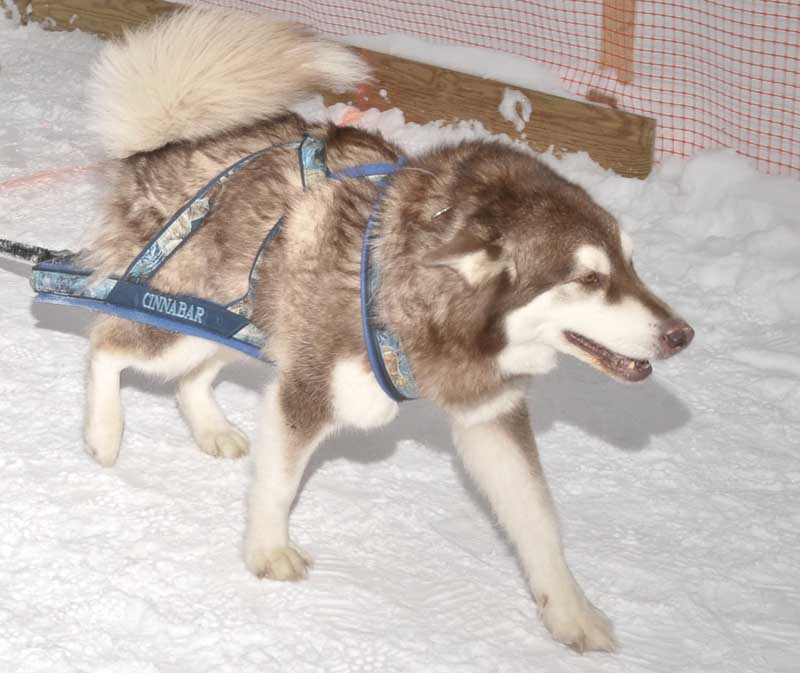 Cinnabar finishing a pull
photo by Patrick Terry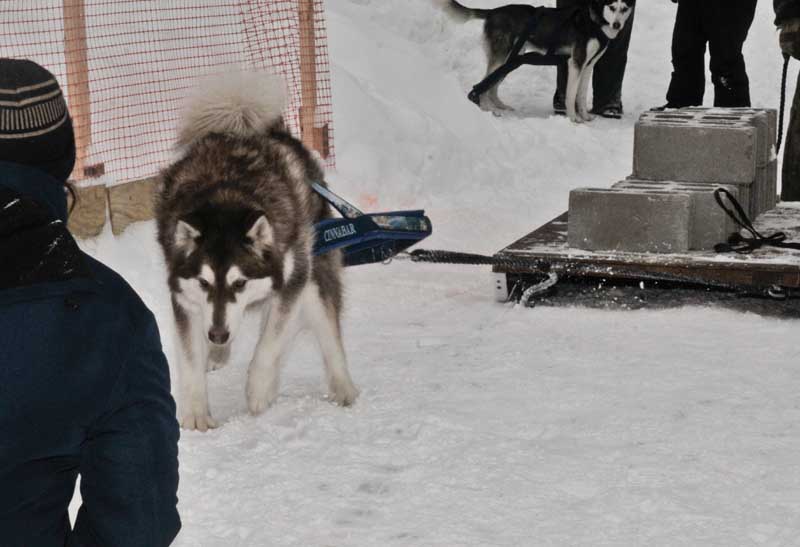 Cinnabar encouraged to pull
photo by Patrick Terry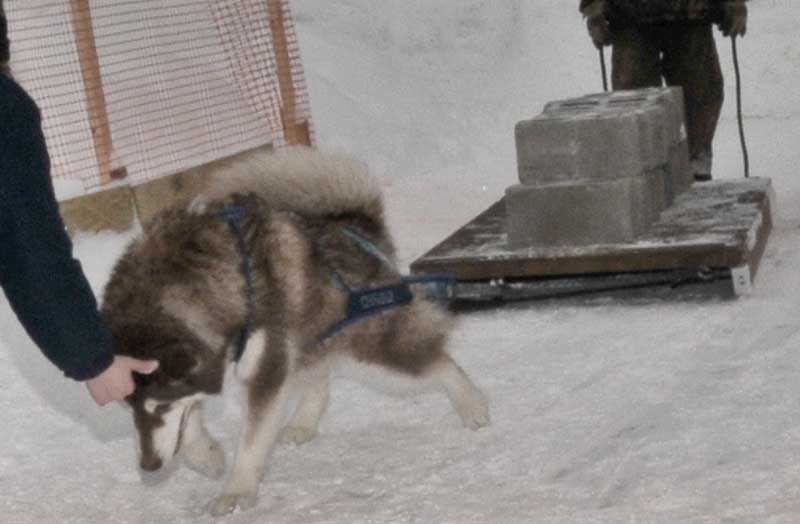 Cinnabar pulling
photo by Patrick Terry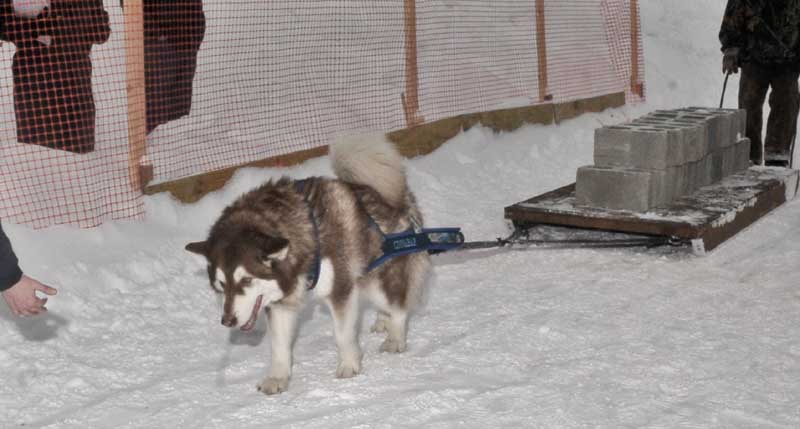 Cinnabar pulling
photo by Patrick Terry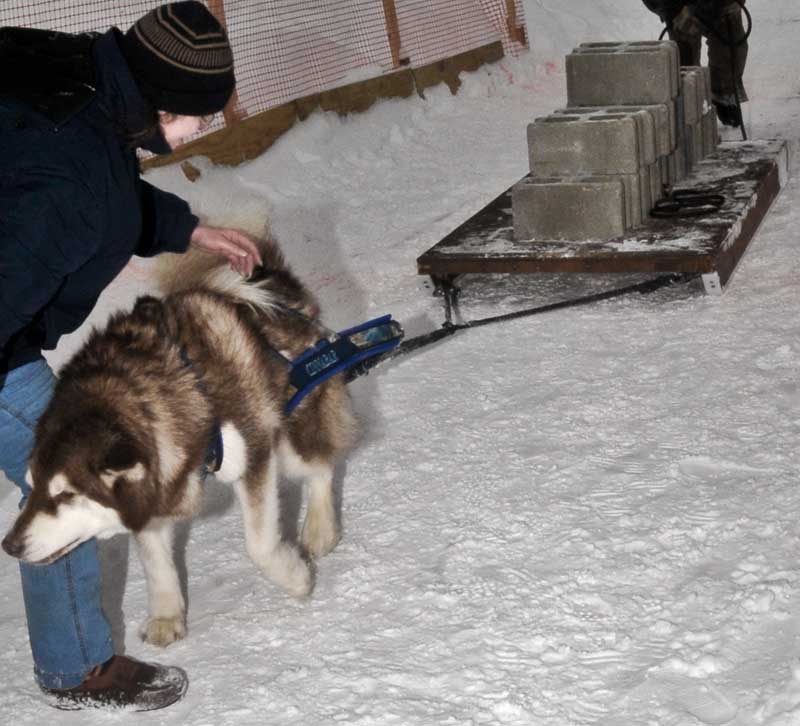 Cinnabar getting ready to be hugged at the end of his final pull
photo by Patrick Terry
Sebastian was having fun, but not so much that it was his main focus. He had lots of mom time being on different rounds than his brother and he was working for me. The 900 lb round was easy for him. He had MWP with that, but I had them add another increment. He had to work a little on the 980 round, but he did. Added another increment. He started it, pulled a little and stopped. I stood up and looked at him, he started again, pulled a little and stopped. He sat down & I told him it was ok to take a break, then I motioned for him to start again, he did, he worked and I started vocally encouraging him, he put his head down and finished it. Wow, I'm so happy with that behavior!!! He finished with 1060 lbs and MWP.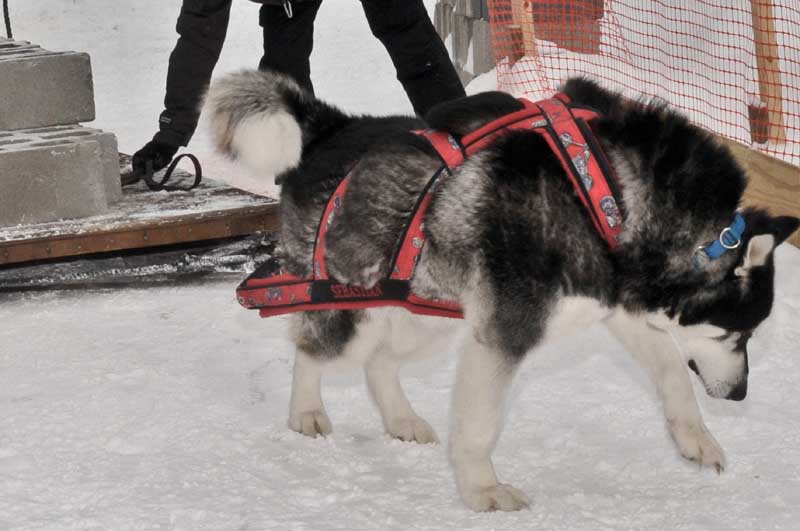 Sebastian working
photo by Patrick Terry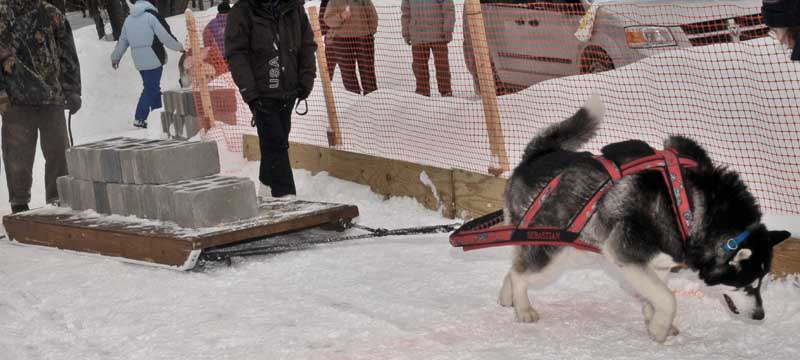 Sebastian taking the blocks for a walk
photo by Patrick Terry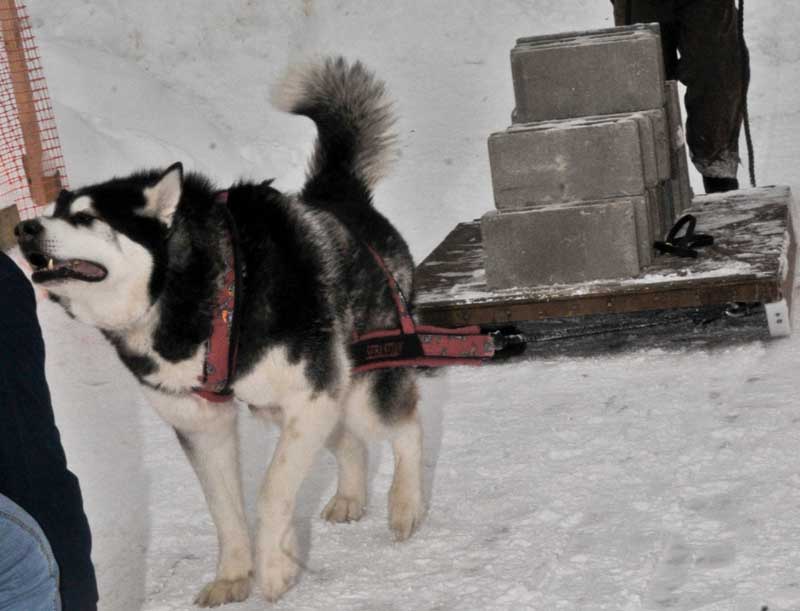 Sebastian working
photo by Patrick Terry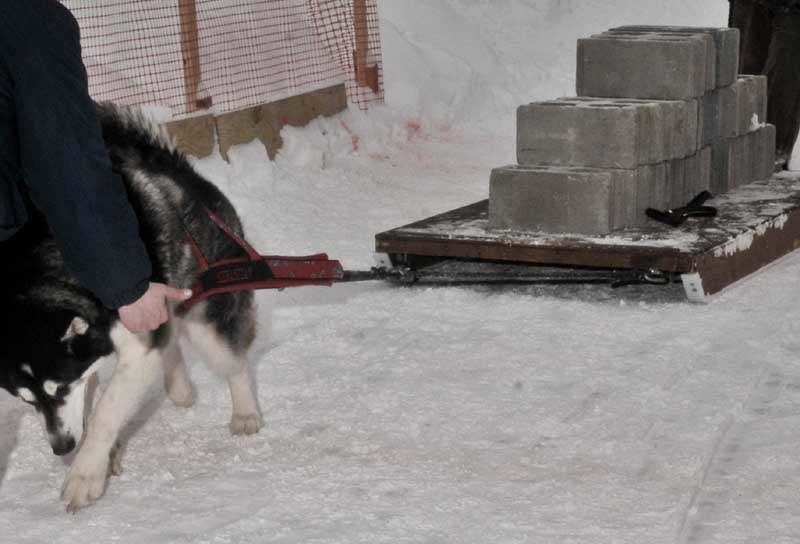 Sebastian working
photo by Patrick Terry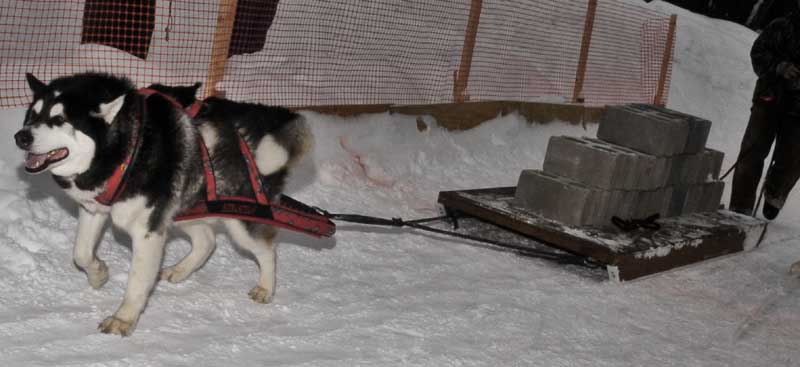 Sebastian finishing the pull
photo by Patrick Terry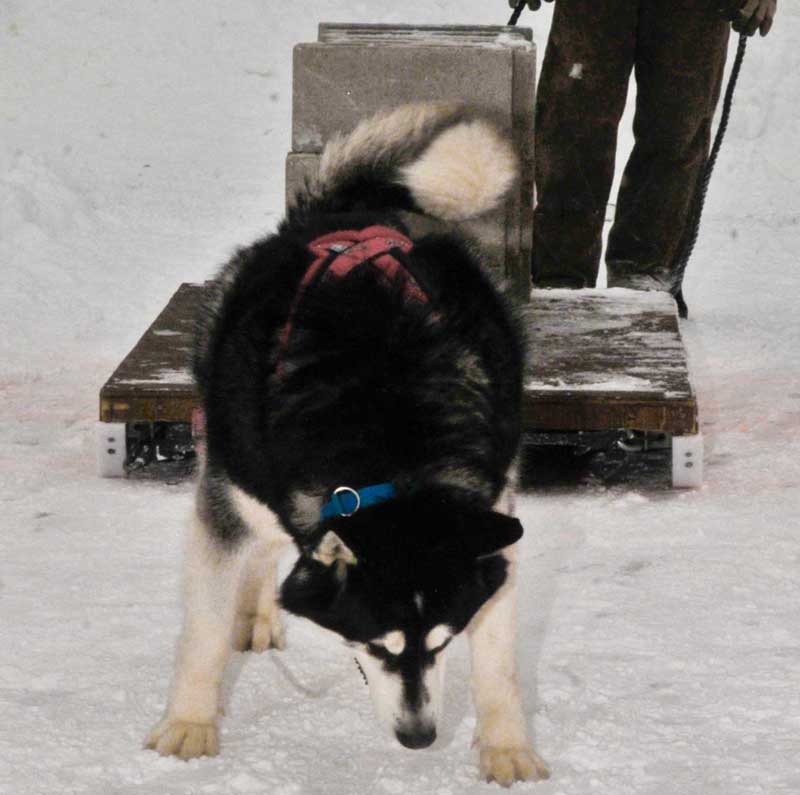 Sebastian digging in for his final pull
photo by Patrick Terry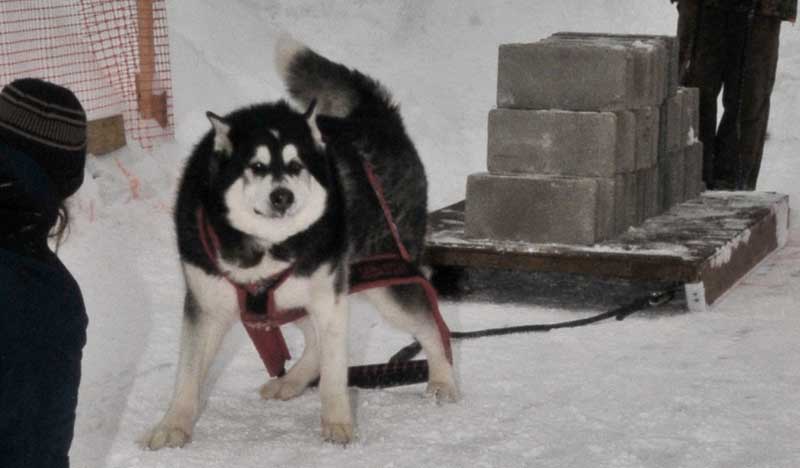 Sebastian final pull - thinking it over
photo by Patrick Terry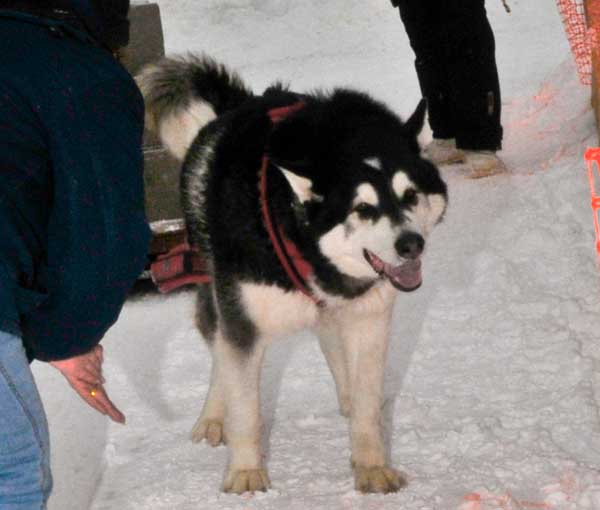 Sebastian final pull - happy but thinking it over
photo by Patrick Terry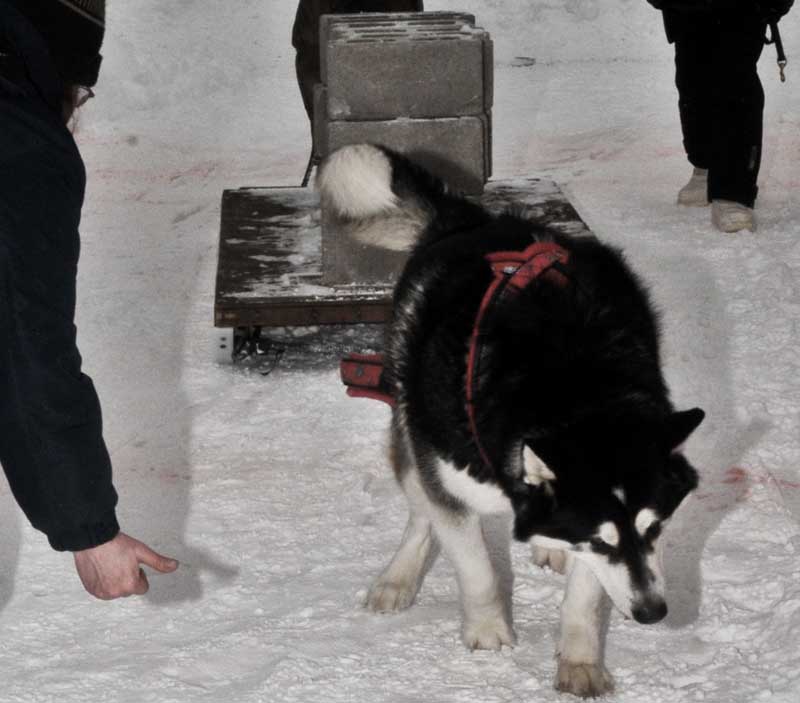 Sebastian final pull - working
photo by Patrick Terry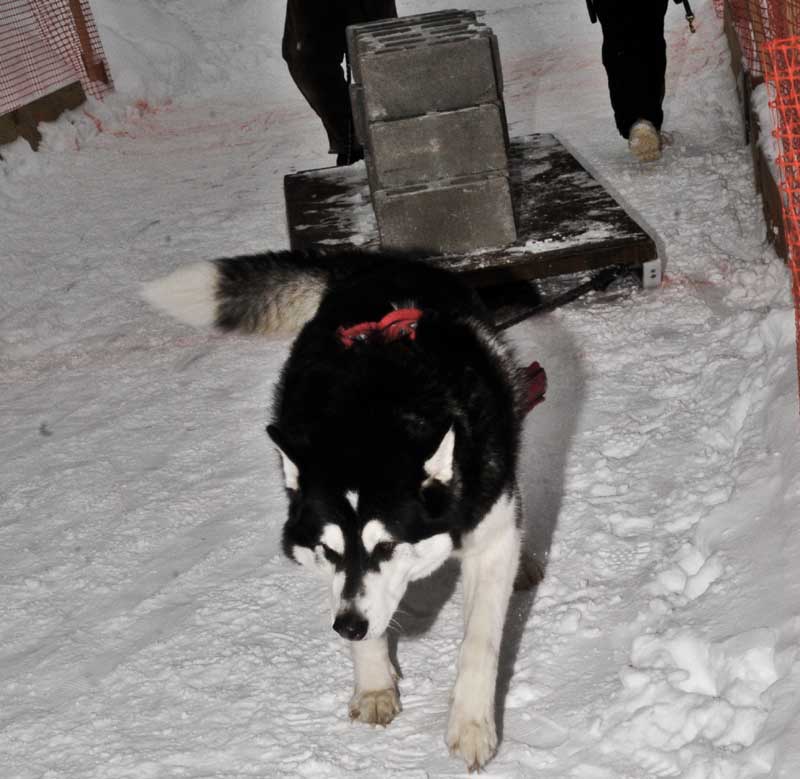 Sebastian final pull - crossing the finish line
photo by Patrick Terry
Whiteface edged out Booth by tenths of a percent for top Body Percentage.
We held our awards ceremony in the heated building again. I had packed up before that occurred, and wiped off what little accumulation there was on the car. The snow again stopped in time for the award ceremony, but no sun came out. I was the first one out of there and didn't even need a push, although the wheels did spin a little in the deeper snow of the parking lot.
We had an uneventful drive home, the roads good the whole way. I expected to return to mud as the temps got close to 50 here, but it just made the snow diminish not vanish :) We all crashed pretty quickly. It was a great weekend for our final snow pull of the season!
As soon as I find the Syracuse article about the Saturday pull, I'll get a link to that online!
All the photos of all the dogs taken by Patrick Terry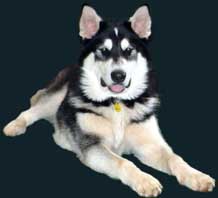 website design by Sheryl
bordered background by Sheryl
© 2005
all images © Sheryl Franklin unless elsewise attributed
all Alaskan Malamute sound files © Sheryl Franklin
website hosting by FranklinCommunications
domain name by DomainRegister.com