Sheryl's Alaskan Malamutes - Activities - Weight Pulling - IWPA - Clarendon - January 22/23, 2011



Weight Pulling

January 22/23, 2011 - IWPA - Wheels Weight Pull - Clarendon, PA
We were headed to WinterFest - Jim Lobdell Memorial Races & Weightpull

On the road by 5:15am, accompanied by a beautiful full moon and stars. I was glad for the later start of this pull, as it meant I'd have daylight once I got into unknown territory. This is an almost 6 hour drive, right at our driving limit. The roads were good, but I saw the results of previous bad weather with the remains of 2 tractor trailers on Rt 322. One one it's side in the median, and the other twisted and on it's side down the hill off the road. Rt. 322 was a decent highway until it went to 2 lanes going through the Allegheny Mountains. A little too steep and twisty turny for my taste. Then onto Rt. 80 for a bit, and then two lane roads the rest of the way. The roads were in good shape, though. I knew we were close when I saw the banners for Winter Fest. We turned into Chapman State Park and there were folks there to direct traffic. One of them tried to direct me several parking lots away from where the weight pull was. When I told him I had dogs and crates to unload, he relented and sent me only one parking lot away. Fortunately that parking lot connected with where I needed to be, and helpful mushers pointed me to the pull locale.

Right away I saw Wendy and she showed me where to park next to Diane, who's vehicle was setup for weigh-in. The other good news, right across from the heated restrooms!! Heat & flush - woo hoo!! Sounds funny, I know, but it's really nice not to deal with port-a-potties :)

There were hordes of people walking to and fro, to check the sled dog races (which had been going on since earlier in the morning) and anxiously awaiting for weight pull to start. Wendy & Kari, helped me get my crates over to the chute area. What a luxury that was. I got Sebastian out of the car first for potty, walk, weigh-in and then was going to get him crated. A crowd was on hand to see him weighed in. He was skittish getting into the sling, but it happened and he was decent being hoisted up. He was 144. On the way to the crate we were semi-mobbed, with people wanting their pictures taken with him. He posed for several, but I had to get him to the crate. It was closing in on 11:30 by that time & the pull started at noon. I got Cinnabar out, pottied, walked and weighed in. He was 109. He also drew a crowd, and posed for several photos and then on to his crate. I saw what looked like a decent place to park closer to the chute, and moved the car down there. Not a great move, I got stuck in the snow there, but knew we'd be able to push it out after the pull was over. It did make life easier, getting the rest of my stuff over to the crates. They had crowds around their crates, already, and people had brought their pet dogs, so I put the sheets over the crates leaving the front open.

Wendy told me it had been -10 earlier, brrr. We had beautiful sunshine and it warmed up from -10, but we were in single digits. I'd bought some thinsulate gloves with the open fingers to go over my leather gloves for use when judging. I'd also gotten some battery powered heated gloves, but they are pretty clunky and would be useless during judging. I knew my Steger Mukluks would keep my feet warm, and I had 4 layers of clothing plus my jacket. I was actually warm :)

I dug through my car furiously looking for my camera. On one of our pit stops, Sebastian had rearranged everything in the front seat and was in the driver's seat when I got back to the car. No photos this day, I'd have to find the camera for the next day.

Quick handlers meeting and the pull was on. The 60lb & 40lb classes pulled together. 8 dogs in the 60 & 2 in the 40. The sled weighed 190lbs, and the sand bags were 40 lbs., which is what their increment was. Just as we were about to get started, Jennifer showed up with Ava. She harnessed Ava up quickly and now we had 9 in the 60lb class, and another Sammie to accompany Diane's Rohn. Poor Jennifer had been sent to parking lot 3 which was a mile away from the chute.

After the first round, I knew I was seeing a different dog in Ava. She just started pulling this year, and with wheels pulls, she's a fairly typical Sammie, lots of barking taking up most of her 60 seconds of pulling time. Not on snow, this girl came alive. Not one bark. Jennifer had to move quickly to get out of her way.

After the first couple of rounds, the crowds began appearing and not just from the drive path next to us. From behind, as well. Steve said they usually have a few spectators, but nothing like this. They really advertised well, and many were there for the weight pull. I had my hands full keeping them back from the chute fence, getting people with their pet dogs to either move on, or get behind the start line. As the crowd was ebbing and flowing, this was an almost constant challenge. I was fortunate that Jennifer and Ava were near my crates and she kept folks from putting their fingers inside to pet the big dogs. Didn't mind them taking pictures, but sure didn't want any incidents.

When we got to the later rounds, Kari was pulling one of her dogs, I think Keisha, and a woman with a toddler went up to the fence and before I could say any thing Keisha headed over there in an instant. The kid had his hands through the fence and Keisha wasn't happy, and scared the kid. Again, I told the crowds to step back. Keisha finished the pull, thank goodness..

In a later round, on another one of Kari's pulls, almost to the finish line, another mother with two little kids came right up to the fence and wrapped their hands around it. I'm yelling at them to get back and hoping I'm not distracting the dog pulling. It took 3 times to get them to step back. After the pull was completed, I thanked the mother and she smiled and waved back at me.

Steve was telling the crowd also about why they needed to step back. Both Steve and Wendy rotated in and out of hooking dogs, while they were both pulling dogs in the class. After Rohn went out, Diane hooked. Nicholas braked, as he wasn't pulling until the next class. It was a busy class for everyone. Kari had her jacket & hat stripped off, as she was pretty warmed up from pulling 4 dogs pretty close together.

Steve said he's had to work with Starbuck a little differently now that he's 11. He's not working like he used to, understandably. On Starbuck's last pull, he was close to timing out, Steve stepped across the line and Starbuck finished the pull without assistance. He was just letting him know he was done.

Either Junior or Mole took first in the 60lb class. Unbelievably, little Ava, a dynamo on snow, came in 5th and went out only as a result of handler withdrawal.

I asked Steve if I was too mean with the crowd and he said no, that they in no way expected the volume of spectators.

Time to get my boys pottied and harnessed, while Steve groomed out the ruts in the chute. Lucky and Booth were in the 80lb class, Cinnabar in the 125 and Sebastian in the 150. I said we'd pull whatever increments the 80lb class wanted, which turned out to be 80lbs. Since this was only their 4th time pulling on snow, I passed the empty cart only to see how they'd do. The snow was crunchy to walk on, the sled seemed to be pulling well, but could rut if it was pulled too much side to side. Just before our class started, Wendy came over to me and said she had to talk to me. With a smile, I asked her what I did wrong. She said nothing and was really happy with how I handled the crowd, and that they were going to stop at Target before dinner to get some rope to create a crowd barrier for the next day.

Cinnabar was in heaven with those conditions, he loved digging his front paws into the snow. Sebastian was excited and playful, but very ADD. The crowds came back and Diane now had her hands full judging this class. I had to ask some boys several times to give us room while we were awaiting our turn and explain to them they could pet the dogs after the pull but that they were working now.

I passed Cinnabar quite often and was doing the same with Sebastian, until he really dawdled down the chute, looking up and down the row of spectators. No more passing for him.

On one of Sebastian's pulls, I had him setup and saw a man with two medium size dogs walking past. I put my hands over Sebastian's eyes before he saw him and since the man was headed behind the start line, got myself over the finish line. Sebastian started pulling and the man & his two dogs appeared at the fence and Sebastian headed right over there and he sounded nasty. Wendy got in between Sebastian and the fence and the man yanked his dogs back as I got over there to grab Sebastian. I figured they'd call a tangle and we'd start from there, but they said no. Take him out of the chute, break his concentration and start over. The effect it had on the crowd, was to immediately have them all back from the fence. Sebastian finished that pull very nicely.

On Sebastian's 1030 pull, he pulled a little bit, got himself over the finish line and laid down. He sat up for me, and when I asked him to pull, he laid down. As soon as he got up and gave a half an effort I had them kick the sled, and praised him for completing it. Steve explained to the crowd why we do that, the dog thinks he finished the pull. So, Sebastian finished with 950.

Cinnabar completed the 1030 pull, but struggled a little. I had them put on another increment, but told Cinnabar it was his last pull whatever the result. The little bugger, just steamed down that chute with a much faster time than his previous pull, but I'd promised so I withdrew him. So he got Most Weight Pulled, pulling 1110lbs, and a big round of applause as he pretty pranced his way back to the chute. Cinnabar got treated first, while Sebastian drooled. I was hoping that would motivate Sebastian do put in some effort the next day :)

As we were all staying at the same Super 8, we caravaned over there. We were going to then meet in the parking lot a little later, and caravan over to the Mushers' Dinner in town at the local FOP. We did just that, and were among the first to arrive. We had our own table, and in the lovely warmth completed all our paperwork and did awards there. There was a group of musicians with guitars and violins seated in a circle playing folk music. Just lovely. Delicious home made chicken soup and goulash was there for us. Oh, that hit the spot. Lovely relaxed evening of chatting. Wendy told me she wasn't afraid of getting between Sebastian and the fence to keep him away from those dogs, but was shocked at how hard his body was. He evidently ran into her hard. She couldn't get over it. She's used to dealing with dogs almost 100lbs less, it really is a difference. She read his body language well and knew he was blustering. We all laughed at what one of the spectators said, when we moved him and his dog to behind the start line, "well all those dogs are here", and even after we told him, "but, they're competing!" he was still miffed that he had to move and didn't have a front row seat. We also found out from one of the organizers they had trouble with spectators on the trails, too. People were taking their dogs on the trails, and one lone man stood in the trail as a team was approaching and didn't move. The team did their best to avoid him, but he did get knocked over. We also found out that the Lt. Governor was at the event. I was just hoping he wasn't one of the people I yelled at to get away from the fence - LOL! As we were leaving, I realized that Paige from Tails of the Tundra was at the next table I'd had my back to the entire evening. She told me where they were setup and I promised her I'd stop in the next day.

Back at the Super 8, time to get the boys into the room. We were on the 3rd floor, and this was going to be their first time on an elevator. I didn't know how they'd handle it. Well, duh, the doors open the same way the doors at the pet store open, so it was no big deal. I knew how far away from home we were, when the TV had Buffalo stations on it's line up. They crashed fast and so did I. Although, Sebastian did have time to jump on the bed. He ended up sleeping on the other bed, and faithful Cinnabar on the floor next to me as always. The room was like an oven and even turning the heat down didn't make a difference and I couldn't find an off button, so I turned on the air conditioning and we were fine, but surprisingly it didn't get cold.

We met up in the parking lot at 8:30 the next morning and caravaned back over to the park. As I was headed back to my car for the second crate, a musher came up to me and told me she'd met us at Tug Hill. She wanted me to know that she does presentations at schools about sled dogs, and uses a photo of my boys with their heads sticking out of my car in the presentation - LOL! We had a nice chat.

Steve setup a crowd barrier with rope around barrels. Since we had a little time, I headed over to Tails on the Trails' setup in Pavilion 1. Paige and I had time for a nice chat, too. One of the guys working with them gave me a hug because I had a Phillies cap on, and they'd had enough of being in Steeler country and was happy to see a sign of home :) They had some nice ball caps there with the word Alaska and sled dogs on them. I knew I'd be back after the pull for one of those. Paige said they'd done brisk selling the day before with the big crowds. They had a wonderful selection of hats, sweatshirts, stuffed huskies and more.

Time for the pull and they had a pencil for me! Exciting! I didn't have to fight with a pen that wanted to freeze up :)

Our chute: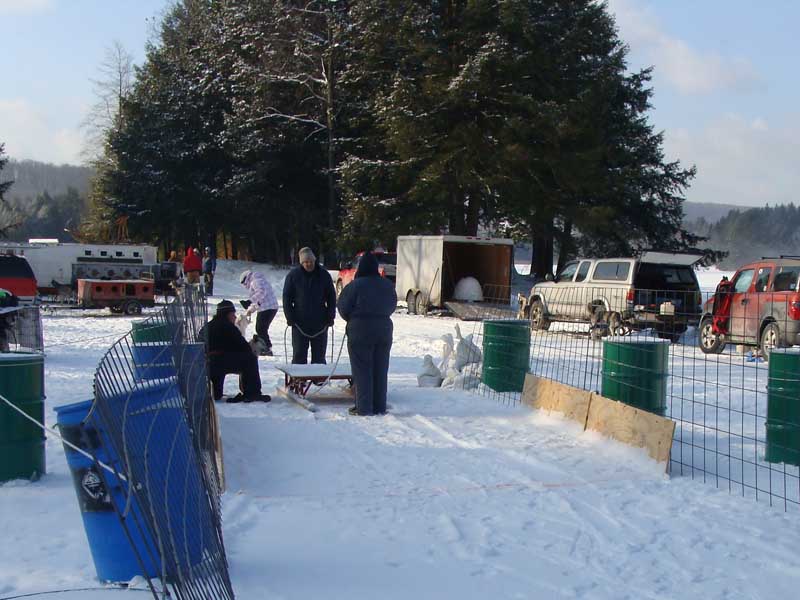 The crowd was less than the day before and we went on without incident for the 40/60 lb classes.
Littleman still not sure of this pulling in the snow business finished with some help: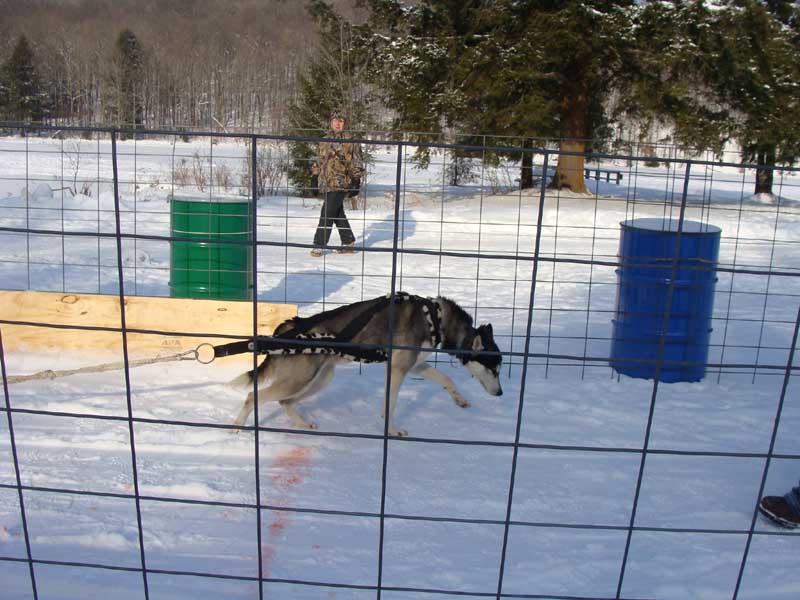 My camera battery ran out, but the "official photographer" was there taking photos for the website. After the class I asked her if she was taking photos of the big dogs, too and she assured me she was. Woo hoo!!
The snow was harder packed than the day before and the sled was running well. So well, Steve was passing Starbuck for quite a while, and the times were quick, as they were for his Whiteface. Wendy was double passing both Junior & Mole and those times were very fast. Ava continued to be a snow dynamo and just wanted her mom to get out of the way so she could pull. Rohn wasn't as into it as the day before. Kari's Solo and Ghost were both doing well in the 60 lb. In the 40lb, her Keisha ended up doing well, but made her work for everything. She was unfocused this day. The last 4 dogs left were Junior, Whiteface, Mole and Solo. I had to create another page on the score sheet because of how many rounds they went. Junior, Whiteface and Solo went out on the 710 pull, Wendy had them put another bag on and Mole pulled the 750 in less than 7 seconds, but she withdrew him on that. More pulls coming up, better save some for then :)
The sun kept playing hide & seek with us this day, and we had some wind, so I was cold after judging. I ran to the rest room and got my fingers warmed up on the hand dryer.
I started Cinnabar at 300 something & Sebastian at 400 something. They both started out great, and by this time we had some crowds. Lucky did well, but started being ADD for Nicholas and he was the first to go out. Booth was doing incredibly well, and when Sebastian started his antics I was ready to tell him that the little boy was going to beat him.
After a couple rounds, I had my jacket off having warmed up so much. I passed them both longer than I did the day before. Sebastian started lollygagging and game playing in the chute. He was so charged up outside the chute, he was having a blast and I was hoping he'd focus that energy. Well, after him taking almost the full time on one pull, but me still being sweet and asking him to try again, I guess he decided that being a brat wasn't working, so he took 30 seconds off his next pull. What a goof, I never know what to expect. Cinnabar was doing great, and working for me every time, and was quite a crowd pleaser for how he pulled, as opposed to my other crowd pleaser who made them laugh.
On Cinnabar's 1350 attempt, the sled stuck to the snow. He started talking. I had him try side-to-side. Even though he was frustrated and talking, he tried everything I asked of him. It just wasn't budging. I asked them to kick the sled on his next attempt and as soon as he realized it was moving he dug in for all he was worth. What a good boy!!
On Sebastian's 1350 attempt, he got it part way down the chute and started lollygagging and the sled stuck. He half heartedly tried, but laid down. He did get up and try again each time I asked. I had them kick it when I asked him to sit up and try again and I made a huge deal of it. Him still trying is a big deal.
They both pulled 1270 lbs, but Sebastian by 6 seconds quicker so he got Most Weight Pulled. Booth got Top Body Percentage.
The photographer showed me in her camera some of the shots she got, and I can't wait to get them!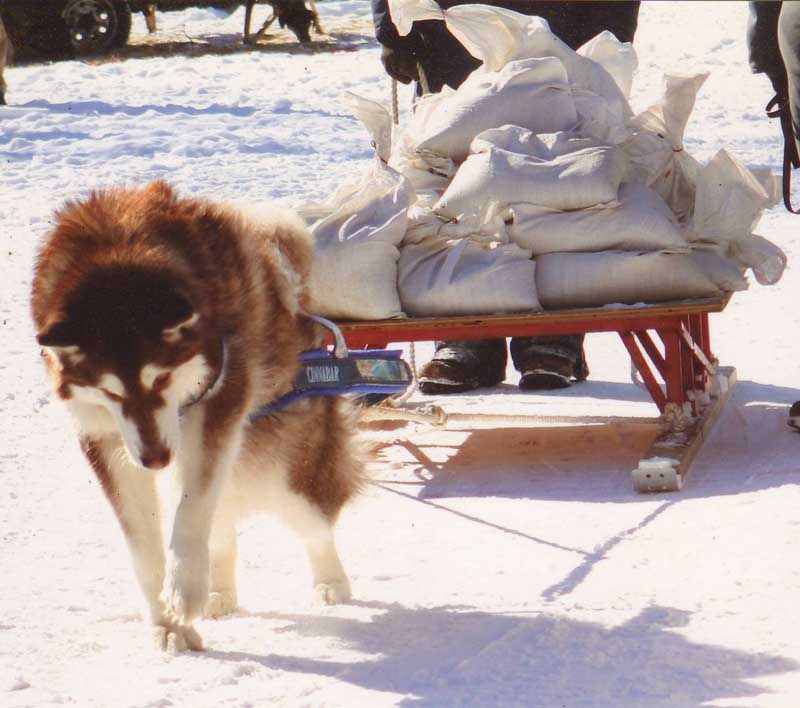 Cinnabar pulling
MRM Photography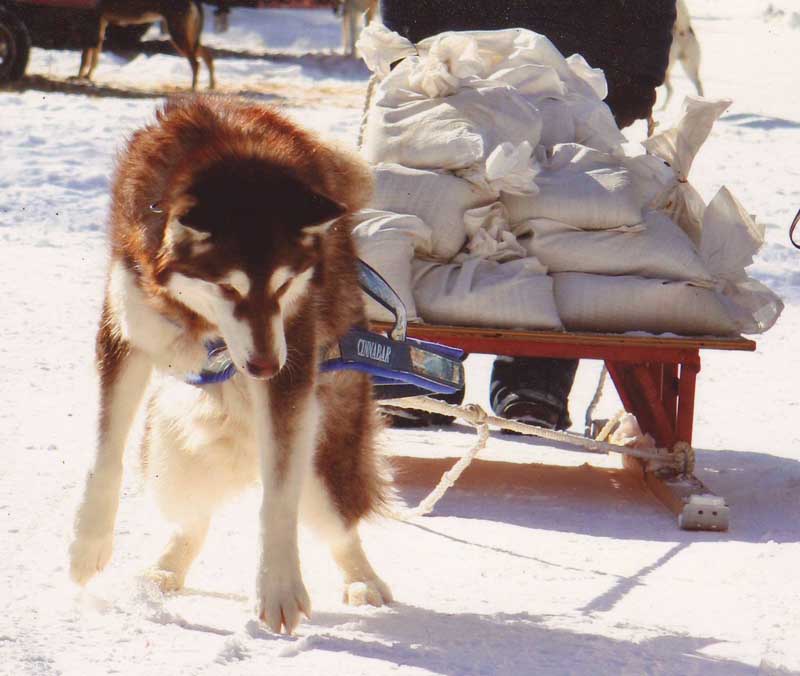 Cinnabar pulling
MRM Photography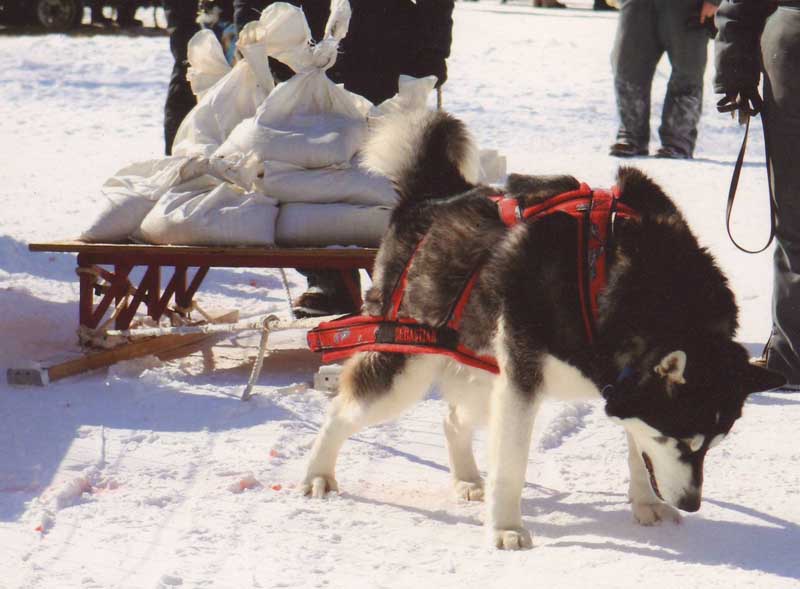 Sebastian pulling
MRM Photography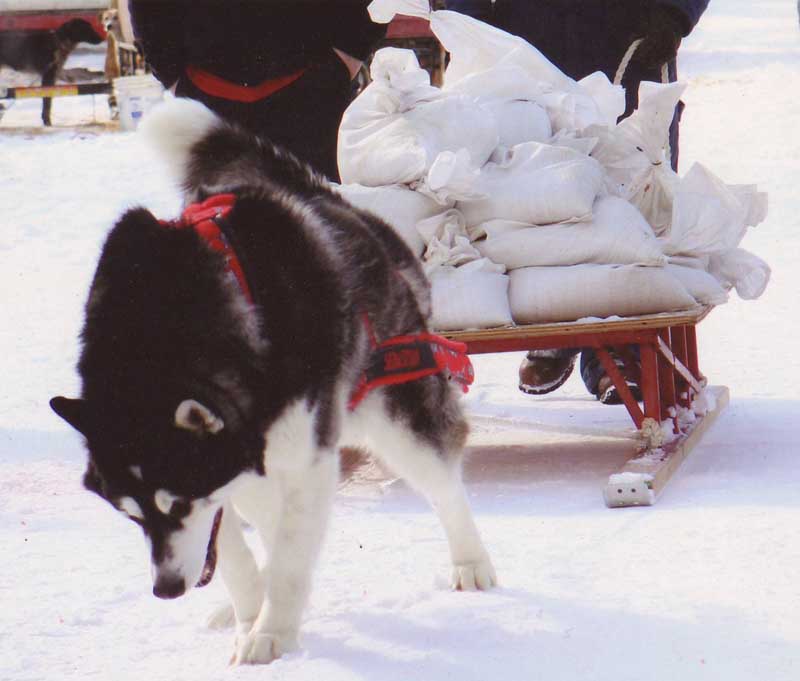 Sebastian pulling
MRM Photography

I gave them their apple treats at the same time and started getting everything packed up. Steve gave me directions for another way back that meant less 2 lane roads through the Allegheny's. It meant more time of Rt 80 with all it's truck traffic, but I'm happy in the right lane letting them pass me as opposed to the 2 lane roads which were not in as good condition as the day before after the overnight snowfall. After I got off Rt 80 and was on Rt 15 headed towards Harrisburg I was surprised to see a horse buggy on the shoulder moving against traffic on the 4 lane road. Hadn't realized the Amish were this far north, but was still surprised to see horse and buggy on a 4 lane highway.

We got home about 7:30, safe and sound.

This was a fun event for both the boys and I. We'll be ready for the crowds next year, and the event wants us back. More good news, the results will be posted on SledDogCentral.com, as well as IWPA!

Addendum: We made the big time :) Results posted on SledDogCentral.com

Also a link to WinterFest's Official Results pdf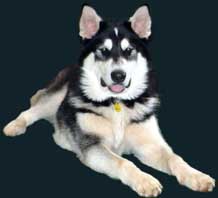 website design by Sheryl
bordered background by Sheryl
© 2005
all images © Sheryl Franklin unless elsewise attributed
all Alaskan Malamute sound files © Sheryl Franklin
website hosting by FranklinCommunications
domain name by DomainRegister.com