Sheryl's Alaskan Malamutes - Activities - Weight Pulling - IWPA - Oneida - January 01/02, 2011



Weight Pulling

January 01/02, 2011 - IWPA - Wheels Weight Pull - Oneida, NY
On the road by 4:15am, and it really was Sheryl's road. Guess everyone was sleeping off their New Year's Eve revels. I was actually happy when I saw a few other lights on the very lonely, very dark turnpike that morning. The sliver moon rose just ahead of the sun as we reached Binghamton, and a bit more normal traffic.

Lisa's place was already packed when we got there, and more kept showing up. The ice on the gravel driveway, later on gave way to the balminess of this January 1st, but it gave me a choice of trying to walk with a malamute on lead on the ice or on the non-iced patches right past the Jackson dogs staked out on their truck right in front of the barn where we crate. These Alaskans are a rowdy bunch and I usually give them a wide berth when I've got Sebastian in tow. But, I chose the safer footing past them. Sebastian was a good boy, and only once during the two days on his many trips past them did he respond to them. I was glad it worked out that way, as it was good for him to get all that practice in with good behavior. Cinnabar was of course good, but always glad to be past those dogs barking at him.

Sebastian squealed like a little girl getting into the sling, but not a peep while being hoisted for weigh in. He was 144 and Cinnabar was 110.

After they were setup, weighed in and I had my paperwork done I went to inspect the puppies. Tough task, but it had to be done :)

Michele's Polar, crated in the barn next to her other fur kids: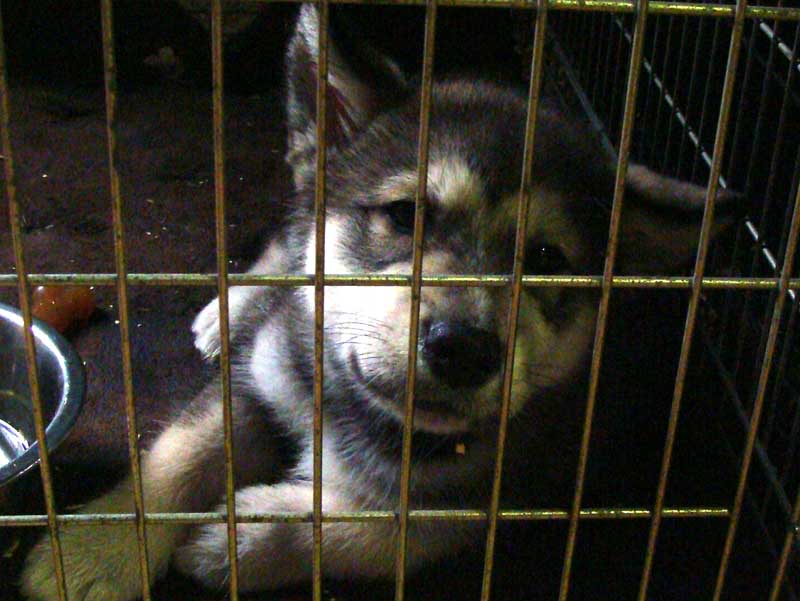 The Gallagher's Cuda: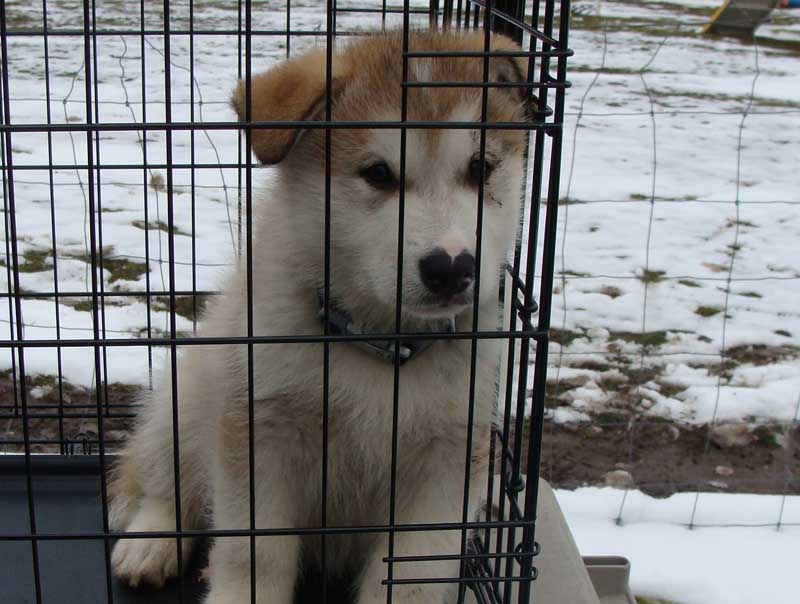 The Gallagher's Carly, crated over Ranger in their van. Ranger wasn't barking but another of the Gallagher clan was and she hid her head: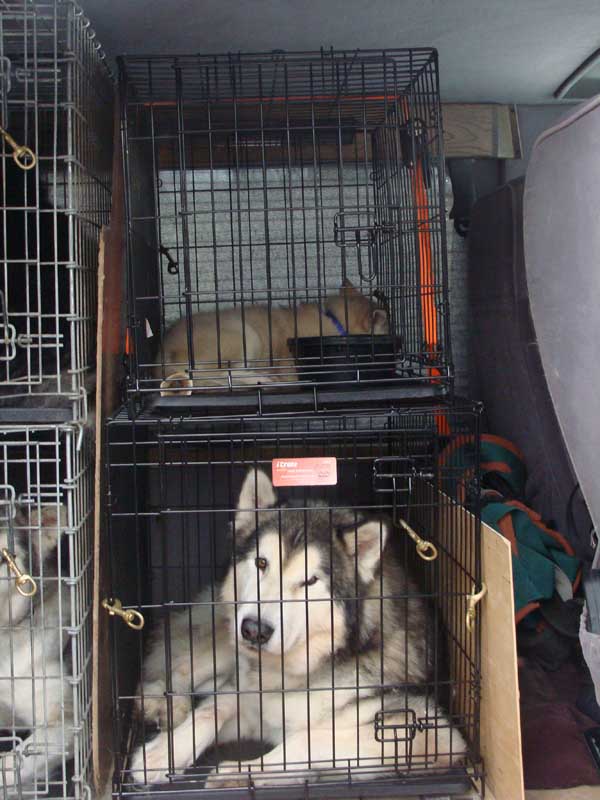 Carly finally decided to peak out at me: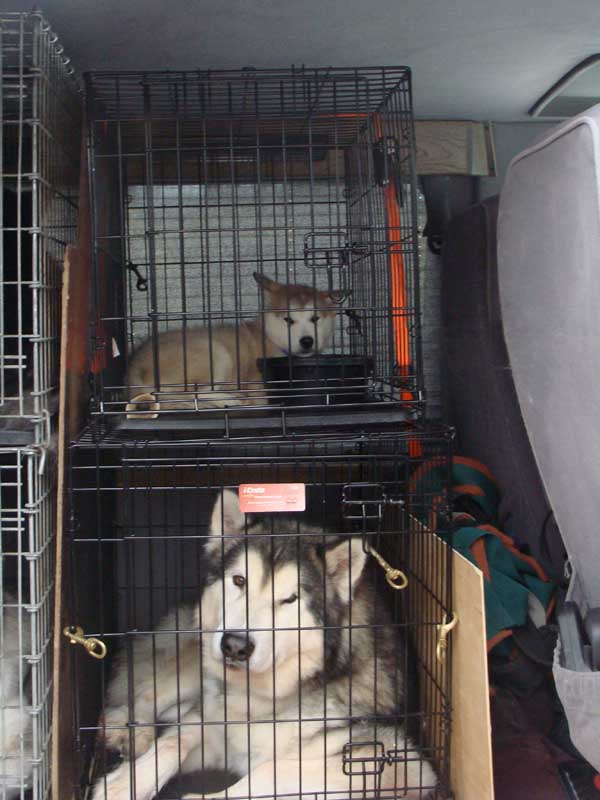 I also got to meet a bigger pup, Laura's Coby. He is adorable, sweet and fearless. And pretty much perpetual movement: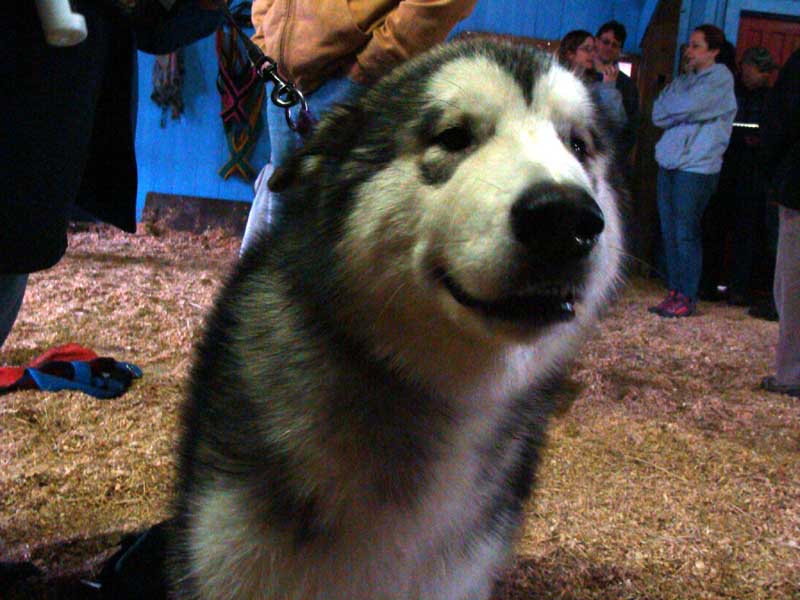 We had 49 dogs pulling pro. 2 in the 20lb class, 1 in the 40lb class, 21 in the 60 lb class, 13 in the 80 lb class, 12 in the 100 & up classes. There were another 8 who pulled in novice for a total of 57 dogs pulling this day. Wow, that's a lot of dogs!!
So many of these dogs were Malamutes. My boys, the Gallagher's Kiska, Takani, Harra, Hemi (pulling Novice to get him back in shape after his surgery), Michele pulling Shiver, Yukon, Tundra & Nikko, Eileen with Kodi, Lori with Chaos, LT & Trouble, Pam with Koda, Laura with Tassi, Rhya & Coby (pulling novice), Regina pulling bunches of mals; Idy and more who's names are not sticking in my head. Steve & Wendy's Alaskans, Sammies, lots of pitties, rotties, mixes, and the two tiny tots - Digger & Sprite.
Steve Jackson was our chief judge & I judged the 60lb class. He & Wendy judged all the other classes.
20lb &40lb class pulled in 25 lb increments & their cart weighed 75 lbs, until they graduated to the big cart. 60 lb class pulled 100lb increments, 80 lb class pulled 150lb increments, the 100/125/150/Unlimited classes pulled 150lb increments & pulled together. The cart weighed 225 lbs.
During the handlers' meeting, Lisa thanked everyone for coming and also told us that of all the sports she's hosted & attended (conformation, agility, obedience, schutzhund), the weight pull crowd at her events is the only one she's ever seen that not only leaves the place as they find it (all dog poop picked up), but pitches in and helps her throughout the day. She also told us that she's working on her September pull for IWPA's 2011/2012 season. I was puzzled by that statement, until she followed it up by saying she's trying to get it included as an event at the NY State Fair in Syracuse. Wow, that will sure be exciting to pull in an environment like that. I hope she's able to pull it off!
We started on time at 11am, and the 60 class started around 11:45, but with 21 dogs that class took 2 1/2 hours! For me, judging it didn't seem that long because everyone was so good about being ready when their names where called. It was really efficient with everyone just moving along.
I took photos of the 20lb, 80lb, early rounds of the 100 & up classes. Michele took photos of the 60lb class for me and Susan Gallagher & Joan Albro took photos for me of the big dogs. They did their gallant best because by the time the 100 lbs & up started pulling we were in darkness. No matter what setting, we got blur. The sports setting for movement preventing blur I usually use was useless as there just wasn't enough light.
This was also a potluck, bunches of crock pots in addition to other goodies for everyone to nosh on through out the day. My favorite after my 2 1/2 hours outside judging was a delicious chili, and some home made chicken soup. I needed that warmth and it really did the trick.
That 60 lb class was really good. It came down to Wendy's Junior and Mole, Linda's pittie Didi, and Bobby's pitty Desi. They all pulled the final weight, with Mole getting it on time. 3 of them had the same body percentage at 26 point something, which would've been the high, but little Digger the terrier had 26 point something more to get top body percentage for the day :)
Tassi did well in the 60lb class. She really pulled well for Laura!
After I got some early round photos of the 80lb class pulling, I didn't see much more of it because I was getting some warmth with the chili, but I know it was a good class from the time it took for the 13 dogs to pull. It was also during that class that I got to see the video made during the October pull. It's a 12 minute video (going to be highlighted on Lisa's site canineculture.com) about weight pull, showing the dogs (little to large) working & having fun, being loved on by their humans. He did a really good job with it!
I was all warmed up when it was time for the big dogs.
I started Cinnabar at 825 lbs. and Sebastian at 975lbs.
I single passed them until we got to the 1500 range and then no more passing. Because they were on different increments until the final stages, they both got lots of mom time. At first I had Cinnabar in the holding area, but that was heated and he started panting pretty quickly, so we waited in the crate area of the barn. Joan & Steve's little girl, Tori fell in love with Cinnabar. While he was getting his mom time, she was loving on him. She was loving on Sebastian, too, and while he was good about it and enjoyed it, he's not quite as cuddly as Cinnabar, who just soaked it all up.
Both Tundra and Nikko were pulling really well for Michele. Wendy, who was judging, teasingly asked Nikko if he was going to let a girl outpull him. He didn't let that happen :)
It came down to Nikko, Cinnabar & Sebastian. Nikko pulled 1725!
Cinnabar worked hard on his 1725 pull. His next pull was 1875. He talked a little at the beginning of it, and then just worked his tail off the get it in 24.39 seconds. Because he worked that hard on that one & the previous one, I withdrew him on that positive note. He took first in his class.
Sebastian was a joy to pull. Wait, did I just say that? Yes, I did. He's got a long memory and had his eyes on the horse poop he was hoping would be at the end of the chute.
He pulled everything easily, and had Cinnabar on time on the 1875 pull. I had them put on another 150lbs, and he pulled the 2025 lbs in 16.15 seconds, for Most Weight Pulled. Wendy told me she thought he was counting the 16 feet on that one, so although I believe he could've pulled more, it would've been an "interesting" pull.
After that, the novice class pulled. Linda & I worked the cart. Coby did great for Laura. After a couple rounds as the cart got heavier, he did the typical turn around to see what the heck was behind him, but he corrected easily. Hemi forgot nothing and was anxious to pull. I had to run behind the cart to break it before it ran into him LOL. He's so cute because after every pull, he turned around to see if everyone was watching "look what I did".
After novice, it was about 7pm. They gave out novice awards and held the rest for the next morning. It was nice to sit down with some warm chili and chat with folks before heading to the motel. We stayed 22 miles away at a Motel 6 in East Syracuse. They've got an AKC rate and don't charge extra for the dogs, so it's $40 with tax included, which is a $40 plus savings over the closer Super 8 and Days Inn. It's right off the Thruway exit and clustered with bunches of other hotels & motels. It was clean, and warm. We all zonked quickly, after the requisite bed jumping by Sebastian.
The next morning on the way back to the pull, I stopped at Tops and their wonderful produce section for bananas for the boys & I, and apples for them as their treats after their pull.
Thankfully we were starting at 9am instead of 11am, so we had a shot to be out there before dark.
We lost a couple dogs from the day before (Artemis, the 40lb sammie and others), but we gained more. We had our handlers meeting and were wondering where the Gallaghers were. Not like them to be late. While the 20lb class was pulling, I was going around to the 60lb class folks to see at what weight they'd be bringing their dogs in. There were the Gallaghers! I asked David what weight for Kiska, but he told me they weren't pulling. Susan wasn't feeling well. Gosh darn it! I gave her a hug and told her to feel better and that she and David would be missed.
Even with losing dogs from the 60lb class, we gained more and had 22 pulling in that class. We started that class at 9:30 and ended at 11:50. It was colder than the day before with some wind thrown in for good measure, and after a few rounds I had to run and get my gloves. It was another good class. Dan's Etah did really well. After what happened in Clifton Park, when he fell trying to get over the finish line and avoid Etah running into him, the cart help (Eileen & Michele), hold Etah until he's across the line. We also moved the cart over for him because Etah (like Hemi), loves diving into the chute fence. Etah did the best he's ever done in Oneida, finishing with 1025, I believe! The final 4 were Junior, Mole, Didi and Desi. They all pulled 1125, but only Junior pulled 1225.
No chili left to warm up with, but that wonderful chicken soup was there and I had two bowls of it while I sat next to the wood stove trying to thaw out. I got to see more of the 80lb class, and saw Lori's dogs really coming on. I love seeing that improvement.
Regina had forms for me to sign for legs for her Indy in the 60lb class. Laura also had forms for me to sign for legs in the 60lb class. My first time signing forms as a judge :) Later, I had some IWPA legs to fill out for some of the newbies in the 60lb class. The joy on their faces seeing their dogs do so well and getting legs was wonderful.
I started Cinnabar at 975 lbs. and Sebastian at 1025 lbs.
Cinnabar started talking on the 1725 pull. He tried to start it, then tangled himself. As soon as Steve called the tangle and I walked in he untangled himself and Steve said "just get back over the line". He tried again. Talked a little more. He tried again and just as I said "kick it" to the cart help, he really dug in. He didn't need the help, but it was too late, they'd touched the cart. He didn't know that, and worked it beautifully. He essentially did it on his own, and I would've withdrawn him after that anyway with that effort, but it didn't officially count, just in my heart. He finished with 1575 and first in his class.
That left Nikko and Sebastian. Nikko is really pulling well for Michele. They've both got more confidence. She's starting him higher and passing more rounds with him. He does it so easily, the day is coming when he's going to surpass my big goof ball.
Sebastian was pulling well, but was not as into it as the day before. He was more difficult to set up, and was giving the yelp "don't touch me". Sometimes when he does that he means he's ready to work, and he was, but he just wasn't as into it.
I was with him in the barn watching through the window to see Nikko's 1875 pull, and saw Michele go in to get him. I don't know why she did, just that she corrects him quickly, which is very good.
Sebastian did the 1875 pull easily, and I had them put on the extra 150 lbs. A little yelp and he was off, but he was headed to his left and the empty photographer's chair. I knew this meant he was bored. I stayed with him, but he left it a foot short. I told him to sit. He looked at me, didn't want to sit and decided to just get it over with and he completed the pull. The big lug again got Most Weight Pulled at 2025 lbs.
I believe that Junior got Top Body Percentage.
The boys got their apple treats, and I went in for the awards ceremony.
I had the car packed up, gave goodbye hugs & was on the road about 3:15. Amazing given how many dogs we had pulling. The weather was perfect the entire trip, and just north of Binghamton the sun came out from behind the clouds for a gorgeous sunset.
Another terrific weekend of pulling and both boys did well and had fun. I'm so proud of them. It's so exciting to see new people in the sport and loving it!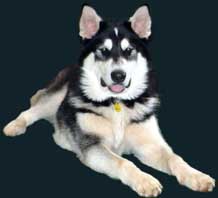 website design by Sheryl
bordered background by Sheryl
© 2005
all images © Sheryl Franklin unless elsewise attributed
all Alaskan Malamute sound files © Sheryl Franklin
website hosting by FranklinCommunications
domain name by DomainRegister.com