Sheryl's Alaskan Malamutes - Activities - Weight Pulling - IWPA - Cortland - October 24, 2010



Weight Pulling

November 06/07, 2010 - IWPA - Wheels Weight Pull - Clifton Park, NY
The little malamobile was on the road by 4:00am, with stars to guide us. At several points in PA, we saw deer off the side of the road, but no close calls. I hadn't been to this location before so the route was new to me. Mapquest said the quickest way was via New Jersey into New York State. It was, but I'd forgotten how much traffic North Jersey gets, even between 6 and & 7am on a Saturday morning. We got daylight after we crossed the New York border and onto the NY Thruway, just in time to see the Catskill Mountains on our left. Most of the trees still had about a third of the multi-colored leaves still stubbornly clinging on, making it a beautiful sight.

We pulled into the Tractor Supply about 9:20, still in time to get a decent spot to setup. Cinnabar weighed in at 110, and Sebastian weighed in at 146. I thought we were going to get a drama free weigh in, but he had to wail when a rope touched him. Fairly mild for him, but just enough for him to let everyone know what a burden it is for him :).

The weather was perfect for the fuzzy dogs, but a bit chilly to my liking but it did warm up as the day went on. Still brisk, but not finger bone chilling.

Lots of mals in addition to my two. Eileen (our wonderful organizer) had Kodi; Susan & David pulling Kiska, Harra & Ranger; Michele pulling Shiver, Yukon, Tundra & Nikko (along with Juneau her Sibe); Todd with Baby, Milo, Seth, Valiant & Luke; and a newbie Luna. Steve's Alaskans were on hand along with lots of Sammies, pitties, an American Bulldog, a French bulldog (in novice) and a big Newfie. When the Newfie was getting weighed in Michele's husband, John, and I were trying to figure out if he was going to be in Sebastian's class (150lb) or Nikko's class (unlimited). John said, "I bet his head weighs 40 lbs" and guessed him coming in at 152. I was thinking closer to 160, but the big boy weighed in at 180 lbs. Sweet as pie, too.

We had a total of over 35 dogs pulling pro. I judged the 60lb class, which was the biggest with 13 dogs. Steve was there with Wendy's son Nicholas to help him pull dogs. Wendy was playing soccer mom attending another son's function. So, when the class got narrowed down, I had to juggle to make sure Steve wasn't back to back pulling, until the end when it was just Steve and 3 of his dogs. He always pulls Starbuck, but he was also pulling Mole and Junior for Wendy. We gave him style points for carrying Mole into the chute just the way that Wendy does :).

Dan Plosila pulls, Etah, his Sammie in this class. Dan is 85 years old, and doesn't get across the line as quickly as he used to. When he released Etah on his left, Etah was pulling toward him and he was doing his best to keep out of his dog's way. On one pull, his knee gave out and he fell into the chute barrier, cutting his chin on the plywood. The Newfie's dad was an EMT and had everything on hand to deal with the cut. Dan's biggest concern was that Etah wasn't out. We called that a tangle and put him at the end of the round. I asked him if he wanted Michele to hold Etah until he got over the line, he said yes and that he wanted the cart more in the center. I love Dan, bless his heart. Etah had several more successful pulls.

We used the same cart as at the Cortland pull. It's Eileen's cart, that Steve Jackson made for her. As it's still being broken in, it started shutting down around the same point that it did in Cortland. The track was also on a slight incline. So, no high weights.

Tractor Supply, supplied the weight for us in 50lb bags of road salt.

Both the 40 & 60 lb classes went with 50lb increments. The 80lb (pulling alone) and the 100/125/150/Unlimited (pulling together) pulled in 100 lb increments. The cart weighed 210 lbs.

Dan's tumble didn't stop him from helping Diane judge the 80lb class.

Seeing the weights the superstars of the 60lb class pulled, I scaled back on starting weights for my boys. Cinnabar at 410 & Sebastian at 510. I knew it was a good decision when Todd started Luke at 610.

Cinnabar was doing well for me and I single passed him a couple times. He got some comments on his tail wagging pretty prance out of the chute on his way back to the comforting presence of his brother. On his 1110 pull, he started talking, and dancing from side to side. He settled in for me and worked it, but then some spectator kids ran along the side of the chute excited at seeing the dogs and got him totally distracted. I got him back and he finished in 57.72 seconds. I withdrew him after that. He got 2nd to Luke in his class.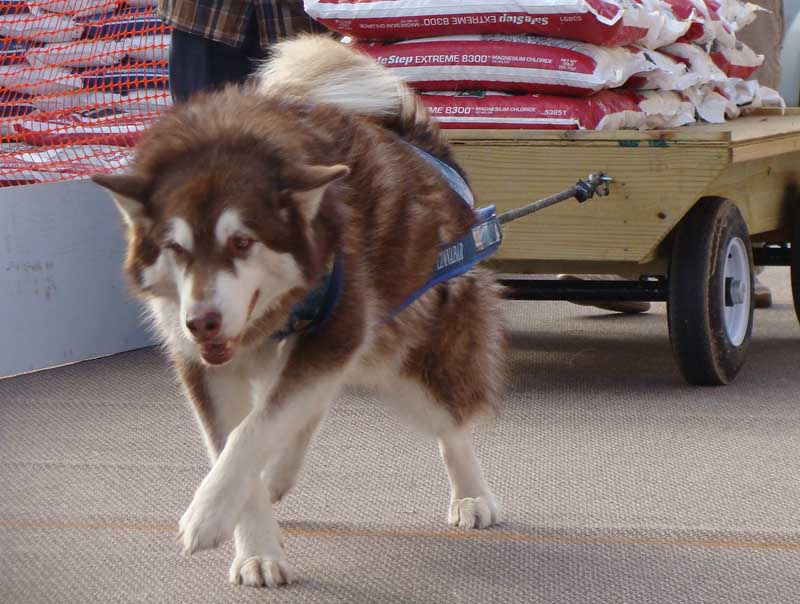 Cinnabar - Mr. Determined
Sebastian, while in a good mood, continued with his schtick of being bored pulling for the whole 16 feet, stopping short of the line. I asked him to sit and after he complied, asked him to pull and he did - easily. He made the 1210lb pull in 15.47 seconds. On his 1310 pull, he was really a brat. He timed out when I put him in a sit, but I asked him to finish it and he did easily, but he was out.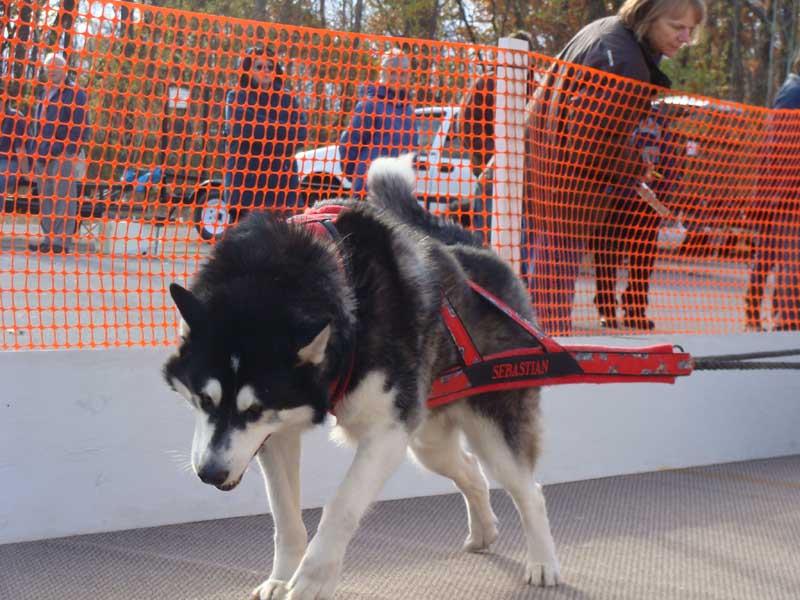 Sebastian - I'm finishing it already
Luke got Most Weight Pulled at 1310, I believe. Ranger got Best Body Percentage with his 1210 pull.
The sun came out for the novice class which pulled after the pros. I didn't get photos of the novice class, as the camera ran out of memory when Joan was taking photos of the big dogs for me. Susan took photos of the 60lb class for me. Thank you to both of them!
After awards & packing up, I got to the motel in time to catch Zenyatta's final race. I was hoping that would happen. I was disappointed she didn't win, but really impressed with how she ran down Blame to lose by just a nose. The big girl just ran out of track.
Sebastian did his usual jumping on the bed routine, but he was also a brat. He'd had his dinner, and some of the evidently delicious pumpkin treats that Eileen had for all the dogs, but he needed to find and chew up all the bars of soap, before he felt his work was done for the day and crashed. Fortunately, I had some soap in my overnight bag. No dull days with him :)
The next morning I stopped for gas back near the Tractor Supply, and an elderly gentleman pulled in next to us and raved about Alaskan Malamutes. I was expecting to hear huskies, but he knew his dogs. He gave me directions to a grocery store and I was able to pick up some bananas and apples for the boys & myself.
This morning was chillier than the day before and gloves became a necessity.
We lost some dogs from the day before, but picked up some more. Lisa with Vegas, and Dory and her mom came to supplement the 60 lb class. So, 15 in the 60lb class, and 2 in the 40lb which this day pulled with the 60lbers. The 2 40lb Sammies were both Bev's, and she had another Sammie in the 60 lb, so I needed to work them in so she wasn't pulling back-to-back, along with Steve not pulling his 3 back to back.
Michele held Etah for Dan, again. On Etah's early rounds he starts pulling right away. On his later rounds, he remembers he's a Sammie and needs to bark for 45 seconds before pulling. On Etah's final pull, he started the cart at 59:55 and finished in 71 plus seconds.
Steve Jackson again got style points for carrying in Mole the same way that Wendy does. He's got the hip action down just right - LOL!
The sun came out during the 60lb class and afterwards I got back to their crates to find them in the sun. The sheets cover the top, sides & back of the crates, but the sun found the one place not covered. I covered the front of their crates with my reflecting pad. They can still see through, but they don't get the heat of the sun.
We also picked up 2 more mals from the day before. Idy in the 80lb class, and another in the 100lb class, but I didn't get his name.
I started Cinnabar at 510 and Sebastian at 610. 100lbs more than the day before.
Cinnabar did well for me and I single passed him to 1110lbs. He made the 1210 pull in 19.94 seconds. On the 1310 pull, he did his song & dance, then worked. He pulled it about a foot. I asked him to work again, and he tried furiously, but he wasn't budging it. I asked them to kick the cart when he tried again and he was so proud of himself thinking he made it. He is such a good boy, he got lots of hugs & praise at the end of the chute.
Sebastian had to be woken up to pull. Yawn. Sebastian was again into his 2 pulls for the price of one routine. He didn't want to sit and then restart, he just wanted to dig in and restart. He really was digging in to restart, and doing it easily. He really had me flummoxed when on his 1310 pull, it pulled it straight through down the middle. On his 1410 pull, he did one restart and finished it in 21.44 seconds. On his 1510 pull, he pulled, stopped, restarted, stopped, timed out, restarted and finished it. He's restarting very easily, he'd sure make my life easier if he just got the pulls over with, but then he wouldn't have as much fun :)
Luke took Most Weight Pulled with 1510, and Ranger again got Best Body Percentage (I think pulling 1310).
After awards, packing up, hugs & goodbyes we were on the road by 2:45. The traffic started getting heavy as we got out of NY into NJ. Somebody please smack me in the head if I think of using that route again. I'd rather add an extra half hour of a relaxing drive versus saving time and white knuckling it. We got home safely at 8pm. As usual they race for their water bowl (even though they've had their own water at every stop), and dance around outside (I love their joy at rediscovering their own yard).
It was a fun two days, and kudos to Eileen for organizing a great event. Great dogs & great dog people, doesn't get better.
Photos of all the dogs & more of Sebastian & Cinnabar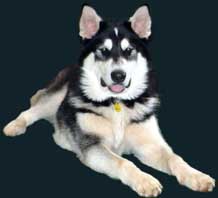 website design by Sheryl
bordered background by Sheryl
© 2005
all images © Sheryl Franklin unless elsewise attributed
all Alaskan Malamute sound files © Sheryl Franklin
website hosting by FranklinCommunications
domain name by DomainRegister.com