Sheryl's Alaskan Malamutes - Activities - Weight Pulling - IWPA - Cortland - October 24, 2010



Weight Pulling

October 24, 2010 - IWPA - Wheels Weight Pull - Cortland, NY
We were on the road by 5:00am, with a gorgeous full, slowly setting moon to guide us. We did have a little excitement on the turnpike in the Pocono Mountains when a deer gracefully jumped the concrete median barrier to block our path, but she quickly bounded away without harm. When we got to Binghamton the rising sun hid and spritzing rain was our companion the rest of the way to Cortland.

First time organizers Steve & Joan Albro set up this pull in the side lot of their local Country Max. Our surface was gravel, and given the weather a bit muddy. Steve had told me weeks earlier that there was no shade, so it would be a good idea to bring the easy up. Well, it was still a good idea with the rain.

Our little area soon became Malamute central as Barb setup BeeGee and Trace next to my boys, and Laura setup Nanook on the other side of us. Lori Hicks (LT, Elim & Trouble) soon joined us in our little pre-event gab fest.

Other mals attending were Tundra, Shiver & Nikko (Michele), Kodi (Eileen), Idy (Kodi's sister & I forgot Idy's mom's name, sorry), Koda (Pam). The other northern dogs were Artemis (a little Sammy), and Steve & Wendy's Alaskan huskies. We had Digger, the little terrier in the 20lb class, a bunch of pitties, an American Bulldog, a Swissie and a mix. In all over 30 pulling pro, with at least 3 first time novices (along with others who pulled novice to give their dogs some more work).

Cinnabar weighed in uneventfully at 111. Sebastian did his little girl squeal, while being weighed in at 145.

I got photos of the 20 & 40 & 80 lb classes. Jenny took photos of the 60lb class for me while I was judging. She also got photos of the big dogs (100/125/150/Unlimited classes) for me while I was pulling my guys.

Steve Jackson was our chief judge.

This cart was new to us. The cart bridle sits up higher than many of the carts we usually pull with and for some of the still learning dogs it gave them pause. They had to turn around and look at it. For some of them it was their first time on this natural surface. That with the gentle rain & new cart proved to be a bit scary for them. Some got over it and for some it stayed with them.

I could see while judging the 60 lb class, chock full of good pullers, that we wouldn't have any high weights this day. During that class we had lots of spectators, some with dogs as Country Max had some kind of dog special going on inside as well. Lots of people were there with their dogs. We had to ask some of them to relocate so they were watching with their dogs from behind the start line & didn't bother the dogs in competition. When the weights got higher, as each dog went out of competition in the 60 lb class, I asked for a round of applause for the dog leaving the competition. It's nice having spectators!

In the 80lb class, Barb was pulling Trace. At about 18 months, this was his first competition. She pulled him pro and he did ok his first few rounds. Then he got scared. I didn't know a malamute tail could curl under a body that far :) She used a leash on him after that for a couple rounds after he went out and she pulled him again in novice to really get him used to it. It was nice to see that tail curled up instead of down again - LOL!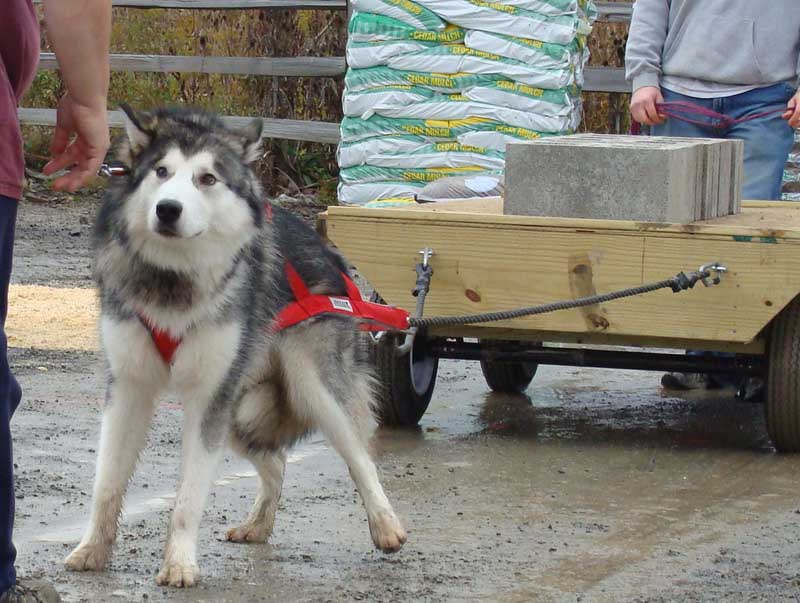 Trace - this is a little scary, mom
Shiver did ok for Michele in that class, but wasn't on her A game like she was at Oneida.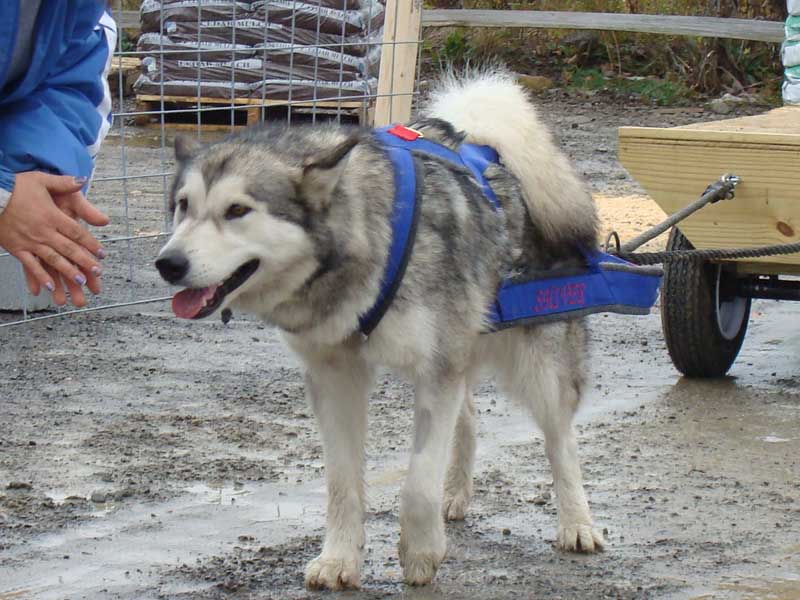 Shiver
Bee Gee pulled well for Barb, given that he's not pulled since April in Harrisburg, getting second in the 100lb class.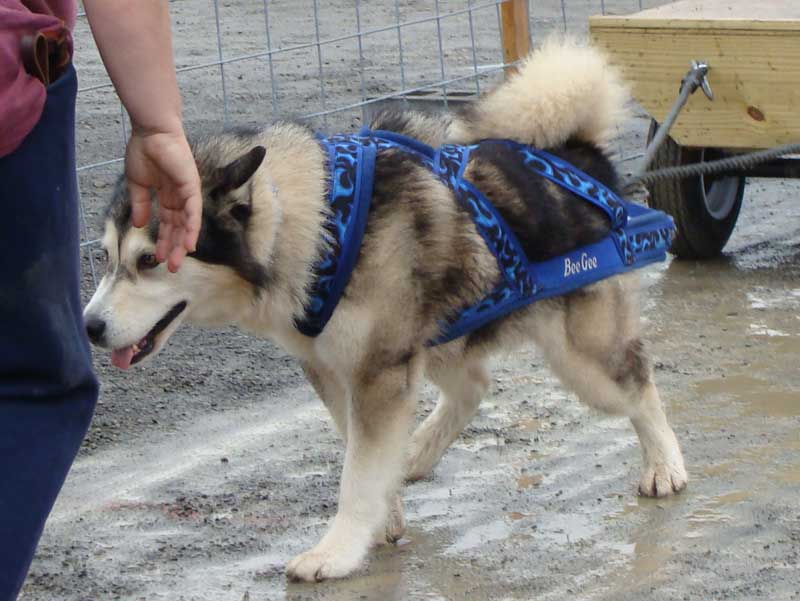 Bee Gee
Nanook decided intially for Laura that he didn't remember about pulling, but she coaxed him back into it his first couple rounds & he got with the program again. Laura had Bre with her, but I didn't get to see much of her as she was organizing the Brier horses in the store with another little girl most of the day :)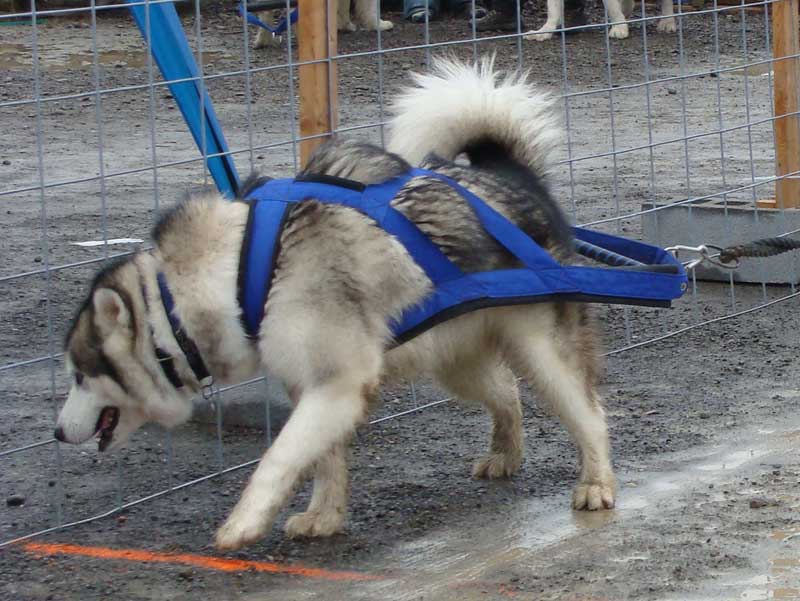 Nanook
Tundra did well for Michele in the 125 lb class. She's starting to pull even before Michele turns around after she passes the finish line to call her. Always a welcome sight!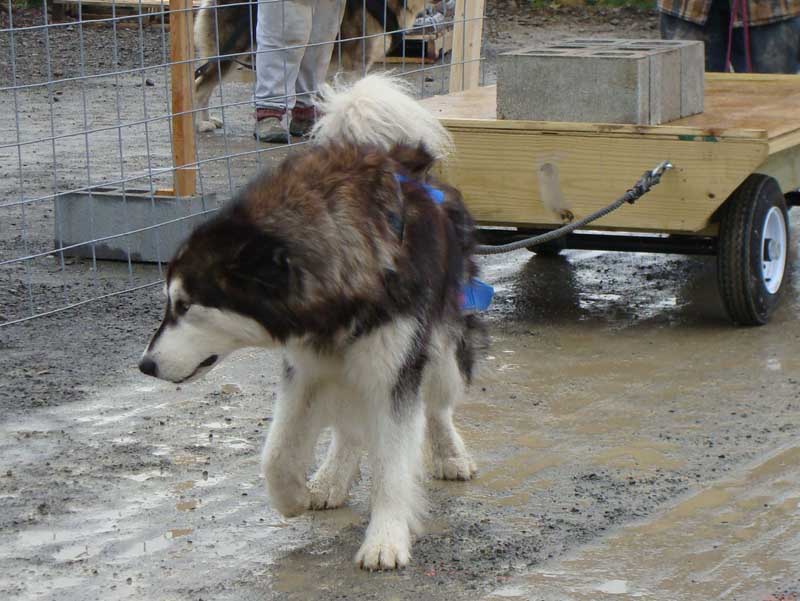 Tundra
Nikko ended up well, after initially acting like he didn't know about pulling on his first try. Silly boy, once he got in gear he nearly pulled the cart help off their feet :)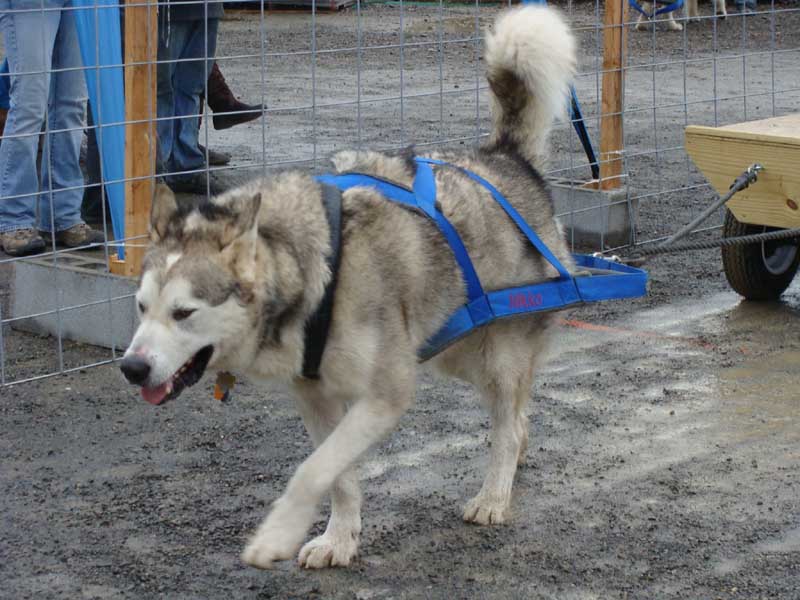 Nikko
In the past, Cinnabar went through a bout of not liking to go in the chute. He was fine once in there, but acted afraid going into it. I tried several different things, including bringing him in from the other end of the chute. During all my experiements to get him out of that funk, I was making a big deal every time his name was called, repeating it in happy voice. "Cinnabar's in the hole" "Cinnabar's on deck" "Cinnabar is up!". Well, that was the thing that worked. Since February at Tug Hill, he now he gets geared up every time he hears his name called. Wendy knows this, and when she calls "Cinnabar is up" his ears perk up and he prances into the chute. It is the cutest thing and thank goodness he's over whatever was bugging him about getting into the chute.
Given that the weights weren't going to be high I started Cinnabar at 600+ & Sebastian at 800+ (we pulled in 150lb increments). Cinnabar pulled that first one easily and I passed him a round. I didn't pass him again. On his 1110 pull, he started talking but pulled it for me. He'd already won his class with that, but didn't want him to get off that easily. On his next pull of 1260, he danced from side to side and talked. I settled him, he got focused and he worked it finishing it in 38.94 seconds. I withdrew him after that.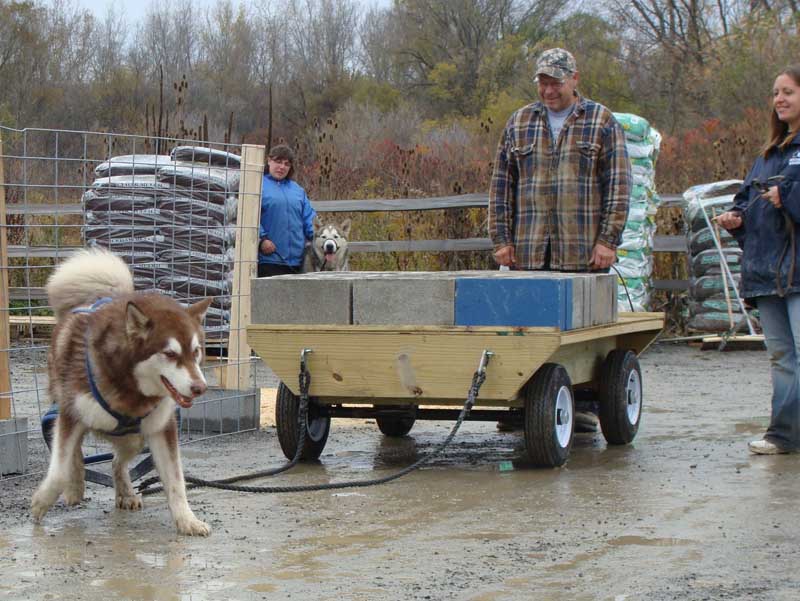 Cinnabar - a little dancing & talking on his 1110 pull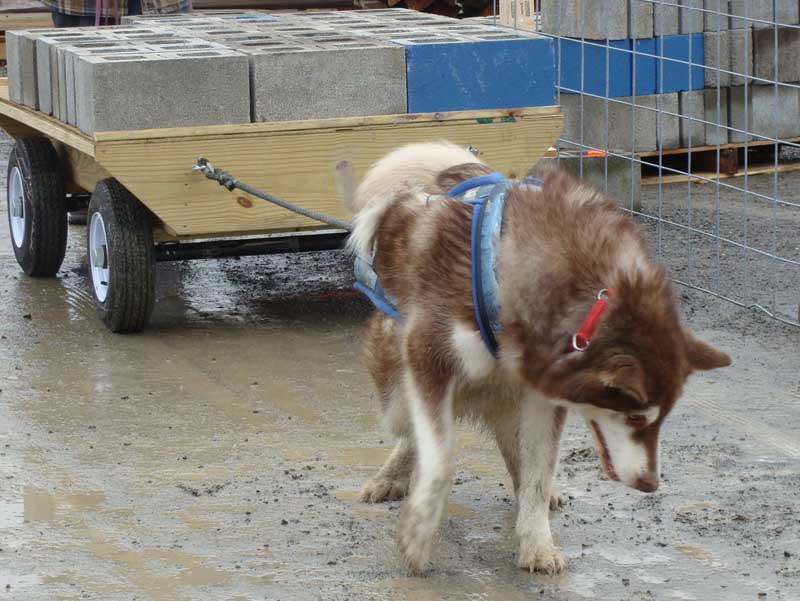 Cinnabar - working it on his 1260 pull
Sebastian easily pulled his first time, but he was so lackadaisical that I didn't even think about passing him. "Hum-de-dum, hum-de-dum, here I come down the chute" was his whole attitude. I gave him lots of hugs before it was time for him to pull, and talked excitedly to him. "Let's get ready to rumble" "Isn't this exciting, big boy" - and whatever else I could think to say. I do hear the chuckles when I'm talking like that running into the chute with him, while he's strolling in behind me, "hum-de-dum". All of that work got him slightly more interested than he'd been. On his 1110 pull, he left the cart short of the line, but he restarted and finished. I asked for the cart to be repositioned to where the wheels hadn't been & there weren't any ruts from prior pulls. I didn't want to give him any excuses and he and Cinnabar were the only ones in at this point. Well, he did the same thing on his 1260 pull - leaving it short but restarted and finished. But he was having a little fun with it, so I pulled him again and didn't take extra time between pulls. Again on the 1410 pull he left it short. Again, after some clowning, he restarted and finished. I withdrew him after that. So, the good news is he didn't pancake. The potentially troubling news - is this the start of a new pattern designed to drive me crazy? We'll see, but at any rate he got Most Weight Pulled and a pretty blue rosette to attest to that.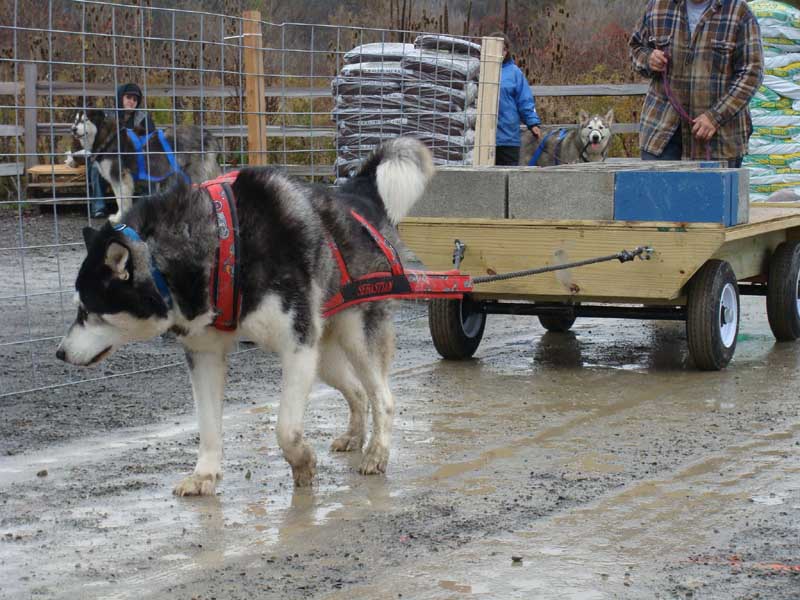 Sebastian - hum de dum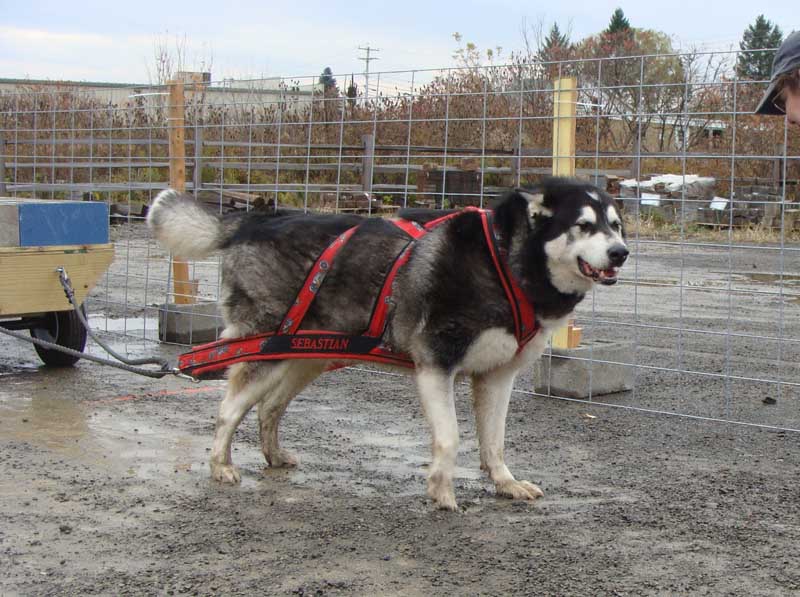 Sebastian - leaving it short of the line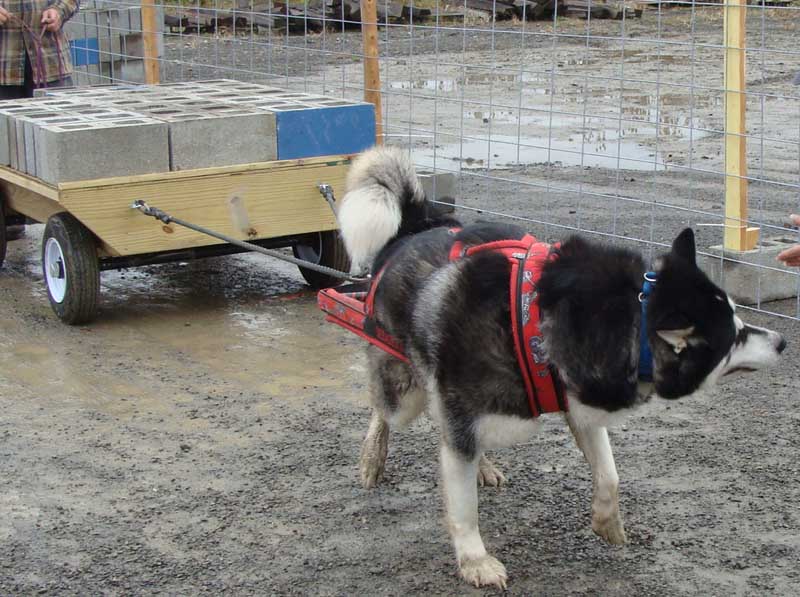 Sebastian - finishing it off
Junior from the 60lb class (coming in 2nd to Mole in that class) got Top Body Percentage.
The sun peaked out in time for the novice class - LOL!
I thanked the Country Max folks on my last trip inside the store. Some of them came out for the awards ceremony. Steve thanked everyone for being there, being good sports and for cleaning up after themselves and said make sure we leave it in good condition and maybe we'll be able to be here again. The Country Max folks were nodding yes to that. Cool, looks like we'll be pulling there again at some point.
Steve and Joan did a great job organizing the pull! So exciting to have more organizers & new locations in the region.
Packed up, hugs & goodbyes and we were on the road by 4:00. We stopped at my brother's house in the Poconos for a delicious home cooked dinner and then back on the road with the now rising full moon to guide us and home at 10:00. All 3 of us crashed pretty quickly.
Photos of all the dogs & more of Sebastian & Cinnabar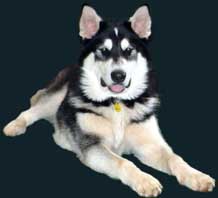 website design by Sheryl
bordered background by Sheryl
© 2005
all images © Sheryl Franklin unless elsewise attributed
all Alaskan Malamute sound files © Sheryl Franklin
website hosting by FranklinCommunications
domain name by DomainRegister.com