Sheryl's Alaskan Malamutes - Activities - Weight Pulling - IWPA - Oneida - September 11/12, 2010



Weight Pulling

September 11/12, 2010 - IWPA - Wheels Weight Pull - Oneida, NY
We were on the road by 4:30 am, with a beautiful starry sky accompanying us for the first 2 1/2 hours. 20 miles south of Binghamton we ran into heavy fog which lasted for the next 1 1/2 hours, which then gave way to blue skies and gorgeous sunshine.

The scale here weighs heavy by 3 pounds, Cinnabar weighed in at 118lbs, Sebastian at 151. He was a baby getting into the sling, but didn't wail when hoisted up.

We had about 40 dogs pulling pro. 3 in the 20lb class, about 13 in the 60, 13 in the 80, and another 13 or so in the 100/125/Unlimited classes. After the sanctioned pull, we had about 9 novice dogs.

Lots of malamutes at this pull. My two, Susan & David pulling Cassi, Takani, Harra, & Ranger (am I missing anyone?); Michele pulling Shiver, Yukon, Tundra & Nikko; Brenda & Val with Raider (and their adorable new puppy, Darla!); Eileen with Kodi, Lori with Elim, LT & Trouble; Todd with Seth, Milo, Valient & Luke. Michele also pulled her Sibe, and Steve & Wendy had their Alaskan Huskies. We also had pitties, American bulldogs, mixes & the two tiny tots.

Steve Jackson was our chief judge & I got to apprentice the 60lb class under him. He & Wendy judged all the other classes. That works out great for them because the bulk of their Alaskans are in the 60lb class. I stayed with him while he judged the 20lb class, so no photos of those classes this day.

Our organizer was Lisa Mawson. This is her training facility and she's got a permanant weight pull chute (carpet on concrete), under tented tarp. She got new carpet for this season. This carpet didn't give lots of traction, so that was our challenge. However, the cart pulls straighter on this carpet and rarely had to be reset. In the past, the cart had to be reset often as it pulled to one side. The cart still starts to shut down around 1700 lbs, so no high weights. But, that is also part of the challenge.

20lb class pulled in 25 lb increments & their cart weighed 75 lbs. 60 lb class pulled 100lb increments, 80 lb class pulled 150lb increments and pulling together, the 100 lb class pulled 150lb increments & the 125/Unlimited classes pulled 200lb increments. The cart weighed 225 lbs.

I took photos of the 80lb & 100lb classes. Joan Albro took photos for me for the 125lb & up classes.

I started my boys at 825 lbs.

It got warmer & a touch humid in the afternoon and the sunshine was creeping into the chute. When I saw Riddick (pittie) in the 100lb class panting, I knew it was going to be warm for all the fuzzies :)

I single passed them so their next pull was 1225, which they both made easily. I single passed again. Cinnabar made the 1625 pull easily. Sebastian almost made that pull, but was in a "I don't wanna" mood and left it short and just sat there with that brat face looking at me. He did take first in his class over Nikko.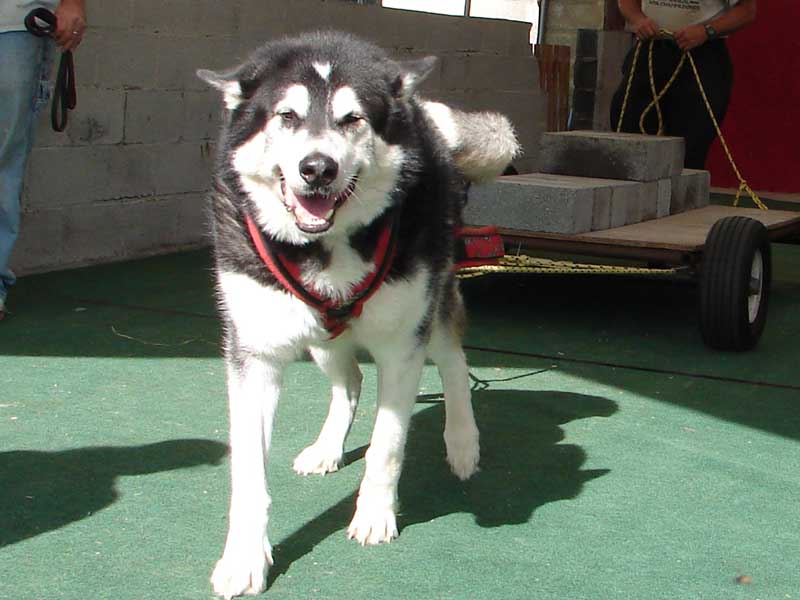 Sebastian - "I'm ready for my closeup" - photo by Brenda Lemon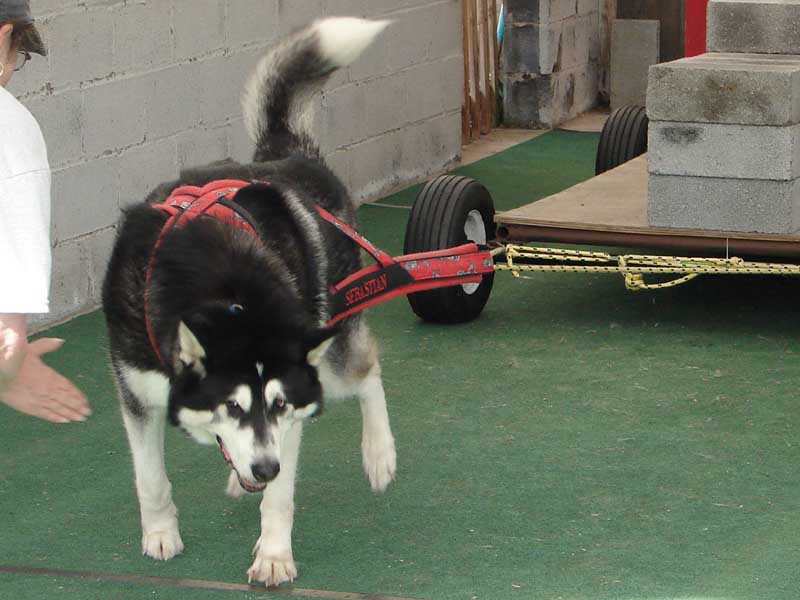 Sebastian - "Don't know if I'm in the mood, but I'm pulling" - photo by Brenda Lemon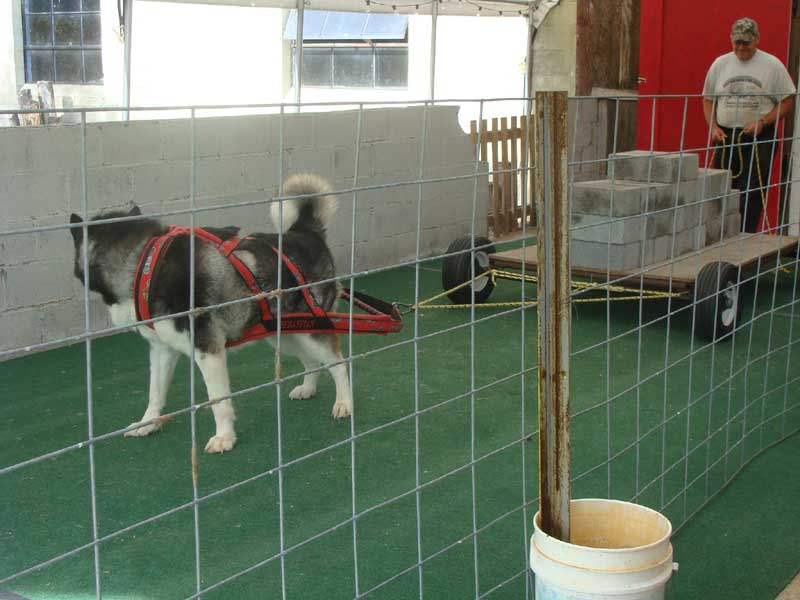 Sebastian - "I don't think I want to"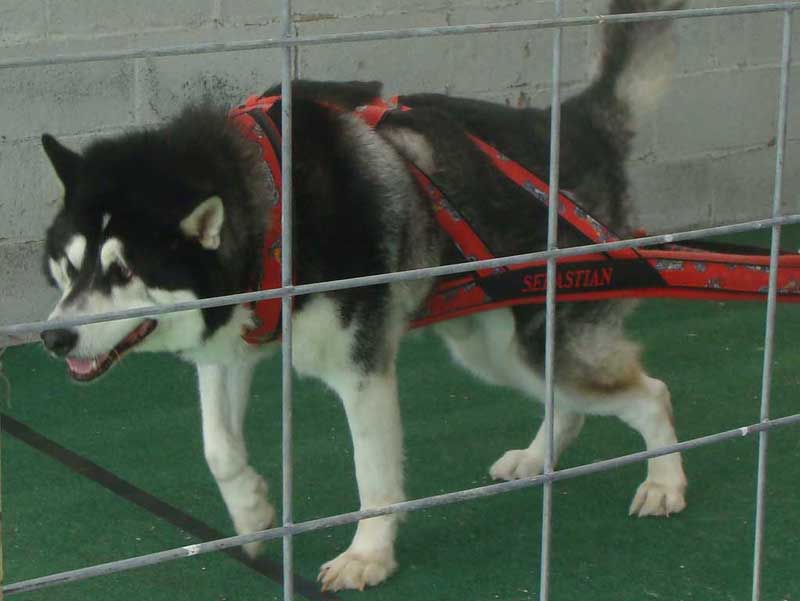 Sebastian looking like he's going to finish the pull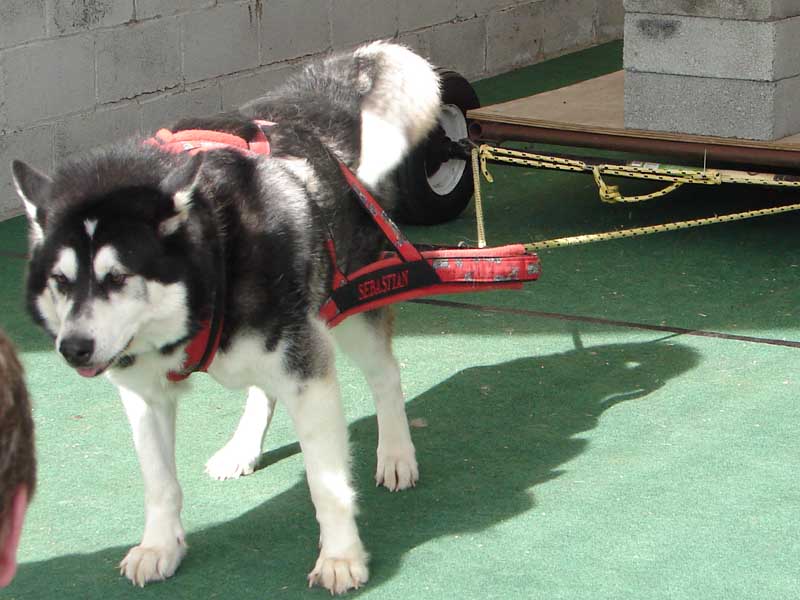 Sebastian - "Thinking I'm quitting just short of the line - ha ha" - photo by Brenda Lemon
I didn't pass Cinnabar. He got frustrated when he started the 1825lb pull. He'd try a little, then talk, then side to side. I worked to get him focused. When Wendy called out 15 seconds left, I worked harder to focus him & the sweet boy dug in & pulled it in 63.84 seconds. He got lots of praise & I withdrew him. I knew he wouldn't make the 2025 pull & wanted to end him on a positive note. He got a terrific round of applause & lots of comments about what a good worker he is & his heart. Luke had also made the 1825 pull & attempted the 2025 lb pull, but didn't make it. So they both pulled the same weight, but Luke pulled it in 20 some seconds, winning the class. How cool that Cinnabar pulled the same weight as a great dog like Luke? Raider (who weighed in at 108) took 3rd, with Tundra 4th in that class.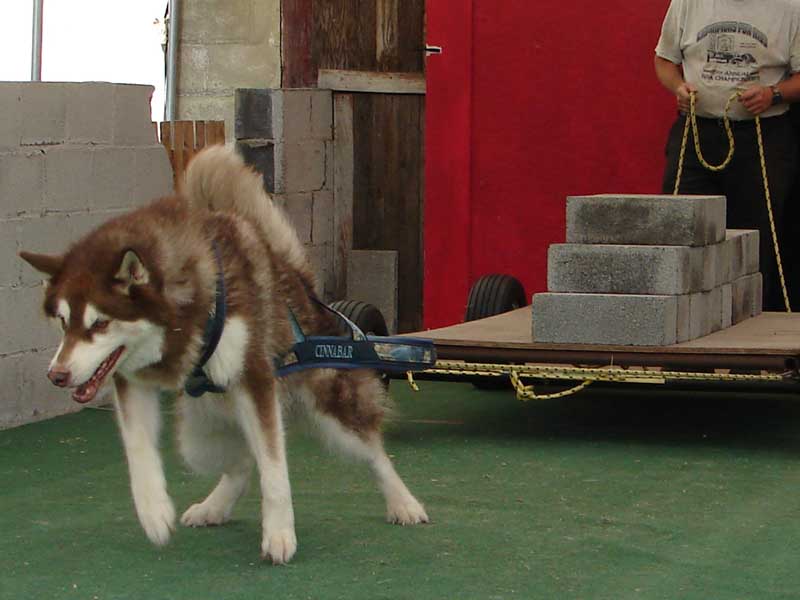 Cinnabar digging in - photo by Brenda Lemon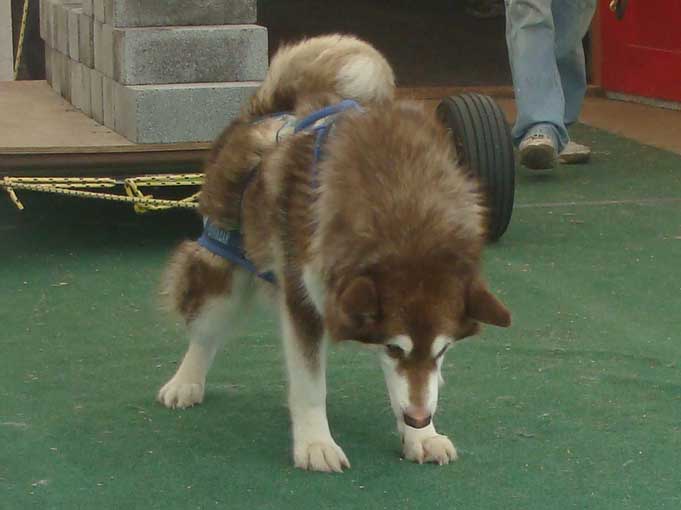 Cinnabar digging in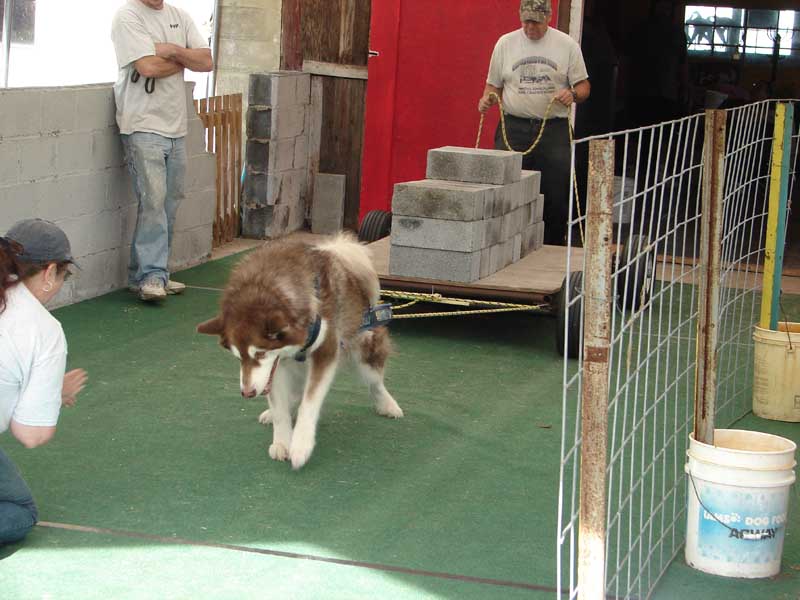 Cinnabar digging in - photo by Brenda Lemon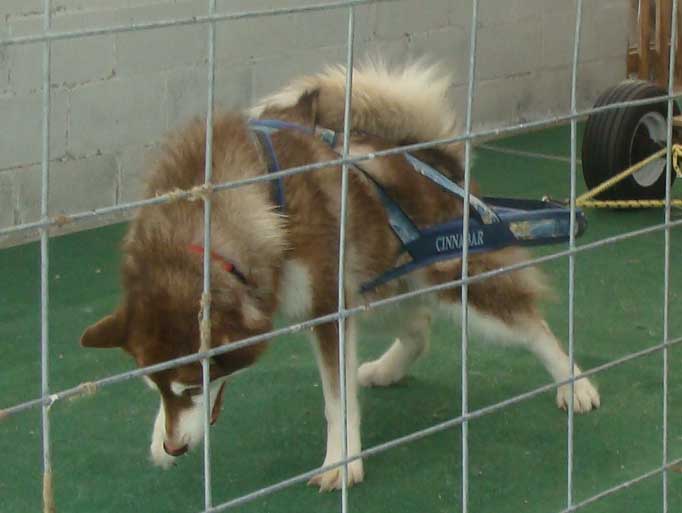 Cinnabar digging in on his final pull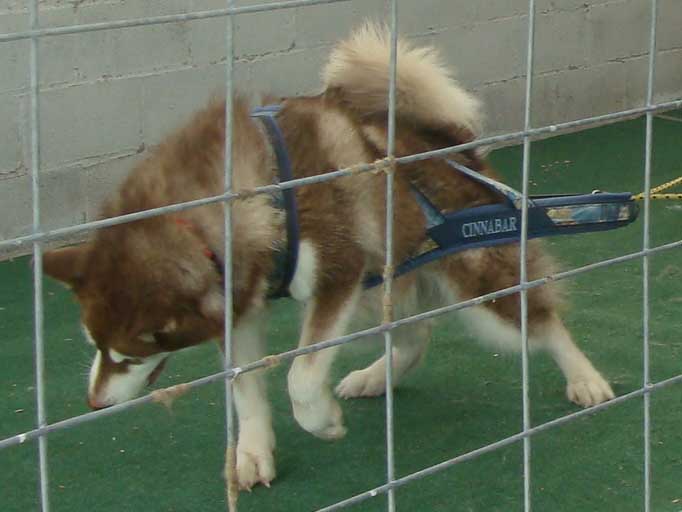 Cinnabar digging in even more on his final pull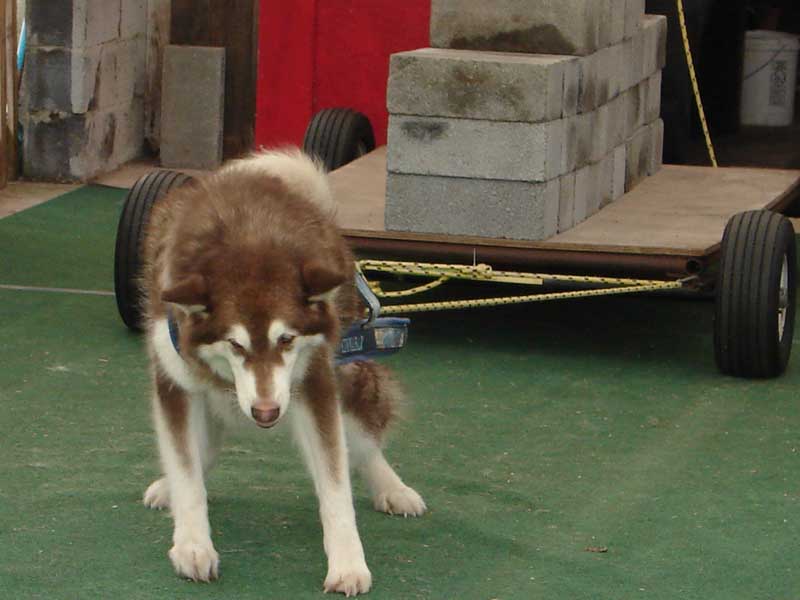 Cinnabar working it - photo by Brenda Lemon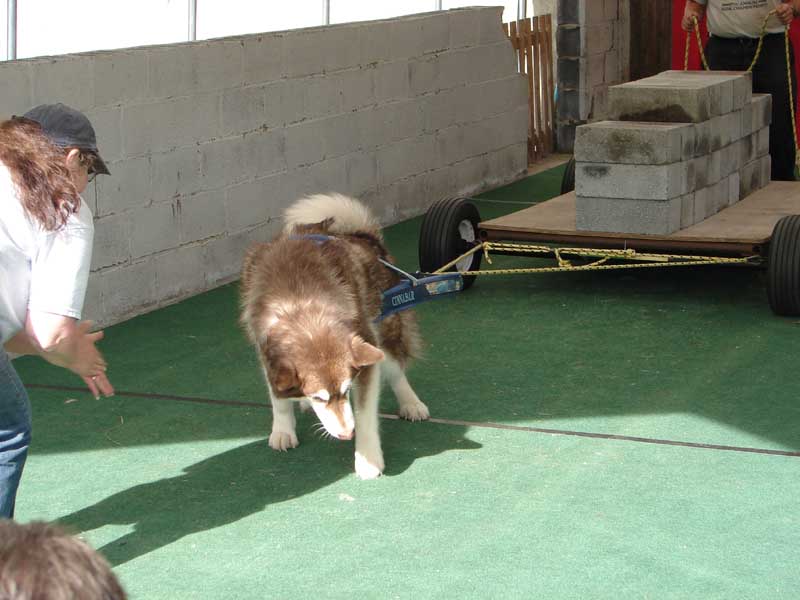 Cinnabar working it - photo by Brenda Lemon
Ranger took top weight, at 1875 lbs. Wendy's Alaskan, Mole took top body percentage.
Photos of all the dogs, plus more of Sebastian and Cinnabar from Saturday, September 11, 2010
Both boys were good in the motel. Cinnabar zonked after eating, and Sebastian zonked a little while later, after completing his bouncing on a new bed routine :)
The next morning was drizzly. We gassed up, stopped at the grocery store for apples and bananas (this store has the best produce at reasonable prices - $.99/lb for MacIntosh apples) and headed back to the pull. The boys both got a banana each for breakfast.
As I went to toss out the banana peels, I saw a familar dog truck pull in. It was Missy & Dave! This was their first pull since July 2009 shortly after Dave was diagnosed with cancer. He's been cancer free for over six months! I knew they were going to try to make some pulls this year, but didn't know they'd be coming to this one. What a great surprise! They weighed in 10 dogs. Their pressa, Evo, remembered me and just smothered me with kisses. I've always loved that dog since he was a pup & used to do obedience exercises with him at pulls and I guess that's what it took for him to love me back - LOL!
There were a couple of other dogs to be weighed in that hadn't been there the day before as well. Joan's pittie, Rain; and a big American bulldog named Cyrus; as well as an English bulldog. We lost a couple dogs from the day before, so we had 50 dogs pulling this day.
A jacket was needed for the cooler, drizzly day, but that was ok for me as it would be good for the dogs.
We had the same dogs in the 20lb class, and with Missy's crew we had 3 dogs in the 40lb class. Gosh it was good to see Dyna, Hugger & Bear pulling again.
I judged the 60lb class again. Big class, 14 dogs. Starbuck, who is now 11, did great! His two sons, Mole & Junior did even better, with Lisa's pit Vegas right in there with them. Mole took the class with Vegas 2nd & Junior 3rd. Wendy was pulling both Mole & Junior so she was out of breath & losing voice.
I got photos of the 80 lb class. Since the 100 & up classes were pulling together, I was able to get some early photos of those classes & then the videographer that was there said he'd take some photos with my camera - woo hoo!!
I again started my boys at 825 lbs.
Cinnabar was getting lots of loving in the holding area, trying to convince anyone who would look at him that he never gets love. I was able to alternate his position in the lineup with Sebastian, so that Sebastian also got lots of mom time, instead of just being pulled out of the crate to pull. I was able to find a corner far away from other dogs so that he wouldn't have an opportunity for any posturing. But, being Sebastian he did call attention to himself by removing the lid from a 10 gallon plastic bin of dog food. I got his head out of there before he raided it and Eileen replaced the lid & put stuff on top so it couldn't happen again.
I single passed Cinnabar so his next pull was 1025 lbs, which he pullled easily. I single passed him again and he easily pulled it. I didn't pass him again. He easily pulled the next pull, but on his 1575 pull, he got frustrated. I got a little focus from him & he'd try, but he didn't maintain it. I had them push the cart on his next attempt so he thought he got it and I made a big deal of it with him, but he was done for the day. He took 3rd in the 125 lb class behind Raider & Luke.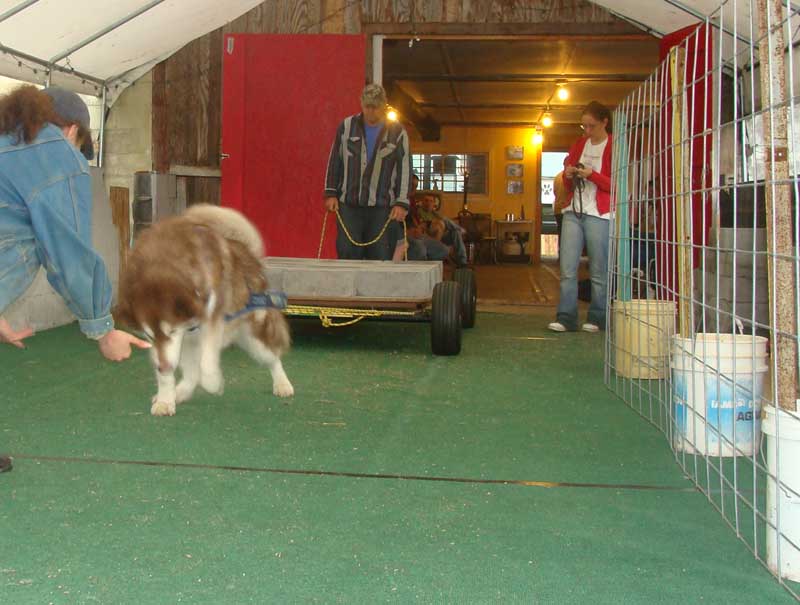 Cinnabar digging in
After Sebastian's first pull of 825lbs, he went way beyond the chute after I leashed him up and he spotted some sheep. That charged him up
I single passed him and on his next pull, he was jumping around in the chute. This was a good & hopeful sign that he was going to work this day. I single passed him again, but not after that. On each of his pulls, he was yelping and jumping before I ran across the line and vainly looking for sheep at the end of each pull. He successfully pulled 1875, easily & quickly, but so did Luke & Raider who were the only other dogs in the competition at that point. Neither of them made the next pull of 2025. I took Sebastian in for that one, again a yelp & a jump and we were off to the races. He was doing great, working it down the chute. But, wait, brat mode emerged and he stopped "just because" two feet short of the finish line and just sat there, tongue lolling out, eyes sparkling. I walked around him (he's beyond the line at this point even though the cart isn't) and when I faced him he started working again. He moved it a couple inches, but then sat down again. When I urged him to try again, he laid down. I blew into his ears, he yowled at me, but he did get up & even though we were out of time I had them push the cart when he tried, so he thought he made it.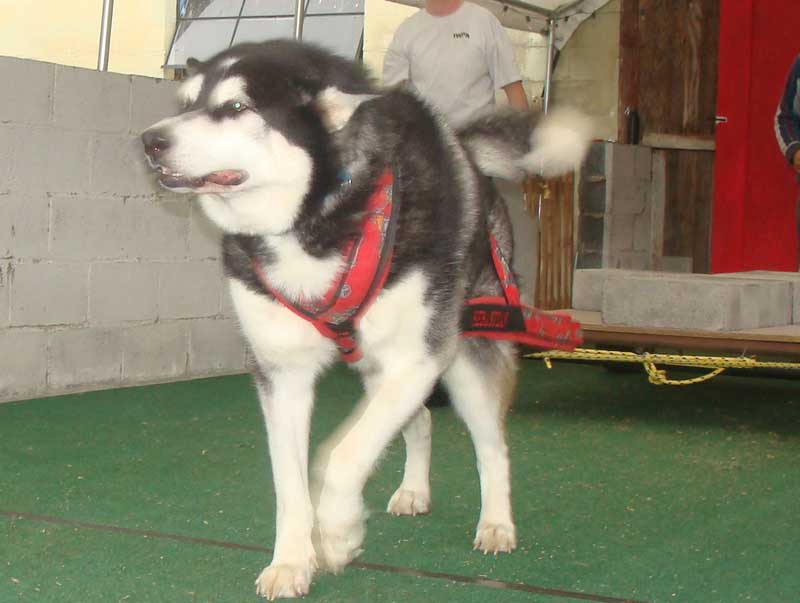 Sebastian lumbering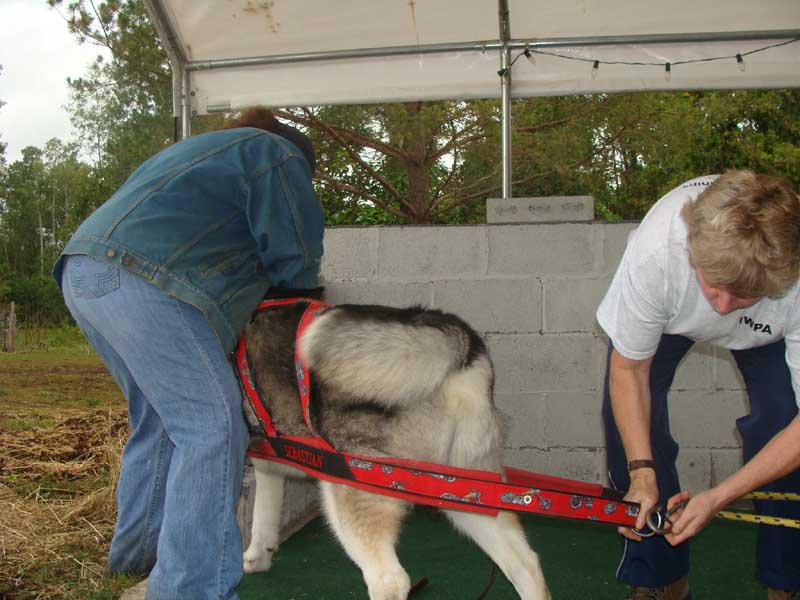 Sebastian straining to get a look at the sheep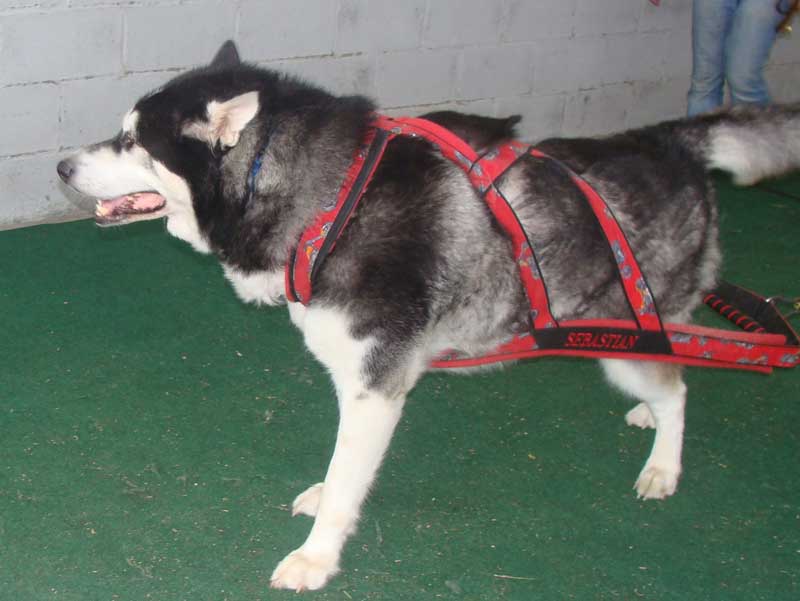 Sebastian still lumbering along
I knew he won his class because Nikko went out at 1575 lbs, having a better day than he did the day before.
So all three of the final dogs successfully pulled the 1875 lbs. That meant MWP would be determined by time. I went over to Wendy to see who got Most Weight Pulled, figuring that Luke got it on time. Brenda & Todd were both over there to find out as well. When I asked, Brenda smiled & said guess who? I congratulated her thinking that Raider got it. Wendy said, no silly, Sebastian got it! Wow, that's a first, Sebastian beating out someone on time - woo hoo! Raider inched out Luke on time, so Raider took the 125lb class, with Luke 2nd & Cinnabar 3rd.
Missy's Hugger got top body percentage, and Evo also got a medal in his class, and I believe that Homer did as well. Not bad at all for a 15 month layoff.
Even with all those dogs pulling, we got done at a reasonable time. There was very little waiting for dogs, the judging was organized, and so were the handlers. "On deck" & "in the hole" dogs were where they needed to be awaiting their turns. We've got a good group. It was competitive and fun. Lisa thanked everyone for not only picking up after their dogs, but after themselves. She just has some sweeping of dog hair to do, but doesn't mind that.
By the time we packed everything up, gave our good bye hugs, figured out when we were going to see who at what upcoming pull, we were on the road by 4:30. Excellent! Had some initial rain, which abated shortly thereafter and then an uneventful drive home pulling in at 9:00pm.
Each of my boys had their own day to shine this weekend, and what a terrific weekend it was!
Photos of all the dogs & more of Sebastian & Cinnabar from Sunday, September 12, 2010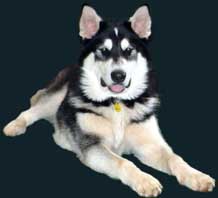 website design by Sheryl
bordered background by Sheryl
© 2005
all images © Sheryl Franklin unless elsewise attributed
all Alaskan Malamute sound files © Sheryl Franklin
website hosting by FranklinCommunications
domain name by DomainRegister.com