Sheryl's Alaskan Malamutes - Activities - Weight Pulling - UKC - Windber, PA - August 14/15, 2010



Weight Pulling

August 14/15, 2010 - UKC - Pride and Prejudice American Pit Bull Terrier Assoc. - Windber, PA
Meant to get up at 2:30am for a 3:30am start, but the alarm clock didn't go off. Woke up at 3:15, hopped into the shower, packed the car and was out of there by 4:10. Pulled into the event location at 7:30 with a half hour to spare L)

We'd just finished a heat wave a day before the pull. On the way out there, I had to have the heat on for me in the front seat while the big heads in back had the windows down. Weird weather.

This was a rails pull, there 2nd. The first was an APA pull, where the rails are on an incline. This track is level, so I was hoping they do really well. Sebastian weighed in at 147 and Cinnabar at 113. Walk on digital scale, so no weigh-in drama.

It was cool, in the 60s to start the day and overcast. Good for the dogs, but I didn't have a sweatshirt or jacket with me. Silly me, just got over 97 degrees two days before, didn't think the drop would be that much. Had the easyup setup for them, so in case the sun came out they'd have plenty of shade.

Was so glad to see Laura, Bre & Nook pull in! Poor Bre was cold, she had herself wrapped in 2 blankets at one point. Steve & Joan also came in from NY with 3 of their pitties, Riddick, Leo and Rain. They just got Rain a month ago. The people they got her from said she was too laid back, wouldn't work. Beautiful girl and they like their pitties laid back anyway.

Not a huge turnout, which was fine with me because this track has a history of racking up high weights, with pulls finishing very late at night.

They pulled the first division together (70lbs & under), as well as the Grand Class dogs in those weight classes. Their increments were around 200lbs. Rain was first up. Joan had been working with her since they got her, but this was her first competition. The sweet girl looked like she'd done this her whole life. There was another newby pittie, too - Roman. He'd practiced on the track the night before. What a happy boy and he did well. There were other dogs in that division as well. Rain not only got first in her weight class, but she got both Most Weight Pulled and Top Body Percentage for Division 1. Incredible for her on her first competitive pull to go home with 2 huge rosettes!

Then Division 2 pulled together (80lb/90lb/100lb/Unlimited), along with the Grand Class dogs in those weight classes. Our increments were 400+ pounds. The Grand Class Unlimited dog is Less Paul, a Dane who weighed in at 143, I think. I've been hearing about this guy and couldn't wait to see him pull.

The temps were in the high 70s by the time the big dogs pulled, with intermittant sunshine. The timing of that wasn't great, but nothing you can do about the big gaffer in the sky :)

Nanook did really well for his first time on rails. The narrowness of the chute, & the noise of the cart gave him pause at the beginning. But he settled down really well. He finished a respectable 1800 something. Laura should be really proud of him. He just really had the light bulb moment at his last pull in April at Harrisburg when he just exploded with confidence. Now she threw him a curve ball with this new surface, and he did very well. I was able to take shots of his first pull, before my boys started.

Nook's first rails pull: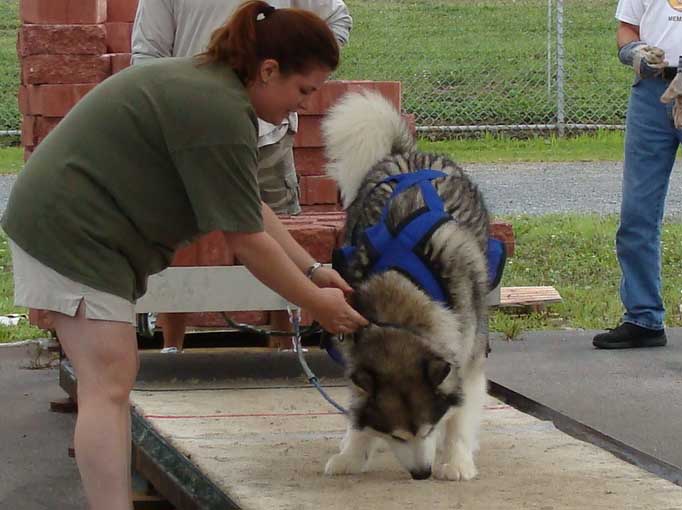 Nook's first rails pull: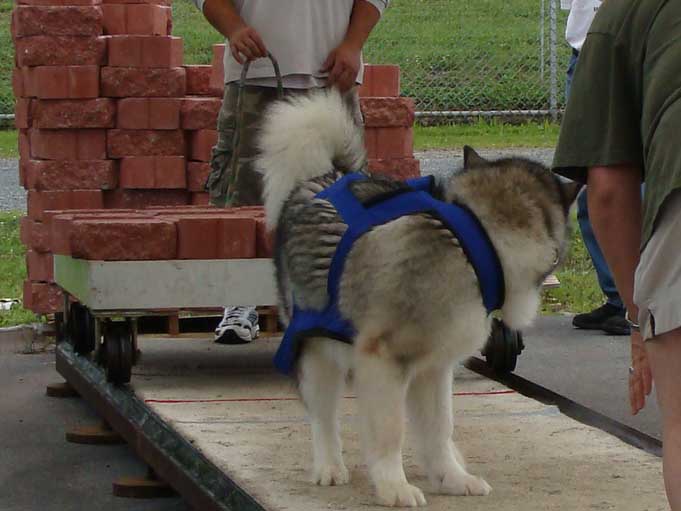 I started Cinnabar around 1000 lbs, which he pulled very easily. I double passed him, which meant his next pull was around 2200 lbs. He did well, and I double passed again (3400 lbs). He did fine, but worked a little to start it, so I single passed. He got up to a successful 6056. I did not pass him. He pulled the next increment which was 6400 something, but he did it in about 65 seconds. He had a lot of talking to do before he started pulling. It really didn't take him long to pull it, but he started so late. In UKC the pull must be completed before 60 seconds. So that was his first foul. Tried him again, but no go. So he went out with a successful 6056 lbs, 53.59 times his body weight!!
Cinnabar pulling 6400+: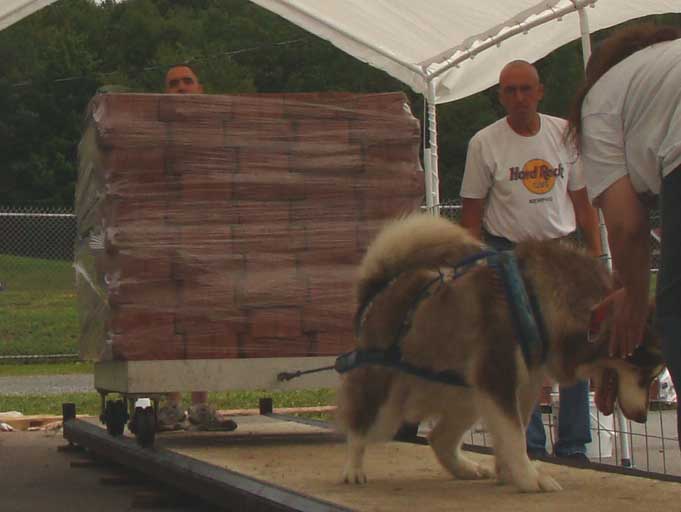 Cinnabar pulling 6400+: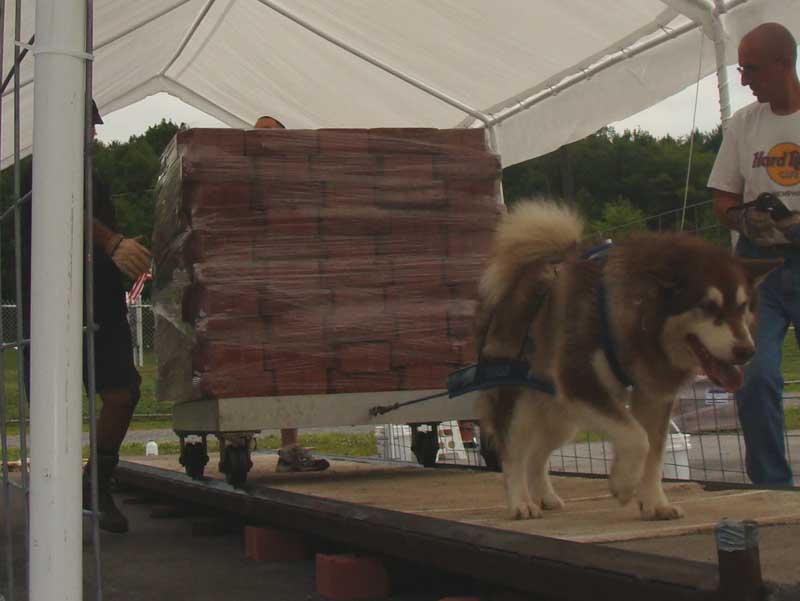 I started Sebastian a little over 1400 lbs and double passed him longer than I did Cinnabar. He was happy and was doing his usual lumbering down the chute. He successfully pulled 6056, and because of how he'd been pulling I single passed him. He started the cart on the 6800 plus pull, but then started crabbing about it and laid down. I got him up, but he was still crabbing, laying down, getting up. He was up and as soon as he heard me say "push it", he pulled it, but Rock had already touched the bricks, so it didn't count. What a brat. That was his 2nd foul, so he was out. But, a successful 6056 and 41.20 times his body weight!
Sebastian lumbering: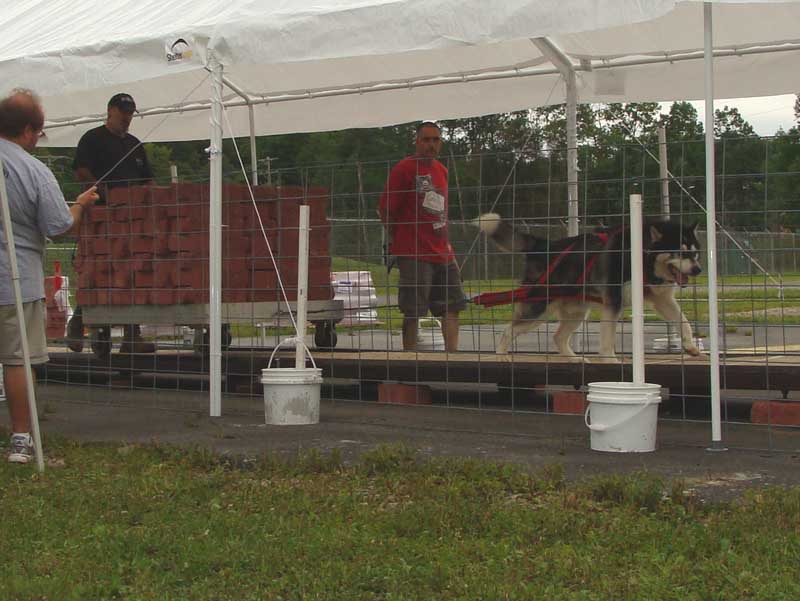 Thank you, Joan, for taking photos of my boys for me! Since both boys are in the unlimited, they compete against each other despite the 30+ pound size difference. Cinnabar took first because he had the higher body percentage, and that left Sebastian taking second.
I thought that Jacktar would again take top weight for Division 2, but he gave Kelly a hard time. He just wasn't in to it. But, her 9 year old, GSD, Arrow was into it! He took both MWP & Top Body Percentage for Division 2.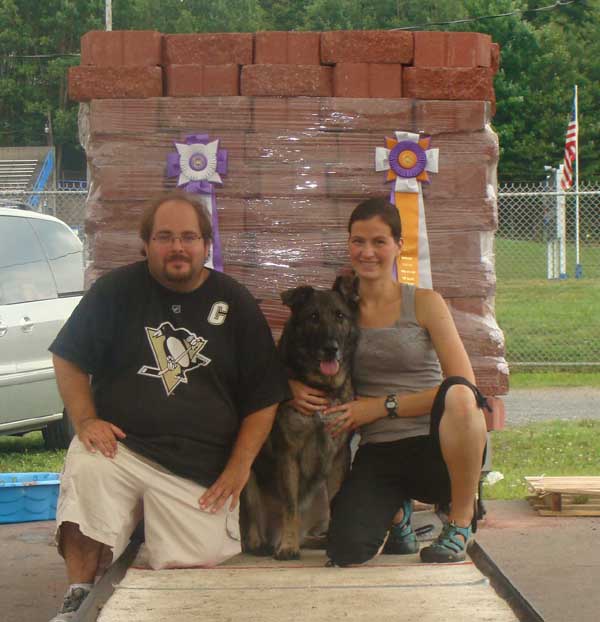 We were done around 4pm! I was glad because I was tired and it was getting humid. Cranked the air at the hotel for the boys. We all zonked fairly quickly.
The next morning was humid and warmer than it had been the day before. While we lost Laura & Nook, we gained Shamus the Chinese Crested and Nikko, a GSD.
Shamus did really well, but wasn't sure about this last pull, which would be his highest ever.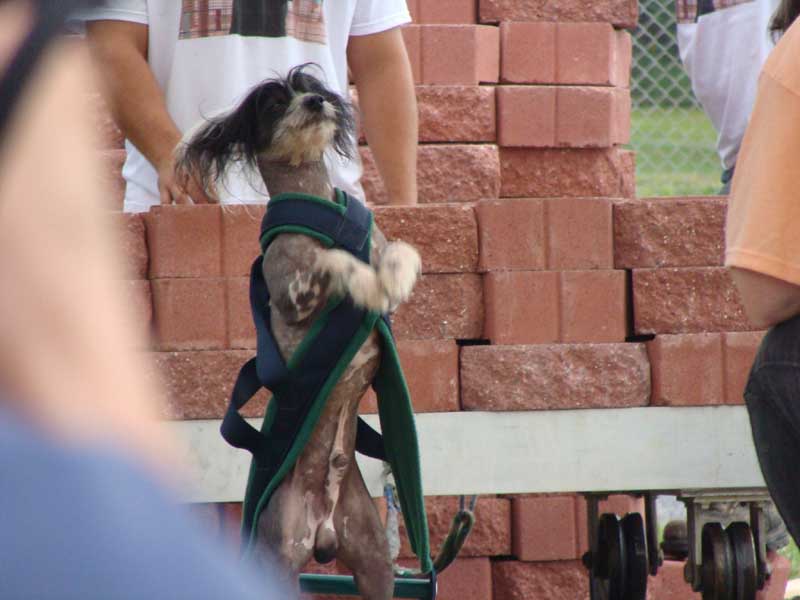 But Shamus did it: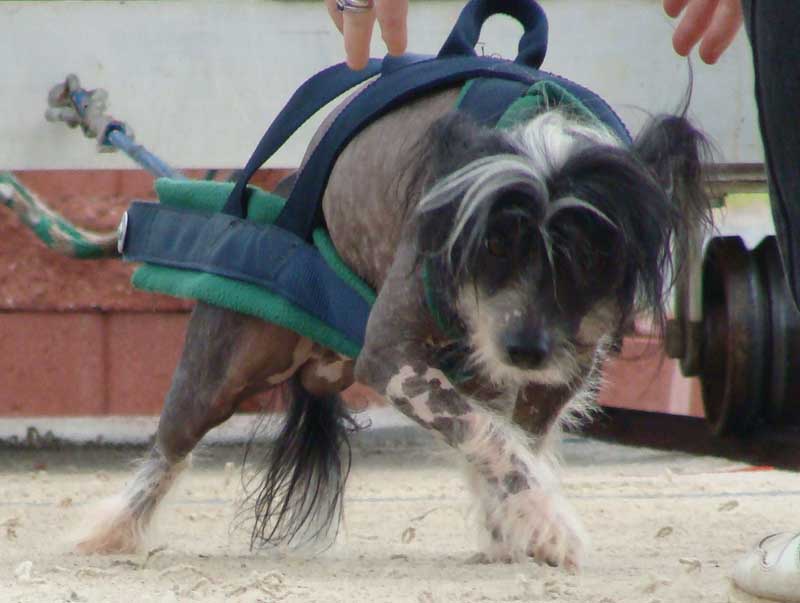 Our next excitement, was Milo (competes in the Grand Class) going for a new top body percentage record. He previously had the record at 215%, but another dog topped that last month with 219%. Milo was really on and he posted a new record of 242.54%.
Milo's record breaking pull: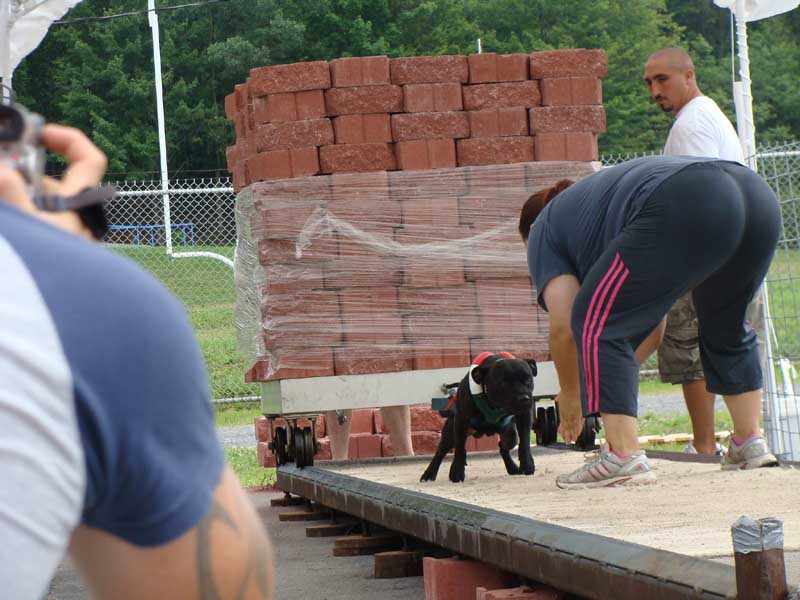 Milo with the weight & his ribbons from both days: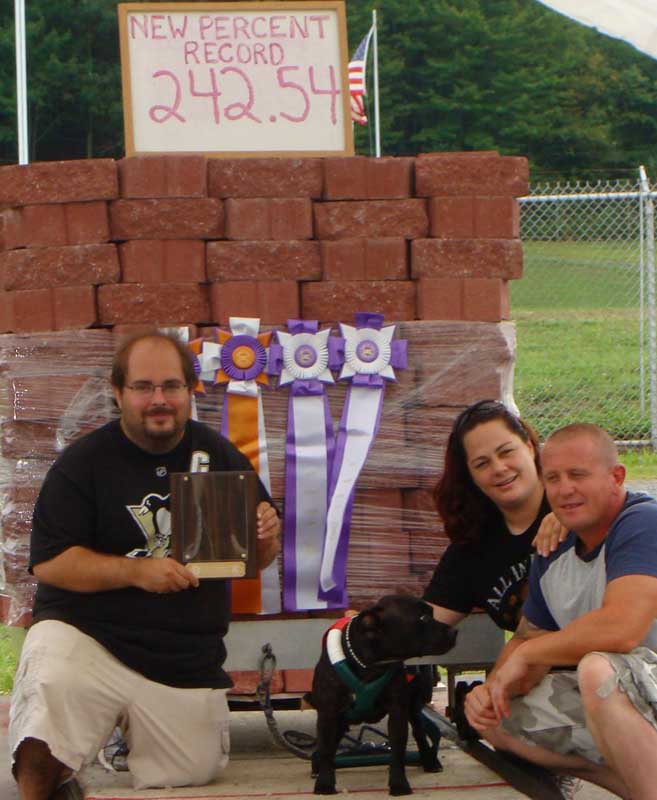 We had a nice break after that before Division 2 would start. Then the sun came out, really hot. Then we had a 5 minute downpour, and when it quit, the humidity was way up. By the time we were ready for the big dogs to start, it was high 80s and humid. Not fair, but oh well.
Here's Less before pulling (he pulled over 8000 lbs the prior day):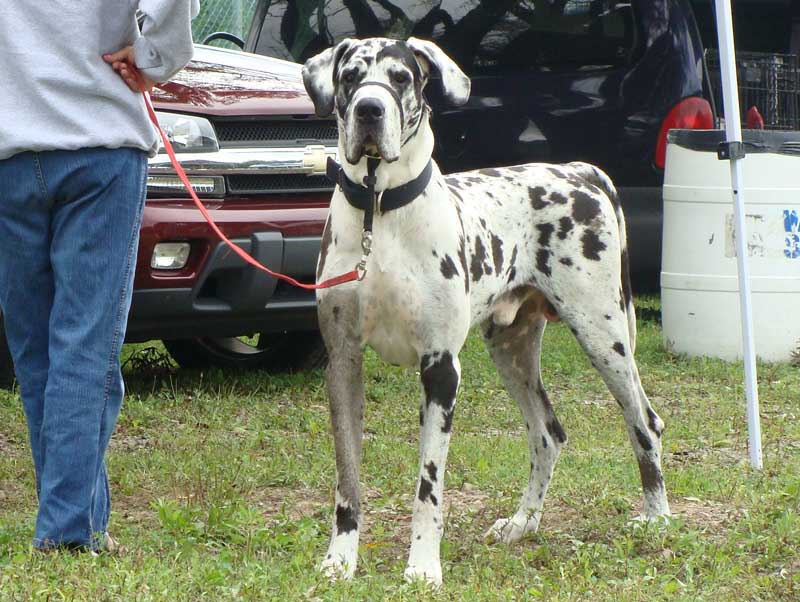 Here's one of his early pulls (He pulled less than the day before, but still lots of weight):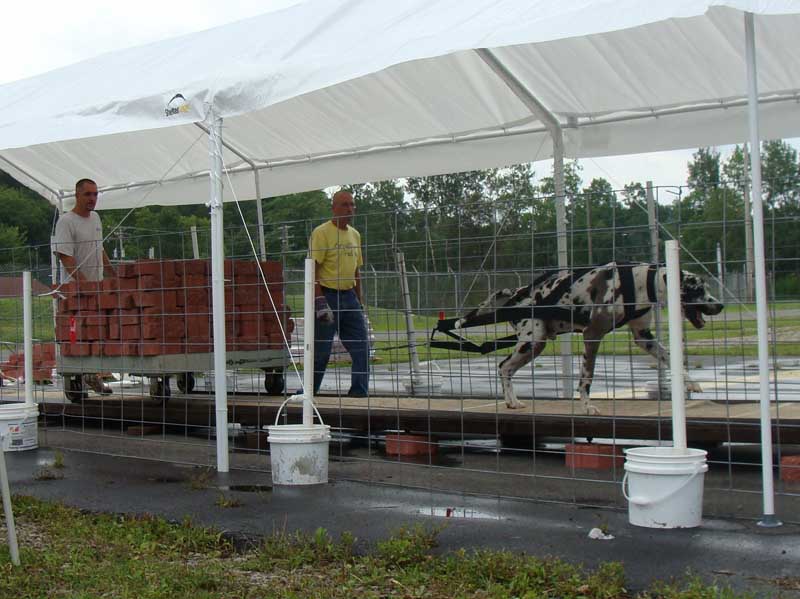 I started Cinnabar at 2000 plus, and Sebastian at 2400 something.
Cinnabar started slowly but pulled his first pull. I single passed him. He started talking on his next pull, so no more passing. That huge temperature increase was really ragging on him. He was hot and frustrated. He successfully pulled 3956 but on his next pull of around 4400, he talked, got off the chute, backed up. It was hard to get a spot where he was trying so they could push the cart, but we did that. That was his first foul. I took 5 minutes and tried him again. It was very much the same thing, but once they pushed I had him finish it out and praised him. So 3956 lbs and 35.01 times his body weight.
Cinnabar pulling: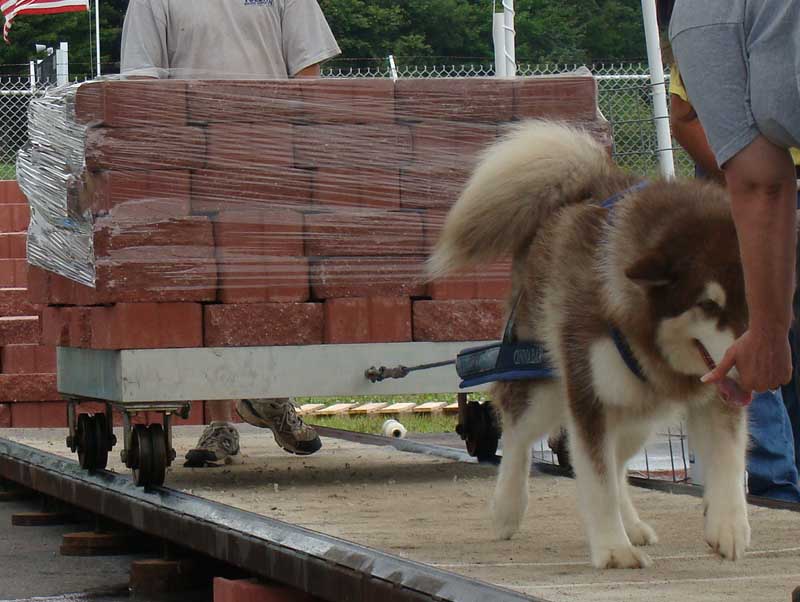 Sebastian was doing fine, and I was able to double pass him twice. He pulled the 6056, even though he laid down he got right up and pulled it. On the 6400 plus pull, he started getting crabby. Wouldn't get up for a while, but then did started pulling a little. I was too close to him and touched him, so that was our first foul. Took him right back in, but he was crabbier. Spent a lot of time laying down. He did get up when I made a face at him. They pushed it when he finally gave the least effort. The thing is, once started, he finished it just lumbering. It wasn't hard for him, he was just done. His crabbiness went away after he was done. He wasn't showing the effects of the heat & humidty the way Cinnabar did, but I realized the crabbiness was his way. So, he again finished with 6056 and 41.20 times body weight. I'm very, very happy with that!
Sebastian at the beginning of his 6056 pull: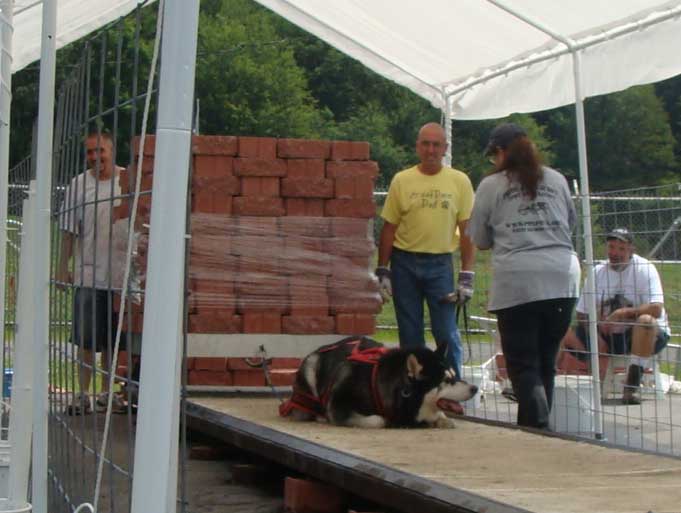 Sebastian digging in on the 6056 pull: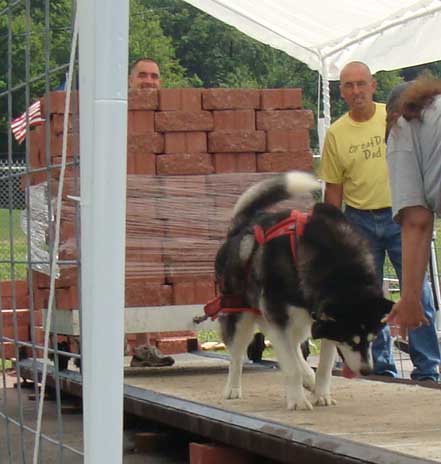 Sebastian completing the 6056 pull: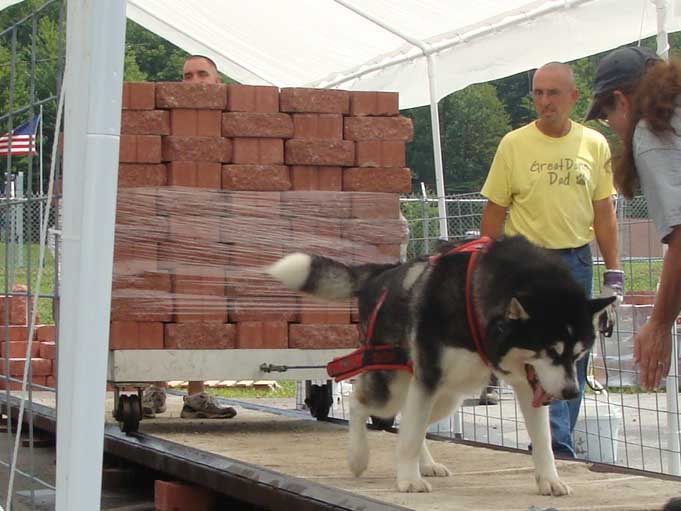 Sebastian - no way - no how- on the 6400+ pull: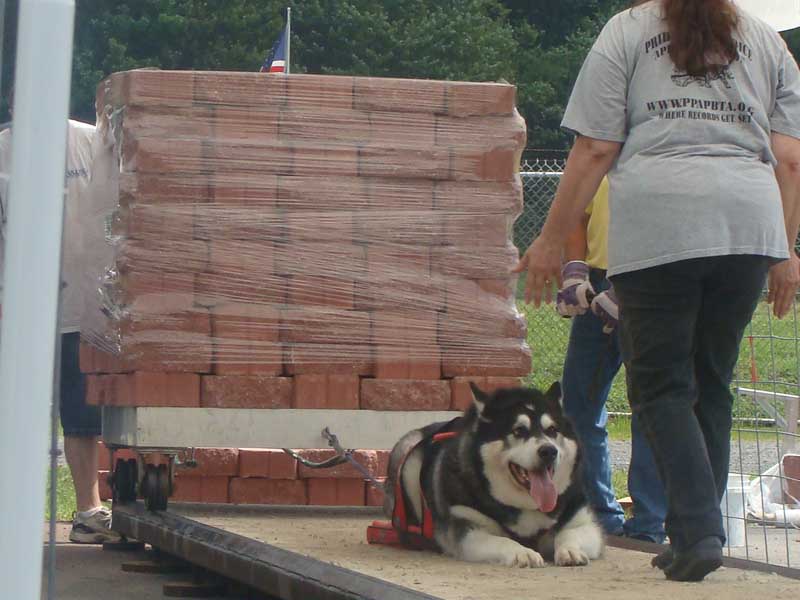 Thanks again to Joan, for taking photos of my boys!
Apple (American bulldog) took both MWP & Top Body Percent for Division 2. Sebastian was 2nd in MWP, beating the 9 year old Arrow this day :)
When the pulling was done, I put the boys in the car with the air blasting. Then I broke down everything and had the car packed before the awards ceremony. The boys really looked happy sitting in the AC. Of course, thinking stragegically I had Sebastian sitting on the side without sun because of his color he heats up faster in direct sun. But, the action was out the sunny side window and he took that over the big goof ball - LOL!
Awards were done, hugs & goodbyes done and we were actually on the road by 2:30. I was very happy about that. The weather continued to be weird. I had the air blasting until we got to the Gettsyburg exit, then it got cold. So I turned the air off. The closer we got to home the colder it got. Again, I had the heat on for me in front and the boys both had their heads out the windows. By the time I got closer to home the heat wasn't necessary, but neither was the AC. Very weird weather. We celebrated the day with a nice pizza, after the boys had their real food. They love their crust, don't get it often, but it's a nice treat after a long pulling 2 days.
Links to photos of all the dogs & more of Sebastian & Cinnabar here on Facebook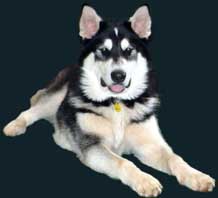 website design by Sheryl
bordered background by Sheryl
© 2005
all images © Sheryl Franklin unless elsewise attributed
all Alaskan Malamute sound files © Sheryl Franklin
website hosting by FranklinCommunications
domain name by DomainRegister.com