Sheryl's Alaskan Malamutes - Activities - Weight Pulling - UKC - Windber, PA - June 12/13, 2010



Weight Pulling

June 12/13, 2010 - UKC - Pride and Prejudice American Pit Bull Terrier Assoc. - Windber, PA
Up early on Saturday to leave at 4am for a 4 1/2 hour trip to Windber. This is further west than I've gone in a while, and I'm not crazy about traveling through the mountains, which start west of Gettysburg. There were at least 4 tunnels to go through on the turnpike cutting into the Allegheny mountains.

The pull was held in conjunction with a conformation show at the Johnstown Saddle Club. What a lovely remote pastoral setting for our event. Conformation was held in one of the meadows, and weightpull was on the gravel drive with a tent top over the chute.

The prior few days the temperatures were in the 60s, but of course in time for a pull spiked up into the 80s with high humidity. Even though there was some shade, I took my EazyUp to make sure the boys had plenty of shade.

Weighin was a breeze, as they just had to step onto a digital scale :) Sebastian weighed in at 148, which is right where he should be. He's nicely taken off that weight gained from the high calorie food from the end of last year. Cinnabar weighed in at 117.

You always know it's going to be a long day when there is both conformation and and weightpull. Conformation was very long, as there were 36 breeds. Little dogs started first. I worked the cart from little dogs through the 60lb class. My face was red by the end of that, from exertion in the humidity. I knew I would work my boys slowly.

I started Cinnabar at 1295 lbs I think and Sebastian around 1500lbs. Our increments were 220 lbs. The cart had been moving well but there was an issue of placement at the start line. It could rut, where the dog would start it and it could roll back into the rut if the dog didn't keep the line tight.

Both my boys are now in unlimited in UKC. Ridiculously everything over 100lbs is unlimited, even though the rules changes were going to be reviewed, it's been almost a year and I doubt anything is going to change anytime soon.

Cinnabar did well for me and I double passed him early on. That humidity, though. Fortunately they had a kiddie pool and I had him stand in it before he pulled.

He ended up pulling 3055 for me. He was capable of more, but he was just drained from the humidity. I knew I'd start him at a higher weight the next day.

Cinnabar pulling: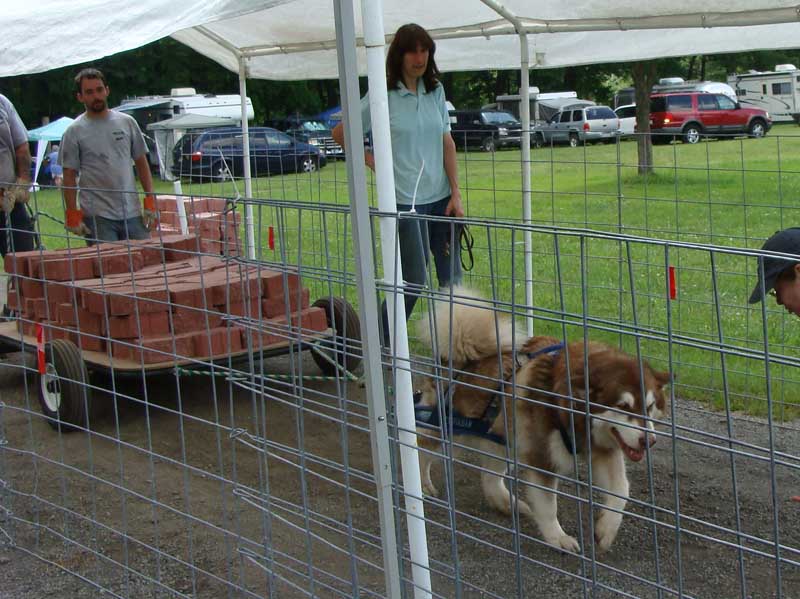 Cinnabar getting unhooked: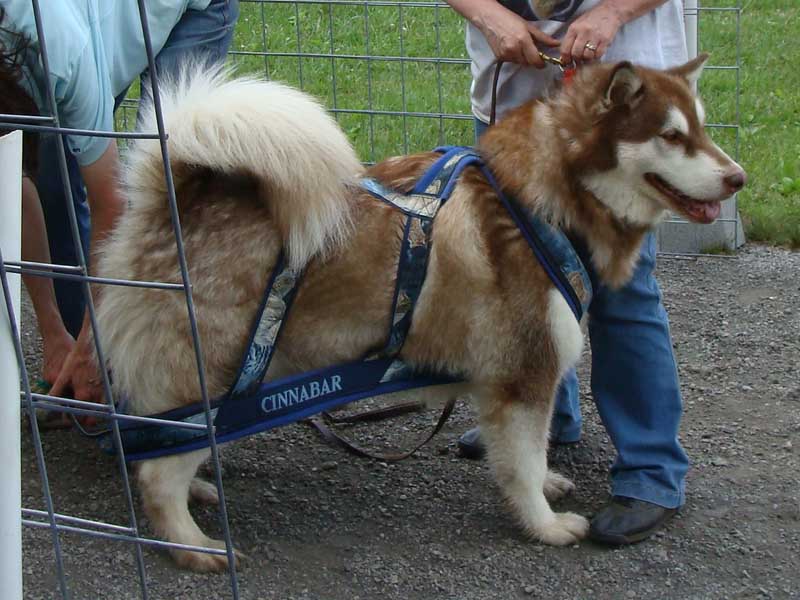 Sebastian also did well for me, but again the humidity took it's toll. He pulled 3715. On his next try he laid down. I grabbed his harness to get him up and had him finish it with a cart push. That was the first foul. I had him try again, but he was done. I knew I'd start him higher the next day, just had to figure out how high.
Sebastian pulling: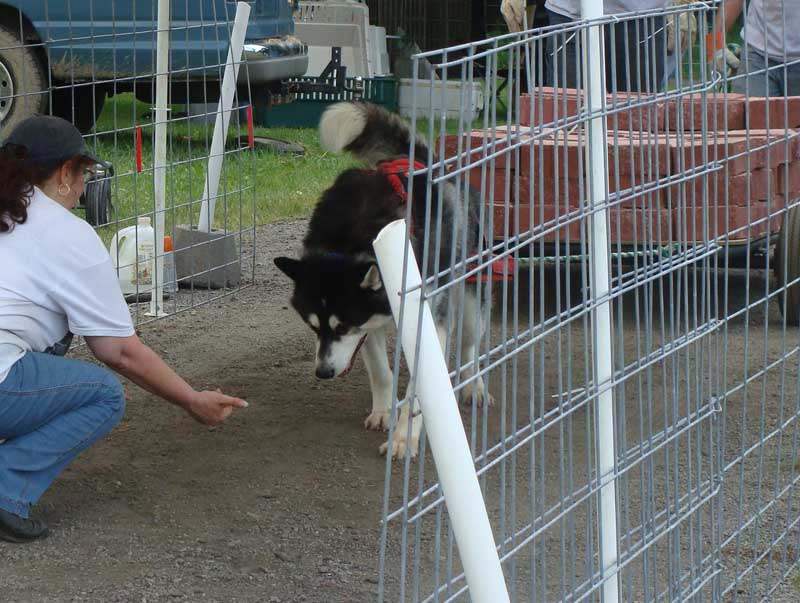 Sebastian pulling: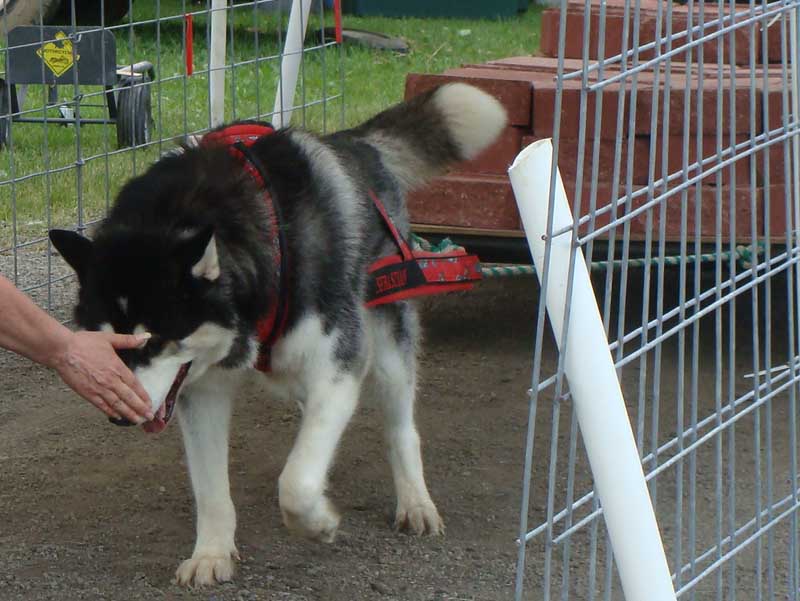 Sebastian pulling: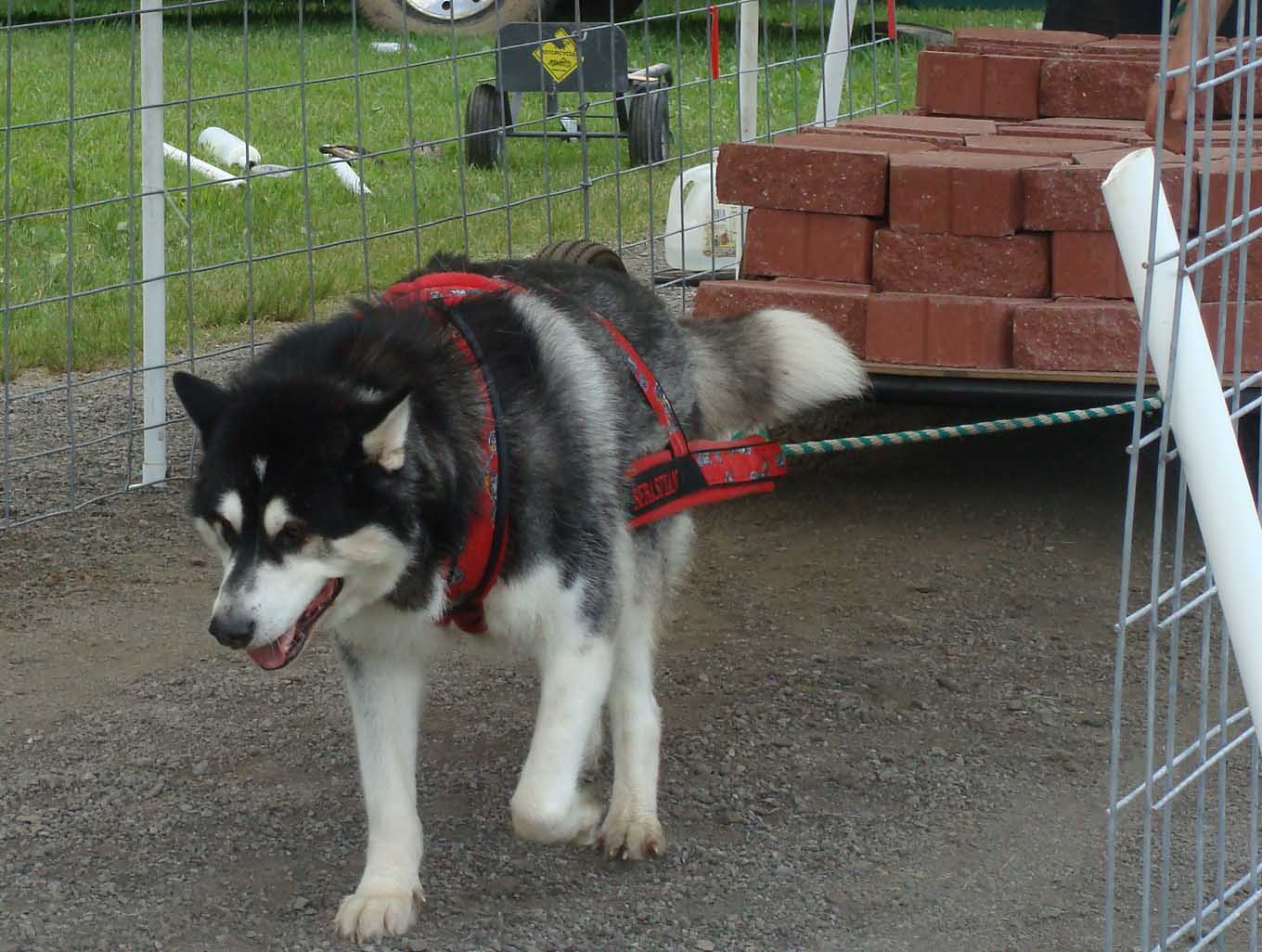 Top weight was taken by Jacktar, a beautiful black GSD. He's got a great hitting style that I thought would make him terrific in snow. Turns out he is :) Jacktar's mom, Kelly took the photos of my boys. Thank you, Kelly!
He was pushed to pull one more increment than Sebastian because Sebastian beat him on time in the 3715 pull if you can believe that - that's one for the record books, Sebastian beating someone on time :)
We had a while to just relax after weightpull. The club had food catered to the main building for the judge's dinner.
I didn't get to meet them, but there were mals in conformation. I was told they were from Canada. I knew they had great temperaments because when I walked my boys in the field behind their xpen they would just get up and look happy wagging their tails.
They have a bigger dog-mobile than I do: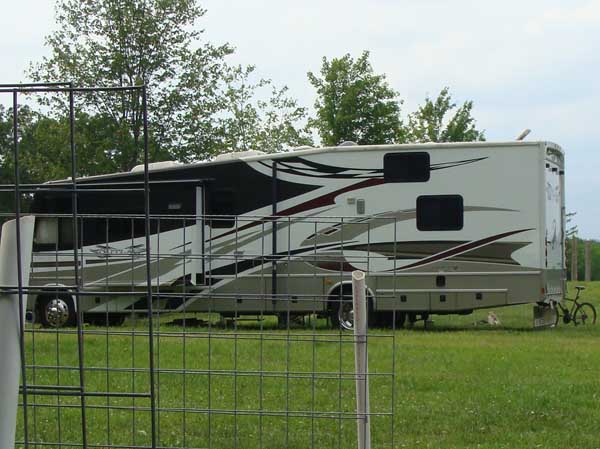 Once the dinner started I had the priviledge of sitting with and listening to 3 of the conformation judges talking about different issues. Fascinating conversation, and I was able to ask questions to which they happily replied. Other people came over and asked questions and the judges were happy to educate on their thinking processes and opinions.
After dinner, there were sprint races held in the horse ring. They had it setup up for about 40 yards. There were a bunch of Klee Klais entered. I'd met several of them during the day and it's so different to see the familiar northern markings on such little dogs :) Bull dogs entered, as well as other breeds and Kelly's 3 GSDs.
I entered Cinnabar for fun. A boy named Michael held him for me at the start line while I went past the finish line. About 15 feet past the finish line. He let him go when I called him and he beelined to me. The closer he got he kept checking the judge to his right and then looking back to me. It was interesting. He finished in 5.5 I think. Joe told me I needed to stand way further back so that he didn't slow down toward the end. The top 4 finishers were in the 3.something second range. Cinnabar did beat 3 other dogs, though :)
We'll do it again in August when we're back to Windber for a rails pull.
We all zonked at the hotel and I cranked the air conditioning for them. It really refreshed them. Although tired, Sebastian still had to jump on the beds before settling in. Such a card.
The next morning it was still humid, but we had cloud cover and a delicious breeze. Much better for the dogs.
I started Cinnabar at 2195, I think, and Sebastian at 2500 something.
Cinnabar did well finishing at 3275. On his pull after that, the cart rutted at the start line but he didn't give up and thought he pulled it when I signaled them to push. Even though that was his first foul, I withdrew him. I wanted him to finish on that wonderful effort, because he'd been showing me some frustration on his previous pull as well as this one.
Sebastian did well, too, finishing at 4155. He pulled that so easily and was having so much fun I passed him one round. On his 4595 pull the cart did not start easily. He laid down. I went to his side and snapping my fingers and talking sweetly got him up to a sit. I got him to lean into it and finish it as they pushed the cart. That was his first foul. I took him back in after another dog tried pulling it, fouled and went right back in. So he had a nice break between tries. Again he laid down, but again he got up after I snapped my fingers and talked sweetly and again leaned into it while they gave him a push, so he thought he pulled it. I looked at that as a victory because I want to break this laying down habit he's gotten into in the last few pulls. In hind sight, I shouldn't have passed him, but always learning :)
Jacktar again won most weight pulled, by pulling one more increment than Sebastian.
Jacktar starting the cart: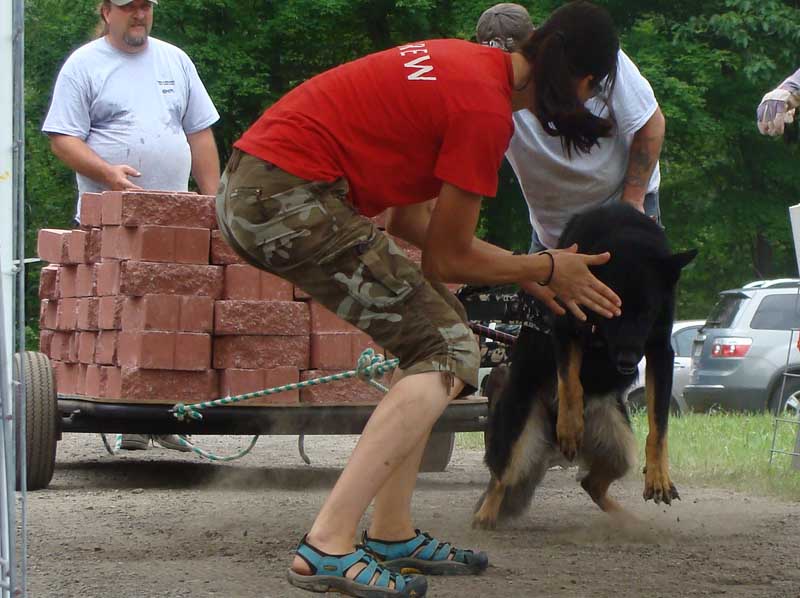 Jacktar pulling: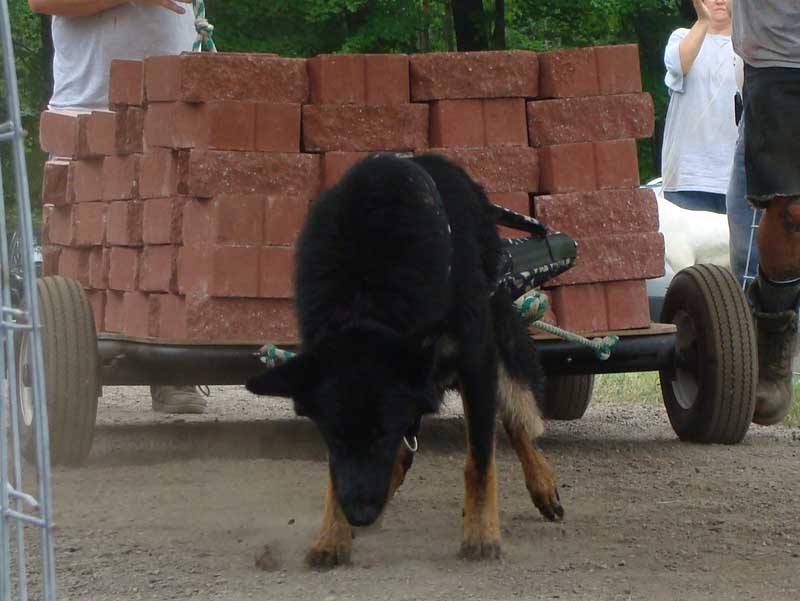 Jacktar on top of what he pulled: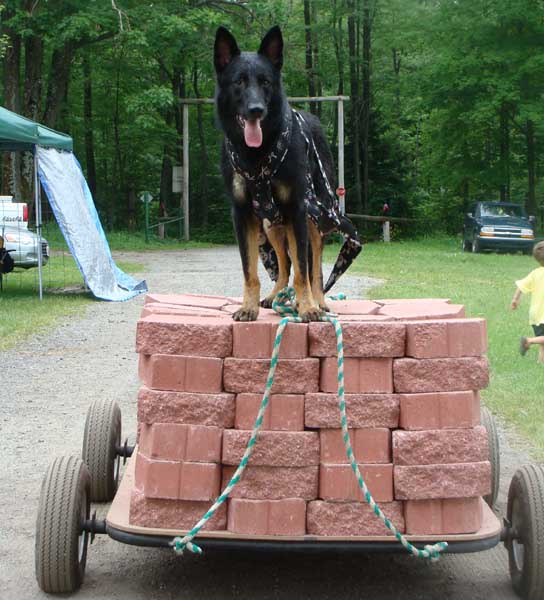 Then the little dogs pulled.
Here's a toy poodle: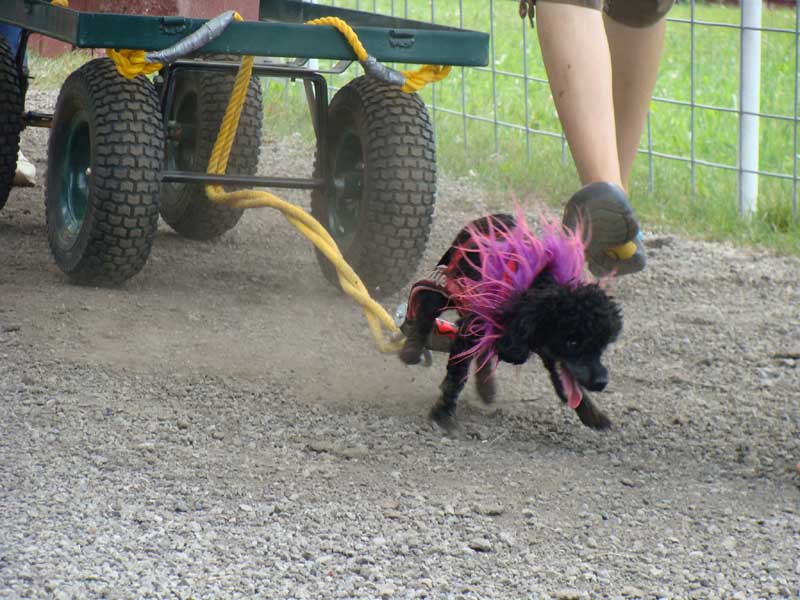 Sarah's terrier: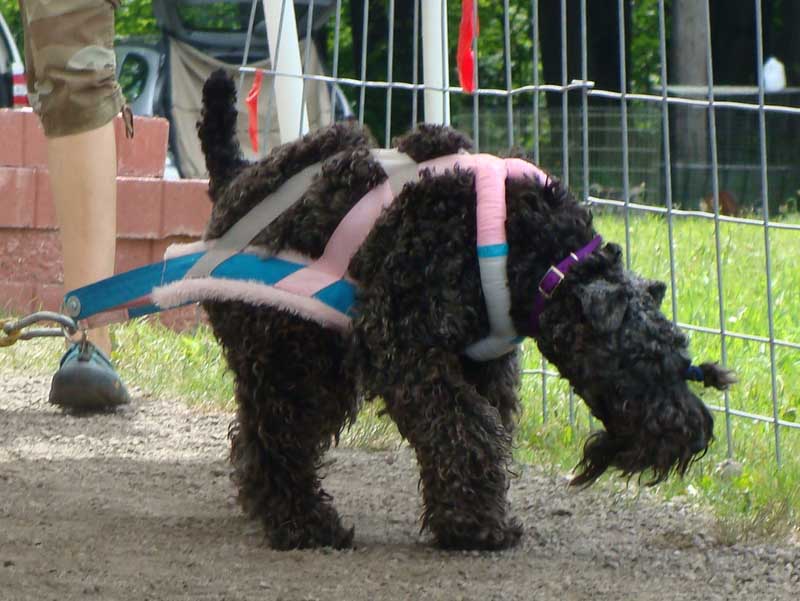 Our rock star of the little dogs is Shamus, a Chinese Crested. He's 19 lbs and pulled over 1100 I believe both days, as well as the Friday night pull.
Digging in on his final pull: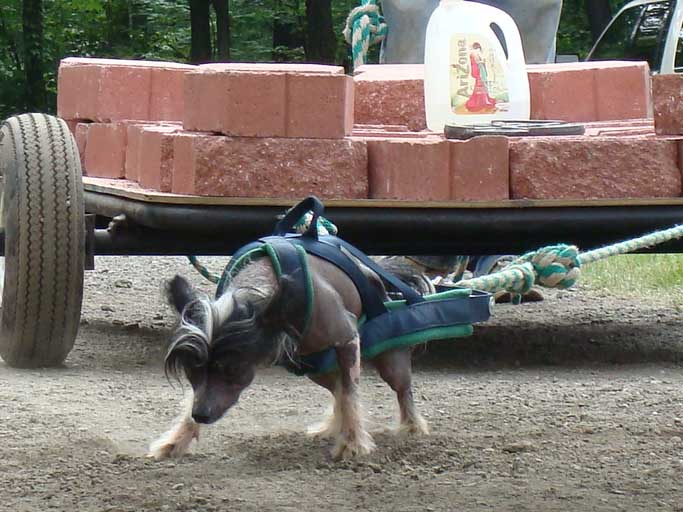 Digging in on his final pull: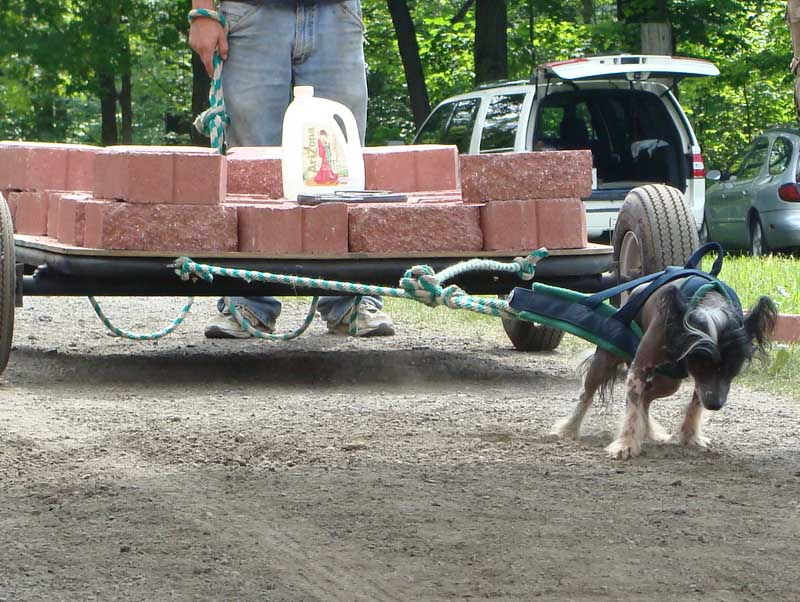 Starting the cart on his final pull: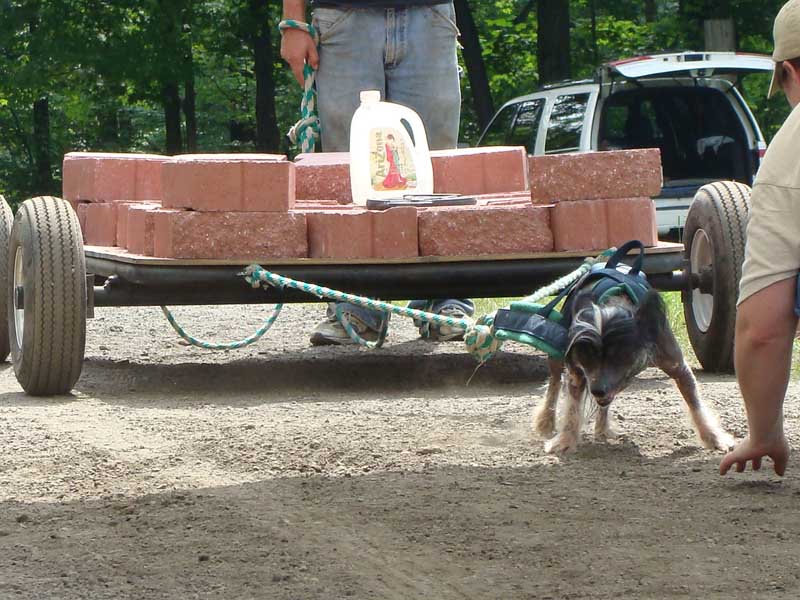 That done I was able to take both boys on a nice relaxing walk in the meadows. As they'd been the day before, it was easy taking both of them together, especially since Cinnabar had his gentle leader on. That done, I packed up the car, got directions for a quicker way home taking $2.00 off the tolls and 30 minutes off our trip. Again, Sebastian took 1st in unlimited and Cinnabar 2nd. There were other dogs in the class. Conformation was still going on when we left at 5:00. Long day.
After a nice uneventful 4 hour ride home, we all crashed. Despite the heat, the boys did well and had fun and so did I.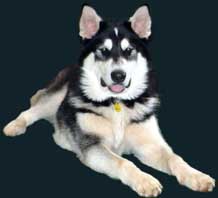 website design by Sheryl
bordered background by Sheryl
© 2005
all images © Sheryl Franklin unless elsewise attributed
all Alaskan Malamute sound files © Sheryl Franklin
website hosting by FranklinCommunications
domain name by DomainRegister.com