Sheryl's Alaskan Malamutes - Activities - Weight Pulling - APA - Conowingo, MD - May 22, 2010



Weight Pulling

May 22, 2010 - APA - Rails Weight Pull - Conowingo, MD
This was our closest pull in almost a year, just 85 miles away. We don't usually pull APA because our concentration is IWPA, then UKC, but this was close and Brenda & Val were going with Raider and Siska. And it was our first time giving rails a tryout.

This pull is at a camp in the boonies, confusing to get to even with good directions. The organizer said she was going to put flourescent signs on the roads to light our way and thank goodness for them :)

They use a strap rather than a sling to weight in. I warned them that Sebastian could be a baby, but he surprised me. He's only seen the strap once and that was 3 years ago, so he was just curious. Then three men lifted him up onto the hook that was rather high (over my head), so he was just below eye level to me when all was said and done and he was fine. Surprise! He's always full of them. He weighed in at 150lbs. I have gotten the bulk of his undercoat out of him, but it doesn't weigh 4 lbs, so he's nicely lost some weight for me. Another 5 and I'll be happy.

Cinnabar was easy to weigh in and he weighed the same as last time, 116 lbs.

It was nice to see some folks I haven't seen in a while, many from a year ago at the last UKC pull held in Bel Air, MD (which they're not holding any more, sadly). Some from the last UKC pull I attended in July in Port Clinton, PA. And then nice to meet some new folks, too.

Our 4 mals were the only fuzzies there, the rest were bully breeds with the exception of 2 GSDs.

They ran the 70lbs and under classes first. That was a good opportunity for me to reaquaint myself with the difference in rules with this organization. You don't have to be behind the line (like the UKC). You don't have to have the dog come to a complete stop before you release. (My dogs always come to a complete stop when I line them out). Everyone can clap rythmically to encourage a dog, as long as they're 10 feet or more away and don't say the dog's name. Weight increments are not set. They change based on the chief judge's assessment. They can go up after smaller dogs are out, then down once the weights are really high and they want to give dogs a chance to pull the highest possible. A very different way of thinking.

Then they ran the 71 and over classes. The class breakdowns are a bit different, They seem to go in 10lb ranges until 120lbs, then everything over that is unlimited. Both my guys were in a class by themselves, well, I think so, but it was true for this competition :)

The temps were in the 80s, and it got humid in time for the big dogs. Luck of the draw.

My concern for my guys was staying on the narrow raised platform chute. I always encourage them to pull down the middle, so I had that going for me. I wasn't going to stay behind the line, because I wanted to give them a clear path on the platform.

Brenda pulled Sitka on an empty cart. Sitka is a girl their breeder got back because she was "out of control". Well, she never had any rules, and she's a natural diva. I first met her in March at the pull in Oneida and I can see where she's improving. She's a natural puller and is going to be really something once she's really with the program and not so concerned about how beautiful she looks :)

Sitka pulling: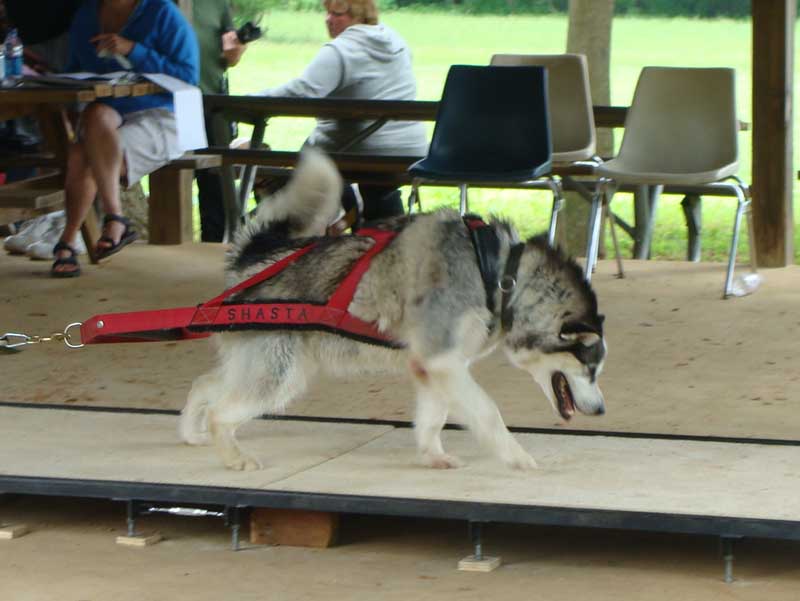 I had both my guys come in around 1200 lbs including the cart (which weighed 250lbs). Cinnabar did fine. Sebastian did ok, but was distracted by something and I had to talk to him to keep him on the chute. So I passed Cinnabar, but not Sebastian. Easier having them on different increments for me anyway, since they were back-to-back in pull order.
The increments were around 200 lbs.
The rails chute is setup on a slight incline. This was different for the dogs and for me in how I work with them. On wheels, when they start the cart they've got some momentum going. Here they can't rely on momentum, but have to keep steadily working to keep the cart going.
Cinnabar got frustrated at about 2100 lbs (including the cart). He had it going, then stopped. Started it again, then stopped. Stepped off the chute to his right, but got back on when told, stepped off to his left, but got back on when told. Tried to start it again, but talked. I had them push it on his next attempt.
His frustration was in not being used to having to keep working so much the entire way down the chute. It's new. Me facing him may not be the best way to work on rails. Many people walk beside their dogs off the chute all the way down, continually clapping and encouraging. More learning :)
Cinnabar pulling: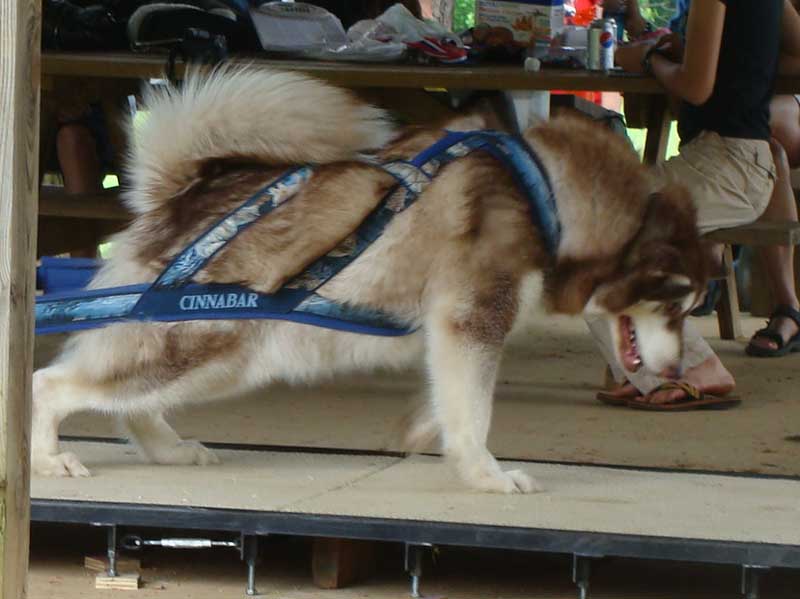 He ended up pulling 1722 lbs (plus the cart - they do that differently too in their results) for 14.84 times his body weight. Not bad at all for something new.
Sebastian was doing fine. He's more used to having to restart a cart because of his antics in the chute. On his 2nd to last pull he left it about an inch short. Brenda said that was my fault. I'd stepped off the end of the chute and stayed there clapping for him and talking to him. She said if I'd continued to step back he'd have continued moving. The instant I stopped once I was off the end of the chute, he stopped. He did start it again and finish it. One his next pull, he got it about two thirds down the chute and quit. He was hot and he was done. He laid down. I got him up by grabbing his harness, so he was done.
He ended up pulling 1978 lbs (plus the cart) for 13.18 times his body weight.
Sebastian pulling: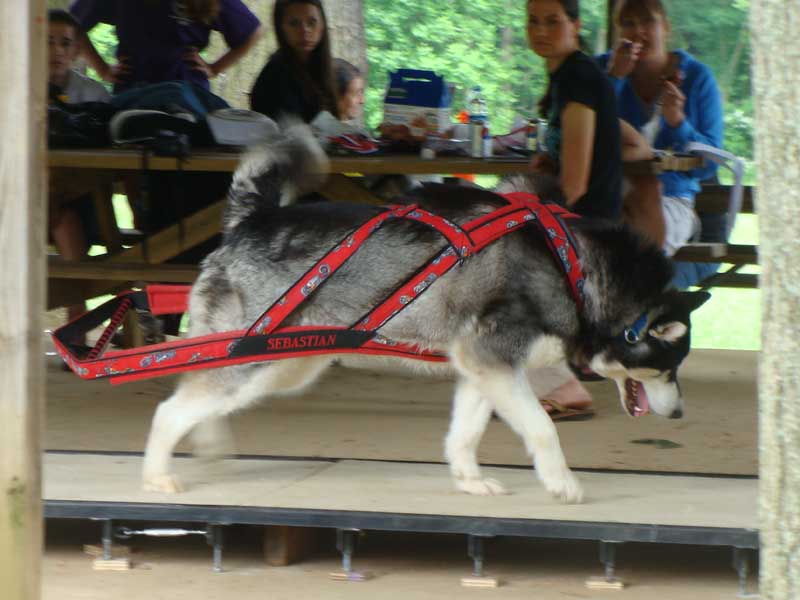 Val started Raider around 1600lbs I think. He did well. This was his third rails pull. He was also hot, but he did great for Val. They have an incredible bond. He pulled at least one more increment than Sebastian.
Raider pulling: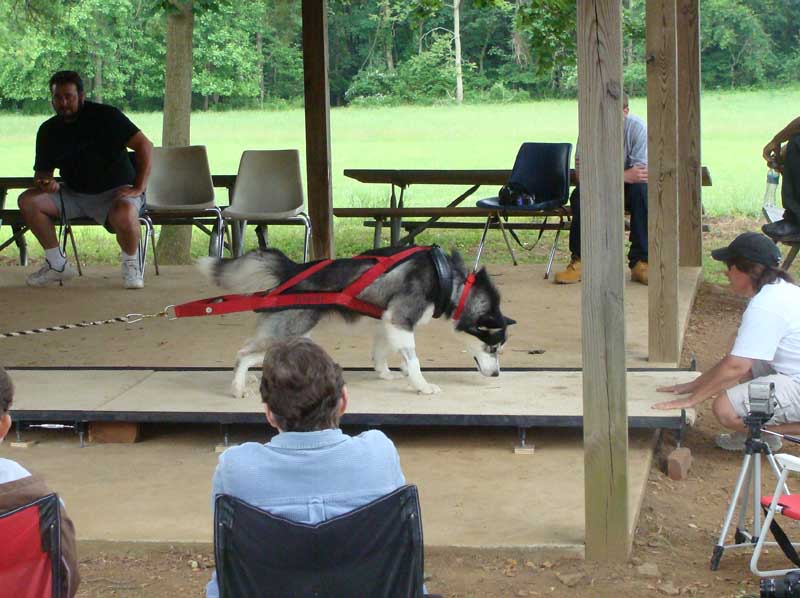 The top dogs were both bull dogs and pulled over 4000 lbs. More than twice what we did. The one dog, Congo, we've seen before at UKC pulls. I love that dog, he's so good and such a good boy for his dad. The other Toedoe, I've also seen before, but it's been awhile. Very low to the ground.
It was a very good experience for us, as we're going to attend a UKC rails pull later this summer. I was very pleased with how they did. We would've gone back the next, but it was raining and they were talking thunderstorms so we were all couch potatoes instead :)
All photos of Sitka, Raider, Sebastian & Cinnabar on a public Facebook album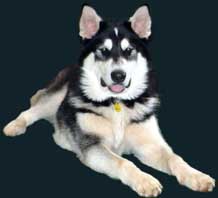 website design by Sheryl
bordered background by Sheryl
© 2005
all images © Sheryl Franklin unless elsewise attributed
all Alaskan Malamute sound files © Sheryl Franklin
website hosting by FranklinCommunications
domain name by DomainRegister.com