Sheryl's Alaskan Malamutes - Activities - Weight Pulling - IWPA Championships - Enfield, CT - April 23/24/25, 2010



Weight Pulling

IWPA Championships - Enfield, CT - April 23/24/25, 2010
What a weekend!

We left at 9am on Friday for Enfield, CT and the IWPA Championships. We got there at 2:30, from a fairly uneventful (minus the several motorcycles that caught Sebastian's attention) trip. We pulled into the parking lot of the Ice Rink to several familiar faces and many new faces. One of the first new faces I met was Nathan Sellers from Cascade Malamutes, who traveled 50 hours from Washington State to be there. His trip beat everyone else's in mileage.

I didn't realize it when I set up, but we were right next to him and got to meet Teton, pulling in the unlimited class. Beautiful boy and sweet as pie. He had his head out of the side of the truck watching me setup the crates and getting the boys all settled. None of them had a problem with the other.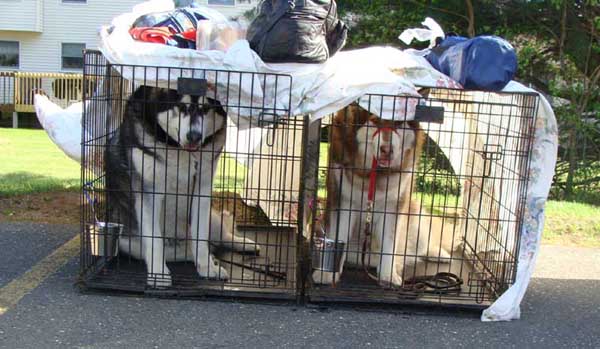 Sebastian & Cinnabar

He got to see my big baby get weighed with, although thankfully not many wails, at 154. Then the sweet boy at 116. Then we went inside to get registered. Wendy and her helpers from Region 5 (our region) had taken over much of the lobby of the rink, not only for registration, but goody bags on display for all eventual winners in the top 3 places of each class. With registration we had to pick a ticket from a bucket to get a number for our dogs. This would determine the order in which they pulled in their class. We also got the championship booklet that Todd had prepared, which described the IWPA, what it takes to get to Championships, bios & photos of many of the dogs, current record holders by class & surface. Of course I'd sent our bios in, so my boys were in there.

The rest of the afternoon was spent helping where I could and socializing with those I knew and getting to meet more people and their dogs. I also checked out the rink just to see how you could have a snow pull on ice. There were 2 pulling pads of snow setup, with chutes on them in various stages of construction. I also followed Brenda & Val over to the hotel to check in and then head back to the rink. Many of us stayed in the Red Roof Inn, or one of the hotels in the cluster of hotels in that area.

We had a dinner meeting in the lobby of the rink accompanied by pizza. I was happy to put faces and personalities with names that I see in IWPA newsletters. What a good group of people, dedicated to this being a family sport and proud of the safety record of the dogs that have pulled with the organization since 1984. No dogs hurt during pulls in 26 years.

My brain was mush by the time we headed to the hotel. The boys were good and crashed fairly early, so we all got decent sleep after Sebastian finished bouncing on the bed.

Next morning, I went to breakfast with Michele and John and then back to the rink.

About 20 minutes or so after we'd setup our crates, a cop came strolling through the trees from the development that abutted the rink property. It was almost 8 at this point, and he'd received a complaint from the neighbors about the noise of the dogs. I was surprised because there didn't seem to be much noise to me, but then it wasn't much noise for an event. Probably a lot of noise for a Saturday morning when you want to sleep in. The officer was very nice and professional and asked if we could move our cars and dogs away from the back of the property (unfortunately the only permanent shade in the lot). Some of the board officers met with him, explained who we are and why we were there. At that point Animal Control pulled up after being called by the officer. He wanted Animal Control to be aware of what was going on in case other complaints came up over the weekend. He acknowledged that moving our dogs really didn't change anything noise level wise, but it was a effort to mollify the one neighbor who had a problem. He also said dogs that were quiet like mine, could stay in the slim bit of shade at the back of the property.

While this was going on, the chutes were being finished inside the rink. Fencing went up on each side of the chutes, lines were spray painted, sleds prepared and the cinder block weights wheeled inside.

Those of us in Region 5 also got our work assignments from Wendy. She worked really hard to cover this aspect of things, which helped make Todd's job as organizer a bit easier. She assigned cart help and score recorders, as well as making sure the winners' goodie bags were handed out at the podium with the medals. She made sure the score sheets from each class were collected and the results posted on poster boards in the lobby. So many from Region 5 pitched in, Susan Gallagher was one of the big contributes (she put me to work the night before helping to create the poster boards).

Our handlers meeting was a bit delayed because of the excitement with law enforcement, but it did get going. Steve Jackson from our region was chief judge. The membership voted on what judges we wanted for Championships and Steve got the most votes. All the judges had long sleeve dress shirts, especially for this event. Their names & region number on one side, IWPA logo on the other. They all had special IWPA baseball caps for this event as well.

Steve explained that the 20lb class would start in one chute and the unlimited class in the other. At the end of each class, any dog finishing in the top 5 would go to the back corner of the parking lot to the adjoining grassy area for drug testing. The 3 medalists would go to the podium for photos and medal presentation & then to the drug testing area. 15 minutes after those two classes pulled, the 40 lb & the 150 lb classes would start. After those classes finished, then the 60 lb and 125 lb classes would pull, and after them the 80 lb and 100 lb classes would pull.

Ok, I'd already moved my crates once, and now time to move them inside the ice rink. I setup next to Val and Raider and the temperature was perfect for all our mals and the other sled dogs.

Although we setup close to the rink, we couldn't stay there during our class because the judges couldn't see us in between rounds. The whole class needed to be on the ice or in the hockey team box on the side of the ice. We had two judges for each class, one would be at the start line, ask the cart help to bring the sled up and let us know to take the dogs in. The other was at the finish line, both judges had timers. The scoring recorder was also right there, calling out the order, letting everyone know when it was time to add weight and entering the time for each dog.

Steve Palinkas was in the penalty box with the PA system and was announcing dogs that were up for the spectators, as well as explaining what was going on in each chute. He did a terrific job of play by play when needed to help spectators understand the sport and how we work with the dogs.

When I took Sebastian onto the mats on the ice leading to the chute, he was curious and I let him explore the ice. He surprised me by not minding the ice and just went about his business being curious.

There were 3 dogs in unlimited, Nathan Sellers' Teton, Michele's Nikko and Sebastian. As this was only the third snow pull we'd done, I started Sebastian on an empty cart. Michele did the same with Nikko. Nathan passed Teton for a whole bunch of rounds, as he's an experienced dog on snow and at Championships. For a while, it was Nikko and Sebastian pulling one after the other, pulling the 110 pound increments. Then Michele surprised me and passed, so I said, what the heck, I'll pass Sebastian (who was having a good time). Teton entered and did well, of course. The pad was really good for the big dogs. How nice to go first! We're usually at the end during a regular pull and things aren't pristine, so this was a wonderful change. As the weights got heavier, Sebastian had to break the sled from the snow several times and was learning what it took to do it. He really was a good boy, but he couldn't let the day go by without providing entertainment. He left one of the later pulls a few feet from the line, and instantly I heard Steve Palinkas say "uh oh" on the PA system. I got on my knees and asked him to pull it, and the goofy boy did, while Steve was explaining malamutes to the crowd. On the next pull he laid down, but got up and finished it. On his final pull, he started to work, but then decided to talk and finally to lay down to "uh oh" on the PA system again. I did several things to get his attention, but he just looked at me, eyes gleaming, tongue out and I knew he was done. I went in and got him up, they kicked the sled and he pulled it. Steve announced to the spectators why we go in to help the dogs and keep things positive. But, guess what, a personal best for him of 1225 lbs (beating his 700lb high at the Tug Hill pull). Nikko pulled just under that and Teton pulled around 1400, I believe.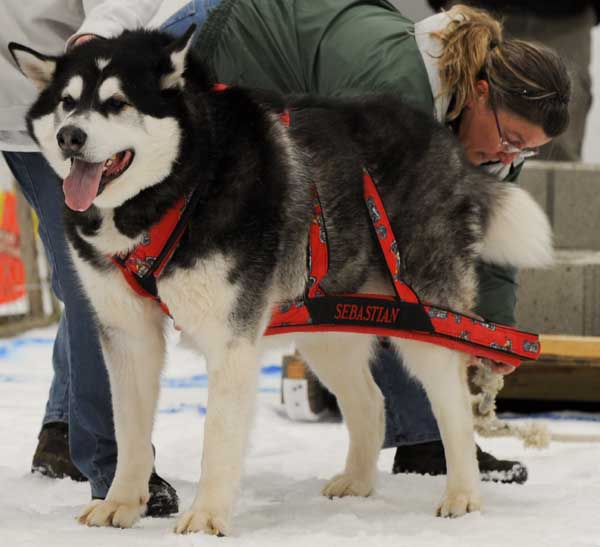 Sebastian getting setup in chute - photo by Enfield Photo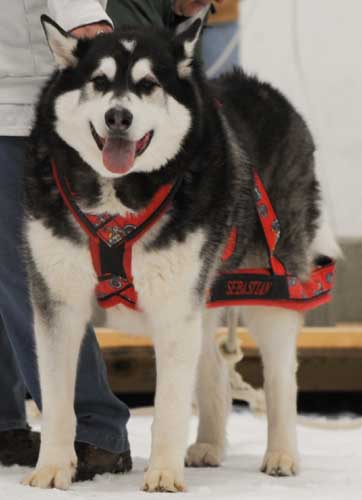 Sebastian getting setup in chute - photo by Enfield Photo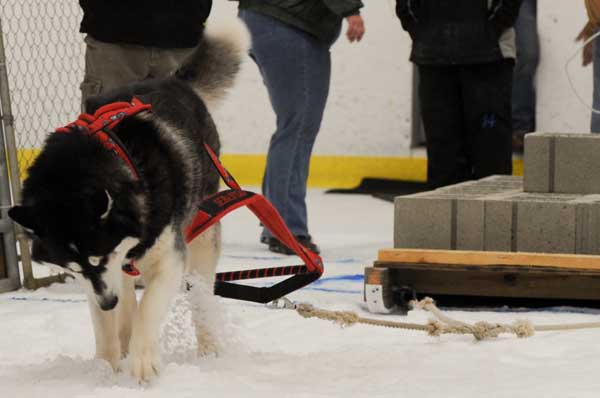 Sebastian digging in - photo by Enfield Photo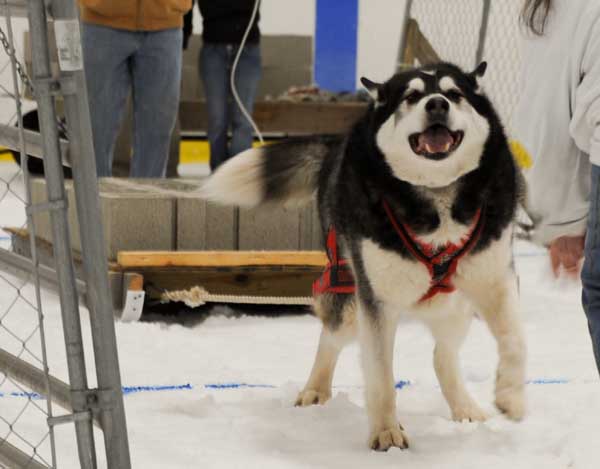 Sebastian pulling - photo by Enfield Photo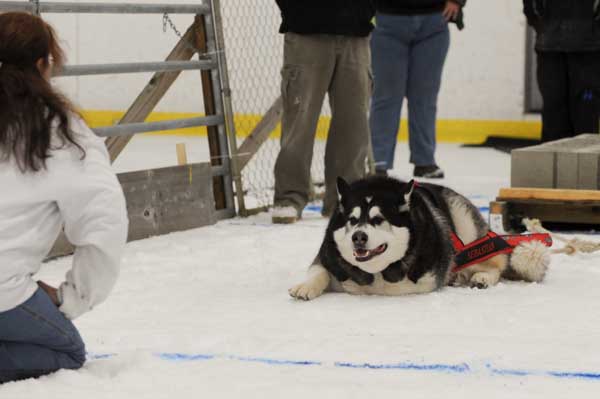 Sebastian telling me he's done - photo by Enfield Photo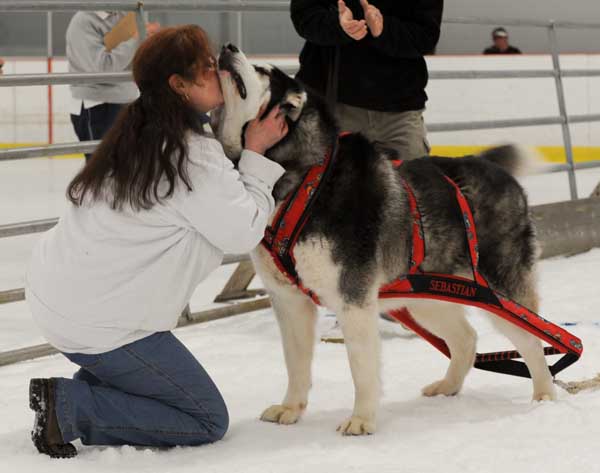 Sebastian end of pull loving - photo by Enfield Photo

Then outside for our photos. The weather was perfect, blue sky, sunny, 70s. Within a few minutes we all realized would could've used a breeze, as I stripped off my sweatshirt which I needed inside. On the podium, Nikko had to talk gruffly to Teton, which got Teton going, which got Sebastian going a little bit. Although I want that photo to memorialize the event, I know it's going to show me blocking between the dogs and keeping Sebastian's head face forward. He was really good getting the Silver medal slipped onto his neck.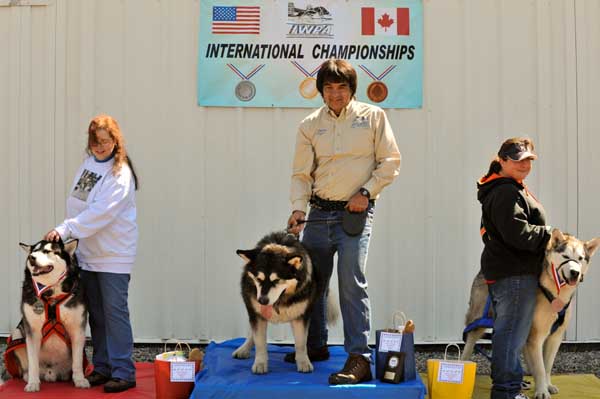 Sebastian Silver Medalist - photo by Enfield Photo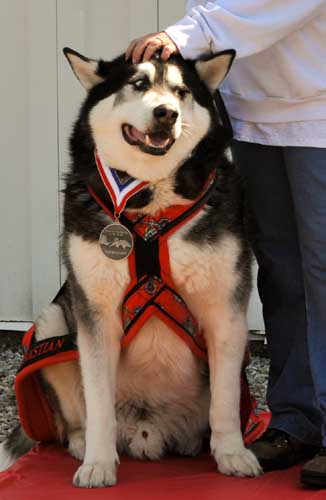 Sebastian Silver Medalist - keeping an eye on the other dogs - photo by Enfield Photo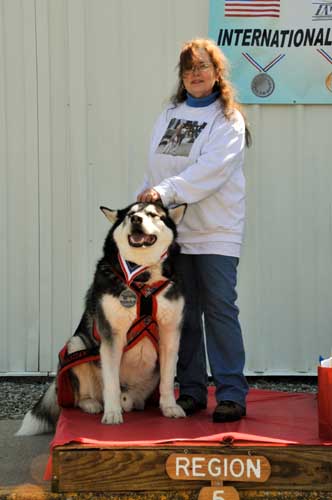 Sebastian Silver Medalist - photo by Enfield Photo

Then off to drug testing. They were taking pee samples. The vet tech didn't have pans provided for her, so she was strapping on baggies to the dogs for them to pee in. Teton went first, and as I watched the procession, knew I was in for an interesting time with Sebastian. I told her that he was a big baby, and he really was. She almost got it strapped on, but then the wailing and the quick spin around toward her. So, she ran with us over to the trees and caught his effort in the baggie, bless her heart.

Back to the rink to crate up, and catch the subsequent classes pulling. The 150lb class was really something. All experienced dogs and experienced pullers who started at the maximum and pulled 165 lb increments. A terrific St. Bernard won that class pulling 2105. The 40lb class was still going at the end of that, and they kept going. The entire class of 8 dogs beat the previous record (records in the IWPA can only be set at Championships). I knew 4 dogs in that class, 3 sammies & Kari's dog. Bev's two sammies got 2nd & 3rd. She was at the podium and I commented that she had a tough problem, she smiled and motioned to Susan to hold one of her dogs. If she'd gotten 1st & another place she'd have been able to hold both dogs herself. Like I said, what a great problem to have!!!

Back inside to the rink to get Cinnabar ready for the 125 class. I started him empty, just like Sebastian. He was doing fine, but not liking walking on the ice at all. Val yelled over to me to do what Nathan did, walk him back on the pad. Thank you, Val!! She was right, and Cinnabar was happier. He did really well for me, always working. At the 1225 pull, he tried, but was getting frustrated that he could break the sled. I asked them to kick it for me when he tried again, so he thought he finished it and was so proud of himself. Lady had gone out a round before, so I knew he had Silver. This was his personal best on snow, 1115lbs!! It was just going to be a matter of how much Luke pulled for first place. Gosh Luke is a terrific puller! He pulled 1555. On his final pull, the cart help had trouble moving the sled. Just the third class to pull on the pad and had gotten tough. Luke really tried, but it stuck fast and the cart help had trouble bringing it back to unload.

The standing record on snow for this weight class was 950. Both Cinnabar and Lady broke that record with their pulls, but Luke pulling even higher goes into the record books. But, how cool that Cinnabar broke the old record :)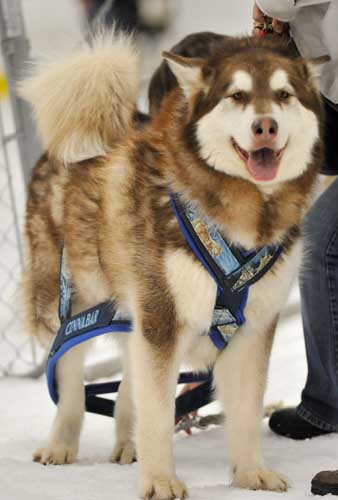 Cinnabar getting setup - photo by Enfield Photo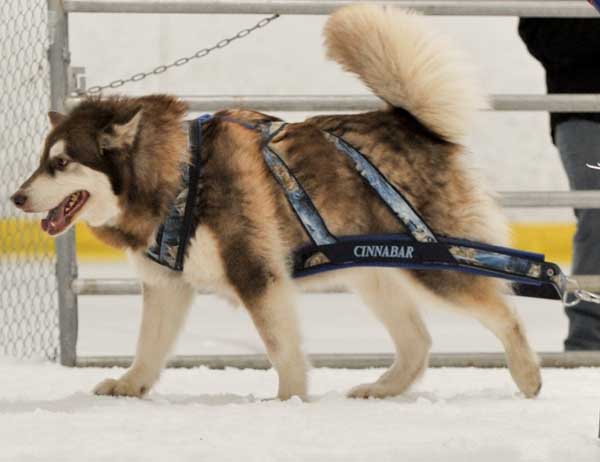 Cinnabar pulling - photo by Enfield Photo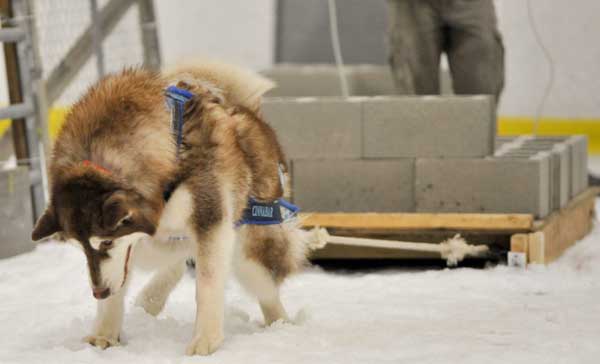 Cinnabar pulling - photo by Enfield Photo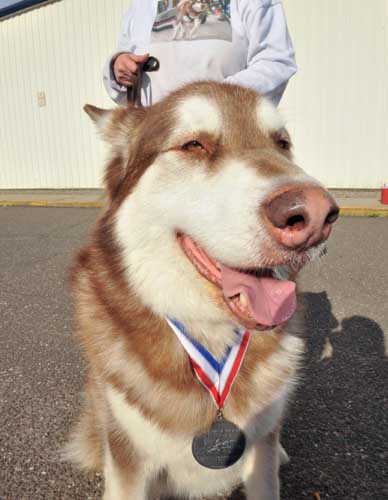 Cinnabar Silver Medalist - photo by Enfield Photo

Then outside for photos, medal presentation and drug testing. Our photo shoot was uneventful. Lady is sweet (Mastiff mix), and Luke and Cinnabar like each other. Cinnabar was a dream getting the baggie strapped on. We ran off to the trees, he lifted his leg and peed in the bag. Rather indignant, for the dogs, but I agree with them doing this. Keeps the sport clean.

Back inside to crate up and catch just the end of the 60lb class' pull. Won by Wendy's Mole. What an incredible puller he is! Meanwhile the big dog chute had been groomed and had time to harden up for the next class.

I was working the 100lb class as score recorder. We had Valiant, Ranger, Raider and Copper. Copper is pulled by Wendy's son Nicholas. She's a red malamute of undetermined age, but up there and this weekend represented her retirement pulls. She's just recently lost her hearing. The other dogs were passing while Nicholas pulled her every round. Steve said she'd taken a huge pee before the class, but on about her 3rd round, she peed in the chute. Nicholas put his hands on his head. He wasn't able to verbally correct her when she started, because she couldn't hear it. They got shovels and the rake and dug it out. Then, they didn't want to use any of those to fill in the hole, so by hand snow got filled in the hole and stomped on and smoothed out. Luke's Valiant did great. Raider did great for Val. Oh how he tried on his last round. Val was trying to get him one way, but he liked the other way. Unfortunately that side had a pile of snow on the side of the sled and he couldn't get it. Ranger continued his awesome ways from the weekend before, and suddenly there was a chance to break the record for this weight class. Keep in mind that Dave had dogs to pull on the other track (as did Todd) because both had dogs in the 80lb & 100lb classes. Dave was running back and forth between chutes. Ranger had already won the class, but was going for the record. He worked to start that sled, and Dave worked well with him. Boy did he work hard, and he did it. New IWPA record of 2105 on artificial snow for the 100lb class!! Then he ran over to the other chute to continue pulling with Hemi :)

I had a chance to catch the end of that class, to see Kari's Booth take it. He was incredible!!

We were having our banquet, right there in the lobby of the rink. I left the boys crated in the nice cool rink and was able to leave them in there overnight (as opposed to lugging them to the hotel, put the back seats down and shove them all the way in the car).

Everyone was excited by the day's pulls, several records had been broken all by fuzzy dogs & a Saint. Many personal bests, too!

We were all so thankful to the cart help. Oh my goodness, how they worked, pushing, prodding and pulling those sleds. Setting them up where the handler needed them to be, pulling them back to load more weight. Steve and Joan Albro (who were going to be pulling the next day on wheels) were incredible, Michele's husband John was incredible and so was Eileen (who was also going to be pulling her mal Kodi the next day in wheels). These people worked their butts off. When Wendy thanked me profusely for scoring the 100lb class, I almost felt guilty because I had such a light work load compared to what they did for us. We've got a great region of people.

Todd had a nice feast setup for us at the banquet! Delicious and hot (important after spending much of the day on the ice). Wendy handed out lottery tickets and while we were eating numbers were called for door prizes. Then a break in that, while Robbie Reed handed out our season regional medals, then back to door prizes, then back to medals. In between that, Dave Gallagher presented a "life time achievement" beautifully engraved crystal plaque to Dan Plosila from our region 5. This was Dave's idea and earlier in the season he'd asked different region 5 members if they wanted to chip in. I don't think anyone turned him down. Dan is 83 years old, and organizes more than half the pulls in the region and he pulls two dogs. His Terra, who pulled in Championships is 12 and retiring after Championships. Someone figured out that in dog years, she's the same age as Dan smile.gif I didn't know how Dan would respond to this surprise, but he did it with his usual light tough. After he thanked everyone, he wanted to know if this was a hint for him to retire (which got a resounding NO), and then said to not let his wife see it (she was right there) as it just something else for her to throw at him. What a character!! Much of the rest of the evening is a blur because I was tired, but I had a great time and from what I could see, so did everyone else.

All 3 of us zonked quickly at the hotel. Up bright and early, I gassed up, stopped at Mickey D's for hot chocolate and hash browns for treats for the boys, and then headed back to the rink. I parked at the front of the lot to run in and get my crates to then drive them to the back of the lot and the shade. Well, Sebastian figured he had more to teach me. He's never gone after my drinks in the car, but I noticed while driving to the shade my hot chocolate was gone, and my white sweatshirt had brown stains on it. I guess it was too inviting for him, the brat. The rain was starting to drip, drip at that point.

Got the boys setup and headed inside for another hot chocolate. The put off neighbor from the day before came in the lobby shortly after me, and complained about how rude we were, how rude the rink was. There were so few dogs there at this point, and I'd hardly heard any noise outside, but I think he was waiting for it. Noise ordinance says no noise on weekends between 10pm and 7am. Well, it was after 7am. They talked to him and tried to mollify him. I was already outside when he headed back through the trees. No cops or animal control showed up, so we went on with getting our day started. We had additional pullers show up for weigh ins, and the outdoor chutes got setup, just as the rain really started coming down.

We held our handlers' meeting under a couple of Easy Ups. It was going to be the same as the day before with the same classes pulling at the same time.

Unlimited up first, the carpet was soggy, but I was confident that Sebastian could start off with 750lbs. He didn't disappoint. He was not motivated though. Although he'll sit in the rain at home and have to be made to come in, he evidently wasn't going to be motivated by it. In addition to Teton and Nikko, we had Layla, a big Saint Bernard in our class. She surprisingly went out on her second pull. She just stood there wagging her tail, but not attempting to move. She won the class the year before, but had some issues during the season. I felt so badly for her mom. I skipped a 275 increment only once. I was running into the chute with Sebastian trying to get movement to motivate him. I was talking sweet, pumping him up. "Yeah, whatever" was essentially the response. On his final successful pull, I used modified Sarge to get him through, but I had the feeling it wasn't going to last. I knew it wasn't going to be high weights with the soggy carpet for him. On his last pull, he talked, then laid down. I got out harsh voice and he sat up, eyes gleaming, and I went in to get him. He went out with 1850 lbs pulled, and another Silver medal!!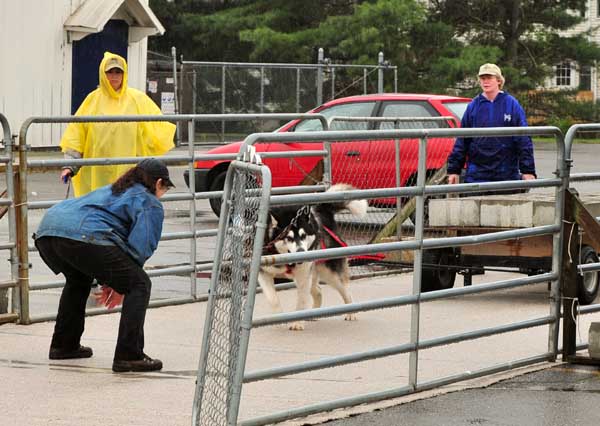 Sebastian pulling - photo by Enfield Photo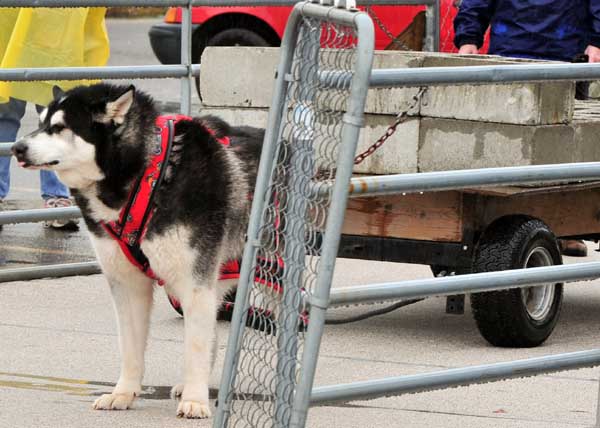 Sebastian sticking his tongue out leaving it a foot short of the finish line - photo by Enfield Photo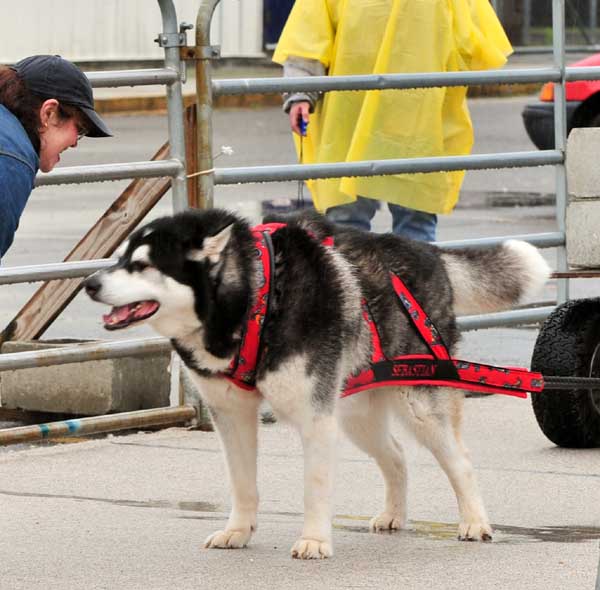 Sebastian being encouraged to finish the pull - photo by Enfield Photo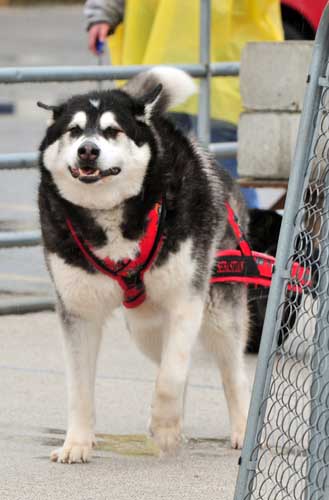 Sebastian working again - photo by Enfield Photo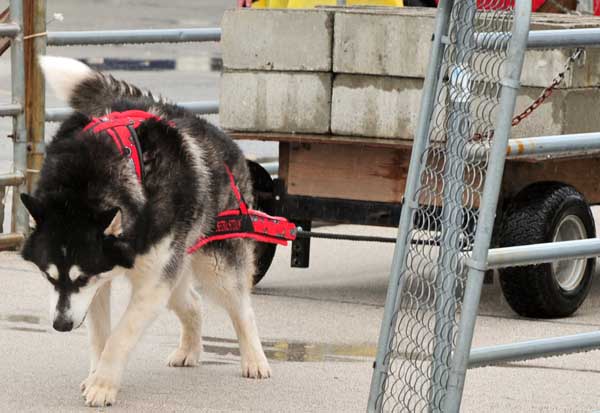 Sebastian finishing the pull - photo by Enfield Photo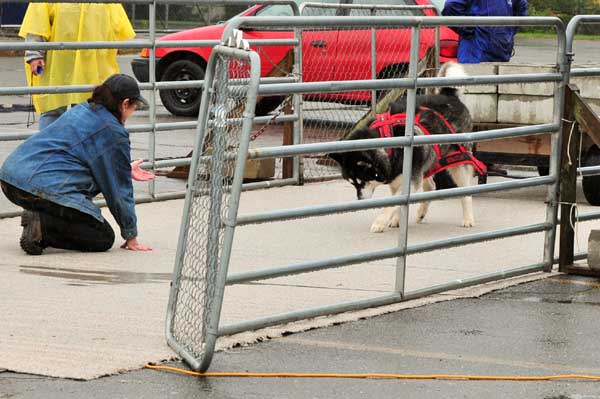 Sebastian being encouraged to pull - photo by Enfield Photo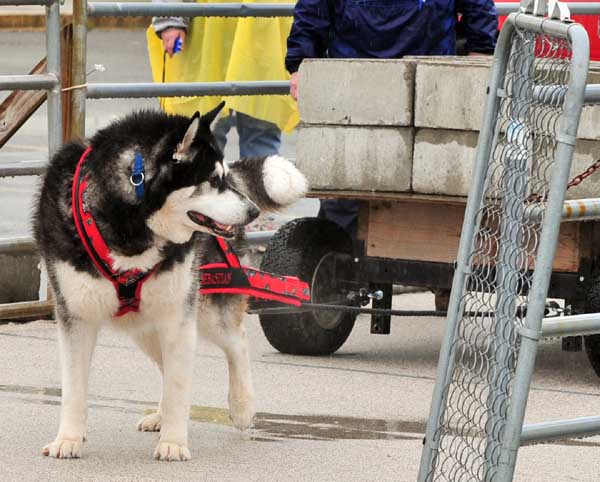 Sebastian distracted short of the line but did finish this one - photo by Enfield Photo

Teton took gold, Sebastian silver and Nikko bronze. Perhaps it was the rain, but there was barely a peep out of the 3 of them during medals & photos. No drug testing today because we'd done it the day before.

Cinnabar was working well for me and I passed him early on. But when the cart started sinking into the soaked carpet, stopped passing him. He was really working well, and heard lots of shots from the official photographers, who really liked him. (They told me they've got a portrait of him from the day before with his medal around his neck smiling - can't wait to see it). On his next pull, though, he got frustrated and tried to get to the side of the chute. He wouldn't focus. He tried a little bit, did hi-ho-silver and talked. I gave him a little harsh voice which focused him for a second or two, but he was frustrated, so when he tried again they pushed it for me. He finished pulling 1740 lbs and getting a bronze medal, switching positions with Lady who took Silver. Luke won the class, and did really well.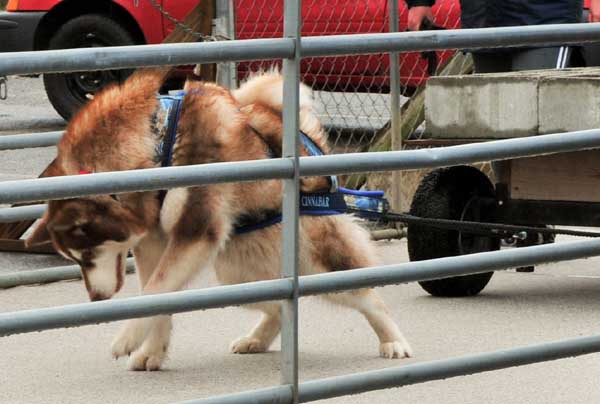 Cinnabar pulling - photo by Enfield Photo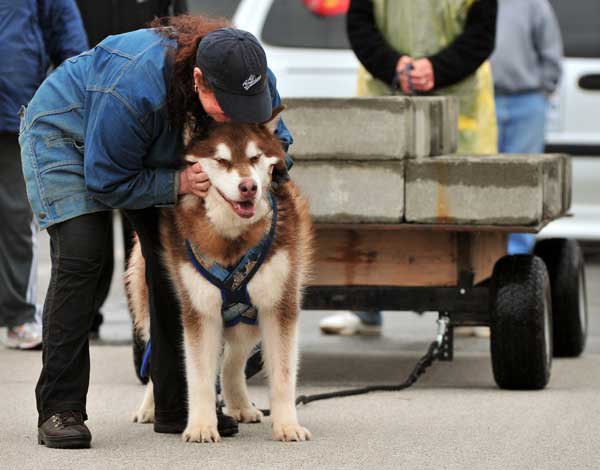 Cinnabar loving before a pull - photo by Enfield Photo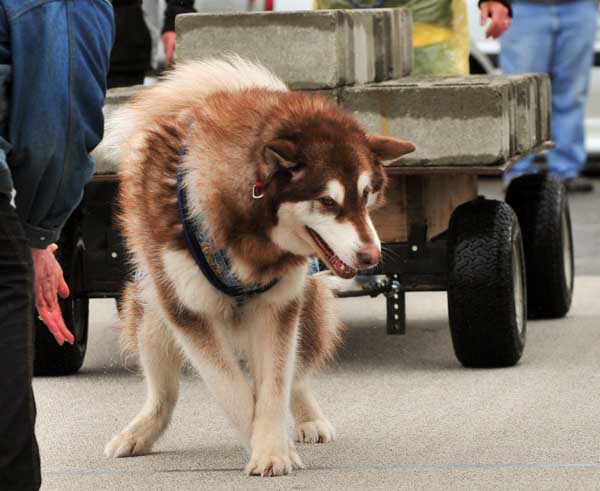 Cinnabar pulling - photo by Enfield Photo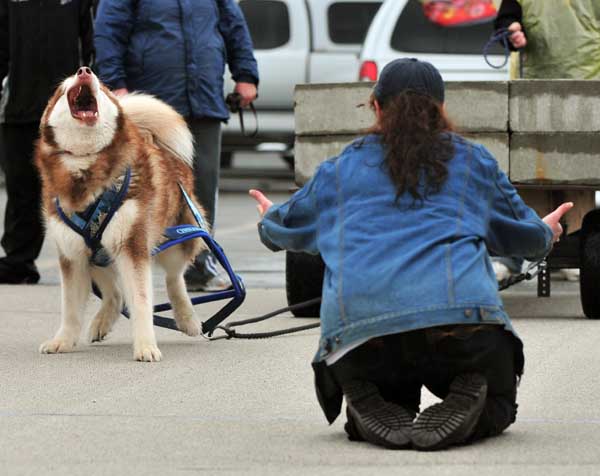 Cinnabar expressing his frustration on his last pull - photo by Enfield Photo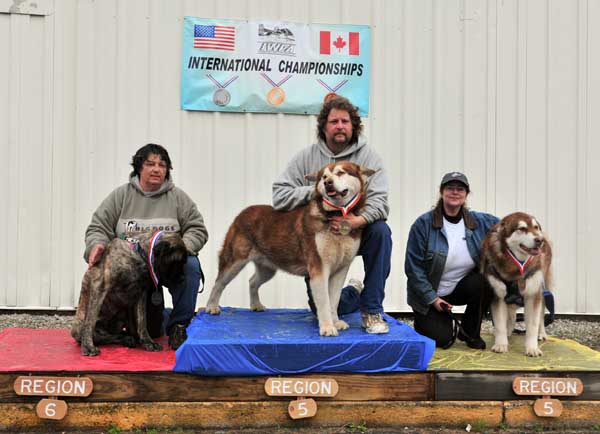 Cinnabar Bronze Medalist - photo by Enfield Photo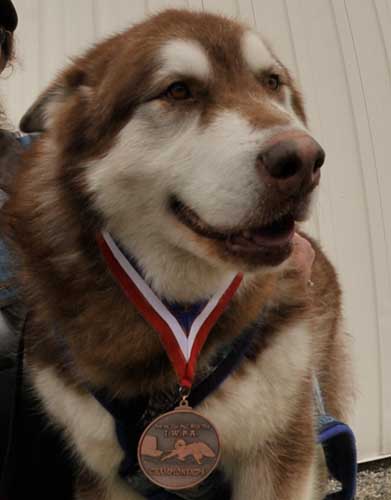 Cinnabar Bronze Medalist - photo by Enfield Photo

I got to catch a little of the 60lb class. Mole was of course right in there. What I will always remember is Wendy and Mole, right in there for contention, when Mole turned around twice in an instant. In the next instant, Wendy was in there to correct by moving him forward and he pulled it. It was fast, but the correct decision and I so respect her for doing that with a gold medal on the line. Mole took Silver.

I again scored for the 100 lb class which was Ranger, Teal, Valiant and Copper. Nathan and Rodney judged. Nicholas did a good job with Copper, but on her last round when she turned around to see to back of the cart there wasn't anything he could do but wait for her to come back. She did, and made a little effort but she was done. Teal is a dog we saw in Oneida, who's really good. Unfortunately, she got DQd for a sling shot. Too much slack in the line, and they're all over it. Safety of the dogs is paramount, and just heightened at Championships. That left Valiant and Ranger. Valiant did a good job, but again, Ranger was awesome. I believe he pulled 2400 lbs.

That left a little time for me to sit and watch the 80lb class. It was good. Joan Albro's Riddick was right in there. After how hard they worked the day before I was thrilled. Todd's Milo was right in there. There was also a husky in there, Czar, who was being driven. My first time to see this in person. Eileen's Kodi did really well, again I was thrilled, she deserved for that to happen after how hard she'd worked. I'm leaving dogs out, but it was a big class, and kind of blurring in memory. . It was the right call, because he never does that and she doesn't want bad habits in the future. Milo was incredible and took the class with Riddick in 2nd and Hemi in 3rd (he pulled great for David).

Whew, what a great day!! After helping Wendy with little errands, I started to pack the car. I was leaving with more than I started with those 4 goodie bags that accompanied those 4 medals. Nathan Sellers stopped by to chat and congratulate me on how well the boys did, and told me he was impressed with their temperaments. High praise, indeed. We had a really nice chat. Teton had that big ole head out the side of the truck watching while we talked. What a sweet dog.

Lots of hugs and goodbyes while I was packing it up. Ran inside to help Wendy and fill out one of the poster boards for results. I also got my certificates for each for that day. When I was headed back to the car I ran into Steve Jackson & Bev. We all congratulated each other, and Steve asked me when I was going to stop smiling biggrin.gif

In spite of a tortuous 7 hour ride home in rain and fog, the smile is still on my face the next day as I write this! The boys had fun, did well and I had a wonderful time. I got to meet good dog people and good dogs. Learned more from watching all the different handlers, and the different judges. The atmosphere was competitive, but yet everyone was pulling for everyone else to do their best. I loved every minute of it!!

(I'm on the lookout for podium photos of the 125lb class in snow and the Unlimited class on wheels)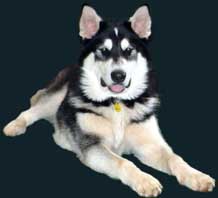 website design by Sheryl
bordered background by Sheryl
© 2005
all images © Sheryl Franklin unless elsewise attributed
all Alaskan Malamute sound files © Sheryl Franklin
website hosting by FranklinCommunications
domain name by DomainRegister.com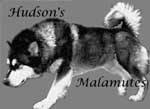 My Mals
Now
Sebastian
Cinnabar
Then
Wolf
Taylor

What's New
Purebred Dog Breeds into the 21st Century