Sheryl's Alaskan Malamutes - Activities - Weight Pulling - IWPA - Oneida - March 13/14, 2010



Weight Pulling

March 13/14, 2010 - IWPA - Wheels Weight Pull - Oneida, NY
We were on the road just before 4am, battling rain, high winds and tractor-trailers pelting us with water and sucking us into their draft in the wake of their passing. The rain let up 20 minutes south of Syracuse, but the wind stayed with us the rest of the way to Oneida.

It was in the 40s and windy the whole day. Remnants of snow mounds were still around in upstate NY. Spring is almost here, but winter isn't giving up easily.

The scale here weighs heavy by about 4 pounds, Cinnabar weighed in at 122lbs, Sebastian at 160. He was a baby getting into the sling, but didn't wail when hoisted up.

We had about 35 dogs pulling pro. 2 in the 20lb class, about 11 in the 60, 11 in the 80, and another 11 in the 100/125/Unlimited classes. None of the Sammys were there, so no 40lb class. After the sanctioned pull, we had about 8 novice dogs.

Got to meet 3 more mals, Elim and Chaos from Masayu (sp) Kennels. I think they're coming to Harrisburg as well. Brenda and Val were there with Raider and a new girl they're helping train, Sitka. She was returned to their breeder for behavior, but obviously never had any help in her first home modifying her behavior. She's a sweet girl, but a diva with a pretty prance, and now learning rules and boundaries. She pulled novice the first day and did well. Dave G was there with Ranger, Takaani, Hemi and Harra. Michele was there with Nikko, Tundra, and Yukon the first day, and added Shiver the 2nd day. Eileen was there with Kodi. Lots of mals. Lots of pitties as well, and a beautiful strain of Mastiffs came from Virginia. They're called Boer Boel, beautiful brindle dogs. Also 1 border collie, who is a great puller.

Our chief judge was Steve Jackson, although Wendy and Eileen judged specific classes. Our organizer was Lisa Mawson. This is her training facility and she's got a permanant weight pull chute (carpet on concrete), under tented tarp. The cart starts to shut down around 1700 lbs, so no high weights.

20lb class pulled in 25 lb increments & their cart weighed 75 lbs. 60 lb class pulled 100lb increments, 80 lb class pulled 150lb increments and pulling together, the 100/125/Unlimited classes pulled 150lb increments. The cart weighed 225 lbs.

I took photos of the 20lb, 60lb, 80lb classes. Brenda Lemon took photos for me for the 100lb & up classes.

I started my boys at 825 lbs.

Before their class started, I took each of the boys into the chute so they could hear the sharp sound the tarp above them made in the high wind and not be startled by it while working. The sheep and horse were in a different pasture than the last time we were here, but still visible after coming out of the chute. Sebastian could see them, but they didn't hold the same charm as last time.

I single passed with Cinnabar until he started talking. He made me work on his last couple of pulls, on my knees, arms out to him in a "come to momma" gesture and he dug in. He ended with 1875lbs, and 1st place in his class ahead of Yukon and an improving Tundra.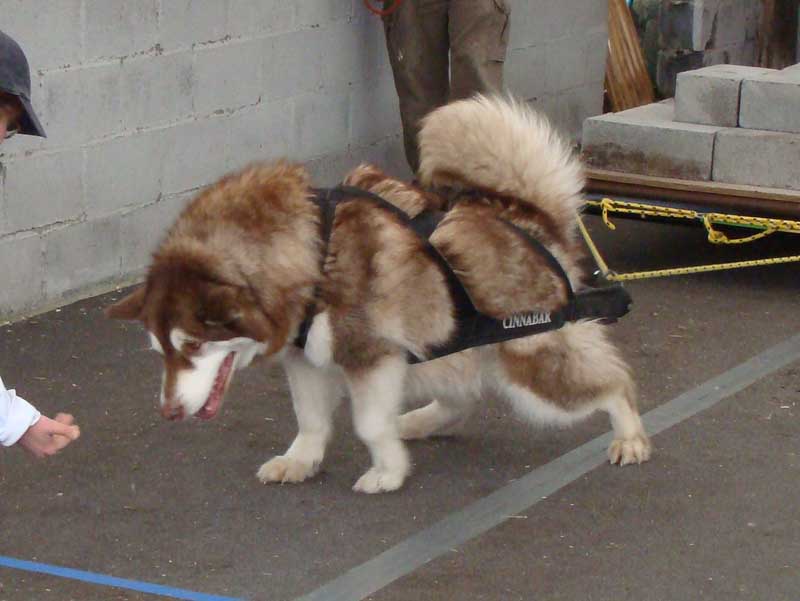 Cinnabar pulling for my hands
I double passed Sebastian after his first pull, then single passed him. He was doing well, but being a dork in the chute right after hook up. Had to give a yelp and jump to his side away from me, but it was working for him :). His last pull, looked like he had it, but left it a foot short of the line, then laid down. I wasn't in "sarge" mode with him, but realized I needed to be, which is why he left it short of the line. He pulled 2175lbs and took 1st in his class over Nikko, who also had a good day.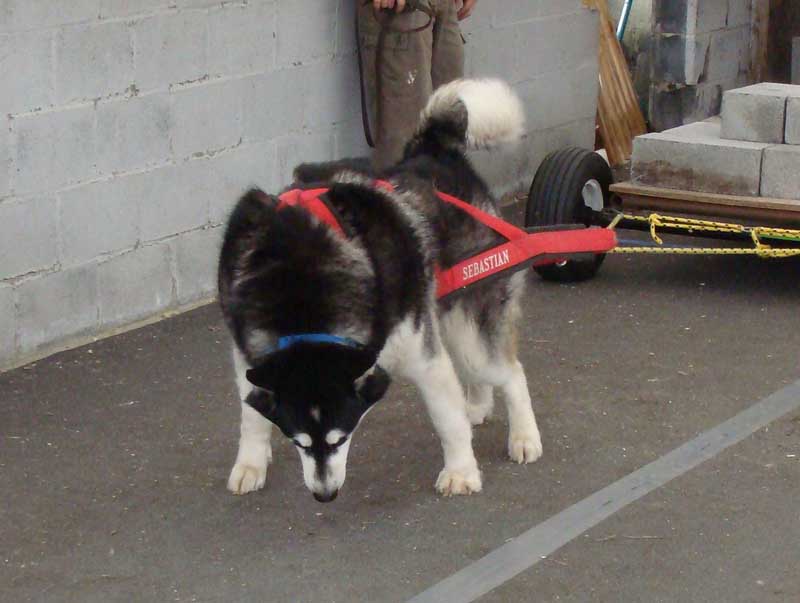 Sebastian pulling
Ranger took top weight, I think at 2475. Billie, the border collie, took top percentage. The dog is just awesome, with the same "hit, hit, hit" style as Steve & Wendy's Alaskans.
Both boys were good in the motel. Cinnabar zonked after eating, and Sebastian zonked a little while later, after completing his bouncing on a new bed routine :)
In the morning, I was taking out Sebastian first and trying to make Cinnabar wait. Fortunately, Sebastian ran right into Brenda in the hall so she ran interference for me, while Cinnabar looked at me pathetically as the door closed on that sweet face. He didn't have long to wait for his turn. We gassed up, stopped at the grocery store for apples and bananas and headed back to the pull. I remembered to put the fruit in the trunk, as last time we were here, some thief stuck his big head into the front seat and grabbed the bag, poking his teeth into almost everything :)
The wind was far less than the day before making it feel warmer. Jacket still needed, but no sweat shirt this day.
No 20lb class, and we lost Elim & Chaos from the day before, and no Billie the border collie. We gained another dog in the 80lb class, Dory, not sure what breed, but very sweet dog. A pittie that pulled novice the day before, pulled pro, and Sitka pulled pro.
The 60lb class was interesting. Nicholas was pulling Whiteface, with Wendy & Steve very proud when he made the decision that Whiteface pulled better with the cart positioned a certain place. At Tug Hill, Whiteface kept running to the back of the sled, they'd worked with him and he was a different dog at this pull. Nicholas was great with him and he did well. Steve was pulling Starbuck, who did great, but is now being outpulled by his sons, to their delight. Wendy pulled Mole, who won that class again, and took top body percentage. Their whole family took 1st, 2nd and 3rd in the class.
In the 80lb class, a beautiful pittie, Riddick again took first place. He's doing great for his mom and has great form. On both days, the old man, Takaani was right in there battling for first. Hemi on this day was also battling for first in this class. Poor Hemi and Brenda, they only had eyes for each other in the holding area, but Hemi pulls better if he doesn't get any loving from her while working. I held Hemi for Dave while he was switching off between Takaani & Hemi. He just gets an ear rub from me, which doesn't turn him into a mush ball - LOL. We had a spectator who was in love with all the fuzzies, I had to gently let her know she couldn't love on Hemi until he was done working, but in the next class she could love on Cinnabar as the loving doesn't deter him from his mission.
I again started my boys at 825 lbs.
Cinnabar was getting lots of loving in the holding area, laying his head on people's knees, making them fall in love with him. He also caught the attention of Sitka, who was all goo-goo eyes for him. He was up after her on one of her pulls and she kept looking back for him, so we blocked her view. Raider was also looking at him with tail wagging, just like he did in Barkhamsted, CT. I made sure Cinnabar was never viewable to Raider while he was in the chute.
I single passed Cinnabar until he started talking. He really had alot to say on his last pull. I got very quiet and just motioned to him to get his focus, then told him it was his last pull and asked him to come to me. He dug in, successfully pulled the 1875 and I kept my promise and withdrew him. He again took 1st in his class.
Sebastian got to see the horse and sheep on his pee break before his class. This horse is a very curious girl. The day before she walked up and down the fence line as I was retrieving things from the car to set up the carts and boys in the barn. On one of my trips I went over to the fence, where she sniffed my hands and then licked them letting me know it was about time I got over there. On Sebastian's pee break, she was very curious about him and came to the fence. To my surprise, Sebastian was equally curious, but without his knife and fork. The two touched noses, while I kept a tight leash with him. Then one of the sheep didn't want to be left out, coming over to the fence, and that got him to bring out his knife and fork and really charged him up :)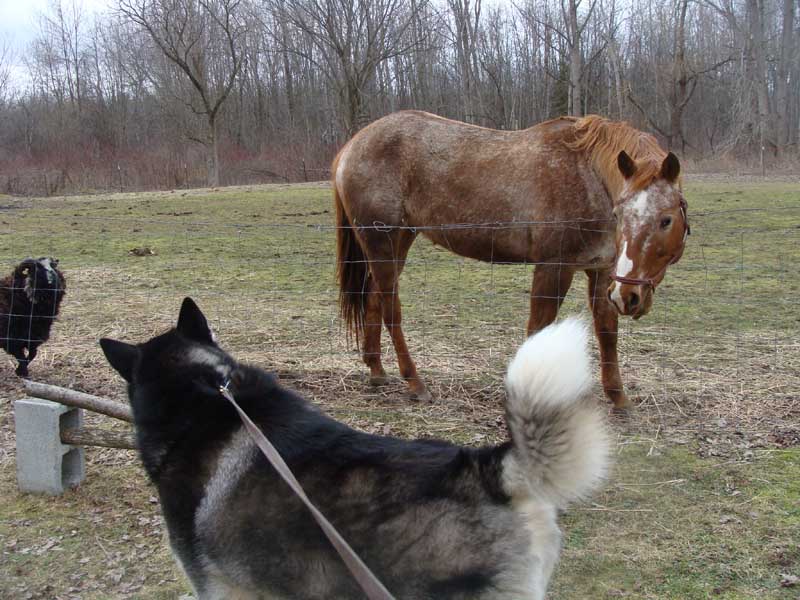 "I want to be buddies with the horse, but you look like dinner"
In the holding area, Sebastian wanted attention from others, but didn't want to be petted by others. Definitely in brat mode. He was trying to grab whatever he could, at one point getting a sponge out of a hidden away bucket and going into chomp down mode on it. He dropped it, I kicked it away and Michele scooped it up. Oh yeah, this day was going to be "sarge mode" for me with him in the chute.
I double passed him after his initial pull, then single passed until we passed 2000 lbs, then just went with the 150lb increments. He still being a dork in the chute, but pulling well. Nikko pulled his best so far this day, getting to 1875 lbs. Raider also pulled very well, over 2000lbs. Not sure on which round he out. Teal, the Boer Boel didn't make the 2475 pull. That left Ranger and Sebastian, who successfully pulled the 2475. Ranger worked really hard for it and Dave withdrew him after that. Sebastian pulled it easily, but took more time than Ranger. On his attempt at 2625 lbs, Sebastian easily started the cart, and was moving well. Then he slipped and laid down. Sarge mode wasn't working to get him up, so I asked him to sit. Nope. I went way back away from him and sat down. That got him curious and up, but we were running out of time, so I just worked with him, non-sarge. As soon as he gave an effort, I had them push the cart and he thought he did it successfully. So, he came in 1st in his class, but lost most weight pulled to Ranger by a few seconds. I was very pleased with his effort.
The sun came out right after awards and it felt like spring was around the corner. Nice timing, but, oh well. We were on our way after hugs and goodbyes. A very uneventful trip home (no wind, only a few sprinkles of rain) and daylight until an hour from home. They ate and zonked, and so did I. A very good weekend.
A huge thank you to Brenda for helming my camera & getting shots of my boys and the other large dogs!!!
Photos of all the dogs & more of Sebastian & Cinnabar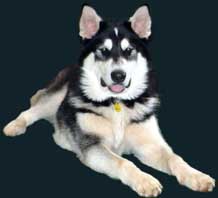 website design by Sheryl
bordered background by Sheryl
© 2005
all images © Sheryl Franklin unless elsewise attributed
all Alaskan Malamute sound files © Sheryl Franklin
website hosting by FranklinCommunications
domain name by DomainRegister.com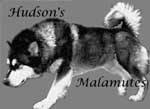 My Mals
Now
Sebastian
Cinnabar
Then
Wolf
Taylor

What's New
Purebred Dog Breeds into the 21st Century