Sheryl's Alaskan Malamutes - Activities - Weight Pulling - IWPA - Tug Hill - February 13/14, 2010



Weight Pulling

February 13/14, 2010 - IWPA - Tug Hill Snow Pull - Lorraine, NY
A little drama the day before the pull. Since the guys that had plowed my driveway never showed up, had to call around and finally found someone. The driveway was officially plowed at 2pm on Friday, and even he had trouble finding a place to put all the snow, but we were free to go to the pull the next morning.

Early 2am wake up call, on the road at 3am and pulled into the pull site a little after 9am. This was a straight shot up 81 from PA to 50 miles above Syracuse, and then 6 miles off the exit into the Winona State Forest. At the last rest stop on 81 before Syracuse I walked and pottied the boys. Cinnabar pulled me down in the snow and slush, so my final hour and half wasn't that pleasant :)

The site is very remote with 3 buildings. It's a trail head. The main event was the sled dog races and it was packed. Evidently other races had been cancelled and the mushers converged to get their races in. All day we could hear the announcements of the races, as well as the barking of excited dogs ready to run. They also had ski-joring events.

This distance for us in my little dog-mobile is the max. 5 hours in, Sebastian was uncomfortable and looking for ways to lay down, or some way to sleep leaning against the window. So 5 hours is optimum, 6 is the absolute max, even with 3 stops along the way to walk & potty. They were a little stiff when I walked them at the site, and I gave them a good walk before crating them. The good news is that the big dogs go last so there was alot of opportunity for them to sleep before working.

Cinnabar weighed in at 120lbs, Sebastian at 156. He was a baby, but didn't wail when hoisted up. That was nice.

We had 30 dogs pulling pro, if my math is correct. 4 in the 4lb class (all Sammys), 12 in the 60lb class (Sammys, Alaskans, Mals), 7 in the 80lb class (Alaskans, Mals), 2 in the 100lb (Mals), 3 in the 125lb (Mals), 2 in the unlimited (Mals). After the sanctioned pull, we had about 8 novices pull.

Our chief judge was Steve Jackson, although Wendy and Bev judged specific classes. Our organizer was Dan Plosila. Steve made sure that I knew the differences in snow from wheels. We've got to stand next to the sled behind the break line until the handlers break it and pull it to the start line, then we run up to get hooked up and dash across the finish line and work with our dogs. Got to be quick or the sled freezes to the snow and it's hard for them to get going.

The chute was on an incline, but the experienced folks told me it was pulling good that day.

The classes below the 100lb pulled either 40lb or 80lb increments, and each pulled separately. 100lb & up pulled 120lb increments and pulled together. The sled weighed 100 lbs.

I took photos of the 40lb, 60lb, 80lb classes. Eileen very nicely took photos for me for the 100lb & up classes.

We started on an empty sled. My goal was for them to pull at least that with everything else being a bonus.

Cinnabar was the challenge as we've got to do his routine to get him hooked, which means trotting past the hooker and circling back. Precious wasted time once the sled is at the start line, but can't be helped with how he reacts other wise, which would take even more time.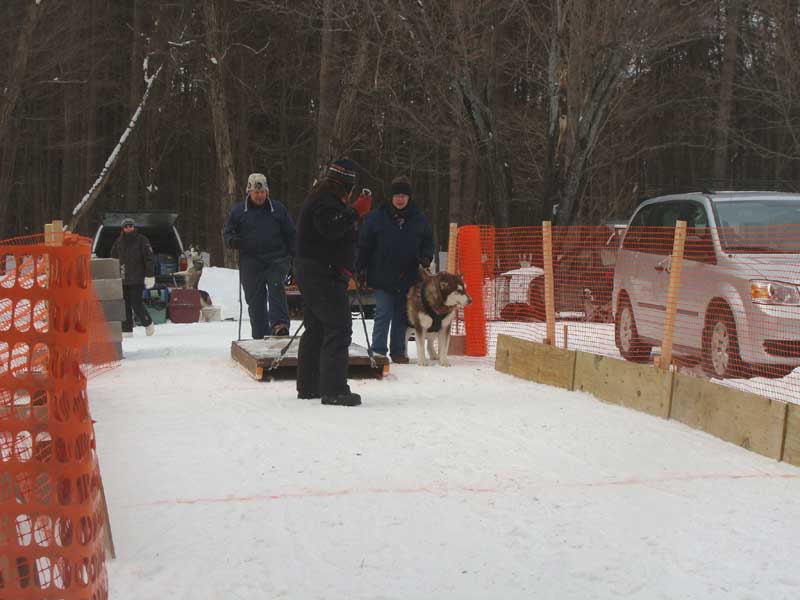 Cinnabar & I waiting while they break the sled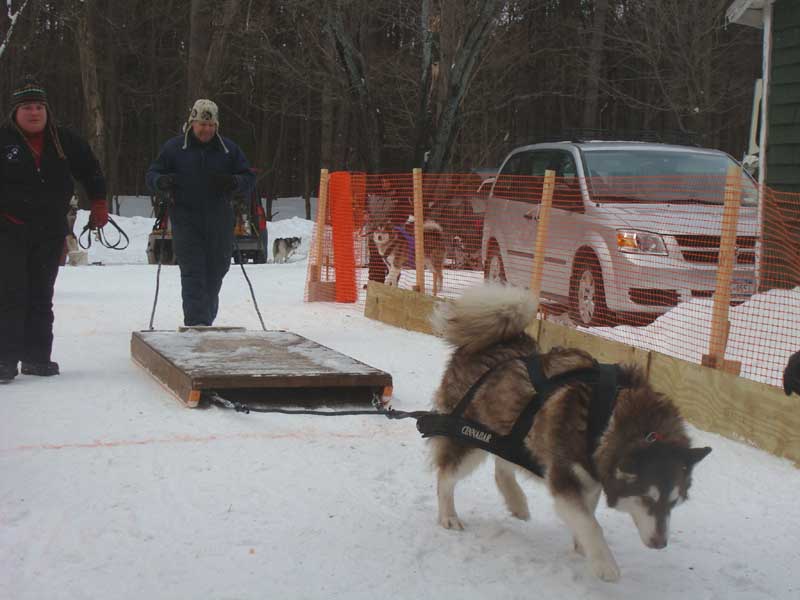 Cinnabar's first successful snow pull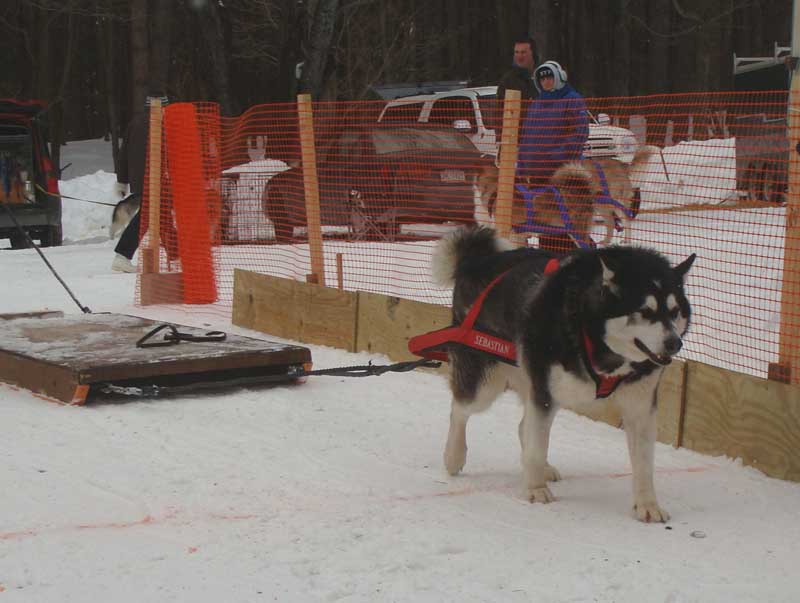 Sebastian's first successful snow pull
The pace was quick because there were so few in the 100lb & up and we were pulling every increment. I think the only one not pulling every increment was Ranger. That was helpful because there wasn't time for them to get bored in between their pulls.
We got up to 700lbs and Cinnabar easily pulled it. The sled stuck for Sebastian on the same pull, but he lunged, broke it and pulled it. I whooped it up for him and withdrew him. I wanted him to end on a high, and he'd already won his class.
At 820 lbs, it stuck on Cinnabar. He didn't give up, but couldn't break it. It was a little confusing to him. So, when he tried again, I asked them to kick it so he thought he broke it and pulled it.
What a great first snow outing for them. Cinnabar won his class, and so did Sebastian. Woo-hoo! They were happy and having fun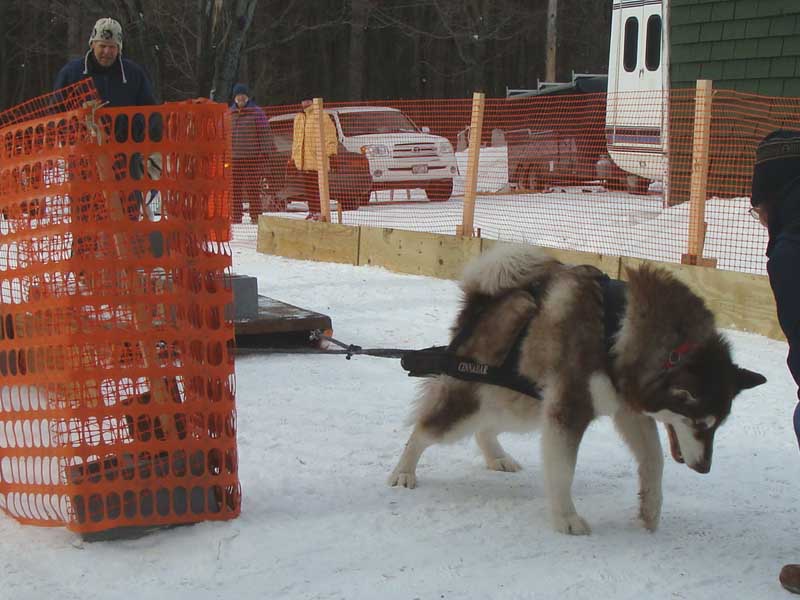 Cinnabar's 700lb snow pull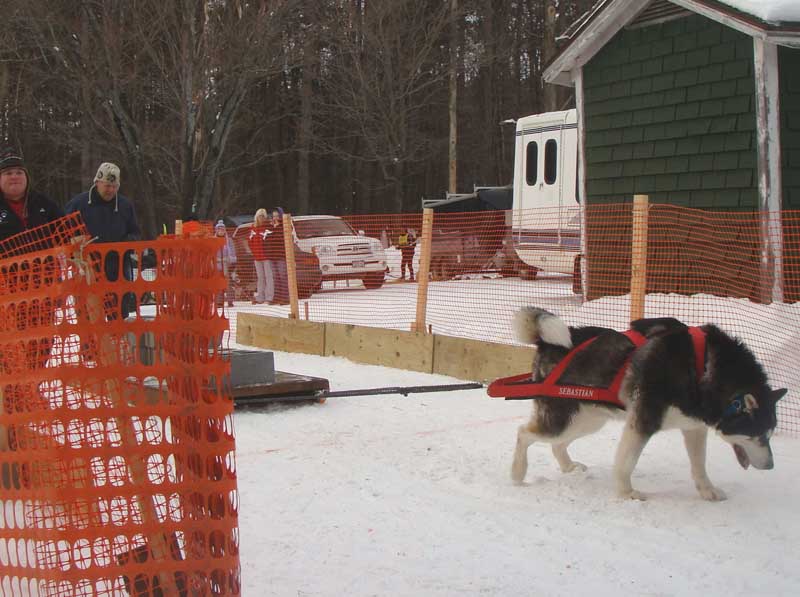 Sebastian's 700lb pull
Cassie took top body percentage and Ranger got most weight pulled!
After the novice class & awards, we packed up and headed to the motels 15 miles from the site. I had dinner with the Gallaghers & Jacksons at the Ponderosa. A few other pullers showed up at various times and took the table next to us. We had good conversations, fun and that buffet was a food orgy for some in our group.
We all slept well that night, and Sebastian did give up the bed after warming it up for me :)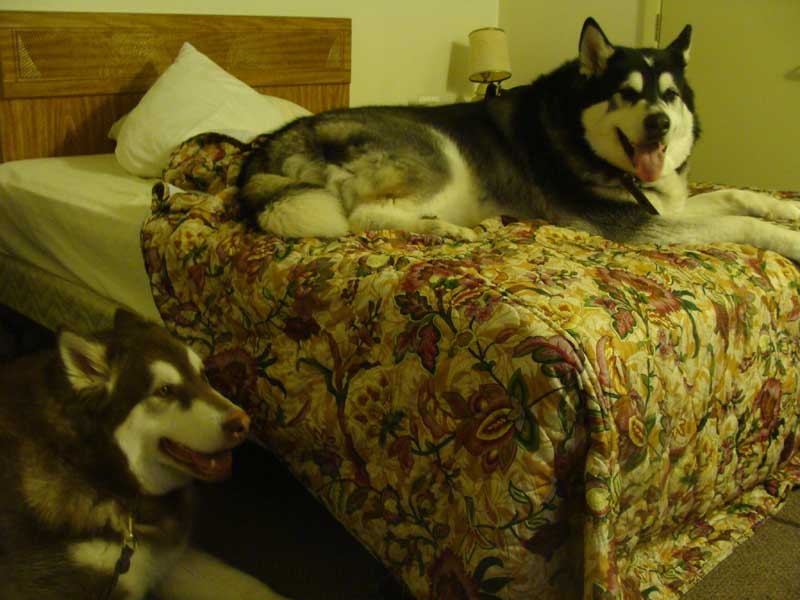 ****
For Sunday's pull:
It snowed a couple inches over night and the trip to the site on the back roads was more interesting (read slower) than the day before :)
I took a few shots of the sled dogs before the pull started. What a mix of dogs. I saw pointers and hounds. With the pointers one wouldn't have been surprised to see a hunter with a gun crooked over his arm with them. But, speed is all in the races.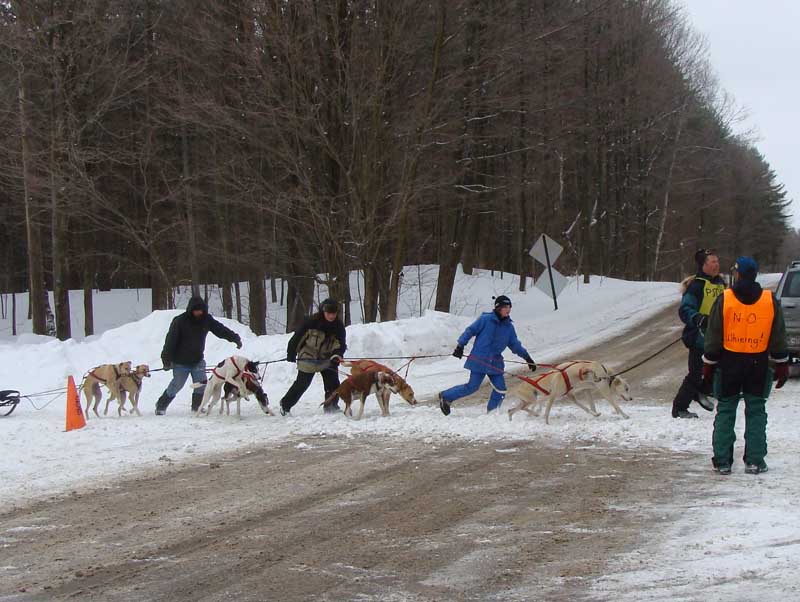 sled team headed to the on-deck area
But, there were a small number of Sibe teams. Here's one getting hooked up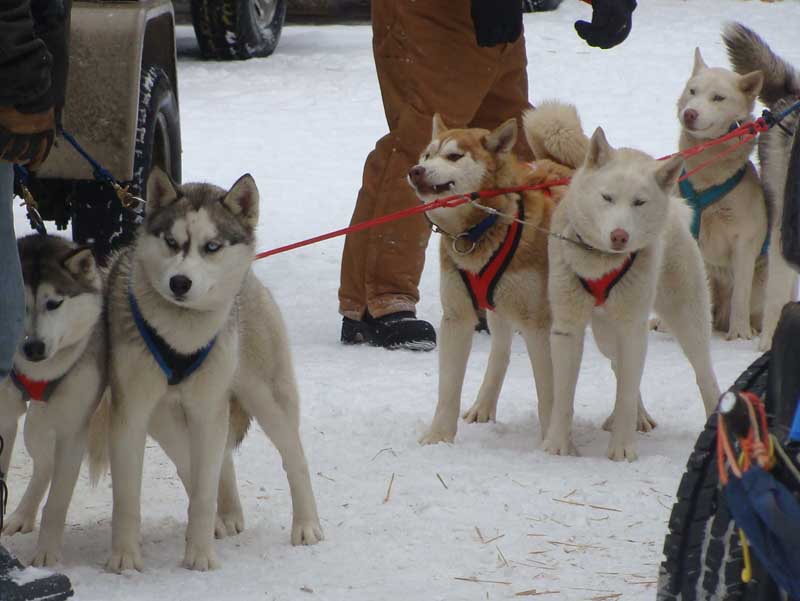 I think we lost a Sammy from the day before but picked up a Mal who'd pulled in novice on Saturday.
Same increments from the day before. Between the workout it'd had the day before, the overnight snow and falling temperatures the chute was tougher than Saturday. It steadily degraded as the classes wore on.
I was holding a Gallagher dog for them in the 60 lb class, Kiska, I think. She jumped up to give me a kiss, and sure enough eagle eyes spotted it. When it was time to potty and harness up, Sebastian jumped up to give me a kiss with his paws on my shoulders. He knows it's not allowed, but if another dog did it, he was going to. It also got him pepped up, so I'm certainly not upset about that. He was thrilled with himself over the whole thing.
We again started empty. Sebastian easily pulled the 460. It was starting to sound like sand paper when the sled was pulled. On his 580 pull, the sled stuck and he couldn't start it. He tried, and I worked with him several different ways. He was frustrated, but tried each time I asked him, about which I'm thrilled. They kicked it and he thought he pulled it and looked very happy about that. His classmate Nikko also pulled the 460, but in 4.67 seconds to Sebastians 7 seconds, so Sebastian took 2nd in his class. He's going to have to contend with Nikko for a while, a really good dog who's improving every time we see him. We need the competiton!
Kari was hooking the big dogs & got Cinnabar figured out as I spun his backend around to her and hooked as quickly as possible. He was awesome, never giving up and broke the sled from the snow more than once.
He and Ranger both pulled 700lbs, and for a minute I thought got top weight. Wouldn't that have been awesome? But, I forgot about the Jackson's unreal puller in the 60lb class, Mole! Mole took both top weight pulled and best body percentage. He's an awesome dog, even better than their Starbuck, who is exceptional. I don't remember what he pulled, but Shiver in the 80lb class pulled 740, so it was over that.
We finished pulling at 1:30. By the time I had my boys & crates in the car, the chute was down. We had the awards ceremony, gave hugs and goodbyes and were on our way by 2.
A storm was brewing and we got out in the knick of time. It was so windy it was blowing not just my car around, but pickups for the first 50 miles. We saw the sun come out by the time we reached the PA border and I had some semblance of daylight all the way to the Lehigh tunnel. After I fed them, they both zonked and so did I :)
A huge thank you to Eileen for helming my camera & getting shots of my boys and the other large dogs!!!
Photos of all the dogs & more of Sebastian & Cinnabar & sledding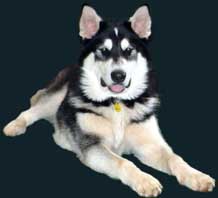 website design by Sheryl
bordered background by Sheryl
© 2005
all images © Sheryl Franklin unless elsewise attributed
all Alaskan Malamute sound files © Sheryl Franklin
website hosting by FranklinCommunications
domain name by DomainRegister.com