Sheryl's Alaskan Malamutes - Activities - Weight Pulling - IWPA - Barkhamsted, CT - December 5/6, 2009



Weight Pulling

IWPA - Barkhamsted, CT - December 5/6, 2009
This was our first time pulling in this location. I got up at 2am and was on the road by 3:15am, arrived around 8:45. The pull was in the parking lot of the Tractor Supply. It was cold and overcast with the promise of snow later in the day.

Sebastian was a baby about the weigh in but didn't wail :) He weighed in at 151, he's got 5 pounds to lose. Cinnabar weighed in at 114.

There were about 7 dogs in the 40lb & 60 lb classes and they pulled together in 50 pound increments. It was Sammies & 2 Mals (Kiska & Cassie) in those classes.

There were about 10 dogs in the 80 lb class (all mals with one pitbull), about 5 in the 100lb class (all mals), 2 in the 125 lb (Luke & Cinnabar) and Sebastian in the Unlimited class.

Lots of mals!!

Brenda & Val were there with Raider, Jane had Tiffney & Tuxedo, Susan & David with their gang, Eileen with Kodi, Todd with his gang and my two.

Steve Palinkas was to be our chief judge, but got called into work, so Jane ran the pull. Todd judged the 40-60 lb classes and Bev judged the other classes. It went smoothly. The 80lb thru unlimited ran together with 200lb increments.

The 40-60lb classes took a while with their low increments. Towards the end of their run, we started seeing flakes. It really started coming down while the bigger dogs were pulling.

Both my boys came in at the maximum 800lbs. I single passed Cinnabar after his first pull and double passed Sebastian, so that they could pull on different rounds.

Cinnabar surprised me on his next pull of 1200 lbs when he did his hi-ho-silver routine. He pulled it, but I didn't pass him again. He was going to make me work.

Bev let me bring in Sebastian before Cinnabar in the subsequent rounds so that I could spend lots of mom time with him. We didn't have the sheep motivation here, so I needed to spend lots of time with him.

He was in brat mode and made me work. While waiting for their turns, I held Harra for Susan while she went to get another dog for David to pull. She put her feet on my shoulder and gave me a kiss. Well, this was in full view of Sebastian. The instant I got him out of his crate for mom time, he did the same thing (kiss included). He knows it's not allowed, but figured that if she could then darn it, he could. I let him do it a couple times, then not allowed again. He complied, but looked very satisfied with himself.

Even in the snow we had spectators that just showed up for a couple things at Tractor Supply but got curious as to what was going on. Some of those people had mals and were very interested. We even had a couple cop cars parked to watch the goings on.

The cart got hard around 2000lbs.

Cinnabar made me work, but ended with a respectable 2200 lbs. He really made me work on his last pull, and I promised him it would be his last whatever the outcome. He pulled it and I withdrew him. He came in second to Luke in the 125 lb class.

He had a blast, it seemed that there was always someone to give him some love (either spectator or participant) on the way back to his crate. Sebastian took full advantage of that as well. How he goes from brat to sweet at the flip of the switch is something.

Sebastian made me work on his pulls, being in brat mode. On his last pull he wanted to see what was at the back of the cart, I whistled and he came to the front of the cart, but wasn't quite ready to work. I got my Sarge voice and called "place". Had to do it twice and he worked and easily pulled it, but I withdrew him after that. He pulled 2400 lbs and came in 2nd to Luke in most weight pulled. Luke pulled 2800lbs.

We rolled up the carpet, put it on the cart and that was stored inside Tractor Supply for the night.

Jane, Brenda, Val, Todd, Susan, David & I went for a late lunch and had a blast. I wouldn't say we were rowdy, but rather boisterous and could see the other patrons watching us. We had fun and the food was good.

The snow was still steadily coming down. I went to a little motel with the boys. It was older, not many amentities, but clean and they took dogs. The good news was that because the door opened to the outside and not a hall, Sebastian only paced for an hour, barked only once and it was justified. After he was done jumping on the beds, he went to sleep. Cinnabar was of course a good boy. We all got sleep, which was good.

***

On Sunday, the sky was clear. It stopped snowing about 1am, but then we had ice. The roads were clear, though, and it was a beautiful drive back to Tractor Supply with the snow & ice on the trees. I pulled into the parking lot with Steve Palinkas right behind me. The outer parts of the lot were a sheet of ice, so I setup the boys behind the chute.

We lost Eileen and Kodi from the day before, but we gained Lisa & Dave from Mask-A-Raid with Merlin and Brisbee! More mals :)

As the sun got higher the parking lot got much better.

Here's our sponsor: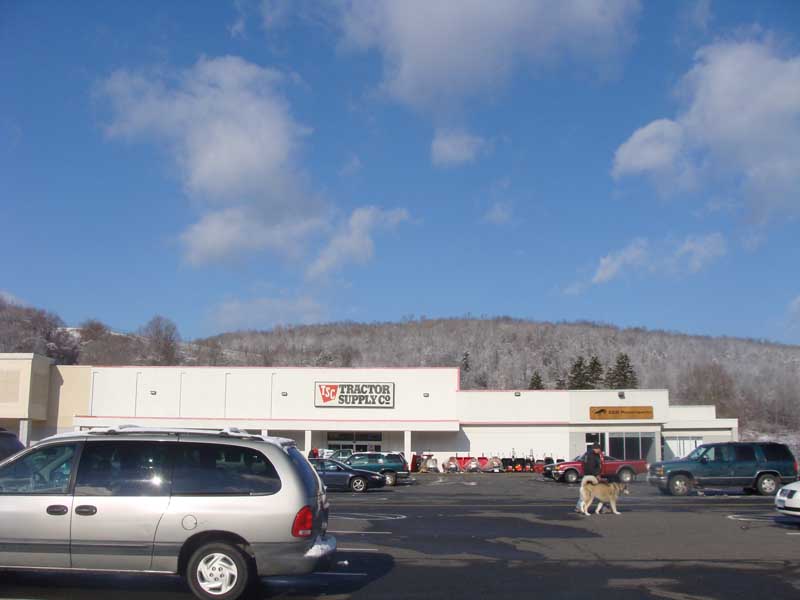 Again, the 40/60lb classes ran together, but this time with 100lb increments. Dan Plosila asked me to hold one of his dogs while he held the other. I got a few photos of that class after his girl Terra went out.
Here's Etah pulling for Dan: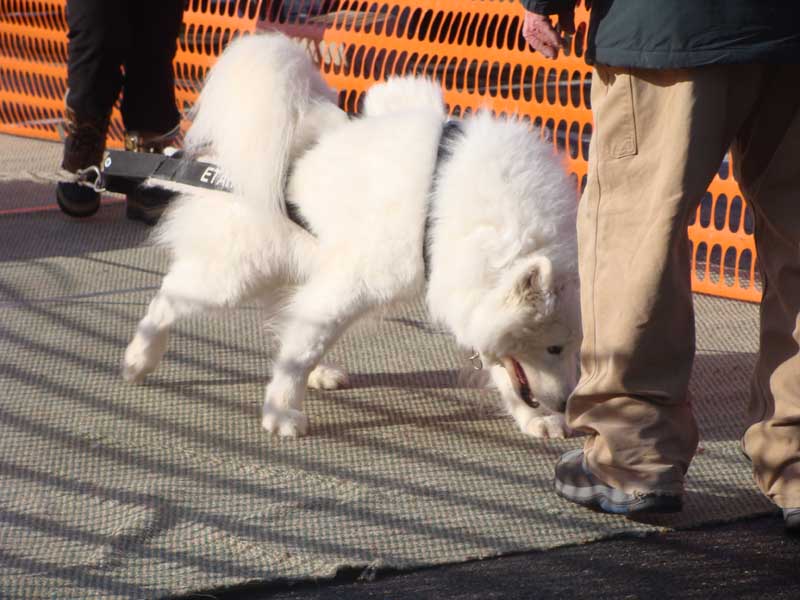 Here's Kiska pulling for David: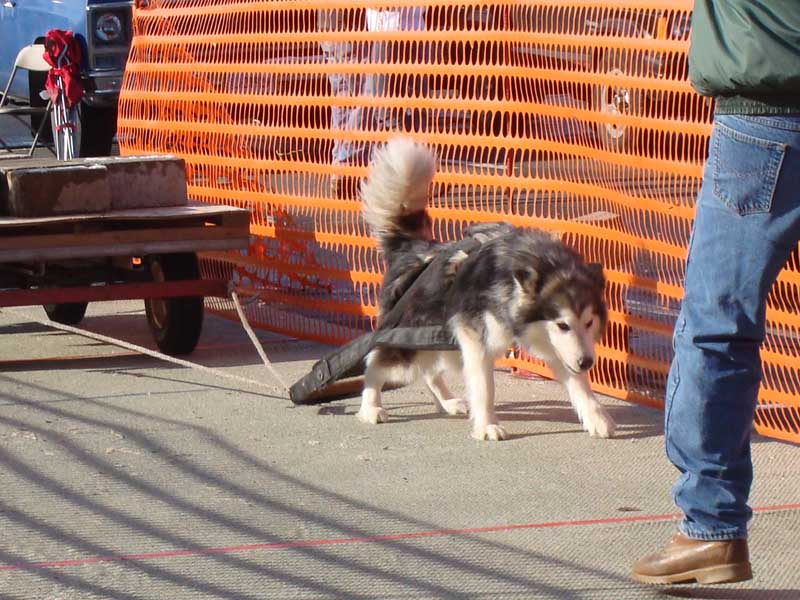 Here's Cassie pulling for David: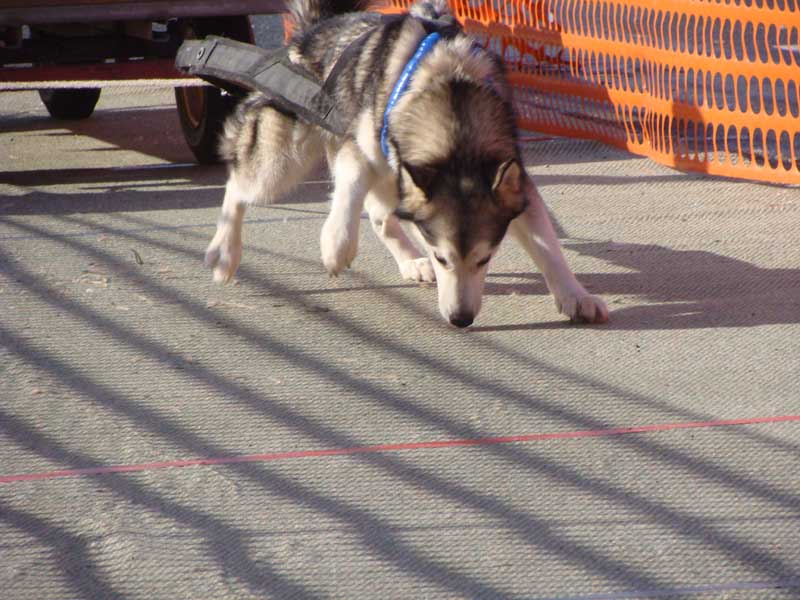 The wind was biting and my hands froze quickly while taking photos, so had to break out the heavy duty gloves.
I got shots of some of the bigger dogs, but not all, because of the need to spend mom time with the boys.
Here's Tuxedo pulling for Jane: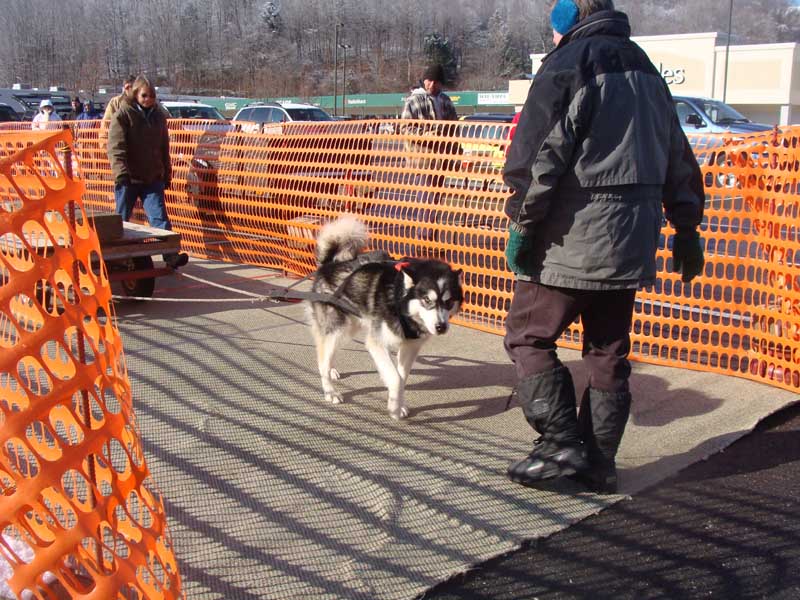 Here's Tiffney pulling for Jane: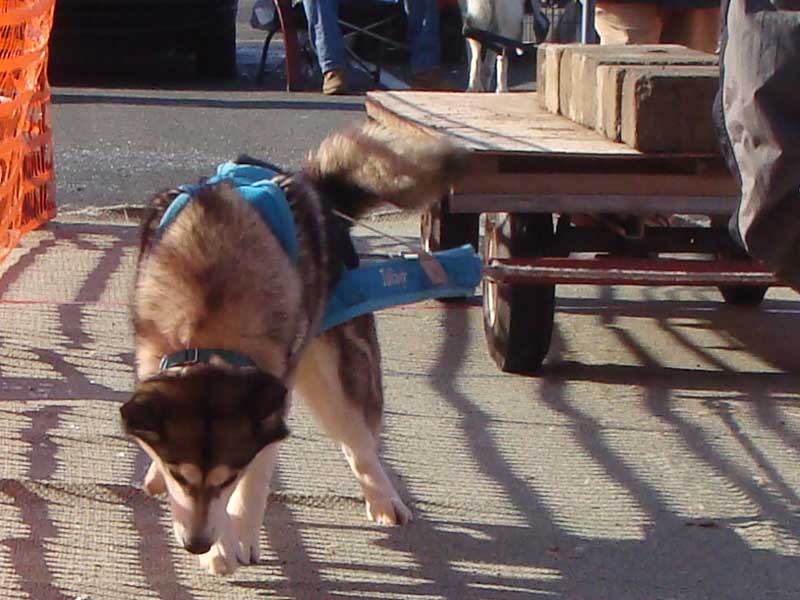 We again had spectators, more than the day before. "We just showed up to get a tire, and now we're here all day watching the dogs". Again, there were mal owners who were fascinated by the goings on.
Cinnabar pulled well for me, but on his 2200 lb pull he worked to start it and was moving along well, but a few feet short of the line sniffed the air and got curious about something. I asked for a push when he started again. He finished the day at 2000lbs, again 2nd to Luke in his class.
Dave from Mask-A-Raid took shots of my boys for me, thanks Dave!
Here's Cinnabar: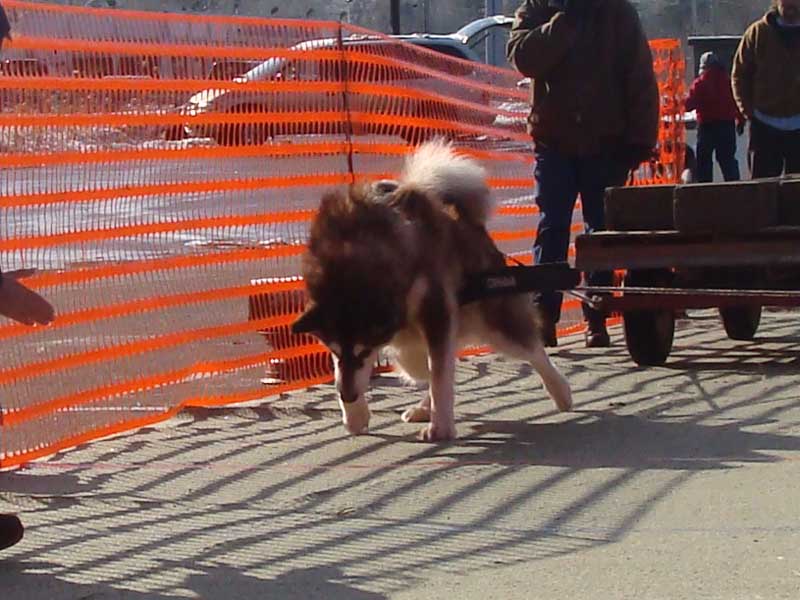 Sebastian pulled well a few rounds and then needed to be a brat, er, malamute :) He made me work. He left it short on one, going for drama, then re-started the cart and finished it. The look on his face when he does that, lets me know he's having a blast with his head-games. I miss those sheep from Oneida when he does that :) On his 2200 pull, he was in full brat mode. I needed to get his attention, so I reverted to kindergarten and put my hands to my ears, waved them back and forth and stuck out my tongue at him without saying a word. From the corner of my eye, I saw Steve briefly turn around so he didn't laugh, but I did get his attention. He started it and then he slipped, but got up and finished the pull. I withdrew him after that one. He of course won his class, but he again came in 2nd to Luke in most weight pulled.
Here's Sebastian: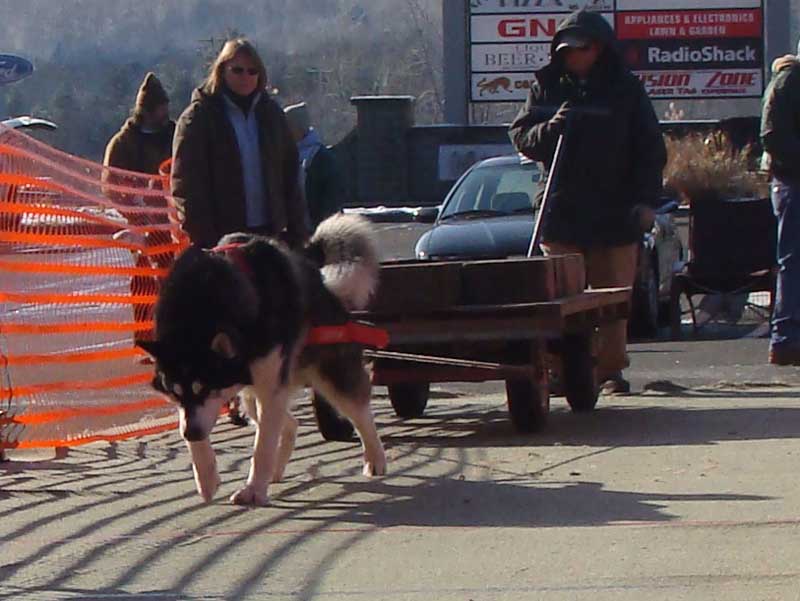 I'm not positive, but I think Luke ended with 2600 lbs. Here's a shot of Luke: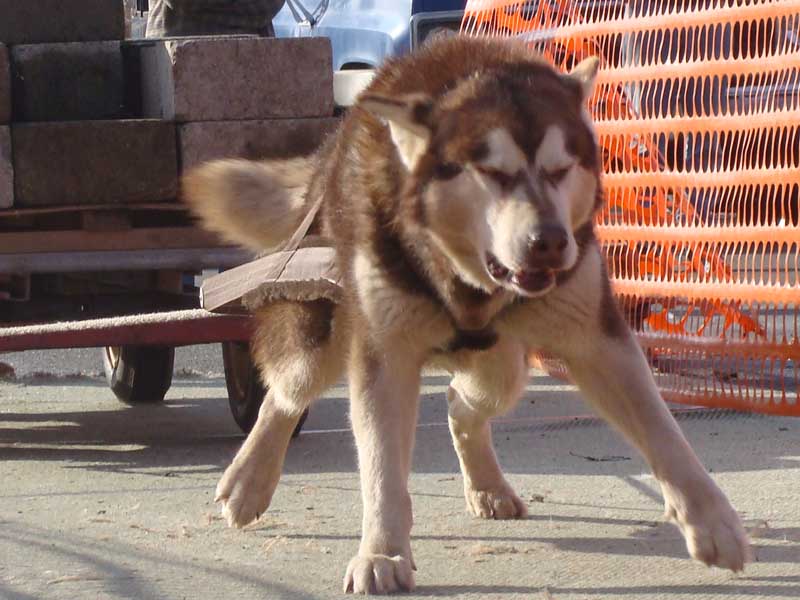 I also believe that Cassie took top body percentage.
I was going to stay for a quick lunch, but by the time everything was cleaned up and packed up after awards, it was 2pm, so time to hit the road. We got home around 7:30pm. The boys ate, played and then zonked :) They had a good time up in CT and so did I. Thank you Steve Palinkas for organizing this pull, and Jane for stepping into the leadership role when Steve had to work. We had great cart help both days. The ribbons were absolutely beautiful, too. Thank you to Tractor Supply for letting us have it in their parking lot, and for their wonderfully clean, warm bathrooms :)
All the photos, including more of Sebastian and Cinnabar - click here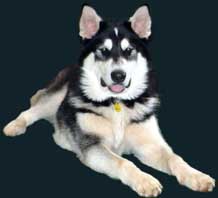 website design by Sheryl
bordered background by Sheryl
© 2005
all images © Sheryl Franklin unless elsewise attributed
all Alaskan Malamute sound files © Sheryl Franklin
website hosting by FranklinCommunications
domain name by DomainRegister.com