Sheryl's Alaskan Malamutes - Activities - Weight Pulling - IWPA - Oneida, NY - November 21/22, 2009



Weight Pulling

IWPA - Oneida, NY - November 21/22, 2009
This was our first time pulling in this location and the first time we've gone this far for a pull, a little over a 5 hour drive. Because they're so big and the car is so small, they can sit or stand, but don't get to lie down. So, this was a test on how well they'd travel. We left at 3:30am for Oneida.

The setup is an interesting one. Lisa of Canine Culture is a trainer. She's got a barn with a concrete floor. The main portion has saw dust on the floor and where we setup our crates and where the weigh-ins took place. The next room is office like and where we did our paperwork, had the refreshments, watched the pull, waited on deck, etc. Off the back of that she's got a concrete slab for the chute (carpet on top of that for the pulling area), with cinderblock half walls, covered by a car port type tent. So, she's got a permanent chute, great for events and for training.

The weigh in for Sebastian was of course interesting with the wailing that he got to demonstrate for people new to him :). The scale was weighing heavy. He weighed in at 156 (8 lbs more than 3 weeks earlier in Gettysburg), which moved him from the 150lb class to the unlimited class. Cinnabar (sweet as pie getting weighed), came in at 120 lbs (10 lbs more than he weighed in at Gettysburg). That kept him in the same class, the 125 lb class.

There were 8 mals there including my two. The couple that had 4 mals (& a sibe) recognized my boys from their web site, so that's pretty cool. One other mal was in Gettysburg and recognized me and let me know she had a great time at Nationals and enjoyed how friendly and helpful everyone was at that weightpull as they're fairly new to it.

I got to meet people who's names I've only seen on the IWPA site, which is also cool. Dan Plosila was our chief judge and he judged the novice and 20 lb class. Diane Geitzenauer judged the 40 & 60 lbs classes which ran separately. Beverly Detwiler judged the 80 lb, 125 & unlimited classes which ran together.

I also got to see people who came to the pull I organized in Barto in September of last year. That was their first pull. They've got some beautiful pitties & it's great to see how far they've come. They're really doing well.

There was a couple there that took photos and printed them on site for those who wished to purchase. I took photos of the novice & 20lb class, but it was cold and I didn't want to horn in on their action so I didn't take photos after that. I was the newbie to this location :)

Here's the little 6 pounder who took top body percentage (around 24 something):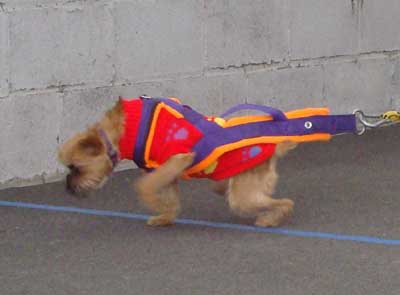 Here he is thinking things over when the weight got higher (he did pull it):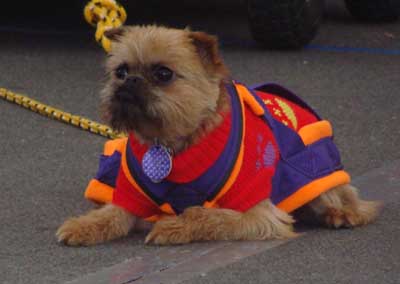 Here's the 10 pounder: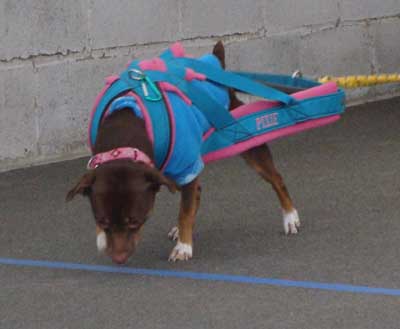 Here's Tundra who pulled in novice on Saturday and then pro on Sunday: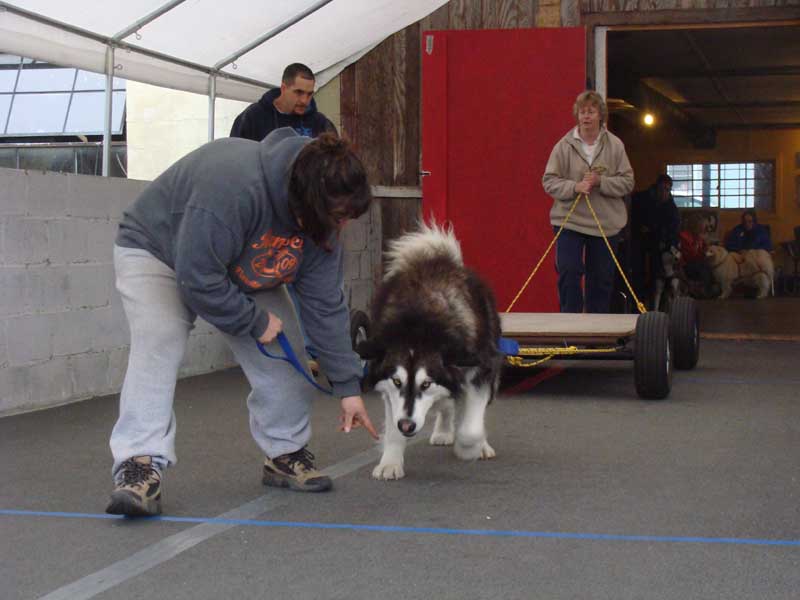 Here's Shiver who pulled in novice on Saturday and then pro on Sunday::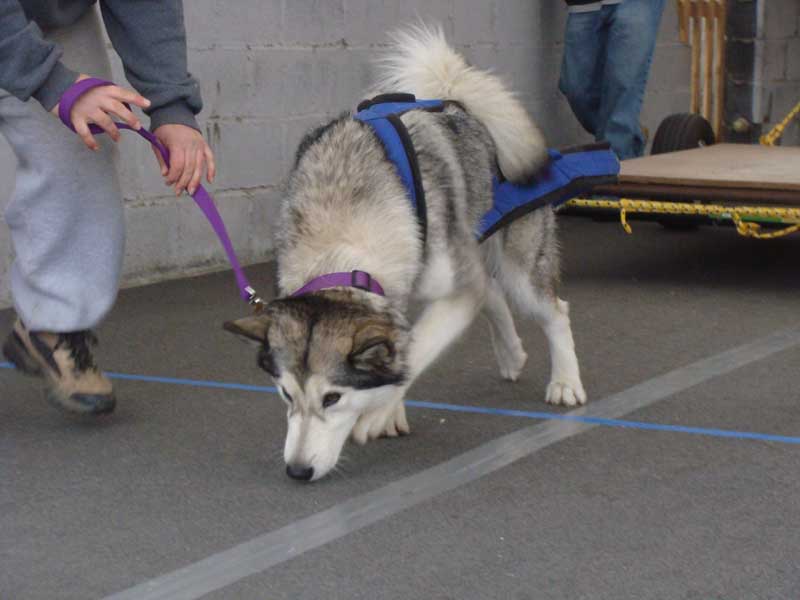 It felt colder than the promised 50 degrees. I started out with a t-shirt over turtle neck, then added the sweatshirt, then had to add the jacket & gloves.

The big dogs didn't get started until 3:30, and since we'd never seen the sun that day it was getting dark quickly.

I wanted my boys to come in around 1000 pounds, but the judge's decision was to go with the recommended IWPA max, so we came in at 825. Increments were 100 lbs & the cart weighed 225. Scuttlebutt was that this cart shut down on higher weights, so that was ok with me.

I got the boys out for their pee breaks before their class and Sebastian spied the horse in the little pasture next to the driveway. That really woke him up. Even with his martingale I struggled to keep him with me. The horse was only of mild interest to Cinnabar.

When he pulled his first round and exited the chute area, Sebastian discovered the sheep off to his right, about 100 feet away. I wished for my softball spikes in that mud to give me better footing to drag him away so the next dog could have his turn.

Oh, yes, there was a next dog in the unlimited, another mal named Nikko. He came in at 160lbs. He's as tall as Sebastian, and like him, his pulling is pretty effortless. He's still learning and has consistent desire to pull for his mom. I think he's going to do very well.

I stopped double passing Cinnabar after 1525 as he started his hi-ho-silver routine on that pull. At that point there were 3 dogs still left, all mals. Cinnabar, Sebastian & Nikko.

On his 1625 pull, I worked hard to get Cinnabar to work down. When they called 15 seconds left, I said push the cart and in the exact same instant Cinnabar started working, but they'd already touched the cart. He actually pulled it, but it was a no pull. My timing, huh? It happens :)

Here he is pulling the 1525, I believe. You could see it was dark & they used a flash: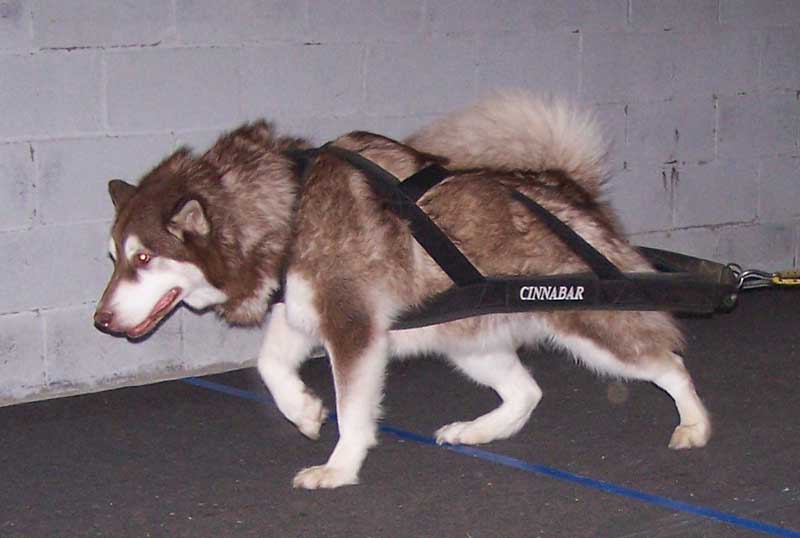 photo by Melisa Mannix
Niko went out in that round, too.
Sebastian was weird in the chute. Normally he's up for his mom-time pep talk, but he was being a dork. He'd yelp, jump away from me to his left, so I just ran over the line, turned around to see him working. Yeah, working! Who was that masked man? Well, he was someone quite motivated to see the sheep at the end of the pull when he came out of the chute!
He easily pulled the 1625. He was the only dog left, but I asked them to put another 100 on and let's see if this was for real. Oh, yeah, 1725 was no big deal either. It was late, so I left it at that and now Sebastian got MWP for the first time in his career! Woo-hoo!!
Here he is on one of his final pulls: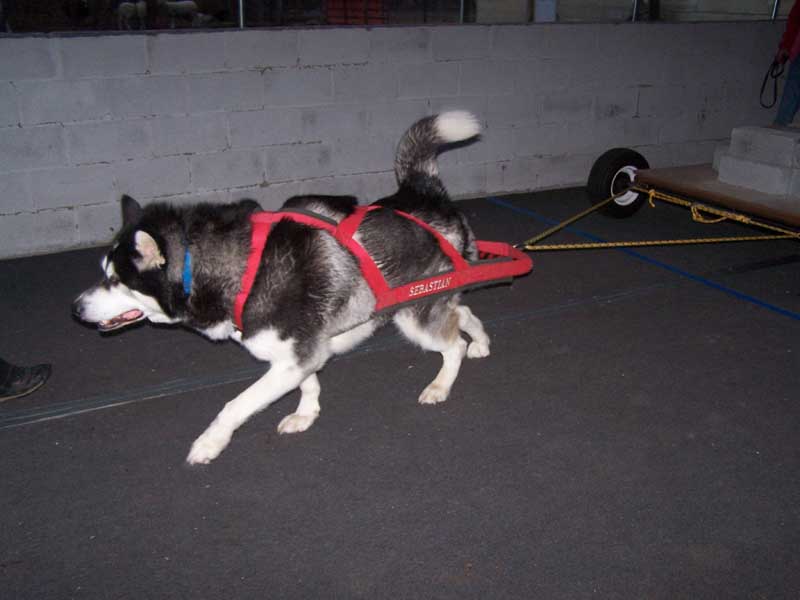 photo by Melisa Mannix

Their first night in a motel was interesting. Sebastian has a watch dog mentality, which is great at home. Not great at a motel. He paced for 6 hours and barked at every noise. He settled down from the pacing, and fortunately it got quiet after midnight. He normally eats in his crate. I was unsuccessful in getting one of them to eat in the bathroom and so placed their bowls at opposite ends of the room, but Sebastian wouldn't let Cinnabar eat and their was a correction scuffle (which sounds like the end of the earth). I then tried hand feeding Cinnabar, but he wouldn't touch it, just kept looking at his brother. I gave him some treats and resolved to feed him in the morning on site. Cinnabar slept like a rock (he's such a good boy).
***
On Sunday, they used Dan's scale for weigh-ins, as people other than me thought their dogs weighed in heavy. Some people had their dogs re-weighed and it was true, the Saturday scale was weighing heavy. I didn't re-weigh my boys. The pulled weights weren't high enough to really affect percentages for title legs, and since Sebastian already won in unlimited, might as well let him try for a second in unlimited and maybe medal in that class for the region (minimum two pulls required to medal).
Still no sun, but it was warmer on Sunday. We started earlier and very few novices so the big dogs started their rounds 3 hours earlier than the day before. Great, because we had that long drive home.
We did have 7 mals pulling on Sunday. Melissa's two (Tundra & Shiver) who pulled novice the day before, pulled pro, along with her Yukon and Nikko. She was busy :)
There was also a Swissie on Sunday and he was the 100 lb class :) There was also a border collie named Billie, who pulled in the 80 lb class. He's got a hit-hit-hit style which would be great on snow. There was also a Corgie. So that rounded out what had been mostly a Samoyed, Pit Bull, Malamute pull.
We also had a few spectators, who have mals, and wanted to see a pull first hand. I think they're going to get into it :)
I started my boys at 825 again, and double passed. Nikko went out at 1325, when he jumped against the half wall to see the sheep and his mom went in to get him to correct him.
Here he getting setup: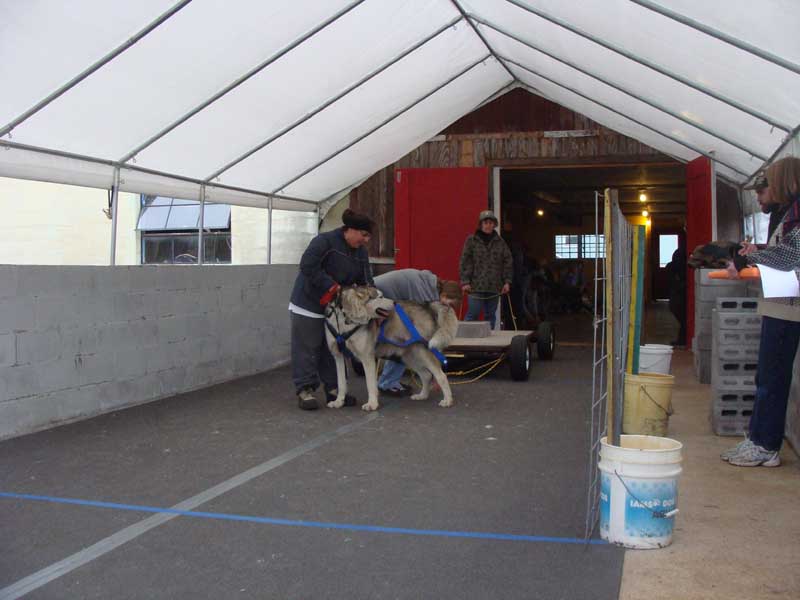 Here he is on one of his earlier pulls: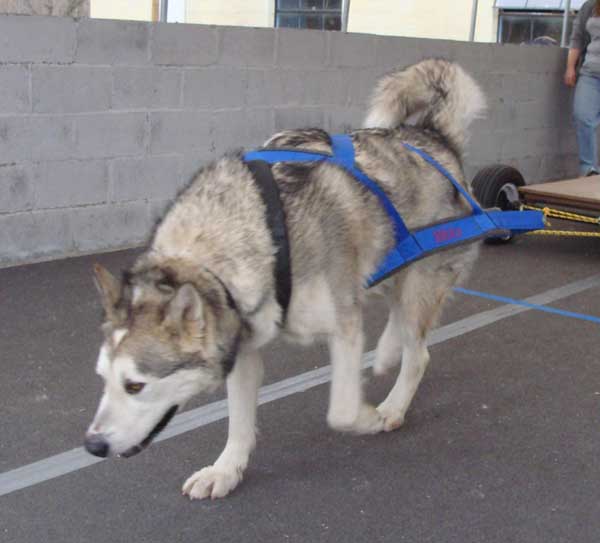 That left just my two boys. I handed Sebastian off to one of the mal people in the office area and went to get Cinnabar for his 1525 pull.
Well, once in the chute, that turned out to be a mistake. Cinnabar knew his brother was back there and I worked hard to get his focus. I got it with my "Sarge" voice and he pulled, then he needed to know if his brother was back there and looked back. He did that twice, the second time I went in and clapped in his face. He pulled but looked back for his brother again. My mistake. Always something new to learn :)
Sebastian was again a dork in the chute, but was again motivated and working. Since it was earlier than the day before I double passed him and pulled him again a few times in a row to get to 2025. I decided that would be his final, regardless of the outcome. Another yelp in the chute, me running over the line and turning around to see him working - still!
It felt really good to hear Bev call out that the pull was over and that Sebastian pulled the 2025 effortlessly (her words). It's nice confirmation that he's capable of working when motivated. Now, if I can arrange to have sheep and horses at all the pulls, I'm going to be sitting pretty!! In the meantime, back in reality, I've got to find another way to motivate him.
But, he's now got two MWPs (most weight pulled) under his belt. Woo -hoo!!!!
What felt just as good, was to hear people complimenting me on their work ethic and what great dogs I've got. In 2 1/2 years we've gone from newbie to this. Feels great!
We had a good two days. Great to meet new dog people and new dogs. The atmosphere was friendly, encouraging and helpful to anyone who needed help or tips. I've encouraged the mal people new to me to come to Harrisburg in April, and I hope to see them there.
We got on the road around 3pm and the sun finally came out to try to blind me while driving. I was tired from lack of sleep, but we got home safely. As if to let me know the trip wasn't a burden on them, they played for a little bit after eating, then they zonked. So, I'm feeling pretty comfortable in future 5 hour trips for them.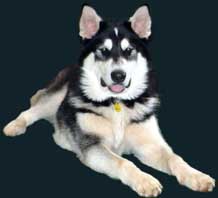 website design by Sheryl
bordered background by Sheryl
© 2005
all images © Sheryl Franklin unless elsewise attributed
all Alaskan Malamute sound files © Sheryl Franklin
website hosting by FranklinCommunications
domain name by DomainRegister.com