Sheryl's Alaskan Malamutes - Activities - Weight Pulling - AMCA Nationals - Gettysburg - October 25/27/29, 2009



Weight Pulling

October 25, 2009 - AMCA Historic Pull - Gettysburg, PA
We had a great first weight pull. During the beautiful sunny day we had t-shirt weather. As the sun went down it was time to add a sweatshirt. Once the sun was down it was necessary to add the jacket. Perfect for the dogs.

I helped Jane weigh in the dogs. What an array of beautiful dogs there were. We weighed in around 70 dogs, from newbies to old hands. Fortunately, the only one that wailed got weighed in first, the big baby Sebastian.

David held a seminar on weight pull and then held the novice pull. It look like between 15 and 20 pulled in novice.

Because novice took awhile we didn't get started with the pro dogs at 2:45, probably more like 3:30. I was worried I wasn't going to get out of there until midnight.

We pulled all classes together with a weight increment of 200 lbs. The chute was on a slight incline, which didn't matter at the beginning, but did matter later on.

I judged 3 rounds, and then others judged. With all those dogs, we had great help and it went smoothly, dog after dog, no waiting around, which was really good. We had great cart help, too.

There were 3 in the under 60lb class, I think 25 in the 61 to 80lb class, at least 20 in the 100lb class, 5 or 6 in the 120lb class, 3 in the unlimited.

Jane's dogs did well, Jen's dog's did well, Dustin's dogs did well, David & Susan's dog's did well, and I got to meet lots of other dogs, too.

I'm not sure of the weight when the cart started shutting down for the lower weight classes, but for the big dogs it was after 1500 lbs. No high weights that day, but I learned not to pass after 1300 lbs, which I did with Cinnabar.

I know that Jen and Dustin got placements, but couldn't tell you all what they were. David got quite a number of placements. Cinnabar placed 3rd in the 120lb class and Sebastian placed first in the unlimited.

Ranger got top weight pulled on time against Max, pulling 2100 lbs. Bootstrap got top body percentage with 24 something percent.

Both of those numbers tell that the cart got hard. Which was not a bad thing given the number of dogs we had. When dogs started dropping out, they did so in droves :)

Once it got dark, Jen had a lamp they used to keep score, others had "miner's lights" on their heads :) The pull ended between 9 and 9:15.

It was great to meet Jen and her dogs, and she brought the puppy Gracie, too! Also great to meet Dustin and Travis and Layla. Great to see people and dogs I have not seen since Harrisburg.

A HUGE thank you to David, Susan and Jane for organizing this, it really went smoothly. Superb job, guys!!

Moses took photos while we still had daylight.

I was happy with both my boys, first time they've pulled since July. I learned not to pass after 1300 for Cinnabar on this surface, so he should do better next time with the weight numbers. There was zero posturing from Sebastian, exactly what I've come to expect from him around northern dogs. I'm so happy with that.

I got out of there around 9:45 and home at midnight. Looking forward to another great day on Tuesday. There won't be a novice pull, and so far it looks like fewer dogs pulling, so it should all be in daylight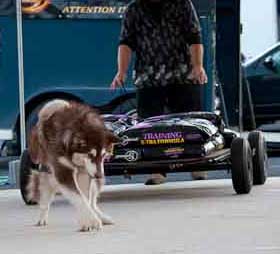 Cinnabar pulling - photo by Moses Martin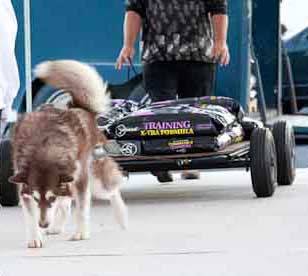 Cinnabar pulling - photo by Moses Martin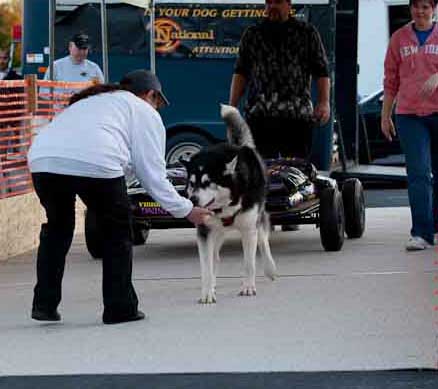 Sebastian pulling - photo by Moses Martin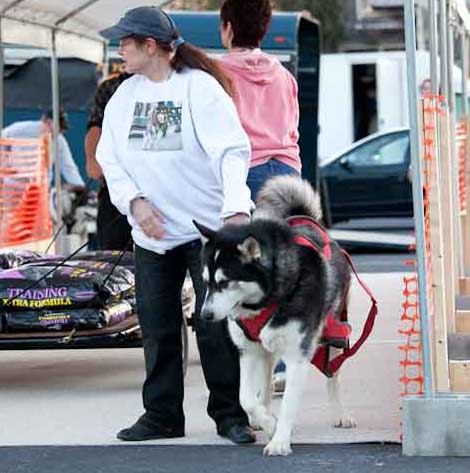 Sebastian coming out of the chute - photo by Moses Martin

All of Moses Martin's photos from October 25, 2009

October 27, 2009 - AMCA Regional Weightpull - Gettysburg, PA
We had a rainy day for day two. Fortunately it only misted most of the day.

About 10 fewer dogs pulled than on Sunday, and we didn't have a novice class, and we started close to 9am.

It was t-shirt, sweatshirt & jacket weather unless you were moving around alot, then you could ditch the jacket.

There were only a few new dogs to weigh in. Barb and Bee Gee were there. Laura (CelticWolf) was there with Nanook. I got the chance to judge another few rounds, and so did other wildpawers.

All classes pulled together with a 150lb increment.

I'm doing this from memory, Susan's got the scoresheet and can confirm it. 2 in the under 60lb class, over 20 in the 61 to 80lb class, 19 in the 81 to 100lb class, 5 in the 120lb class, 2 in the unlimited.

Cinnabar did well in the 120lb class, better numbers than on Sunday. He came in second to Max, pulling 1800 lbs. by far bettering his 1300 pulled on Sunday.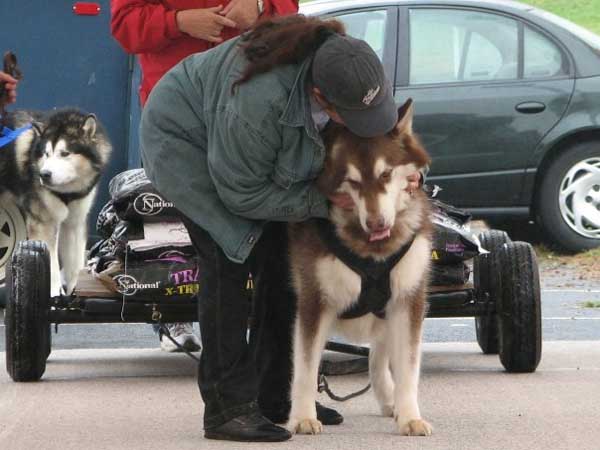 Cinnabar pep talk - photo by Jen Effler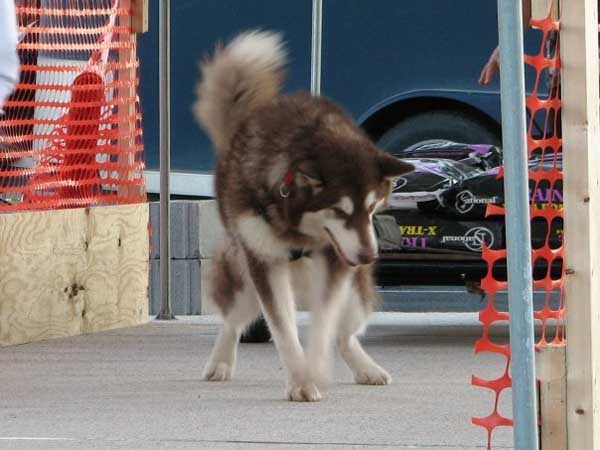 Cinnabar starting the cart - photo by Jen Effler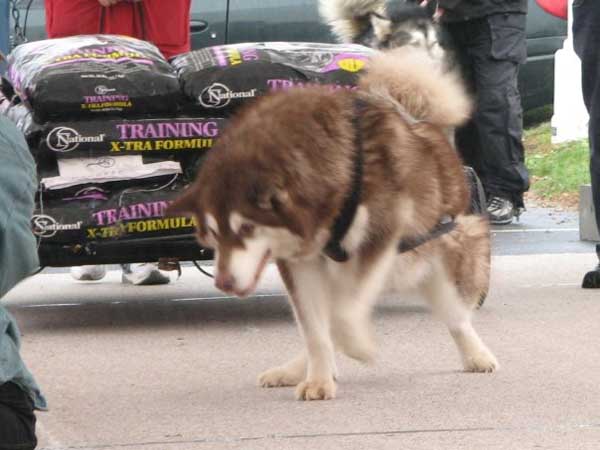 Cinnabar weight pulling - photo by Jen Effler
Sebastian had Adak in his class. Adak dropped out a couple rounds before him. I think boredom got to him from talking to his dad.
On one of Sebastian's pulls he stopped just short of the line, the cart rolled a little and David called out pull. Always entertaining. He wasn't as focused as I'd have liked, but, he did alright.
His two pulls after that, a dog walked into his peripheral vision and we yelled for them to move. I was able to get him back, but he made me work for it.
It came down to Ranger and Sebastian for top weight pulled at 2100 lbs. Ranger pulled great and I knew he had more left than that pull, but I knew I was going to have to work, Sebastian was getting bored. He made feeble attempts to start the cart and wasn't focused. At 10 seconds left I stepped across the line and clapped in his face and he pulled it without issue, but we were done. Maybe one day he'll really exert himself, but for now, he's having a good time and he's come a long way and I can't crab about it, he's in contention. He ended with 1950, bettering Sunday's 1700.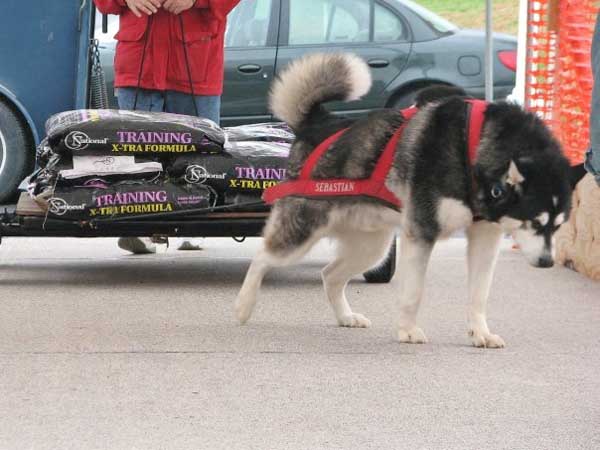 Sebastian weight pulling early rounds - photo by Jen Effler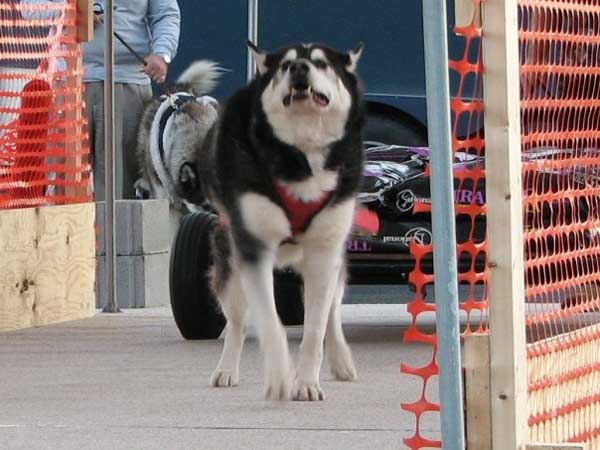 Sebastian starting the cart early rounds - photo by Jen Effler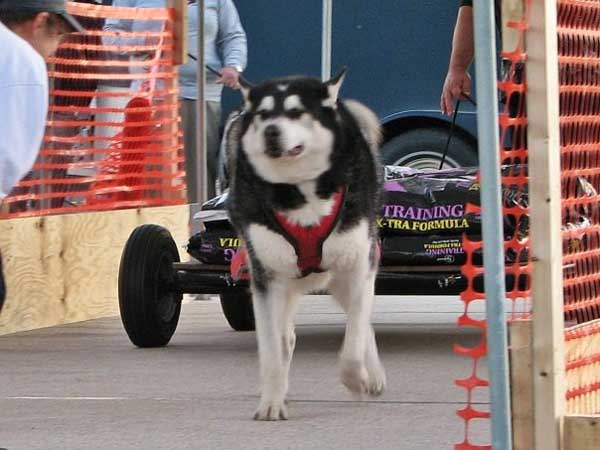 Sebastian weight pulling early rounds - photo by Jen Effler
Raider would've been right there with Ranger and Sebastian, but his breeder, who he knows well, walked into his field of vision and Val couldn't get his focus back. We all felt badly about that. Raider is a great dog.
Ranger got top weight at 2100 lbs, little Cassie got top body percentage at 26 something. She's an incredible little girl.
Jen's dogs did well, with Ikey taking first in his class. Dustin did well with Travis and Layla, too.
Jen took photos of Tuesday's pull, whew, because I had my camera, but the battery was still in the charger at home
I got an official photo done inside with both my boys. I'm not sure when I'll have that, but I had to do it, don't know when I'll get to a national again. Sebastian was a dream going into the building, walking past dogs and being a good boy. When I came outside, Dustin told me that Cinnabar was singing a sad song the whole time I was gone. Abandoned! The poor baby. Then he and I went inside for his photo op. He was in heaven, more people to let know he never gets any attention. Barb, Jenny and Bee Gee were inside waiting for rally to start. Jenny held Cinnabar while I did a little t-shirt shopping. You'd think the 2 of them grew up together, playing around, trying to shoulder each other out of the way for attention when someone went by. It was really cute.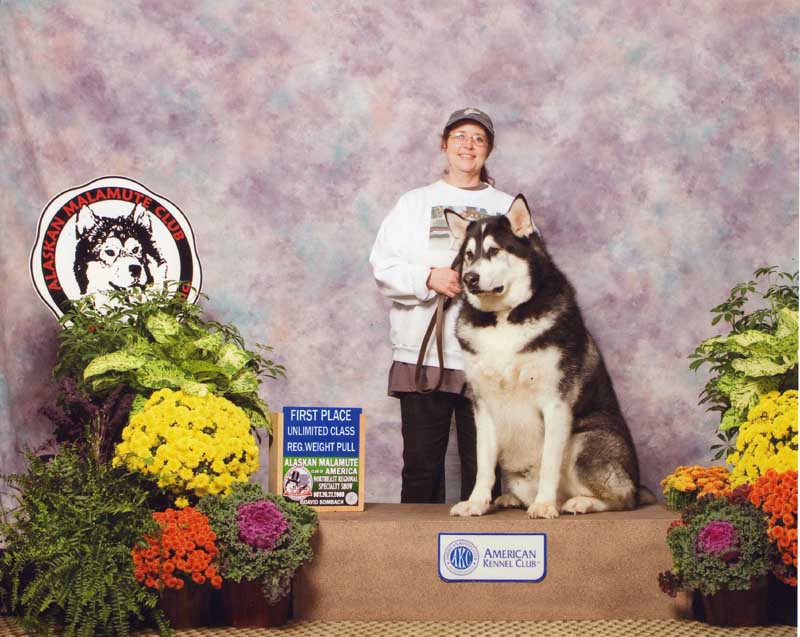 Sebastian - photo by David Sombach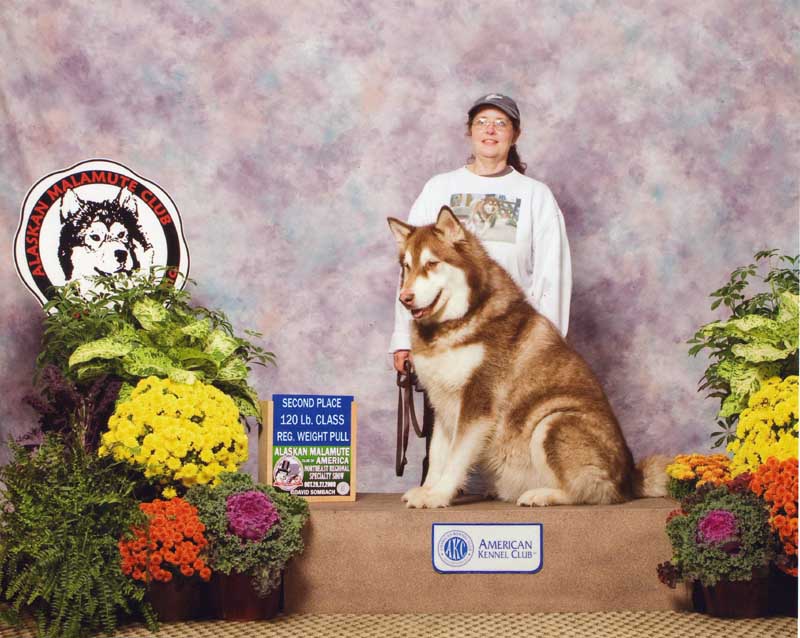 Cinnabar - photo by David Sombach
There was a gentleman there from South Africa who attends quite a few Nationals and says he always spends time at the pulls. He filled me in on the state of affairs with weight pull and sledding in South Africa. He was cart help most of the day, and David gave him a ribbon for it :) All the cart help was great.
The day went very smoothly, and easily accomodated those who were also in conformation. Excellent organization. Things took time because of the number of dogs, but there was no waiting around without some action taking place. Thank you Susan, David and Jane! Jane made the great awards for class placements, and Lisa (Merlin's mom) made the lovely awards for most weight pulled & top body percentage.
Another good day with good dogs and good people!
October 29, 2009 - AMCA Nationals Weightpull - Gettysburg, PA
I started my 3rd day of Nationals pulls getting up at 2 and on the road by 3:40 to be there in time for the 6:30 weighins. I wasn't tired then, just excited.
Our pulling day started off a little slowly as people slowly got to the area.
We had 4 new dogs to weigh in, a lovely girl named Q, and Todd's Milo, Josh and Luke.
We started behind schedule as people were just slow getting there. I think the week was wearing down their energy a bit :)
Once we did get going, the day went smoothly. Again, accomodating those in conformation. Once that meant a 10 minute break (which necessitated a mass migration to the indoor restrooms, so no one minded), the other times we pulled weight off the cart so they could complete their appropriate rounds and then re-adding the weight to the cart and continuing. It was smooth.
We had 3 dogs in the under 60lb class, 25 in the 61-80lb class, 19 in the 81-100lb class, 5 in the 101-120lb class and 4 in the unlimited. Lots of dogs:)
We again had 150lb increments.
Moses was there to take photos!!!
Cinnabar was a-typical, this day. He sometimes doesn't like moving from the side of the cart to in front of it to get hooked up. This was one of those days on steriods. On one attempt to get him hooked he was all sideways and I asked them to unhook so I could get him straightened out and then re-hooked. Well, he got himself out of his harness which I was holding. Harness back on and hooked up. From then on I trotted him up past the finish line and back around to the cart, which worked out without him stressing.
He was however unfocussed when we got to about 1350 lbs. His next pull his attention was wandering and I was on my knees with my arms out "pulling him toward me - come to momma", which normally works, but didn't. I pulled out my Sarge voice and said here and he snapped into work mode. On another pull he stopped 2 feet short of the finish line and made me work. He got it started with 5 seconds to go and finished.
He ended the day with 1800lbs, his best of the week, but made me work for it in an unusual manner for him. He's entitled to an off day, as we all are :) He took 3rd place in his class.
Sebastian shocked me on his 1050 pull. He just stood there, his head was up and he looked confused and he was drooling. He pulled it a little bit and put his head on the chute barrier, rubbing against it and was still drooling. He'd pulled far enough that I could clap in his face without stepping over the line and he eventually snapped out of his daze and pulled it. I was worried he was sick with all that drooling and went over to the scorer's table where David mentioned the drooling and that he got into some girl in heat pee and to make sure we washed the taste out of his mouth. Sure enough, there was a spot near on-deck that they were all stopping at. Some conformation folks not in the pull wander around to observe and must have had a girl in heat. I gave him some apple slices to chew on and I didn't see that behavior again.
But, he never got on track again, unfoccused. He really made me work, except on one pull. I didn't realise there was a piece of leaf on my arm, and while I was on my knees clapping for him, it jumped off my arms and eagle eyes spotted it, yelped and pulled for it. Unintended bait :) On his last pull a conformation person walked their dog past the chute and he was done. I called a tangle to start over, which David had emphasied earlier. (We had alot of issues with this happening on this day to quite a number of dogs). On his re-start, he had a brat look on his face and didn't do anything until I crossed the line and clapped in his face and then he moved it and finished it easily. He took 3rd in his class, finishing with 1800.
His classmate, Adak, pulled the best he's pulled all week and he took 2nd place. A good finish for the 8 year old boy, who is a sweetheart, and so are his mom and dad.
Luke, of course, took first place in that class. Luke took top weight pulled at 2550, and Milo got top percentage at 29 something, I believe. Congratulations, Todd, your dogs pulled well and looked great in the chute!!!!
Raider, who was distracted on Tuesday, as I mentioned in my account of that day, was not distracted and he pulled the heck out it for Val. I was so happy for them. I can't wait to hear how he did in working dog show-case, he's a really good dog.
We again had great cart help, many pitching in on the judging and timing. Kari was there again to help (she scored on Sunday). Jenny scored and boomed out the order as she did on Tuesday. Many people pitched in where needed.
Jane made the beautiful and unique awards. A metal malamute cutout on wood, different sizes for different places. The top weight pulled & top body percentage also had a metal cannon, I believe, keeping the motif for Gettysburg.
We finished the pull at a respectable 3ish Lots of time to spend chatting before breaking things down and pack up.
Moses took photos of me with each of my boys, their 3 different ribbons for the week and David and Susan. Can't wait to see them.
So great to spend time with the people I already knew in person, the people I knew online and now know in person (specifically Jen and Dustin), and new people. And to meet all the malamutes. That weightpull was a real testament to the variety in the breed, not just the range in size, but the changes in body build in the different lines, and the markings and colors. I loved it. It was also great to see so many conformation dogs pull, and pull well.
Here's the boys on our perch on the hill: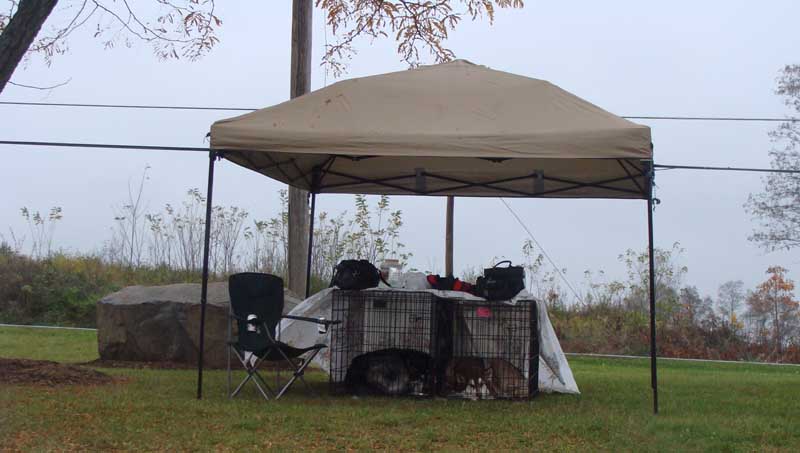 Here's a cobbled together panoramic from our perch:


I have to again say thank you to David, Susan and Jane for the months of meticulous planning and organization and work to make this happen in such a smooth way. Thanks also for hauling all the stuff you had to haul, getting the carport tents you had to borrow. Thanks to Jane for making the wonderful awards. Thanks to National Dog Food for providing and delivering the dog food that was our weight for the pull. Thanks to Moses for being there on Sunday and Thursday to take photos.
I'm beat and so are the boys, but I'm thrilled with my first Nationals weight pulling experience.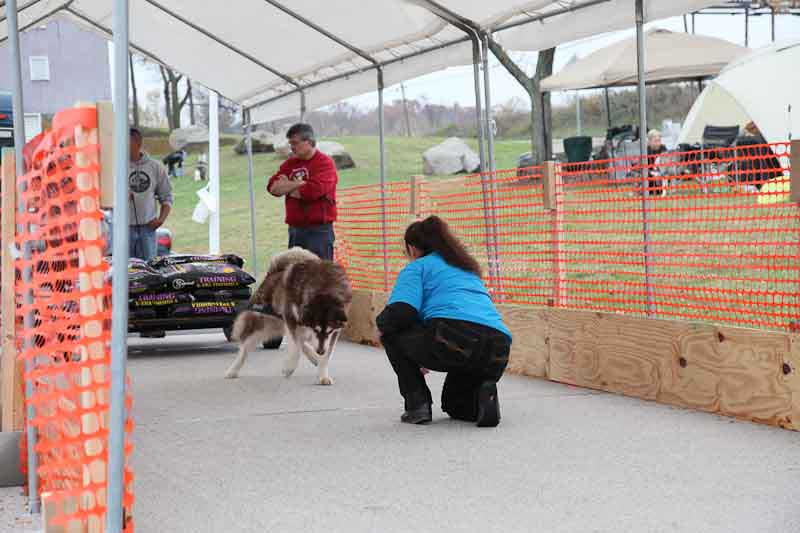 Cinnabar pulling - photo by Moses Martin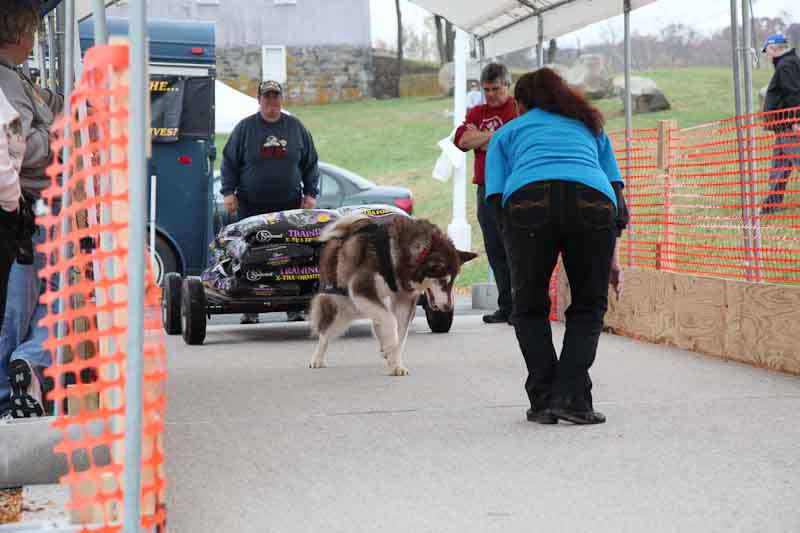 Cinnabar pulling - photo by Moses Martin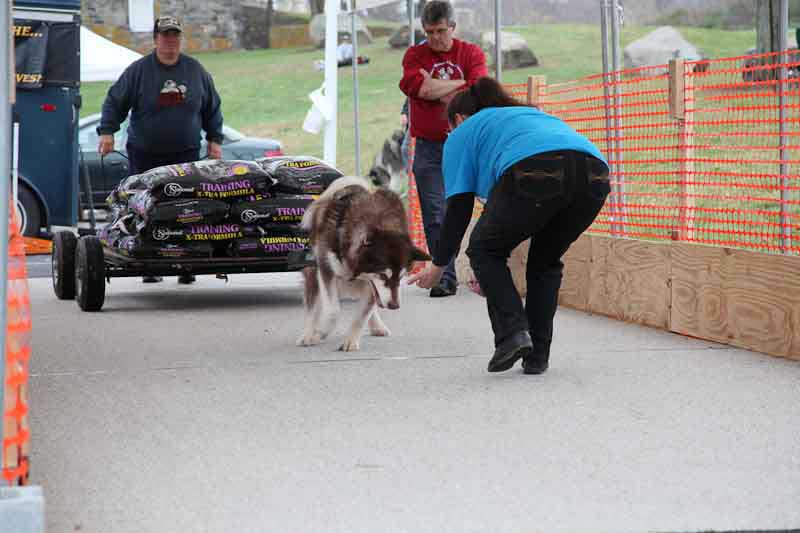 Cinnabar pulling - photo by Moses Martin- Click here for HiRes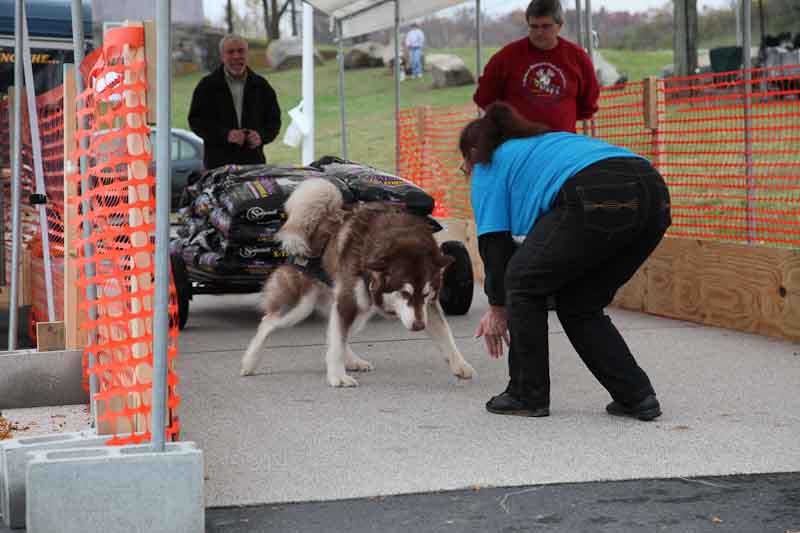 Cinnabar pulling - photo by Moses Martin - Click here for HiRes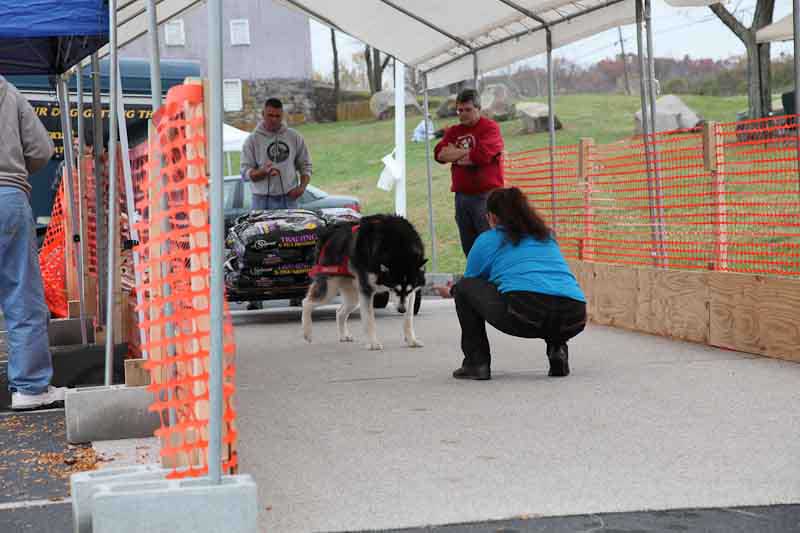 Sebastian pulling - photo by Moses Martin - Click here for HiRes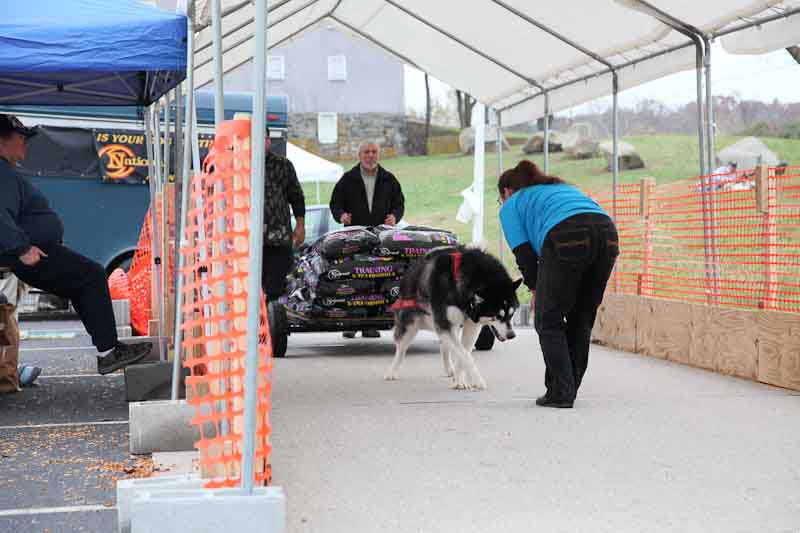 Sebastian pulling - photo by Moses Martin - Click here for HiRes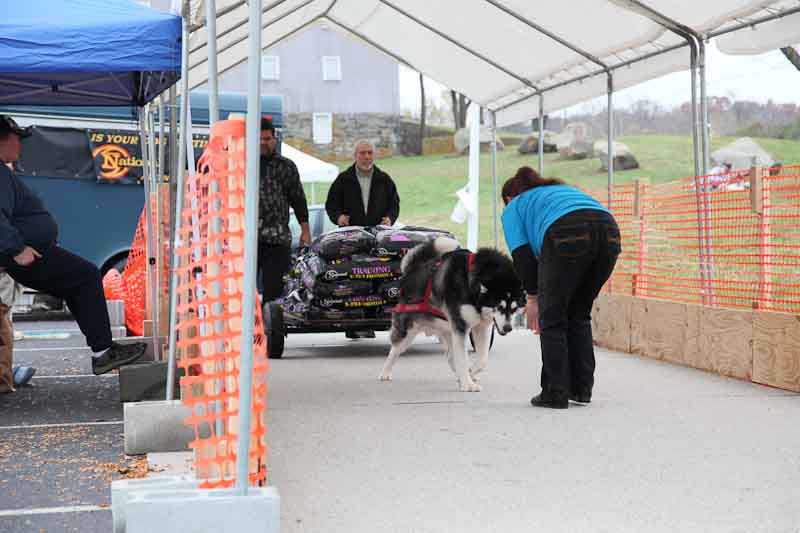 Sebastian pulling - photo by Moses Martin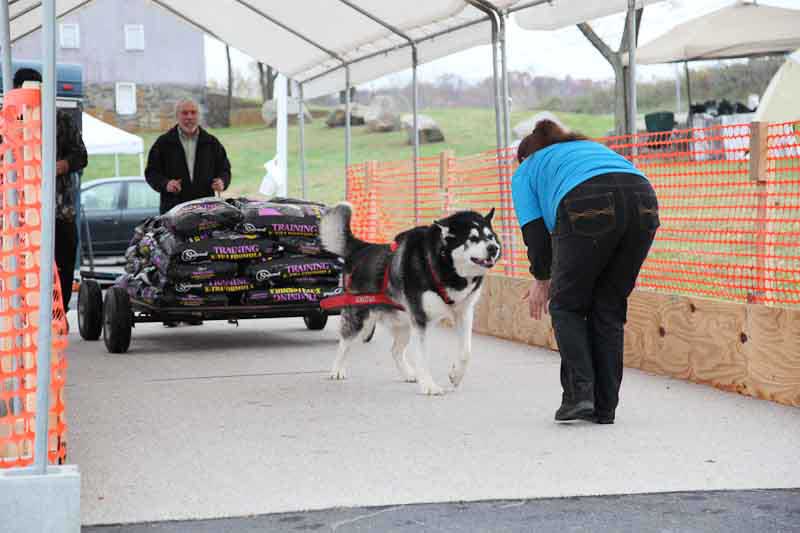 Sebastian pulling - photo by Moses Martin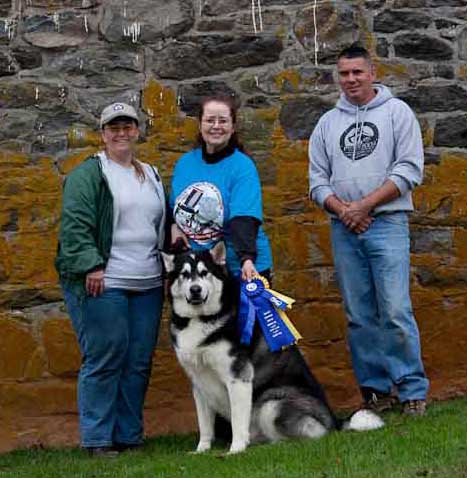 Sebastian with his 3 ribbons for the week
along with Susan & David Gallagher
(2 of the 3 organizers of the pulls & the folks that got us into weightpull)
& me - photo by Moses Martin - Click here for HiRes

Sebastian with his 3 ribbons for the week - photo by Moses Martin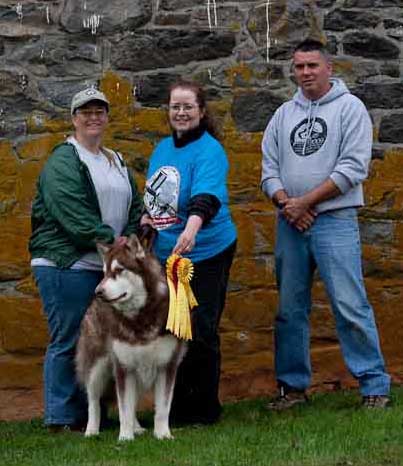 Cinnabar with his 3 ribbons for the week
along with Susan & David Gallagher
(2 of the 3 organizers of the pulls & the folks that got us into weightpull)
& me - photo by Moses Martin - Click here for HiRes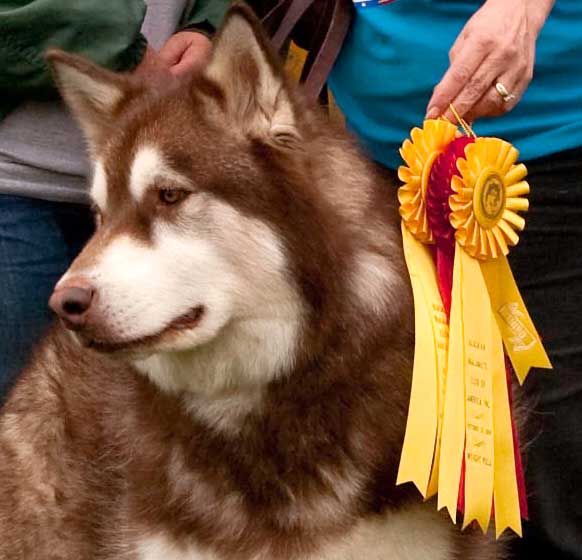 Cinnabar with his 3 ribbons for the week - photo by Moses Martin
All of Moses' photos from October 29, 2009
Facebook album of all Sebastian's photos from October 29, 2009
Facebook album of all Cinnabar's photos from October 29, 2009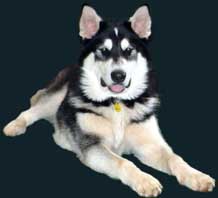 website design by Sheryl
bordered background by Sheryl
© 2005
all images © Sheryl Franklin unless elsewise attributed
all Alaskan Malamute sound files © Sheryl Franklin
website hosting by FranklinCommunications
domain name by DomainRegister.com