Sheryl's Alaskan Malamutes - Activities - Weight Pulling - UKC - Port Clinton - July 18/19, 2009



Weight Pulling

July 18/19, 2009 - UKC - Pride and Prejudice American Pit Bull Terrier Assoc. - Port Clinton, PA
The first of our two day weightpull was close to a perfect day. The weather was beautiful, in the 80's, low humidity, a breeze, and cloud cover when the big guys were pulling.

We had 47 dogs. From a 12 lb petterdale, to a beagle, dalmatians, spaniel, doberman, rottie, pitties, American Bull Dogs, husky, mals, mixed breeds, rescue dogs, pressas (including the big guy at 164 lbs).

Weigh in was the usual whining with Sebastian (138 lbs), piece of cake with Cinnabar (114 lbs), most dogs a breeze and some wiggle worms. It was fun weighing in the itty bitty petterdale, we just cupped the sling for the little girl and sat her in it :) When the big pressa, Dozer, was standing in line we all held our collective breaths as a tiny dauchsund ran into the area and right toward him. Oh, no, lunch, right? Nope, they're housemates, and he missed his big brother!

Finally, we were on the ballfield at the Port, and it was the bomb on Saturday. We'd had some rain during the week and they tarped the chute the night before, but it was the bomb! All the dogs did great.

From the little 12lber, to little Lucy the beagle (first time pulling pro - a real worker), to the 8 year old dalmatian who just tried out in harness the night before, to Sprint the dobe who pulled pro the first time, to our own Wildpaw Nanook pulling pro for the first time all the way up to the experienced dogs. Everyone had a good day.

I've never seen this chute so fast. We had 4600 lbs of weight. In the past if we've run out there were only 2 dogs left standing. There were a bunch of us.

The cinder blocks average weight was 46lbs, so our increments were based on that.

For my guys it was 5 blocks per increment, total 230 lbs. I brought Cinnabar in at 1220, and Sebastian in at 990. I double passed them until around 3500 lbs.

In the early rounds, Sebastian was ho-humming it and it felt like he was taking 30 seconds to pull, but in reality it was around 9 seconds. Cinnabar was of course my worker on every try.

In the later rounds, Sebastian actually dug in and worked. On his 2nd to last pull, he stopped and then started again and one of the guys said, you know your dog is working when they stop at this weight and the cart keeps rolling and he just restarts. Made me feel good.

Sebastian ended the day on the max weight for the 100lbs/120lbs/unlimited classes pulling together, 4440! 1440 more than his previous best. He did it in 20.03 seconds for 32.17 times his body weight. Woo hoo!!!! My big goofy was a working dog on this day. He came in first in the unlimited class to Dozer, the big pressa, on body percentage.

Cinnabar ended at 3980lbs. - 1020 lbs higher than his previous best. He did it in 54.06 seconds and 34.91 times his body weight. On his 4210 pull attempt, he was doing his hi-so-silver, and running to the fence to touch it. Sure fire signs of frustration in him. He did try a couple times to pull it, so I had them push the cart through when he did. It was just his first foul and I could've tried him again, but I knew he was done. He came in second in the 120lb class to Congo.

The best 1st and 2nd place class finishes I've ever had!

Versace took top weight pulled (in the 60 lb class which pulled 4 blocks - 184 lb increments). Because our class pulled 5 blocks - 230 lb increments), when we ran out of weight (we had 4 blocks left and needed 5), there was no way the big dogs could beat Versace because we didn't have enough blocks for our increment. I think Versace took top by 1 or 2 blocks.

Versace and Congo (American Bulldog) had an unofficial pulloff, with guys getting on the cart to eventually bring the weight over 5500 lbs, I think. Versace won, so even though we ran out of blocks for the official, the results may have been the same. The unofficial was done in fun, and neither of them stressed their dogs.

I'm not positive on who got top body percentage, but I think it was Versace's housemate, Rico Suave.

Sebastian digging in at 4440 lbs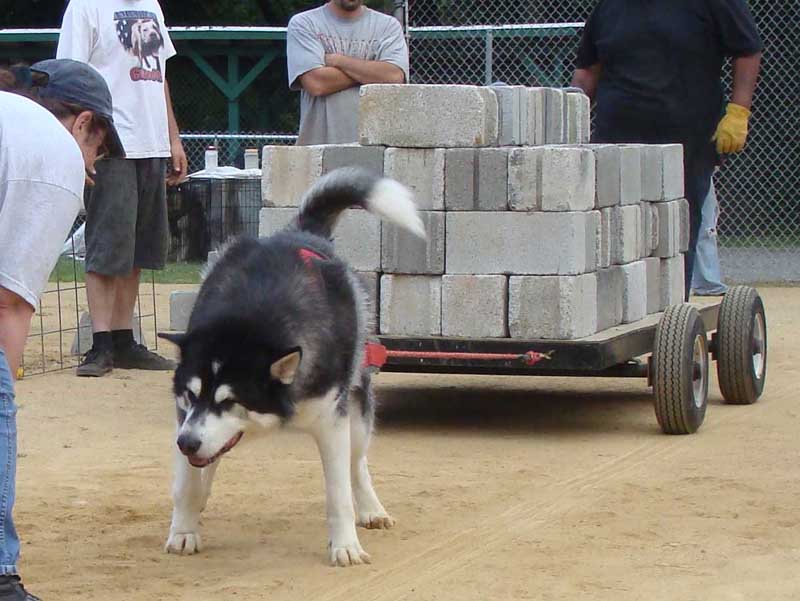 Sebastian walking off the 4440, with big mouth talking to keep him interested: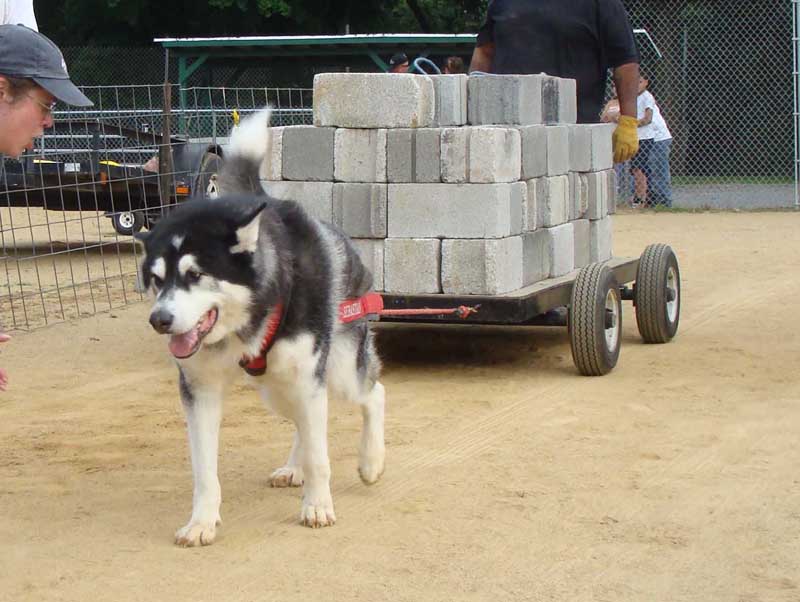 Cinnabar digging in at 3980lbs: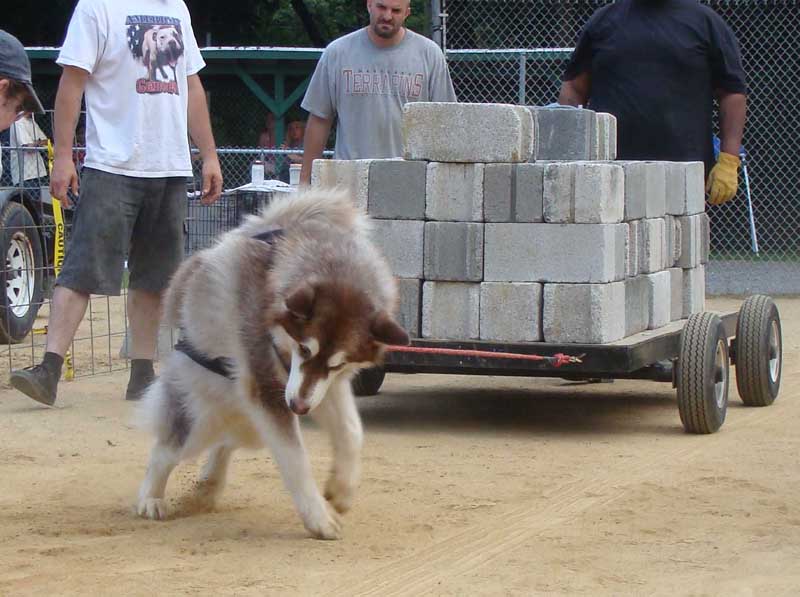 Cinnabar pulling the 3980: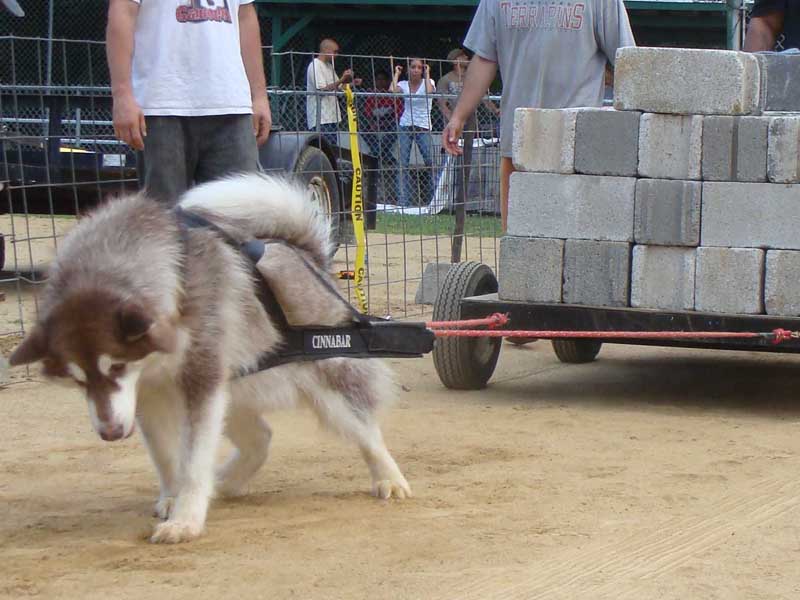 Photos of all the dogs & more of Sebastian & Cinnabar on July 18, 2009
Facebook Album of Sebastian & Cinnabar on July 18, 2009
****
For Sunday's pull:
Beautiful weather again, actually chilly in the morning, but it did heat up and the breeze left us, so it was tougher on the dogs than the day before.
We lost about 17 dogs from the day before, but gained another 7, so we had a total of 37 dogs. Still a good number, but we got out of there 2 hours sooner than the day before. What a difference 10 dogs make.
Because we had fewer we were able to combine more classes than Saturday (which had 4 groupings) and had 3 groupings of classes pulling together. 30lb pulled alone, then 45 & 60 pulled together with 4 block increments (184 lbs) and 80/100/120/unlimited pulled together with 4 block increments (184 lbs).
I started Sebastian at 1772 lbs, and Cinnabar at 1956lbs - their highest ever start weights. I was nervous about that, but I should've trusted them and started them higher, because it was no biggie to them.
I double passed them on every round.
Being a dark dog, the breezeless heat was harder on Sebastian than Cinnabar. Cinnabar pretty pranced head high all the way back to his crate after a pull, while Sebastian dragged his ass back to his after a pull.
I doused his head with water frequently, and they had a kiddie pool in the on deck area that I had him stand in before each of his pulls.
The train very nicely went through blowing it's whistle before the big dogs pulled, and then after the event was done!
Early rounds he was ho-humming it. Later rounds, he did dig in but once the cart started ho-hummed it home, with a few stopping short of the line tricks and then restarting it to get it over the line. Never boring.
In the 45/60 lb class, Dirty Girl, a pittie who's housemates with Versace & Rico Suave (who did not pull on Sunday), pulled all the weight 4532 lbs.
In the 80/100/120/unlimited, it came down to 3 dogs left standing. Missy's Evo (Pressa, the big smush who I love dearly), Cinnabar and Sebastian.
Sebastian pulled first in the final round. Here's his initial thoughts on the whole matter: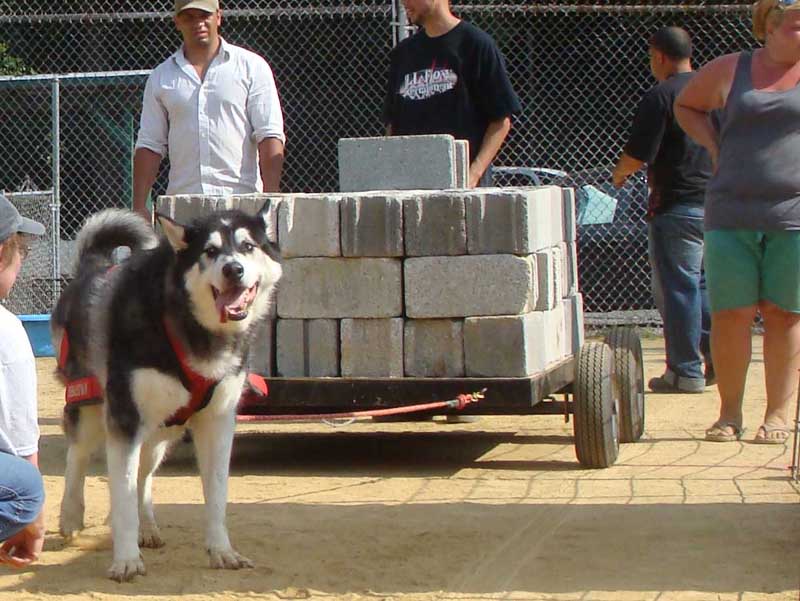 Then he dug in for me: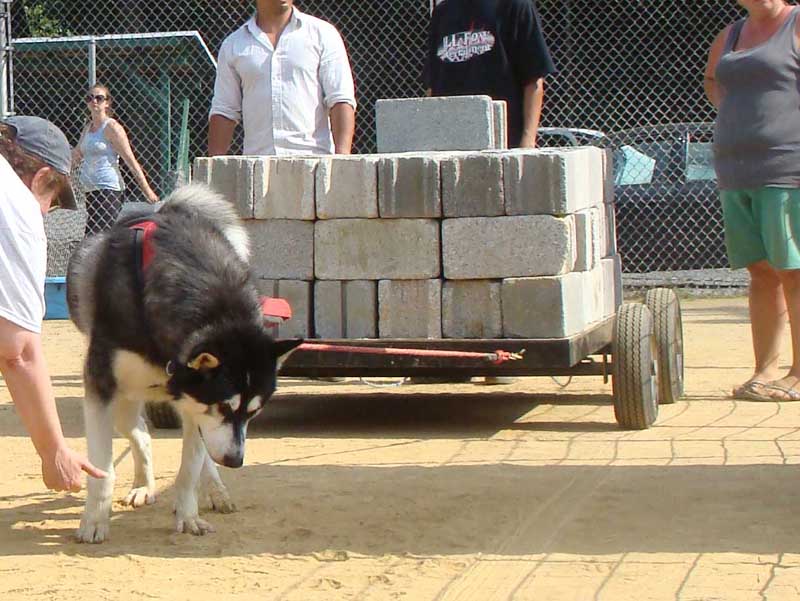 Here he is, inches from the finish line, with a "why am I still here" look: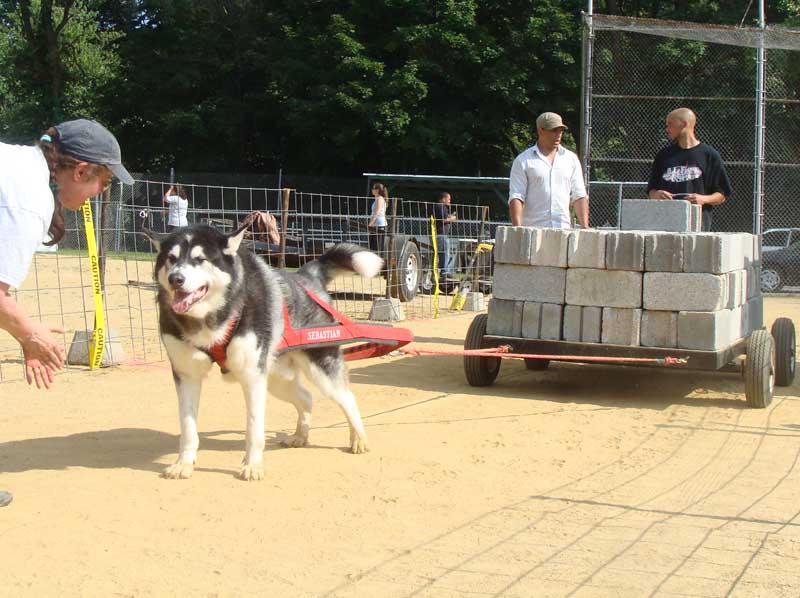 So, he pulled 4532 lbs, his now personal best in 38.19 seconds and 32.84 times his body weight. Wow!!
Evo, also successfully pulled the 4532, his now personal best!
Cinnabar started his high ho-silver and whines and wanted to be able to touch the chute fence on his right. I tried to get him over to the other side to touch that side which was closer, but he wanted the other side. So I went over there and got down in front of him and stayed right in front of him tempting him with my hands (which he is anxious to touch). It worked, he gave it a try and when it moved when he dug in, he just kept going. He is such a good boy!
Cinnabar pulled the 4532, his now personal best in 47.10 seconds and 39.75 times his body weight. Woo-hoo!!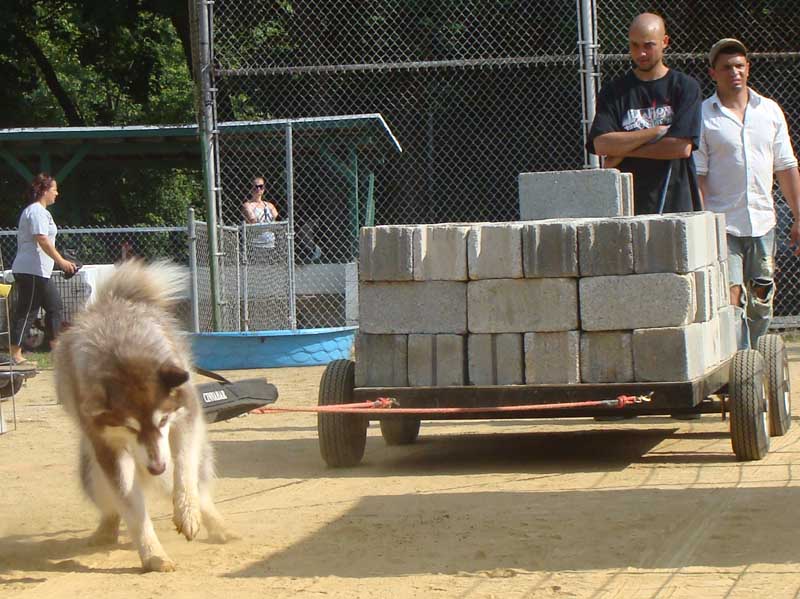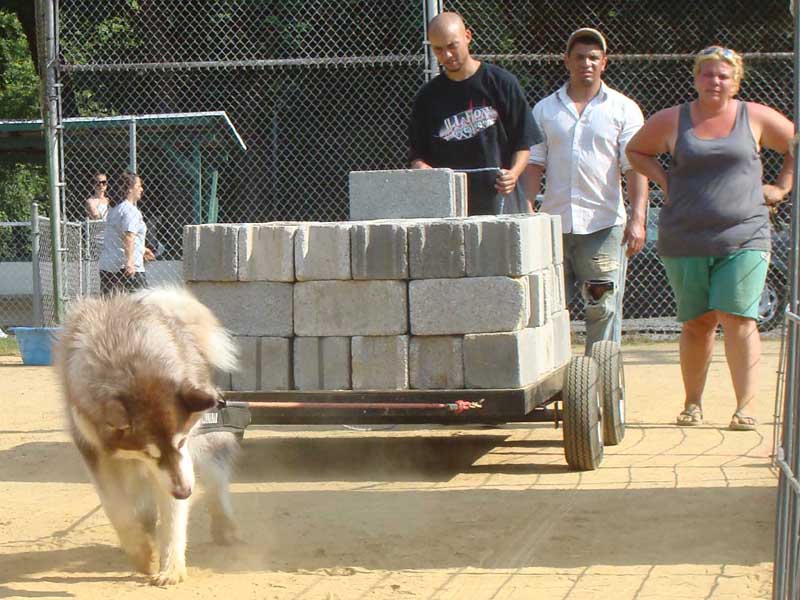 Top weight pulled we had 4 dogs tied - Dirty Girl, Evo, Cinnabar and Sebastian - based on body percentage top weight pulled goes to Dirty Girl (a stunning beautiful pittie, who's focus on her work is to be envied).
Top body percentage almost went to Dyna from the 30lb class, who was totally on that day. I was working the cart for that group and it was wonderful to see her work. She pulled 91 times her body weight!!!! I wasn't expecting to have so many blocks to unload after the 30lb group, but thrilled that it happened. She pulled close to 3000 lbs!
Dyna set a high bar, but Milo beat it with 95.41 times body weight - unbelievable! As a big dog person, I don't even dream about those percentages :)
For me, the big news is how great my guys did. Cinnabar had an aha moment at those high weights that he really can do it, which will help in IWPA and AMCA pulls, where I can't be that close to him. Sebastian worked for me, even though he was hot and wanting to be bored rather than working. He was happy and not grumpy, which is major in the heat. I worked hard to keep him upbeat and engaged and it felt good for it to pay off!!
Cinnabar got 15 points for Saturday (34.91 times body weight, if it had been 35 times he would've gotten 20 points), and 20 points for Sunday (39.75 times body weight), which if my math is correct brings him to the 100 points needed for his next UKC title of United Weight Pull Champion.
Sebastian got 15 points for Saturday (32.17 times body weight) and 15 points for Sunday (32.84 times body) which brings him up to 65 points towards that title.
A huge thank you to Liz for helming my camera & getting shots of my boys and the other large dogs!!!
Photos of all the dogs & more of Sebastian & Cinnabar for July 19, 2009
Facebook Album of Sebastian & Cinnabar on July 19, 2009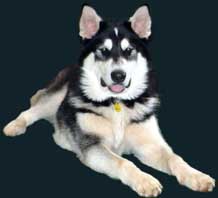 website design by Sheryl
bordered background by Sheryl
© 2005
all images © Sheryl Franklin unless elsewise attributed
all Alaskan Malamute sound files © Sheryl Franklin
website hosting by FranklinCommunications
domain name by DomainRegister.com