Sheryl's Alaskan Malamutes - Activities - Weight Pulling - AMAEP - Harrisburg - April 10/11, 2009



Weight Pulling

April 10, 2009 - AMAEP - Harrisburg, PA
2 years ago Cinnabar won the novice class at this pull, and Sebastian pulled pro for the first time. I met so many friendly Malamute people and their beautiful mals and had a great time. Last year, both boys just really kicked it up a notch at this pull, realizing they could dig in and and pull the cart and were among the last 4 dogs standing.

This year, they were still among the last 4 dogs standing. Raider, Ranger, Cinnabar and Sebastian the malamute version of the final four :) Both Raider and Ranger were looking good. Cinnabar was doing really well, and while Sebastian was making me work for it, he was doing well. Who knows how much better Sebastian could've done if he didn't have a silly handler who put her hand on the tape during his 2100lb pull. He finished that pull and very easily, but I screwed up and he was out. Then it was down to 3. All three pulled the 2200, and the 2300. Because we were under AMCA rules, we couldn't "come in" at a nice high weight, but could only pass twice. Meaning with 100lb increments and the cart weighing 300, our first pull had to be 500. Lots of double passing, but still lots of pulls to tire these guys out. On the 2400 pull, Raider couldn't quite get the cart to start, but boy he had a good day. Ranger tangled and restarted and gave it a good go to get the cart started. Susan did a great job with him, but he couldn't quite do it. I knew Cinnabar was capable of pulling that weight, but given how many pulls, just didn't know. It took him a little bit, but he worked down, started the cart and finished the pull! Woo hoo!!!!!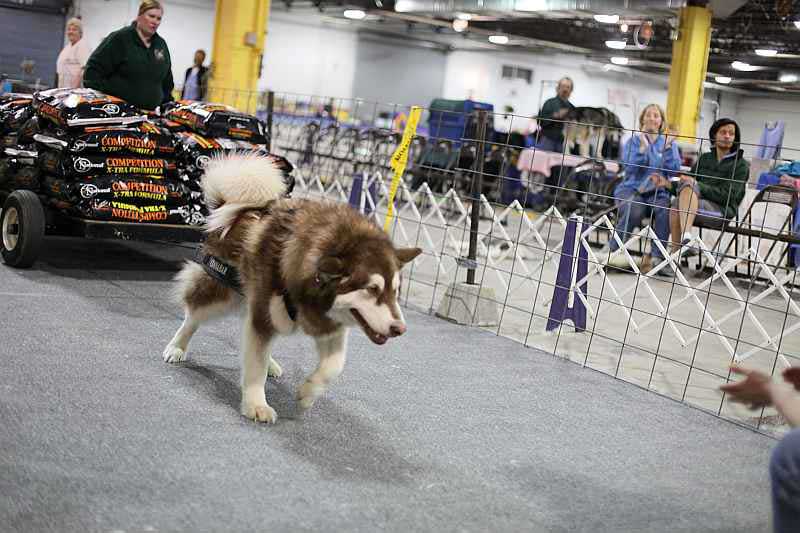 Cinnabar pulling 2400 lbs getting top weight pulled - photo by Moses Martin
I had promised him at the beginning of that pull that it was his last no matter what. Then, they said I needed to go again to try to get 2500 to get a Bogie leg toward the Bogie award.(Bogie was an incredible weight pull malamute that died too soon, and Brenda set up this award in his honor. You must get 5 legs to get the award, a beautiful ceramic of Bogie). I thought about it and went for it. Gave him some time, got his feet wet and of course treated him with some hot dog. My sweet boy started talking, not a good sign, he started hi-ho-silver, but then worked down and then started talking again. I gave him a couple chances to pull and then when he started again motioned for them to push the cart, so he thought he finished that pull, but no Bogie leg, which is fine because he did a great job.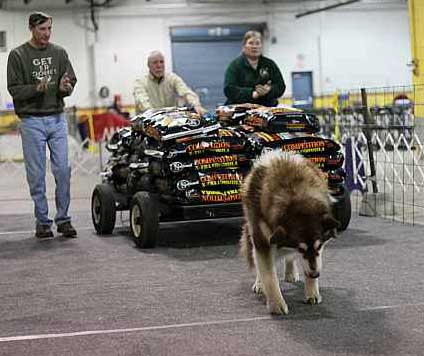 Cinnabar attempting 2500lbs for the Bogie leg towards the Bogie award - photo by Moses Martin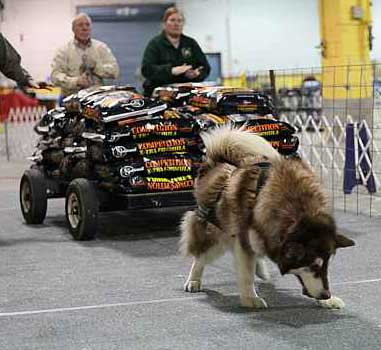 Cinnabar attempting 2500lbs for the Bogie leg towards the Bogie award - photo by Moses Martin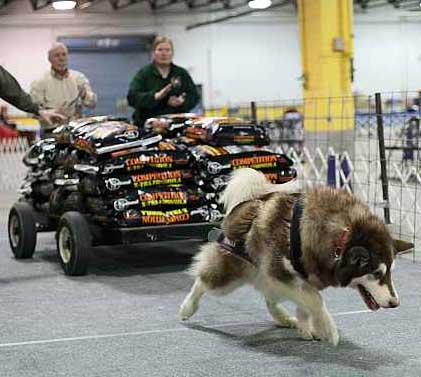 Cinnabar attempting 2500lbs for the Bogie leg towards the Bogie award - photo by Moses Martin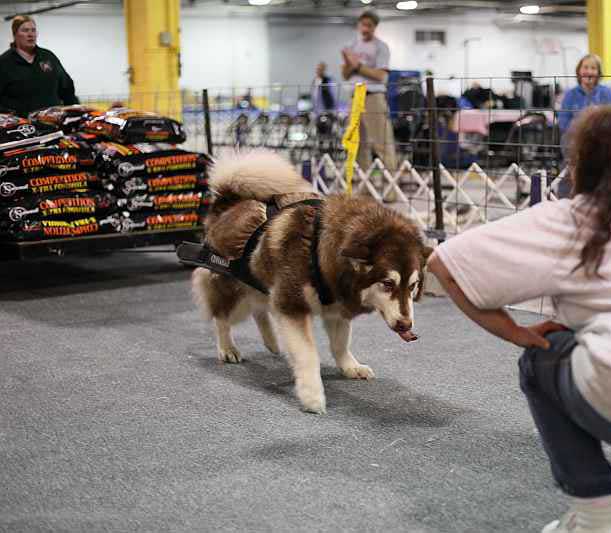 Cinnabar attempting 2500lbs for the Bogie leg towards the Bogie award - photo by Moses Martin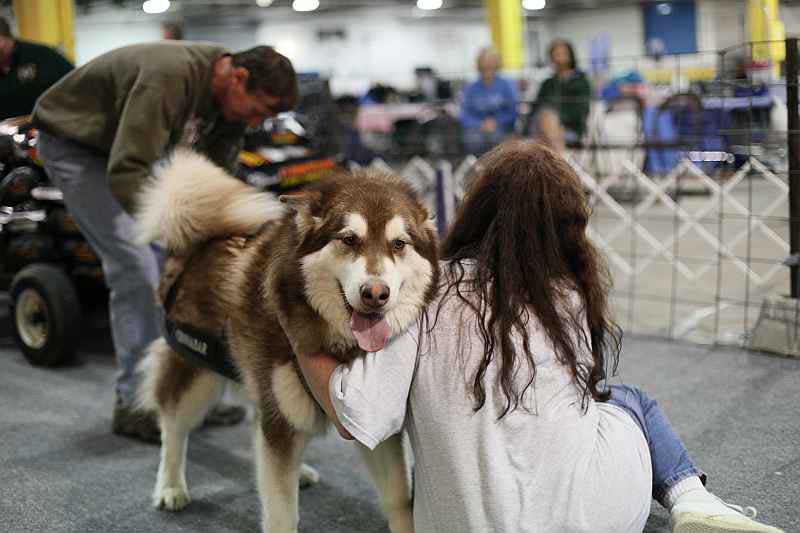 Cinnabar getting hugs for his wonderful efforts - photo by Moses Martin

Sebastian pulled well for me, too bad I was the one that messed up! Shouldn't be doing that again!

Once he started the cart, he was pulling it effortlessly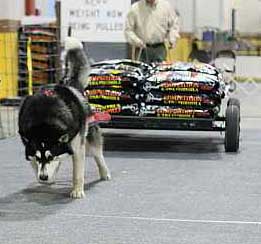 Sebastian starting the cart - photo by Moses Martin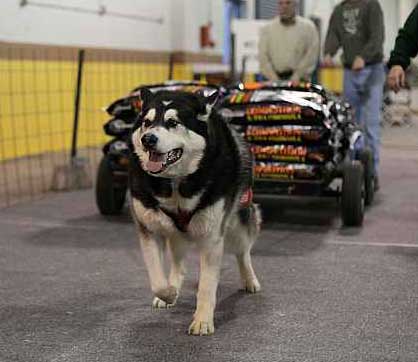 Sebastian pulling effortlessly - photo by Moses Martin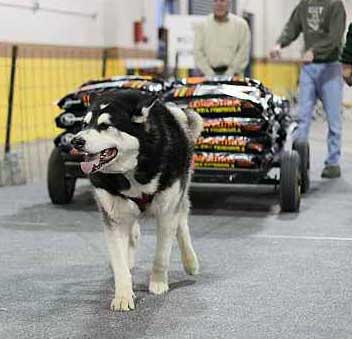 Sebastian pulling effortlessly - photo by Moses Martin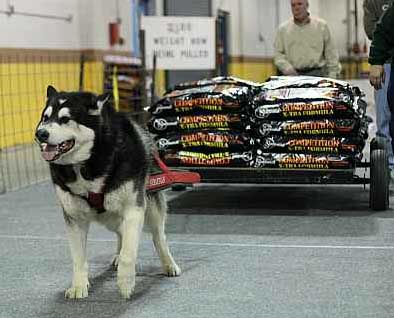 Sebastian pulling effortlessly - photo by Moses Martin

Altogether 32 mals pulled. We pulled in two groups novice and 80 lbs, then the 100, 120 and unlimited pulled together. Cinnabar had competition in his weight class AND so did Sebastian, a beautiful big boy named Bruin.

Laura's Rhya did well and she pulled another novice and I got to meet her silver Ashlar, just beautiful.

Roseann's Blitzen (who's in the top 20 in conformation this year) did great and got his WWPD and may have even gotten a leg toward WWPDX, not sure.

Barb and BeeGee did well, as soon as she got him to get his nose off the carpet, then he was going gangbusters.

Brian Heft was there with his mushing mals and they did him proud, especially his girl Sable.

Susan did well with Cassi, just love her pulling style, and Brenda pulled Hemi and he did well for her.

Oh, a side note on Hemi. There's a love affair going on between Brenda and Hemi and I was temporarily in the dog house for giving Hemi a hug and talking sweet to him

Tiffney pulled well, gosh I love her style, just perfect. Her sister Brisbee fooled around a bit at the beginning of pulls and then started digging in with that same beautiful style. She did well. Brother Merlin was not to be left out, he did really well and Lisa did a great job pulling him. She worked with him when he lost his focus and ended him on a good note. I know he got a title leg, but not sure which one.

Oh, before I forget, I provided some fun that Moses captured on film. One of Sebastian's pulls where he made me work hard, I was on my knees working with him and he decided to dig in, well I had to get up and back pedal so I didn't touch him. I tripped and went on my butt and then had to butt scoot backward so he didn't touch me:) He also captured others' good stuff, although I'm not sure he captured on film the dog that got out of his harness, he was too busy actually capturing the loose dog :)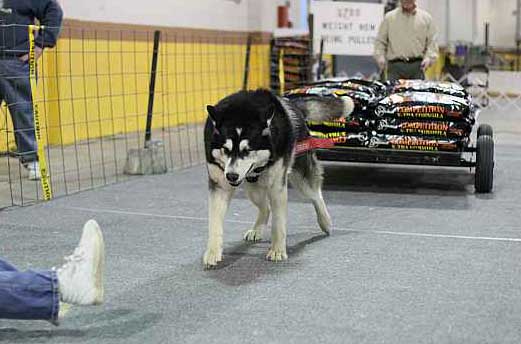 Sebastian pulling - mom tripping & falling - photo by Moses Martin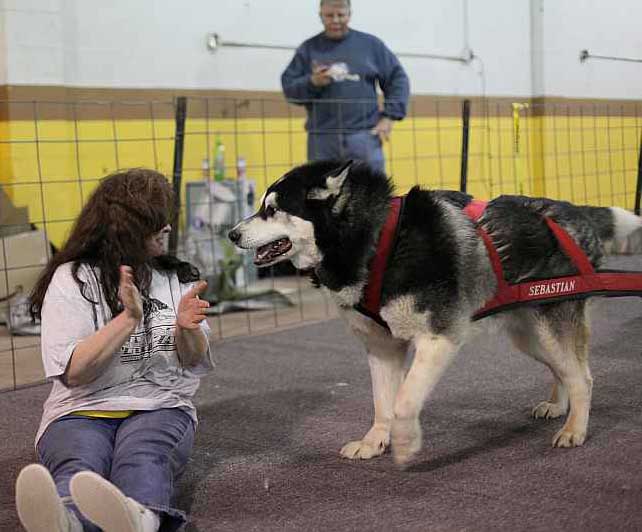 Sebastian pulling - mom butt scooting to not touch him - photo by Moses Martin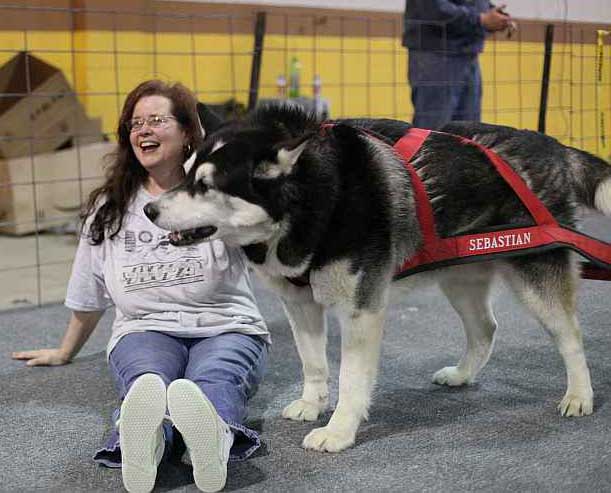 Sebastian getting rewarded while mom laughs at her clumsiness - photo by Moses Martin

Great cart help all the way around, good people and good dogs!!

We're lost some competitors from this pull (Barb & BeeGee, Brian H and his mushing mals at least), but I know some more that are coming (Laura and Nook) for the next pull.

I'm on a high, with Cinnabar getting most weight pulled, a first in our pulling career. He weighed in at 115 so it's good enough for an X leg for him. Now, if Sebastian's handler can get her act together, she might not miss his shot for an X leg. (He weighed in at 141, whined while getting in the sling and Moses called him a wimp, but didn't whine while being hoisted up)


April 11, 2009 - AMAEP - Harrisburg, PA
Well, Saturday's pull was another great day. I don't have the exact number of dogs, but probably around 30 pulled.

We had the same final four, Raider, Ranger, Cinnabar and Sebastian. They finished in a different order this day, though, but pulling higher weights. Again, we had 100 lb increments with a 300 lb cart, so we had to start by 500 lbs.

Both my boys had troubles early because the first dog pulling in our group peed in the chute. They were taking left turns to check it out with the cart almost rolling into them. I setup on their left side instead of their right when positioning them and that helped and eventually they just got over it.

Cinnabar started having trouble at 2400 lbs. At 2600 lbs he was talking, and looked frustrated. I asked him to try and he gave me everything the sweet boy. I immediately withdrew him on that positive note of him knowing he could do it.

Raider, Ranger and Sebastian all made the 2700 lb pull.

At 2800, Ranger left it a few inches short and couldn't start it again. Raider worked hard and made the pull. Sebastian started out pretty good, but like Ranger left it short. I asked him to try again, but I could see boredom setting in. I asked them to push on his next attempt and boredom went away when he thought he finished it. The paperwork showed him at 19 times his body weight, so I'm thinking he's finally got his first X leg because he had competition!

Congratulations to Raider!! He has come alive this past year, and is pulling just great! He also got the Bogie leg!

Ranger got top body percentage again!!! Followed by Tiffney and then Cassie. I don't remember exact percentages, but all in the 30s. Wow!

Laura (celticwolf) with Nanook won the novice class pulling 700 lbs, all without the leash!

Laura (granitemals) did great with Rhya, and Tassi who pulled novice the day previously pulled pro and I believe got a title leg. She really got it and was looking good.

Tiffney did great, and so did Nanuk - both pulled by Jane's daughter. Tiffney's brother Merlin did very well and Lisa worked great with him, her A.D.D boy. Tiffney's sister Brisbee was doing great, all business, but this day she had the "silly handler" who called her before he crossed the line and dq'd her. It really hurt because that particular pull she got in 6 seconds, but it's a lesson never forgotten :)

Long day, we didn't get out of there until close to 10:30pm so I didn't get home until midnight.

I'm so proud of my two because they really worked for me - even the big goofball, Sebastian. He's different around mals than other breeds. In the full two days he postured only once and that was when a pug was checking him out in his crate. He didn't care about the noise or wooing or singing or posturing from other mals crated near him. He's also less sensitive to distraction at this pull and there were mals walking up and down the outside of the chute, but the big lug stayed with me, a major accomplishment in my book. And Cinnabar, that sweet boy always does his best and I can't ask for more.

Again, great cart help, good dogs and good people, it just doesn't get better.

No photos from Saturday's pull, as Moses was under the weather. Here's some of my favorite miscellaneous photos from Friday: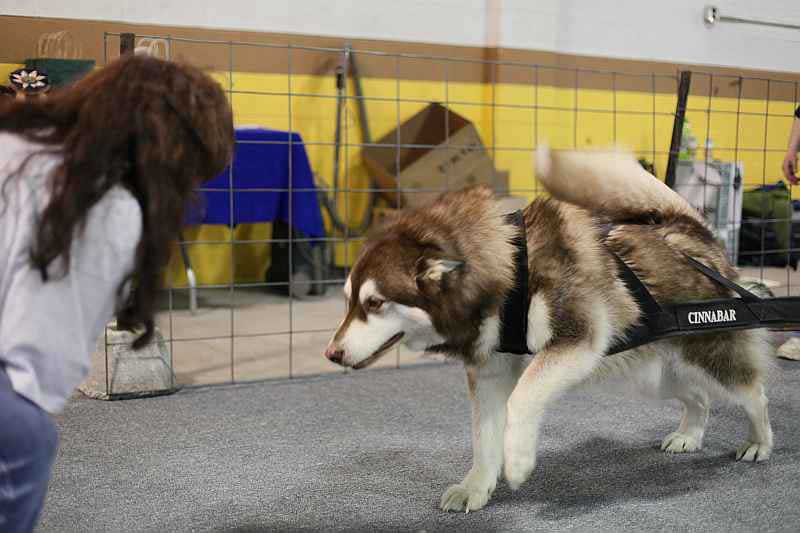 Cinnabar pulling toward mom - photo by Moses Martin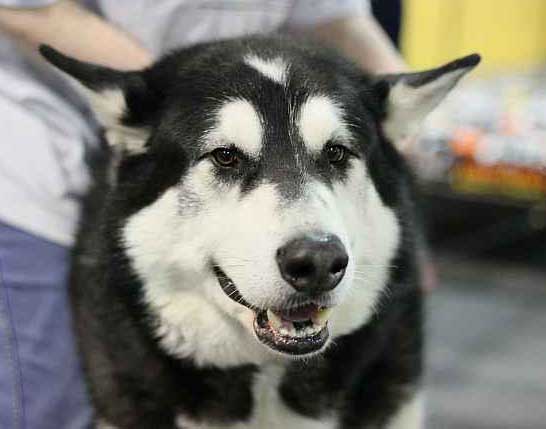 Sebastian posing for Moses - photo by Moses Martin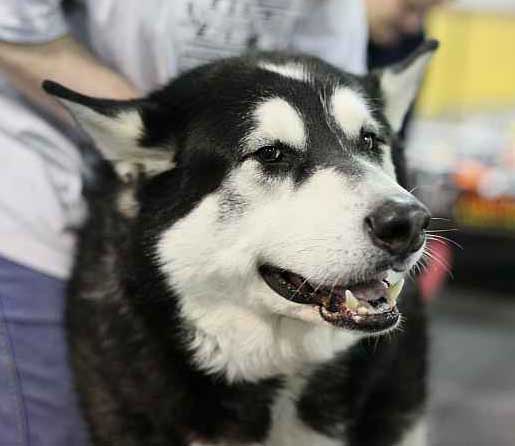 Sebastian posing for Moses - photo by Moses Martin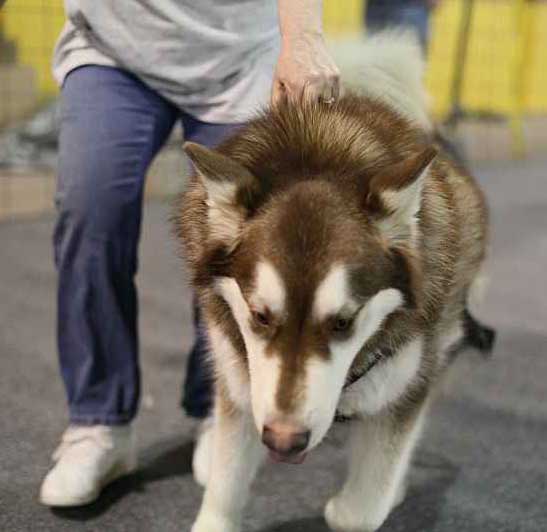 Cinnabar done pulling - gotta get back to my crate - photo by Moses Martin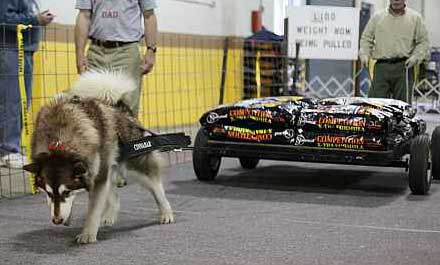 Cinnabar great weight pull style - photo by Moses Martin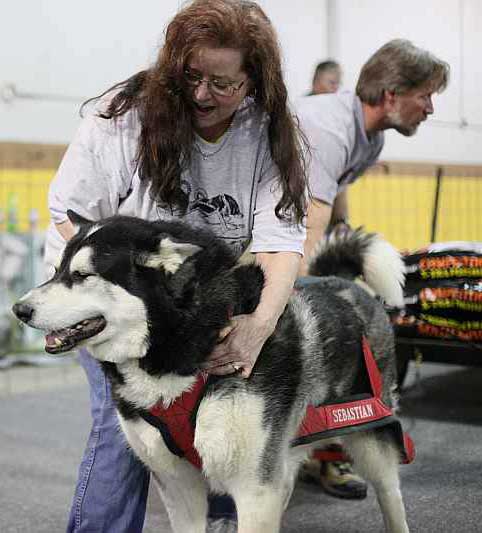 Sebastian praised after pull - photo by Moses Martin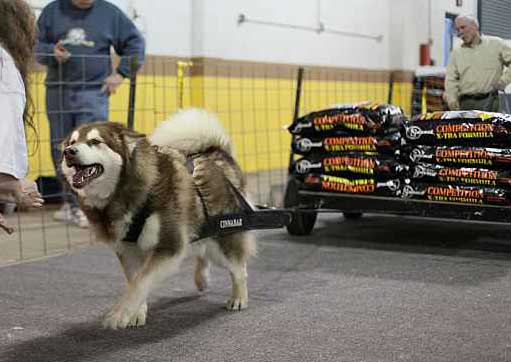 Cinnabar - happy boy working for mom - photo by Moses Martin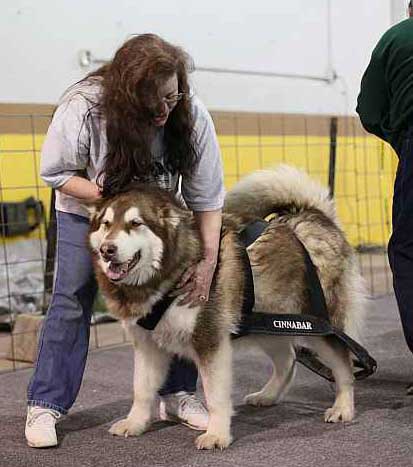 Cinnabar praised after pull - photo by Moses Martin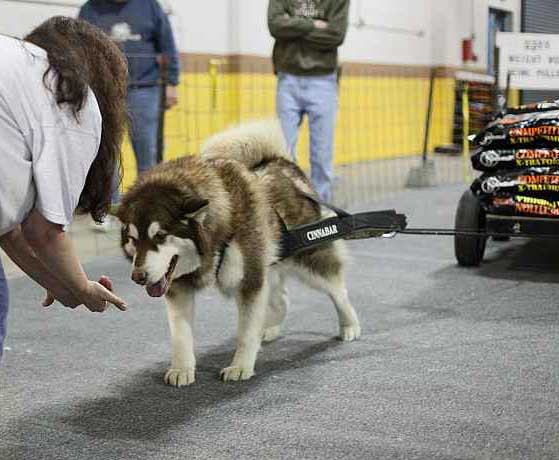 Cinnabar focusing on my hands to come to me - photo by Moses Martin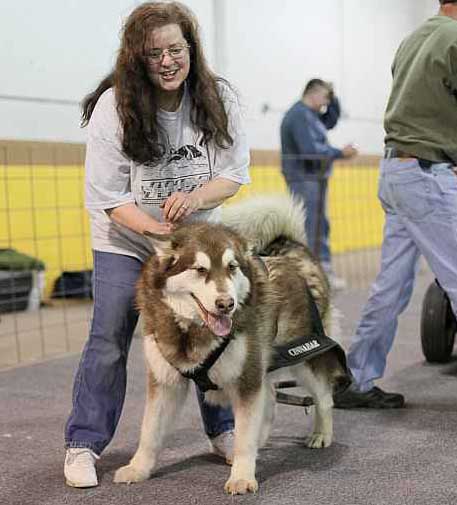 Cinnabar happy boy with happy mom - photo by Moses Martin
All of Moses' photos from April 10, 2009
We also had another photographer, David Sombach. He's been contracted to do the entire Nationals in Gettysburg and wanted to get some practice in doing weightpull shots before then. Links to all of David Sombach's photos from April 10, 2008
Album of Sebastian & Cinnabar by David Sombach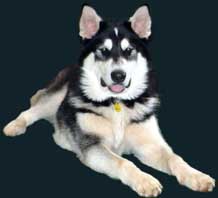 website design by Sheryl
bordered background by Sheryl
© 2005
all images © Sheryl Franklin unless elsewise attributed
all Alaskan Malamute sound files © Sheryl Franklin
website hosting by FranklinCommunications
domain name by DomainRegister.com