Sheryl's Alaskan Malamutes - Activities - Weight Pulling - IWPA - Hillside SPCA Benefit - Port Clinton - March 28, 2009



Weight Pulling

March 28, 2009 - IWPA- Hillside SPCA Benefit - Port Clinton, PA
So many of us going to this pull have been watching the weather forecast all week. One thing that never changed was that there wasn't going to be rain until late in the day for Saturday, they were adamant about that. WRONG! It started pouring at 3am. At 5am Missy & Dave checked the ballfield and it was a soggy mess, so they took down the chute and moved it over to the firelane which although gravel, is hard packed. It rained almost my whole trip there and then stopped just before 7am. We didn't see rain again until we were almost home around 8pm.

This is our 2 year anniversary of pulling. 2 years ago we pulled in the novice class, which was a pretty good size, but it was small compared to this novice class.

I believe there were over 20 dogs pulling in novice and they were broken up by those pulling on the little cart with our pro Sheltie, Banner, and those pulling on the big cart. Three beagles were on the little cart. Lucy, one of our agility classmates, pulled completely without the leash and is going pro. It was the first time for the other 2 beagles and one loved it and the other wasn't sure about it at all.

In the rest of the novice class we had dalmatians, a cocker spaniel, pits, American bulldogs, 2 Malamutes, and various others. One of the dalmatians, is Lucy's housemate, Dixie. Her mom worked at home with both of them over the winter and it showed. Dixie also pulled without the leash and did very well and is going pro!

The 30lb class pulled with the novice, but this was a long class.

That class was followed up by a HUGE 60 lb class, which took a long time. Starbuck came in 2nd, he stopped pulling just short of the line and couldn't get it started again. Electra won that class.

The 80/100/150 lb classes pulled together, with 200lb increments. Brian Heft had his malamutes there. He's a musher who's getting back into weightpull and wanted to warm them up with this pull before Harrisburg. He pulled one in novice and 3 in this class (not sure if they are in 80 or 100).

Sebastian, solo in the 150lb class, pulled with this group (he weighed in at 142 - and was the biggest baby in the sling that he's ever been - but gave Dave H kisses afterward). I started him at 900lbs and single passed him. He was lackadaisical from the get go, having a good time, but just ho-humming it, so I knew we wouldn't get any big weights out of him. He easily pulled 2100 in 10.22 seconds. He started pulling 2500 easily, but stopped short of the line and with a little bit of coaxing gave me an attempt to restart it. He did with some help so he was finished for the day. He pulled 14.79 times his body weight, good enough for his 3rd leg for an IWPA Working Dog Wheels Title (one more leg needed),

I was very thankful that the train waited to go through across the river AFTER Sebastian's turn. We don't usually get that timing :) I was also very thankful that the hoardes of canoers that came out of the river right near the end of our chute didn't do any of their stuff during Sebastian's turn :) Several dogs did have to wait while they carried their canoes up the banks and then out of site. Not really the kind of distraction you'd expect at a weight pull :)

Sebastian pulling: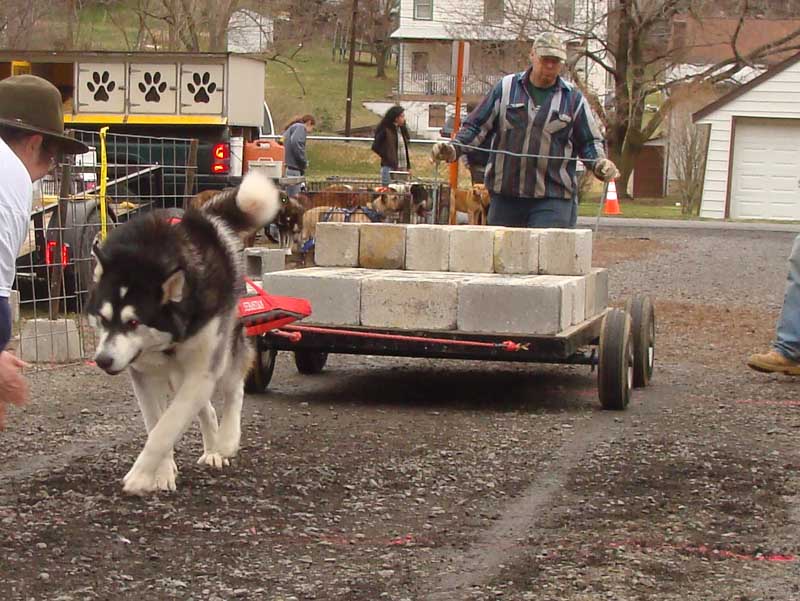 Sebastian, short of the line, getting bored with it all: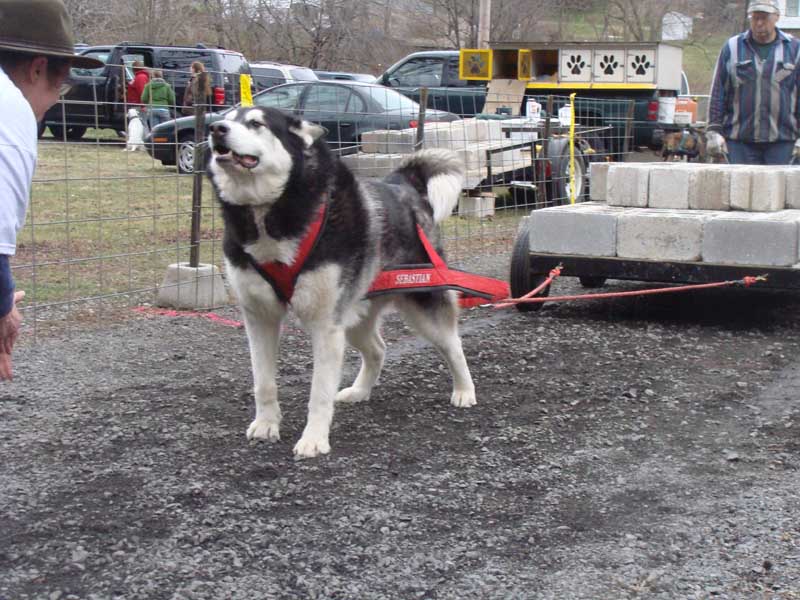 Sebastian - oh, ok, I'll try again: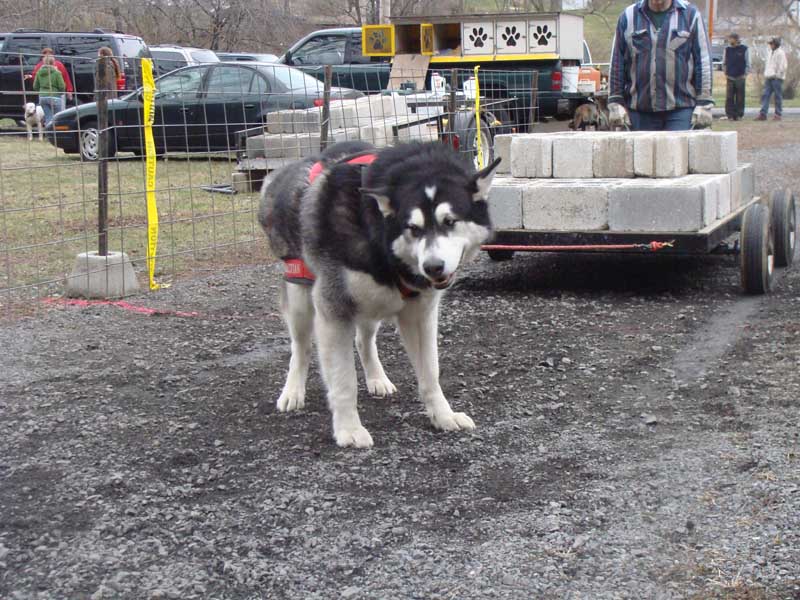 Sebastian - ok, I finished, do you still love me: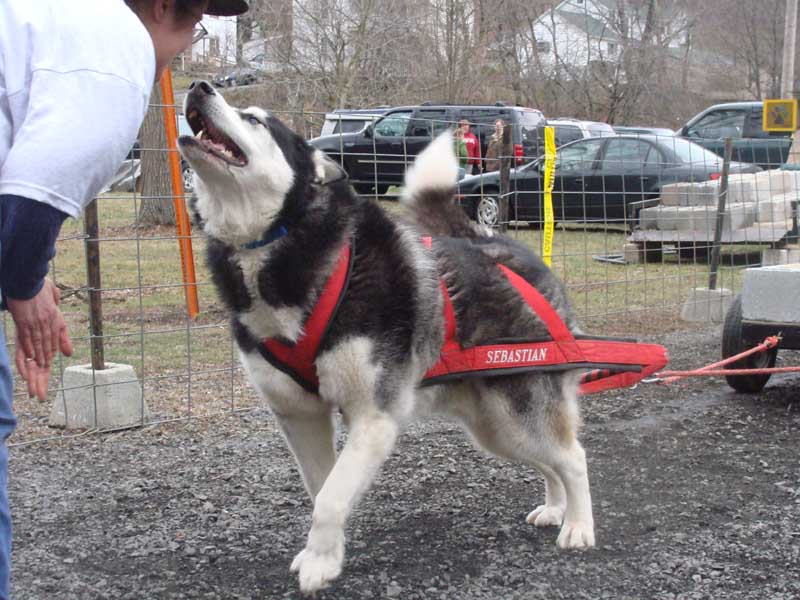 He has yet to have any head to head competition in his weight class, but there are another couple big mals pulling in NY, so maybe next year he will. He finished the season as the Region 5 Gold Medal winner for his class.
Ok, after those 3 classes were done the 125 lb class pulled. Cinnabar and a Swissie. The gentleman who owns the Swissie had another one pulling in the 80lb class and can't get either of them to pull if he works them together, so this class pulled separately. Our increments were 200 lbs.
I started Cinnabar at 900 lbs, the Swissie started at 1100 lbs. I double passed Cinnabar until after 2700 lbs, so he pulled 900, 1500, 2100 and 2700. Then I didn't pass. The Swissie stopped passing several rounds before we did. At 2900 lbs, Cinnabar still had his tail wagging, but did his hi-ho-silver routine. He started the cart and then stopped a few feet short of the line. I gave him 2 tries to start again, which he did try, but had them give the cart a push on his 3rd try.
The Swissie didn't make the 2900 pull either. Cinnabar won the class on time for the completed 2700lb pull.
Cinnabar digging right in on an early round: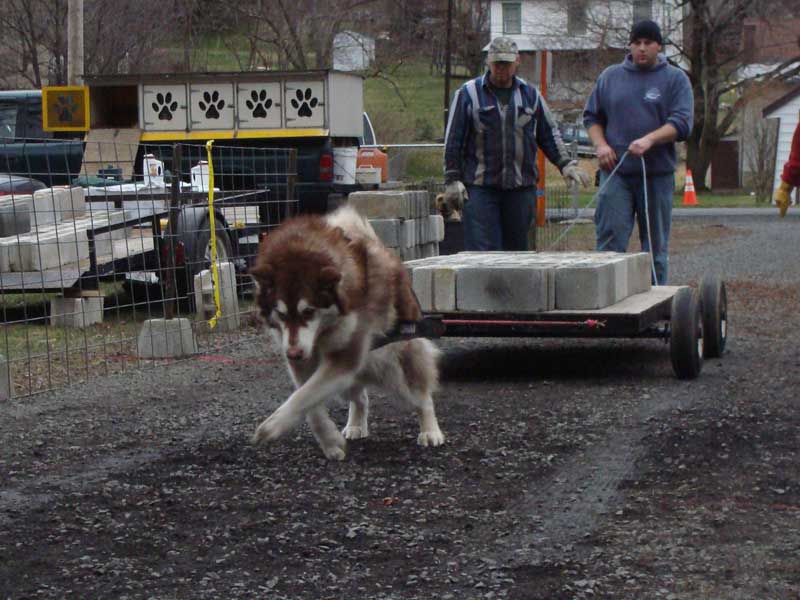 Cinnabar not sure about the 2900 pull: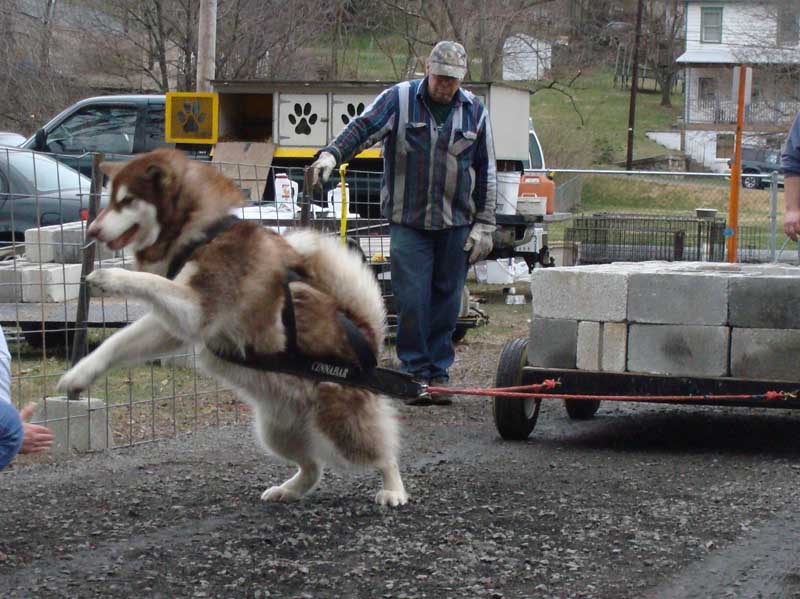 Cinnabar pulling the 2900: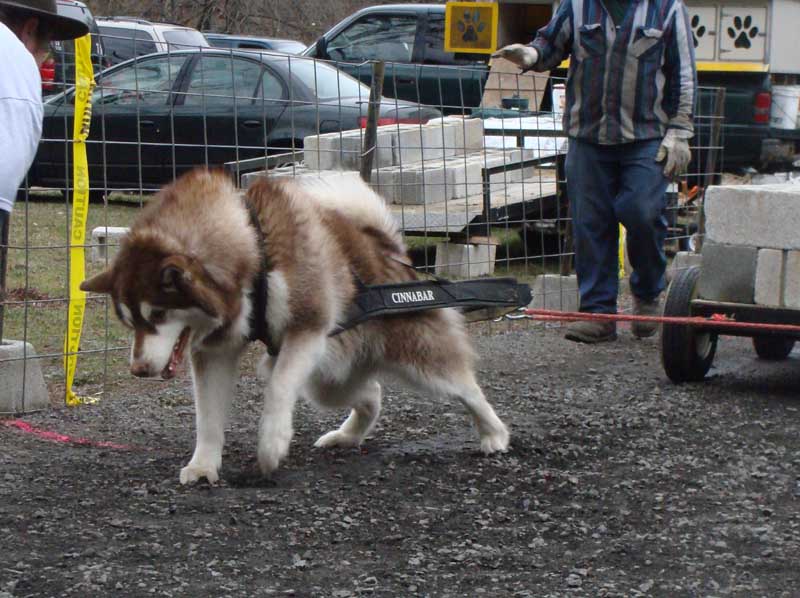 Cinnabar weighed in at 113, so he pulled 23.89 times his weight, good enough for another X leg (AMCA) because he had competition. He pulled the 2700 in 10.78 seconds. This was also good for his 2nd leg (of 3) for his IWPA Working Dog Superior Wheels title. Cinnabar ends the season as the Gold Medal winner for his class on wheels! He is such a good boy and so easy to work with, I am very proud of him!
Harley got most weight pulled at 3700 lbs. He won on time to Versace, who won best body percentage.
We can't make the trip out to Michigan for Nationals, but wish everyone who does success!
Photos of all the dogs, plus more of Sebastian & Cinnabar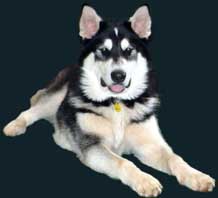 website design by Sheryl
bordered background by Sheryl
© 2005
all images © Sheryl Franklin unless elsewise attributed
all Alaskan Malamute sound files © Sheryl Franklin
website hosting by FranklinCommunications
domain name by DomainRegister.com