Sheryl's Alaskan Malamutes - Activities - Weight Pulling - IWPA - Port Clinton - January 10/11, 2009



Weight Pulling

January 10/11, 2009 - IWPA- Port Clinton, PA
Saturday the 10th:

The snow started falling just a few minutes before it was time to leave for the pull. By the time I got there, there was about an inch on the ground. It was cold, but I was triple layered, had my mukluks and double gloves so I was fine. Of course the dogs were in heaven.

Jane and Steve Palinkas pulled in just as I did. Jane pulled Tiffney. Lisa from Mask-A-Raid came with them, she was pulling Merlin, a beautiful boy who is Tiffney's brother.

David and Susan Gallagher were there with their gang that included their new rescue who's still learning to pull, but is getting it. They pulled Ranger, Cassie, Hemi, and Takaani in addition to their new girl. Susan handled Takaani and did great.

Nanook and Laura (whom I met at Tails of the Tundra) were also there for another novice pull and to pick up 'Nook's new harness. He pulled at least once without the leash, very nice progress!

Moses came with Chip, who hasn't weight pulled in 5 years, but did great.

Brenda and Val were there with Raider and Shasta, with just Raider pulling turning in another great pull.

Wow, lots of fuzzy dogs, including Missy's Homer!! We also had pits and bull dogs and Presa's and mixes and 4 shelter dogs. We had between 35 and 40 pulling pro, with a novice class of about 10.

I took photos of the novice class, 20 lb through 60 lb classes. Liz took photos of my boys, as the 80 through 150 classes pulled together with 200 lb increments.

The dirt track was frozen and fast with a few bumps and icy patches. We had light snow throughout the day, which turned heavier when the big dogs started pulling, making the track tougher, keeping the weights down, but still respectable. Although as Dave H said, "the big dogs got hosed" :)

I started Sebastian at 700lbs and Cinnabar at 900lbs, and was able to pass increments early on. I was able to pull them on different increments so lots of mom time for both of them until Sebastian's last pull when they were on the same increment.

Sebastian stayed focused for me until his last pull and I couldn't get him back. He weighed in (with lots of whining, the biggest dog there and the only one to whine at weigh in) at 142 and pulled 1900 - 13.38 times his weight, good enough for a leg toward his IWPA Working Dog Wheels title.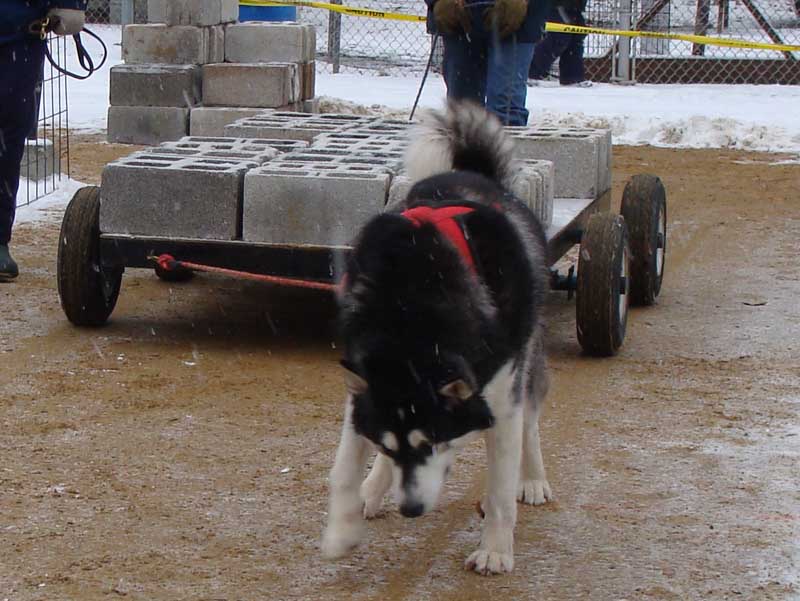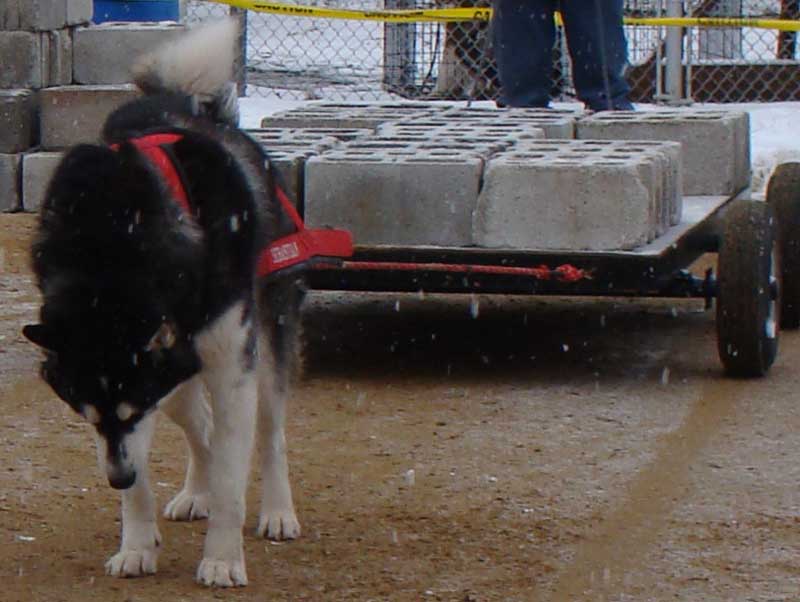 Cinnabar was my focused worker and did great. He weighed in at 112 and pulled 2300 - 20.53 times his body weight, good enough for an WWPDX leg because he had competition in his class. Also good enough for an IWPA Working Dog Excellent Wheels leg. The conditions got him because the snow really started coming down, really degrading the track conditions. I'm very pleased with my sweet boy. He won his class, beating some very impressive dogs, including bulldogs and a very excellent Presa.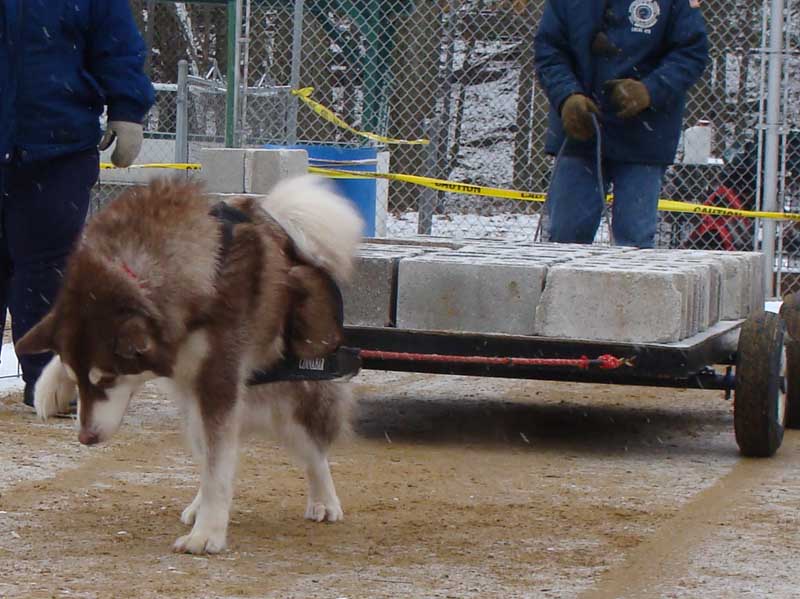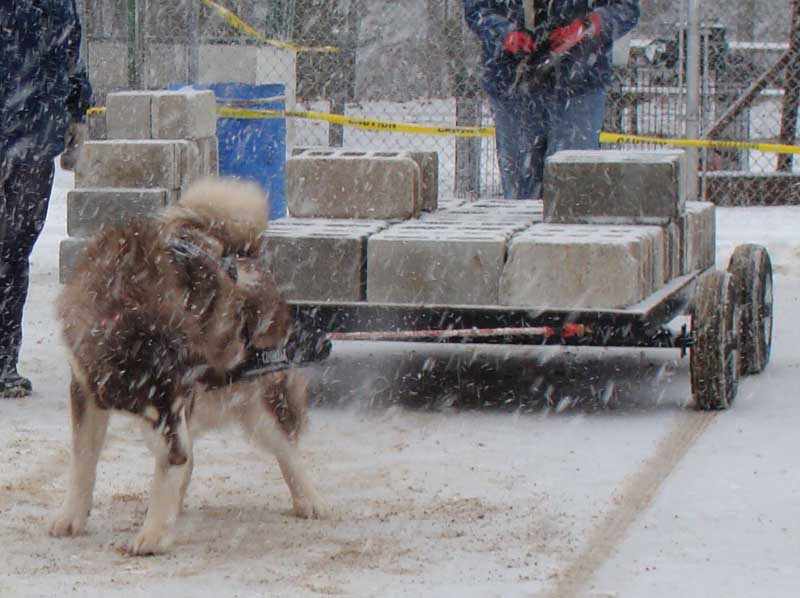 A pit from the 60lb class got highest weight at 2800 something and best body percentage. He had the luxury of pulling before the big dogs and conditions degraded, or one of the big dogs would've taken top weight as they were close to that, even with the track conditions.
Here's Tiffney from the 60lb class - I love her head down pulling style, she's great: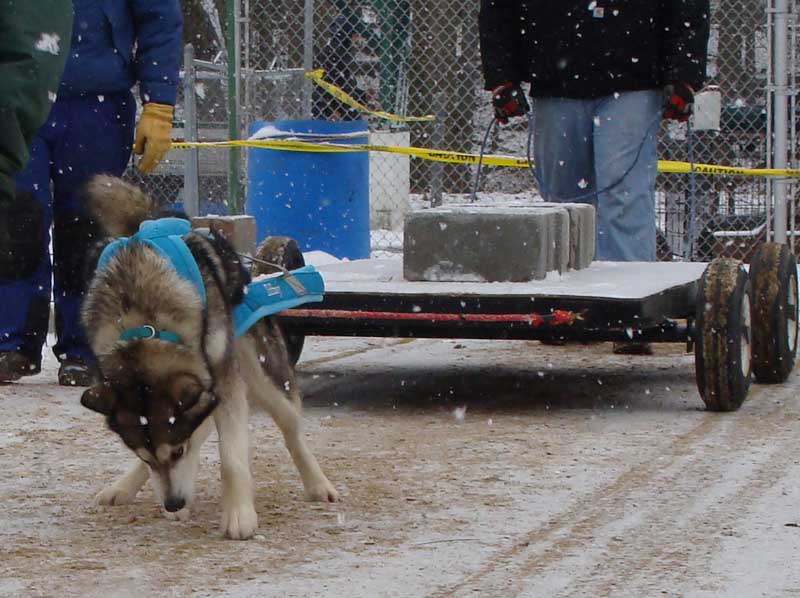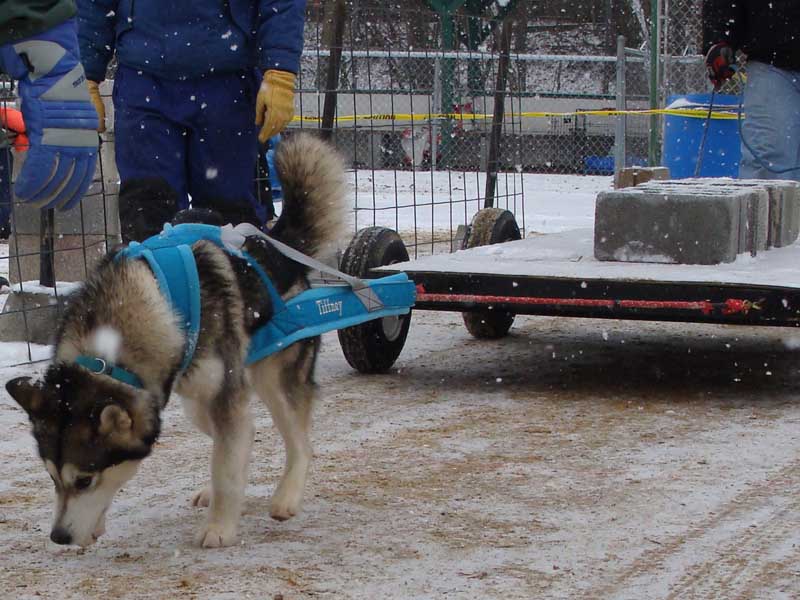 Driving home was dicey for about 10 miles, and then the roads cleared up very nicely.
Sunday, the 11th:
I almost didn't get out of my neighborhood, it was a sheet of ice until I got to the secondary road which had been salted. No other problems driving and was very nicely accompanied by the big full moon.
We had fewer dogs on Sunday, probably about 20+ pulling. The Gallaghers and Moses were missed! Kari came with her Sibes and Alaskan (Booth, son of Starbuck with the same body look and exact same pulling style). After the 20lb class, all the other classes pulled together with 100lb increments.
It was hard to get a read on the track, which started off a bit icy, so I started my boys out a lower increments. 500 for Sebastian and 600 for Cinnabar. That was a mistake to start them so low, but live and learn :)
The track improved as the day went, and then it got too warm and we started to get mud. Again, the big dogs got the worst of it. Them's the breaks :)
While waiting for his turn, Sebastian got curious about the trailer holding the weights. He climbed up it on the clear side of it and didn't flinch when he tipped it a little. At first I told him to get off it, then realized I should've been praising him, so I did. He got up on it and poked his nose into the snow in the weights on the other side each time. He likes that kind of AFrame :)
I wanted Sebastian to get at least 1900 again, so that he could get another leg towards his IWPA Working Dog Wheels title, which he did. He'd lost focus before then though, because he pulled so many times to get up there, even double passing rounds. I had to use harsh voice to keep him because everything else was peaking his interest. As soon as he pulled the 1900 (easily after he decided to work with me), I withdrew him.
Cinnabar did great for me, and was actually loving digging into the mud. But he was starting to tire out at the end of his last few pulls and gave just enough to get it over the line. Too many increments to get there, should've started him at 900, but oh well. He was one of the last dogs standing along with Harley and Raider. Because the track was degrading into a muddy mess so quickly no one was passing. On his attempt at 2500 lbs, he stopped just short of the line. I tried to get him back, but the cart rutted and I instantly gave them the sign to push on his next try. He finished with 2400 lbs - 21.42 times his body weight - good enough for a WWPDA leg (no competition in his class) and an IWPA Working Dog Excellent Wheels leg. His best compliment was Dave H saying that he really thought Cinnabar was going to take most weight pulled because he was looking so good. Woo hoo! Raider went out in the next round and Harley got most weight pulled.
Best body percentage went to Mimi, followed by Tiffney, then Raider, then Keisha (Sibe).
It was a good two days with the dogs and great dog people. Despite the conditions, we all had fun. My boys really enjoyed the snow. We drove home an hour south to none :)
Our next pull is at the end of March in Port Clinton, hopefully under nice conditions :)
Photos of all the novice dogs and 20 thru 60lb classes, plus more of Sebastian & Cinnabar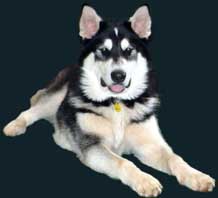 website design by Sheryl
bordered background by Sheryl
© 2005
all images © Sheryl Franklin unless elsewise attributed
all Alaskan Malamute sound files © Sheryl Franklin
website hosting by FranklinCommunications
domain name by DomainRegister.com