Sheryl's Alaskan Malamutes - Activities - Weight Pulling - UKC - Bel Air - October 12, 2008



Weight Pulling

October 12, 2008 - UKC - Old Line State - Bel Air, MD
We drove down to Maryland accompanied by a beautiful starry sky and setting moon. Crisp temperatures started out the day.

Only 8 dogs entered the pull, the fewest I've ever seen for this location.

Because so few were entered, there were few of us for cart help and therefore, no chance to get photos :( The pull is inside a pavillion, carpet on asphalt. The cart decidedly pulls to the left and gets harder to reposition as the weights pile up. The nice thing is that this time the carpet was against the side of the pavillion, so there was at least one barrier. Usually at this pull, there are no barriers and it can throw the dogs off.

The cart is 365 lbs and our increments were 99lbs. All 8 dogs pulled together. I had Sebastian start at 761, and Cinnabar at 860.

Sebastian started out working for me. I passed him after his first pull. His next pull, he worked for me, but was a little goofy, not totally focused so I didn't pass him again. He was happy in between the pulls and his tail was wagging going into the chute. He did best when Frank hooked him. When the other gentleman hooked him, he didn't take the leash and our "routine" was broken, as I had to get the leash to the judge and my hands were off of him. So, we stuck with Frank hooking him. On his 1159 pull he was working, but then someone passed with a dog outside the pavillion and his concentration went to the dog and not me. Got his focus back and he completed the pull. On his next pull of 1258, he was looking for the dog and while scanning saw the horses in the ring off to the right where a horse show was going on. I kept stepping in front of him to block his vision but that didn't break his focus. Was clapping in front of him. He timed out, his first foul. Brought him right back in. At about 10 seconds left I got his focus and he pulled it easily, but he timed out before he crossed the line. He was done for the day. Better attitude than the past two hot temperature pulls, but whew is he high maintenance to get work out of him - all the stars have to be in alignment :) He had fun, though, and I'm pleased about that.

Cinnabar of course worked for me. I started out double skipping him, but then ignored the adrenaline and remembered that this is a tough cart, and single skipped him. Near the end, they had more and more trouble getting the cart back onto the carpet because the thing pulls so much to the left. The brakeman was fanatical that the cart be perfect, but he was making last minute decisions on things as we were called into the chute. I don't like making them wait in the chute, so I would leave, walk him a bit and then come back in when they were truly ready. I'm starting to understand what Cinnabar needs from me, and don't want to break the routine. He also went into the chute easily, as opposed to the last two pulls where he balked going into the chute, until our routine was broken and then he balked. I want it all to be positive for him, so I walked him around and then straight into the chute without any resistance. Because the cart was getting tougher to move, the decision was made to move the carpet, and I didn't say no. On that pull, Cinnabar stopped at a spot that I then remembered he'd always stopped at in previous pulls in this location. He also had no guides now that there was no barrier. So I had them put the carpet back and reposition the cart. That was our first foul. He did better on the next one, and pulled it, but ran out of time.so he was done for the day with 1553. He had fun and his tail was always wagging when I talked to him in the chute and after every pull.

Sebastian did not get any points towards his next title because he pulled only 7.83 times his body weight (he weighed in at 148) and you need to pull at least 10 times to earn points. Cinnabar got 5 points towards his next title pulling 13.87 times his body weight (he weighed in at 112).

They both won their classes, as they were the only dogs in their classes :) So, we got ribbons and toys. Believe it or not, Cinnabar pulled the 2nd highest weight. Frank's Demona got top weight. Going in I thought we had a chance of getting top weight, but couldn't quite keep up with Demona. She pulled 1652 or 1751, for top weight pulled. Can't remember if it he passed one increment or not for her final successful pull.

I need to get the idiosyncracies of this location into my head for next time, so I can help them do better. I am amazed at how very much better they do on natural surface.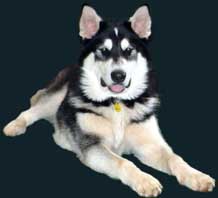 website design by Sheryl
bordered background by Sheryl
© 2005
all images © Sheryl Franklin unless elsewise attributed
all Alaskan Malamute sound files © Sheryl Franklin
website hosting by FranklinCommunications
domain name by DomainRegister.com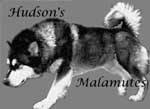 My Mals
Now
Sebastian
Cinnabar
Then
Wolf
Taylor

What's New
Purebred Dog Breeds into the 21st Century